In this day and age you can never have enough power for your computer. Why not give the Kingwin 1000MAIS power supply a spin? With 1000 watts of power, you'll be able to power your new super computer.
INTRODUCTION
With new components like graphics cards and CPU's becoming bigger hogs of electricity, you need a new PSU that will hold up to all the added stress of high powered components. A power supply may be an afterthought, but when your current one dies because you overloaded it, then you'll think otherwise. This overload on the PSU could also lead to other components being blown in the PSU's last hurrah. This could potentially leave you with hundreds of dollars in fried equipment.
If you want stable power and plenty of it look no farther than Kingwin's 1000 watt PSU. This PSU features plenty of power for your equipment, a modular design, and blue LED's built in.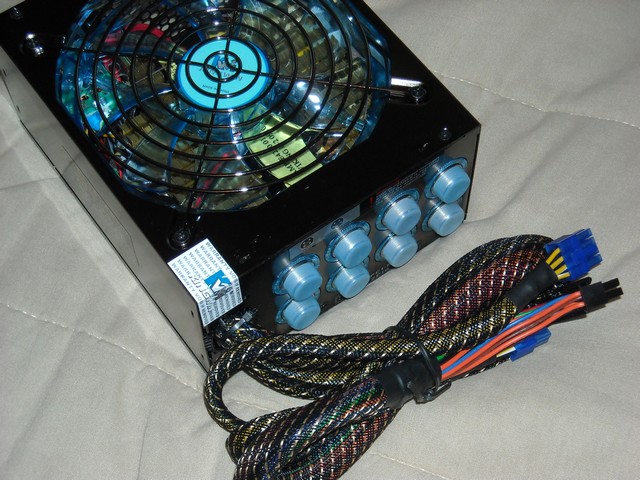 KWI Technology Inc. (Kingwin)
A computer is no longer only found in an office or large corporation. The personal computer (PC) has evolved into something much larger, and taken on a more distinct personality. It has also taken on the image of a personal accessory that we can see, use; and touch as part of our everyday lives, both in and out of the home. The PC in fact has become and taken on its own personality, as individual, and as the person using it. As the Do-It-Yourself (DIY) market grows, the evolution of the PC is only limited by the imagination of the user. The DIY market now offers a multitude of accessories and customizable options, combining both the personality of the PC and the User into one
Kingwin was founded in 1992 with a mission to produce quality accessories, solutions, and options for its customers. Its main categories include: external/internal storage solutions, power supplies and thermal solutions. As one of the top producers of high quality, DIY computer accessories, Kingwin is poised to lead today's market. Kingwin works in conjunction with both impressive PC functionality and user individuality. Kingwin enclosures and mobile rack solutions also continue to be the first choice among consumers world wide. Just as impressive are the high performance Kingwin power supplies which are now certified by Nvidia SLI, 80Plus and have received recognition & awards worldwide. The most recent "Mach 1 Modular Series" continues to sweep the gaming market by storm. In addition to the retailer channel, Kingwin has also gained great success among distributors, OEM customers, system integrators, and VARs
With over 15 years of experience in the computer components market, Kingwin is dedicated to producing innovative products and provide unparalleled customer service. As we look to the future, we will continue to innovate, advance and stand behind our products 100%
FEATURES
Model: ABT-1000MA1S
Special cable management system
Comply with Intel ATX/BTX standard
Two PCI express connectors (6 pin)
Two PCI express connectors 8 pin (6 + 2 Pin)
Eight SATA connectors
One bottom blue led fan (150 x 150 mm)
Support Intel Core Duo CPU & Core 2 Duo CPU
Support AMD 64 CPU & 64×2 CPU
Support High Performance Nvidia SLI GPU
ATX 12V Ver.2.92
AC Input 115 & 240V (Full Range Active PFC)
Output gold-coated connector
Output over / under voltage protection
Output short protection
Nickel-Plated
Six 12V rails.
Aircraft style modular connectors
Built in auto fan-speed sensor
80 Plus™ Bronze Certified
NVIDIA® SLI™-ready certified
SPECIFICATIONS
Maximum power:
1000 Watts
Frequency range:
60 ~ 50Hz
Input waveform:
Sine wave, modified sine wave or square wave
Input maximum current:
115~240 Vac: 15A
Withstand voltage:
Input to output 1800Vac 3 sec
Input to ground 1800Vac 3 sec
Efficiency:
Up to 86%
Overpower protection:
105%~150%
Over voltage protection:
+5V output is between 5.7V to 6.5V
+12V output is between 13.2V to 14.4V
+3.3V output is between 3.7V to 4.1V
Under voltage protection:
+5V output is between 3.3V to 3.7V
+12V output is between 8.5V to 9.5V
+3.3V output is between 2.0V to 2.4V
Unit dimension:
7 1/16″(180 mm) L x 5 7/8″(150 mm) W x 3 3/8″(85 mm) H
Unit weight:
9 lbs (4083g) / unit
MTBF:
100,000 hours under the following conditions full-rated load, 120Vac input, and 25C ambient
Switches:
ATX Logic power rocker switch
Fan size:
1 – 150 mm x 150 mm x 25 mm bottom blue led fan
PICTURES & IMPRESSIONS
The Kingwin box was of pretty good quality. It showed no signs of giving out despite the weight inside. On the top they include a carrying handle, which will come in a lot of handy if you drag it around with you in the box, or maybe you can find a better use for the box. The back, like just about every other box, shows the specifications and features of the PSU. This is always a welcome sight for a new buyer, as it let's them directly compare PSU's side by side.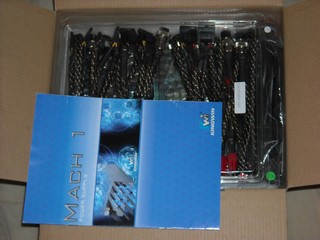 When we open the box, we see the contents, and the packaging to keep everything all nice and neat inside the box. You can see that Kingwin has put the PSU deeper in the box, this will help protect the PSU from any damage that may come to the sides of the box.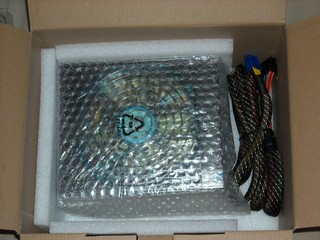 As we dig farther into the box, we find the PSU itself. As you can see it is neatly wrapped in bubble wrap to keep it from getting any scratches and such. Surrounding the PSU is a layer of foam padding which will help absorb any shock in case the package is dropped with the PSU inside. There is also a piece of foam on the bottom of the box that functions in the same way as the side foam pieces do.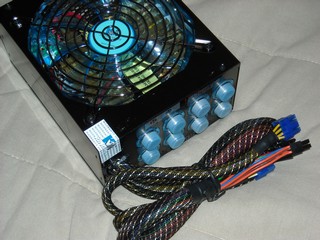 As we pull the PSU out of the box we can start to notice features that the bubble wrap hides. As you can see the PSU comes with very essential cables pre-wired into the PSU. These include the 20+4 pin motherboard connector, and a 4-pin and 8-pin CPU power connector. There cables are used no matter what, so it is no big deal that Kingwin decided to attach them directly to the PSU. Each of the connectors that you connect the individual power cables into have a plastic covering that will keep the PSU from accidentally touching metal and shorting out.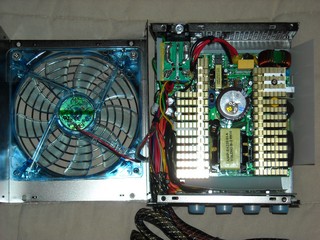 When we open the PSU, we see that Kingwin has used a 150mm fan to help cool off the innards of the PSU. Now I am no master electrician, so I speak only from experience, but the innards of the PSU look to be of great quality and the heat sinks used are fairly large, so you can be sure this PSU should be in no danger of overheating. The soldering job could have been done better though. A few of them had charring on the solder, not looked upon very highly by me.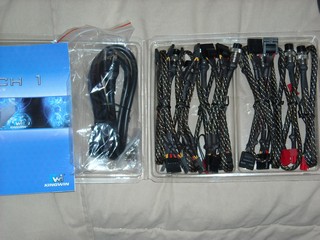 The Mach 1 did not come with a whole lot of accessories, but this isn't of much concern, since all you need are the modular cables and a power cable. Kingwin has also included a instruction manual that contains information about the PSU and warranty. The PSU comes with 8 Molex connectors, one 20+4 pin motherboard connector, one 4-pin CPU connector, one 8-pin CPU connector, two PCIE 6-pin connectors, two 6+2 pin PCIE connectors, eight SATA connectors, and one floppy connector. There should be no problem getting a cable to all of your components with this many cables.
METHODOLOGY
Test Rig

Case Type

Cooler Master HAF922

CPU
Intel I7 920 @ 3.7
Motherboard
Intel SmackOver X58
Ram
(2×3) Mushkin HP3-12800 @ 1480, 8-8-8-20
CPU Cooler
Cooler Master V10
Hard Drives
WD SE16 640 GB
WD SE16 750 GB
Optical
Lite-On DVD R/W
GPU

Leadtek GTX275

Case Fan

One Front 200mm Intake
One Back 120mm Exhaust
One Top 200mm Exhaust

Testing PSU

Corsair HX1000W
Silverstone Element 850W
Kingwin 1000W
For the tests I used 3DMark Vantage to achieve a game like experience, which should lead to the maximum load possible. For the idle tests I manually turned the PSU on with nothing attached to it. A Kill-A-Watt watt meter was used to measure the wattage being drawn by the computer from the wall socket. A Craftsman digital multimeter was used to measure the voltages on the connector to ensure that the most accurate result was obtained. To get the Power Factor Correction, I had to run the PSU with the minimal components, since it will not give this with nothing plugged in.
The current ATX 2.2 specifications allow for the following variation in voltage outputs:
3.3 Volt Rail:   3.135 – 3.465V
5 Volt Rail:      4.75V – 5.25V
12 Volt Rail:   11.4V – 12.6V
RESULTS
Corsair HX1000w


Kingwin 1000w




Silverstone 850w



OutPut Power
Idle
Load
OutPut Power
Idle
Load
OutPut Power
Idle
Load
12 volt
12.07
12.03
12 volt
12.19
12.17
12 volt
12.19
12.16
5 volt
5.12
5.11
5 volt
5.14
5.15
5 volt
5.14
5.16
3.33 volt
3.33
3.325
3.33 volt
3.412
3.14
3.33 volt
3.41
3.38
PFC
0.97
0.98
PFC
0.98
0.99
PFC
0.95
0.97
The Kingwin had no issue matching the higher voltages of the Silverstone, and even had a great Power Factor Correction! Overall, the Kingwin easily was within ATX 2.2 standards, and it should be since it says so on the box. Overall, the Kingwin did a great job.
CONCLUSION
The Kingwin ABT-1000MAIS is a great product for those in need of a larger PSU. It has a modular design, so you know that you won't have a bunch of cables that you don't need all over the place. This is a great feature for many of us who don't have a ton of room in our cases. This also keeps the temperature down in the case because there are not cables all over keeping the air from efficiently flowing through the case. Kingwin even implemented this in a cool way, by making the connector that you connect a cord too light up. This, along with the fan adds a little bit of a cool factor to your computer.
The Kingwin PSU also easily managed to stay within voltage regulations. This is one of the determining factors of the quality of the PSU, and it passed with flying colors, but this should be expected. This PSU was certified by Nvidia, which may not mean much to many of you, but for Nvidia to put their seal on a PSU that PSU has to go through rigorous testing. Overall, the Kingwin ABT-1000MAIS is a great performer with plenty enough power for the future, and a steady voltage to ensure the life of your components.
We are trying out a new addition to our scoring system to provide additional feedback beyond a flat score. Please note that the final score isn't an aggregate average of the new rating system.
Performance 9
Value 8
Quality 9
Warranty 8
Features 8
Innovation 6
Pros:
+  Modular
+  Blue LED's
+  6 12volt rails

Cons:
–  Didn't come with more accessories

 With a final score of 8 out of 10 the Kingwin ABT-1000MAIS receives the Bjorn3D Seal of Approval.