We have decided to take a second look at the Kingston KHX12800D3LLK3/6GX six month since the inception of Core i7 and see if the matured BIOS has any effect on its performance and overclocking result. Also, we will be looking at the performance gain of the faster memory on the Core i7 920.
INTRODUCTION
Bjorn3D has reviewed the Kingston KHX12800D3LLK3/6GX memory, a 3x2GB triple channel DDR3-1600 memory, when Core i7 was first launched. Back then, DDR3 was selling at such a premium price that upgrading to faster DDR3 costs an arm or a leg. Six month has passed and we are seeing the price of the DDR3 has dropped significantly. The price drop of the DDR3 memory means that the DDR3-1600 is no longer reserved for enthusiasts but has reached to the mainstream prices where it is easily to find a 3x2GB DDR3 1600 as cheap as $95.00.
We decided to pay another visit to the Kingston KHX12800D3LLK3/6GX memory six month after the Core i7 has been on the market. We decided to test the Kingston's HyperX memory for a couple of reasons. First, this memory is rated at 1600MHz with timing of 8-8-8-24 at 1.65v. Some of the cheaper DDR3-1600s have higher timing and those with tighter timing would cost significantly more so this memory strikes the best balance of both the price and performance. In addition, we want to test with DDR3-1600 because if you are into overclocking, having a DDR3-1600 is would sure be beneficial to achieve that maximum overclocking potential. As our tests have suggested, Core i7 can easily be overclocked to 3.6 GHz or higher simply by raising the QPI. With the memory running at 1600MHz with relative tight timing, there should be plenty of headroom to achieve such clockspeed without much issue.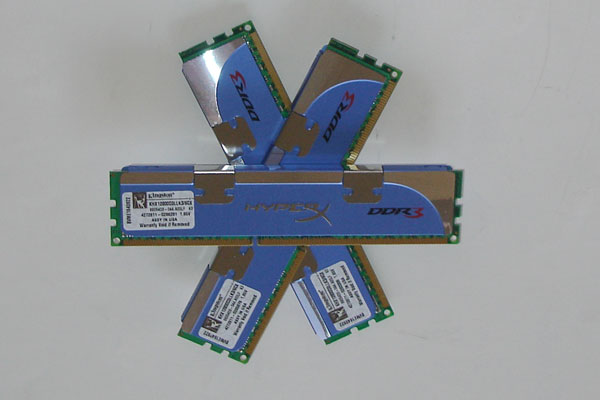 With more matured BIOS six month after the initial launch, can we achieve better result after all of the kinks have been worked out? Let us find out.
ABOUT KINGSTON
Kingston Technology Company, Inc. is the world's independent memory leader.

Founded in 1987 with a single product offering, Kingston® now offers more than 2,000 memory products that support nearly every device that uses memory, from computers, servers and printers to MP3 players, digital cameras and cell phones. In 2007, the company's sales exceeded $4.5 billion.

With global headquarters in Fountain Valley, California, Kingston employs more than 4,500 people worldwide. Regarded as one of the "Best Companies to Work for in America" by Fortune magazine, Kingston's tenets of respect, loyalty, flexibility and integrity create an exemplary corporate culture. Kingston believes that investing in its people is essential, and each employee is a vital part of Kingston's success.

Kingston serves an international network of distributors, resellers, retailers and OEM customers on six continents. The company also provides contract manufacturing and supply chain management services for semiconductor manufacturers and system OEMs.

At the Forefront of Memory: The History of Kingston

Kingston Technology grew out of a severe shortage of surface-mount memory chips in the high-tech marketplace in the 1980s. John Tu and David Sun were determined to find a solution. They put their engineering expertise to work and designed a new Single In-Line Memory Module (SIMM) that used readily available, older technology through-hole components. A new industry standard was born — and, on October 17, 1987, so was Kingston Technology.
KINGSTON HYPERX DC 1600 (KHX12800D3LLK3/6GX)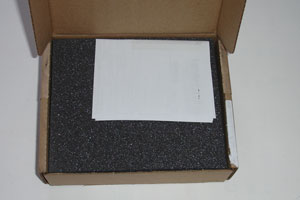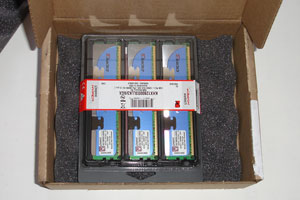 Our review sample arrives directly from Kingston where it is packaged in a brown box with enough padding that it will would be impossible to even have any damage due to shipping.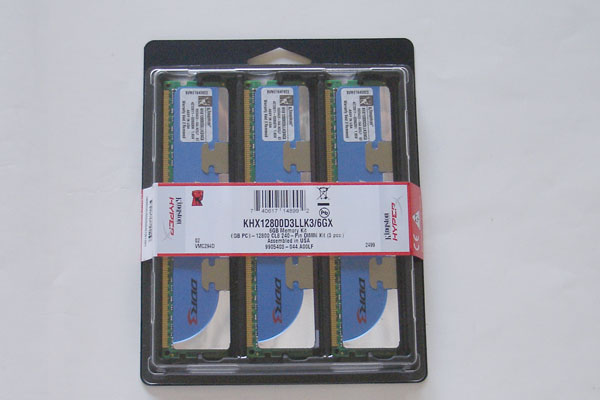 Our review sample comes in a plastic clamshell type packaging where you get a plain view of the memory modules. Kingston has been using such type of packaging since SDRAM era. We like the fact Kingston packages individual module in its own section and the modules are locked to the plastic casing with a little tab so they won't move around. This will prevent the memory modules from being damaged during shipping because they won't dislodge from the package.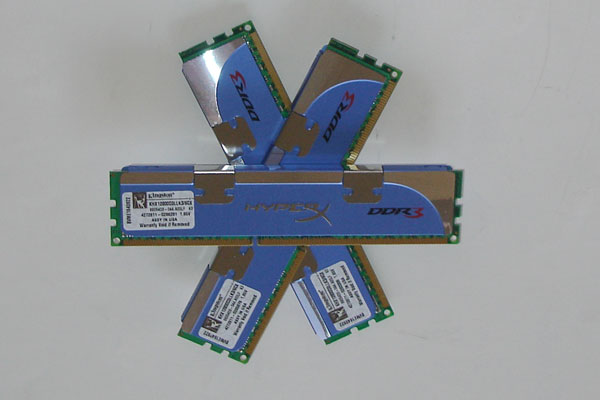 Kingston has maintained their HyperX line of memory for few years now. It was one of the best overclockING memory since DDR1. AS you can see from the pictures, the memory modules come with blue aluminum heatspreader. Though, not as exotic in appearance as some other memory modules, some would appreciate its normal height and the fact that it does not extends above the memory because this will not pose any problem clearance problem for systems with larger CPU heatsink. Generally speaking with Core i7's 1.65v limits on the memory voltage, larger and more exotic cooling for the memory may not be necessary.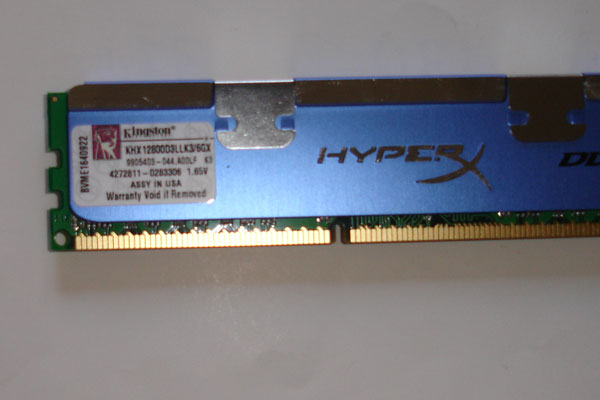 The model number and the voltage requirement have been printed on a sticker taped on the side of the heatsink. Unfortunately, the timings are not being printed on the sticker so users would have to find it from the specification on Kingston's site. The specification states that the memory is rated DDR3-1600 at 8-8-8-24 timings at 1.65v.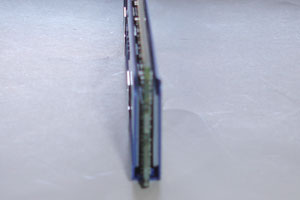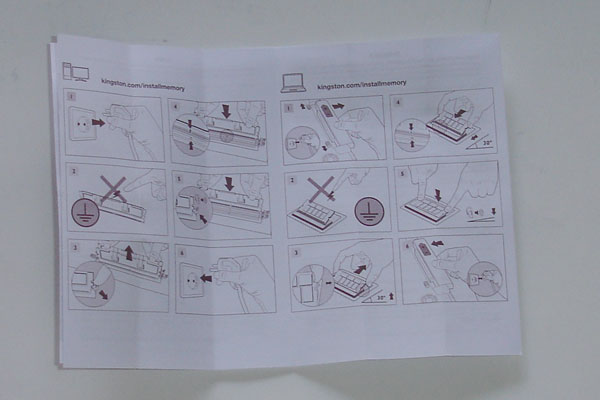 Kingston includes a handy installation guide. Most users probably won't find it necessary, for a novice, it's a handy guide.
Interestingly, the CPU-z reports the memory with different JEDEC profile than our previous sample. The new modules come with one additional profile of 519 MHz while the older memory has 444 MHz.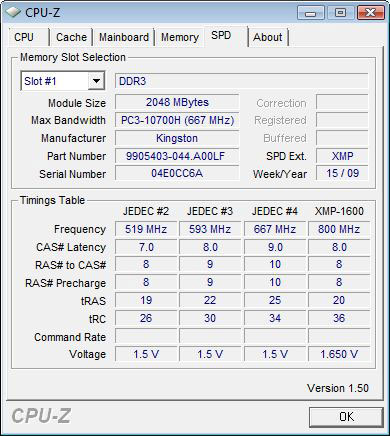 With Everest, we can see more information about the memory's profiles: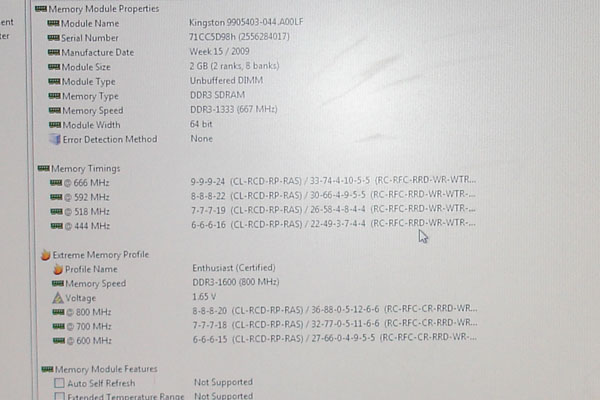 The memory comes with Intel XMP profile so that the system will automatically recognized the required voltage, timings, and speed. Our system has no issue to recognize the memory. Three profiles are supported, at 600MHz(6-6-6-15), 700MHz(7-7-7-16), and 800MHz(8-8-8-20). Surprisingly, the XMP profile has the memory running at 800MHz with timings of 8-8-8-20 while Kingston's specification states that the memory has the timings rated at 8-8-8-24. We tested the memory at 8-8-8-20-1T and have no issue running at such setting.
SPECIFICATION
Part Number KHX12800D3LLK3/6GX
Kit Size 6GB (3x2GB)
Kit Speed 1600MHz
Ram Type DDR3 Triple Channel
Non-ECC LowLat CL8
Intel XMP (Extreme Memory Profile)
Chip Configuration Standard 256M X 64
Voltage 1.65v
Timing 8-8-8-24
TESTING & METHODOLOGY
To test the 6GB Kit of Kingston HyperX 1600 MHz RAM we did a fresh load of Vista 64, updated all the machines drivers, applied all the Vista patches, and disabled any background tasks not required for the machine to run correctly. Then we cloned the hard drive using Acronis in case we should have any doubt as to driver or OS corruption from overclocking. We ran our normal suite of tests against the RAM. Each test was run three times and the average of the three runs reported here.
We also ran the RAM for about a week to get a little break in time and a general feel for the RAM itself. During that week we tried every SPD setting listed by Everest, played games, surfed the internet, and coded reviews. Normal every day activities for us. Benchmarks are fine but we also need to run the RAM outside benches to help round out how we report on it. And let's face it, benches are fine and good and we rely on them a lot, but real life usage and a feel for equipment is just as important as benchmarks.
Test Rig
Test Rig
Case Type
Cooler Master Sniper
CPU
Intel Core i7 920
Motherboard
Gigabyte EX58-UD4P (BIOS F8)
RAM

Kingston HyperX KHX12800D3LLK3/6GX

Super Talent WA160UX6G9

CPU Cooler
Noctua NH-C12P
Hard Drives
Seagate Barracuda 7200.11 1.5TB
Optical
Nec DVD-RW ND-3520AW
GPU Tested
EVGA GTX 285 FTW
Testing PSU
SilverStone Decathlon SST-DA1000 (1000W)
Legacy
Floppy
Mouse
Logitech G7
Keyboard
Logitech Media Keyboard Elite
Test Suite
Benchmarks
SANDRA XII SP2 Professional
Everest Ultimate Edition v.5.10.
SuperPi Mod 1.5XS
PCMark Vantage x64
OVERCLOCKING
We decided to start with the overclocking result first. Our previous experience with the Kingston HyperX 1600 only is able to achieve 1756 MHz.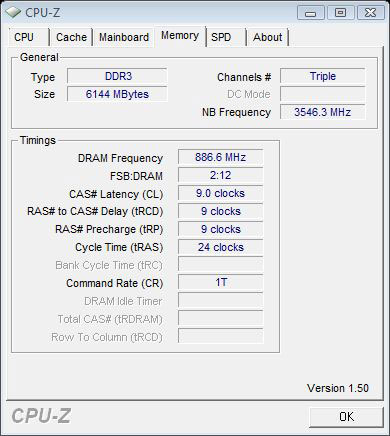 At default multiplier of 21x with TurboBoost enabled, we were able to boot the system up with 1866 MHz (9-9-9-24) at 1.65v. Unfortunately, the system fails to boot into Windows. In order to boot into Windows, we would have to raise the VTT +300mV but the system is still not running stable. We increased the vCore to 1.3v and VLL Pull to 1.25v, although it helped to gain some stability, the system would still crash in the middle of the test. So, we had to lower the speed a tad. We ended up with the memory running at 1774 MHz with timing of 9-9-9-24-1T at 1.65v at our default 21x multiplier. At this setting, we were able to maintain a stable system without raising other components voltage.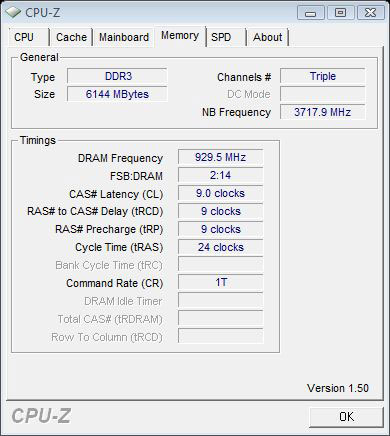 Believing that the limited overclocking is most likely due the NB Frequncy of the Core i7's memory controller, we lower the CPU multiplier to 18x. Just like that, the system has absolutely no issue booting up to 1866MHz without any need of higher voltage except the 1.65v for the memory. So the ram definitely has the potential of running at 1866 MHz if your system is able to take it.
EVEREST 5.01.1700
"EVEREST Ultimate Edition is an industry leading system diagnostics and benchmarking solution for enthusiasts PC users, based on the award-winning EVEREST Technology. During system optimizations and tweaking it provides essential system and overclock information, advanced hardware monitoring and diagnostics capabilities to check the effects of the applied settings. CPU, FPU and memory benchmarks are available to measure the actual system performance and compare it to previous states or other systems. Furthermore, complete software, operating system and security information makes EVEREST Ultimate Edition a comprehensive system diagnostics tool that offers a total of 100 pages of information about your PC."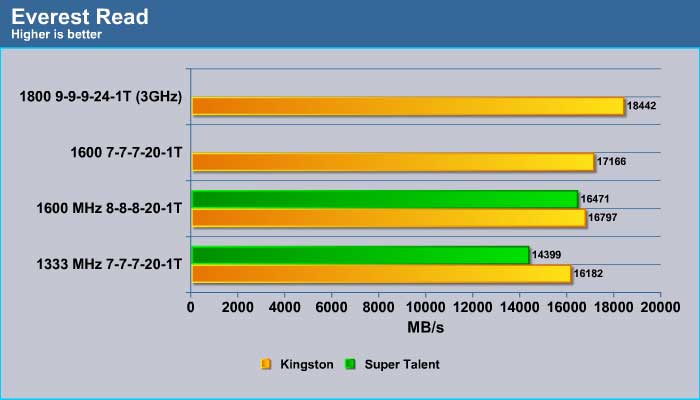 At 1333MHz, the Kingston memory runs at faster throughput than the Super Talent's memory in Everest's Read benchmark.. The Kingston memory scales quite well as we increase the clockspeed to 1600MHz. We also get a slightly performance gain in the read with tighter timing.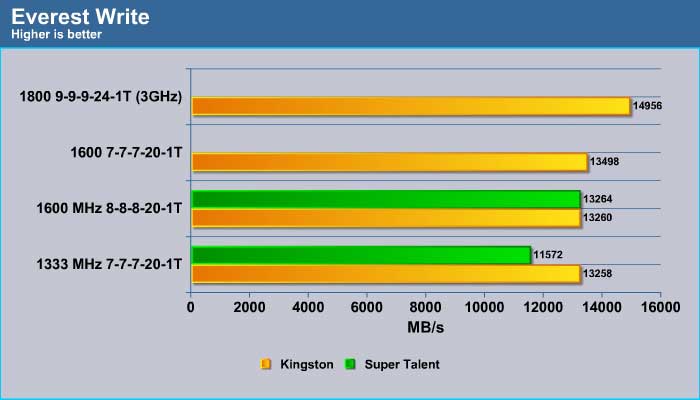 The write performance gain with faster clockspeed and tighter timing is not as apparent as what we have observed with the Read benchmark with our Kingston modules. This is possibly due to the memory controller is placed on the Core i7. As we can see that once we bumped the clockspeed to 3GHz by raising the FSB, we get a significantly gain in the Write throughput. The Super Talent on the other hand does show some improvements with write performance as we bump the clockspeed.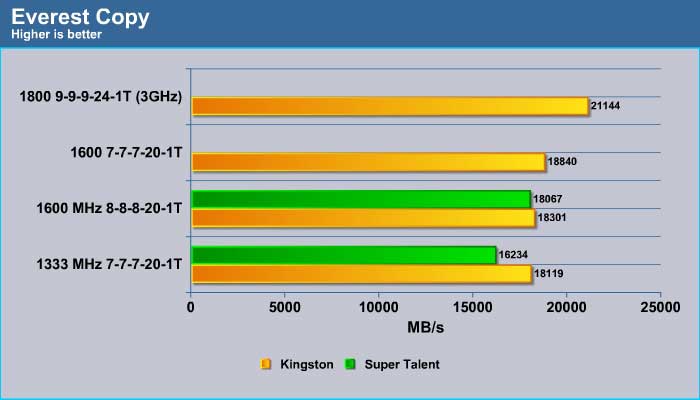 Just like the Write benchmark, the copy performance of the Kingston is not as dramatic as what we have observed with the Read performance unless we also overclock our processor. There is a small gain when we bump the clockspeed to 1600 and also tighten the timing to 7-7-7-20. The Super Talent's stick does show an improvement as we bump the clockspeed of the memory from 1333 to 1600. Still, it comes just under the Kingston's memory's performance at the same timing.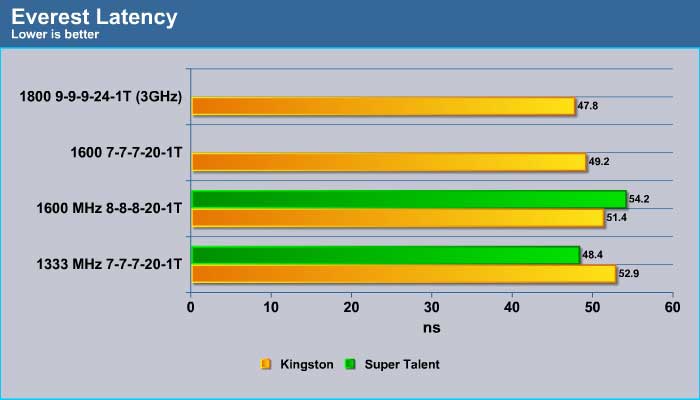 At 1333, the Kingston actually is a bit slower in terms of latency than the Super Talent modules. As we increase the clockspeed to 1600MHz, the Kingstone scales much better than the Super Talent where we can see the memory's latency drop as we bump the clockspeed and/or lower the timings. Despite having a better latency result, the Super Talent's modules at 1600MHz tails behind the Kingstone modules at 54.2 nanoseconds compare to the Kingston's 51.4 nanoseconds.
SISSOFT SANDRA 2009 SP2
"SiSoftware Sandra (the System ANalyser, Diagnostic and Reporting Assistant) is an information & diagnostic utility. It should provide most of the information (including undocumented) you need to know about your hardware, software and other devices whether hardware or software. It works along the lines of other Windows utilities, however it tries to go beyond them and show you more of what's really going on. Giving the user the ability to draw comparisons at both a high and low-level. You can get information about the CPU, chipset, video adapter, ports, printers, sound card, memory, network, Windows internals, AGP, PCI, PCI-X, PCIe (PCI Express), database, USB, USB2, 1394/Firewire, etc."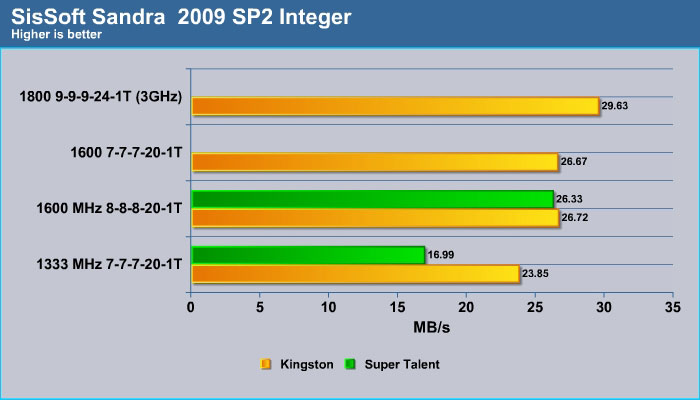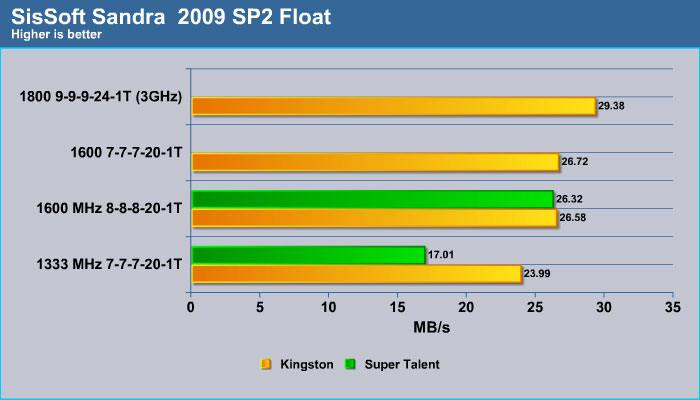 In both floating point calculation and Integer calculation, the Kingston's memory modules outperform the Super Talent's modules at both 1333 MHz and 1600 MHz speed. We get a fairly good throughput bump as we increase the clockspeed from 1333 to 1600. However, the Kingston's modules shows a small dip in the Integer test at tighter timings of 7-7-7-20.
SUPERPI MOD 1.5XS
SuperPi is the "Gold Standard" for many when it comes to judging system performance. We ran 1 and 2 MB calculations, again running each test three times and reporting the average of the results.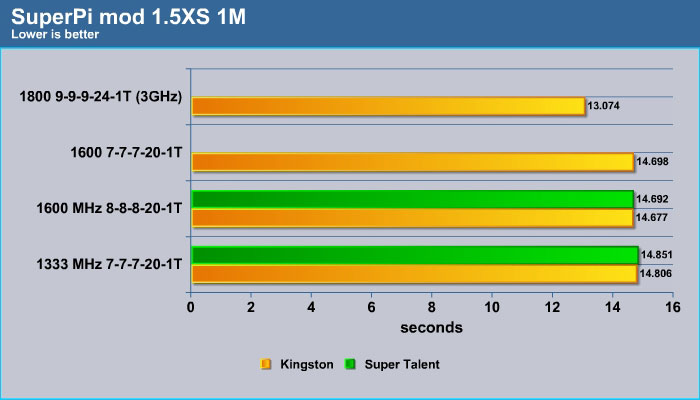 SuperPi is quite sensitive to the memory speed and timing. We see a good performance gain in the calculation speed as we increase the clockspeed and tighten the timing. Notice that despite lower throughput from Everest and Sandra, the Super Talent actually performs quite comparable to the Kington's modules. It is unable, however, to overtake the Kingston's module at the same clockspeed and timing.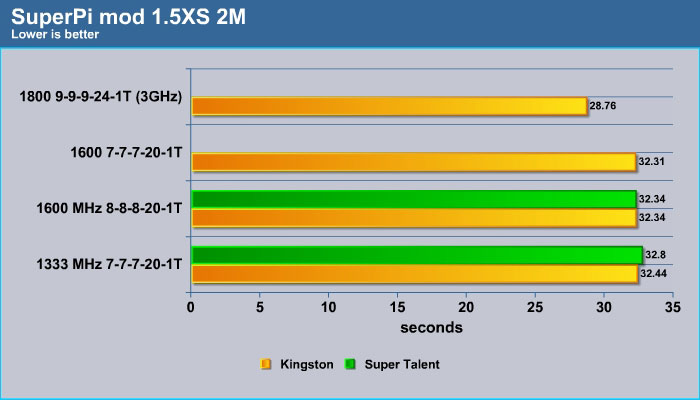 The performance difference is more apparent in our 2M calculation of SuperPi test. Here the Kingston modules are able to finish the task in 0.36 seconds faster than the Super Talent's modules at 1333Mhz. However, Super Talent's modules regain some performance at 1600MHz, outputting the same result as the Kingston's modules.
3DMark Vantage X64
PCMark Vantage measures the performance of the latest PC hardware across a variety of common scenarios. PCMark Vantage supports both system level and component level benchmarking and comprises several different test suites. Please refer to the PCMark Vantage whitepaper and PCMark Vantage Help for more detailed information about the tests below.
We ran PCMark Vantage X64's Memory, TV and Movie, and Productivity tests because these applications are much more sensitive to the memory timings and clockspeed.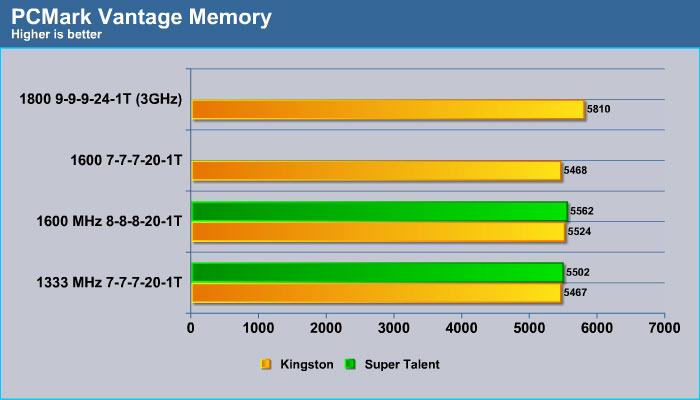 Quite interesting result with PCMark Vantage's memory test. We can see that the Kingston modules actually have lower score than the Super Talent modules at 1333MHz. It is likely that the lower latency we have seen with the Super Talent modules in Everest benchmark at 1333MHz plays a big role here. As we increase the clockspeed to 1600MHz, the Super Talent again has a slightly better score than the Kingston's module at timings of 8-8-8-20. In fact, the memory scores do not seem to be too much of differences regardless of the timings or clockspeed. It is until we start to overclock our processor is when we see a major improvements in the PCMark Vantage's Memory test. This is mostly because of again the memory controller for the Core i7 which makes the memory clockspeed less important that it was before.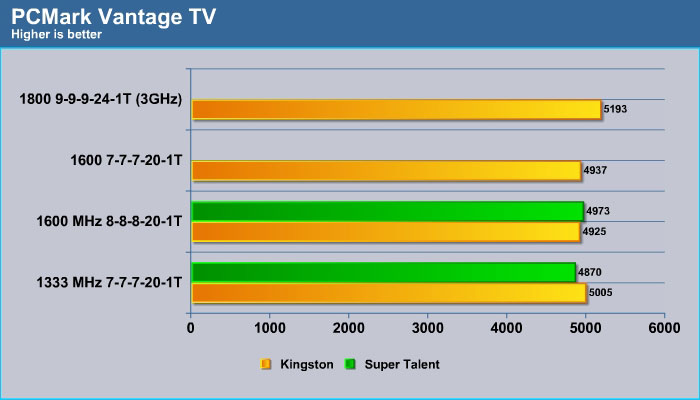 the Super Talent's modules at 133MHz with 135 point higher. However, at 1600MHz, the Super Talent once again leads the performance with 48 points gain. Tighten up the timings of our Kingston memory helps us to gain 12 more points at 1600MHz. Again, the performance among these clockspeed is fairly close to each other that it would be hard to detect them in real life.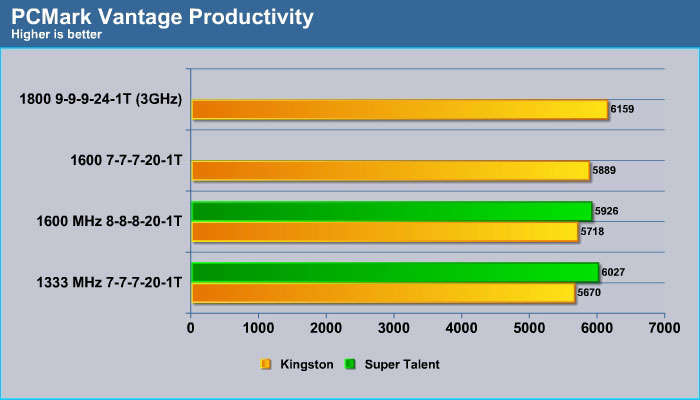 In the Productivity tests, we can see the Super Talent modules win over the Kingston's memory at both 1333 and 1600 MHz. There is some performance benefit with the faster speed and tighter timing in this test. We can see that as we up the clockspeed from 1333 to 1600, we get approximately 1% in the performance gain. Tighten up the timings helps to get an additional3% performance gain.
CONCLUSION
Our revisit to the Kingston memory reveals something interesting about the Core i7 systems. With the memory controller built into the processor, the performance gain from higher clockspeed memory may not seem to be as big as it was with the socket 775 system where the memory controller resides in the Northbridge. Our tests show that regardless of the memory is running at 1333 or 1600 MHz, the performance gain is minimal if there is any. In any practical application, it would be hard to detect the small percentage gain. These performance differences are often only measurable in synthetic benchmarks but in real-world applications, the performance gain would be hard to detect if there is any.
What would be a more noticeable performance gain in our tests is the tighter timing and lower latency. As we can see with our PCMark Vantage tests, a tighter timing or lower latency memory would be able to yield a more noticeable result than a faster clockspeed. Thus, for anyone who are thinking of upgrading to Core i7, it would be wiser to choose a budget memory at either speed of 1066MHz or 1333MHz but with much tighter timing if you are on a budget.
Of course, we are talking about the result with the default CPU clockspeed and not the overclocked system. If you plan to overclock the system, having a memory that can support 1600MHz would definitely be a plus considering that in order to achieve a good overclocking result, the memory would need to be able to support clockspeed of 1333MHz or higher. It would be of course the best to have a memory that is capable of running at clockspeed of 1600MHz but also at tighter timing as well.
Our test memory, Kingston HyperX 1600, strikes a balance of the performance and the price. At retail price of $150, it is slightly more expensive (~$50 more) than other DDR3-1600. However, these cheaper memory modules are with timings of 9-9-9-24 while the Kingston HyperX 1600 is with the timings of 8-8-8-20. What is also nice about such memory is that we have no trouble overclocking it to 1774 MHz at default multiplier of our Core i7 920 and has no issue to overclock it to 1866 MHz if we lower the multiplier. So this memory would be a good choice for those who are planning to overclock the system while taking the advantage of the performance gain of the tighter timings.
We are using a new addition to our scoring system to provide additional feedback beyond a flat score. Please note that the final score isn't an aggregate average of the new rating system.
Performance 8.5
Value 8
Quality 10
Warranty 10
Features 8
Innovation 8
Pros:
+  Effective heatspreader
+  Looks nice
+  Price/Performance Value
+  Not as expensive as a lot of enthusiast kits
+  Good overclocking potential
+  Decent timing of 8-8-8-20
+  Able to run at 1600MHz at 7-7-7-20
+  Solid Construction
+  Kingston Name And Lifetime Warranty Behind them
Cons:
–  Timing is not as tight as we have liked
–  Slightly more expensive than some other DDR3-1600
–  Performance gain may vary depending on your overclocking
The Kingston HyperX 1600 MHz 6GB kit is an exceptional value for the performance especially if you are planning to overclock your system. The memory will receive a score of 8 out of 10 and the Bjorn3D Seal Of Approval!