MSI has come up with a way on making the 285GTX video card even better. By making it run faster and cooler.
INTRODUCTION
What makes one video card manufacturer different from the other? Is it the software bundling that comes with that video card we are looking at? Granted, getting games and or software with our purchases does help, but with the selection of software/games that come with a video card, chances are we've already purchased that software/game (there are a few instances were we haven't). Next up, is it because that video card is factory overclocked? This again makes a difference in our choices, as some people are still completely afraid of using software like EVGA Precision or RivaTuner to overclock thier video cards.
I myself look at what that manufacturer uses for a heatsink on their video card. Yes, getting extra software, having an overclocked video card are all niceties but what's the point in getting a video card when you might need to spend an extra 30-50 dollars on top of your video card for a good GPU cooler that will make sure the video card stays cool at all times. Not to mention the possibilities of "WHAT IF" that GPU cooler does not properly work, or gets installed wrong, what then?
MSI has been one of the top manufacturers that uses an aftermarket cooler for thier video cards. The 285GTX Superpipe is no exception to MSI's continuation of quality, not to mention their ability to think outside the box when it concerns thier products.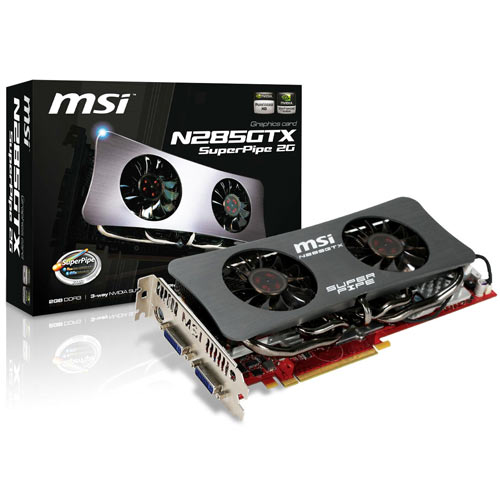 About MSI
Founded in August 1986, MSI has continued to uphold a business philosophy that stresses "Award-winning product quality and outstanding customer service". MSI specializes in the design and manufacture of mainboards, graphics card, add-on cards, servers/workstations, iPC, barebones, communication devices, CE products, Notebooks, and car PC products.
"Quality Products Create Faithful Customers" is a motto that guides all that we do at MSI. For this reason, MSI goes all out to be the best of the best in research and development. Currently, 2,500 experienced engineers staff our research and development department. This talented team carries out its work with the latest research equipment, continuing to raise the bar on product quality and innovative product features.
At MSI, we put our motto — "Quality Products Create Faithful Customers" — into living practice. In 1995 and 1996, we received ISO-9002 and ISO-9001 product quality certification, respectively. In 1999, MSI received ISO-14001 environmental certification, affirming our commitment to the environment. Furthermore, MSI products undergo rigorous quality control testing, attaining a 99.6% quality rate, a level far higher than the industry standard. MSI's superior product quality has garnered exceedingly favorable coverage from the global media, countless awards, and a very enthusiastic customer response.
In recent years, MSI has aggressively expanded into mainland China to meet the needs of our global customers. In the first quarter of 2001, the Baoan Plant in Shenzhen started production, vastly increasing MSI's production output as well as revenue. Aside from the Baoan Plant in Shenzhen, MSI has also established production facilities and a research and development center in Kunshan, China in 2003. The mainboard annual production is expected to reach 20.8 million units and the annual graphics card production is expected to reach 11.8 million units. Combined with the production from Taiwan, MSI is now becoming one of the biggest mainboard and graphics card manufacturers in the world.
To keep abreast of the global market and offer our customers the best service, speediest product delivery, as well as sales and technical support, MSI has established subsidiaries in mainland China, Czech Republic, Hong Kong, Japan, Korea, India, Taiwan, the U.S.A., Canada, Brazil, Germany, France, Italy, Australia, the Netherlands, Turkey, U.K., Russia, Ukraine, Serbia, Poland and Spain/Portugal.
To broaden our global market and to build a good image, we keep striving on marketing promotions, for example, posting advertisement on some reputed media, releasing news information, improving product box design, holding many promotion activities and attending all important PC exhibitions in the world. Apart from developing the mainboard, graphics card, server/workstation, and barebone, MSI has also introduced the Communication, CE, Notebook, IPC, and Car PC products to bridge the transition to the post-PC world. MSI adopts a diversified business model, and is transforming itself into a leader in the Consumer Electronics age.
Together, we are entering a greatly-accelerated world. Let MSI be the first to welcome you into this exciting new Digital Universe!
SPECIFICATIONS
Graphics Engine
GeForce GTX 285
Bus Standard
PCI Express x16 2.0
Memory Type
GDDR3
Memory Size(MB)
1024/2048
Memory Interface
512
Core Clock Speed(MHz)
680
Memory Clock Speed(MHz)
2500(Effective)
Memory Bandwidth(GB/sec)
160
Texture Fill Rate(billion/sec)
54.4
DVI Output
2
D-SUB Output
2(via DVI to D-Sub adaptor)
TV-Output
1(via S-Video to Composite)
HDMI-Output
2(via DVI to HDMI adaptor)
VIVO(Video-in/out)
N/A
HDTV Support
Y
HDCP Support
Y
HDMI Support
Y
Dual-link DVI
Y
Display Ouput(Max Resolution)
2560×1600
RAMDACs
400
DirectX Version Support
10.0
OpenGL Version Support
2.1
CrossFire Support
N/A
SLI Support
Y
3-way SLI
Y
HyperMemory Tech.
N/A
TurboCache tech.
N/A
GPU Features
‧2nd Generation NVIDIA® Unified Architecture
‧Quad NVIDIA SLI® Technology
‧Microsoft DirectX 10 Support
‧NVIDIA CUDA™ Technology
‧PCI Express 2.0 Support
‧NVIDIA SLI® Multi‐Monitor support
‧GigaThread™ Technology
‧NVIDIA Lumenex™ Engine
‧16x Anti‐aliasing Technology
‧128‐bit floating point High Dynamic‐Range (HDR) Lighting
‧OpenGL 2.1 Optimization and Support
‧Dual Dual‐link DVI Support
‧HDMI Output
‧NVIDIA® PureVideo® HD Technology
‧Discrete, Programmable Video Processor
‧Dual‐stream Hardware Acceleration
‧Dynamic Contrast Enhancement & Color Stretch
‧Microsoft DirectX 10 Support

• All brand name & products are registered trademarks of their respective companies.
• All Chipset specs are derived from Nvidia data sheet. For your reference only.
COMPARISON
GPU
Comparison Table
 

MSI 285GTX Superpip

e

Nvidia GeForce GTX 285

Nvidia GeForce GTX 280
BFG GTX 275 OC
Nvidia GeForce GTX 260 Core 216
ATI Radeon HD4870 X2
ATI Radeon HD4870 1GB
GPU

GT200b

GT200b

GT200
GT200b
GT200/GT200b
R700 XT
R700
Process (nm)

55

55

65
55
65/55
55
55
Core Clock (Mhz)

680

648

620
648
576
750
750
Shader Clock (Mhz)

1476

1476

1296
1440
1242
750
750
Memory Clock (Mhz)*

1250

1242

1107
1152
999
900
900
Memory Size
(MB)

1024/2048

1024

1024
896
896
2048
(2x 1024)
1024
Memory Type

GDDR3

GDDR3

GDDR3
GDDR3
GDDR3
GDDR5
GDDR5
Unified Shaders/ Stream Processors

240

240

240
240
216
800×2
 800
Texture Mapping Units

80

80

80
80
74
80 (2x 40)
40
Raster Operation Units

32

32

32
28
28
32 (2x 16)
32
Memory Interface
(bits)

512

512

512
448
448
512
(2x 256)
256
Outputs (on reference design)
2x Dual-Link DVI
S-Video
2x Dual-Link DVI
S-Video
2x Dual-Link DVI
S-Video
2x Dual-Link DVI
S-Video
2x Dual-Link DVI
S-Video
2x Dual-Link DVI
S-Video
2x Dual-Link DVI
S-Video
Power Connectors
2x

6 Pin

2x 6-pin

1x 6-pin, 1x 8-pin
2x 6-pin
2x 6-pin
1x 6-pin, 1x 8-pin
2x 6-pin
 Thermal Design Power (w)

183

183

236
182
286
150
As we can tell the MSI 285GTX Superpipe video card is the same basic core/memory as the standard 285GTX's, but the speeds are a tad higher, MSI also adopted using 2048 Megs of memory as well.
PACKAGING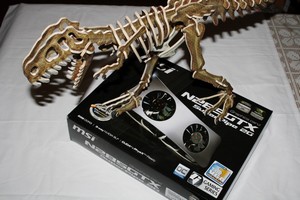 Well looks like Tyrannosaurus Rex wanted to keep prying fingers away from the MSI 285GTX Superpipe video card, personally I don't blame him, one bit.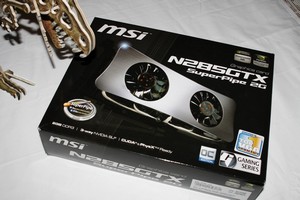 MSI does give us some quick general specifications/capabilities of the 285GTX Superpipe video card on the front side of the box. MSI also included a picture of the 285GTX Superpipe video card cooler.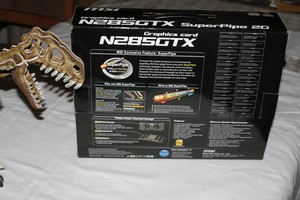 Flipping the box over to the backside, MSI gives us the specifications of the GPU cooler that they used on the 285GTX Superpipe video card. Towards the bottom right hand corner is the features of the 285GTX video card and the minimum system requirements to run this video card in your computer.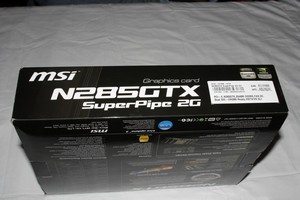 Looking at the side of the box that MSI used to package up the video card.
Opening up the box, to get into the contents of it, the first thing we notice is that MSI did a very good job on making sure the video card would not be harmed during shipping by encasing the video card in a white foam rubber. Notice right above the video card is a cardboard type insert this is where the extras that MSI included with the 285GTX Superpipe are located.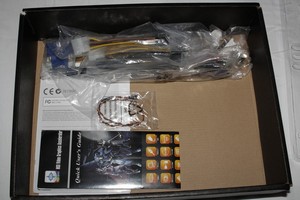 The extras.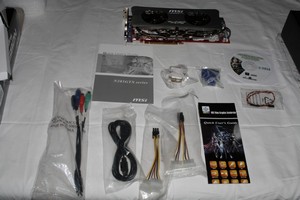 Everything, laid out that comes with the packaging. Up top is the 285GTX video card, the instruction manual, DVI-DSub adapter, DVI-HDMI adapter, Driver disc, below the disc is a SPDIF connector, moving left, is the quick reference spread sheet, 2 x Molex to 6 pin PCI-E adapters, S-Video cable, and finally a S-Video to component adapter.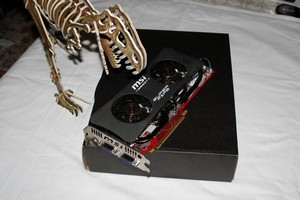 What the video card looks like, out side of its packaging.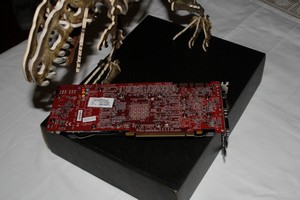 Flipping the video card exposing its backside.
OVERVIEW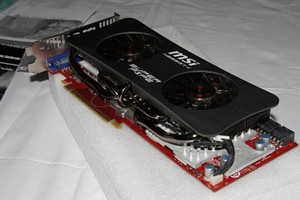 This is what the 285GTX Superpipe looks like in a 3/4 view from the front side. That is one sexy looking video card.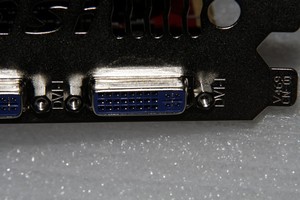 Looking at the rear end of the video card at one of the two DVI ports.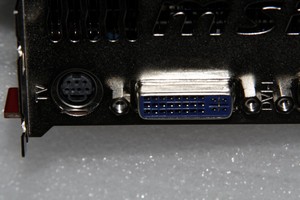 Moving towards the outer edge of the video card rear IO plate, this is the second DVI port MSI included, with the S-Video port located to the far side.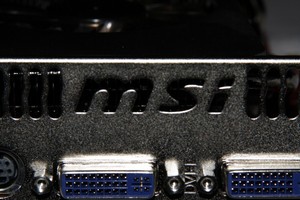 MSI uses a dual PCI expansion plate cover like all of the 285GTX's use, but MSI put there name in on the vents as well.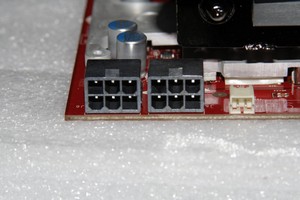 Moving to the front of the video card, the 285GTX uses 2 PCI-E six pin power plugs. Also notice these point to the side of the video card not to the rear, and these are @ 180° as well.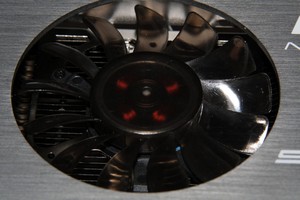 Me just jumping around the video card in no peticular order. Who cares right? As long as I point out what needs to be pointed out. Looking at the one of the fans that MSI used on this video card.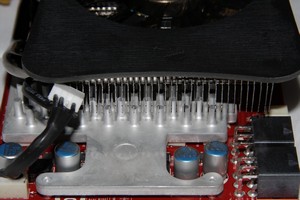 The front side of the 285GTX Superpipe video card, MSI used another heatsink that helps cool the Digital VRM's, with some rather large pins as well.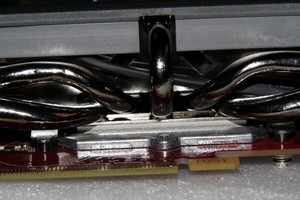 Up close and personal picture of the five heat pipes that the Superpipe cooler uses, by no means are these pipes tiny either. the center 3 look like the normal standard 6mm size but the 2 outer pipes are the much larger 8mm pipes.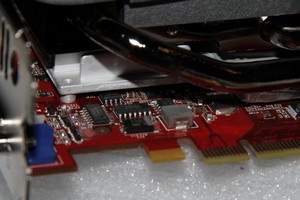 Looking at the rear of the video card where Nvidia used a chip, the second piece of the heat sink that MSI used, also covers this chip to help keep it from overheating.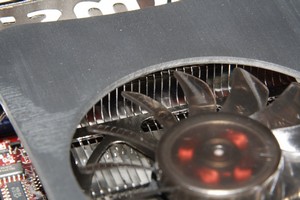 Looking throught the blades of the Fan towards the heatsink. The fins of the heatsink are tightly packed and evenly spaced. Also the fan sits in a recessed portion of the fin array. I can't help but notice that the GPU cooler that MSI used looks like a Coolink style of cooler. (It's a best guess is all)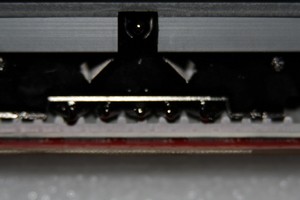 The other end of the heat sink where the pipes converge on to the base of the GPU cooler. Also the memory heat sink as well.
Extra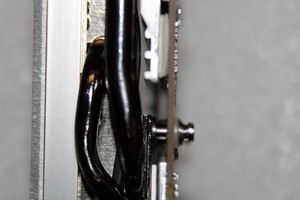 Some extra images I shot of the MSI 285GTX Superpipe video card. The GPU heatsink is in 2 pieces, one is cooling the GPU core the other cools the memory, digital VRM's as well as the rearward chip. I myself prefer this type of design over having the same heatsink cooling all of the components of the video card.
INSTALLATION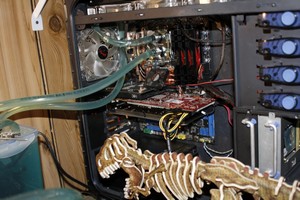 Installation of a video card has not changed since the concept of using computers. Just different expansion slots we use these video cards on have changed.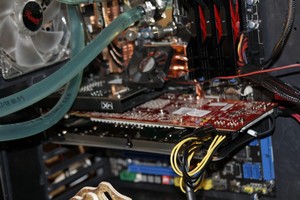 A little better up close shot of the video card in my computer wiating to get a good work out, this video card is so begging for it.
TESTING METHODOLOGY
Test Setup &Testing Methodology
CPU
Lapped Core i7 920 @ 3.990GHz
Motherboard
MSI X58 Eclipse
Case
Coolermaster Cosmos
Memory
Gskill Trident 2000MHz
Video Card's
HIS 4870, XFX 4870X2, MSI 285GTX
Hard Drives
 2 x Seagate 2.5″ HDD's Raid-0, 1 160 gig WD HDD Backup.
CDRom Drive
Lite On Sata1 DVD Burner
Power Supply
SilverStone 1200 watt PSU
Type Of Coolers Used
Koolance 340, 487, 487×2 Full coverage blocks
CPU Speeds Used
210 x 19
Operating System Used
Microsoft Windows Seven 7100
Type of Software Used During Testing
Far Cry 2, Hawx, Mirrors Edge, 3DMark Vantage, Stalker Clear Sky, World In Conflict, Company Of Hereos
Any attempt to copy these system specifications will result in assimilation by your computer

I ran each of the listed benchmarks through three runs making sure my results were consistent with one another. All testing will be done on Windows Seven 7100 RC1, ATI drivers used were 9.5 Catalyst, Nvidia Drivers that were used were the 185.85. I ran the ATI cards in Tri fire mode, and ran both the 4870X2, and the 4870 separately and using these as a comparison to the 285GTX Superpipe. Physx was not used during testing with the ATI cards, I instead did a separate page where I used Physx, I used the 285GTX separately, and also paired up the 285GTX with a 9600GT as a dedicated Physx card.
The resolutions I used were 1680 x 1050 and 1920 x 1080 with aa and no aa. For the temperature I ran the video card under a full load for 1 hour then allowed it to idle down after 30mins of idling I would get a temperature measurement. I also used EVGA's Precision overclocking tool to overclock the 285GTX. The ambient temperature of the room was around 21°C.
Game Settings Used
The games I tested with and there settings I used.
 3DMark Vantage
Default settings of Performance
 Stalker Clear Sky
1680 x 1050, and 1920 x 1080 with 0AA and x4AA, maxed visual quality in DX 10 mode
 Far Cry 2
1680 x 1050, and 1920 x 1080 with 0AA and x4AA, maxed visual quality in DX 10 mode
 Hawx
1680 x 1050, and 1920 x 1080 with 0AA and x4AA, Ambient Occlusion was turned to Low, maxed visual quality in DX 10 mode
 World In Conflict
1680 x 1050, and 1920 x 1080 with 0AA and x4AA, maxed visual quality in DX 10 mode
Company Of Heroes
1680 x 1050, and 1920 x 1080 with 0AA and with AA turned on, maxed visual quality in DX 9 mode
Mirrors Edge
1680 x 1050, and 1920 x 1080 with 0AA and 8xq AA maxed visual quality in DX 9 mode
Physx Testing
Since Nvidia supports Physx on thier video cards I figured might as well run a few Physx games. I ran the 285GTX Superpipe with Physx enabled, then paired the 9600GT video card as a dedicated Physx card.
 Unreal Tournament
1920 x 1080 x4AA maxed visual quality, Lighthouse map Physx Enabled
 Star Tales Benchmark
1920 x 1080 x4AA/x16AF
 3DMark Vantage
I only ran the CPU benchmarking as Physx showed the best improvement
 Cryostasis
1920 x 1080 x4 AA Maxed visual quality
OVERCLOCKING
To overclock the MSI 285GTX video card I had to use EVGA's Precision tool. Starting off with a 680 MHz core speed, a memory speed of 1250 MHz, with a shader clock speed of 1476MHz, I was not expecting to gain much more overclocking this video card. But I was surprised that the 285GTX Superpipe video card was able to gain quite a bit more out of it. I managed to get to 725MHz on the core, a 1635MHz shader clock speed, and a minor gain on the memory to 1260MHz. Which is not to bad for a video card. I ended up overclocking the shaders and the core separately from one another.
I will only include the 1920 x 1080 x4 AA game runs with the 285GTX overclocked.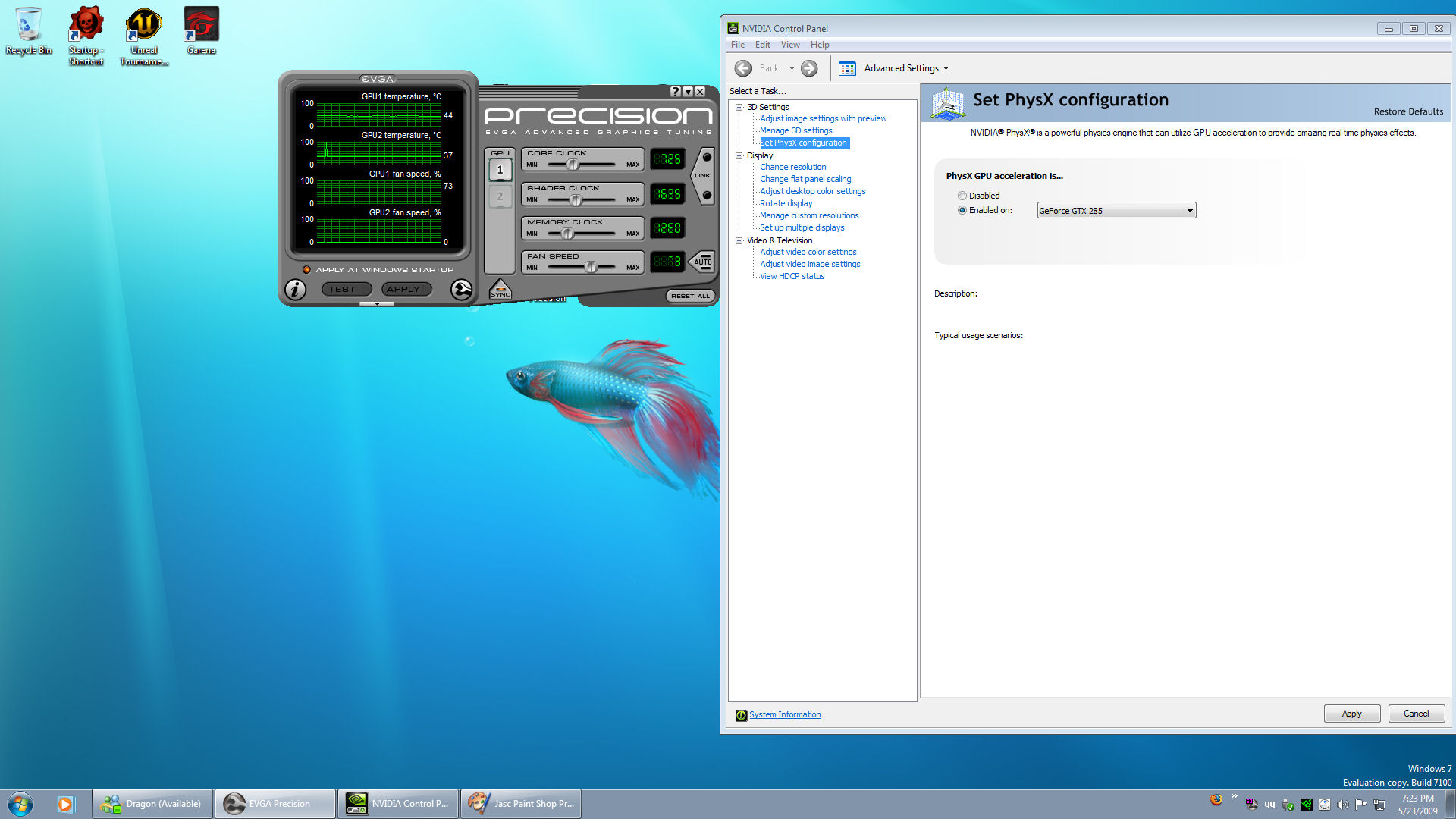 This is how I ran the 285GTX Superpipe during Physx testing, and overclocked testing.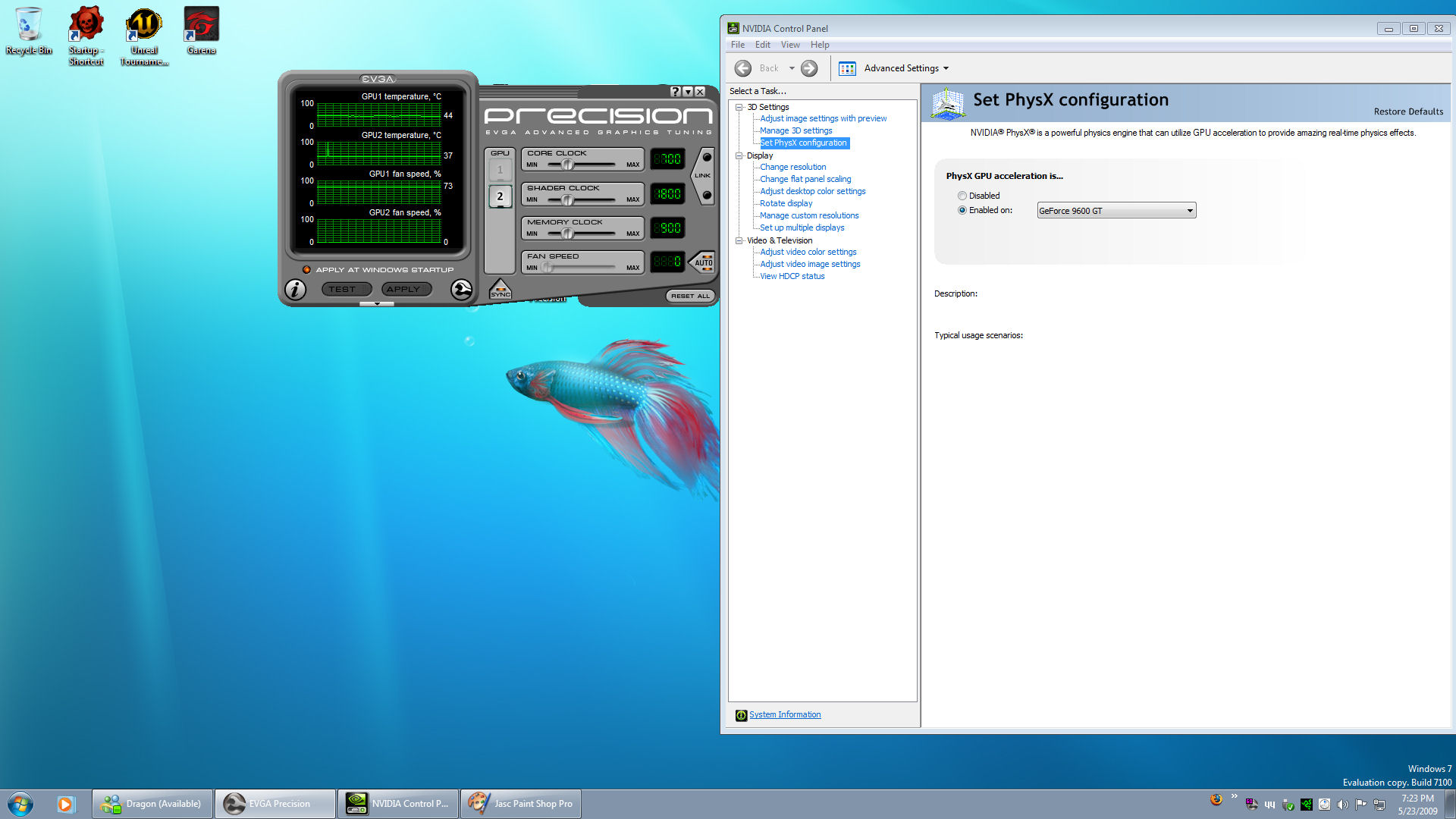 I left the 9600GT at its default clock speeds, during the Physx testing. The 9600GT was only used during Physx testing as a dedicated Physx card.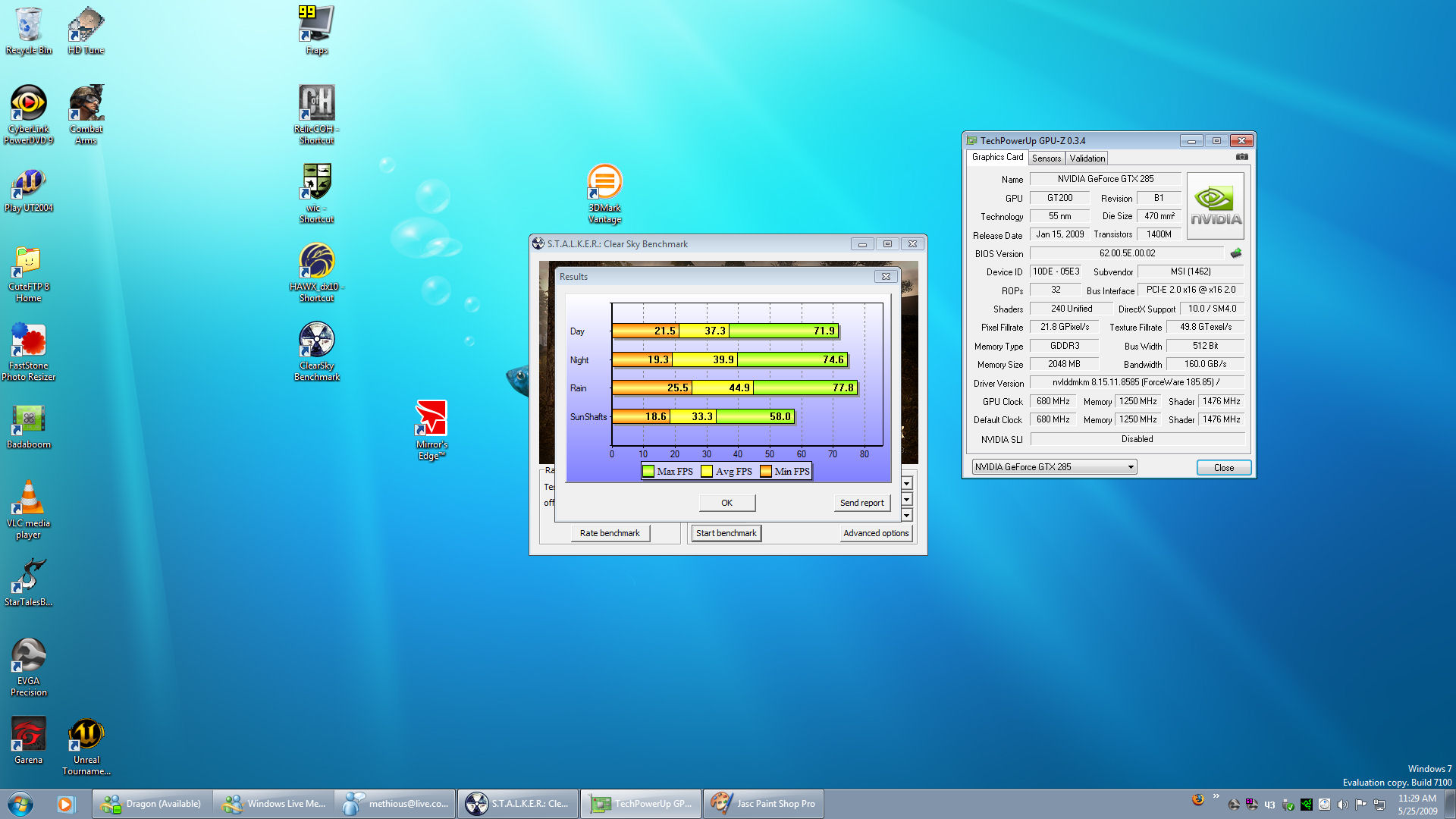 The default clock speeds of the MSI 285GTXSuperpipe video card. With a Clear Sky benchmark run.
TEMPERATURES

IDLE
| | | | |
| --- | --- | --- | --- |
|   |   Auto Fan |  Fan At 50% | Fan At 70% |
|  285GTX Default |  38 |  33 |  33 |
|  285GTx Overclocked |  37 |  34 |  33 |
Since Nvidia uses a three way GPU clock settings (2d Application, 3d Application, Throttling). I was not expecting the Idle temps to very much from default GPU speeds to Overclocked GPU speeds. As we are only setting the 3d Application speeds with our overclocking application (Evga Precision, RivaTuner). Ramping the fan up to 50-70% did reduce the temperature by 5°C but at a cost of noise. 50% was barely noticeable, while 70% it was the loudest fan in my chassis.
LOAD
| | | | |
| --- | --- | --- | --- |
|   |   Auto Fan |  Fan At 50% | Fan At 70% |
|  285GTX Default |  61 |  54 |  52 |
|  285GTx Overclocked |  65 |  56 |  53 |
The Aftermarket cooler that MSI chose for the 285GTX Superpipe does a fairly good job on holding down the temperatures even while the fan is at AUTO setting. Once I started overclocking this video card the temps did climb a bit more by 4°C more but well below my limit of 70°C full load on my video cards. It is only natural once the Fan gets ramped up the temperatures drop significantly.
Far Cry 2

Far Cry 2, released in October 2008 by Ubisoft, was one of the most anticipated titles of the year. It's an engaging state-of-the-art First Person Shooter set in an un-named African country. Caught between two rival factions, you're sent to take out "The Jackal". Far Cry2 ships with a full featured benchmark utility and it is one of the most well designed, well thought out game benchmarks we've ever seen. One big difference between this benchmark and others is that it leaves the game's AI (Artificial Intelligence ) running while the benchmark is being performed.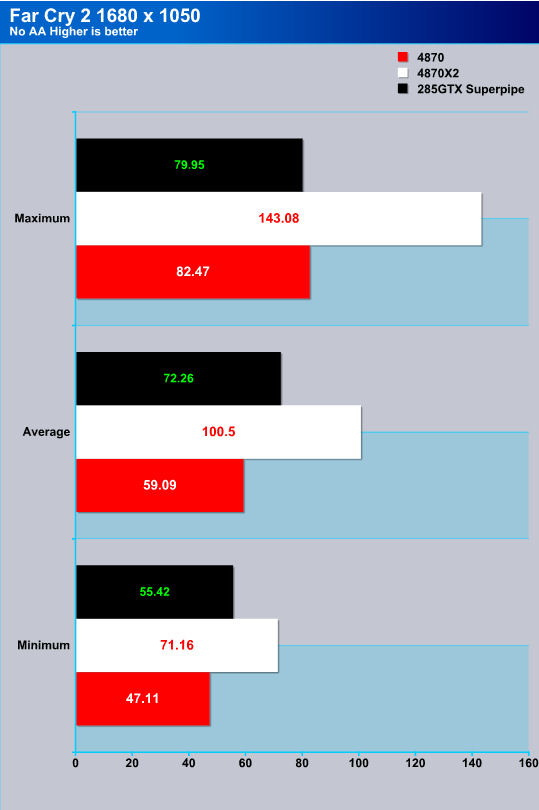 Starting off on Far Cry 2 benchmark, we are going to look at the minimum frame rates. The 285GTX Superpipe video card, Has no problems on keeping the frame's above 30. Now please keep in mind that this video card is being tested under Windows 7 7100 RC1 so performance levels should increase as drivers mature for this Operating System.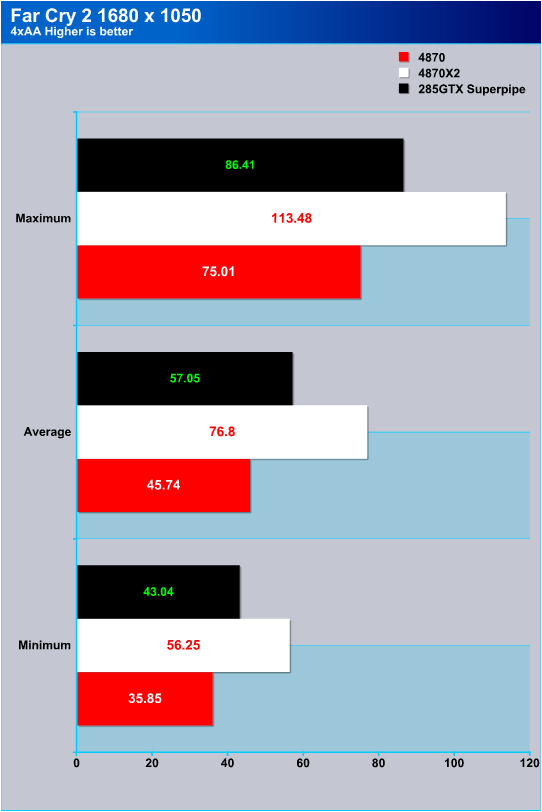 While keeping the resolution of 1680×1050 but adding 4xAA, the 285GTX Superpipe by MSI does dip a little bit on the frame rates but still manages to keep the minimum frame rates above 40. Still acceptable frame rates for this level of quality.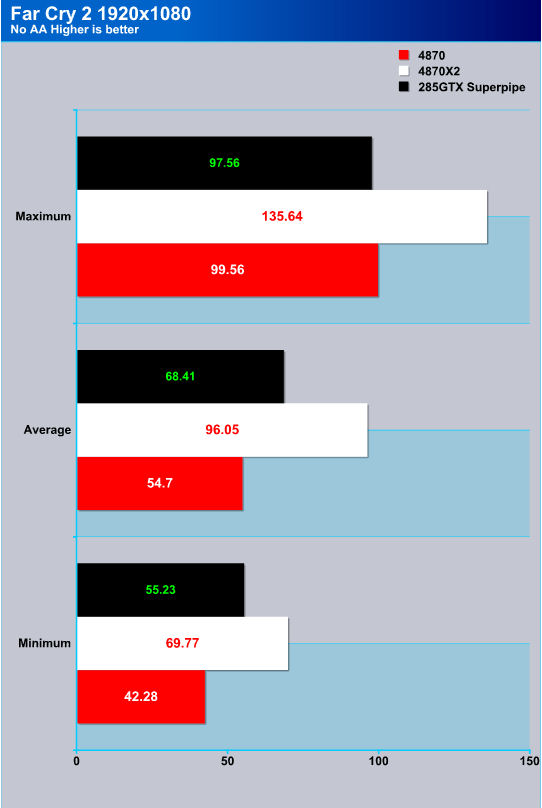 As we see with the first two testing the 285GTX manages to hold its position in between the 4870 and the 4870×2 video cards. In fact the minimum frames rates were identical to the testing of 1680×1050 with no AA. Proving that the higher the resolution became, this video card really started to shine.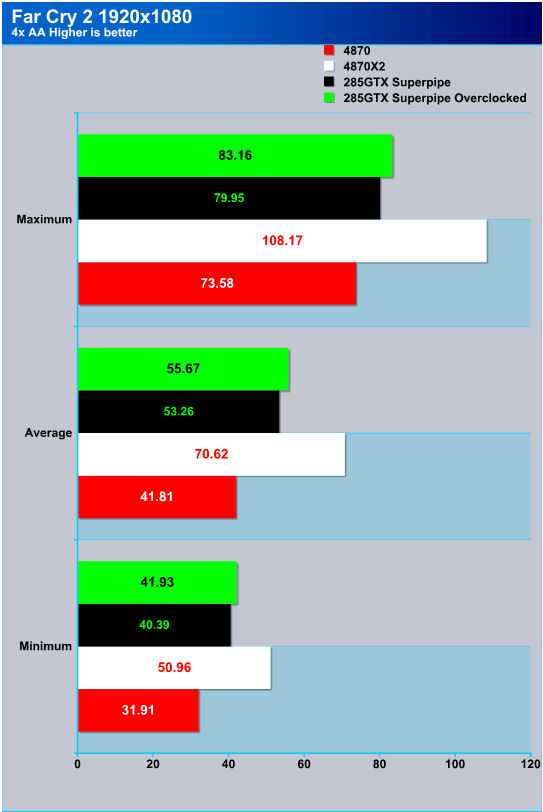 Once we turned on the AA to 4, the 285GTX video card still manages to out do itself by keeping the 40 frames a second rate on the minimum frame rates. Overclocking the 285GTX did not give us enough of a boost to even mention it.
MIRRORS EDGE
Mirrors Edge testing proved to be no match for the 285GTX, at the same time decimated the 4870 video card.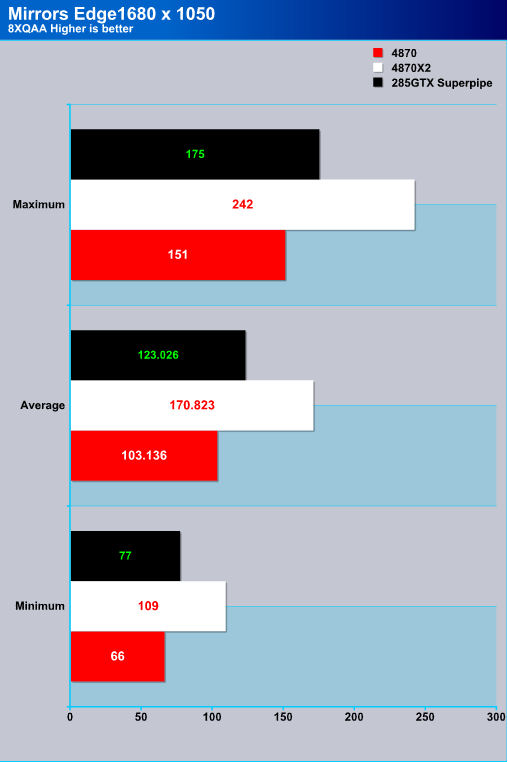 Since ATI can only use a AA level of 8xq I set the same level of AA to the 285GTX as well for a better comparison. The 285GTX video card does take a small frame rate hit of almost 40FPS, between no AA and 8xqAA levels but still manages to hold a 70+ frame rates on the minimum.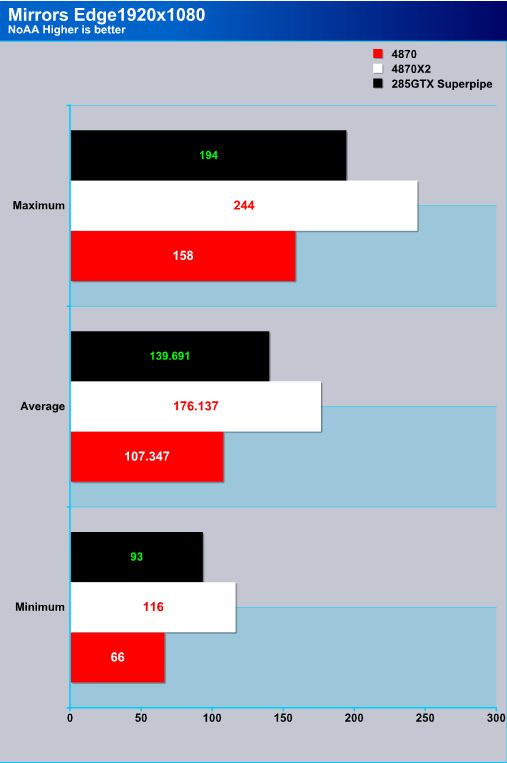 After dropping the AA and increasing the resolution to 1920×1080, the 285GTX slaughters the 4870.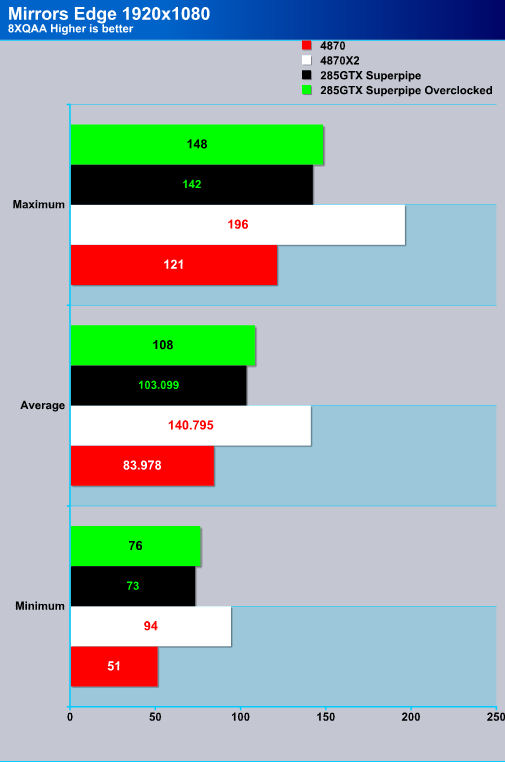 Still receiving the same level of performance as we did with the 1680×1050 8xq setting, on the minimum frame rates we only dropped a total of 4 frame rates between 1680×1050 and 1920×1080 with 8xqAA. Once again no real noticeable frame increase once the 285GTX was overclocked.
HAWX

The story begins in the year 2012. As the era of the nation–state draws quickly to a close, the rules of warfare evolve even more rapidly. More and more nations become increasingly dependent on private military companies (PMCs), elite mercenaries with a lax view of the law. The Reykjavik Accords further legitimize their existence by authorizing their right to serve in every aspect of military operations. While the benefits of such PMCs are apparent, growing concerns surrounding giving them too much power begin to mount.
Tom Clancy's HAWX is the first air combat game set in the world–renowned Tom Clancy's video game universe. Cutting–edge technology, devastating firepower, and intense dogfights bestow this new title a deserving place in the prestigious Tom Clancy franchise. Soon, flying at Mach 3 becomes a right, not a privilege.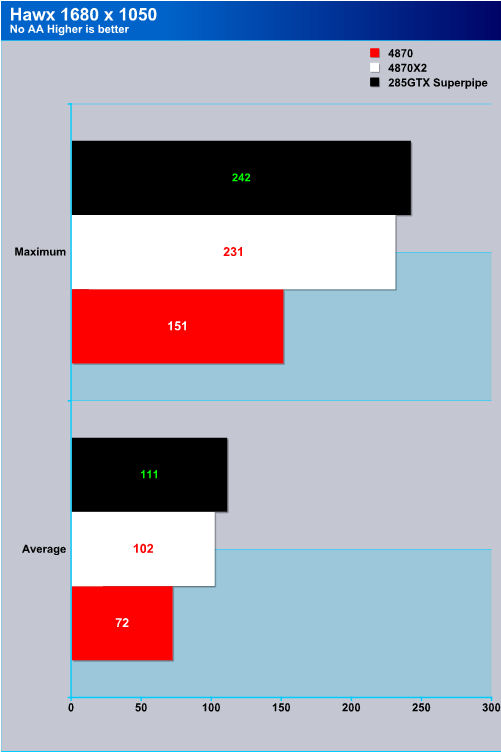 As the last two games the 285GTX shows its supremecy to the 4870, and dominates the 4870X2 in HAWX gaming session.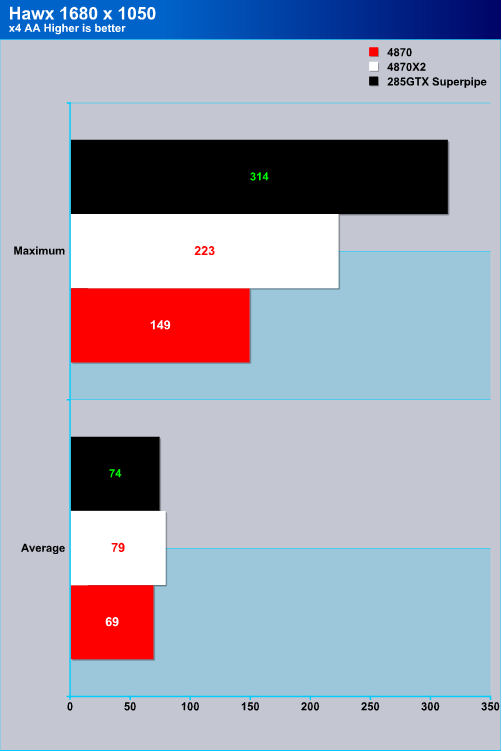 As we also seen the 285GTX takes a performance hit once the AA is applied, the 285GTX Superpipe has a 5 frame rate difference between the 4870 and the 4870X2 video cards.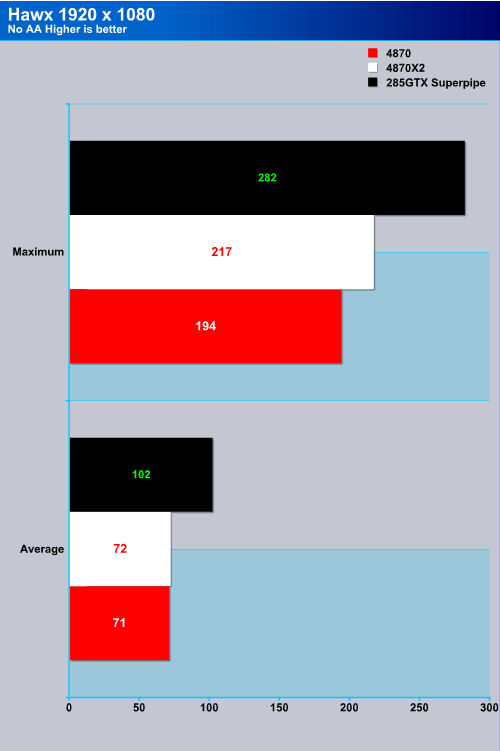 With no AA and a res of 1920×1080, the 285GTX does wonderfully. To the point of mopping the floor with my 4870X2 video card on the average frames.
Here is that 5 frame rate difference between the 4870, and the 285GTX (default), and only gaining 4 FPS on overclocked settings. Comparing the 285GTX Superpipe to the 4870X2 video card, the 285GTX Superpipe keeps this gap fairly close by a 6 FPS difference on the average frame rates.
3DMARK VANTAGE

For complete information on 3DMark Vantage Please follow this Link:
www.futuremark.com/benchmarks/3dmarkvantage/features/
The newest video benchmark from the gang at Futuremark. This utility is still a synthetic benchmark, but one that more closely reflects real world gaming performance. While it is not a perfect replacement for actual game benchmarks, it has its uses. We tested our cards at the 'Performance' setting.
Currently, there is a lot of controversy surrounding NVIDIA's use of a PhysX driver for its 9800 GTX and GTX 200 series cards, thereby putting the ATI brand at a disadvantage. Whereby installing the PyhsX driver, 3DMark Vantage uses the GPU to perform PhysX calculations during a CPU test, and this is where things get a bit gray. If you look at the Driver Approval Policy for 3DMark Vantage it states; "Based on the specification and design of the CPU tests, GPU make, type or driver version may not have a significant effect on the results of either of the CPU tests as indicated in Section 7.3 of the 3DMark Vantage specification and white paper." Did NVIDIA cheat by having the GPU handle the PhysX calculations or are they perfectly within their right since they own Ageia and all their IP? I think this point will quickly become moot once Futuremark releases an update to the test.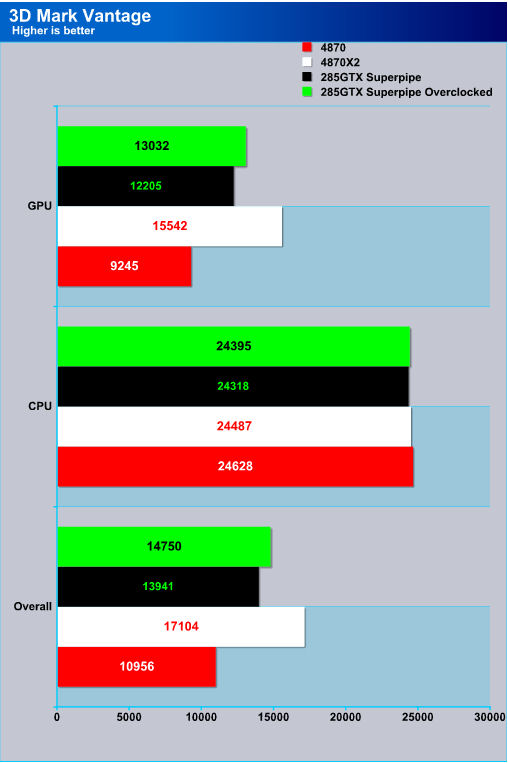 The 285GTX does show its might during our synthetic benchmark, putting the performance of this video card inbetween the 4870 and the 4870×2.
STALKER CLEAR SKY

S.T.A.L.K.E.R. Clear Sky is the latest game from the Ukrainian developer, GSC Game World. The game is a prologue to the award winning S.T.A.L.K.E.R. Shadow of Chernoble, and expands on the idea of a thinking man's shooter. There are many ways you can accomplish your mission, but each requires a meticulous plan, and some thinking on your feet if that plan makes a turn for the worst. S.T.A.L.K.E.R. is a game that will challenge you with intelligent AI, and reward you for beating those challenges. Recently GSC Game World has made an automatic tester for the game, making it easier than ever to obtain an accurate benchmark of Clear Sky's performance.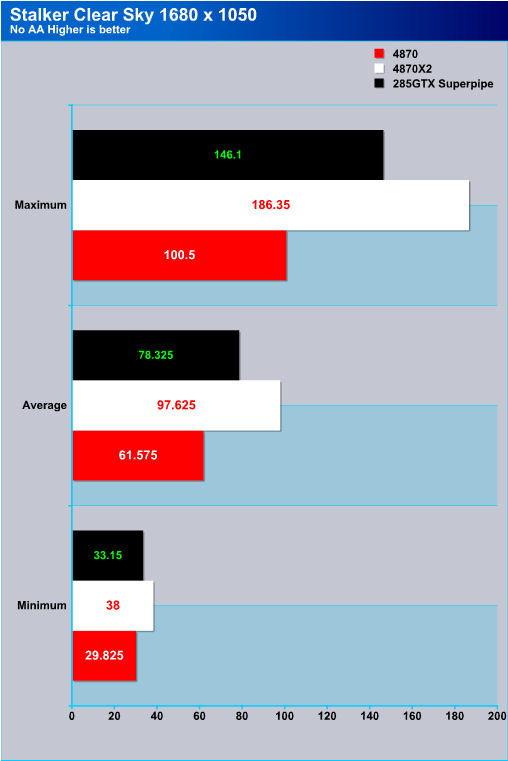 First time I have seen a single core video card pull a minimum frame rate above 30FPS on Stalker Clear Sky, NOTE: these are averages of each frames rates minimum,average,maximum, of all 4 tests.
The 285GTX still manages to hold its own on the AA portion of testing.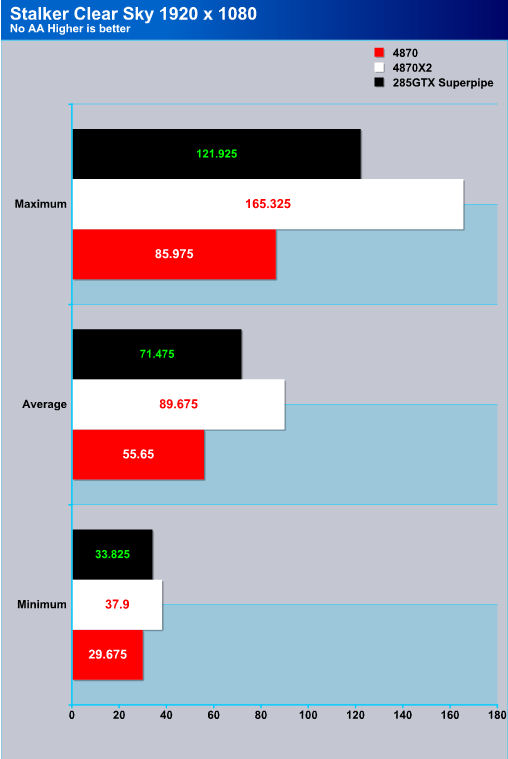 AT 1920×1080 resolution the 285GTX does absolutly wonderful on minimum frame rates.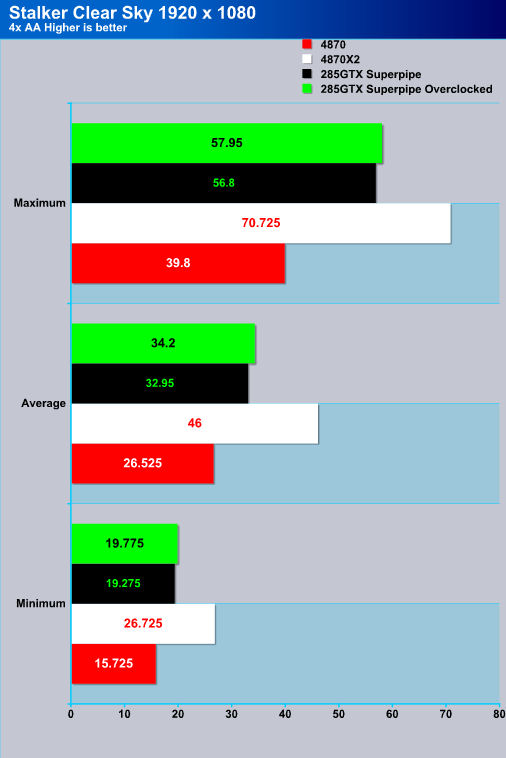 Once AA is appied though theres that drop in performance on the minimum frames. Thats to be expected of any video card especially at a 1920+ res's. Overclocking the 285GTX video card gave us no increases on frame rates.
WORLD IN CONFLICT

World in Conflict is a real-time tactical video game developed by the Swedish video game company Massive Entertainment, and published by Sierra Entertainment for Windows PC. The game was released in September of 2007. The game is set in 1989 during the social, political, and economic collapse of the Soviet Union. However, the title postulates an alternate history scenario where the Soviet Union pursued a course of war to remain in power. World in Conflict has superb graphics, is extremely GPU intensive, and has built-in benchmarks. Sounds like benchmark material to us!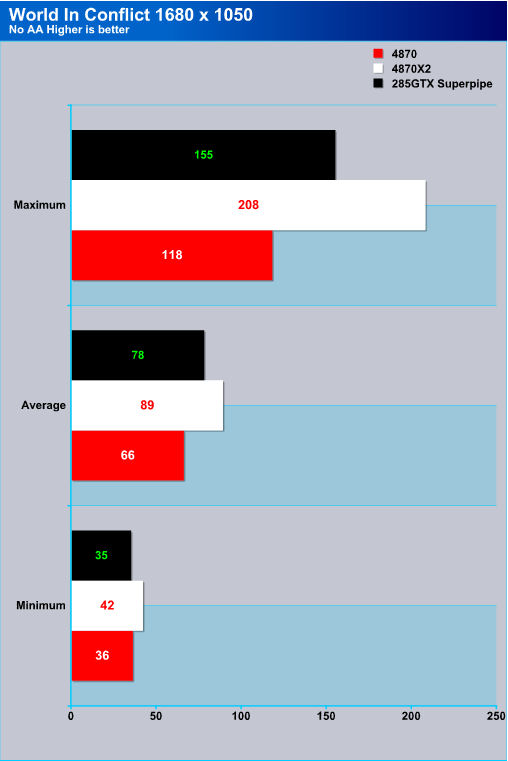 In the minimum frame rate department, the 4870 does fairly well holding up to the 285GTX video card by only a 1 frame difference. But in the average and maximum frame rates the 285GTX Superpipe video card shows its true muscle.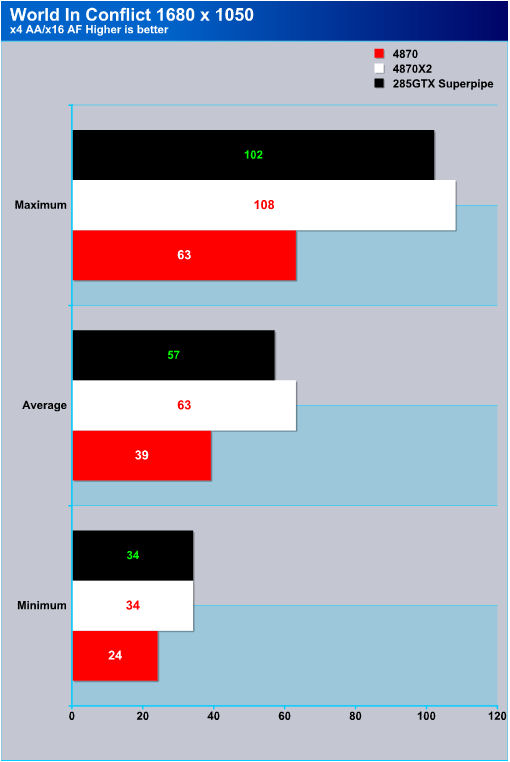 Now this is what I like to see, only dropping 1 frame rate (minimum) while using 1680×1050 with x4AA and x16AF setting. The 285GTX Superpipe video card even keeps up with the mighty 4870X2 video card.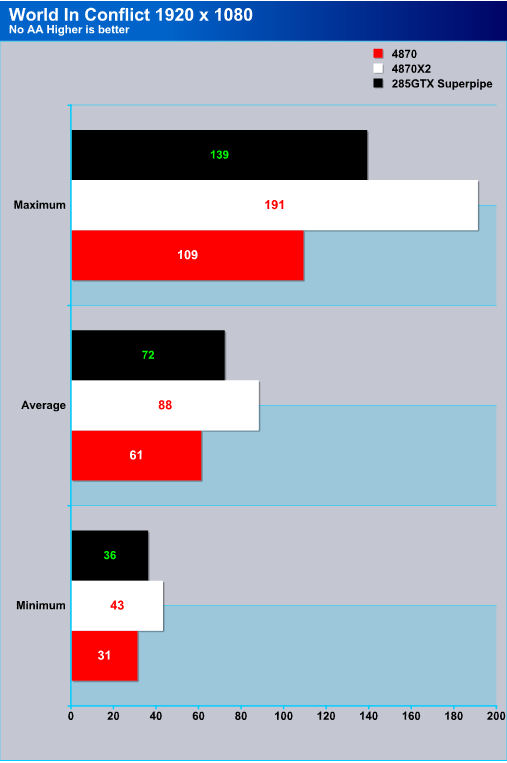 Even with the resolution increased to 1920×1080 the 285GTX does a good job on maintaining a frame rate above 30, again the frame rate is only separated by 1 to 2 frames with both of the 1680 x 1050 resolution tests.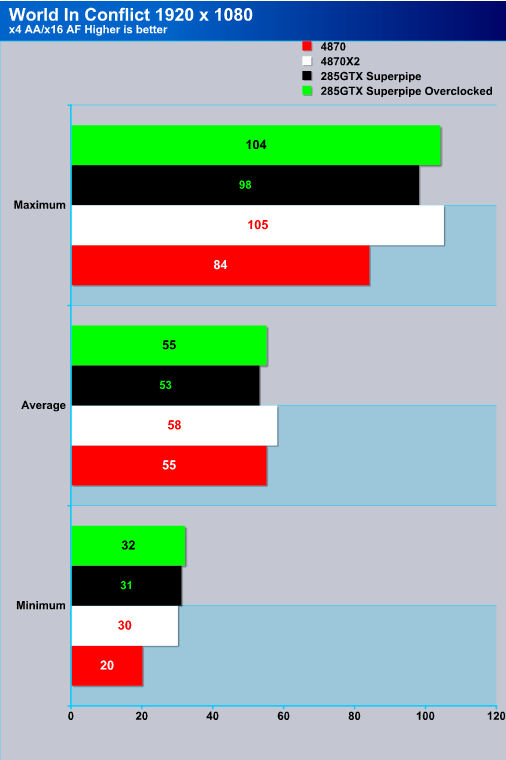 Not even applying x4AA/x16AF can bring the 285GTX below a frame rate of 30.
COMPANY OF HEROES

Company of Heroes(COH) is a Real Time Strategy(RTS) game for the PC, announced on April, 2005. It is developed by the Canadian based company Relic Entertainment and published by THQ. COH is an excellent game that is incredibly demanding on system resources thus making it an excellent benchmark. Like F.E.A.R., the game contains an integrated performance test that can be run to determine your system's performance based on the graphical options you have chosen. It uses the same multi-staged performance ratings as does the F.E.A.R. test. Letting the games benchmark handle the chore takes the human factor out of the equation and ensures that each run of the test is exactly the same producing more reliable results.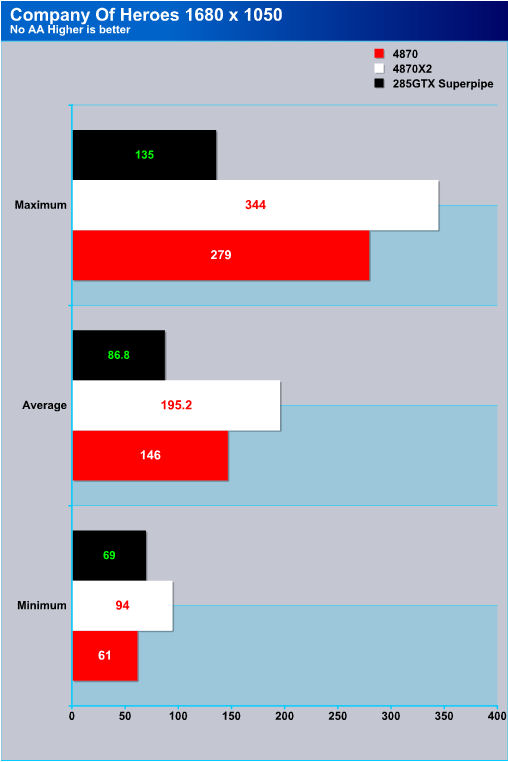 During the World In Conflict testing, the 4870 manages to keep up with the 285GTX, during minimum frame rates and surpasses the 285GTX Superpipe on the average frame rates.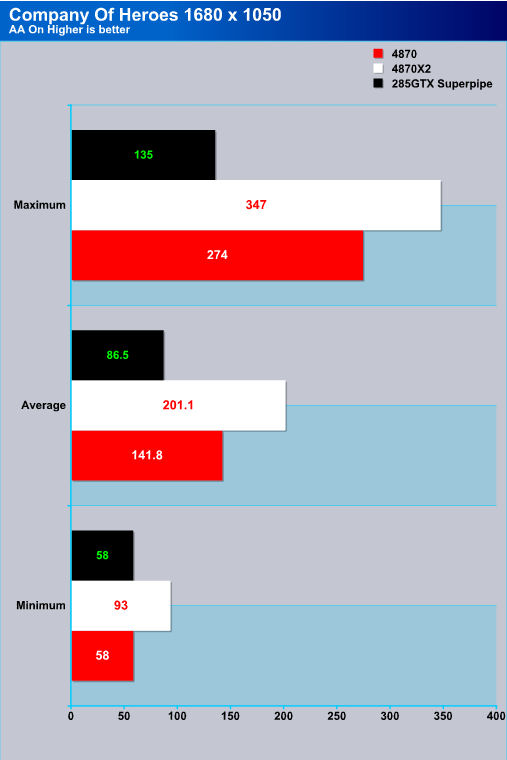 Minimum frame rates shows us the 285GTX Superpipe and the 4870 are evenly matched, the story quickly changes on the average frame rates, the 4870 dominates.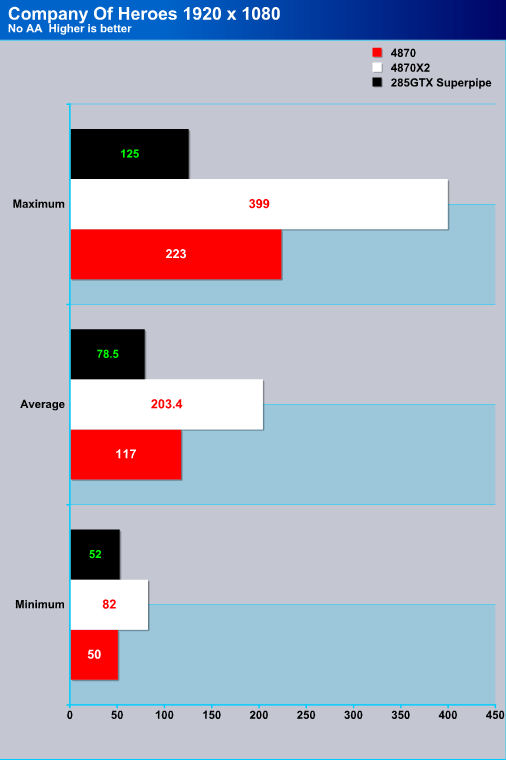 As we seen with the last 2 tests with COH, the 4870 and the 285GTX Superpipe video cards are evenly matched on minimum frame rates, and in the average frame rates the 4870 takes the lead.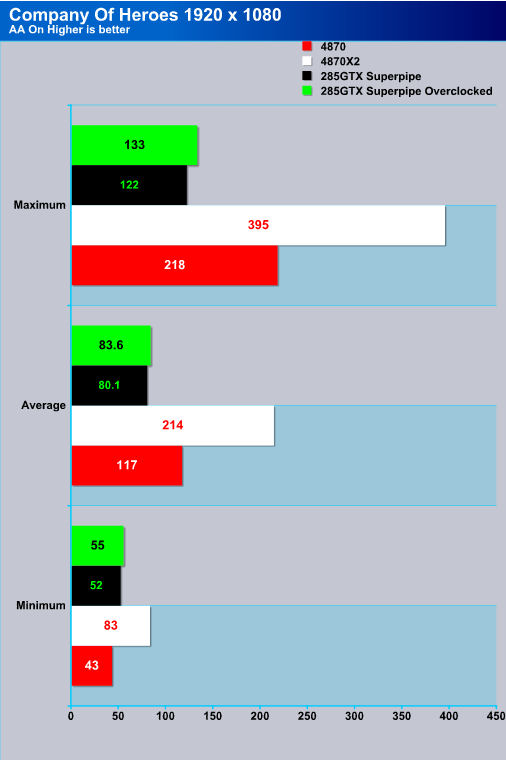 Finally we see some life from the 285GTX video card on the minimum frame rates. But again the 4870 video card overcomes the 285GTX Superpipe during the average frame rates.
PHYSX BY NVIDIA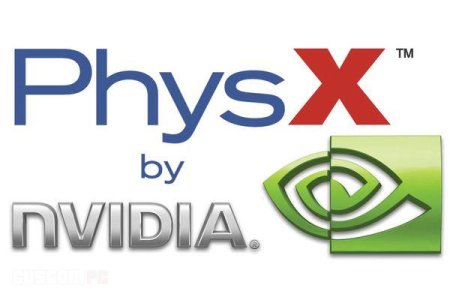 This page is all about the Physx testing of the 285GTX video card with a 9600GT video card as a dedicated Physx card. I was unable to get a proper reading from Mirrors Edge while using Physx, It was not driver error, I also uninstalled/reinstalled both drivers and this game 5 or 6 times trying to figure out why. The only thing I could think is because this game may need an update to properly run in Windows 7 OS.
Using the 9600GT video card as a dedicated Physx card did not give us a signifigant boost in frame rates I was hoping for. The biggest improvement noted was 5 FPS between the 285GTX Physx, and the 285GTX with a 9600GT as a dedicated Physx card. Now lets look at Vantage's CPU benchmark run, Notice that the CPU scores are nearly Identical between the 9600GT dedicated run, and the 285GTX Physx testing? This is telling me that using a dedicated Physx card should give us a significant boost in performance when using a dedicated Physx card, since the Physx calculations is being handled by a separate video card, while the "Big Daddy" handles the visuals. So until more game manufactures and Nvidia optimize/utilize the drivers for this type of set up we may not see that significant change in performance. Again there is still hope, and the idea is sound. I look forward to seeing Nvidia optimize there video cards for this style of gaming computer set ups.
CONCLUSIONS
MSI has a winning video card with the 285GTX Superpipe. Throughout my reign of terror with this video card I did not once worry about any performance related issues nor did I have to turn any of my settings down on my games I do play. Using an aftermarket cooler is definitely a plus in my eyes because this will ensure that my video cards will not overheat during my long gaming sessions. 
I don't know of any bad things to say about this video card, even I am at a loss for words in this area. Most of the problems I encountered were driver related (performance wise) and I have to consider that I am using a "Beta" Operating System, and that in itself will have minor problems. Having a price tag of around 350 USD, this card is the perfect canidate for those who are looking for a great video card with exceptional cooling capabilities.
Performance 9
Value 9
Quality 9.5
Warranty 8
Features 9.5
Innovation 9
Pros:
+Good cooling capabilities
+Very good default Overclocked settings
+Good performance
+Sexy looking video card
Cons:
–I am at a loss of words for cons. So none I can think of.
Final Score: 9 out of 10 and the Bjorn3D Golden Bear Award.