Kingwin has come up with another good replacement of the nasty stock coolers that AMD and Intel uses for there CPU's. Lets take a sneak peek at the XT-1264 CPU cooler.
INTRODUCTION
We all know Kingwin for having quality products at an affordable price. They are also one of the pioneers in designing a Direct Heat Pipe CPU coolers. When I first heard of that Kingwin had a new CPU cooler, I had to jump on the chance of testing one of there CPU coolers. The XT-1264 CPU cooler by Kingwin has the look and feel of a Quality CPU cooler supposed to have. The next question is, will this CPU cooler be able to perform as well as it looks? Lets find out, on an already proven bullet proof CPU also one of the hottest ones, the unforgiving Intel C2Q Q6600.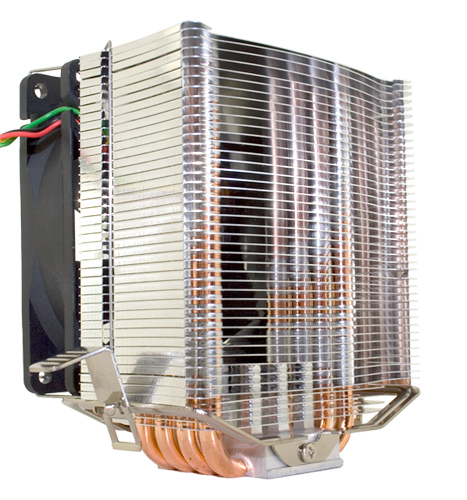 About Kingwin
A computer is no longer only found in an office or large corporation. The personal computer (PC) has evolved into something much larger, and taken on a more distinct personality. It has also taken on the image of a personal accessory that we can see, use; and touch as part of our everyday lives, both in and out of the home. The PC in fact has become and taken on its own personality, as individual, and as the person using it. As the Do-It-Yourself (DIY) market grows, the evolution of the PC is only limited by the imagination of the user. The DIY market now offers a multitude of accessories and customizable options, combining both the personality of the PC and the User into one
Kingwin was founded in 1992 with a mission to produce quality accessories, solutions, and options for its customers. Its main categories include: external/internal storage solutions, power supplies and thermal solutions. As one of the top producers of high quality, DIY computer accessories, Kingwin is poised to lead today's market. Kingwin works in conjunction with both impressive PC functionality and user individuality. Kingwin enclosures and mobile rack solutions also continue to be the first choice among consumers world wide. Just as impressive are the high performance Kingwin power supplies which are now certified by Nvidia SLI, 80Plus and have received recognition & awards worldwide. The most recent "Mach 1 Modular Series" continues to sweep the gaming market by storm. In addition to the retailer channel, Kingwin has also gained great success among distributors, OEM customers, system integrators, and VARs
With over 15 years of experience in the computer components market, Kingwin is dedicated to producing innovative products and provide unparalleled customer service. As we look to the future, we will continue to innovate, advance and stand behind our products 100%
FEATURES
Model: XT-1264
Intel: Socket 1366/775/Core i7/Core 2 Extreme/Quad/Duo/Pentium Extreme Edition/
Celeron D
AMD: Socket AM2/754/939/940/Athlon 64/FX/X2/Opteron/Sempron
4 pcs High Performance U Type Heat-pipe Touch w/ CPU Chip
Easy installation
H.T.C. (Heat-pipe Touch Chip) Technology
4 Copper Heatpipes
120 mm NDB Fan
Aluminum fin
Light weight
Tool-Free clip
Universal Application: 1366/LGA775 push-pin & AM2/K8 Tool-Less Clip
SPECIFICATIONS
Model
XT-1264
Dimension:
120mm (L) x 74mm (W) x 150mm (H)
Heat Sink:

| | |
| --- | --- |
| Material: | Aluminum Alloy |
| Base: | Copper (Heat-pipe Touch Chip) |
| Heat-Pipe: | Φ 6 x 4 |
| Dimension (W) x (H) x (D) mm: | 120 x 120 x 25 PWM fan |
| Voltage Rating (V): | 12V |
| Speed (R.P.M.): | 700 ~2300 RPM |
| Bearing Type: | N.D.B. Bearing |
| Air Flow (CFM): | 82.0~101.2 CFM |
| Static Pressure (mmAQ): | 3.28~3.97 mmAQ |
| Life Expectance (hrs): | 60,000 Hrs. |
| Noise Level (dBA): | 34.50~38.00 dBA |
| Connector | 4 Pin with PWM |

Weight(g):
467g (w/fan)
PACKAGING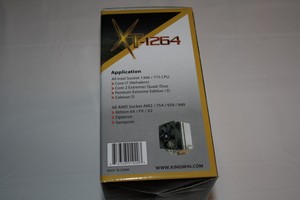 Kingwin does a good job on how they present the XT1264 CPU cooler in its packaging. Kingwin also gives us plenty of information about this CPU cooler. This CPU cooler will fit AMD's 754/939/AM2/940 socket CPU's & Intel's socket 775/1366 CPU's.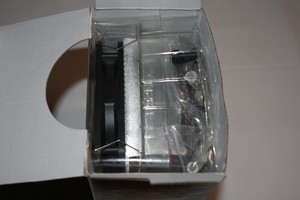 Upon opening the box that Kingwin used for the XT1264 CPU cooler, we noticed they used a two piece blister packaging to keep the CPU cooler form getting harmed during transport.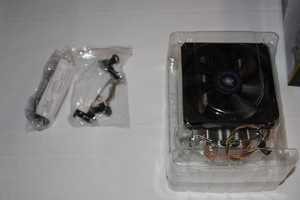 The contents of the Packaging laid out.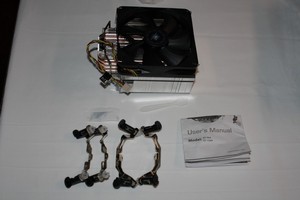 With everything outside of there respective encasement, lets take a loot. Up top is the XT-1264 CPU cooler with the AMD CPU socket adapter already mounted. Some thermal paste, a spreader, below these two items is the Intel socket 775/1366 mounts. Too the right of the Intel mounting hardware is the instruction manual.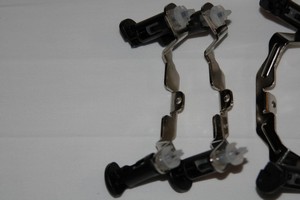 A better look at the Intel 775 Socket mounting hardware. Which I will be using to mount this CPU cooler. As we can see Kingwin used the standard Intel mounting push pins we come to hate.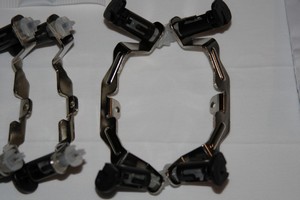 The Intel 1366 mounting hardware. Again Kingwin used the standard Intel mounting push pins, yuk. No retention plate, or anything like that with this CPU cooler. I personally like using a retention plate with my CPU coolers as this seriously helps keep the motherboard from getting warped, also it helps make sure the CPU cooler makes a good contact to the CPU.
OVERVIEW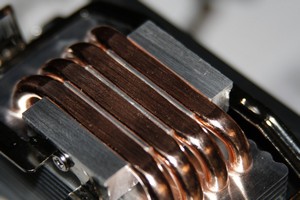 Looking at the Base of the CPU cooler, Kingwin could have done a better job on making sure the base is smooth. I will have to add that Kingwin did a good job on making sure the base is even and flat though.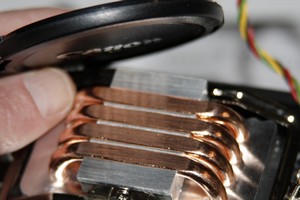 I used my camera's lens cover for a reflection test, I can make a ghost image of the cover on the base of the CPU cooler but that is about it.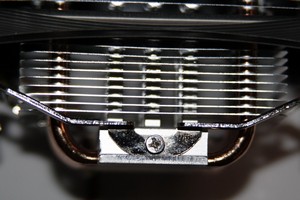 I left the AMD socket mounting hardware during the overview. Looking at the base of the CPU cooler on the front side (fan side) Kingwin does a good job on make the fins themselves evenly spaced.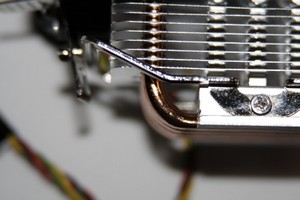 The heat pipes Kingwin used, are standard size that we seen on other heat pipe CPU coolers.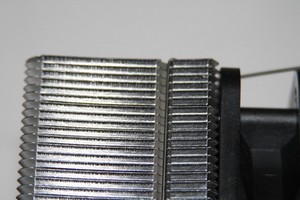 Instead of leaving the sides of the CPU cooler open, Kingwin closed them. This design feature should help channel the airflow through the heat sink.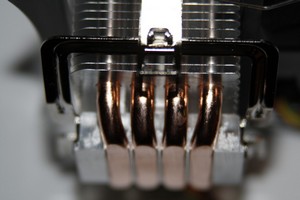 The XT-1264 CPU cooler uses 4 (8) total heat pipers to wick away heat from the CPU to the aluminum fins.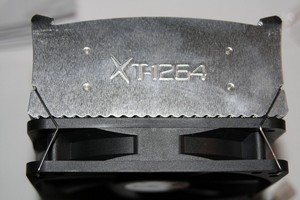 Looking at the top of the CPU cooler.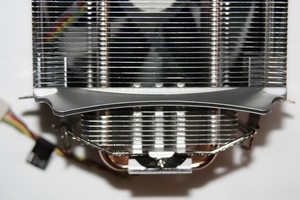 This CPU cannot use 2 fans in a push pull configuration, reason is because of this deflector the King win used on the CPU cooler.
Funny
Upon, receiving this CPU cooler, I gotten a hold of Bjorn3d's Chief Review Editor Methious (Mark), and asked if I could go ahead and test this CPU cooler on my old Q6600 CPU, instead of my Core i7 920 CPU. His response was, " I don't care if you tested this on your cars radiator." Well Chief, it would not fit on the radiator, so I put it on the engine of my car. LMAO….. I did not think it would work to well on my engine anyways, not to mention my hood on my car would not close right so I felt it be best to test this CPU cooler on a CPU instead…….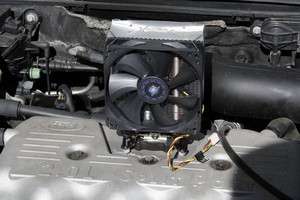 INSTALLATION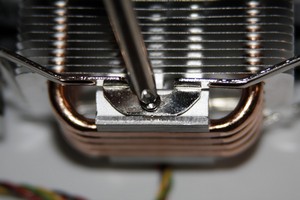 Since this CPU cooler had the AMD socket hardware already mounted I needed to remove this mount to install the Intel socket 775 mounting hardware.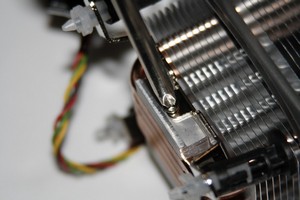 Pretty simple stuff really, remove the 2 screws holding the mount on, then place one side of the Intel mounting hardware on then replace the machine screw.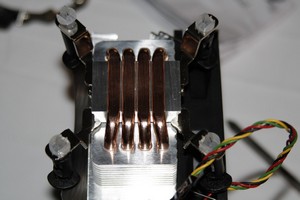 What you should have if you are using the Intel mounting hardware.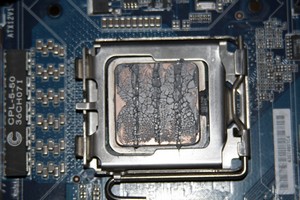 I used a point pattern placement of the thermal paste I was using. I ended up having to tweak this design a little bit so i would get the proper coverage I wanted. This is just a quick test I just placed the CPU cooler on the CPU and pressed the two together counted to 30 and removed the cooler. We can see where the heat pipes are separated at. As this left little raised spots of thermal paste on the IHS of the CPU.
Make sure what you see on the CPU you get on the base of the CPU cooler. Despite it looks like a lot of thermal paste, the spread is nice and somewhat even.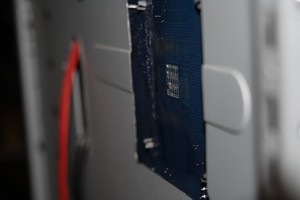 Full install test fit. I got a saying that i picked up from my pops, check, check, and recheck, and when in doubt check, check, and recheck, till you are happy with it. Its hard to see, but the motherboard is slightly bowed. I left the motherboard in side of the chassis during installation.
Nice and flat, what I was expecting. You can see where the heat pipes are fully contacting the CPU IHS.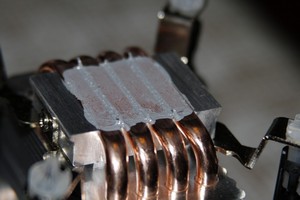 Make sure what you have on the CPU IHS, you get on the CPU cooler base.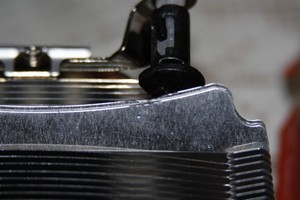 This is an extra, when I was removing the CPU cooler during the full install test, I had difficulty reaching the back two push pins to secure the CPU cooler. as you can see the CPU coolers deflector gets in the way.
I ended up damaging the deflector shield when I used a screw driver to turn the push pins so I could remove the CPU cooler. Not a negative, just thought it was worth mentioning.
TESTING METHODOLOGY
Test Setup &Testing Methodology
CPU
Lapped Q6600
Motherboard
 Abit IX38
Case
NZXT Whisper chassis
Memory
Gskill PI Black
Video Card's
Sapphire HD4770
Hard Drives
Western digital 320gig, 1 Western Digital 160 Gig
CDRom Drive
Lite On Sata1 DVD Burner
Power Supply
PC Power & Cooling 750 Watt
Type Of Coolers Used
Noctua NH-C12P, Kingwin XT-1264
CPU Speeds Used
2.4, 3.2
Operating System Used
Microsoft Windows Vista 64Bit
Type of Software Used During Testing
Orthos X2 instances X 3 runns
To test the XT-1264 CPU cooler, I ran two instances of Orthos three times to ensure my results were consistent. I used the default CPU speed of 2.4GHz, and the maximum CPU speed achieved on air (3.2). No other CPU speeds were used. The ambient temperature was around 23°C during testing, yes things were a little warm that day, good way on testing a CPU cooler. All fans were set to MAX. I also like and try and keep my CPU's on or around the 60°C range during full load testing, this will ensure longevity of the CPU. Your results will very greatly from my own.
Since the way I will test the CPU cooler is out of the way, lets get on with testing.
TESTING
Default
| | | |
| --- | --- | --- |
|  Q6600 2.4GHz | Idle | Load |
| Kingwin XT-1264 | 30°C | 48°C |
| Noctua NHC12P | 26°C | 42°C |
The Kingwin XT-1264 CPU cooler does manage to keep the Q6600 cool at default CPU speeds. Not having a retention plate, and the base of the CPU cooler having a rough surface cannot keep up with the NH-C12P. Lets start heating things up by overclocking the Q6600 CPU.
Overclocked
| | | |
| --- | --- | --- |
|  Q6600 Max GHz | Idle | Load |
| Kingwin XT-1264 3.2GHz | 33°C | 59°C |
| Noctua NHC12P 3.6GHz | 27°C | 61°C |
Once again the Kingwin does manage to keep the Q6600 cool at 3.2GHz, topping at around 59°C during this CPU speed ended this testing quickly. 3.2GHz is still a respectable core speed to achieve on a Q6600 CPU.
CONCLUSIONS
The Kingwin CPU cooler performed as I expected it to. Nothing spectacular, but not disappointing either. I can't help wonder how this CPU cooler would perform if the CPU coolers base was lapped, also have an retention plate installed with it. This is Kingwin's greatest failing by not including this simple little device as with any CPU cooler performs much better once a retention plate is used.
Having a price point on or around the 35 USD mark, puts this in a category for anyone needing a cheap decent performing CPU cooler to replace there stock CPU cooler. With a few minor tweaks who knows what this little CPU cooler could do then.
Performance 7
Value 8
Quality 9
Warranty 9
Features 6
Innovation

9
Pros:
+Light weight
+The fan moves a lot of air
+Ease of installation
Cons:
–No retention plate (a pet peeve of mine with CPU coolers)
–The use of the standard Intel push pins, Ewwwwwww.
–Base of the cooler could use a bit more elbow grease
Because of not having a retention plate and the base of the cooler was rough I give it a
7.0 out of 10 and the Bjorn3D.com Seal Of Approval.