ICY DOCK has come up with a good way for us people to use them extra SATA hard drives that been taking up precious space.
INTRODUCTION
When it comes to upgrading our computers, we always seem to have left overs from your previous upgrades. One of them extra items is the HDD itself. A lot of us have moved onto bigger, badder, faster drives making our old HDD obsolete. Lot of the time there too small to be used for our main HDD's. These extra drives become a back up HDD's where we store all of our downloaded content or store our pictures, and other things. The question comes up, if we want to take some of that information from our personal computers to your friends/families computer? Flash drives work in a pinch and for small files, but what if there's a lot of information you want to show or transfer to other computers? Having to remove/install the back up drive from our computers to other computers gets annoying after a while.
ICY DOCK has come up with a solution for those who have a lot of extra SATA HDD's laying around, or for those types who need to make there back up HDD a portable drive (with out spending an large amount money on external HDD's. The MB881US-1S-1, allows us to use an everyday internal SATA HDD as a portable unit.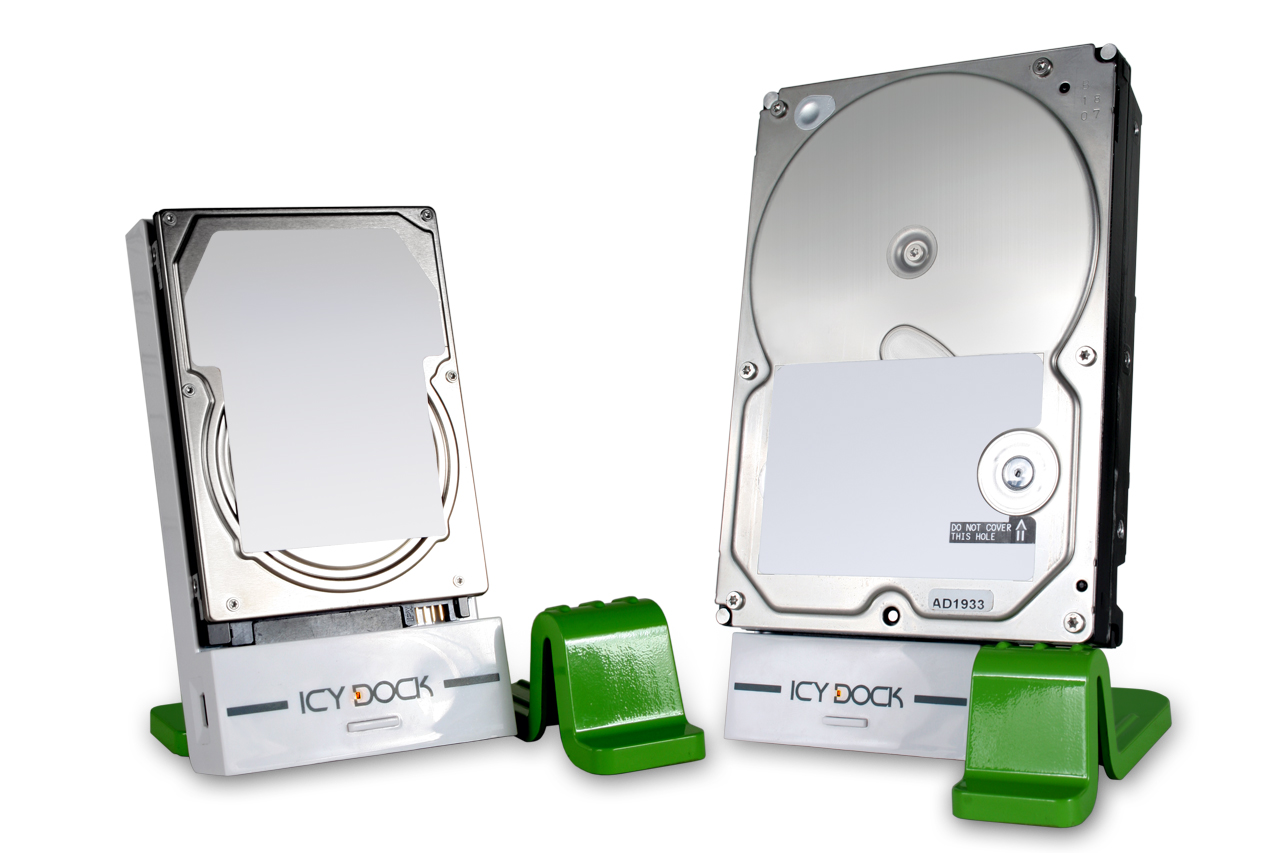 About ICY DOCK
ICY DOCK is a privately held company with more than 10 years being devoted in design, manufacturing, branding and distribution of Storage enclosure peripherals. By keep improving its own new product release process from previous toil experiences, ICY DOCK has formed a standard yet efficient new product development procedures to satisfy timely requirement from the market.
At ICY DOCK, we constantly offers state-of-the-art design of hard disk enclosure and removable storage kit with features such as the currently launched a series of removable drive & hot swap capabilities and eSATA / SATA connectivity products. We also specializes in BTO (Built to Order) of branded, OEM-branded and non-branded products for "Tier 1" customers.
Headquartered in City of Industry, California, ICY DOCK becomes a global peripheral enclosure provider with manufacturing facility located in Zhang-Zang, China since 1997.  Restrictively followed ISO9001 proved manufacturing process standard, ICY DOCK delivers high quality standard products at competitive price which provides our customers an excellent opportunity to be successful in the competitive US marketplace.  
As one of the leading peripheral enclosure solution provider, we will continue to commit ourselves in supplying our customers the best performance per dollar products. "Your demand is our command" is the key to ensure our success in the business world.
Company Profile:
1994 – Company started with US$200,000 capital.
1997 – Zhang-Sang production line in Shenzhen, China was set up.
1998 – Started branch office in USA.
1999 – Became a million dollar company.
1999 – Started branch office in Germany.
2000 – Started branch office in Japan.
2001 – Sales revenue doubled and became two million dollar company.
2001 – Started branch office in mainland China.
2002 – Became one of the leading suppliers in consumer electronic product.
2004 – Started ICY-DOCK brand.
2005 – ICY DOCK becomes a well recognized name brand.
2006 – Received award from variety publication.
2007 – Launch series of Screw-less product with a new user friendly interface and advanced features.
For additional information on ICY DOCK products, please call (626) 956.8800.
SPECIFICATIONS
ICY DOCK MB881US-1S-1 EZ-DOCK 2.5"/3.5" SATA to eSATA & USB
HDD Docking Station Enclosure for Mac & PC

Item Number:

MB881US-1S-1

Drive Fit

1 x 2.5″/3.5" SATA I & II

External Interface

eSATA & USB 2.0

Transfer Rate

up to 3 Gb/sec. via eSATA

up to 480 Mb/sec. via USB2.0

Structure

Plastic body with aluminum alloy stand

LED Indication

Device Power & Drive Activity

LED Display Color

Power: Amber; Drive Activtiy: Amber flashing

Dimension (L x W x H)

126 x 106 x 92 mm

Weight

265.3 g
PACKAGING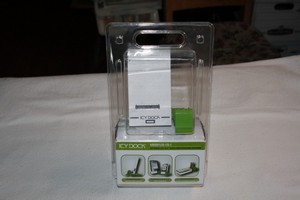 Looking at the front of the packaging that ICY DOCK used, we can see that they used a standard two piece plastic blister package. The HDD adapter/holder is clearly visable.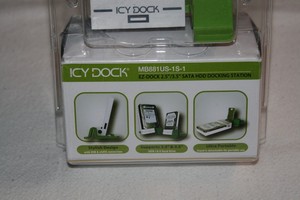 Just below the ICY DOCK, docking station is a box, with general features of this product.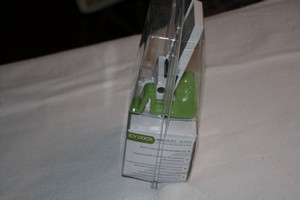 Looking at the side of the packaging.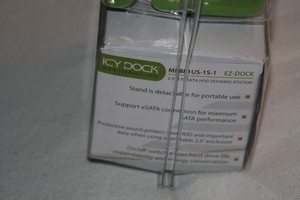 More information on the capabilities of the ICY DOCK MB881US-1S-1 docking station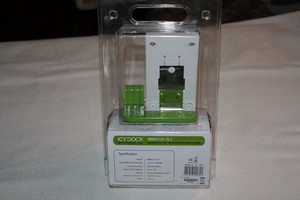 Looking at the back side of the blister packaging.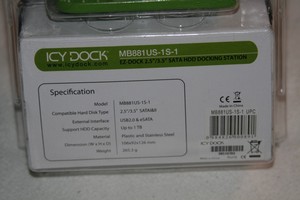 Here is the general specifications of the ICY DOCK MB881US-1S-1.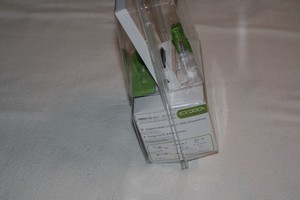 The last side of the MB881US-1S-1 docking station.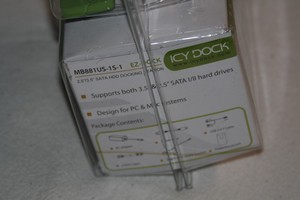 The supported types of computers this unit can be used on, also what comes with this device.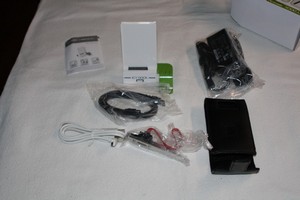 The entire contents of the blister/box contents laid out. Top left corner is the instruction manual, moving right is the MB881US-1S-1, then the power adapter we will need to power the HDD up. Below MB881US-1S-1 is the E-SATA cable, below this cable is a USB cable (in case we don't have any E-SATA connectors or any SATA ports/Spare SATA ports). ICY DOCK included a SATA to E-SATA internal adapter. Finally ICY DOCK included a little carrying case for our HDD. ICY DOCK packed that little box with a lot of stuff.
OVERVIEW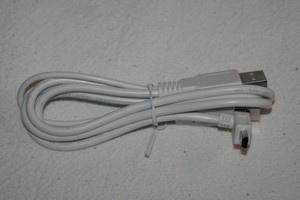 Here is the USB cable that ICY DOCK included with the MB881US-1S-1 docking station.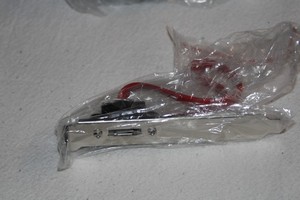 In case your motherboard/chassis does not have the built in E-SATA ports ICY DOCK included one of these as well.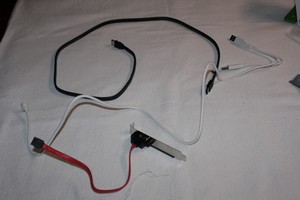 These are the cables that ICY DOCK gives us. the E-SATA cable, USB cable (both of these are fairly long) and the E-SATA adapter. ICY DOCK could have made the E-SATA cable a tad longer for cable management inside of our chassis.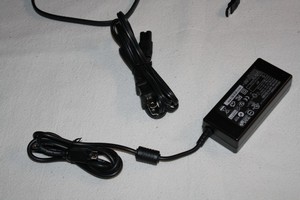 The power adapter is in two pieces. Also it is very long to accommodate us in our use of this little device.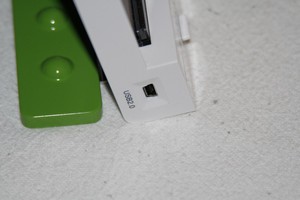 Location of the USB cable on the MB881US-1S-1 docking station.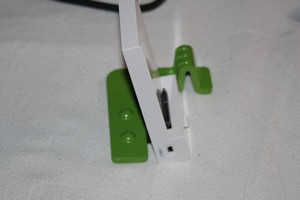 Looking upwards on the same side as the USB port, you will notice that ICY DOCK has a small lip on one side of the adapter. This will ensure that the HDD we use (2.5/3.5 inch) will line up properly with this device.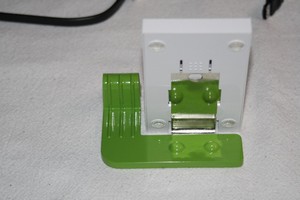 The back side of the MB881US-1S-1. You will notice a green extension connected to the MB881US-1S-1 docking station. This is to help stabilize the 3.5 inch drives while using the MB881US-1S-1, as well as hold the device upright.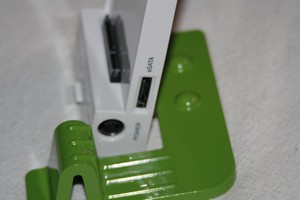 Close up of where the power adapter and E-SATA cable go into. These two ports are fairly close to one another.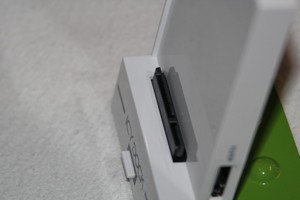 Up close picture of the SATA power and SATA plug that goes into the HDD itself.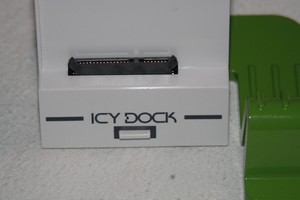 The MB881US-1S-1 has a power button and a HDD activity light.
INSTALLATION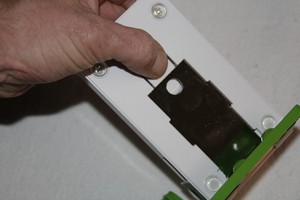 The green extension that is on the MB881US-1S-1 docking station can be removed if you want this unit to lye flat. Just push on the clip right above the sliver plate on the back side of the MB881US-1S-1.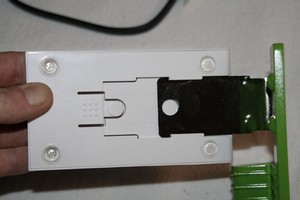 Then just slide the green extension out.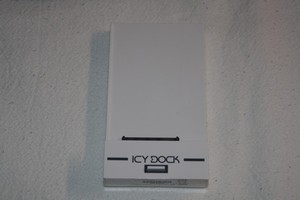 Now the MB881US-1S-1 can be laid down instead of being upright.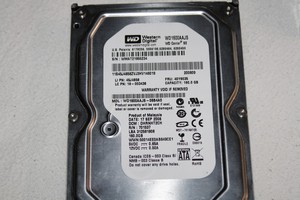 The HDD I will be using. It is an extra Western Digital 160 gig HDD I had floating around, being utterly useless, besides taking up space in some box somewhere in my computer mess.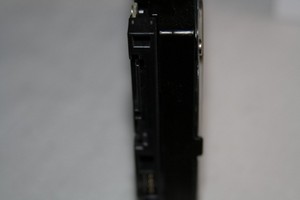 Yep it is a SATA type drive.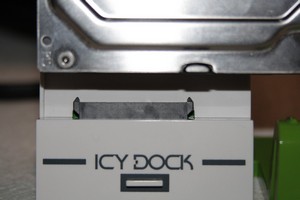 Pretty simple to install it on the MB881US-1S-1 docking station. just line up the SATA ports to the HDD and slide into place.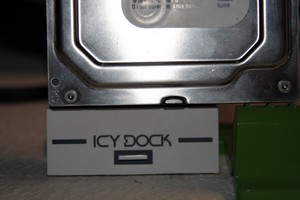 Wallah installation complete.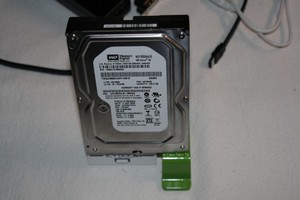 Even though this HDD dwarfs the docking station, the MB881US-1S-1 manages to hold up quite well and stable. All that is left to do is hook up the power cables and the E-SATA cable and off we go. Because of the disaster area my computer desk has become I was unable to get a picture of the drive while connected to my computer.
CONCLUSIONS
The use of the MB881US-1S-1 docking station from ICY DOCK has been effortless. This docking station has made a unusable drive that was taking up space in a box to something that can be transported from my computer to other computers with out ever having to open up the chassis, finding the power cables from the PSU, hooking up the SATA cable to the motherboard, to the HDD, and then having that drive just floating around on the outside of the chassis.
Looking at PriceGrabber this little unit goes for around 45 USD, IMO I think this puts this little device a little high on the price range. When we can get external HDD enclosures for a little cheaper. The flexibility of E-SATA, USB interfacing, and the ease of use of either 2.5/3.5 inch drives adds some flexibility while using the MB881US-1S-1 docking station.
Performance 8
Value 6
Quality 9
Warranty 9
Features 9
Innovation

9
Pros:
+Ease of use
+Can use multiple size HDD's
+Multiple ways of hooking the MB881US-1S-1 to computer
Cons:
–Somewhat high price tag
–The SATA to E-SATA adapter cable could be a tad longer.
7.5 out of 10 and the Bjorn3D.com Seal Of Approval.