Needing a 5.25″ HDD bay enclosure that allows you to remove the HDD when it is need? The ICY DOCK MB877SK-B might be right up your alley.
INTRODUCTION
The ICY DOCK MB877SK-B HDD mobile rack allows users to use their 3.5″ backup Hard Disk Drives and turns them into a portable device. This device gives us the ability to remove our SATA HDD's easily and without the need of going inside of our computers, unplugging the HDD's SATA cables, power cables, while also not having to remove a bunch of screws so we can remove that drive. It is as simple as counting 1,2,3 and that drive we need is out. This unit is also perfect for those who need to recover your family's/friend's precious information stored on their HDD's simply and effortlessly.
Let's examine the MB877SK-B HDD Mobile Rack in detail.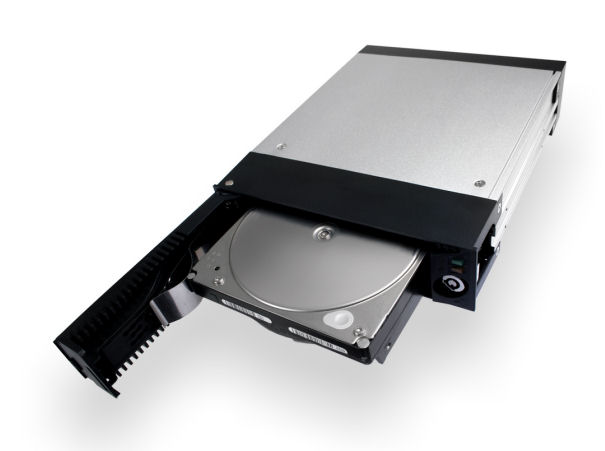 About ICY DOCK
ICY DOCK is a privately held company with more than 10 years being devoted in design, manufacturing, branding and distribution of Storage enclosure peripherals. By keep improving its own new product release process from previous toil experiences, ICY DOCK has formed a standard yet efficient new product development procedures to satisfy timely requirement from the market.
At ICY DOCK, we constantly offers state-of-the-art design of hard disk enclosure and removable storage kit with features such as the currently launched a series of removable drive & hot swap capabilities and eSATA / SATA connectivity products. We also specializes in BTO (Built to Order) of branded, OEM-branded and non-branded products for "Tier 1" customers.
Headquartered in City of Industry, California, ICY DOCK becomes a global peripheral enclosure provider with manufacturing facility located in Zhang-Zang, China since 1997.  Restrictively followed ISO9001 proved manufacturing process standard, ICY DOCK delivers high quality standard products at competitive price which provides our customers an excellent opportunity to be successful in the competitive US marketplace.  
As one of the leading peripheral enclosure solution provider, we will continue to commit ourselves in supplying our customers the best performance per dollar products. "Your demand is our command" is the key to ensure our success in the business world.
Company Profile:
1994 – Company started with US$200,000 capital.
1997 – Zhang-Sang production line in Shenzhen, China was set up.
1998 – Started branch office in USA.
1999 – Became a million dollar company.
1999 – Started branch office in Germany.
2000 – Started branch office in Japan.
2001 – Sales revenue doubled and became two million dollar company.
2001 – Started branch office in mainland China.
2002 – Became one of the leading suppliers in consumer electronic product.
2004 – Started ICY-DOCK brand.
2005 – ICY DOCK becomes a well recognized name brand.
2006 – Received award from variety publication.
2007 – Launch series of Screw-less product with a new user friendly interface and advanced features.
For additional information on ICY DOCK products, please call (626) 956.8800.
SPECIFICATIONS
ICY DOCK MB877SK-B Tray-less Aluminum Body 3.5″ SATA I & II Mobile Rack
Removable Hard Drive Kit

Item Number:

MB877SK-B

Host Interface

7 pin SATA

Drive Fit

1 x 3.5" SATA I / II

Drive Bay

1 x 5.25″

Transfer Rate

up to 300 MB/sec

Insert & Extract connection Via

15 pin direct hard drive connection

Structure

Aluminum body w/ plastic face panel

Drive Cooling

Aluminum heat dispersion w/ 1 x rear outtake fan

LED Indication

Device Power & Drive Activity

LED Display Color

Green : Device Power ; Amber : Drive Activity

Dimension (L x W x H)

7.83″ x 5.88″ x 1.65

Weight

1.32 lbs
PACKAGING
The box that ICY DOCK used gives us plenty of information about this particular HDD enclosure. Just looking at the packaging, this mobile rack is more of an internal docking station for your SATA HDD's.
Removing all of the contents of the box and laying them all out. Top left is the mobile rack, an instruction manual, some screws, and a set of keys in a plastic bag.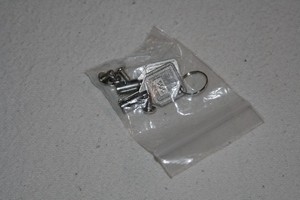 An up close picture of the set of keys that this unit uses to lock the HDD inside of the mobile rack if we so choose to do so.
OVERVIEW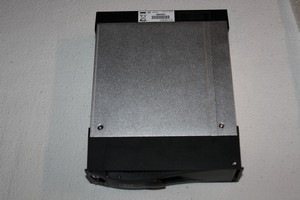 The MB877SK-B mobile rack uses an unoccupied 5.25″ bay. ICY DOCK used an aluminum shell casing that surrounds the HDD.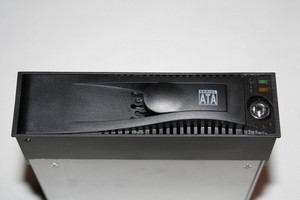 The front side of the MB877SK-B mobile rack. If you look closely this unit has vents on the front door of the mobile rack. This will allow air flow to help aide in cooling our HDD's while they are being used inside of this HDD rack. To the far right of the front of the mobile rack has two activity LED's (activity and power), plus a key lock so we can secure our HDD's in this mobile rack.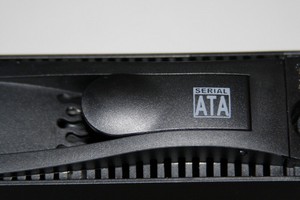 You can only use SATA type HDD's in this unit.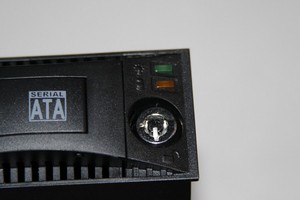 Up close image of the key lock and activity LED's.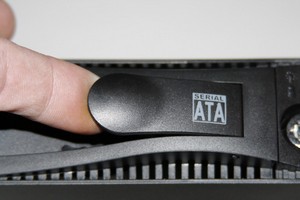 There is a little lever that we need to push out in order to use this device.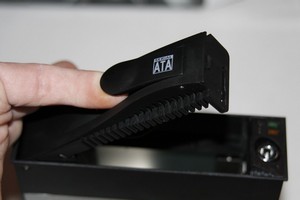 Lifting up on this lever requires no effort at all.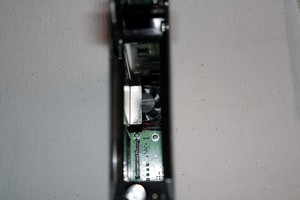 Looking down inside of the mobile rack. If you look closely you will make out a stop. This is where the HDD rests on so when we open the front door. The HDD pops out a little bit so we can remove the drive from this rack.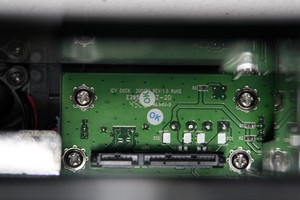 Looking at the SATA power and SATA hook up connectors. Inside of the mobile rack.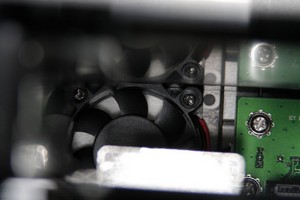 Well, it seems that ICY DOCK included a 40mm fan to better assist cooling of the HDD while inside of the MB877SK-B mobile rack.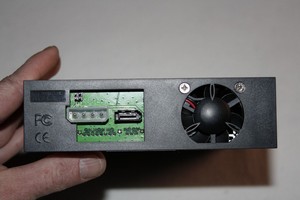 The back side of the MB877SK-B. ICY DOCK uses a standard SATA cable for the HDD, but a 4-pin Molex power connector to power up our HDD. There's the back side of the fan that ICY DOCK used.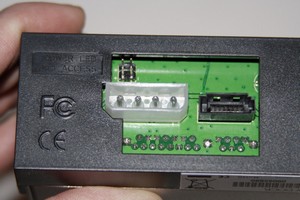 Better picture of the power and SATA connectors.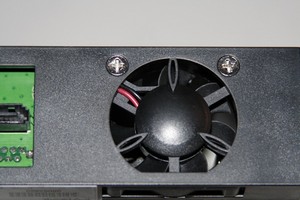 Up close shot of the 40mm fan that ICY DOCK used.
INSTALLATION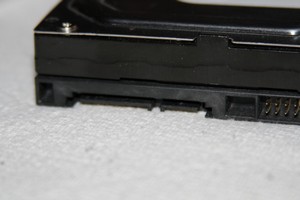 Now, the only way you can use this device is with a SATA HDD, as shown here in this image.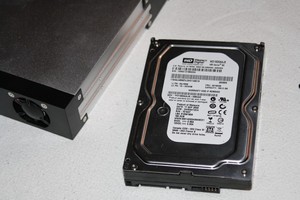 I am using a 160gig HDD by Western Digital for my testing and installation.
Installing the HDD was as simple as counting 1,2,3. Simply open the front door, gently place the HDD into the bay device, then close the door.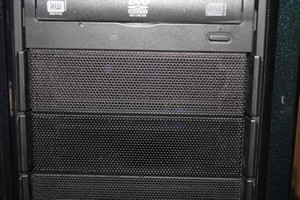 I am installing this bay device into a unused 5.25″ bay, on my Cosmos computer.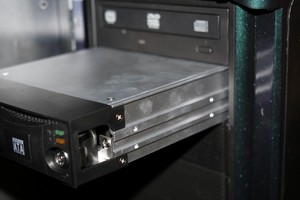 No different than hooking up a CD/DVD ROM drive.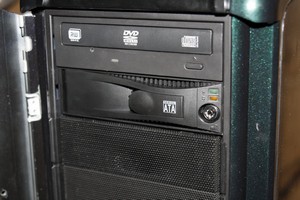 Finished. Of course, you will have to hook up the SATA cable to your motherboard and the 4-pin Molex as well.
TESTING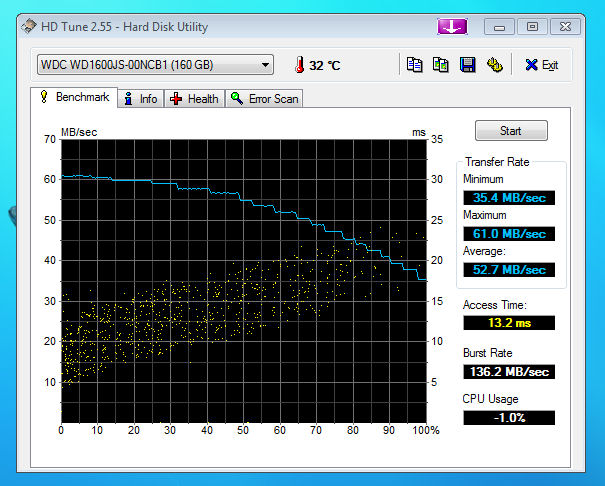 As we can see, despite the 300MBs limit of this mobile rack, it does not hinder the transfer rate of my Western Digital 160 Gig SATA HDD.
CONCLUSION
The MB877SK-B mobile rack is a quality product from ICY DOCK that gives us flexibility when dealing with our HDD's. The use of this device is so versatile it is hard to narrow down all of the uses we could possibly use this device on/with. Adding the 40mm fan to the rear of the mobile rack is an added plus, ensuring us that our HDD will not get hot during its use inside of this device.
The 40mm fan can be rather whiney and will get annoying after a while if you like quiet computers. Having a price point of around $25 USD, makes this a fair price to pay for those of us who need external docking station capabilities without all of the clutter of an external docking station.
Performance 7
Value 9
Quality 9
Warranty 8
Features 7
Innovation 8
Pros:
+ Easy to hook up a HDD
+ Versatile uses
+Ability to secure a HDD while inside of this mobile rack
Cons:
– 40mm fan is a tad on the loud side
Final Score: 8 out of 10 and the Bjorn3D Golden Bear Award.