When the stock cooler isn't enough for you, then you generally buy an aftermarket heat sink to keep your graphics card cool. Well Asus has decided to do this for you with their new Formula edition of the HD 4770.
INTRODUCTION
Asus has long been considered one of the top manufacturers of all kinds of PC components, so it comes as no surprise that they have decided to make their own cooler for the brand new ATI HD 4770. They have called this card the Formula edition. Asus being the big company they are, have paid a lot of attention to detail on the heat sink design. I will explain a bit later on in the review. With this larger heat sink comes lower temperatures. Surely Asus geared this card for the mid range graphics card buyer who is looking to gain some performance by overclocking.
Just one look at the HD 4770 specs is enough to say the card is the perfect card to play all the latest games at decent settings without breaking the bank, so it would seem that the Asus 4770 Formula has its work cut out for it. Surely with the ability to cool the card better will lead to a higher overall overclock, thus increasing the cards performance even more. This is stacking up to be a tight competiton between this card, and its other ATI siblings, the 4670 and 4850.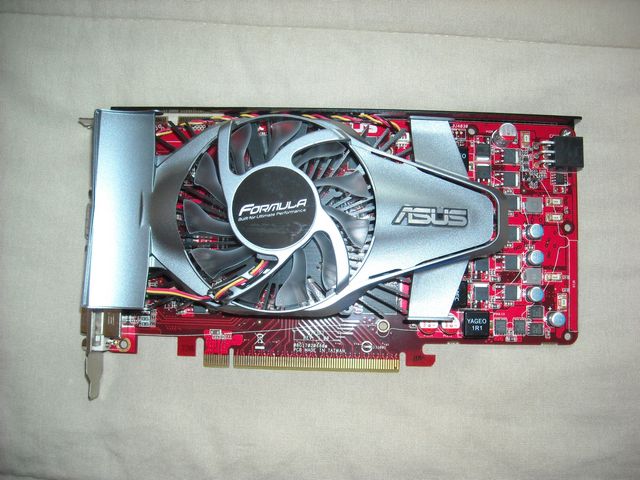 Features
Redefine HD Gaming
The ATI Radeon HD 4700 Series graphics cards boast up to 3 times the performance of the previous generation of GPUs and deliver a cinematic gaming experience. These graphics cards possess the same engine architecture as the award-winning ATI Radeon
TM HD 4700 Series and can propel you deep into your game play with fast frame rates and high resolutions. Enhanced anti-aliasing (4X AA) and anisotropic filtering creates striking graphics with unparalleled realism so you can jack up the settings on the most demanding next-generation games. Play today while preparing for tomorrow with Microsoft DirectX® 10.1 and scalable ATI CrossFireXTM technology in dual mode.
Break-through Efficiency
Save time and energy with the ATI RadeonTM HD 4700 Series graphics cards which provide optimal performance, break-through efficiency and stability. These graphics cards are a great option for business users who engage in video conferencing or use creative applications that require fast frame rates and exceptional visual quality. With platform-independent intelligent power management, the ATI RadeonTM HD 4600 Series graphics cards deliver the power needed to blaze through even the most intense applications while intuitively conserving energy at idle or when demand is low. Expand your visual workspace with multi- monitor support for advanced multi- tasking to help you get more done in less time.
Go Beyond HD Video
Add an ATI Radeon HD 4700 Series graphics card to your PC and watch the latest Blu-ray and HD movies play with incredible fidelity1 – upscale to nearly twice the display resolution of HD content.2 Take full advantage of Blu-ray functionality with dual-stream, picture in picture (PIP) capabilities. Sophisticated new features within ATI AvivoTMHD technology give you the freedom and flexibility to edit videos and convert them to H.2.64 and MPEG-2
formats. Support for the latest audio visual interconnects ensures you can take advantage of the latest display technology.
HDMI Video and Audio
A system with an ATI RadeonTM HD 4700 Series graphics card can help enhance the HD entertainment experience by providing a seamless connection to an HDTV or home theater system. With built-in 7.1 surround sound audio (AC3 / DTS ), the new GPUs and graphics cards support single cable connection directly to a compatible HDTV, projector or receiver. This single cable carries both the HD video and 8 channel audio for a clean, high definition connection. Some graphics cards will be equipped with an HDMI connector, while others will output the HDMI signal using a special ATI Radeon DVI-I to HDMI adapter. These options give consumers more options and flexibility when connecting their PCs to monitors or home theaters for maximum enjoyment of HD content. The new GPU also supports xvYCC color which can display a wider range of color when connected to capable HDTVs.
Microsoft® DirectX® 10.1 support
ATI RadeonTM HD 4700 series GPUs offer full support for the new DirectX® 10 and DirectX® 10.1 API (Application Program Interface) from Microsoft; ready to meet the demanding needs of new, next generation games. DirectX 10 is the first totally new DirectX in the last 4 years and brings important graphics innovations that can be used by game developers for the next generation of games. DirectX 10 introduces crisp, never-before seen detail-rich images, visual effects and game dynamics capable of accurately simulating the real world. No matter which ATI RadeonTM HD 4700 Series GPU you choose, you can be assured that games will look as good as the developer intended!
ATI CrossFireXTM Technology
New ATI CrossFireXTM multi-GPU technology takes your gaming experience to the next level with more scalability, performance and compatibility. The technology combines the awe-inspiring capabilities of multiple ATI RadeonTM graphics cards and an ATI CrossFireX ready motherboard to meet the hard-core demands of your alternate reality. New ATI RadeonTM HD graphics cards are designed with an internal ATI CrossFireXTM Bridge Interconnect system to simplify installation. Experience stunning visual realism in today's demanding 3D games with uncompromising image quality, especially on HD displays.
Microsoft® Windows Vista®
ATI RadeonTM HD 4700 series graphics cards provide support for the Microsoft® Windows Vista® operating system and take advantage of the Windows AeroTM graphical interface. You will be amazed by the dazzling 3D visual effects and have peace of mind that the ATI CatalystTM software and drivers are designed and thoroughly tested to ensure full compatibility and stability to help keep you up and running. All these new technologies and features make the ATI Radeon HD 4700 series of GPUs the ideal solution for ultimate HD gaming and HD video entertainment with the Windows Vista OS.
Specifications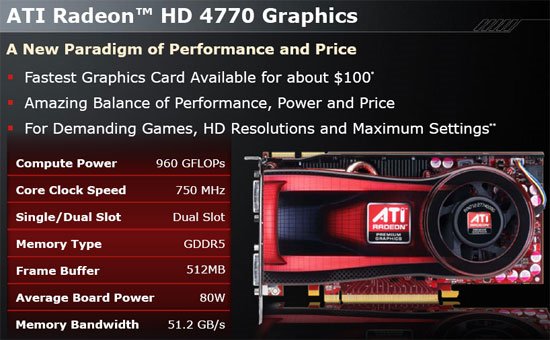 ATI makes a large claim by saying they have the fastest card in the $100 range. The 9600 GT which falls in about the same spot looks to be pretty comparable. The dual slot design should help temperatures though, which means manufacturers could take advantage of that and release higher clocked cards.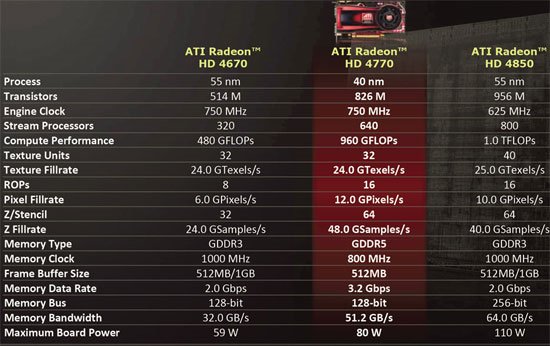 This is the first 40nm GPU, ever! While it seems like only a short while ago we had just made the jump to 55nm, ATI again jumps ahead of Nvidia and releases a 40nm GPU. As you can see the 4770 falls right between the HD 4670 and 4850, so its all that much sweeter that this card will be tested against both of these cards today. Despite being a special edition of the card, all clock speeds are the same as a normal 4770.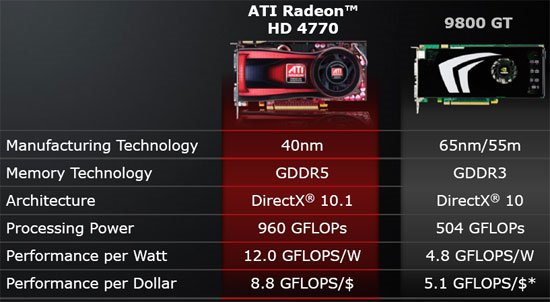 This really shows that PC graphics technology keeps on advancing, despite everyone's complaints that new cards are barely faster than the old ones. This also shows the difference in computing power of the 9800 GT and 4770, though its hard to directly compare these cards, as they are totally different architectures. According to ATI though the 4770 is clearly the better bang for your buck.
Pictures & Impressions
We usually start will a nice shot of the packaging, but Asus decided to send us this sample in a plain cardboard box. Expect the packaging to be similar to other cards in this price segment, so you can be sure that it will be protected, but not as much so as say a GTX295 would be.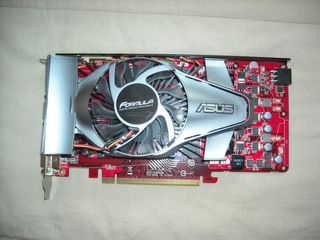 As you can see, Asus has made an interesting top assembly for this card. If you look at it in just the right way, you will see that it resembles a Formula 1 race car. I give props to Asus for designing a really sweet looking card. Even the fan has an interesting fin design for the fan. From this view, we can also see that this card requires a 6 pin PCIE connector. This is quickly becoming a common sight on newer mid range cards. At least this is a sign of the card using more power, thus more performance.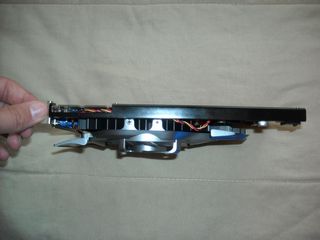 From this angle, we can get a better look at some of the features of this card. For one, if you look closely at the heat sink, you will see it has a black coating over it. According to Asus, this helps improve cooling. Also you will notice that each of the individual fins on the heat sink have small groves running through it. In doing this, Asus has increased the surface area of the cooler, and thus allowed it to dissipate more heat. If we step back a bit, you will see the black strip on the side of the PCB. This may seem small, but I feel that it adds a bit of distinction to the card, and is a nice visual effect overall.
Here we can see all of the outputs on the card. Asus has included VGA, DVI, and HDMI connectors. With all of these connections, you are sure to have one that suits your needs. A benefit of having this ATI card instead of a Nvidia one, is that audio is automatically transferred from the board to the card to your TV through HDMI. This will be a great addition for people who hate any extra steps in installing a card.
Methodology
To test this card, we did a fresh load of Vista 64 bit and applied all the patches and updates for the OS, then we updated all the motherboard drivers and made sure that we had the latest 9.5 Catalyst and 182.50 Forceware drivers. We didn't install any video drivers on the test rig at first, we just installed the basics and then cloned the hard drive using Acronis. That way when we switch from the ATI GPU to the Nvidia GPU we can have a fresh load with no old drivers hanging around to bugger up our benchmark numbers.
We ran each test 3 times and averaged the results, the average of those results are reported here. The one exception to the 3 run rule is Stalker, this test is just so long so it was run twice. Below is a detailed list of the components used during testing.
Test Rig
 
Case Type
Ikonik Ra X10 Liquid
CPU
Intel i7 920 @ 3.7 Ghz
Motherboard
Intel X58SO
Ram
Mushkin DDR3 @ 1482 8-8-8-20
CPU Cooler
D-Tek Fuzion
Hard Drives
Western Digital 750 GB
Optical
LiteOn DVDR
GPU's Tested

Asus EAH4770 Formula
HIS HD 4850 1 GB
Sapphire HD 4870
Sapphire HD 4890
Leadtek GTX275

Testing PSU
Corsair HX1000 Watt
Synthetic Benchmarks & Games
Synthetic Benchmarks & Games
3DMark Vantage
3DMark 06
Stalker Clear Sky Stand Alone Benchmark
Crysis
Crysis Warhead
World In Conflict
Company of Heros
Far Cry 2
Overclocking

Well I bet you where expecting to see a few awesome GPUz screen shots, me too sadly. I had some big issues when trying to overclock this card, namely the fact that the card kept stopping display after I would apply overclocking settings. I used the built in overclocker in Catalyst, so surely the problem could not have generated from that. When the card was tried in another computer, it worked perfectly, so I am not sure what is up with the card and my rig, but they don't play friendly together. I was able to get the card working in my friends computer, and there is a GPUZ screenshot below. Also worth noteing is the great cooling design. Even with this massive OC, the card never went above 56° C.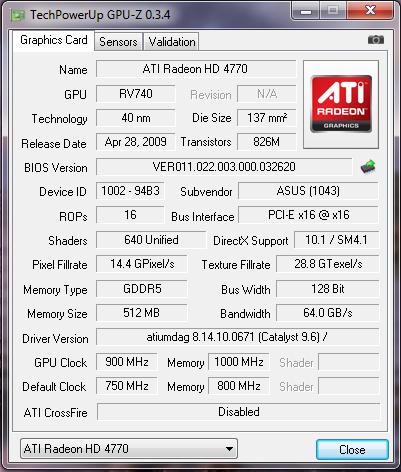 3DMark Vantage

For complete information on 3DMark Vantage Please follow this Link:
www.futuremark.com/benchmarks/3dmarkvantage/features/
The newest video benchmark from the gang at Futuremark. This utility is still a synthetic benchmark, but one that more closely reflects real world gaming performance. While it is not a perfect replacement for actual game benchmarks, it has its uses. We tested our cards at the 'Performance' setting.
Currently, there is a lot of controversy surrounding NVIDIA's use of a PhysX driver for its 9800 GTX and GTX 200 series cards, thereby putting the ATI brand at a disadvantage. Whereby installing the PyhsX driver, 3DMark Vantage uses the GPU to perform PhysX calculations during a CPU test, and this is where things get a bit gray. If you look at the Driver Approval Policy for 3DMark Vantage it states; "Based on the specification and design of the CPU tests, GPU make, type or driver version may not have a significant effect on the results of either of the CPU tests as indicated in Section 7.3 of the 3DMark Vantage specification and white paper." Did NVIDIA cheat by having the GPU handle the PhysX calculations or are they perfectly within their right since they own Ageia and all their IP? I think this point will quickly become moot once Futuremark releases an update to the test.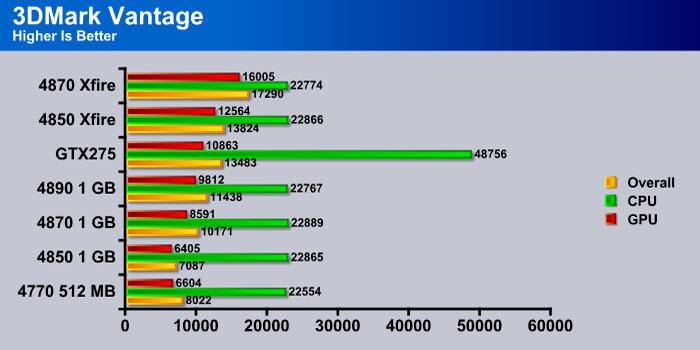 Right off the bat the 4770 gets off to a great start. It is able to beat the 4850 in testing. I have had more luck with 512 cards in Vantage over 1 GB cards, so this seems to follow that trend.
3DMark 06

3DMark06 developed by Futuremark, is a synthetic benchmark used for universal testing of all graphics solutions. 3DMark06 features HDR rendering, complex HDR post processing, dynamic soft shadows for all objects, water shader with HDR refraction, HDR reflection, depth fog and Gerstner wave functions, realistic sky model with cloud blending, and approximately 5.4 million triangles and 8.8 million vertices; to name just a few. The measurement unit "3DMark" is intended to give a normalized mean for comparing different GPU/VPUs. It has been accepted as both a standard and a mandatory benchmark throughout the gaming world for measuring performance.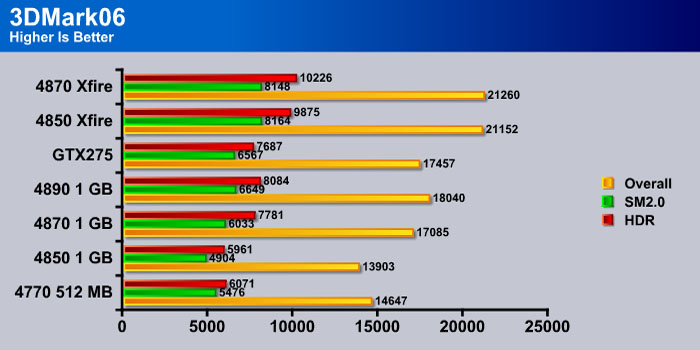 Once again the 4770 manages to beat out the 4850. I dont worry about synthetic benchmarks that much, since they usualy dont represent real world performance.
Company of Heroes

Company of Heroes(COH) is a Real Time Strategy(RTS) game for the PC, announced on April, 2005. It is developed by the Canadian based company Relic Entertainment and published by THQ. COH is an excellent game that is incredibly demanding on system resources thus making it an excellent benchmark. Like F.E.A.R., the game contains an integrated performance test that can be run to determine your system's performance based on the graphical options you have chosen. Letting the games benchmark handle the chore takes the human factor out of the equation and ensures that each run of the test is exactly the same producing more reliable results.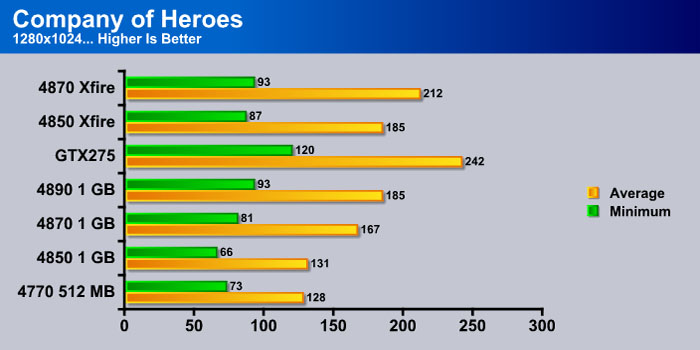 Right from the start the 4770 gets a great start in Company of Heros. The 4850 was able to beat the 4770 in average frame rate, however the 4770 beat the 4850's minimum frame rate.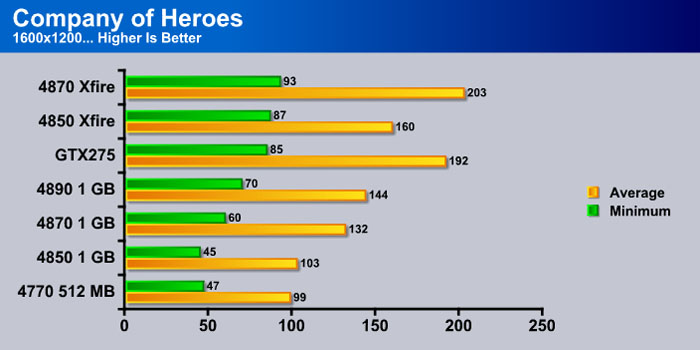 When the resolution is cranked even more, the 4770 is still able to keep up with the 4850, again losing by a very small margin.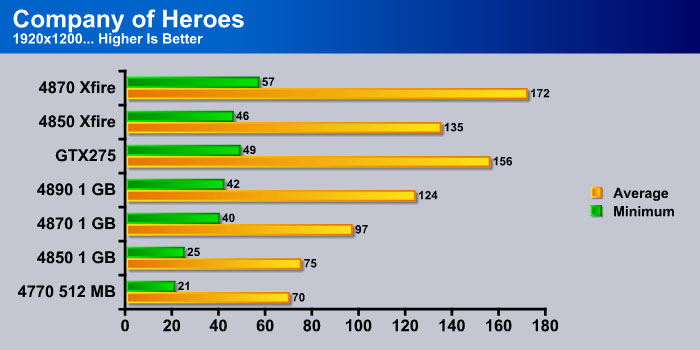 When the resolution is increased further, the 4770 just isn't able to put up as much of a fight against the 4850. This is definitely due to its lower bandwidth, but how many people running at this res will pick up a 4770? This is the better question.
World in Conflict

World in Conflict is a real-time tactical video game developed by the Swedish video game company Massive Entertainment, and published by Sierra Entertainment for Windows PC. The game was released in September of 2007. The game is set in 1989 during the social, political, and economic collapse of the Soviet Union. However, the title postulates an alternate history scenario where the Soviet Union pursued a course of war to remain in power. World in Conflict has superb graphics, is extremely GPU intensive, and has built-in benchmarks. Sounds like benchmark material to us!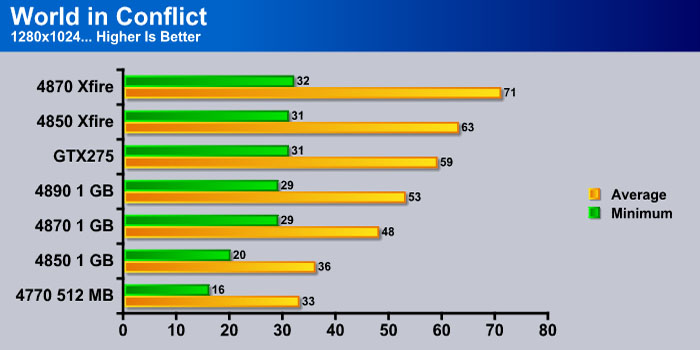 Moving on to World in Conflict, we see that the 4770 isn't quite as tough as the 4850. The difference is minimal though, and you will probably not notice anything while in game.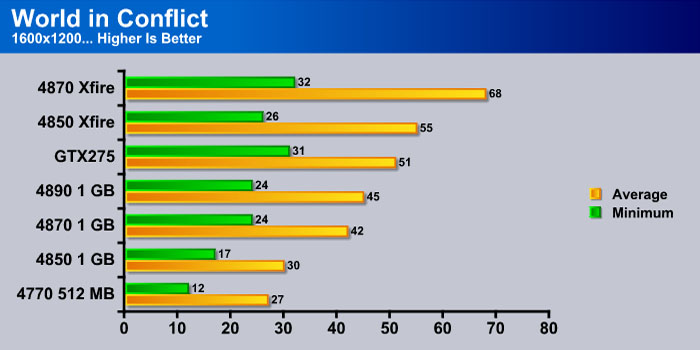 When the resolution is increased we again see the the 4770 isn't quite the card a 4850 is, but it sure does cut it close.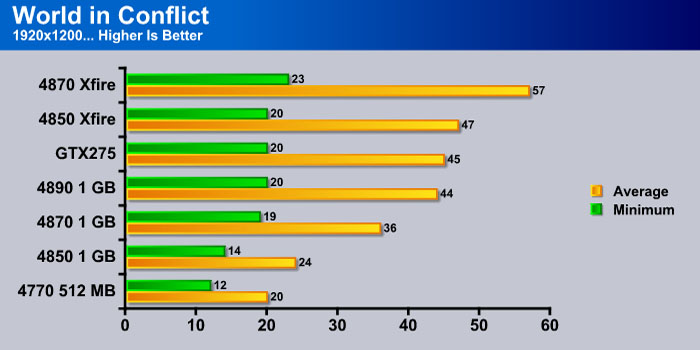 Now when we move up to the big dogs res, we see that the 4770 still manages to keep close to the 4850. This is pretty impressive for such a little card!
Crysis

Crysis is the most highly anticipated game to hit the market in the last several years. Crysis is based on the CryENGINE™ 2 developed by Crytek. The CryENGINE™ 2 offers real time editing, bump mapping, dynamic lights, network system, integrated physics system, shaders, shadows, and a dynamic music system, just to name a few of the state-of-the-art features that are incorporated into Crysis. As one might expect with this number of features, the game is extremely demanding of system resources, especially the GPU. We expect Crysis to be a primary gaming benchmark for many years to come.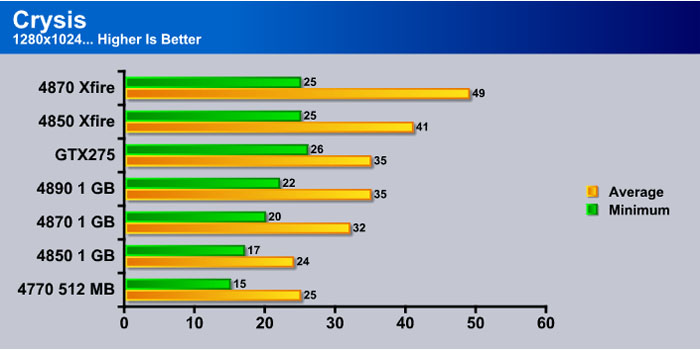 Right from the start it is a split between the 4770 and 4850. The 4850 has the better minimum frame rate, but the 4770 managed to squeeze out a slightly higher average frame rate.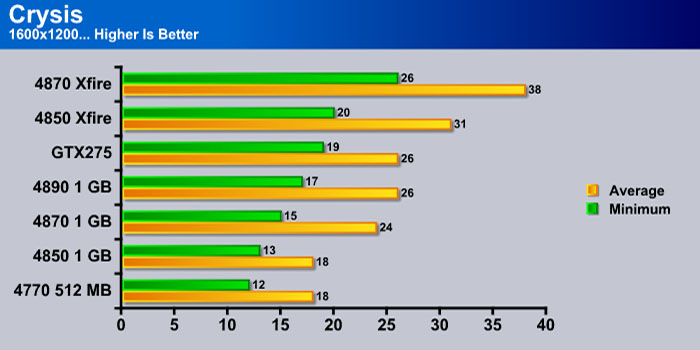 When the resolution is increased, the 4770 looses all of its edge, only being able to tie the 4850 in average frame rate.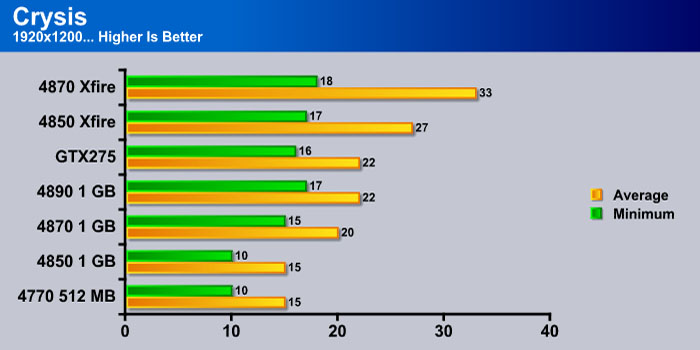 Again the 4770 holds on tight to the 4850, scoring the exact same as the 4850. Now lets see how it does with the better optimized Warhead.
Crysis Warhead

Crysis Warhead is the much anticipated sequel of Crysis, featuring an updated CryENGINE™ 2 with better optimization. The primary reason for this game was to put out a better image for Crysis, as the first game needed huge resources to run. While Warhead is more optimized, the current technology has not advanced enough to play the game at higher settings. It was one of the most anticipated titles of 2008.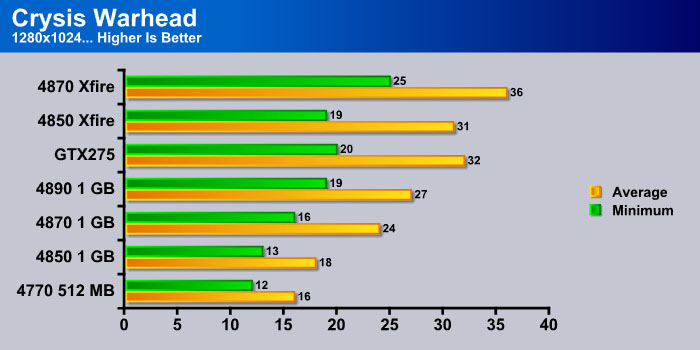 It seems as though the 4770 does not have as much luck in Warhead as it did in the original Crysis.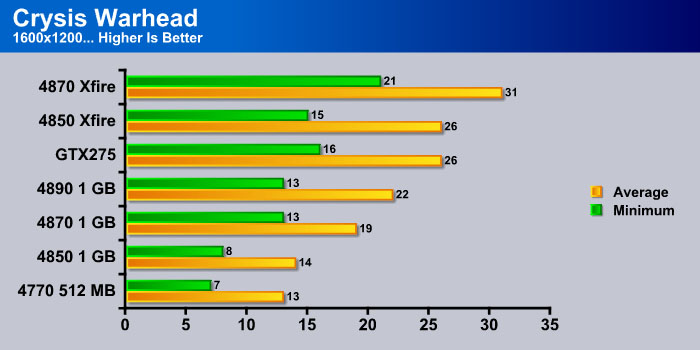 The 4770 still manages to keep up to the 4850, and even gains on it a bit.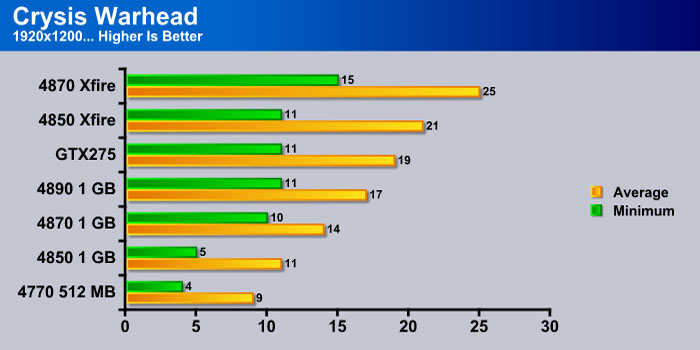 Unfortunately, the 4770 just isn't up to fighting the 4850 at this high of a resolution.
Far Cry 2

Far Cry 2, released in October 2008 by Ubisoft, was one of the most anticipated titles of the year. It's an engaging state-of-the-art First Person Shooter set in an un-named African country. Caught between two rival factions, you're sent to take out "The Jackal". Far Cry2 ships with a full featured benchmark utility and it is one of the most well designed, well thought out game benchmarks we've ever seen. One big difference between this benchmark and others is that it leaves the game's AI (Artificial Intelligence ) running while the benchmark is being performed.
Unfortunately, the card would not run Far Cry 2 even after a total driver reinstall, and multiple restarts. I have included charts without the 4770 in them. Since the 4770 keeps on coming right behind the 4850 in terms of performance, this should give you a pretty good estimate of where the card stands.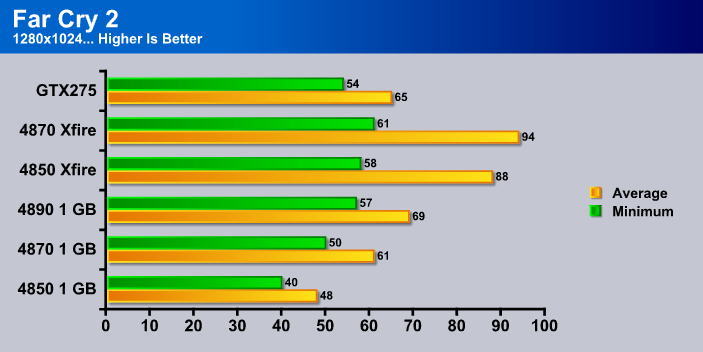 So it looks like the 4770 would be hitting around 40+ FPS judging by this graph.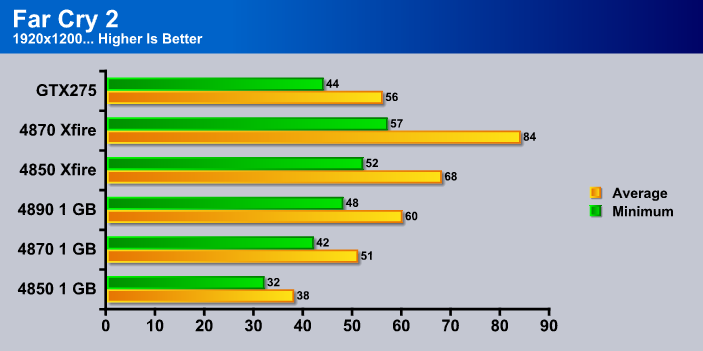 Instead of posting up the 1600×1200 test, I decided to get straight to the big test. It still looks like the 4770 would be hitting at least 30 FPS, which is totally playable, quite a feat for this card.
S.T.A.L.K.E.R. Clear Sky

S.T.A.L.K.E.R. Clear Sky is the latest game from the Ukrainian developer, GSC Game World. The game is a prologue to the award winning S.T.A.L.K.E.R. Shadow of Chernoble, and expands on the idea of a thinking man's shooter. There are many ways you can accomplish your mission, but each requires a meticulous plan, and some thinking on your feet if that plan makes a turn for the worst. S.T.A.L.K.E.R. is a game that will challenge you with intelligent AI, and reward you for beating those challenges. Recently GSC Game World has made an automatic tester for the game, making it easier than ever to obtain an accurate benchmark of Clear Skie's performance.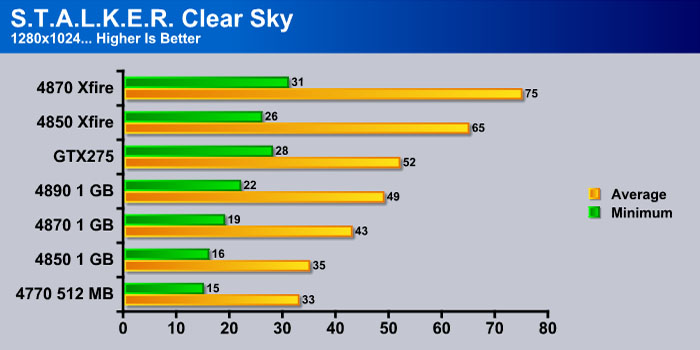 Right from the start the 4770 is right on the tail of the 4850, just like pretty much every other test.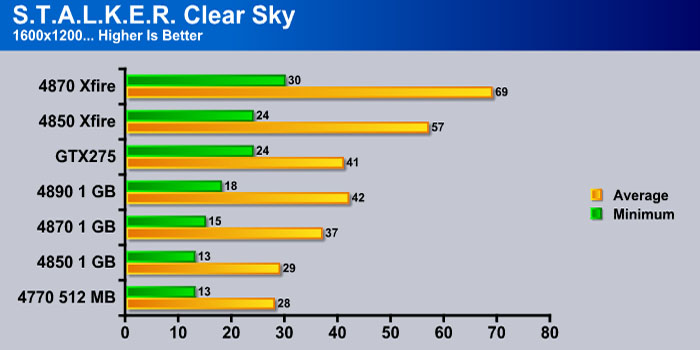 When the resolution is increased, the 4770 still burns right on the tail of the 4850.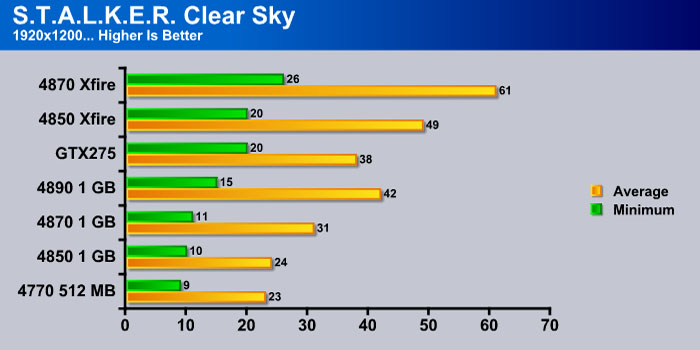 Despite the resolution being cranked, the 4770 manages to keep right by the 4850.
Conclusion
I came into this review not knowing what to expect from the 4770, but after it all, I feel that this is a great new addition to the ATI lineup. The card itself performed almost up to the 4850, usually loosing out in higher resolutions due to its lower bandwidth, but really the card did great. most likely someone who will pick up this GPU is going to be using a 22″ LCD monitor or smaller, so they will be using a resolution of 1680×1050 or less. Running at this resolution, the 4770 is simply unbeatable for the price.
Not only will the 4770 be able to play all the latest games, it should have no trouble playing them at or near maximum settings. As far as the Asus Formula version of the card, I have mixed feelings. While this may just be my computer, the overclocking really put a big downer on this cards parade. Then on top of that the fact that the card decided to stop working was also unexpected. I did try the card in another computer, and it worked perfectly, so I am pretty confident that it just freaked out at my computer.
With these oddities aside, the Formula edition has a heat sink that was designed with the up most care, and looks pretty awesome while still performing great. I don't think I have ever seen a card designed with this much detail. The one downside to this is the ditching of the normal heat sink air flow design. Instead of venting all of the graphics card heat outside of the case, the Formula Edition throws it around inside the case. Other than this small defect, the cooling solution on this card is rock solid.
Pros:
+  Great Performance
+  Cool Looking Cooler
+  Great Price To Price Ratio

Cons:
– Weird Issues On My Computer
– Cooler Doesn't Push Hot Air Out Of The Case
With this much performance, at this little of a price the Asus 4770 Formula Edition is a great addition to any budget minded gamer, so it receives a 8 out of 10, and the Bjorn3D Seal of Approval.