IN-WIN has added a couple more PSU's to there allready popular commander series. We at Bjorn3d going to look at there 650/750 watt power supplies.
INTRODUCTION
Power supplies are everywhere and it seems just about every computer component manufacturer makes one or two. Adding to the mix of the total confusion, is what power supply do we get to use in our computers? The Power Supply Unit is the most important component that is in our computers. Unlike video cards, motherboards, CPU's, etc., if a power supply fails, it normally takes out one or two other important computer components along with it.
IN-WIN, a long time manufacturer of chassis and power supplies, has come up with a new line of mid range power supplies. We at Bjorn3D going to be looking at two of these midrange power supplies, the 650/750 Watt Commander series power supplies.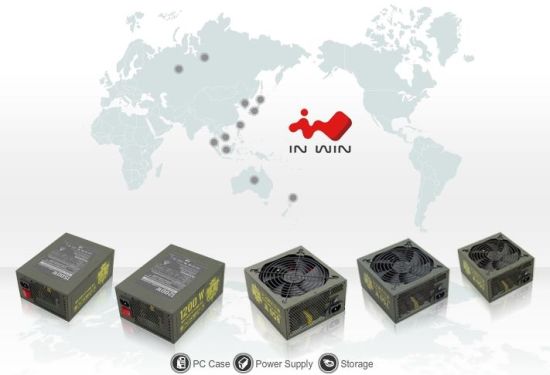 About IN-WIN
IN-WIN Development Inc., an ISO 9001 manufacturer of professional computer chassis, power supplies and digital storage devices, is the leading provider of enclosure solutions to system integrators worldwide. Founded in 1986, IN-WIN provides high quality chassis that conform to all safety regulations, as well as unsurpassed customer service.
1985

Company founded as IN WIN Development Inc., focus on chassis selling and marketing.

1987

Established chassis assembly facility.

1992

Established Taoyuan factory in Taiwan.

1994

Established in house painting department and facilities

1995

Established stamping and tooling department to enhance the ability of technician and product quality control on yield rate.

1997

Established facility automation on progressive stamping equipments.
Executed TQM (Total Quality Management) system.

1998

ISO 9002 certified
Established facility automation on robot stamping equipments.

1999

ISO 9001 certified
Established USA branch to explore the US market.
Established New CHANGHEIN factory in Taoyuan, Taiwan.

2000

Established UK branch to explore European market.
Established Japan office.
Established Power Supply Group for Power Supply development and manufacture.

2001

Re-build and enlarged Taoyuan factory to become the Headquarter.
Implementation of ERP system.
ISO 14001 & ISO 9001, 2000 version certified.
Listed on Taiwan OTC market.

2002

Implementation of IN SHIN factory plan at China.
Implementation of e-Documents.
Established NL branch office and warehouse as European Market Center.

2003

Established IN SHIN factory at China.
Listed on Taiwan SEC market.

2004

Established UPS Group for UPS development and manufacture.

2006

All product lines are compliance with RoHS directive regulation.
In Win is honor to receive the "Symbol of Excellence Award 2006".

2007

Obtained IECQ 080000 HSPM certification.
SPECIFICATIONS
650 Watt Commander
| | |
| --- | --- |
| | +3.3V/30A -12V/0.8A +5V/28A +12V1/18A +12V2/18A +12V3/18A +12V4/18A +5VSB/3A |
| | |
| --- | --- |
| | ATX 12V 2.3 & EPS 12V 2.91 Version |
| | |
| --- | --- |
| | Silent 14cm Two Ball Beaning Fan |
| | |
| --- | --- |
| | 100~240VAC 47HZ~63Hz 8A/4A |
750 Watt Commander
| | |
| --- | --- |
| | +3.3V/30A -12V/0.8A +5V/28A +12V1/18A +12V2/18A +12V3/18A +12V4/18A +5VSB/3A |
| | |
| --- | --- |
| | 100~240VAC 47HZ~63Hz 8A/4A |
| | |
| --- | --- |
| | ATX 12V 2.3 & EPS 12V 2.91 Version |
| | |
| --- | --- |
| | Silent 14cm Two Ball Beaning Fan |
FEATURES
Supports NVIDIA SLI & Quad SLI and All Multi-Core GPU Technologies
High Efficiency up to 88%
Modularized Cable Management System
8(6+2) Pin PCI-E Connectors for Multi-GPU Graphic Cards
Four Independent +12V Rails
Silent 14cm Double Ball-Bearing Fan
Patented 4 Pin Molex Connectors
Intelligent Fan Speed Control for Optimal Acoustic
Active Power Factor Correction (PF>0.99)
Supports ATX 12V 2.3/ EPS 12V 2.91
Independent Voltage Circuit
Protections: Over Current, Over Voltage, Over Power, Under Voltage and Short Circuit Protections
Japanese Industrial Grade Components (Capacitor, etc.)
PACKAGING
650watt PSU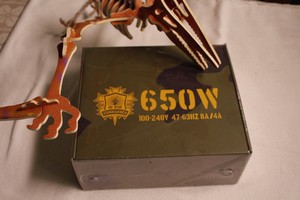 Let's look at the 650 watt PSU from IN-WIN first. The one thing that surely stands out is the camo pattern box with the military style writing on the box.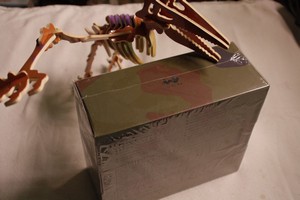 Look at the side of the box. That same camo pattern is continued through out the packaging.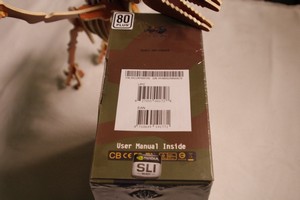 Turning the box over to one of the end sides, there is a sticker that tells us this PSU is 80 plus certified.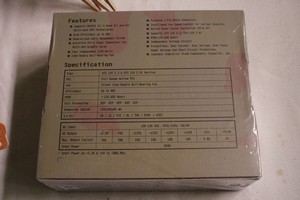 On the backside of the packaging, IN-WIN lists the power supply wattage rating.
Looking at the other end side of the packaging. We have general features this PSU has.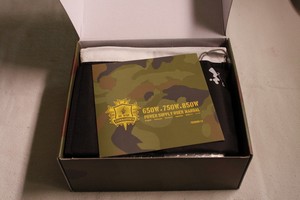 Opening the box up, and looking inside of the box.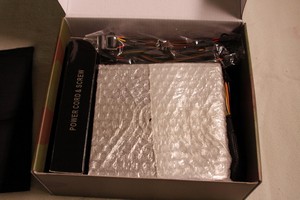 IN-WIN did a nice job on the packaging of this PSU. The PSU has a bubble wrap around it, and it is nestled tightly in side of the box to keep it from sliding all over the place during packaging.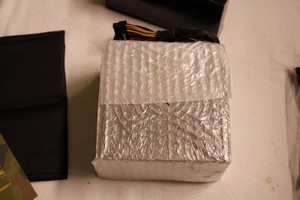 The PSU removed with the bubble wrap still around it.
The contents of the PSU. Top center is the Power supply and to the left is handy little power cable holder for those extra cables we may not need to use. Moving below the carrying case is an instruction manual, then moving to the right is a black box that contains our main power cable and the four screws we will need to secure this PSU to our chassis. Finally ,to the right of the PSU are the modular cables themselves.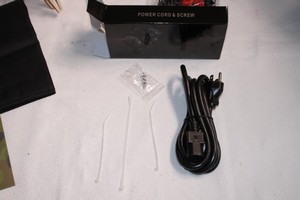 Opened up the black box showing you its contents. I forgot that, that box also has three wire ties as well.
750 watt PSU
Now since the 650watt and the 750 watt PSU were identical in packaging I will just post up the minor difference between the two PSU's.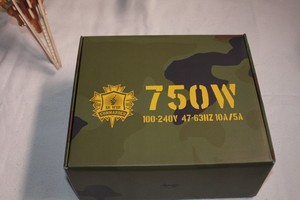 One of them difference's is of course the 750 packaging has 750watts written on the front.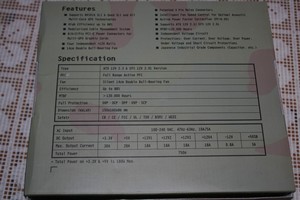 The back side of the 750 watter PSU, where the power ratings are listed as well.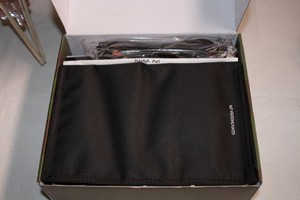 The box top opened up. It is packaged exactly the same as the 650watt PSU.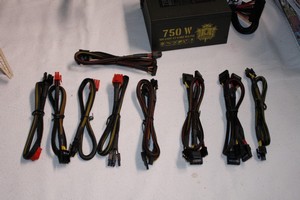 The only real difference in the contents, is the 750watt PSU, has four 6+2 PCI-E  power cables instead of 2.
OVERVIEW
650 watt PSU
Let's take a look at the two SATA cables (modular). IN-WIN uses three SATA power connectors on one cable, and only two SATA power connectors on the other. Odd. I thought so too.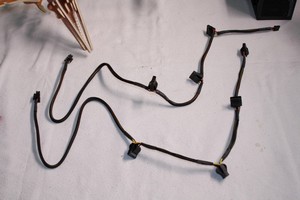 The Molex power cables. Again, this is an odd way of arranging the power connectors. One cable has three power connectors with a floppy power connector, while the other power cable has four Molex power connectors.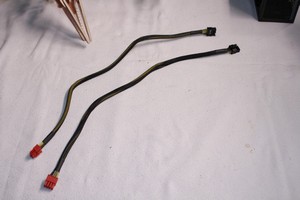 The 650wat PSU uses only 2 PCI-E power cables vs. the 750 watt PSU using 4 PCI-E power cables. And both PSU's use a red modular plug (PSU side) on one side to make sure that you hook this power cable up right.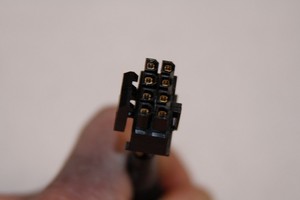 IN-WIN uses a gold plated connectors on their cables to ensure good conductivity to our computer components. Good call, IN-WIN.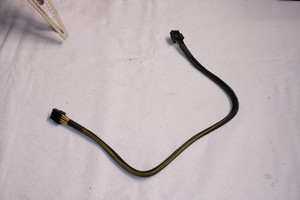 This is the EPS eight pin CPU power cable, not to get confused with the eight pin PCI-E power cable. (that's why this cable has two black ends and the PCI-E cables have one red end)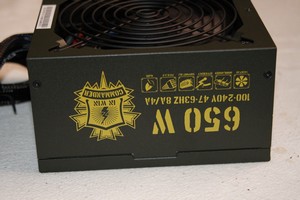 Upside down picture of the side of the 650watt PSU. The PSU itself is in an Olive Drab military colors, with yellow military type lettering.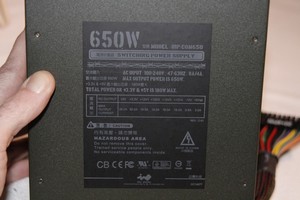 Power outputs of the 650watt PSU.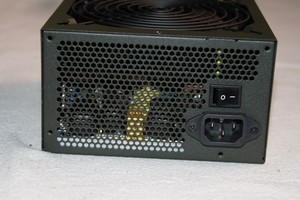 Looking from the backside of the 650Watt PSU.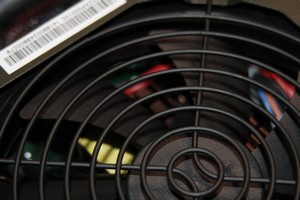 Looking through the blades of the 120mm fan that IN-WIN used on this PSU.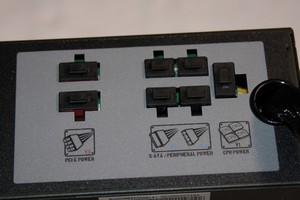 The front side of the 650watt PSU. This is where all of the modular cables get plugged into. There are two PCI-E power connectors, four HDD power connectors, (two SATA cables and the two Molex cables), and finally one EPS CPU power connector. Notice the EPS power connector on the PSU is at a 90° from the rest of the power connectors, and the PCI-E power connectors have a red power connector covering.
Looking at the power connectors a bit more closely. The red one is for the PCI-E power cables. Now IN-WIN did not use a gold plated connectors on the PSU itself.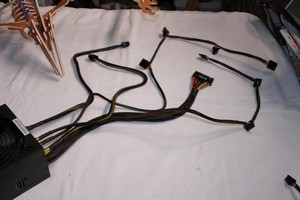 This is a picture of the length of the cables. The EPS CPU and the PCI-E cables are roughly the same length. The SATA and the Molex cables are also the same length with each other. The Main 24-pin power cable is the shortest of all of the cables. The one power cable I am concerned with is the EPS CPU power cable. The reason for this is because it normally has to reach the farthest distance to get to the CPU power plug, especially if you have a newer chassis design where the PSU is mounted to the bottom of the chassis.
750 watt PSU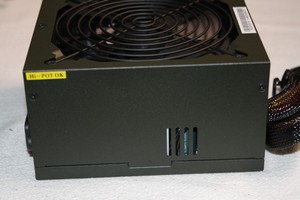 The side of the 750 watt PSU. Yep, it is the same olive drab green as the 650 watt PSU.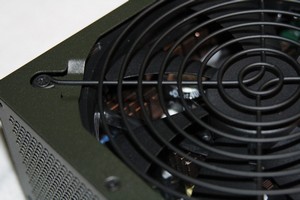 Looking through the blades of the 750watt PSU, In-WIN also used a 120mm fan to help cool this PSU as well.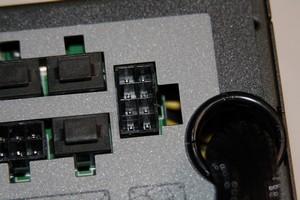 Since I missed the EPS CPU power connector on the 650watt PSU, I'm showing this plug on the 750watt PSU.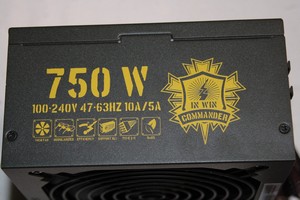 The side of the 750watt PSU. Same color scheme as the 650watt PSU. Olive drab coloring with yellow military type lettering.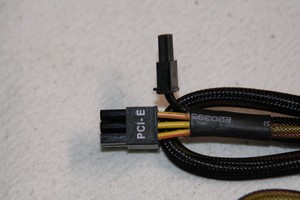 Better view of the PCI-E 6+2 power cable end that goes to the video cards.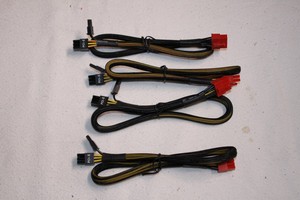 The only real difference between the 750watt PSU is wattage, the amount of rails, and the 750watt PSU uses two extra PCI-E 6+2 pin power cables. These also use a red power connector on one end.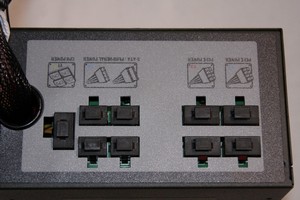 The front side of the 750 watt PSU.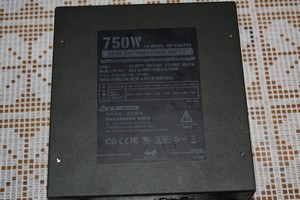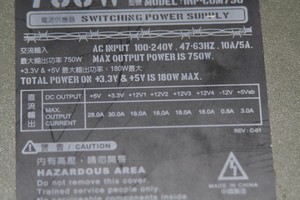 The rating sticker on the 750watt PSU.
TESTING METHODOLOGY,
Test Setup &Testing Methodology
CPU
Lapped Q6600
Motherboard
Asus Maximus II GENE
Case
Antec Nine Hundred Two
Memory
Crucial Balistx
Video Card's
Sapphire HD4770
Hard Drives
 2x Western digital 160 (Raid 0), 1 Western Digital 500 Gig
CDRom Drive
Lite On Sata1 DVD Burner
Power Supply
IN-WIN 650/750watt
Type Of Coolers Used
Zalman CNPS9900
CPU Speeds Used
3.6GHz
Operating System Used
Microsoft Windows Vista 64Bit
Type of Software Used During Testing
3DMark Vantage, 2 x Orthos, 4 gig file, DVD fab
I ran two instances of Orthos to bring the CPU to 100% utilization and took measurements from the main 24-pin power cable and the EPS CPU power cable. For the Video card I ran 3DMark Vantage and then tested the PCI-E cables. For SATA cable testing I used a 4 gig file and transferred it from the main HDD to the back up HDD, then recopied it back to the main HDD. I also started a DVD copy with DVD FAB and checked the SATA power cable. I always re-checked the main 24 power cable during each test I ran. I will compare the two PSU's that IN-WIN sent me, the 650watt and the 750 watt PSU. I used a multimeter throughout this review and the power plug of that component I was testing. I re-did the testing three times to make sure my readings were consistent. For the Molex power cable, I tested seven fans on that plug. These power supplies were backed up by a Monster Power power conditioner. This unit ensures my voltages remain stable and clean at all times. The input voltage stayed with in 121 volts. So, your results will very greatly from my own.
INSTALLATION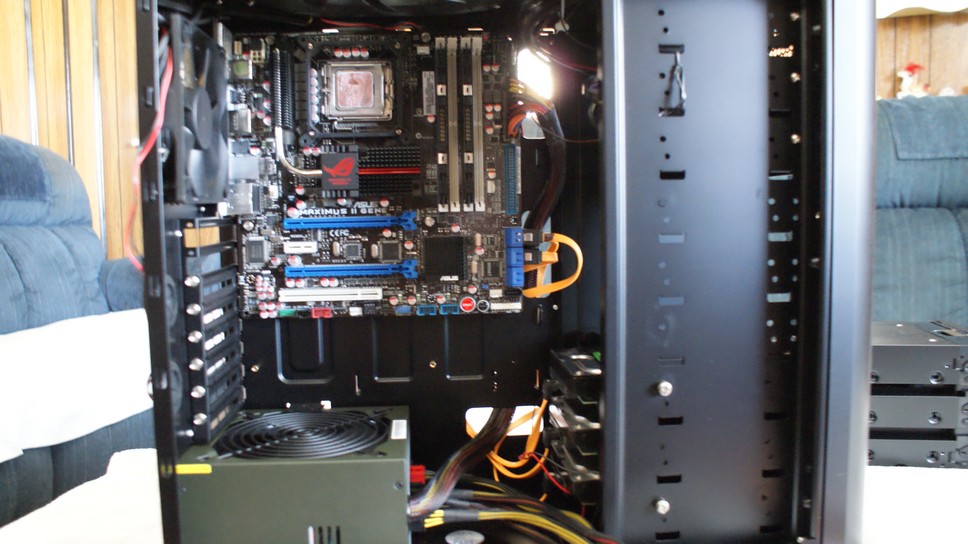 Originally, I was going to test these two PSU on a completely new build that involved the ASUS Maximus II GENE motherboard. But since newer chassis puts the PSU towards the bottom of the chassis I was unable to fully mount the PSU into the Antec Nine Hundred Two chassis. The EPS CPU power cable would not fully reach the EPS power plug on the above mentioned motherboard. It was either a tight putting strain on my Dad's 4870 video card, or it was a tad too short to be routed underneath the rear of the video card without causing serious damage to the small components on the ASUS Maximus II GENE motherboard. So, I ended up running the PSU not mounted and just kinda hanging out side of the chassis. The above picture kinda shows you the distance I had between the PSU and the EPS CPU power plug.
RESULTS
IN-WIN 650 Watt Commander

IN-WIN 750 Watt Commander

OutPut Power
Idle
Load
OutPut Power
Idle
Load
24-pin Main 12 volt
12.03
12.01
24-pin Main 12 volt
12.05
12.06
24-pin Main 5 volt
5.03
5.01
24-pin Main 5 volt
5.05
5.04
24-pin Main 3 volt
3.37
3.33
24-pin Main 3 volt
3.36
3.36
EPS CPU 12 volt
12.04
12.00
EPS CPU 12 volt
12.03
11.95
PCI-E 6+2 1

12.03
11.99
PCI-E 6+2 pin 1

12.04
11.97
PCI-E 6+2 2
12.05
11.98
PCI-E 6+2 pin 2 

12.02
12.01
N/A

0
0
PCI-E 6+2 pin 3

12.03
11.99
N/A
0
0
PCI-E 6+2 pin 4

12.03
11.96
Molex 12 volt
12.02
12.02
Molex 12 volt
12.04
12.04
Molex 5 volt
5.03
5.04
Molex 5 volt
5.06
5.06
SATA 12 volt
12.03
12.01
SATA 12 volt
12.04
12.03
SATA 5 volt
5.03
5.01
SATA 5 volt
5.06
5.03
SATA 3.3 volt
3.35
3.32
SATA 3.3 volt
3.38
3.35
Both of the IN-WIN power supplies did fairly well during testing. Even though they dropped below 12 Volts during full load testing, but a 0.03 below 12 volts is not enough to even remotely something to be concerned with. The moisture in the air can change the outcome of the testing. As with any testing it is never 100% foolproof. These power supplies provided good clean voltage across the 5 volt lines by only fluctuating 0.01 volts. The 3.3 voltage line only had a fluctuation of 0.03 volts. The 12 volt lines only fluctuated by a mere 0.07 volts at an absolute max.
CONCLUSION
No longer are the days where just any old power supply will do. Having good stable clean power to our computer components is what has become a necessity. IN-WIN has proven that their PSU's can and will provide stable clean power for any one of our computing type of needs. The major issue I had with these two PSU's was when trying to mount these PSU's in a bottom PSU mounted chassis (which has become more of a normal way of today chassis), is that the EPS CPU power cable is a tad short to reach those EPS CPU power plugs that are mounted up near the CPU socket. Not having an extension EPS CPU power cable made using these PSU's in this type of chassis impossible to properly mount it. The modular design of the PSU's is a definite plus as this will help keep our cables managed a lot better no matter what the type of chassis we use for our computers.
Looking around the web I noticed that the 650watt PSU sells for around the $100 USD mark, which in my opinion puts it in a good price range for this wattage of a PSU. The 750watt PSU goes around the $140 USD mark, which I have mixed feelings about, mainly because there are just as good PSU's for around $110 USD but those PSU's are not modular.
We are trying out a new addition to our scoring system to provide additional feedback beyond a flat score. Please note that the final score isn't an aggregate average of the new rating system.
Performance 8
Value 7
Quality 9
Warranty 9
Features 8.5
Innovation 8
Pros:
+ Very little fluctuation of the +3.3, +5, +12 voltages
+ Modular design
+ Gold plated power cables
+Limited Life Time Warranty
Cons:
– EPS CPU power cable a little short
I was Informed that these Power supplies come with with a Limited Lifetime warrenty, I give these  Power supplies an
8 out of 10 and the Bjorn3D.com Seal Of Approval.