You may not be a business owner, but you can still benefit from a removable HDD rack. The HDD can quickly be removed from the rack for use in another computer or as a hard drive replacement.
 Introduction
Quick swap Hard Disk Drive bays have been around for a long time. The reason is becuase many companies can not afford to have their servers down for an extended period of time, so they clone the drive and put in a brand new working drive to keep the system up. It is a fact that many of us are not buisness owners, so what use would we have of this technology? If you happen to have tech savy friends, this is very easy to answer. You can all get the same hot swap bay and swap HDD's to share the latest game update without downloading the same file multiple times. This can save a lot of time in the long run.
Still wondering if this product is for you? Why not stay awhile and read the whole review?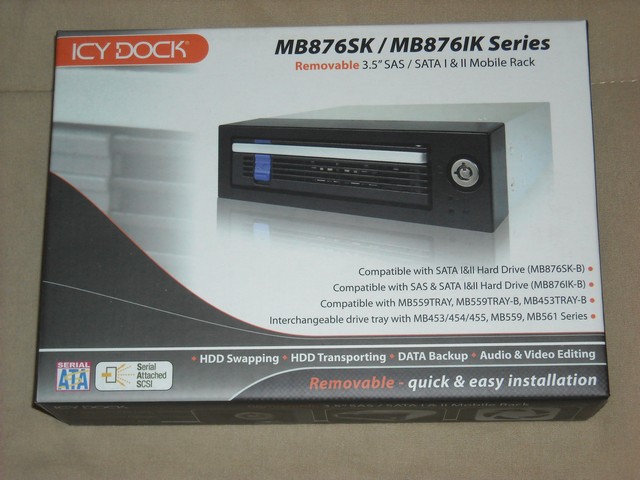 ABOUT ICY DOCK
ICY DOCK is a privately held company with more than 10 years being devoted in design, manufacturing, branding and distribution of Storage enclosure peripherals. By keep improving its own new product release process from previous toil experiences, ICY DOCK has formed a standard yet efficient new product development procedures to satisfy timely requirement from the market.
At ICY DOCK, we constantly offers state-of-the-art design of hard disk enclosure and removable storage kit with features such as the currently launched a series of removable drive & hot swap capabilities and eSATA / SATA connectivity products. We also specializes in BTO (Built to Order) of branded, OEM-branded and non-branded products for "Tier 1" customers.
Headquartered in City of Industry, California, ICY DOCK becomes a global peripheral enclosure provider with manufacturing facility located in Zhang-Zang, China since 1997. Restrictively followed ISO9001 proved manufacturing process standard, ICY DOCK delivers high quality standard products at competitive price which provides our customers an excellent opportunity to be successful in the competitive US marketplace.
As one of the leading peripheral enclosure solution provider, we will continue to commit ourselves in supplying our customers the best performance per dollar products. "Your demand is our command" is the key to ensure our success in the business world.

FEATURES
* Compatible with both 3.5" & 2.5" SATA I/II hard drive support hot swap.
* Support eSATA connection for maximum SATA performance.
* Plug & Play USB 2.0 quick connection for any computer system.
* User friendly Screw-less design just plug in the hard drive and play. 
* On/off switch allows hard drive life expendability and energy conservation.
* Exposed working HDD stands in the air vertically for fast heat radiation.
* Aluminum alloy stand is detachable for portable use.
* Protective pouch protect your HDD and important data when using as a portable 2.5" enclosure.
* Designed for PC & Mac systems.
SPECIFICATIONS
Enclosure

MB876SK-B


MB876IK-B


Device Space

5.25″ Half height device x 1

Interface

Serial ATA

SAS (Serial Attached SCSI)

Data Transfer Rate

Transfer bandwidth 300MB/Sec
Internal host


SATA 7 pin x 1

SATA 7 pin x 2

Cooling Fan

40(W) x 40(H) x 10(D) mm sleeve fan x 1
Key lock
Two-section key lock designed
DC Socket Number
1
Power Indicator
Green LED (Power On)
HDD Access Indicator

Amber LED

Material

Plastic and Aluminum alloy

Dimension

(W x H x D)
148.4 x 42 x 183.3mm
PICTURES & IMPRESSIONS
Icy Dock has chosen a nice cardboard box to enclose their product. The front has a picture of the hot swap bay itself and a few details. These include its ability to run SAS drives and all of the other HDD holders that are compatible with the model. The back goes into further detail of what is on the front, and includes this information in a few select languages.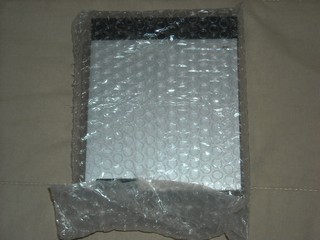 The MB876 was packed extremely tight in the box. I had a hard time getting it to come out, but eventual it gave up its fight and I pulled it out. Surrounding the mobile rack is a layer of bubble wrap which will keep any harm from coming to the enclosure. Surprisingly, none of the bubbles where popped upon arrival, but a few hours boredom fixed that.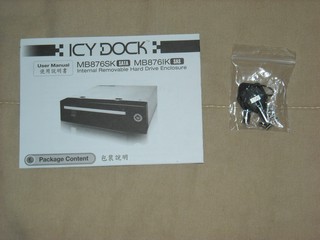 The bundled goodies that came with the Icy Dock are pretty slim. Just a few screws, a couple keys, and an instruction manual. The instruction manual gives you instructions on how to assemble the whole unit. The keys will allow you to lock up the enclosure so no one can easily steal your hard drive.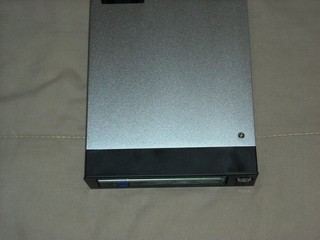 The hot swap bay has a aluminum outside covering the contents inside. Aluminum is not the strongest metal, but it will be strong enough to ensure that no damage comes to the hard drive inside. The one thing you will not notice by looking at it is its size compared to a normal 5.25″ drive bay. I had to beat the thing into my case, quite literally. Not my idea of fun. All of this aside, the drive enclosure fit very snugly in the drive bay.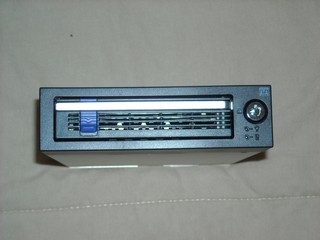 The front view gives you a much better look at what you will be seeing the whole time this unit is installed in your computer. To the top right is the key hole to lock the enclosure from opening. The first unit I received had a lock that could be pried open, but Icy Dock quickly sent out a new replacement that works perfect. If your drive bay has this same issue you can be sure that Icy Dock will solve it. Below that are the indicator lights. One is for the hard drive power, and the other one is for hard drive activity. The blue strip to the left is used to open the bay. You just have to push down on it and the little silver arm flips out.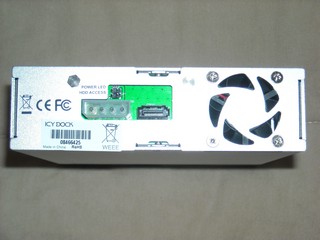 As we peer around the back, we see the highly reflective surface. This unit uses a standard Molex connector. The back SATA connector is for connecting to your motherboard, of course. Finally, the back 40mm fan will move some air inside the unit to keep your hard drive cooler.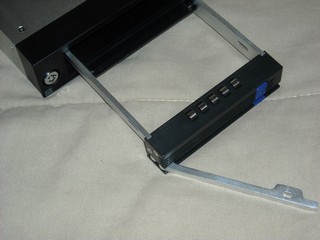 As you can see, the hard drive tray doesn't have much to it, but all it has to do is hold your hard drive, so it shouldn't have a lot of extra stuff.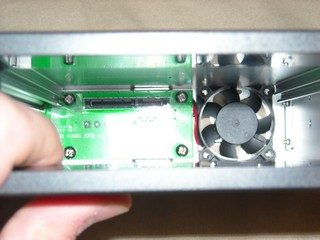 Once again, with the camera glare. This time a thin strip of plastic covering obstructed the view. It is forgivable since the plastic helps keep the circuit board on the back from being destroyed. As you can see, all you have to do is slide the drive in, and the connectors slide right together.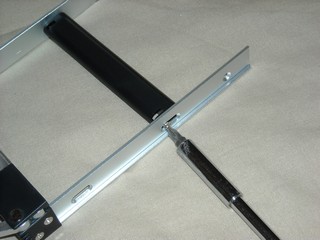 First order of business is to take off this random plastic thing in the middle. This is used to ensure that the two arms of the enclosure don't bend, but the hard drive wont fit in with this installed, so it must be taken out.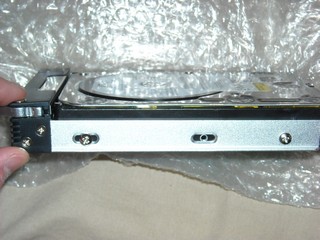 METHODOLOGY
For testing, I used a Western Digital 750 GB hard drive. I first tested the drive connected directly to my motherboard. I then put the hard drive into the enclosure. This will give you an idea how much the enclosure either speeds up the drive or slows it down. The optimal results would be a faster drive, but I doubt this will happen since all this enclosure does is transfer the signal to the motherboard. Most likely there will be a small performance drop. The chart measurements for the access time are in MS, all other measurements are in MB/s. I have listed my system specs below this passage so you can see all the equipment that was used.
Test Rig

Case Type

Cooler Master HAF922

CPU
Intel I7 920 @ 3.7
Motherboard
Intel SmackOver X58
Ram
(2×3) Mushkin HP3-12800 @ 1480, 8-8-8-20
CPU Cooler
Cooler Master V10
Hard Drives
WD SE16 640 GB
WD SE16 750 GB
Optical
Lite-On DVD R/W
GPU

Leadtek GTX275

Case Fan

One Front 200mm Intake
One Back 120mm Exhaust
One Top 200mm Exhaust

PSU

Corsair HX1000W
Testing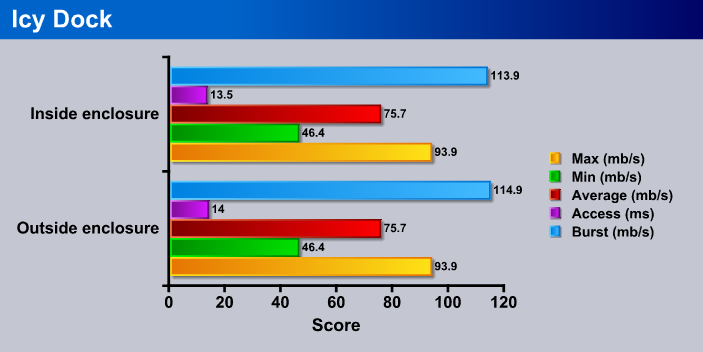 As you can clearly see, the enclosure is pretty much the same as a bare hard drive. The one noticeable difference is the access time, which can be explained by the drive being on its side in the case, which leads to a slightly lower score. The burst rate was also just 1 mb/s off. This wont make any difference at all, since the afterage speed of the two drives is the same. Also worth noteing is this enclosure keeps the hard drive very cool, as I have yet to see the hard drive go over 36° C.
CONCLUSION
The Icy Dock was really great in testing. The numbers where pretty much the same minus a couple. The drive had a 1 mb/s lower average time, which really doesnt matter since the drive had the same average speed outside and inside the enclosure. The speeds added with the benefit of being able to quickly switch out hard drives is a must in a server environment that must be kept up and running.
If you are in the market for a product such as this, the transfer speeds are a great addition. The lock is always a nice feature to have just in case someone decides they want a new hard drive. Overall, the Icy Dock MB876SK is a great addition to the Icy Dock lineup, and proves to excel at exactly what it was designed to do.
We are trying out a new addition to our scoring system to provide additional feedback beyond a flat score. Please note that the final score isn't an aggregate average of the new rating system.
Performance 8
Value 8
Quality 9
Warranty 9
Features 7
Innovation 7
Pros:
+  Easy HDD swapping
+  Lockable
+  SATA

Cons:
–  Fan is a little slow
With a score of 8.5 out of 10 the Icy Dock MB876SK receives the Bjorn3D Seal of Approval.