ASUS has made an allready Flexable video card, more flexable. Lets see inside on what ASUS did to an allready good performing video card the 9600GT.
INTRODUCTION
As an ATI user myself, I can not dismiss the fact that one of the most versatile computer components that is out today, is a Nvidia 9600GT based video card. Reason for me saying this, well it is cheap enough for just about any one on any budget for light to moderate gaming, can be used in a HTPC for Blue Ray play back, and finally can be used as a dedicated Physx card for those who wanting or needing that extra little bit in our Ageia Physx based games.
We at Bjorn3d, are going to look at  ASUS's offering of the 9600GT video card.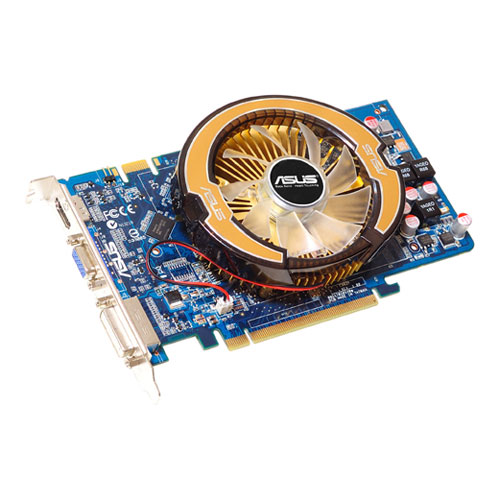 About ASUS
Origin of ASUS
ASUS comes from the last four letters of Pegasus, the winged horse in Greek mythology that represents the inspiration of art and learning. ASUS embodies the strength, creative spirit and purity symbolized by this regal and agile mythical creature, soaring to new heights of quality and innovation with each product it introduces to the market.
ASUS, a technology-oriented company blessed with one of the world's top R&D teams, is well known for high-quality and innovative technology. As a leading company in the new digital era, ASUS offers a complete product portfolio to compete in the new millennium.
In 2007, one in three desktop PCs sold was powered by an ASUS motherboard; and the company's 2007 revenues reached US$6.9 billion.
ASUS products' top quality stems from product development. It's like learning Chinese Kung-Fu; one must begin with cultivating the "Chi" and inner strength. Besides innovating cutting-edge features, ASUS engineers also pay special attention to EMI (electromagnetic interference), thermal, acoustics and details that usually go unnoticed to achieve complete customer satisfaction. ASUS notebooks are the first TCO'99-certified notebooks worldwide.
The requirements for this honor include radiation emission control, energy (battery consumption), ecology (environment friendly) and ergonomics. To succeed in this ultra-competitive industry, great products need to be complimented by speed-to-market, cost and service. That's why all 8,000 over employees of ASUS strive for the "ASUS Way of Total Quality Management" to offer the best quality without compromising cost and time-to-market while providing maximum value to all customers through world-class services.
With unyielding commitment to innovation and quality, ASUS won 2,568 awards in 2007, meaning on average, the company received over 7 awards every day last year. BusinessWeek has ranked ASUS amongst its InfoTech 100 for the 10th straight year. ASUS has also achieved the number one title on the annual league table of Taiwan Top 10 Global Brands with a brand value of 11.96 billion US dollars.
Corporate Vision
Imagine innovations that simplify our lives and enable us to realize our full potential. It is technologies' responsibility to accommodate us, not the other way around, because all devices should perform and communicate seamlessly anytime, anywhere.
ASUS thrives to become an integrated 3C solution provider (Computer, Communications, Consumer electronics).
Mission and Value
As a major player of the IT industry, ASUS has established its corporate mission: Provide innovative IT solutions that empower people and businesses reaching their full potential.
The philosophy of ASUS product development is to do the fundamentals well first before moving forward. Started with computer components such as motherboards, graphic cards, and optical storage devices, ASUS now has now over 16 product lines, including desktop barebone systems, servers, notebooks, handhelds, network devices, broadband communications, LCD monitors, TVs, wireless applications, and CPT (chassis, power supply and thermal) products.
Achieving Our Mission
Passion for Technology
Technology is the heart of ASUS. We continue to invest in our world-class Research and Development so that we are always able to provide leading-edge innovations to people and businesses.
Quality
Quality is of utmost importance to ASUS. We continue to refine our quality management process to ensure customers receive quality solutions cost effectively.
Long-term Relationships
Whether they are our customers, media, shareholders or consumers, we believe in growing with our partners at all levels. Relationships with those key stakeholders are one of the most important factors of our continuing success.
Perseverance
All ASUS employees share the same sense of purpose. We thrive under pressure and we look forward to challenges. And all of us are working to accomplish the same mission, to empower people with innovative IT solutions.
Management Philosophy
| | |
| --- | --- |
| | Inspire, motivate and nurture our employees to explore their highest potential |
| | Commit to integrity and diligence; focus on fundamentals and results |
| | Endlessly pursue to be number 1 in the areas of quality, speed, service, innovation and cost-efficiency |
| | Strive to be among the world-class high-tech leaders and to provide valuable contributions to humanity |
SPECIFICATIONS
SPECIFICATIONS

Graphics Engine
NVIDIA GeForce 9600GT
Bus Standard
PCI Express 2.0
Video Memory
DDR3 512MB
Engine Clock
600 MHz
Shader Clock
1500 MHz
Memory Clock
1.8 GHz ( 900 MHz DDR3 )
Bus Speed
x16
Memory Interface
256-bit
DVI Max Resolution
2560 x 1600
D-Sub Output
Yes x 1
DVI Output
Yes x 1 (DVI-I)
HDMI Output
Yes x 1
HDCP Support
Yes
Adapter/Cable Bundled
1 x S/PDIF cable
Software Bundled
ASUS Utilities & Driver
ASUS Features
Glaciator Fansink
Note
*To enable HDMI audio out function, a motherboard with internal S/PDIF header and the correct connection of S/PDIF cable with graphics card and motherboard are needed.
PACKAGING
As always ASUS does a wonderful job on presenting their products. Also ASUS gives us plenty of information on the 9600GT.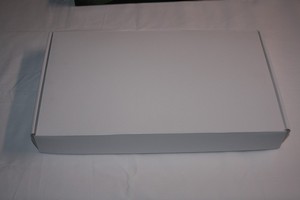 Time to look whats inside of the packaging, we are presented with a plain white box.
The 9600GT is inside of this white box, ASUS did a good job on making sure the video card would not get damaged during transportation. The one thing that catches my eye, is that this 9600GT is rather small.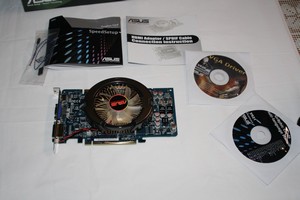 Here are all of the contents of the box laid out. ASUS includes the 9600GT video card, instruction's, SPDIF connector that will be needed if you plan on using the HDMI output. Two discs one of them being the driver disk, and another multi-language install disk.
OVERVIEW
Time for us to go over the ASUS 9600GT video card. Just a quick glance of this video card we see this particular 9600GT does not need the use of an external power supplementation. All this video card needs is the 75 watts from the motherboard to power it. Hmmm.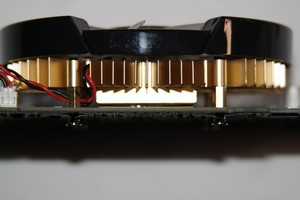 Looking at the side of the video card, at the heat sink. The base of the heat sink that ASUS uses is fairly thick. Also notice the PCB of the video card was not bowed or warped.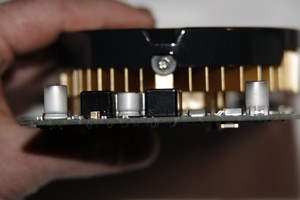 Looking at the side view but from the front.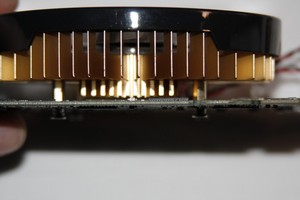 Looking from the out side leading edge of the 9600GT video card.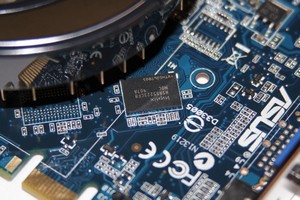 The memory type that ASUS used on the 9600GT video card.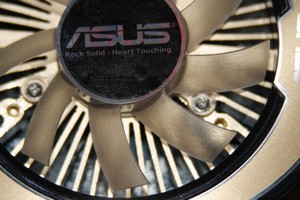 Looking through the blades of the fan that ASUS used. The fin array of the heat sink are fairly spaced and are also evenly spaced, this should provide plenty of air movement.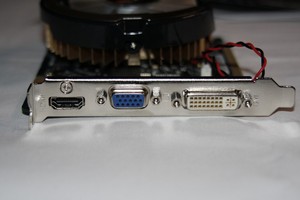 Looking at the rear end of the 9600GT, ASUS included 1 DVI port, 1 D-SUB, and finally an HDMI connector.
Little better close up with the monitor hook up ports.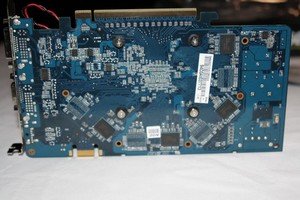 ASUS also put the memory on both sides of the 9600GT instead of having them on one side.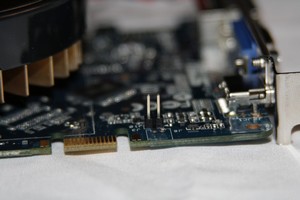 The SPDIF audio connector.
INSTALLATION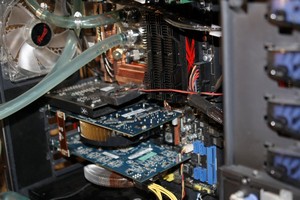 Now lets get on with the installation and see what this little video card can do. This video card looks so ity bitty in my computer.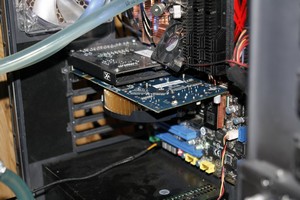 I figured since I have another 9600GT (1 gig model), I figured l would run these bad boys in SLI, but that was a futile attempt, as well as using the other 9600GT as a dedicated Physx card.
TESTING METHODOLOGY
Test Setup &Testing Methodology
CPU
Lapped Core i7 920 @ 3.8 GHz
Motherboard
MSI X58 Eclipse
Case
Cooler Master Cosmos
Memory
Gskill Trident 2000MHz
Video Card's
GigaByte 9600GT, ASUS 9600GT, Sapphire 4770
Hard Drives
 2 x Seagate 2.5″ HDD's Raid-0, 1 160 gig WD HDD Backup.
CDRom Drive
Lite On Sata1 DVD Burner/ Lite On Blue ray
Power Supply
SilverStone 1200 watt PSU
CPU Speeds Used
200 x 19
Operating System Used
Microsoft Windows Seven 7100
Type of Software Used During Testing
Far Cry 2, Hawx, 3DMark Vantage, World In Conflict, Company Of Hereos
Video Card Cooler

Standard Cooler
CPU Cooler

Koolance 340 CPU water block, Loop 1
Radiator
Loop 1, Swiftech 320 Radiator
Any attempt to copy these system specifications will result in assimilation by your computer

To test the ASUS 9600gt 512 mb video card, I ran each of the above listed benchmarking programs and games a minimum of 3 times to ensure my results were consistent with one another. The drivers that were used were 185.85 Forceware drivers for both of the 9600GT's and the Catalyst 9.5 for the HD4770 video card. I will only be using a resolution of 1280×1024 with Anti-Aliasing, and With out Anti-Aliasing, with maxed quality. Your results will vary from my own results posted.
Here is a list of games and there respectable quality levels I used.
Game Settings Used
 3DMark Vantage
Default settings of Performance
Far Cry 2
1280 x 1024 with 0AA and x4AA, maxed visual quality in DX 10 mode
 Hawx
1280 x 1024 with 0AA and x4AA, Ambient Occlusion was turned to Low, maxed visual quality in DX 10 mode
 World In Conflict
1280 x 1024 with 0AA and x4AA, maxed visual quality in DX 10 mode
Company Of Heroes
1280 x 1024 with 0AA and with AA turned on, maxed visual quality in DX 9 mode
COMPARISON
Comparison
 
ASUS 9600GT

HD4770
Gigabyte 9600GT
Processing Cores
 64
640
 

64

Core Clock
 600
750
 

650

Shader Clock
 1500
750
 

1625

Memory Clock (effective)
1800MHz
3200
 

1800

Memory Interface
 256 bit
128 bit
 

256 bit

Memory
 512MB DDR3
512MB GDDR5
 

1024MB GDDR3

Fabrication Process
 65nm
40nm
 

65nm
When looking at the ASUS 9600GT and the Gigabyte 9600GT video cards, other then memory size and clock speeds, these two video cards are nearly identical.
FAR CRY 2
While the resolution was at 1280 x 1024 and the AA was turned off, the ASUS 9600GT video card had no problems on handling this game. Having only a minimum frame rate of 30 fps. The lack of memory cripples this video card compared to the 9600GT 1Gb.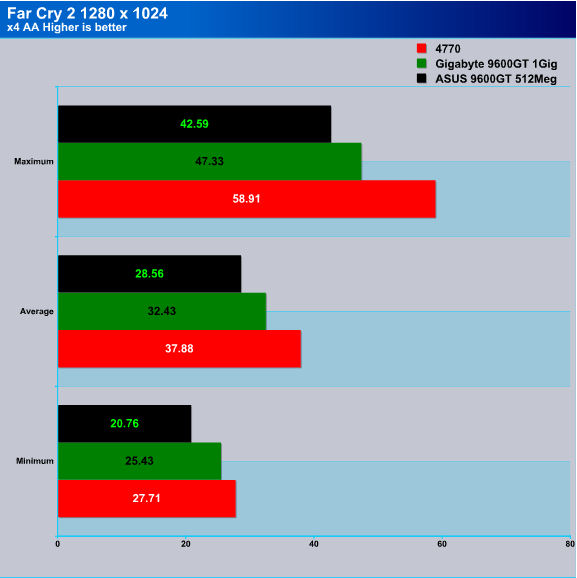 Lets turn up the AA level to x4. This is where we see the limited memory of 512Mb take its toll.
Company Of Heroes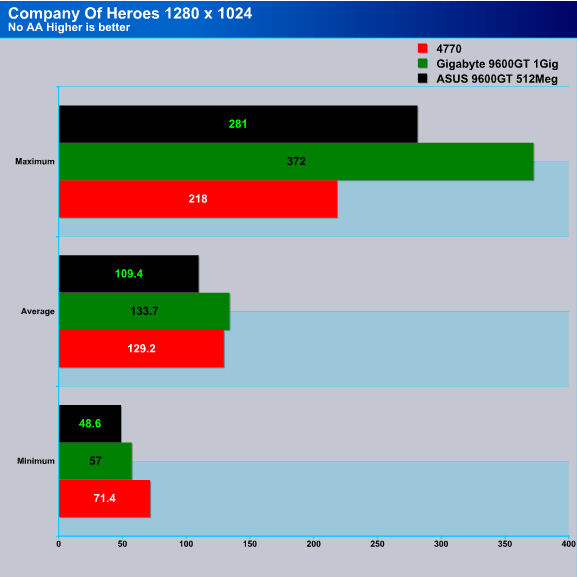 In Company Of Heroes, the ASUS 9600GT performed wonderfully. This is a Direct X 9 Demo version.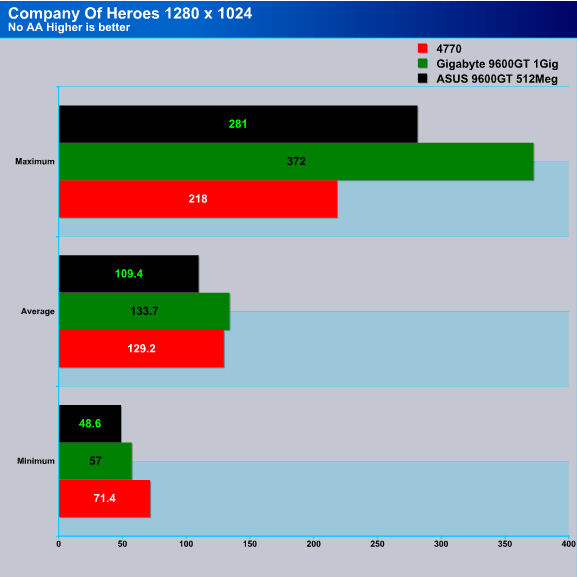 Even after applying AA, the ASUS 9600GT handles this game with ease.
WORLD IN CONFLICT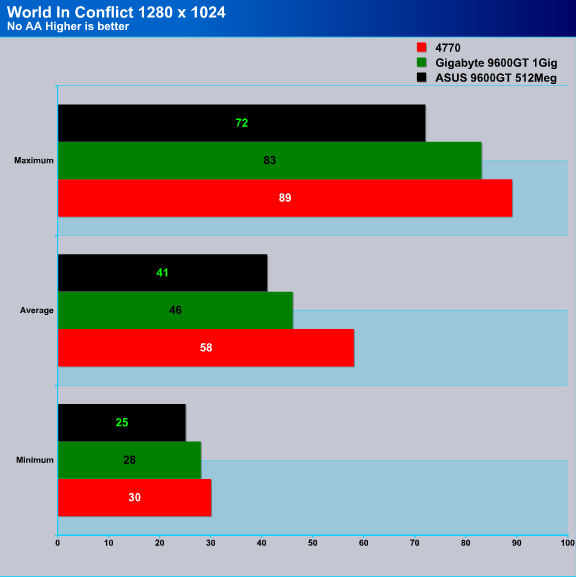 Maintaining a 25 FPS minimum frame rate, the ASUS 9600GT video card is not exactly all bad, but is acceptable.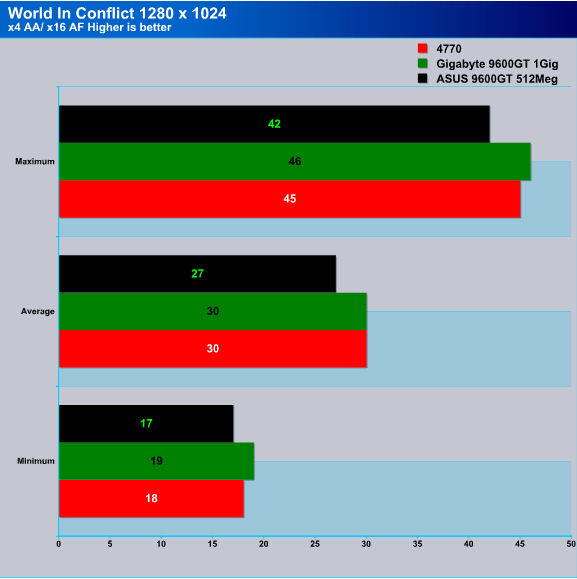 Turning on x4 AA and x16 AF, neither one of the video cards tested could give us playability.
HAWX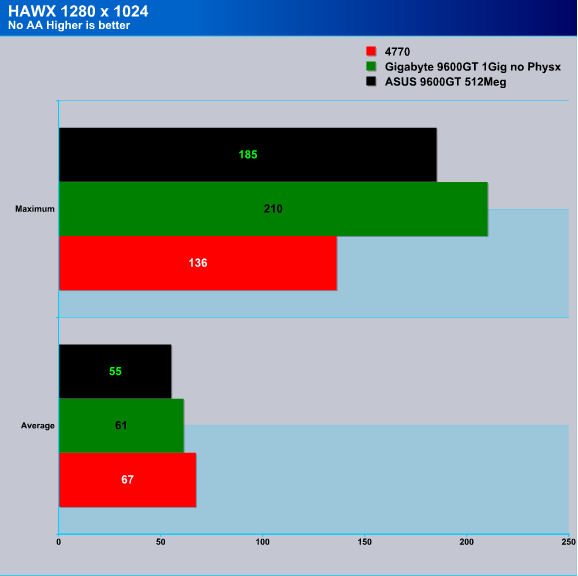 Looking at the average frame rates, the ASUS 9600GT again does absolutely wonderful.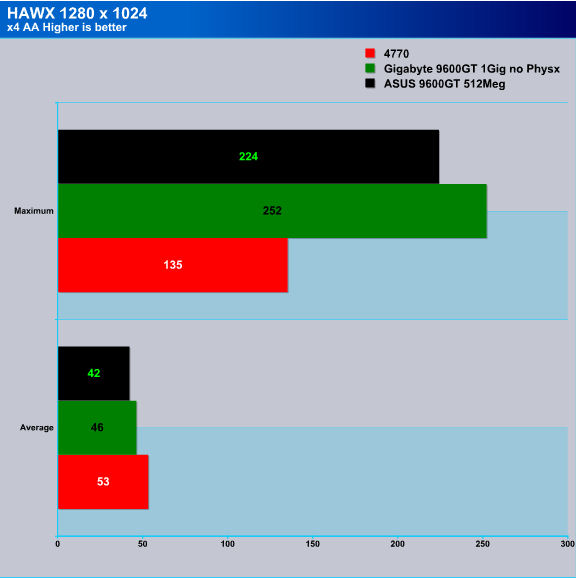 Even by upping the AA level to x4, we could not bring the ASUS 9600GT to its knees.
3DMARK VANTAGE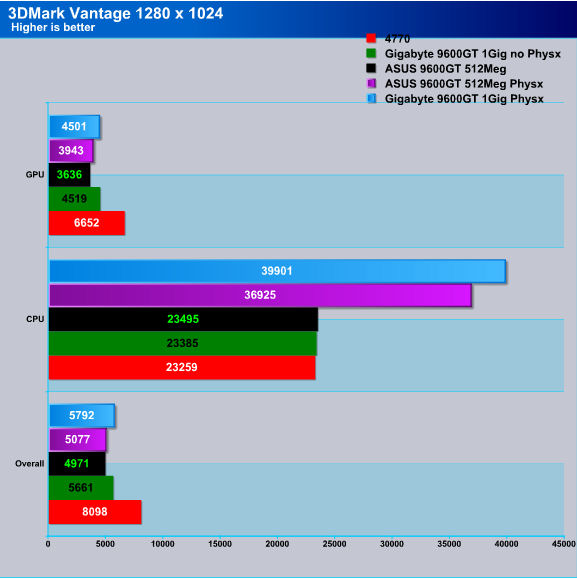 Having a lower clock speeds and lower amount of on board memory really slows down the ASUS 9600GT video card in not only in game testing, but also in PhysX testing.
CONCLUSIONS
The ASUS 9600GT video card did not perform as well as I had expected it to. I realize that limiting the video memory to 512 mb of memory would take a small performance hit, but not near as much as I was seeing. Not being able to SLI ASUS's 9600GT 512 mb video card to a (nearly Identical) Gigabyte 9600GT 1 gb video card, did not make matters any better. I do know my MSI X58 Eclipse Motherboard fully supports SLI/Crossfire so that was not my problem. I also realize that Nvidia wants to try and keep their multi GPU's to its highest possible performance level, but not having any flexibility is a "No Go" in my book. I guess ATI's Crossfire Flexibility had gotten me spoiled. This is not ASUS's fault, but it does not help ASUS either.
Even though the performance was not up to what as high as I was expecting. I have to admit this, the 9600GT video card is still one of the most flexible video cards out there. By ASUS making this 9600GT smaller in size they add even more flexibility. Having a price point on or around the $95 USD mark puts this video card in a higher end price scale. There are better video cards for around the same price range.
Performance 7
Value 7
Quality 9
Warranty 8
Features 7
Innovation 7
Pros:
+ Decent performance
+ Small form factor will ensure this video card fits in a lot of different chassis
Cons:
– Slightly high price
– Non SLI flexibility, again not ASUS's fault but this definitely does not help them.
Basing the score on a price performance ratio, It is with great regret that I give this video card a.
Final Score: 6.5 out of 10