The Thermaltake Lanbox offers full functionality in an ultra small portable chassis suitable for toting to Lan Parties of for an office/desk area with limited space.
INTRODUCTION
We've been looking for a small chassis that will accommodate Micro ATX and Mini ATX motherboards, yet offers full functionality for multi GPU setups without sacrificing style. It's been a long search looking for the holy grail of Lan Party chassis but we think we finally found one that we can be happy with, the Thermaltake Lanbox series. The Thermaltake Lanbox offers a stylish chassis, totally modular design, let's you use multi GPU setups if you like, and accepts Micro ATX and Mini ATX form factor boards. With boards like the Asus Rampage Gene hitting the market with enthusiast features and Micro ATX form factor, anyone looking to make a splash at the local Lan Party of anyone who just doesn't want a bulky tower on their desk should look closely at the Thermaltake Lanbox.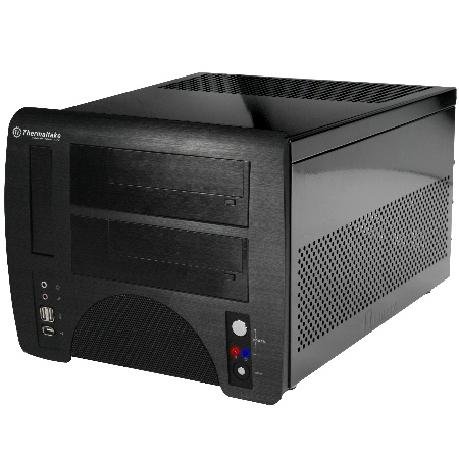 About Thermaltake
The Company
We live in a world where most things seem to move at the speed of light. At Thermaltake, we feel the same way and that is exactly how Thermaltake conducts itself to deliver innovative, reliable and customer-centric solutions to the worldwide market.
Since the beginning of Thermaltake in 1999, it has been at the forefront of creating new and exciting products at a time where most computer users were provided little to no choices for components that may seem irrelevant, but in reality crucial to the performance of a PC.
Thermaltake Server Series solutions, with years of thermal experience and industry leadership, sets its goal on reforming total thermal management in server segment by formulating the perfect mixture of versatility, efficiency and thermal management with each respective server product category: Rackmount Chassis, Server Fixed & Redundant Power Supply and Server CPU Cooling Management Solutions.
With its comprehensive line of products available, it enables Thermaltake's core customers to enjoy a one-stop-shop experience, reduce product design-in evaluation period and most important of all, flawless integration process. Each of Thermaltake's strengths enables its customer to focus on their core business while taking advantage of the skills and efficiency of a single thermal management solution partner.
Values & Principles
– While still a relatively young company, established in 1999, Thermaltake is built on unwavering will and dedication to address issues and innovate at the same time for computer enthusiasts and corporate users worldwide .
– With strong support of Research & Development team standing behind the brand, Thermaltake is committed to never-follow but always-lead.
– In past decades, the industrial and technological advancements in different fields have shaped the world we live in today and have also made a big impact on the environment. Thermaltake takes great measures to ensure the product that we produce relieve these impacts by being first to act on 80 PLUS® specification for computer power supply that greatly reduces the amount of electricity that a computer consumes.
– Always striving to be the best, we continuously benchmark our performance against the very best internally and externally.
– Customers are our greatest asset and Thermaltake does not take that for granted. That is why Thermaltake is the industry leading in customer service and customer support with around-the-clock automated product return service.
FEATURES & SPECIFICATIONS

Like we mentioned, the Lanbox is totally modular. Some models have an aluminum handle. Ours doesn't but they are available for about $10 (USD) more with a handle. The Chassis has excellent cooling for its size and it's all aluminum to make it lighter to tote around. It takes a standard ATX PSU (Not Included) and accepts Micro ATX and mini ATX form factor boards. It also has a convertible 7 1/2 inch drive bay for an LCD 7 inch screen that Thermaltake has available for the Lanbox (purchased separately). If we can get hands on one of those little buggers we'll review it ASAP and make our Lanbox the ultimate must have Lan Chassis.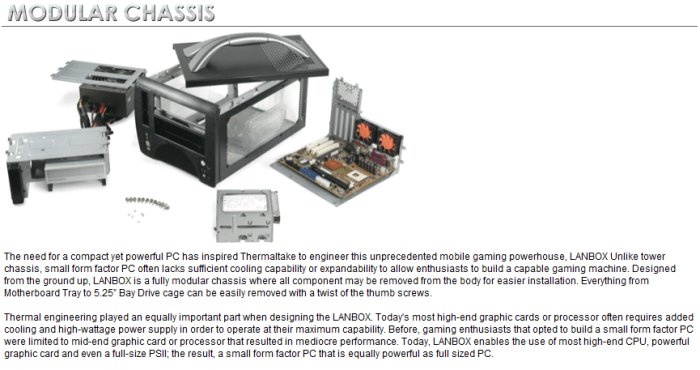 The Lanbox comes completely apart and that's accomplished by quite a number of thumbscrews instead of annoying screws. It's important to know this because more than likely you will have to completely disassemble the chassis for a clean install of your system. Don't worry though, the disassembly instructions in the small manual are more than enough for the task.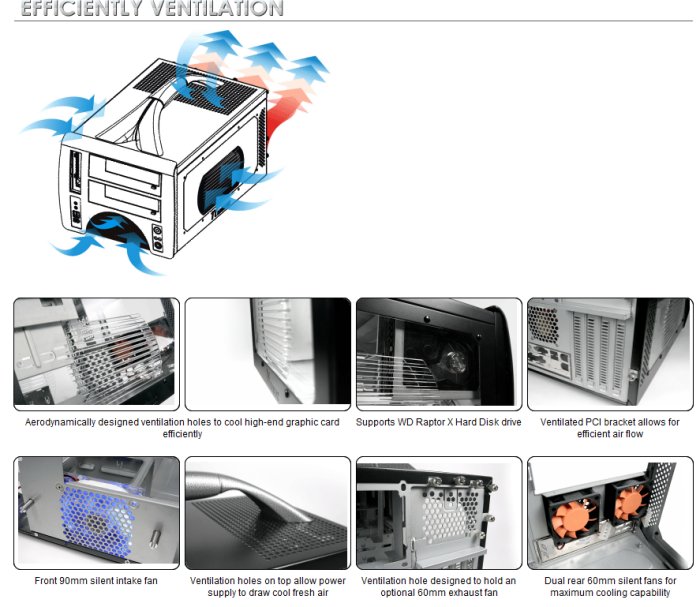 The Lanbox features 360 degree cooling, literally every side of the Lanbox has vents to let air into and out of the chassis, helping to keep those killer components cool. It's going to be a tight fit in there so if your a cable management freak, this probably isn't the chassis for you. If you need a small multi GPU capable chassis to save space or tote to Lan Parties, you just discovered nirvana.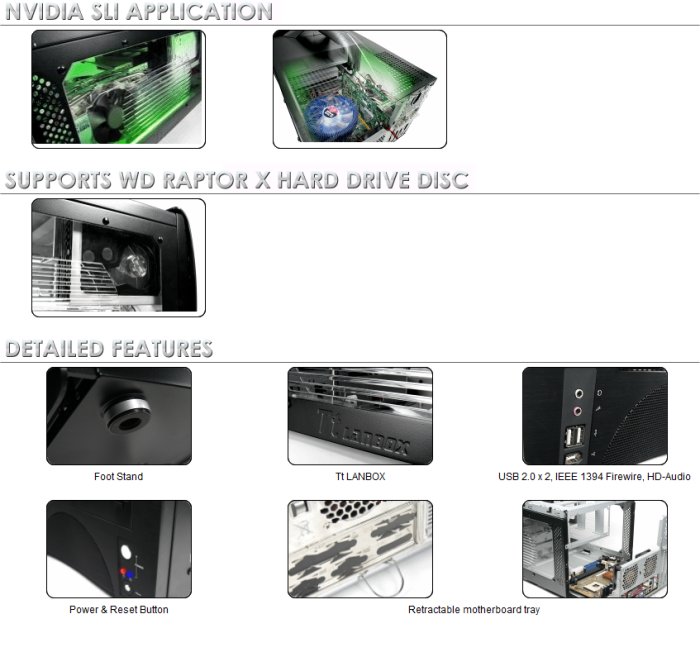 The Lanbox is designed with Multi GPU setups in mind. Full length GPU's will fit in the Lanbox, though if you go that route we would suggest rigging additional cooling. Designed for 3 1/2 hard drives it also allows for the install of the larger Western Digital Raptor in the 5 1/2 inch form factor. We tried one of our Raptors in the chassis and it fit like a charm. The Chassis has rubberized foot pads, front panel connectors, and 1394 Firewire and an HD audio port right on the front. One thoughtful addition to the Lanbox arsenal is a small wire loop so you can pull out the removable motherboard chassis. You can get the Mobo tray out but we lost some skin on our knuckles until we saw the wire. After that, tray removal was a snap.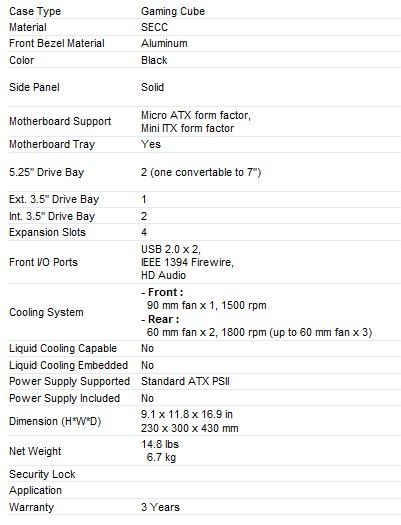 Based on an aluminum design with a plastic front bezel, the Lanbox offers light yet sturdy protection for your components. There are two 5 1/2 inch external drive bays and one is convertible to 7 1/2 inch, should you opt for one of those snazzy 7 inch motorized slide out LCD's. Imagine the fuss at the Lan Party when they ask you where your monitor is and you reply, "Which one?", and the 7 inch LCD slides out of the drive bay. You're sure to turn some heads with that. Packing an amazing three fans into the tiny chassis, you have a 90 mm front fan and two 60 mm rear fans moving cool air across the entire chassis right where you need it most. On its size, 16.9 inches long, 11.8 inches tall and 9.1 inches wide, it's tiny but full featured and people are going to wonder if you sawed your computer in half.
PICTURES & IMPRESSIONS
Click Image For a Larger One
The Thermaltake Lanbox comes in a small box with enough information and specifications to help inform the consumer about its purchase. You can see from the sticker on the side they didn't even put it in a cardboard box to protect it. They just slapped a sticker on it and shipped it to us. The Box is strong enough that it arrived unscathed and protects the Lanbox without further need of additional protection. More than likely you'll receive yours in an outer box and it will be further protected.
Click Image For a Larger One
Focusing on the front and top of the Lanbox you can see the external drive bays, front panel buttons, connectors, and the 3 1/2 inch external drive bay that we forgot to mention earlier. The vent on the top is positioned so any heat rising from the board or GPU(s) can rise and exit the chassis.
Click Image For a Larger One
You can see the Black "Piano" surface of the Lanbox is quite reflective and get a good look at the side vents and rear of the chassis. You'll find that every thing on the Lanbox has to be disassembled but is accessible through that total modularity.
Click Image For a Larger One
Here's a peek at the other side of the Lanbox and you get a great look at the top vents. We couldn't help ourselves any longer and had to start peeling back the layers of this tiny chassis.
Click Image For a Larger One
Here's a good shot of the removable motherboard tray, the 60 mm rear exhaust fans, how tight the drive bay design is, and a rear to front shot with the motherboard tray removed. It's going to be a tight fit in there with components installed but you can expect that in Lan Chassis of this size.
TESTING
There's only one way to test a chassis and that's to install a system in it so that's what we did. We hooked an ECS Motherboard Intel Atom mini ATX Mobo/CPU combo and got right to installing components.
Click Image For a Larger One
The first thing we did was strip the chassis down far enough to get an optical drive into the lower external drive bay, reserving the convertible upper bay for a 7 inch LCD should we be lucky enough to score one of those puppies.
Click Image For a Larger One
By this time we were far enough into the chassis to reveal a little more of its design. The pedestal you see is for mounting up to two hard drives, one on top and one below.
Click Image For a Larger One
Then we mounted the hard drive we had selected for the install, and installed a wired PSU so we could get an idea of the worst case you would get if you were forced to use a wired PSU. We would recommend a modular PSU but we like to know worst case so we can better inform you about a product. Notice we already have the HD SATA cable in place, when working in smaller chassis cable as you go because later on you may not have room to go back and cable later. Keep an eye open for rough edges. There's a little sharp edge here and there in the Lanbox but that's not unusual for smaller chassis.
CONCLUSION
We like almost everything about the Thermaltake Lanbox but let's get to what we didn't like first. There were a few sharp edges in the chassis and with that little bit of room you have to work in your sure to get a scrape if you're not careful. Then assembly took about 2 hours in total for a decently cabled mini ITX build. Other than those two minor things, the Thermaltake Lanbox fit's the bill for our mini ITX adventure 100%.
It's small, full featured, accepts mini ATX and Micro ATX and it looks good with just minor lighting. We don't have time for Lan Parties much anymore so we chose the model without the handle. They have a handled model available for a few bucks more and a few bucks more than that gets you a handle and an acrylic window on the side. If you're into Lan Parties we would recommend the windowed chassis and handle. If you're trolling the Lan Party for chicks, we wouldn't recommend the optional thong.
In all we really like the Thermaltake Lanbox Chassis. When we slam a top Micro ATX board in there and pump it up with a Quad and throw on a couple of major GPU's we'll like it even better. We've stocked up on energy shots and don't be suprised if you see us sporting about the local LAN with the Lanbox in tow.
We are trying out a new addition to our scoring system to provide additional feedback beyond a flat score. Please note that the final score isn't an aggregate average of the new rating system.
Performance 9.5
Value 8
Quality 9
Warranty 9
Features 9
Innovation 9
Pros:
+  Looks Nice
+  Good Cooling For It's Size
+  Easy To Install A Rig In
+  40 MM Lighted Fan Lit Up The Whole Chassis
+  Small
+  Easy On The Eyes
Cons:
–  CPU Motherboard Cutout Is Not For Both AMD And Intel Rigs
–  Heavy (19.49 lbs)
The Thermaltake Lanbox is a stylish chassis that is small but full featured, designed for the Lan Party crowd that still wants Multi GPU capabilities without all the size and weight of a normal chassis. Thermaltake designed the Lanbox well and we really like the extra space the chassis leaves around the lab so it scores a: 8.5 out of 10 and the Bjorn3D Seal of Approval.