The Asus M4N82 Deluxe is a AM3 motherboard that runs SLI, we're slamming the X4 955 in this Deluxe board and enjoying all the bells and whistles that come with an Asus Deluxe board.
INTRODUCTION
We've been running our Phenom 2 reviews on an Asus M4A78T-E board and it's a very capable board driving speeds of up to 4 GHz on selected Phenom 2 X4 CPU's. It's not a particularly fancy board so we decided to look at one of the Asus M4N82 Deluxe SLI boards. The board supports AM3 CPU's but uses DDR2 instead of DDR3. The ability to use DDR2 instead of DDR3 makes the M4N82 Deluxe a good option for value minded enthusiasts. Upgrade the Motherboard and CPU but keep that killer kit of DDR2 and save some money.
To see what the performance difference is between DDR2 and DDR3 we've left the results from the M4A78T-E on the charts and finally we'll get to see the differences, if any, between using DDR2 VS DDR3 on the Phenom 2 X4 955 BE, the flagship Phenom 2 CPU. Of course along the way we'll have to toss in some SLI results on the Phenom 2 and Asus M4N82 Deluxe. It will be interesting to see the differences between DDR2/DDR3 and Phenom SLI vs Core i7 SLI. This one is going to be a mixed bag with results from both camps. Lets see if the Asus M4N82 Deluxe/Phenom 2 X4 955 BE can give the Asus P6T Deluxe/Core i7 965 Extreme a run for it's money in the graphics department.
About ASUS
ASUS, a technology-oriented company blessed with one of the world's top R&D teams, is well known for high-quality and innovative technology. As a leading company in the new digital era, ASUS offers a complete product portfolio to compete in the new millennium.
In 2007, one in three desktop PCs sold was powered by an ASUS motherboard; and the company's 2007 revenues reached US$6.9 billion.
ASUS products' top quality stems from product development. It's like learning Chinese Kung-Fu; one must begin with cultivating the "Chi" and inner strength. Besides innovating cutting-edge features, ASUS engineers also pay special attention to EMI (electromagnetic interference), thermal, acoustics and details that usually go unnoticed to achieve complete customer satisfaction. ASUS notebooks are the first TCO'99-certified notebooks worldwide.
The requirements for this honor include radiation emission control, energy (battery consumption), ecology (environment friendly) and ergonomics. To succeed in this ultra-competitive industry, great products need to be complimented by speed-to-market, cost and service. That's why all 8,000 over employees of ASUS strive for the "ASUS Way of Total Quality Management" to offer the best quality without compromising cost and time-to-market while providing maximum value to all customers through world-class services.
With unyielding commitment to innovation and quality, ASUS won 2,568 awards in 2007, meaning on average, the company received over 7 awards every day last year. BusinessWeek has ranked ASUS amongst its InfoTech 100 for the 10th straight year. ASUS has also achieved the number one title on the annual league table of Taiwan Top 10 Global Brands with a brand value of 11.96 billion US dollars.
Specifications
| | |
| --- | --- |
| | Specifications M4N82 Deluxe |
CPU

AMD Socket AM2+ / AM2 Phenom™ X4/Phenom™ X3/Athlon™ /Athlon™ X2/Sempron™ Processors
Compatible with Phenom™ II/Athlon™ X4/Athlon™ X3/ Athlon™ X2(AM3 CPU)
AMD Cool 'n' Quiet™ Technology
Support 45nm CPU

Chipset

NVIDIA nForce 980a SLI with NVIDIA NVCC and ESA support

System Bus

Up to 5200 MT/s HyperTransport™ 3.0 for AM3 /AM2+ CPU
2000 / 1600 MT/s for AM2 CPU

Memory

4 x DIMM, Max. 16 GB, DDR2 1200(O.C.)/1066/800/667 ECC,Non-ECC,Un-buffered Memory
Dual Channel memory architecture
*Due to AMD CPU limitation, DDR2 1066 is supported by AM3/AM2+ CPU for one DIMM per channel only.
**Due to OS limitation, when installing total memory of 4GB capacity or more, Windows® 32-bit operation system may only recognize less than 3GB. Hence, a total installed memory of less than 3GB is recommended.
***Refer to www.asus.com or the user manual for the Memory QVL (Qualified Vendors Lidts)

Expansion Slots

3 x PCIe 2.0 x16 (dual x16 or triple x8)
1 x PCIe x1
2 x PCI 2.2

VGA

Integrated NVIDIA® GeForce® 8 series GPU
Support NVIDIA SLI™ graphics cards (supports Windows Vista only)

Multi-GPU Support

Support NVIDIA® 3-Way SLI™ Technology (dual x16 or triple x8)

Storage

Chipset

1 xUltraDMA 133/100

5 xSATA 3 Gb/s ports

(Legacy IDE operation is only supported on ports 1–4.)

NVIDIA® MediaShield™ RAID Support RAID 0,1,0+1,5,JBOD

1 x External SATA 3.0 Gb/s port (SATA On the Go)

*Due to the Windows XP/ Vista limitation, the RAID array with the total capacity over 2TB cannot be set as a boot disk. A RAID array over 2TB can only be set as a data disk only. For more information, please refer to http://support.microsoft.com/kb/946557/en-us

LAN

NVIDIA Gigabit MAC Realtek 8211CL Gigabit PHY featuring AI NET 2

Audio

8 -Channel High Definition Audio CODEC
– Supports Jack-Detection, Multi-Streaming, and Front Panel Jack-Retasking
– Coaxial and Optical S/PDIF Out ports at back I/O
– ASUS Noise Filtering

IEEE 1394

VIA VT6315N controller supports 2 x 1394a ports

USB

12 USB 2.0 ports (6 ports at mid-board, 6 ports at back panel)

ASUS Unique Features

ASUS Power Saving Solution
– ASUS 8+1 Phase Power Design
– ASUS Anti-Surge Protection
ASUS Green Design
– ASUS EPU (for AM3/AM2+ CPU only)
– ASUS AI Nap
ASUS Quiet Thermal Solution
– ASUS Fanless Design: Heat-pipe solution
– ASUS Optional Fan for Water-cooling or Passive-Cooling only
– ASUS Q-Fan 2
ASUS Express Gate
ASUS Crystal Sound
– ASUS Noise Filtering
ASUS EZ DIY:
– ASUS Q-Connector
– ASUS CrashFree BIOS 3
– ASUS O.C. Profile
– ASUS EZ Flash 2

Overclocking Features

Intelligent overclocking tools
– AI Overclocking (intelligent CPU frequency tuner)
– ASUS TurboV
– ASUS Turbo Key
Precision Tweaker 2
– vDIMM: 35 -step DRAM voltage control
– vChipset 16-step Chipset voltage control
– vCore: Adjustable CPU voltage at 0.0125V increment
SFS (Stepless Frequency Selection)
– FSB tuning from 200MHz up to 600MHz at 1MHz increment
– Memory tuning from 533MHz up to 1066MHz
– PCI Express frequency tuning from 100MHz up to 200MHz at 1MHz increment
Overclocking Protection
– ASUS C.P.R.(CPU Parameter Recall)

Special Features

100% All High-quality Conductive Polymer Capacitors!(VRM 5000hrs lifespan @105°C, 500,000hrs @65°C)
ASUS MyLogo 2

Back Panel I/O Ports

1 x PS/2 Keyboard
1 x PS/2 Mouse
1 x External SATA
1 x IEEE 1394a
1 x LAN(RJ45) port
6 x USB 2.0/1.1
8 -Channel Audio I/O
1 x Coaxial S/PDIF Out
1 x Optical S/PDIF Out

Internal I/O Connectors

3 x USB connectors (6 ports)
1 x IDE connector
5 x SATA connectors
1 x IEEE 1394a connector
1 x CPU Fan connector
2 x Chassis Fan connector
1 x Power Fan connector
Front panel audio connector
System Panel
1 x COM connector
1 x S/PDIF Out Header
CD audio in
24-pin ATX Power connector
8-pin ATX 12V Power connector

BIOS

8 Mb Flash ROM
AMI BIOS, PnP, DMI2.0, WfM2.0, SM BIOS 2.5, ACPI 2.0, ASUS EZ Flash 2

Accessories

1 x UltraDMA 133/100/66 cable
5 x SATA cable
I/O Shield
1 x 3-way SLI bridge
1 x SLI bridge cable
User's manual
2 in 1 Q-connector (USB, System panel; Retail version only)
Optional Fan for Water-Cooling or Passive-Cooling only

Support Disc

Drivers
ASUS PC Probe II
Express Gate
ASUS AI Suite
Anti-virus software (OEM version)
ASUS Update

Form Factor

ATX Form Factor
12 inch x 9.6 inch ( 30.5 cm x 24.4 cm )
The product (electrical , electronic equipment, Mercury-containing button cell battery) should not be placed in municipal waste. Check local regulations for disposal of electronic products.
* All specifications are subject to change without notice. Please check with your supplier for exact offers. Products may not be available in all markets.
* PCB color and bundled software versions are subject to change without notice.
* Brand and product names mentioned are trademarks of their respective companies.
Features
CPU, Chipset and Graphics Features
AMD® Phenom™ X4/ Phenom™ X3 / Athlon™ X2/ Athlon™/ Sempron™ processors (socket AM2+/AM2)
This motherboard supports AMD® Socket AM2+ multi-core processors. It features dual-channel DDR2 1066 memory support, data transfer rate up to 5200MT/s via HyperTransport™ 3.0 based system bus, and AMD® Cool ´n´ Quiet™ Technology.
 
Supports AMD® AM3 Phenom™ II/Athlon™ X4/Athlon™ X3/ Athlon™ X2
This motherboard supports AMD® AM3 multi-core processors with unique L3 cache and delivers better overclocking capabilities with less power consumption. It features dual-channel DDR2 1066 memory support and accelerates data transfer rate up to 5200MT/s via HyperTransport™ 3.0 based system bus. This motherboard also supports AMD® CPUs in the new 45nm manufacturing process.
 
NVIDIA nForce® 980a SLI™
NVIDIA nForce® 980a SLI® media and communications processors (MCPs) power the most feature rich, high performance motherboards for AMD AM3 CPUs. As a premier enthusiast platform, nForce 980a features SLI technology for maximum graphics performance and are specifically designed to harness the power of GeForce® GPUs for gaming and beyond.
 
O.C. DDR2 1200
To attain top performance, ASUS engineers have successfully unleashed DDR2 1200(O.C.) MHz to meet the higher bandwidth requirements of the latest operation system, 3D graphics, multimedia, and Internet applications.

*Ensure that you download and update to the latest BIOS at www.asus.com and purchase the memory modules listed in the ASUS official memory Qualified Vendors Lists (QVL).
** We recommend that you install the DDR2 1200 memory modules on the yellow slots for better performance.
 
PCIe 2.0 support
This motherboard supports the latest PCIe 2.0 devices for double speed and bandwidth which enhances system performance.
 
NVIDIA NVCC
Overclock your unlocked Phenom II to previously unreachable frequencies with chipset´s clock calibration feature.
 
NVIDIA ESA
Provides real-time and complete PC performance management. Tested by a comprehensive certification program for system compatibility and reliability, ESA-certified components and applications bring you unprecedented control to manage and tune thermal, electrical, acoustic and operating characteristics to maximize your PC's performance. For more information, visit http://www.nvidia.com/esa
 
3-Way SLI™
3-Way SLI provides Scalable Performance
NVIDIA 3-Way SLI™ (Scalable Link Interface) makes use of the PCI Express 2.0 bus architecture´s increased bandwidth and features intelligent hardware and software that allows three GPUs to efficiently work together to deliver earth-shattering, scalable performance. For some applications, this translates into nearly triple the performance!
 
Hybrid SLI Support
Hybrid SLI™ technology is a unique hybrid multi-GPU technology. It turbo-charges performance of discrete graphics cards when combined with the motherboard GPUs.
*Hyvrid SLI™ is on select GeForce® GPUs. Visit http://www.nvidia.com/hybridsli for more information.
 
ASUS Power Solutions
8+1 Phase Power Design
To fully unleash the next-generation AM3 CPU´s potential, the ASUS M4 Series motherboards have adopted a brand new 8-phase VRM power design. It delivers high power efficiency and supreme overclocking ability. Furthermore, high quality power components can effectively lower system temperature to ensure longer component lifespan. This series also features an extra 1-phase power for integrated memory/HT controller to provide independent power to vital components.
 
ASUS Anti-Surge Protection
Full-time Power Guardian- Make System Free From Risk!
This special design prevents expensive devices and the motherboard from damage caused by power surges.

 
ASUS Green Design
EPU
System Level Energy Efficiency
The ASUS EPU (Energy Processing Unit) provides total system power management by detecting current PC loadings and intelligently moderating power in real-time. It automatically provides the most appropriate power usage for the CPU, VGA card, hard drives, and CPU/chassis fans- helping save power and money!
 
AI Nap
With AI Nap, the system can continue running at minimum power and noise when you are temporarily away. To wake the system and return to the OS environment, simply click the mouse or press a key.
ASUS Overclocking Tools
TurboV
Easy, Real-Time O.C. Tunings
Feel the adrenaline rush of real-time O.C. – now a reality with the ASUS TurboV. This easy O.C. tool allows you to overclock without exiting or rebooting the OS; and its user-friendly interface makes overclock with just a few clicks away. Moreover, the ASUS OC profiles in TurboV provides the best O.C. settings in different scenarios.

 
Turbo Key
Touch-n-Boost!
ASUS Turbo Key allows the user to turn the PC power button into an overclocking button. After the easy setup, Turbo Key can boost performances without interrupting ongoing work or games – with just one touch!!

 
Express Gate
Express Gate
Instant Online! Instant Fun!
Taking only 5 seconds to bootup, Express Gate is the one-stop gateway to instant fun! It´s a unique motherboard built-in OS. You can utilize the most popular Instant Messengers (IM) like MSN, Skype, Google talk, QQ, and Yahoo! Messenger to keep in touch with friends, or quickly check on the weather and e-mails just before leaving your house. What´s more, the user-friendly picture manager lets you view your pictures without entering Windows at anytime!
* The actual boot time is subject to hardware configurations and product models.
 
ASUS EZ DIY
ASUS Q-Connector
Make Connection Quick and Accurate!
ASUS Q-Connector allows you to easily connect or disconnect the chassis front panel cables to the motherboard. This unique module eliminates the trouble of connecting the system panel cables one at a time and avoiding wrong cable connections
 
ASUS O.C. Profile
Conveniently store or load multiple BIOS settings
The motherboard features the ASUS O.C. Profile that allows users to conveniently store or load multiple BIOS settings. The BIOS settings can be stored in the CMOS or a separate file, giving users freedom to share and distribute their favorite overclocking settings.
 
ASUS CrashFree BIOS 3
Simply restore corrupted BIOS data from USB flash disk
The ASUS CrashFree BIOS 3 allows users to restore corrupted BIOS data from a USB flash disk containing the BIOS file. This utility saves users the cost and hassle of buying a replacement BIOS chip.
 
ASUS EZ Flash2
Simply update BIOS from a USB flash disk before entering the OS
ASUS EZ Flash 2 is a user-friendly BIOS update utility. Simply press the predefined hotkey to launch the utility and update the BIOS without entering the OS. Update your BIOS easily without preparing a bootable diskette or using an OS-based flash utility.

 
ASUS Quiet Thermal Solutions
Stack Cool 2


Up to 20°C(68°F) Cooler
6-layer PCB design with large area of copper plate to lower impedence and cool power component and CPU instead of cooling PCB only – lowering temperatures by up to 20°C for better performance.
ASUS Q-Fan 2
ASUS Q-Fan2 technology intelligently adjusts both CPU fan and chassis fan speeds according to system loading to ensure quiet, cool and efficient operation.

 
Special Thermal Design
The streamline-shaped heatsink features 0-dB thermal solution that offers users a noiseless PC environment. Not only the beautifully curved fins upgrade the visual enjoyment for motherboard users, but also the special Streamline Airflow Guiding design lowers the temperature of the north bridge chipset through high efficient heat-exchange. Combined with usability and aesthetics, the ASUS streamline-shaped heat-sink will give users an extremely silent and cooling experience with the elegant appearance!
 
Other ASUS Features
100% High-quality Japan-made Conductive Polymer Capacitors! (VRM 5000hrs lifespan @105°C, 500,000hrs @65°C)
This motherboard uses all high-quality conductive polymer capacitors onboard for durability, improved lifespan, and enhanced thermal capacity.
MyLogo2
Personalize your system with customizable boot logo
You can convert your favorite photo into a 256-color boot logo for a more colorful and vivid image on your screen.

 
ASUS Crystal Sound
AI Audio 2
Unique Home Theater Technology on Board
It allows users to experience crisp, clear sounds by restoring and compensating for clarity and quality of compressed audio in all movies, music and games. It also provides users with stereo to multi-channel sound field expansion for realistic front and rear environments and virtualized surround sound for added vocal clarity when used in stereo speakers or headphones.
 
Noise Filtering
Eliminate background noise while recording
This feature detects repetitive and stationary noises like computer fans, air conditioners, and other background noises then eliminates it in the incoming audio stream while recording.
Industry Standard
IEEE 1394a interface
IEEE 1394a interface provides high speed digital interface for audio/video appliances such as digital television, digital video camcorders, storage peripherals & other PC portable devices.
RoHS
GreenASUS

The motherboard and its packaging comply with the European Union´s Restriction on the use of Hazardous Substances (RoHS). This is in line with the ASUS vision of creating environment-friendly and recyclable products and packaging to safeguard consumers´ health while minimizing the impact on the environment.
The product (electrical , electronic equipment, Mercury-containing button cell battery) should not be placed in municipal waste. Check local regulations for disposal of electronic products.
* All specifications are subject to change without notice. Please check with your supplier for exact offers. Products may not be available in all markets.
* PCB color and bundled software versions are subject to change without notice.
* Brand and product names mentioned are trademarks of their respective companies.
PICTURES & IMPRESSIONS
Click Image For a Larger One
The M4N82 Deluxe comes in an Asus Green box with plenty of information and specifications to help inform the potential consumer about it's purchase. Inside the box the motherboard is protected with an antistatic bag and since it's a Deluxe board you get a pretty nice Bundle.
1 – User Manual
1 – Driver Disk (Not Pictured)
1 – I/O Plate
1 – Optional Fan
1 – Asus Quick Connector Kit
5 – Sata Cables
1 – SLI Bridge
1 – Triple SLI Bridge
1 – Legacy IDE/Floppy cables
As you can see you get pretty much everything you need to get started on a new build. We should note that the fan is listed as optional and if your going for a FSB overclock we would recommend picking one of those up for the board. It's used to cool the heatsink that cools the Mosfets and during high FBS OC those can get a little toasty.
First thing we noticed is that the Mosfet cooler is a little close to the CPU socket so if you plan on using a dual fan cooler the Optional fan might not fit. Then notice the CPU socket is pretty close to the Ram slots, we tested with a dual fan tower cooler and regular size memory modules will fit under most of them, but if your using tall ram with heatspreaders you might have to use the black slots. We used the black slots with a kit of G.Skill DDR2 1066 with low profile heatspreaders and in the black slots they worked fine. They also fit under the CPU cooler in the yellow slots but for convenience sake we used the black slots.  We checked with two GTX-275 in the two blue PCI-E slots and the Sata ports are accessible with multi-GPU, the CMOS battery removal requires that you remove the second card to remove the battery. We didn't have to do that but should you need to remove or replace it the second GPU needs to come out. There's a total of 5 Sata ports which is generally enough for most people, we usually like to see 6 ports but 5 is passable. As with most Triple SLI boards the distance between the last GPU and the front panel connectors is minimal and depending on the GPU you might have to forgo the use of the quick connector kit to wire the front panel. From the looks of it (we haven't tested) Asus has made allowances for a 40 mm fan addition to the NB which we like a lot. Later on down the line the pre-drilled NB might save a little trouble.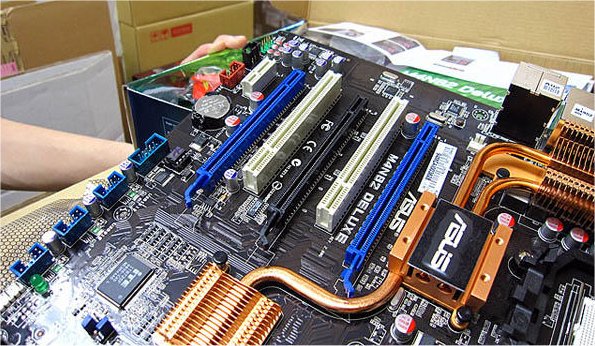 Like most Triple SLI boards you'll lose the use of your PCI slots if your using a Multi GPU setup. Dual SLI you will still have the use of the Black PCI-E slot and the second PCIE slot.

The back panel shows us that you get a PS2 Keyboard and Mouse connector, a couple of USB, Optical SPDIF and Coaxal sound, E-Sata and Firewire, a couple more USB, A Network port on top two more USB and the normal sound ports. With the internal USB headers you should have enough USB for most enthusiasts.
Click Image For a Larger One
We've tossed in a few different shots for those of you that want a better look. Notice like we mentioned the CPU area is a little cramped so you might want to plan accordingly.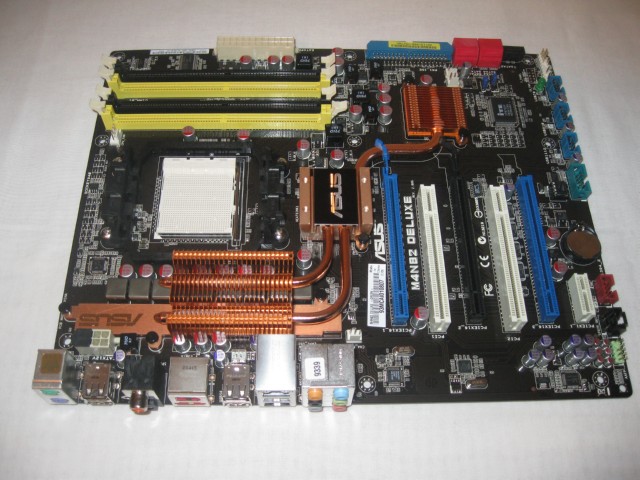 We'll move on to the BIOS shots and leave you with one last beauty shot of the M4N82 Deluxe.
BIOS
Click Image For a Larger One
First we have the Main Bios Screen and to the right of that the Storage configuration Screen. Bottom left we have the AI Tweaker where most of the Overclocking is done. The First screen on the bottom left shows everything set to AUTO and the system was plug and play with the Phenom 2 X4 955 BE and G.Skill ram. The bottom Right picture is of the AI Tweaker when the AI Overclocking is set to manual, that's where most of the grunt work of overclocking will take place.
Click Image For a Larger One
Top left is the second part of the AI Tweaker overclocking screen that wasn't visable in the last shot. You'll find more overclocking goodness there. The Top left shows the Advanced screen and you'll probably want to visit the sub screen called CPU Configuration to turn off throttling if your over clocking. Bottom left shows the onboard devices configuration screen, Bottom right shows the Chipset screen.
Click Image For a Larger One
The top left shows the Hardware monitor screen, top right is the Boot Device Priority screen. Bottom left is the Tools menu where you'll find the Asus EZ Flash 2 utility and Express Gate settings. Most interesting on this screen is acess to the Asus OC Profile screen. Finally the bottom right shows the OC Profile screen and you can see that Asus designed this board with the serious overclocker in mind. They provided for 8 BIOS profiles in CMOS and the ability to save them to disk.
TESTING & METHODOLOGY
To test the Asus M4N82 Deluxe we did a fresh load of Vista 64 bit and updated the Operating System and drivers with all the latest versions and patches. Then we loaded the testing software and ran the machine for a few days to confirm everything was installed correctly and gave the machine a little burn in time. Once we had some burn in time under our belt we cloned the Hard Drive using Acronis in case we were to have any happy little overclocking accidents that might corrupt the OS. Once we had our clone safely tucked away we could get down to the lengthy business of benchmarking and testing the M4N82 Deluxe.
Once again, we'd like to remind you that we have used the same hardware connected to the motherboard that we've been using on all our motherboards in this series of reviews. We use the same HD, same CPU Cooler, and keep the hardware except the Motherboard, RAM, and CPU the same as much as possible. It makes for better benchmarking if you keep the hardware as close to the same across the spectrum of tests.
Hardware Common To All The Test Rigs
Thermaltake Tough Power 1200 Watt
Intel 80 GB SSD
Palit 4870×2 (Day to day operation, for testing we use the BFG GTX-260 Maxcore)
Razer Lycosa
Razer Lachesis
Top Deck Testing Station Chassis
Thermalright Ultra 120 w/2 83CFm Yate Loon Fans
LG DVD/RW
So you can pretty much see that the only platform differences are going to be Motherboard, CPU, and RAM. In a cross platform test, that's about as good as you can get.
Platform Specific Hardware
Phenom 2 X4 955 BE CPU Equipment
Asus M4N82 Deluxe
G.Skill DDR2 1066 MHz 4 GB kit
Phenom 2 X3 920 BE CPU Equipment
Asus M4A78T-E
Mushkin DDR3 1600 MHz 4 GB kit
Phenom 2 X4 810 and X3 720 BE CPU Equipment
Asus M3A78-T
Crucial Ballistix DDR2 1066 4 GB Kit
For more information on the Asus M3A78-T you can visit the Asus Website Here
Intel Core I7 965 Equipment
Asus P6T Deluxe
Kingston HyperX Triple Channel DDR3 2 GHz
For more information on the Asus P6T Deluxe you can see our review Here
For more information on the Core i7 965 you can see our review Here 
Intel Q6600 Equipment
EVGA 790I
Crucial Ballistix DDR3 1333 4 GB Kit
For more information on the EVGA 790I you can see our review Here
Intel E8400 Equipment
Gigabyte EP45-Extreme
Crucial Ballistix DDR2 1066 4 GB Kit
For more information on the Gigabyte EP45-Extreme you can read our review Here

 
Test Suite
Synthetic Benchmarks
3DMark Vantage v. 1.01
3DMark06 v. 1.1.0
SiSoft SANDRA XII Professional SP2
Everest Ultimate Edition v. 4.50.1330
Cinebench R10 64 bit
WinRar v. 3.71
Cinebench
"CINEBENCH is a real-world test suite that assesses your computer's performance capabilities. MAXON CINEBENCH is based on MAXON's award-winning animation software, CINEMA 4D, which is used extensively by studios and production houses worldwide for 3D content creation. MAXON software has been used in blockbuster movies such as Spider-Man, Star Wars, The Chronicles of Narnia and many more. MAXON CINEBENCH runs several tests on your computer to measure the performance of the main processor and the graphics card under real world circumstances. The benchmark application makes use of up to 16 CPUs or CPU cores and is available for Windows (32-bit and 64-Bit) and Macintosh (PPC and Intel-based). The resulting values among different operating systems are 100% comparable and therefore very useful with regard to purchasing decision-making. It can also be used as a marketing tool for hardware vendors or simply to compare hardware among colleagues or friends."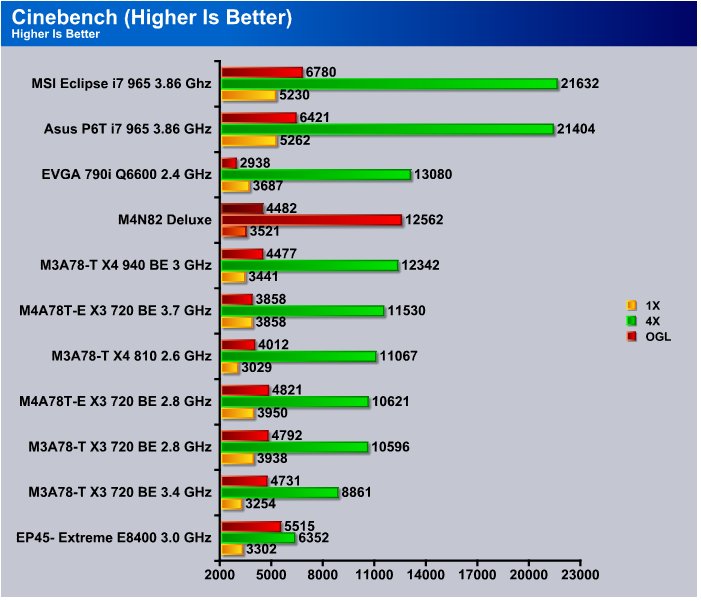 Time constraints being what they were we ran the M4N82 Deluxe with the Phenom 2 X4 955 BE at it's stock speed of 3.2 GHz but we will have an OCing section for you later.The M4N82 Deluxe scores 4th overall and tops all the previous AMD boards we've tested.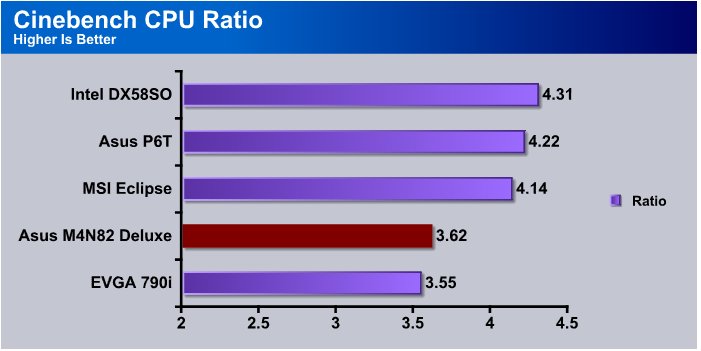 CPU Ratio is the measurement of just how much usage your getting from the 4 CPU cores cooperating. Looks like we have 3.62 which means we're just .38 short of full utilization of all four cores.
WinRar v. 3.71
This module in WinRar generates random data, which contains specially introduced redundancy, increasing the load to both the processor and memory. Data is then passed through RAR compression and decompression algorithms, and the output of the decompression algorithm is compared to the source data. If any differences are found, WinRar then reports "Errors found – Yes" in the command window. WinRar displays a size of processed data and compression speed, current and resulting, in kilobytes per second.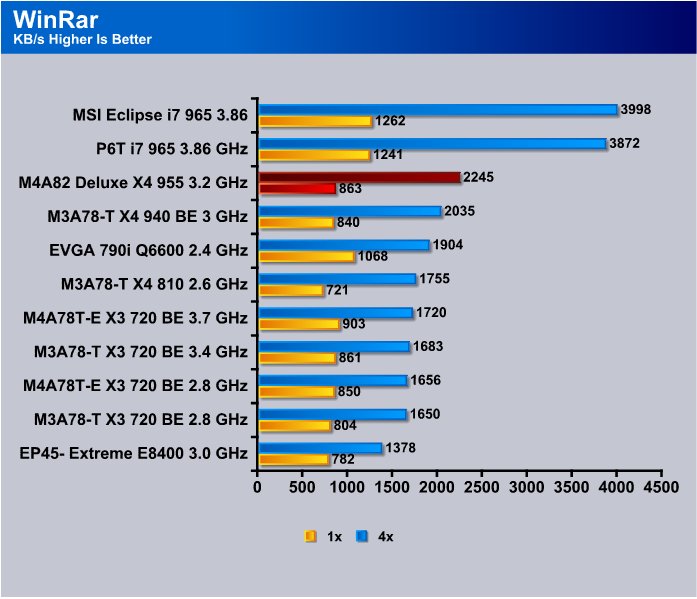 In Winrar we see the M4N82 Deluxe once again topping out the Phenom 2 boards and churning out an impressive 2245 KB/s in multi core mode. In Single threaded mode we get 863 which isn't bad but as we've seen in single threaded mode most of the Phenom 2 CPU's lag a little behind the C2D and C2Q offerings. That's more the CPU than the board because when we get to multi-threaded the board/CPU combo does quite well.
HD Tach
HD TACH performs sequential read and write tests on removable media and fixed disks. HD Tach is also capable of performing the sequential read and write tests on the entire disk instead of the small number of zones in the quick and long test. We opted to use the Short 8 (MB) in the sequential read mode only after extensive testing he 32 (MB) test doesn't yield up any information with a significant enough difference to mention.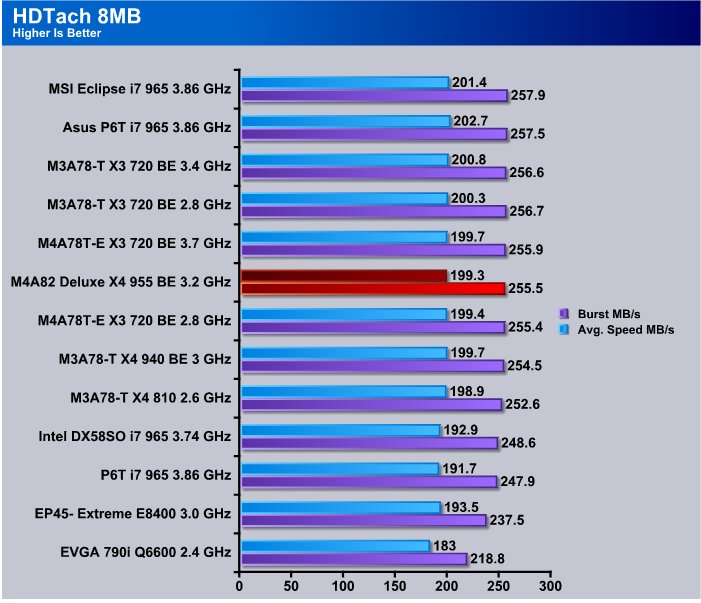 Keeping the same Intel 80 GB SSD on all our boards for testing shows us how little difference there really is between controllers on the different boards. From the top performer to the M4A82 Deluxe we only see about 2 MB/s difference. Differences that small can be just minute variations OS the test runs and all the boards do really well in HD transfer which isn't a surprise, HD transfer protocols are pretty much a know factor and they all perform pretty similar.
Sisoft Sandra 2009 SP1
"SiSoftware Sandra (the System Analyzer, Diagnostic and Reporting Assistant) is an information & diagnostic utility. It should provide most of the information (including undocumented) you need to know about your hardware, software and other devices whether hardware or software. It works along the lines of other Windows utilities, however it tries to go beyond them and show you more of what's really going on. Giving the user the ability to draw comparisons at both a high and low-level. You can get information about the CPU, chipset, video adapter, ports, printers, sound card, memory, network, Windows internals, AGP, PCI, PCI-X, PCIe (PCI Express), database, USB, USB2, 1394/Firewire, etc."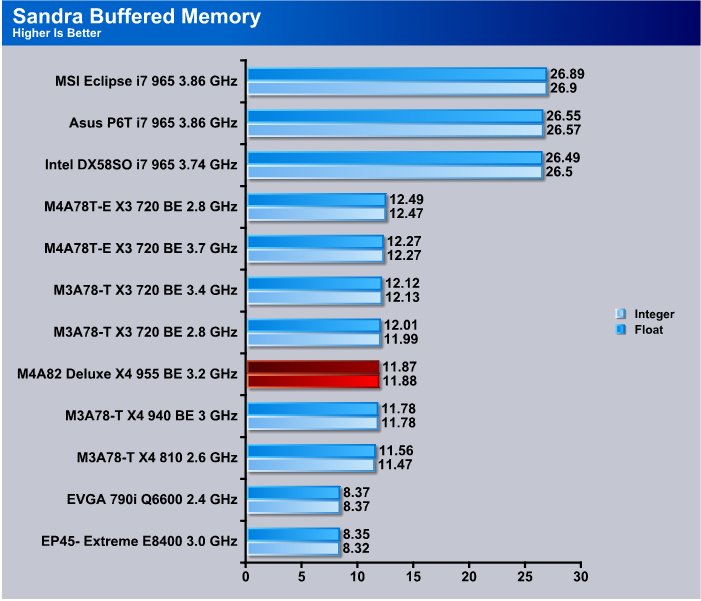 Keeping in mind that we've got a huge cross section of different speeds of memory from DDR2 to Triple Channel DDR3 on this chart, considering the Asus M4N82 Deluxe is capable of using an AM3 CPU and DDR2 ram it does pretty well. The big issue here isn't so much raw speed as upgrade costs, buy the board and an AM3 CPU and you get to use your existing DDR2 or purchase an inexpensive ram technology. We've shown the differences between DDR2 and DDR3 on the AM2/AM3 platform are pretty minimal so you might as well opt for the less expensive DDR2 and save a few bucks or go for a 64 Bit operating system and more ram rather than faster ram.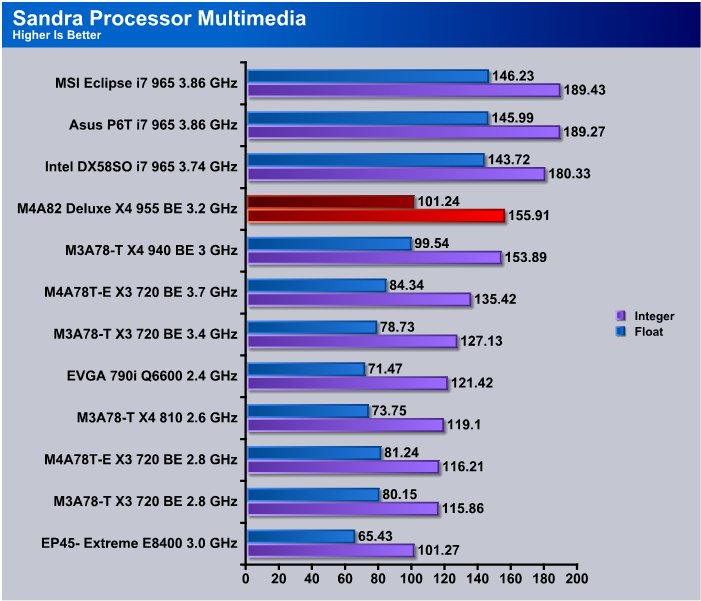 The Phenom 2 and the Nvidia and AMD chipset boards they go on really shine when it comes to multimedia and gaming performance. As you can see the M4N82 Deluxe tops all the previous AMD boards we've ran and handily tops the Q6600 and the E8400 setup. If it's multimedia or gaming your looking at Phenom 2 and the Nvidia chipset M4N82 Deluxe is a great choice.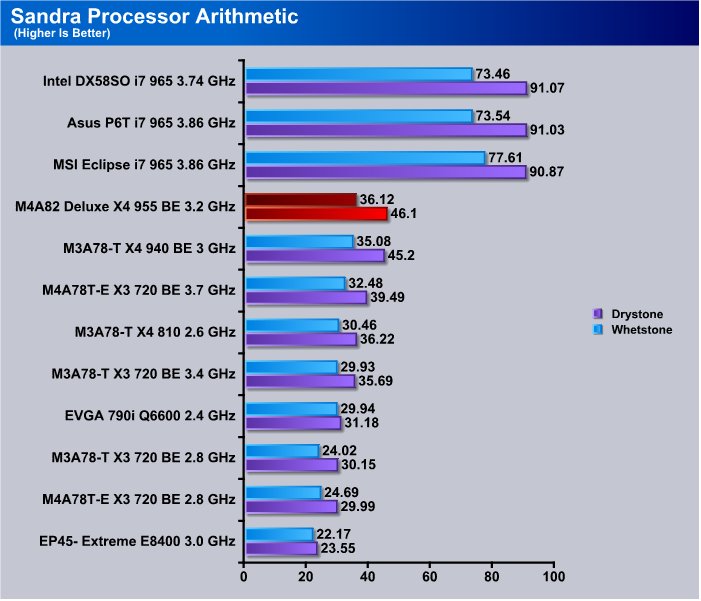 The M4N82 Deluxe tops everything on our charts except Core i7 boards. Considering the Core i7 setup your looking at runs about 2k and the Phenom setup runs less than half that it does pretty well. It tops our selection of Phenom 2 boards, the Q6600 and the E8400.
EVEREST ULTIMATE
"EVEREST Ultimate Edition is an industry leading system diagnostics and benchmarking solution for enthusiasts PC users, based on the award-winning EVEREST Technology. During system optimizations and tweaking it provides essential system and overclock information, advanced hardware monitoring and diagnostics capabilities to check the effects of the applied settings. CPU, FPU and memory benchmarks are available to measure the actual system performance and compare it to previous states or other systems. Furthermore, complete software, operating system and security information makes EVEREST Ultimate Edition a comprehensive system diagnostics tool that offers a total of 100 pages of information about your PC."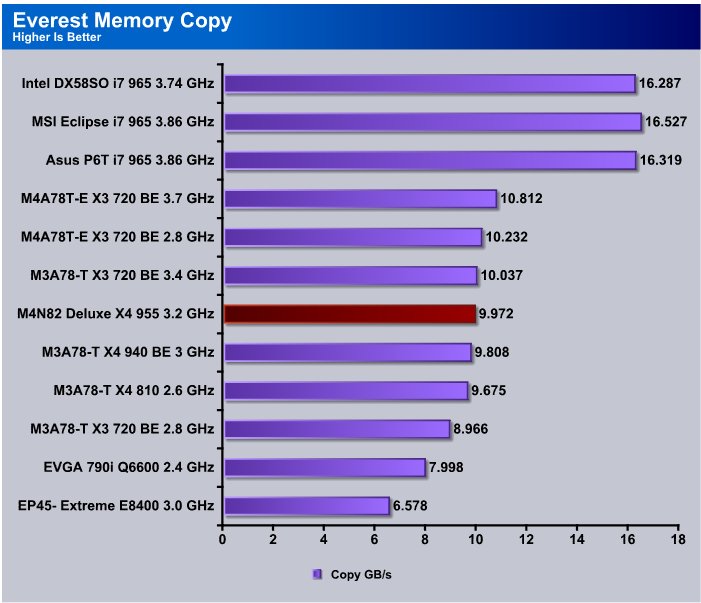 The M4N82 Deluxe with the G.Skill DDR2 1066 (6-6-6-18) we ran on the board yielded 9.972 GB/s which is pretty typical for DDR2 running under a Phenom 2 CPU. It's a little above the M3A78-T which is a DDR2 board, an a little behind the M4A78T-E which is a DDR3 board. Real life performance wise not much difference betwen the two types of ram.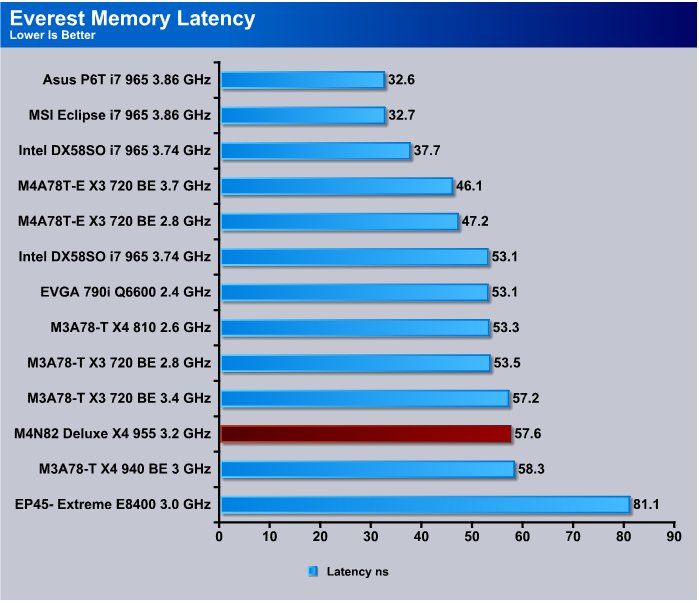 Latency is more of a ram test than motherboard test and the inexpensive kit we purchased for this review ran us about $40 USD so we don't expect it to have an ultra low latency.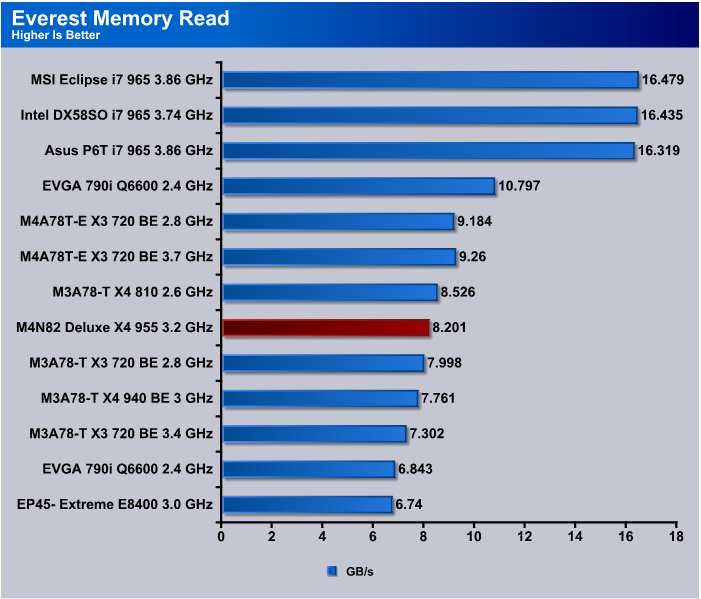 In the Everest Memory Read test we see 8.201 GB/s bandwidth which is normal for a 1066 kit with the 6-6-6-18 timings. Core I7 tops it's bandwidth with it's triple channel memory and DDR3 comes out a little in the lead, again real life performance not much difference.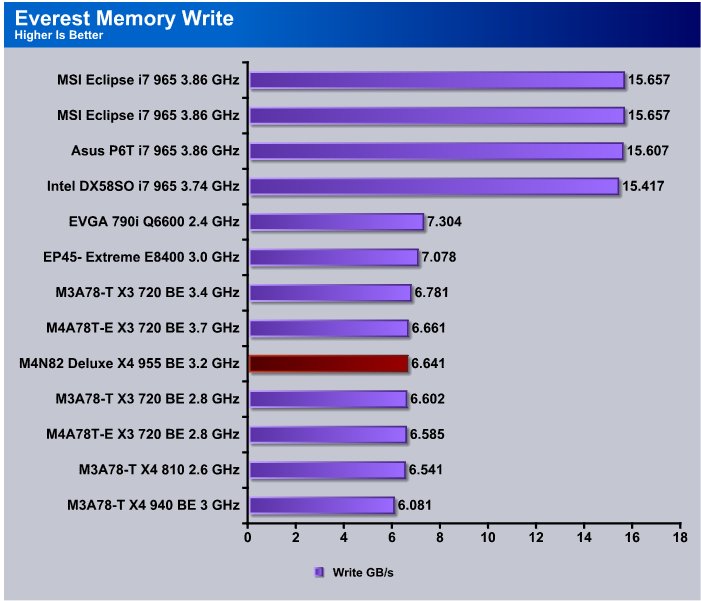 Memory Write sees the M4N82 Deluxe hitting 6.641 GB/s and that speed is inline with most of the boards and kits.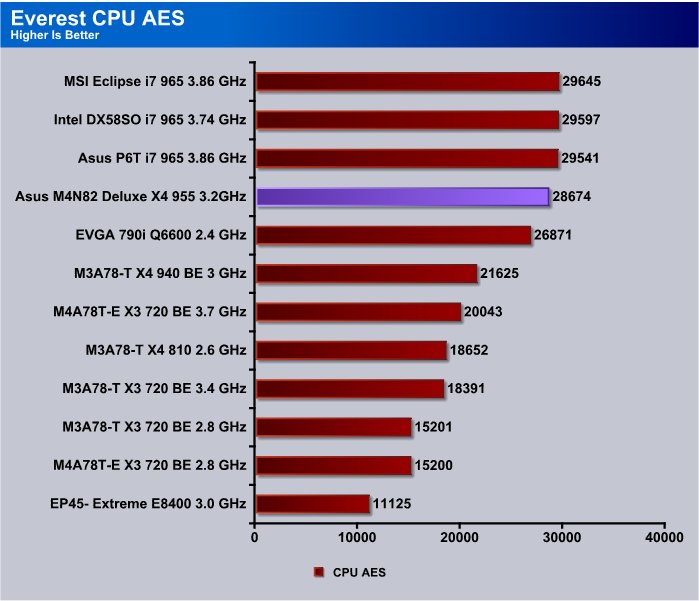 How a board handles a CPU is more of a test for a motherboard than all the different kits we've had to use across the selection of boards we've had to use. The Everest CPU AES test shows the M4N82 Deluxe/Phenom 2 X4 955 BE running at almost core i7 levels. Coming in at a more than respectable 28674 less than a thousand points separate it and the fastest we've tested the i7 965 Extreme at. Considering the 955 and M4N82 Deluxe run less than half what the 965 Extreme CPU cost by itself that's pretty impressive.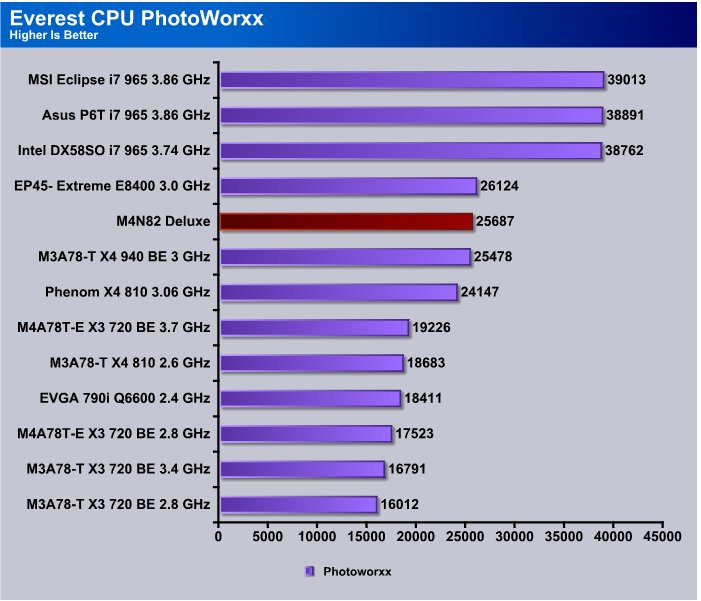 The CPU Photoworxx test sees the M4N82 Deluxe at 25687 and once again topping the list of Phenom board/CPU combination's. Consistently it's been on or close to the top of the charts for the Phenom boards.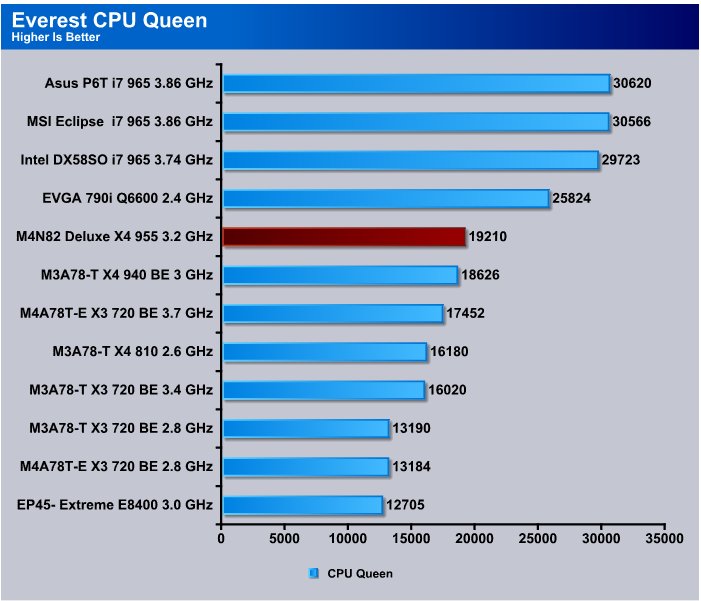 CPU Queen catches the M4N82 Deluxe at 19210 and the M4N82 Deluxe keeps it spot on top the Phenom boards.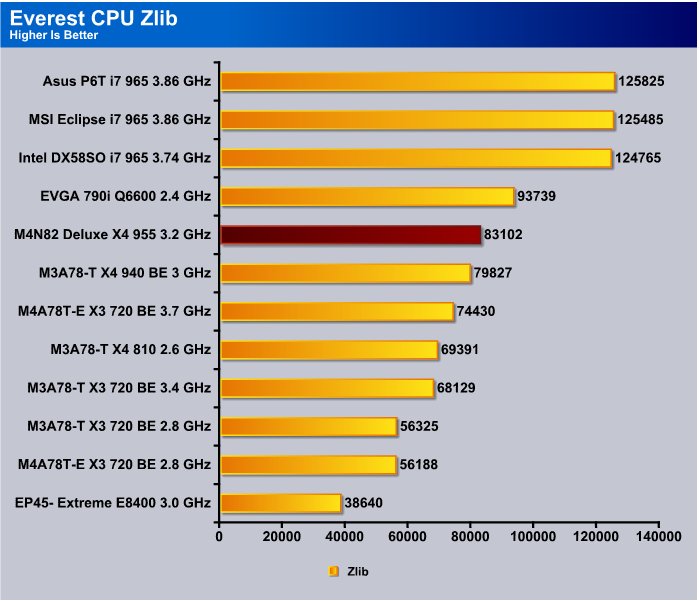 CPU Zlib see's the M4N82 Deluxe at 83102 and again topping the list of Phenom boards. In all so far the M4N82 Deluxe has been a pretty impressive board.
3DMark 06

3DMark06 developed by Futuremark, is a synthetic benchmark used for universal testing of all graphics solutions. 3DMark06 features HDR rendering, complex HDR post processing, dynamic soft shadows for all objects, water shader with HDR refraction, HDR reflection, depth fog and Gerstner wave functions, realistic sky model with cloud blending, and approximately 5.4 million triangles and 8.8 million vertices; to name just a few. The measurement unit "3DMark" is intended to give a normalized mean for comparing different GPU/VPUs. It has been accepted as both a standard and a mandatory benchmark throughout the gaming world for measuring performance.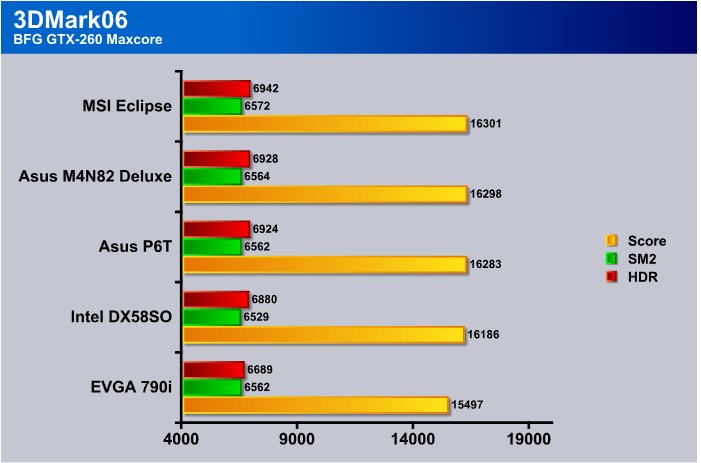 The M4N82 Deluxe comes in at 16298 with the BFG GTX-260 Maxcore sitting on top of it showing that it and the Phenom 2 platform handle graphics pretty well. Coming in slightly ahead of a couple of the Core i7 platform tests we did is a feather in it's cap.
3DMark Vantage

For complete information on 3DMark Vantage Please follow this Link: www.futuremark.com/benchmarks/3dmarkvantage/features/
The newest video benchmark from the gang at Futuremark. This utility is still a synthetic benchmark, but one that more closely reflects real world gaming performance. While it is not a perfect replacement for actual game benchmarks, it has its uses. We tested our cards at the 'Performance' setting.
Currently, there is a lot of controversy surrounding NVIDIA's use of a PhysX driver for its 9800 GTX and GTX 200 series cards, thereby putting the ATI brand at a disadvantage. Whereby installing the PyhsX driver, 3DMark Vantage uses the GPU to perform PhysX calculations during a CPU test, and this is where things get a bit gray. If you look at the Driver Approval Policy for 3DMark Vantage it states; "Based on the specification and design of the CPU tests, GPU make, type or driver version may not have a significant effect on the results of either of the CPU tests as indicated in Section 7.3 of the 3DMark Vantage specification and white paper." Did NVIDIA cheat by having the GPU handle the PhysX calculations or are they perfectly within their right since they own Ageia and all their IP? I think this point will quickly become moot once Futuremark releases an update to the test.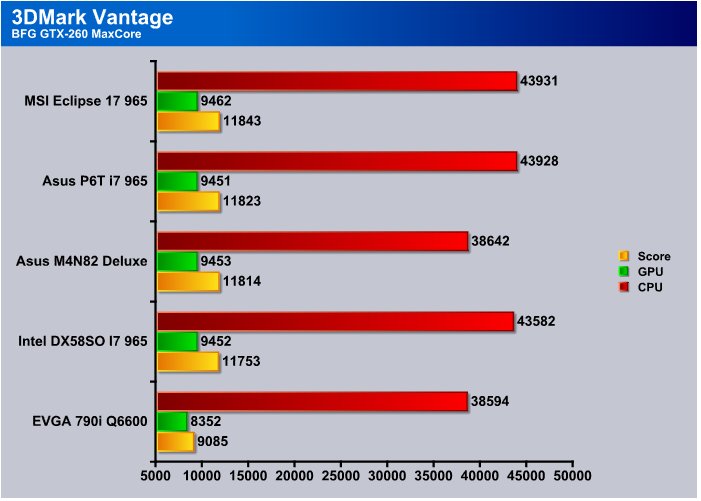 Vantage gives a little more weight to the CPU than 3DMark 06 and the Core i7 platform comes out ahead of the Phenom board in that respect. GPU wise the M4N82 Deluxe is every bit as good as the i7 boards.
Crysis

Crysis is the most highly anticipated game to hit the market in the last several years. Crysis is based on the CryENGINE™ 2 developed by Crytek. The CryENGINE™ 2 offers real time editing, bump mapping, dynamic lights, network system, integrated physics system, shaders, shadows, and a dynamic music system, just to name a few of the state-of-the-art features that are incorporated into Crysis. As one might expect with this number of features, the game is extremely demanding of system resources, especially the GPU. We expect Crysis to be a primary gaming benchmark for many years to come.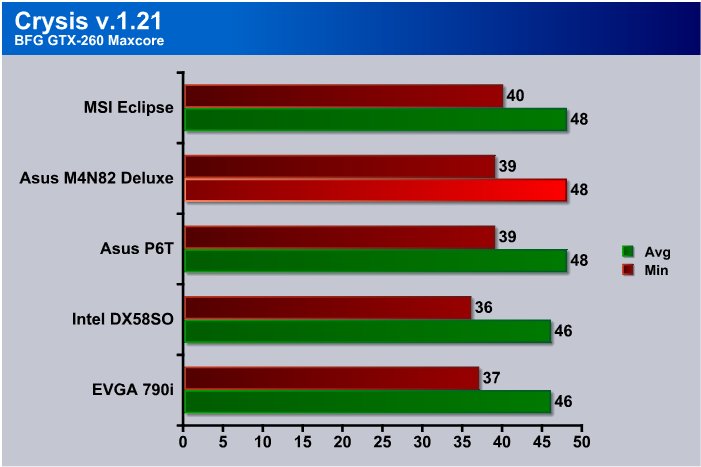 Once again we see the M4N82 Deluxe competing with Core i7 in Crysis. Testing results like this have prompted us to venture into cross platform GPU testing in a big way and if the testing doesn't kill us you'll be seeing more on the cross platform Single card, SLI and Crossfire testing in the near future.
CPU-Z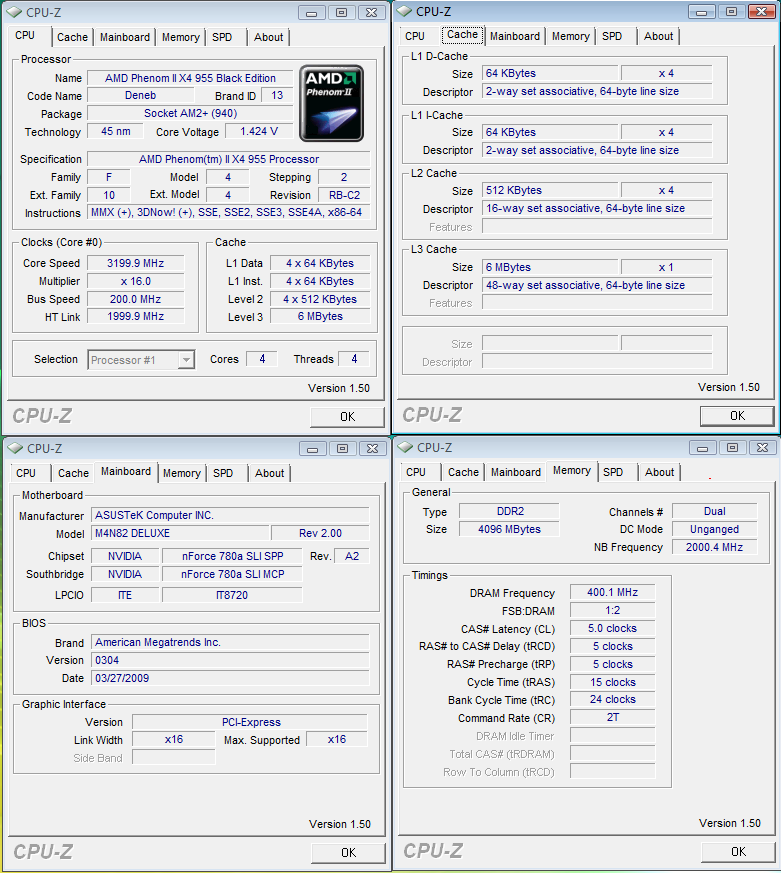 The Stock shot of CPU-Z shows we're running the Phenom 2 X4 955 BE and it's at stock speed in this shot. It also shows we're running it on the M4N82 Deluxe board and the default Ram speed of 800 MHz the board booted to on first boot. Later we tweaked it up to 1066 but that required a little voltage tweaking manually. Mainly a little bump to the NB voltage and setting the timings manually.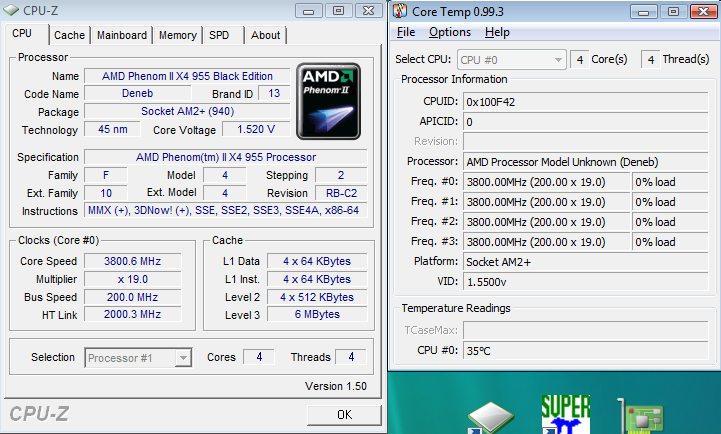 Coming into our initial overclock of 3.8 GHz the board is idling the Phenom 2 X4 955 BE at 35 C which is pretty good for that large an overclock. You can see we had the CPU showing as 1.520v but accounting for vdroop we had it set to 1.55v in BIOS. Is that as high as we got the M4N82 Deluxe to OC the Phenom 2 X4 955 BE, of course not.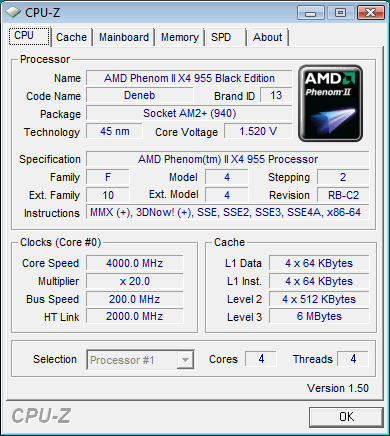 We managed a 4 GHz overclock on the Phenom 2 X4 955 BE and it was insanely easy. We had the NB bumped up one notch to accommodate the 1066 MHz kit of G.Skill ram, but other than that every thing was set to AUTO and we merely bumped the multiplier up to 20 and booted into 4 GHz stable. Will it go farther than that, probably but we felt 4 GHz on air at 1.55v was enough to show the true power of the M4N82 Deluxe so we stopped there. You should note that on some of the previous boards 4 GHz was unattainable, and required more than the 1.55v we had the CPU set to in BIOS. The voltage on the other boards was more like 1.65v and took a lot of tinkering to stabilize. This was almost a no brainer overclock.
CONCLUSION
Despite a few layout problems we saw on the M4N82 Deluxe, which we consider minor, we really enjoy the board. The Express Gate feature which we've covered in other reviews is really nice if you just need to pop on the web and check your email of surf for a few minutes. It's a full featured application and you can surf, Instant message, manipulate Photos, Chat and play games without ever entering your Operating system. that would come in extremely handy say if you needed to download a virus scanner, or repair utilities when you got a virus or the OS failed to load.
The M4N82 Deluxe drove the Phenom 2 X4 955 BE to 4 GHz easily and with proper cooling we have no doubt it will drive it higher. It was the easiest 4 GHz OC we've ever done. Bump the CPU and NB voltage and set the multiplier to 20 and we were stable at 4 GHz, you can't ask for easier than that.
We enjoy the extra features found on the M4N82 Deluxe, but all the features in the world won't cover for a board that won't overclock. With the M4N82 Deluxe you get the best of both worlds, a full feature Deluxe board with monster overclocking ability. We can heartily recommend the M4N82 Deluxe for Phenom owners, and anyone looking to move to Phenom 2. For Triple SLI capabilities you'll have to wait until we field our Cross platform GPU testing, and you'll be seeing plenty of Triple SLI on the M4N82 Deluxe, and believe us you'll see some eye popping numbers from this board.
We are trying out a new addition to our scoring system to provide additional feedback beyond a flat score. Please note that the final score isn't an aggregate average of the new rating system.
Performance 10
Value 9
Quality 10
Warranty 9
Features 10
Innovation 9

Pros:
+  Great Overclocking Ability
+  Stable Even Overclocked
+  Lots Of Features
+  Performance Above It Price Point
+  Express Gate
+  Easy Plug And Play Setup For Noobs
Cons:
–  No Onboard Switches (Power, Reset, Clear CMOS)
–  Board Layout Could Use A Little More Thought
The M4N82 Deluxe is a monster overclocker and sports Triple SLI capabilities to boot. It's easily our favorite Phenom 2 board so it scores a: 9 out of 10 and the Bjorn3D Golden Bear Award.