Cooler Master has been busy lately with releasing a whole slew of mid tower cases. Today we have their latest, the HAF 922. This is the little brother of the HAF 932. Will it perform as well as its big brother?
Introduction
Cooler Master has been quite busy lately with all these new cases. So far, three new mid tower cases have been released, the Sniper, Scout, and now the HAF 922. The HAF 922 is the little brother of the HAF 932. The HAF series has been specifically designed to include large fans to keep noise down, but still move a ton of air. The HAF 932 certainly did not disappoint in that regard. One can certainly say that the Cooler Master HAF 932 is one of the best cases for moving air without being a blow dryer. Cooler Master has set the bar high from the start. The HAF 922 has to prove it can move a ton of air while still being very compact.
The compactness should not be a automatic shun from enthusiasts. Cooler Master has not forgotten about you! They have impressively made enough room at the top of the case to be able to house a dual 120mm radiator for a liquid cooling system. This is a welcome surprise from such a small case. Just from looking at the case, I can feel it's going to be great. Now, let's get on to testing this thing out.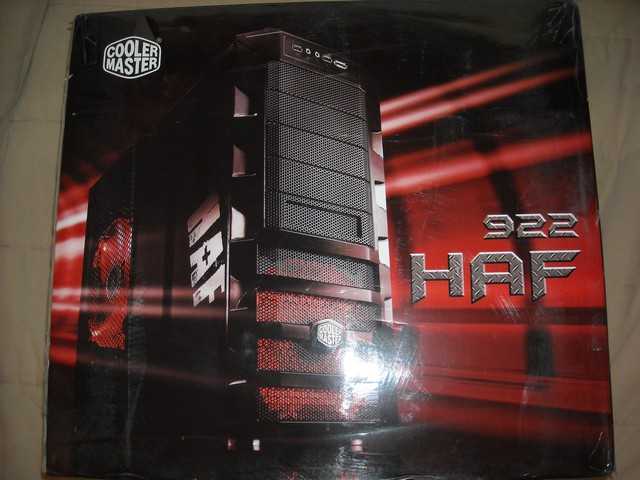 About Cooler Master
Cooler Master was founded with the mission of providing the industry's best thermal solutions. Since its establishment a decade ago, the company has remained faithful to this mission, emerging as a world leader in products and services for companies dealing with devices where heat issues must be resolved.
A critical component of Cooler Master's ability to successfully pursue its mission is an unstinting commitment to quality, as demonstrated by the ISO 9001 certification granted to its main manufacturing plant in Taiwan. It has also enforced ISO guidelines and is in the process of applying for ISO 9002 certification at its second and third plants, located in China. Cooler Master has also implemented a number of analytical and testing protocols to ensure top quality, including at subcontractors, to further ensure thorough quality control. Moreover, Cooler Master's dedication to quality extends beyond manufacturing to every aspect of its operation, including service.
Cooler Master's current business encompasses a comprehensive lineup of thermal solutions for a full range of applications. Its products range from heat sinks and fans to component housing, chassis, and ducting for computers, industrial machinery, telecommunications equipment, and many other devices.
Features
Extreme airflow, uncompromising cooling performance, ruggedly strong
200x30mm fan x 2 for maximum airflow at minimal noise and also supports up to 200x30mm x 3
Accomodates demanding high end components including full length graphics cards
Includes cable management and CPU retaining hold for easy customizability
7+1 PCI expansion slots, for increased expandability
Front I/O for easy access
Ready for liquid cooling radiators and hardware
Tool-free installation design
Front panel LED ON/OFF switch for front 200mm fan
Specifications
Color

Black

Material

Steel, ABS / PC plastic, Mesh Bezel

Dimentions

(D)563 x (W)253 x (H)502mm

Net Weight

8.7kg / 19.23lb

M/B Type

Micro-ATX / ATX

5.25″ Drive Bay

5 Exposed (One can convert to a 3.5 inch Drive Bay)

3.5″ Drive Bay

5 Hidden (HDD); 1 Exposed (converted from one 5.25 ince Drive Bay)

Cooling System

Front: 200mm Red LED Fan / 700 RPM / 19 dBA / Included
Top: 200mm Fan  / 700 RPM / 19dBA/ Included OR 120mm x 2 / Optional
Side: 230 or 200mm / Optional
Rear: 120mm Red LED Fan / 1200 RPM / 17 dBA / Included

Expansion Slots

Standard x 7

I/O Panel

USB2.0 x 2; eSATA x 1; Mic x 1; HD Audio+AC'97 x 1

Power Supply

ATX PS2
Steel is a great metal to use in cases. This ensures that the side panels won't be flimsy. The case is quite light for being made of steel, coming in just short of 19.5 pounds. Cooler Master also backs this case with a 2 year limited warranty. I kind of wish Cooler Master would have thrown in another 200mm fan, so you could have a side intake along with the top exhaust.
Pictures & Impressions
As with just about every other case known to man, Cooler Master has included a variety of features and pictures of the case itself on the box. One feature that really stands out to me is the ability to run a dual 120mm radiator for a water cooling setup. Not many full tower cases support this feature, let alone a mid tower. Also, a nice feature is the inclusion of two 200mm fans. These are quite massive and move a ton of air. It's no mystery why Cooler Master calls this a High Air Flow case. With all this praise you would think that Cooler Master could do no harm, but they did miss one detail. In the pictures you can clearly see that all three fans have red LED's. So it was a surprise to me when I turned it on and only the front 200mm fan had LED's. Cooler Master could have at least been nice enough to include all red LED fans. I feel that the least Cooler Master could have done is not include misleading pictures of LED fans.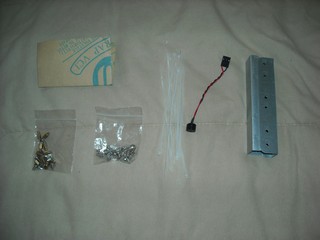 The accessories that come with the case may seem like very little at the first, but much of what you would normally get is already built into the case, such as the disk drive holders. What is included is an abnormally long speaker. I think Cooler Master could have done well with a much smaller speaker, but perhaps they intended for you to hide it behind the motherboard back plate or something similar. There are also two bags with mounting hardware for the motherboard, as well as screws for the PSU and such. There are a few zip ties thrown in, which is always nice to see, as I don't like using my main supply a lot. Those metal brackets on the right are to mount a Floppy drive, very handy for anyone who still keeps one hooked up all the time. Also, what puzzled me is the inclusion of sand paper. I am guessing that it is for if rust starts forming on the inside of the case.
The packaging is the same as any other case you've ever bought. The two Styrofoam pieces keep the case from moving around in the box. The plastic covering helps ensure that the case does not get scratched up before you receive it. Both the plastic and the styrofoam were of pretty good quality. I tried breaking pieces off of the Styrofoam, but was unable to do so without a large amount of force. The plastic was also like this. In fact, I don't think I have seen plastic this thick before on a case.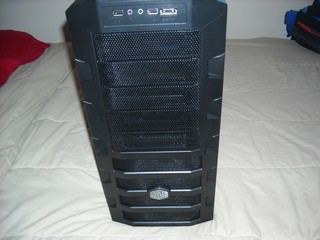 The front of the HAF922 looks very similar to the 932, with the exception of fewer disk drive slots. I don't see this being much of a problem since there are still four slots. Most users will only need two max, but if you need to have more you can use the bottom slot for a disk drive instead of a floppy. All of the drive bay covers have filters on them (much welcomed, as dust can clog up a system really fast and hinder cooling). The bottom 200mm fan also has a filter, but it is a bit hard to get to it. You have to open both sides of the case and unscrew a few screws. I feel that Cooler Master should have included clips of some kind, as they are much easier to take off.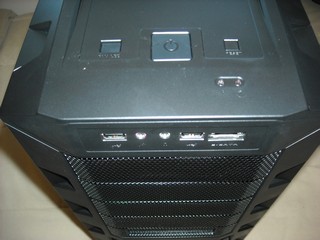 The front panel is a bit changed from the 932. It has two fewer USB inputs, but this is not a big issue since most users wont need to plug in multiple devices at once. The eSATA port is still on this version, which is nice for those of us with a external drive that supports eSATA. I feel that the power button is overly large. In fact, my cat jumped on the case while I was writing this and turned my computer off. Anyone with a small animal should watch out if they want to climb on computer cases. To the right of the power button is the switch to turn the LED's on or off. Unfortunately, as mentioned earlier, the front fan is the only fan with LED's. To the right of the power button is the reset switch. I don't use this much, but it is nice if you need a quick restart. Below this are the standard HDD activity light and power light.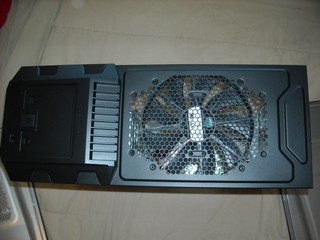 As we move further back we will see the top features. The top design again resembles the 932. The front part of the top is raised like on the 932, but instead of having a straight angle down, Cooler Master has put a bit of design into it. I think that it looks a bit better than the HAF932. Also different is the extent of the top mesh. On the HAF932 it covered the whole top, but on the 922 it only covers where the fans would be. As you can see, there are mounts for either a 200mm fan or two 120mm fans. This allows the case to have a dual radiator mounted in the top.
The back of the case is, unfortunatetly, not painted black. I don't see why Cooler Master didn't make this part black. It seems like an easy quick way to make the case look a bit cooler. Near the top are two holes to run liquid cooling tubes through. This will come in hand if you run a radiator out of the back of the case, but this will most likely not be used unless you want to liquid cool your graphics cards on top of your CPU. As you can see, the PSU is bottom mounted to allow the top to be used for other things. There is also an expansion slot just, more or less, hanging there. I am not really sure what this is doing on a case, but I am sure someone will find a use for it.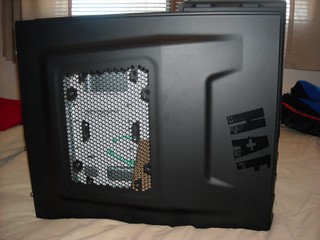 One look and one of the first things you will probably notice is the HAF logo on the side of the case. I found this to be a nice touch, but its a bit dark, and sometimes can be hard to see. The 922 has a similar side mesh to the Sniper. The only real difference is the Sniper's mesh covers more of the side panel. The raised part of the side is very similar to the one on the Scout. In this way you can think of the HAF as a bit of a cross in design between the Scout and Sniper.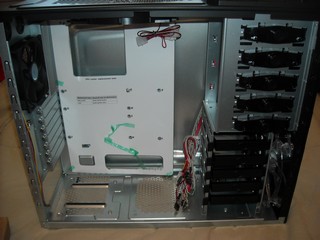 The inside is pretty standard of any case set up like this one is. I am not a huge fan of bottom mounted PSU's because mine never seem to be able to intake any air at all. I love the included backing that tells where the motherboard screws should be. Often, I find myself guessing a bit or looking heavily at the board, so this helps me a lot. Also worth noting is the cut out section behind where the CPU sits. This has been shown to reduce CPU temperatures, as well as make it far easier to install a large cooler such as the Cooler Master V10.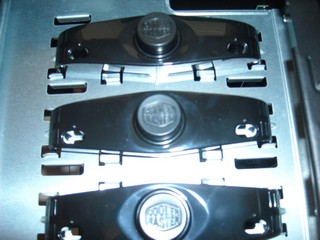 The drive bay system is the same that is used in many of Cooler Masters cases, including the Cosmos. These are very easy to use and are very effective. All you have to do is push the button in and your drive is secure. The system works by pushing little metal rods into the screw holes on the drive. This makes the drive fit solidly. and if you don't trust tool less drives, then you still have the option to screw the drive in. This will surely make anyone who doesn't trust systems such as this happy.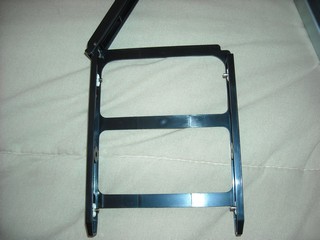 The HDD mounting system is also shared with many other Cooler master cases. At first I tried to just jam the drive inside the bracket, but then I found that the rods are removable. So I tried putting them in first, then inserting the drive, which also did not go well at all. I eventually gave up and just forced the HDD's into the bracket. Cooler Master should think about making this system more user friendly. Once the drive is in, then all you have to do is slide it in and clip the clip, and it is secure. This part of the process was very simple and straightforward.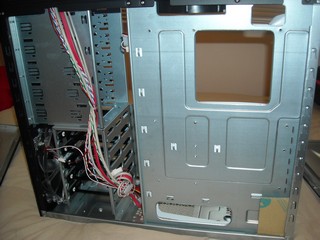 As we head to the back of the case we see even more care given to this case. The back is perfect for cable management. I had no problems fitting a 24-pin connector behind the motherboard back plate. The cabling for the case is kind of annoying since it comes from the very top of the case, but it can easily be concealed behind the HDD bay and disk drive bay. There is also a small hole near the bottom of the motherboard back plate which can be used to route cables behind, and thus clean up the front of the case.
Methodology
To test the idle temperature of the graphics card and CPU I let the computer sit doing nothing for a half an hour. I then used LinX to load the CPU to the highest amount of heat it can generate. For the GPU I used Furmark 1.65 to make the graphics card toasty. I used Realtemp to monitor the CPU temperature and then averaged all the cores into one temperature. I used the built in temperature sensor for the GPU. I first verified that it read the same temperature as Catalyst, and it did, so it can be considered valid data.
Test Rig

Case Type

Tagan El Diablo Advance
Cooler Master Storm Scout
Cooler Master HAF922

CPU
Intel I7 920 @ 3.7
Motherboard
Intel SmackOver X58
Ram
(2×3) Mushkin HP3-12800 @ 1480, 8-8-8-20
CPU Cooler
Cooler Master V10
Hard Drives
WD SE16 640 GB
WD SE16 750 GB
Optical
Lite-On DVD R/W
GPU

Sapphire HD 4870 1GB

Case Fan

One Front 200mm Intake
One Back 120mm Exhaust
One Top 200mm Exhaust

Testing PSU

Corsair HX1000W
Results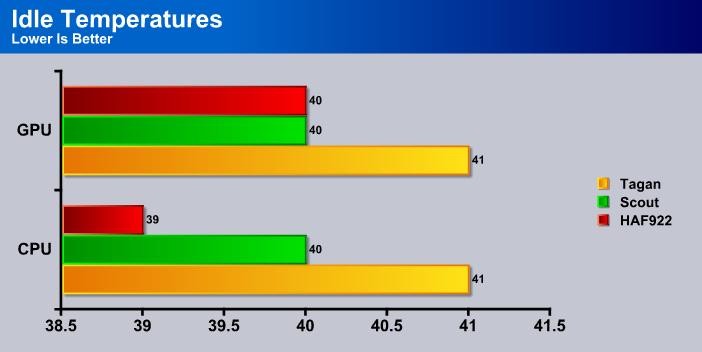 The HAF922 gets off to a great start. It matches the GPU temperature of the Scout. If a fan was added to blow on the graphics card I am sure the temperature would drop another degree or two. Somehow the 922 manages to be one degree cooler than the Scout. The top 200mm fan must help take how air away from the V10, and thus lowers the temperatures.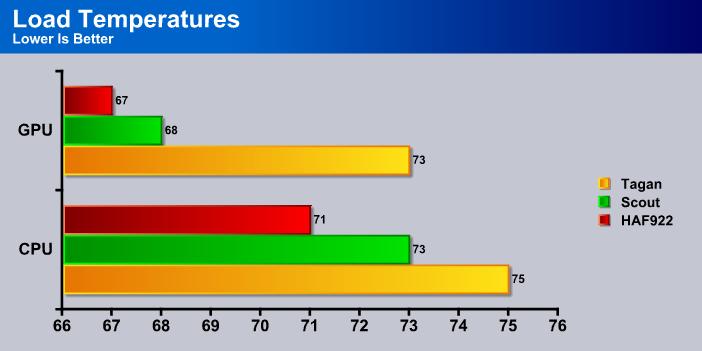 Once again the HAF922 pulls ahead of the Scout. I didn't think that the top fan on the 922 would make much of a difference, but it seems to have a clear advantage with lowering the CPU temperature. The GPU temperature doesn't change much, probably due to the similar set up as far as airflow in the graphics card area.
Conclusion
The Cooler Master HAF922 is a mid tower that packs a lot of punch. The case itself is built out of steel. This steel construction means that it is not easy to bend the case sides so they no longer lock securely. This steel construction also means that the case will be sturdy enough to not worry about it crushing around their components. The tool less drives are of excellent quality, so you can be sure your components will stay safe. The fans used are of great quality, even though only two of them have LED's. The thought put into the cable management aspect of the case is great, as all too many cases fail to address this issue.
The price far more than makes this case a great buy. With a MSRP of only $130 USD this case is a higher price than the Scout. It is hard to pick between the Scout and the HAF922. The Scout looks a little better than the HAF, but the HAF keeps your components cooler. Another plus of the Scout is its carrying handle, which unfortunately the HAF lacks. Anyone who's ever had a case with a carrying handle will agree with the fact that it makes it much easier to carry the case around. I can see that Cooler Master made the Scout as more of a LAN case, where the HAF is more of a better stay home case.
Cooler Master really wraps the HAF922 up with its warranty. With a two year limited warranty, the HAF922 has a pretty good warranty for a case. The case includes everything you need, including a manual in case you're a new user. Overall, the Cooler Master HAF922 is of the up most quality, has an excellent price, and is one of the best air flow cases I have ever seen.
We are trying out a new addition to our scoring system to provide additional feedback beyond a flat score. Please note that the final score isn't an aggregate average of the new rating system.
Performance 10
Value 10
Quality 10
Warranty 9
Features 8
Innovation 8
Pros:
+  Great Price
+  Great Airflow
+  Cable Management

Cons:
–  No Carrying Handle
–  Only One Red LED Fan
With a final score of 9 out of 10 the Cooler Master HAF922 receives the Bjorn3D Golden Bear Award.