The Gigabyte GK-K6800 is a full featured Luxury Multimedia Keyboard. It features 108 keys with 14 special function keys.
INTRODUCTION
When it comes to keyboards, everyone has different needs and preferences. We tend to like Multimedia keyboards that free us from searching for commonly used programs, like Windows Media Player, or launching our favorite browser. We also like an easy to use volume setting and a smattering of assorted keys to do the everyday mundane tasks easily. Combining form with functionality, the Gigabyte GK-K6800 Luxury Multimedia Keyboard is practically a piece of art. Well designed, with a solid feel to it, the GK-K6800 provides plenty of Multimedia functions and manages to throw a little flair into the design. It replaces our much loved but well abused $10 (USD) generic keyboard at the test bench. Since often the test bench is also the gaming rig, entertainment center, and all duty rig, the GK-K6800 is in for a good workout.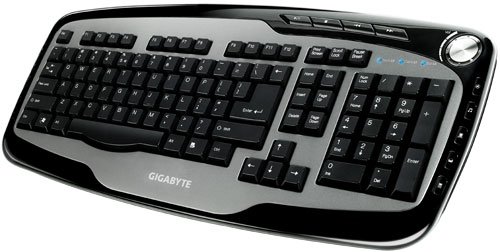 About GigaByte
1986
Founded in 1986, GIGABYTE started as a research and development team and has since taken the lead in the world's motherboard and graphics accelerator markets. To truly reach out to all consumers, GIGABYTE further expanded its product portfolio to include more diverse digital products such as Notebook and desktop PCs, digital home appliances, networking servers, communications, mobile and handheld devices, servicing every facet of people's lives at home or at work.

---

7,070

Up to 2009, GIGABYTE has knitted worldwide networks with 7070 employees in almost every continent to offer the most thorough and timeliest customer cares. GIGABYTE truly believes delighted customers are the basis for a successful brand.


---

100%

GIGABYTE aims for nothing but excellent. With all its outstanding products and designs, GIGABYTE for years has received numerous professional awards and media recognition. What's worth mentioning is GIGABYTE's unmatched record to have 100% of its entry qualified for Taiwan Excellence Award in 11 continuous years of entry.

 

1/10

At least 1 of 10 PCs uses GIGABYTE motherboard everywhere in the world.

---

M1022

GIGABYTE Booktop M1022 is equipped with a 10.1-inch LED backlight screen and the docking station exclusively from GIGABYTE. By attaching the M1022 to this docking station which is also a battery charger, users can turn the M1022 into a desktop and at the same time recharge the battery of the Booktop. Looking like a book that does not occupy much space with its slim appearance, the M1022 is a fashionable home accessory equipped with a 92% full-scale keyboard with 17.5 mm key pitch to deliver a comfortable typing experience.

---

No.1

2oz

GIGABYTE leads the industry with the highest quality and most innovative motherboard design, the latest Ultra Durable 3? technology featuring double the amount of copper for the Power and Ground layers of the PCB. A 2oz Copper layer design also provides improved signal quality and lower EMI (Electromagnetic Interference), providing better system stability and allowing for greater margins for overclocking. GIGABYTE ensures to deliver motherboard with highest quality and leading design.

---

180°

On June 2008, GIGABYTE launched the market 1st touchable and swivel screen mobile pc, M912. With the innovative technology and minimalistic design for truly carefree mobile lifestyles for professional or personal users with different budgets, M912 features the touch screen came with stylus and 180 degree swivel design to transform into a Tablet PC. M912 is the combination of notebook and table PCs that delivers multiple modes for convenience use and leads the industry to follow.

---




Everyday, GIGABYTE aims to "Upgrade Your Life" by knitting a global network to effectively honor its commitment to world wide customers. What's more important, GIGABYTE wishes all users to see and feel the brand through its products and all the touch points from GIGABYTE to the hands of all users.
SPECIFICATIONS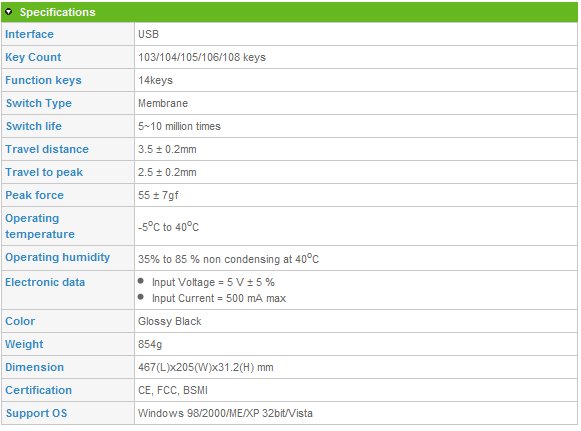 The Gigabyte GK-K6800 keyboard has a USB interface, making it almost universal for all PC's today. Featuring 108 keys with 14 special function keys and a membrane type switch, the GK-K6800 has plenty of features to keep most Multimedia buffs happy. Each switch is rated at between 5 – 10 Million keystrokes, has a travel distance of 3.5mm, a travel to peak distance of 2.5mm, and requires a meager 55 grams of force to activate (Plus or minus 7 Grams). Nominal operating temperatures are between -5°C and 40°C and the GK-K6800 operating humidity range is between 35% – 85% non condensing. That just means it's not a good idea to take it out of the refrigerator into a humid environment where drops of condensation can form like they do on a glass of Ice Tea on a hot day. It uses standard USB power and doesn't need an external power source and covers all modern Operating systems (for PC) back to windows 98. It's not one of those dainty little keyboards we've been seeing more of lately and comes in at 467(L) x 205(W) x 31.2(H) mm so if you've got one of those tiny desk spaces you might want to measure your available space before falling in love with the GK-K6800.
Among it's many features are:
Luxury Multimedia Keyboard Modern glossy surface design
Natural ergonomic design for the instant access keys
14 Multimedia and Internet hot-keys and volume wheel : access music, video, volume, email, internet and more
Ultra Durability: Laser-engraved key cap, Full size Enter key, and Special spacebar
Windows Vista® Ready: Get the most out of Windows Vista®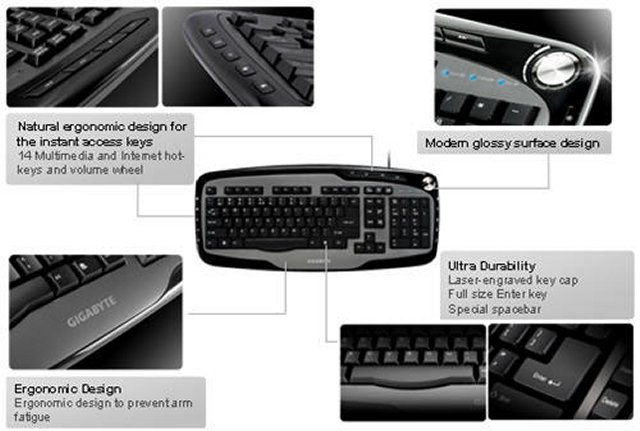 The GK-K6800 has a nice black glossy surface and ergonomic design. The keys are laser engraved and it features a full sized enter key and a ample specially designed space key. Instead of a clunky volume key it has a nice volume wheel which is a refreshing difference between it and a lot of purported multimedia keyboard layouts out there. The 14 multifunction keys are laid out along the top and both sides of the GK-K6800 which is one of the problems we ran into with the GK-K6800. It's as much a human problem as it is a layout problem so we won't hold it against the GK-K6800. Take a glance at the beauty shot below.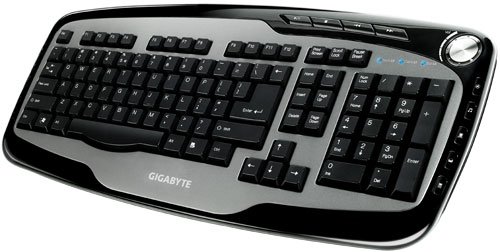 We don't know about you but generally we handle a keyboard by the edge. On the GK-K6800 you'll find a total of 10 buttons along both edges. So, if you're used to picking up the keyboard during normal operation like we are, you'll need to retrain your hands to pick it up by the bottom or corners. Until we got used to that one minor issue we launched a few unexpected programs.
The left side of the GK-K6800 is for web and document based functions, like launching your Browser, and forward and back buttons. The right side is for Multimedia and general functions like firing up the Calculator, launching the default Media Player, muting the volume, and Launching your favorite Music Player. The top four remaining buttons are VCR type controls like fast forward and rewind. The Gigabyte GK-K6800 is pretty functional for normal desktop use and for the Multimedia buff in all of us.
PICTURES & IMPRESSIONS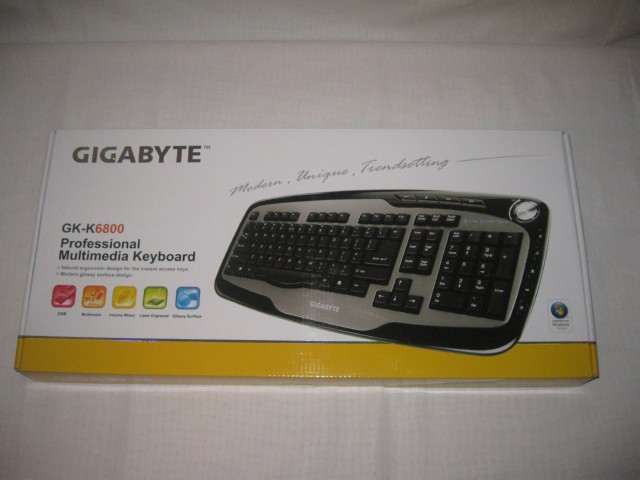 The Gigabyte GK-K6800 comes in a sturdy white box that provides good protection for the keyboard.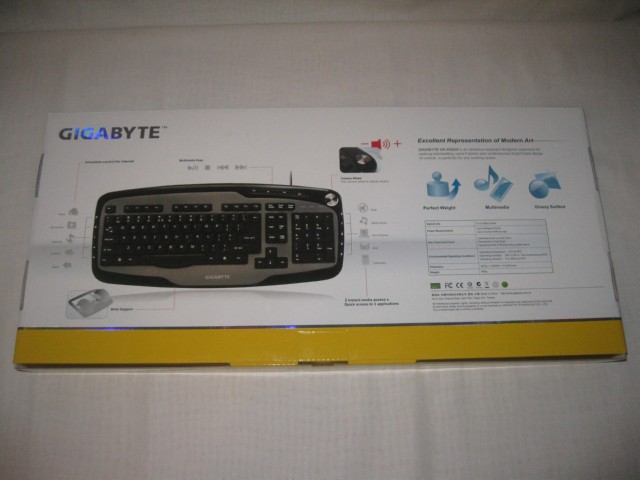 The box has plenty of information and specifications to help inform the consumer about its purchase.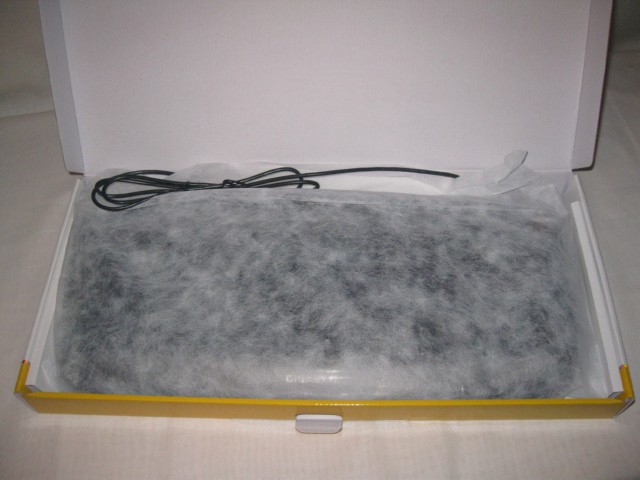 Inside the box the GK-K6800 is padded with a thin cloth bag to protect it from scratches.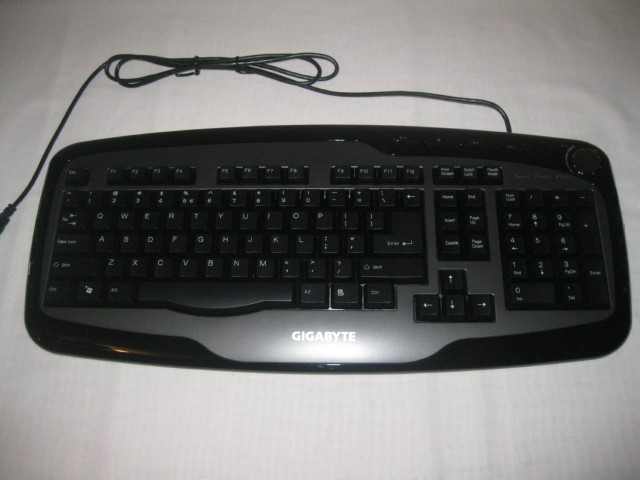 Once you get past the box and the cloth bag you can see the GK-K6800 arrived in pristine condition and its looking pretty sweet.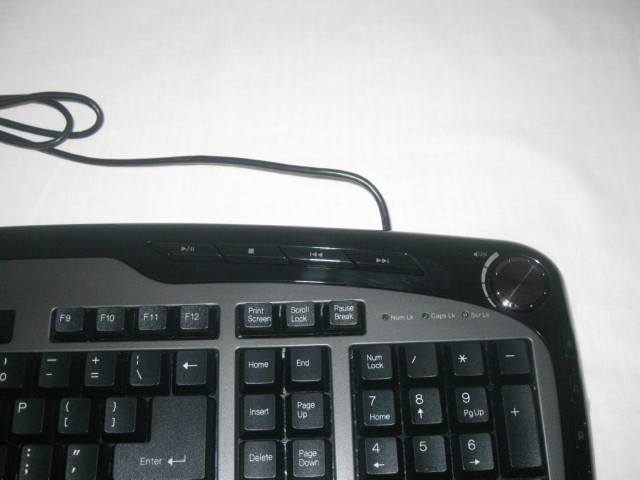 The Volume wheel is in the upper right hand corner as well as the VCR type Multimedia controls.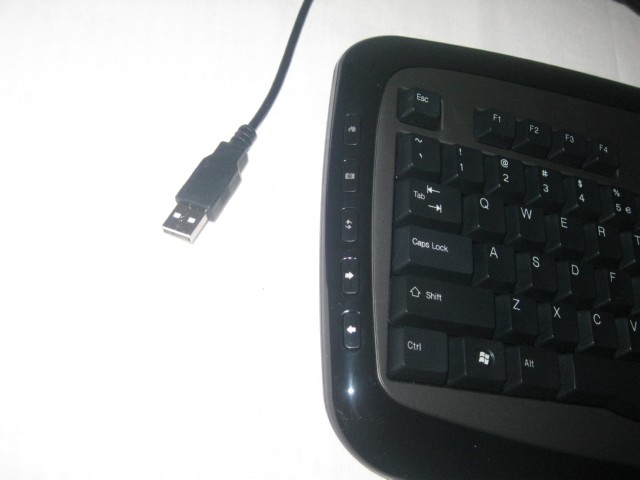 The left hand side is Web and Document navigation buttons. It took a few minutes to adjust to having them there but once we started using them we realized just how handy they are.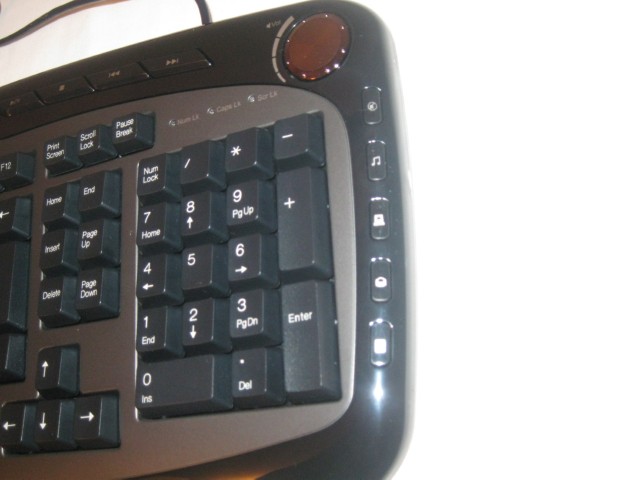 The right hand side of the GK-K6800 is the media launch buttons for one click multimedia launching. The keys are preprogrammed and we would have liked to have seen programmable keys but they cover most of the every day functions we use.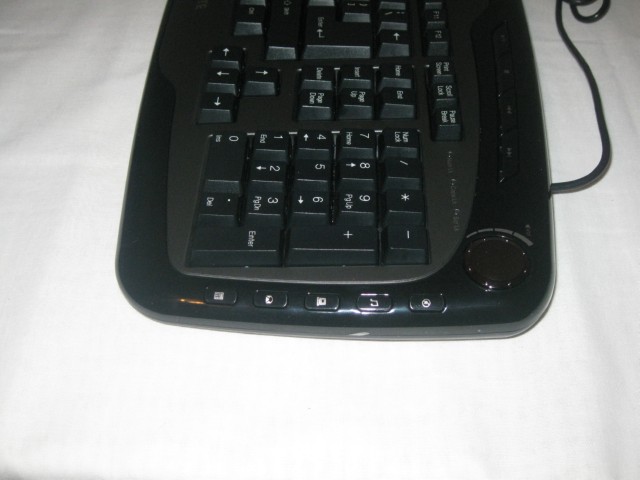 It's a little hard to see the multimedia keys so we threw in a different shot of them.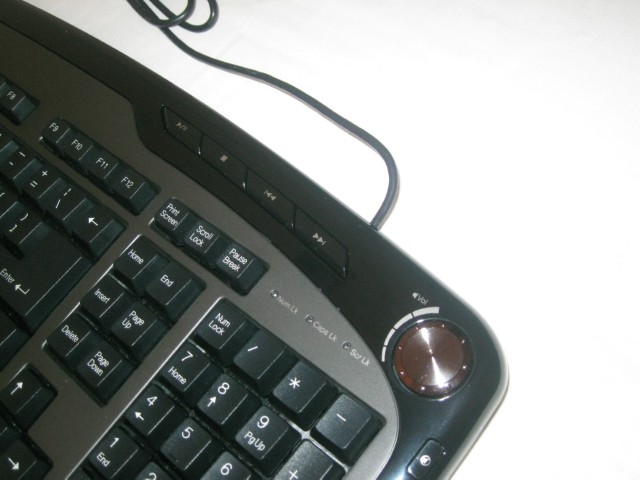 The Laser cut keys show up really nicely in most lighting conditions but only time will tell how they hold up to the test bench.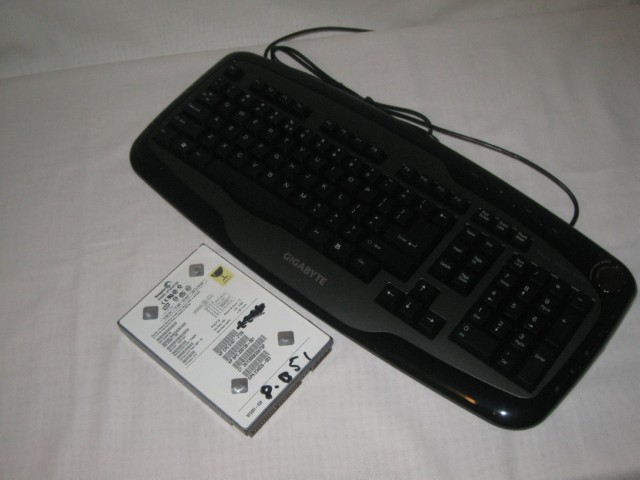 We mentioned the GK-K6800 wasn't a small keyboard so we put a standard 3 1/2 inch drive next to it for comparison purposes. The keyboard is a little more than three times as long as the drive.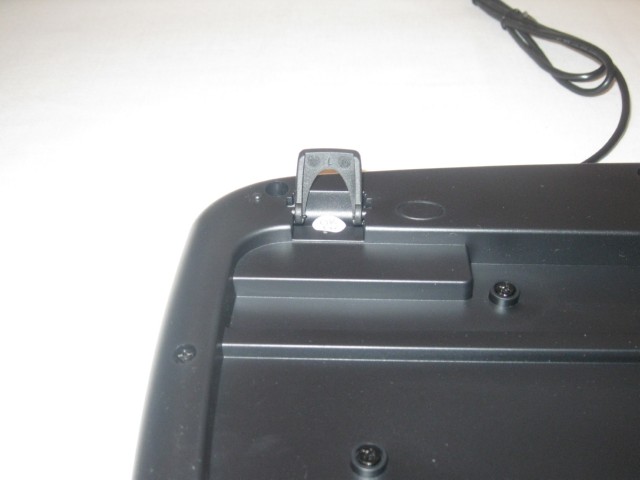 The GK-K6800 has fold down feet if you prefer a little tilt to your keyboard. We're not much for pounding keyboards but accidents happen so we would have liked to have seen a little more substantial foot for the keyboard.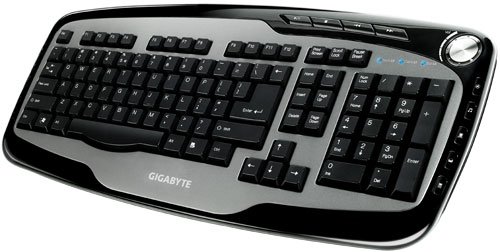 TESTING
We're sure that somewhere out there a keyboard testing machine exists, mechanically tapping away at keys, but we don't have access to one so we go after it old school. We use the keyboard on a day to day basis for a good period of time using different applications. We gamed with the GK-K6800, wrote reviews, did some word processing and used some multimedia applications for music and movies. I'm fairly sure some nit picker will say you should have hooked it up to a 125 watt thermal block and tested it in a controlled environment. Once again, let us reiterate we test in a real life setting and loathe those that test without involving a computer in the actual testing of a product.
For gaming, we found the keystrokes to be a little long on the GK-K6800, 3.5mm is the travel distance and the peak distance is 2.5mm. We tend to like shorter fast response keystrokes for gaming, but once we had adjusted from the generic keyboard we had been using we did fine with the GK-K6800. Compared to say the Lycosa made by Razer, the GK-K6800 has a long keystroke, so if you're used to laptop style keys or a gaming keyboard it might take some adjustment.
Around the lab we tend to put the keyboard on our laps because the test bench is always full of product waiting for testing. That's not your typical desktop use of a keyboard but we did break down and clear a spot on our desk and try the keyboard out for a while. On the desktop it works great. The legs are a little more sturdy than we first thought and the Multimedia keys come in really handy once you learn what they all do. We were able to launch and control Music and Videos from the key panels with no problems. The volume wheel and Browser launcher come in really handy.
The amount that you rely on the keys is directly dependent on how well you learn the layout of the multimedia keys. In the two weeks we've had hands on the GK-K6800 we've tested every feature and found that everything on the GK-K6800 is functional and works as advertised.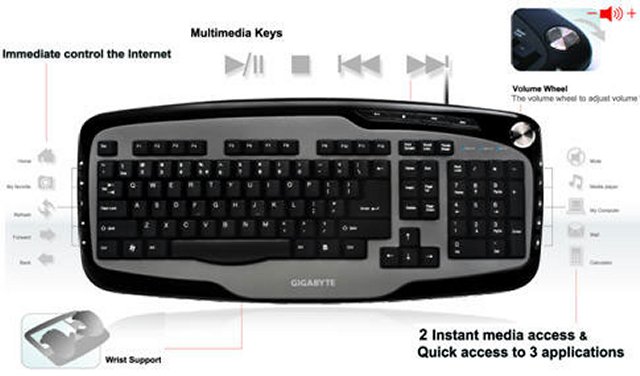 CONCLUSION
Other than a couple of minor issues we had with the GK-K6800 we were pleased with the keyboard. The keystrokes were a little long for our tastes, and the buttons on the side are positioned so that we had to relearn handling the keyboard to avoid launching applications in the middle of testing. Once we got past those two minor issues we have come to like it for its functionality and multimedia capabilities. We don't know that we would recommend it for gaming as if you get excited some of the media buttons will launch an application while your in game.
We realize that keyboards are generally one of those items that each person has a preference for a particular style. We would say that the GK-K6800 is suitable for home and office use when productivity and multimedia are the primary focus of computing. For gaming, it's acceptable but there are better options available for the serious gamer. That's to be expected. The GK-K6800 isn't targeted toward gaming and for the productivity and multimedia its targeted toward, it's perfect for those applications.
Once we got used to the keyboard layout we found ourselves automatically reaching for the Multi-media buttons and when we switched machines found ourselves reaching for buttons that weren't there. That's normal for us though. Ehen you have ten machines around up and running at any given time you get machine lag and it's not the fault of the GK-K6800. If it starts to bother us much, since the GK-K6800 (Which needs a cool name like the Multi-Mediator) is USB, we can carry it with us from machine to machine.
Performance 8.5
Value 8
Quality 8.5
Warranty 9
Features 9.5
Innovation 8
Pros:
+14 Multimedia keys and volume wheel
+Solid feel to the GK-K6800
+Good placement of buttons for desktop use
+Comfortable
Cons:
–Keys on side are easy to accidentally hit if you're a lap type typer
–Keystroke is a little long
The Gigabyte GK-K6800 fits the Multimedia and productivity slot that it's designed to fill perfectly, it looks good on the desktop and provides more functionality than your run of the mill keyboard.
Final Score of 8.5 out of 10 (Extremely Good) and the Bjorn3D Seal of Approval.