The Noctua NH-U12P SE is a socket 1366 CPU cooler redesigned for Core i7 CPU's. See how the Noctua NH-U12P compares to the TRUE 120 when both coolers use the same fan.
INTRODUCTION
There comes a time in every reviewers life when they get swamped, it's just part of the process. Recently we got 4 CPU coolers that came in on the same truck. Quite the surprise to say the least. We saved the best for last, the Noctua NH-U12P SE 1366. A cooler that rivals the legendary TRUE 120. We wanted to see just how much it rivals the TRUE 120 on a level playing field so we're going to use the Noctua fans that came with the NH-U12P on the TRUE 120 and put them head to head on the Core i7 965 Extreme and see which one stays on Quadzilla. Searching for the best air cooling alternatives has been a long road and one with no visible end. We're about to switch back to water cooling on the test rig because i7 reviewing has slowed down enough to dip below the insanity level. In the mean time lets get back to the Noctua NH-U12P revisit.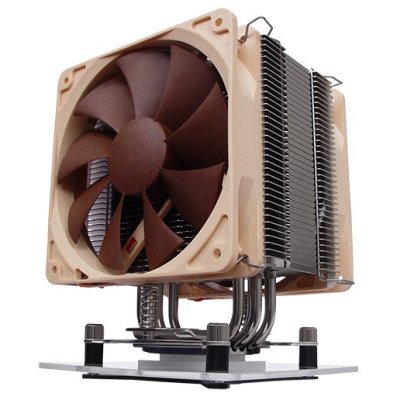 About Noctua
Noctua arises from a cooperation between the Austrian Rascom Computerdistribution Ges.m.b.H and the Taiwanese Kolink International Corporation and entertains a development partnership with the Austrian Institute of Heat Transmission and Fan Technology (Österreichisches Institut für Wärmeübertragung und Ventilatorentechnik, ÖIWV). These connections form the key to the achievement of our goal: The partnership with the ÖIWV permits the application of scientific measurement instrumentation, methods of calculation and simulation technology in the R&D process. Rascom's long, customer-oriented experience in developing and distributing sound-optimised high-end products ensures a clear focus on the users' needs. The use of Kolink's advanced manufacturing technology and ultra-modern production plants allows us to efficiently implement our technical edge and provide solutions of the highest standard in quality and performance.

Rascom Computerdistribution Ges.m.b.H. is specialised in the distribution of PC accessories for the highest demands. Business customers and consumers alike benefit from a product range that is selected according to strict quality criteria, a high level of availability and personal, obliging service. The core of the business activities is made up of cooling (with a special focus on silent components), design- and high-end cases and quality power supplies. Furthermore, Rascom offers a broad range of high grade accessories (e.g. external drive enclosures, removable racks, input devices, etc.), whereas direct import from the far east, continuous contact with international manufacturers and the attendance at trade fairs permit a fast and flexible reaction to new trends.

At Noctua, Rascom employees contribute their know-how mainly in the areas of R&D, marketing and support and manage the second level of the Noctua quality assurance program. In addition, the import to Europe and the supply of distributors and resellers is conducted by Rascom.
"In a difficult market, technical advantage, thoroughgoing quality and complete customer orientation are in demand. Our long experience in developing, importing and distributing sound-optimised premium components decisively contribute to Noctua's compliance with these requirements."
Mag. Roland Mossig, CEO Rascom Computerdistribution Ges.m.b.H
Kolink International Corporation is a cooling specialist established in 1996 and well known among industry insiders. Throughout the years, Kolink designed and manufactured many top-performing heat-sinks under various brand names that succeeded in international markets. An experienced R&D team and ultra-modern production plants in Taiwan will ensure continuous progress, efficient manufacturing conditions and strict quality standards. Kolink's retail brand "Coolink" is just about to venture into the European retail market.

At Noctua, Kolink is involved in the R&D process and responsible for the manufacturing and on-site quality control, which is the first level of the Noctua quality assurance program that was framed in coordination with Rascom.

"We're very confident about the prospect of Noctua. Their advanced and focused R&D department is a pleasure to work with. We always enjoy trustful cooperation at a professional level with people who know their own minds."
Kuo-Chen Chu, CEO Kolink International Corporation
The Austrian Institute for Heat-Transmission and Fan Technology (Österreichisches Institut für Wärmeübertragung und Ventilatorentechnik, ÖIWV) was originated in 2004 by Mag. Manfred Stadler MBA and Mag. Roland Mossig, CEO Rascom Computerdistribution Ges.m.b.H, to harness existing capacities in industry and research in support of new developments in electronics and component cooling as well as stimulating application and market oriented research projects. The ÖIWV's fields of activity involve detailed monitoring of the international scientific development, publication activity, patent situation and market situation, project-oriented resource and know-how pooling between Austrian research facilities and high-tech companies. The priority objective is to give a competitive edge in development to the projects of Austrian companies through the application of scientific measurement instrumentation, methods of calculation and simulation technology.

The development partnership between Noctua and the ÖIWV is made up of a variety of different research projects, surveys and test series, which, combined with the institute's know how pool, form the crucial technical basis for the development of Noctua products. The use of scientific testbeds and simulation environments shortens development times and accelerates internal evaluation procedures.
"The development partnership between the ÖIWV and Noctua clearly shows how the enormous potential of Austrian research facilities and high-tech companies can be implemented in market leading quality products with economic success."
Mag. Manfred Stadler MBA
FEATURES
Award-winning NH-U12P Heatsink
The NH-U12P SE1366 is built around Noctua's premium quality NH-U12P heatsink that is renowned for its excellent quiet cooling performance and has received more than 100 awards and recommendations from leading international websites and magazines.
 
SecuFirm2™ for LGA1366
Designed to combine outstanding reliability, optimal contact pressure and easy, straightforward installation, SecuFirm2™ is an enthusiast-grade mounting system that meets the highest demands in safety, performance and ease-of-use.
 
2x NF-P12 Premium Fan
Including two of Noctua's award-winning NF-P12 120mm fans with Low-Noise and Ultra-Low-Noise-Adaptors, the NH-U12P SE1366 offers full flexibility in fine-tuning the cooler for supreme quietness and maximum performance in push-pull mode.
 

NT-H1 Thermal Compound
Noctua's much-acclaimed NT-H1 is a pro-grade TIM solution that provides minimum thermal resistance, excellent ease-of-use and outstanding reliability.

 

Special Edition Premium Kit
Bundled with a tube of NT-H1, two top quality NF-P12 fans and SecuFirm2™ for LGA1366, the NH-U12P SE1366 forms a complete premium value package that's backed up with 6 years manufacturer's warranty and contains everything you need in order to achieve superb quiet cooling performance on Intel Core i7 CPUs.
SPECIFICATIONS
Heat Sink
 
Socket compatibility
Height (without fan)
Width (without fan)
Depth (without fan)
Height (with fan)
Width (with fan)
Depth (with fan)
Weight (without fan)
Weight (with fan)
Material

Copper (base and heat-pipes), aluminium (cooling fins), soldered joints & nickel plating

Application
Fan compatibility

120x120x25mm / 120x120x38mm

Scope of Delivery

2x NF-P12 premium fan
Ultra-Low-Noise Adaptor (U.L.N.A.)
Low-Noise Adaptor (L.N.A.)
NT-H1 high-grade thermal compound
SecuFirm2™ Mounting Kit for LGA1366

Warranty
Fan
| | |
| --- | --- |
| Model | |
| Bearing | |
| Blade geometry | |
| Rotational Speed (+/- 10%) | |
| Rotational Speed with L.N.A. (+/- 10%) | |
| Rotational Speed with U.L.N.A. (+/- 10%) | |
| Airflow | |
| Airflow with L.N.A. | |
| Airflow with U.L.N.A. | |
| Acoustical Noise | |
| Acoustical Noise with L.N.A. | |
| Acoustical Noise with U.L.N.A. | |
| Input Power | |
| Voltage Range | |
| MTBF | |
Pictures & Impressions
Click Image For a Larger One
The Noctua NH-U12P comes in a sturdy box with plenty of information and specifications to help inform the potential consumer about it's features and specifications. Inside the outer carton the NH-U12P is well protected and ours arrived unscathed despite the shipping carton suffering substantial abuse in it's long journey here.
Click Image For a Larger One
We're plesed to say that the Noctua NH-U12P has a quality look and feel to it that you seldom see in a CPU Cooler. All the vanes and surfaces are nice and flat and there was no deformation of the vanes to disrupt airflow. The base of the CPU cooler is nice and flat and well milled for a commercial CPU cooler. There were a few mill marks on the CPU cooler base that could have been a little better but we'll just have to see how much that affects the performance a little later.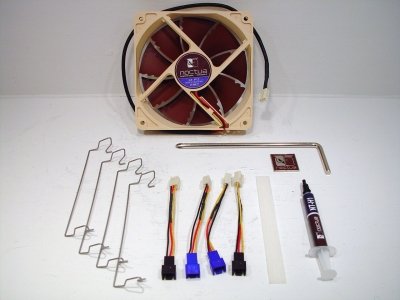 One of the things we liked about the Noctua NH-U12P SE1366 is that right out of the box it comes with two nice Noctua fans and the mounting wires for dual fan mounting. No more big Blue Rubberband holding on the second fan. You also get a tube of Noctua's NH-H1 Thermal Compund which we will be using for the testing portion on bothe the Noctua and TRUE 120.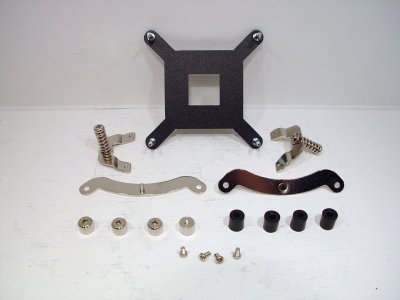 This is a Core i7 (Socket 1366) specific version of the cooler and you get enough hardware to mount the cooler on the Socket 1366 platform. If we had one gripe about the Noctua NH-U12P it would be that it's not a universal mounting kit but when you buy the product it plainly states it covers the 1366 platform and no others so we're not going to hold that against the cooler. Still a LGA 775 and AM2/AM3 mounting bracket would have made it a better value. It's not an issue for most people but for review purposes we like versitile hardware.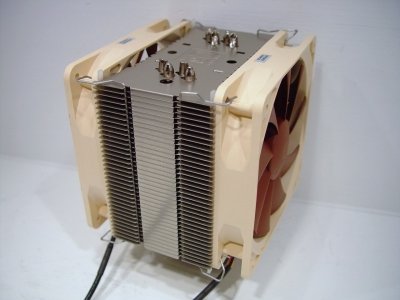 The finally the fans installed picture with the cooler ready to Mount. Mounting was an easy process but unless you have a compatible, existing backplate you will have to remove the motherboard to mount this epic cooler.
TESTING & METHODOLOGY
To test the Noctua NH-U12P we mounted it on our Asus P6T Deluxe with the Core i7 965 for the CPU. We didn't bother with a fresh load of Vista 64 because it's not important in CPU cooler testing. As long as we can fire up Prime95 for 30 minutes without the rig crashing and idle at the desktop for 30 minutes we're good to go. The P6T Deluxe is one of the boards with a lot of taller cooling implements around the CPU socket so if a cooler fits on this board, chances are it'll fit yours.
We Idled the machine for 30 minutes and took the Idle temperatures. Then, without shutting it down we ran Prime95 for 30 minutes and took the load temperature. After getting the load temperature we shut it down for 30 minute to cool it off then repeated the process three times for each cooler. The average of the three test runs are reported here.
Please note that we included our Swiftech Custom Water Loop in testing but only for informational purposes. Comparing air cooling to water cooling isn't something we do but we wanted you to have the information about the water loop temperatures. Keep in mind the custom water loop is valued in excess of $200 (USD) and the air coolers cost much less. That's another reason comparing custom water to air just isn't fair. However, if you're looking for better cooling than air the testing numbers are there for you.
It is important to note that we used the Noctua NF-P12 Premium fans in a dual fan configuration on all the coolers to make sure we had an even playing field. Use of different fans will result in different results. Results will be similar with most models of 53 CFM fans. In testing the coolers we saw very little advantage going to two 73 CFM Yate Loon fans and in most cases the increased CFM fans resulted in a one to two degree difference tops.
Test Rig
"Quadzilla"
Case Type
Thermaltake Armor ESA
CPU
Intel Core i7 965 Extreme (3.74 GHz 1.3275v for overclock testing)
Motherboard
Asus P6T Deluxe OC Palm Edition
Ram
Corsair Dominator GT 1866 7-7-8-24
CPU Cooler
Noctua NH-U12P SE
Thermalright Ultra 120 RT
Titan Fenrir
Custom Water Loop
Hard Drives
WD 250 Gig Sata 2
Two Maxtor 160 Gig Sata2
Optical
Sony DVD R/W
GPU
Leadtek GTX-260
BFG GTX-260 OCX MaxCore
In SLI
Case Fans
Two 120mm Thermaltake Front/Rear Push/Pull
250mm Side fan
90mm Rear Exhaust
90mm Top Exhaus
Docking Stations
Tagan IB290 W/Deskstar 2 1/2 Inch 80 Gig Sata 2
Tagan IB390 W/Maxtor 160 Gig Sata 2
Thermaltake BlackX USB W/Seagate 80 Gig Sata 2
Testing PSU
Thermaltake Toughpower 850 ESA Modular
Legacy
Floppy Drive
Mouse
Razer Lachesis
Keyboard
Razer Lycosa
Gaming Headset
Razer Piranha
Speakers
Logitec Dolby 5.1
Any Attempt Copy This System Configuration May Lead to Bankruptcy
Testing Results

Please note that the Noctua is actually the NH-U12P SE1366, we had a Doh moment when charting 4 CPU coolers in one day and mistakenly labeled it the NH-C12P when in reality it is the NH-U12P. Our apoligies for the mistake.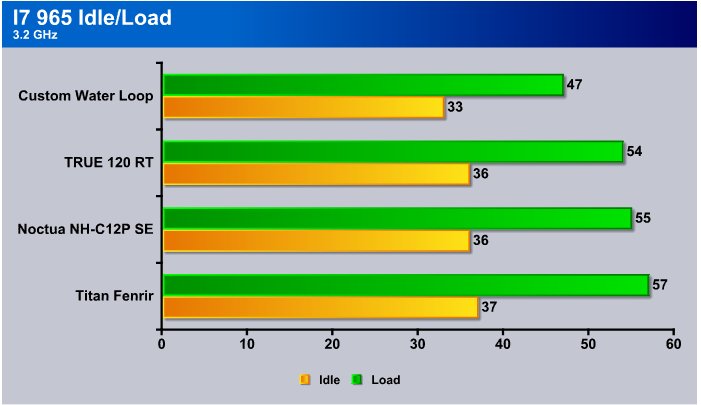 Of all the coolers I've tested these three quickly rise to the top of my preferred CPU coolers for Core i7 processors. The Titan Fenrir doesn't have quite the cooling of the other two and comes with one fan. The TRUE 120 a long time favorite comes in 1° C cooler at load than the Noctua NH-U12P SE1366 but a difference in testing results that small might be attributed to ambient room temperature or the amount of thermal paste. With the TRUE 120 RT coming with one fan and costing more than the Noctua NH-U12P SE 1366 which comes with two fans and clips for both it's cheaper to run the Noctua NH-U12P SE1366 than the TRUE 120 RT and the results are similar. By the way the custom water loop isn't in direct contention, it's a different type cooling and only included because of an upcoming review of a dual triple radiator system from Swiftech. (Dual Stacked Triple rads, drool)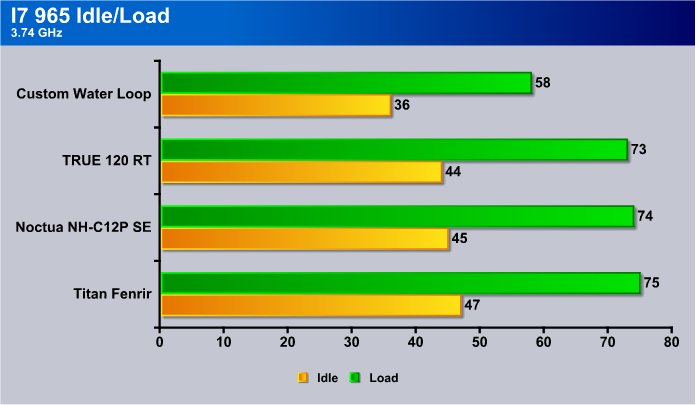 We've never found any air coolers that will keep the Core i7 965 Extreme cool enough for our tastes when we clock it to 3.74 GHz of all the coolers we tested so far these are the cream of the crop. After 30 minutes Prime 95 driving all 4 cores (8 virtual cores) as hard as they can go with no break we hit 73° C on the TRUE 120 RT dual fan configuration, we still see a 1° C difference between the Noctua and TRUE 120 RT. With that small a difference it would be a hard call to choose the TRUE 120 RT over the Noctua NH-U12P when a little additional chassis cooling could easily make up the difference. The Titan Fenrir is right on the tails of both the TRUE 120 RT and Noctua coolers and is the least expensive of the three. If a person cared to carefully lap the NH-U12P SE1366 we're betting they could shave a degree or two off the temps.
CONCLUSION
The Noctua NH-U12P SE1366 with it's two NF-12P Premium fans and included NH-H1 thermal compound is a great choice for the Core i7 platform, and let us attain an OC of 3.74 GHz with almost identical results as the more expensive TRUE 120 RT which only includes on fan and mounting for a single fan leaving you to improvise a second fan holder. The additional items in the bundle of the Noctua NH-U12P SE1366 make it a good and economical choice for high end air cooling on i7.
Like we mentioned if it came with a universal mounting design it would be a better valuse, but the additional hardware might drive up the cost a little bit. Mounting the massive cooler required removing the motherboard but you can expect that with any massive tower cooler of this caliber.
We especially liked the sound dampening kit that comes with the fans on the Noctua NH-U12P SE1366, it never hurts to have vibration dampening because we like a nice quiet system. We tried the cooler with and without vibration dampenind and while it's nice to have we don't think the cooler really needs it.
In all we like the Noctua NH-U12P SE1366, great cooling, vibration dampening, everything you need in the box, and the Noctua name behind it.
We are trying out a new addition to our scoring system to provide additional feedback beyond a flat score. Please note that the final score isn't an aggregate average of the new rating system.
Performance 8.5
Value 9
Quality 9
Warranty 8
Features 8
Innovation 9
Pros:
+  Looks Nice
+  Great Cooling
+  LGA 1366
+  Lot Of Value With The Bundle
+  Great Overclocking Result
+  If It Holds The Core I7 965 Overclocked to 3.74 GHz With Hyperthreading Turned On The Noctua NH-U12P SE1366 Will Cool Any CPU Out There Well Enough For 98% Of Enthusiasts
Cons:
–  Not Universal
–  Might Not Fit In Some Chassis
–  Might Interfere With The Ram Slots On Some Boards
The Nioctua NH-U12P SE 1366 gave us some nice overclocking headroom on the Intel Core i7 965. We took it to 3.74 GHz and felt safe running the CPU wide open at that with the Noctua setting on top of it, so the NH-U12P SE1366 scores a: 8.5 out of 10 and receives the Bjorn3D Seal of Approval.