GigaByte, has come up with a decent performing video card that will not break your wallet. Let's look at the 9600GT and see it in action.
INTRODUCTION
These days with our economy being in shambles, people are spending their hard earned money a bit more wisely. By making small sacrifices on aspects we did not normally do. So it is natural for us to spend less on our computers, especially when it is time for us to upgrade our computers. The question we ask ourselves what do we need, and what do we not need? Where can we, as a consumer cut corners on our computer upgrade's but still give us playability with out sacrificing to much on visual as well as capabilities we will need from our computers?
Gigabyte, has put together a video card that not only plays today's most demanding games, this video card comes with a price tag that is very well rounded. Lets step inside the 9600GT 1 gig memory video card and find out how this little beast performs under one of the most grueling testing ways I could think of.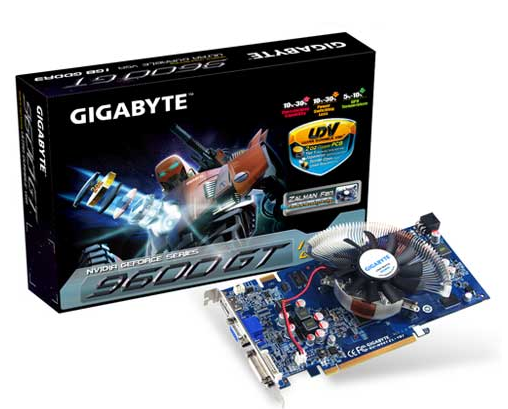 About Gigabyte
Founded in 1986, GIGABYTE started as a research and development team and has since taken the lead in the world's motherboard and graphics accelerator markets. To truly reach out to all consumers, GIGABYTE further expanded its product portfolio to include more diverse digital products such as Notebook

and desktop PCs, digital home appliances, networking servers

, communications, mobile and handheld devices, servicing every facet of people's lives at home or at work.

Everyday, GIGABYTE aims to "Upgrade Your Life" by knitting a global network to effectively honor its commitment to world wide customers. What's more important, GIGABYTE wishes all users to see and feel the brand through its products and all the touch points from GIGABYTE to the hands of all users.
OVERVIEW & SPECIFICATIONS
OVERVIEW

Dual-link DVI
Able to drive two of the industry's largest and highest resolution flat-panel displays up to 2560×1600
SLI™ Technology
Delivers up to 2X the performance of a single GPU configuration for unparalleled gaming experiences by allowing two graphics cards to run in parallel. The must-have feature for performance PCI Express graphics, SLI dramatically scales performance on 60 top PC games.
Windows Vista®
Enjoy powerful graphics performance, improved stability, and an immersive HD gaming experience for Windows Vista. ATI Catalyst™ software is designed for quick setup of graphics, video, and multiple displays, and automatically configures optimal system settings for lifelike DirectX 10 gaming and the visually stunning Windows Aero™ user interface.
OpenGL 2.1® Optimizations
Ensure top-notch compatibility and performance for all OpenGL 2.1 application.
Microsoft® DirectX® 10
World's first DirectX 10 GPU with full Shader Model 4.0 support delivers unparalleled levels of graphics realims and film-quality effects.
Shader Model 4.0
Shader Model 4.0 adds support for indexed temporaries which can be quite useful for certain tasks.Regular direct temporary access is preferable is most cases. One reason is that indexed temporaries are hard to optimize. The shader optimizer may not be able to identify optimizations across indexed accesses that could otherwise have been detected. Furthermore, indexed temporaries tend to increase register pressure a lot. An ordinary shader that contains for instance a few dozen variables will seldom consume a few dozen temporaries in the end but is likely to be optimized down to a handful depending on what the shader does. This is because the shader optimizer can easily track all variables and reuse registers. This is typically not possible for indexed temporaries, thus the register pressure of the shader may increase dramatically. This could be detrimental to performance as it reduces the hardware's ability to hide latencies.
PCI-E 2.0
PCI Express® 2.0 –Now you are ready for the most demanding graphics applications thanks to PCI Express® 2.0 support, which allows up to twice the throughput of current PCI Express® cards. Doubles the bus standard's bandwidth from 2.5 Gbit/s (PCIe 1.1) to 5 Gbit/sec.
HDCP Support
High-Bandwidth Digital Content Protection (HDCP) is a form of copy protection technology designed to prevent transmission of non-encrypted high-definition content as it travels across DVI or HDMI digital connections.
HDMI Ready
High Definition Multimedia Interface (HDMI) is a new interface standard for consumer electronics devices that combines HDCP-protected digital video and audio into a single, consumer-friendly connector.
PureVideo™ HD
CE, RoHS Compliant
PureVideo™ HD
Available on HD DVDs and Blu-ray discs, high-definition movies are bringing an exciting new video experience to PC users. NVIDIA® PureVideo™ HD technology lets you enjoy cinematic-quality HD DVD and Blu-ray movies with low CPU utilization and power consumption, allowing higher quality movie playback and picture clarity. PureVideo HD technology provides a combination of powerful hardware acceleration, content security, and integration with movie players, plus all the features found in PureVideo.
CUDA Technology
NVIDIA® CUDA™ technology unlocks the power of the hundreds of cores in your NVIDIA® GeForce® graphics processor (GPU) to accelerate some of the most performance hungry computing applications. The CUDA™ technology already adopted by thousands of programers to speed up those performance hungry computing applications.
PhyX Technology
NVIDIA® PhysX™ is the next big thing in gaming! The best way to get real-time physics, such as explosions that cause dust and debris, characters with life-like motion or cloth that drapes and tears naturally is with an NVIDIA® PhysX™-ready GeForce® processor
SPECIFICATIONS

Chipset
NVIDIA GeForce 9600GT
Memory
1GB
Memory Bus
256 bit
Memory Type
GDDR3
Card dimension
ATX
Bus Type
PCI-E 2.0
Bus Speed
x16
D-SUB
Yes
TV-OUT
No
DVI Port
Yes (DVI-I)
VIVO
No
Multi View
Yes
Looking at the Specifications of the 9600GT from GigaByte, we notice that this little wonder has a memory interfacing of 256 bits. It is nice to see Nvidia and GigaByte start increasing the memory interfacing on these entry level cards. But is it enough to make this card perform some of the most demanding games? We shall find out soon. But not yet. Next is packaging.
PACKAGING
Starting off on the front part of the box that contains the 9600GT video card, we can already tell that GigaByte continues to make their packages colorful. It also contains important information about that specific product. In the upper left corner GigaByte shows this video card has a 10-30% overclocking capabilities, a 10-30% lower power usage, and finally a 5-10% lower GPU core temperature. This is all because of their UDV (Ultra Durable Video) that contains 2oz. of copper, Tier 1 Japanese capacitors, and ferrite cores. One other thing that is important to point out is that this video card contains Zalman's V700 GPU cooler.
Here is what the sides of the packaging looks like.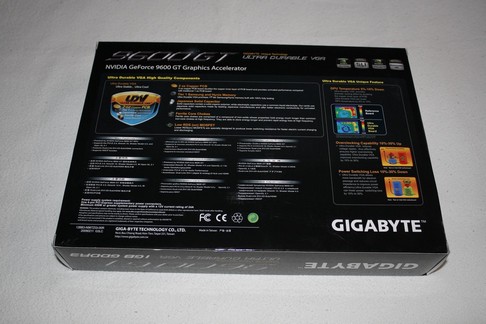 The back side has so much information on it, I wouldn't even know where to begin.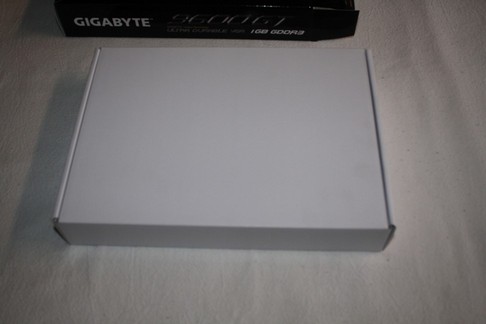 Oh no, it's a box inside of another box.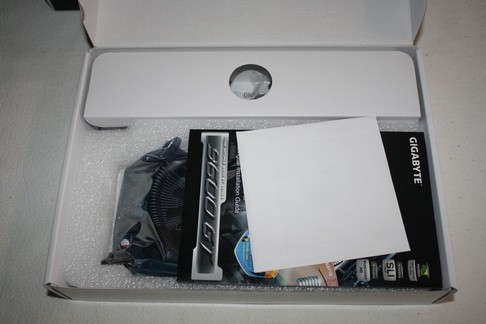 Opening that inner box we get to see what GigaByte included. Well, of course, I need to take it all out first.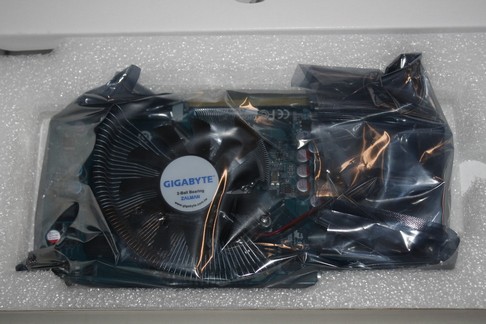 Oh cool, it's a bag inside of the box that was inside of another box. A quick glance at the 9600GT from GigaByte.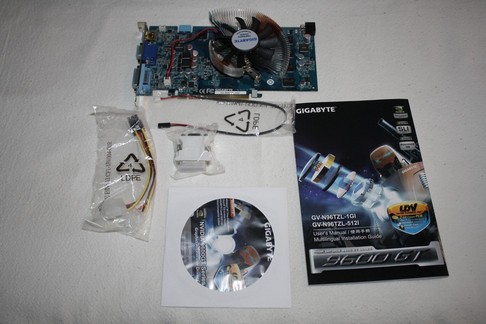 All of the contents of the packaging laid out. Top center is the 9600GT video card and below the video card is an SPDIF connector, a DVI-DSUB adapter, to the left is an 2x Molex to PCI-E 6-pin adapter (just in case for those who have not upgraded to a newer style PSU or for those who run out of PCI-E power plugs), a driver disc, and finally a instruction manual.
Well, this wraps up the packaging. Time to move on to the Overview of the video card.
OVERVIEW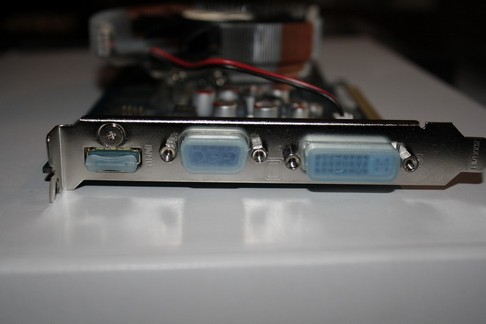 Looking at the back of the video card where all of the video connectors are at. GigaByte did away with the S-Video port and replaced that with an HDMI connector instead. Good thinking. Personally, the S-Video was getting a little old. Then there's a D-SUB port, and finally a DVI port. Also, notice that GigaByte used covers on all of the ports back here. 
A little better close up of each port. I don't have a clue why I did this. I guess I got a little camera happy Well, practice makes perfect, or as my old Drill Sargeant said, "Perfect Practice Makes Perfect PRIVATES." Rule of thought. If you're ever thinking on going into the military, never smart off to the Drill Sargeants with a remark like this, "Well, Drill Sgt., why don't you teach us perfect practice so we can provide you with perfect practice". Needless to say, I did a lot of push ups, "One Drill Sgt's went to the store, two Drill Sgt's went to the store, what they find? Absolutely NOTHING Drill SGT". Well I ended up living on KP (Kitchen Patrol) Duty for the next week.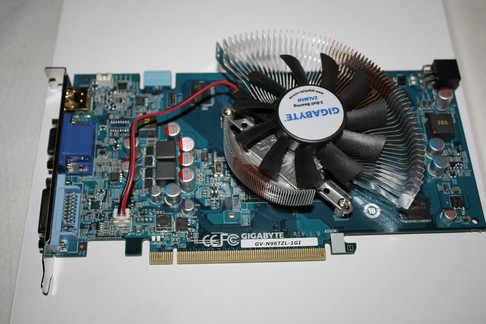 The 9600GT in all its glory.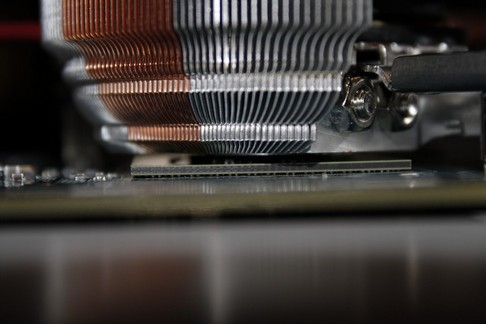 Looking to make sure the video card PCB was not warped from the use of an aftermarket cooler.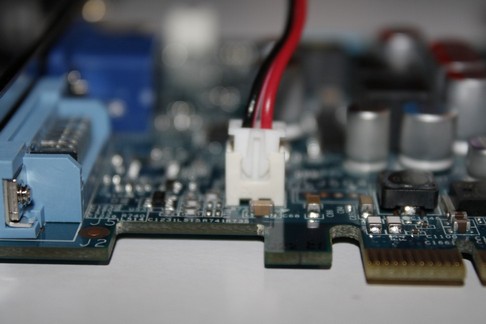 The fan header is in a different spot that I am used to. If it works LEAVE 'R B.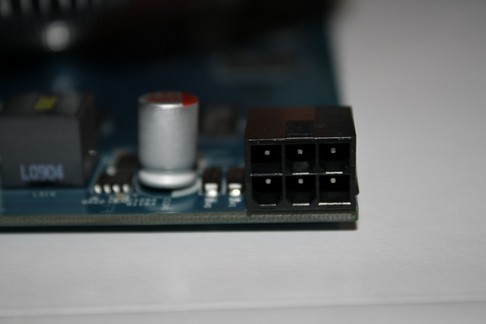 Yep, there is one PCI-E 6 pin power port. So make sure you have an extra PCI-E power plug or use the included Molex to PCI-E power adapter.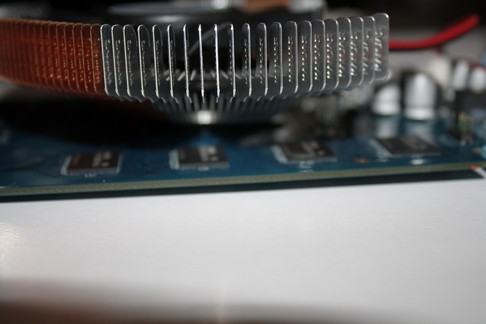 Getting all of the practice I can get. PU close shot of the fins of the VF700 GPU cooler GigaByte used.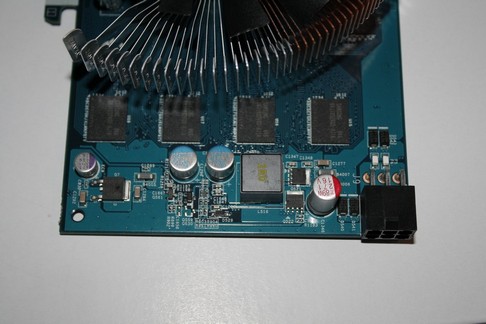 Front side of the video card.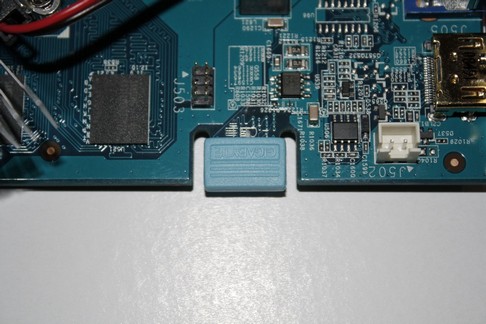 GigaByte used an SLI connector cover as well.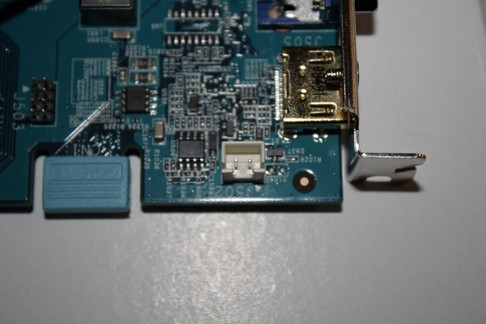 The SPDIF connector on the 9600GT video card.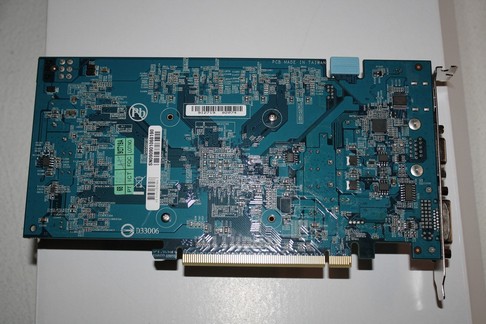 The backside of the 9600GT video card.
INSTALLATION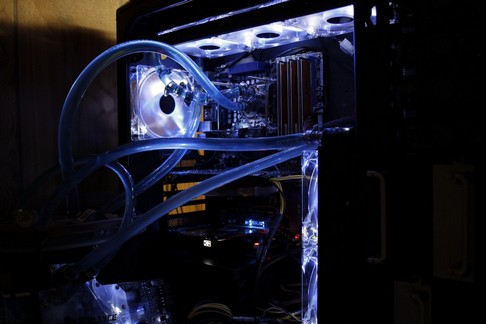 The 9600GT is in there somewhere. Now where did it hide itself? Oh, I see it. Look for the PCI-E power cable and fallow it to the video card. The camera had a dead battery, so consequently, the flash would not work, and when I charged the battery up, I forgot to take a picture of the video card.
TESTING METHODOLOGY
Test Setup &Testing Methodology
CPU
Lapped Core i7 920 @ 4080 MHz
Motherboard
ASUS P6T6 WS Revolution
Case
Coolermaster Cosmos
Memory
Crucial BallistX 1333MHz
Video Card's
GigaByte 9600GT
Hard Drives
 2 x Seagate 2.5″ HDD's Raid-0, 1 160 gig WD HDD Backup.
CDRom Drive
Lite On Sata1 DVD Burner
Power Supply
SilverStone 1200 watt PSU
Type Of Coolers Used
DD MC-TDX
CPU Speeds Used
4080MHz 215 x 19
Operating System Used
Microsoft Windows 7
Type of Software Used During Testing
3DMark Vantage, Far Cry 2, Stalker Clear Sky Benchmark, Mirrors Edge, Hawx
I am probably gonna catch a bit of slack for testing this video card under Windows 7 beta 7048. This is the Operating System I had installed at the time. It also has provided me with the best stability I have ever seen in an Operating System. The drivers I used were the 181.71 directly from Nvidia.com. Because I am using an beta OS, I was unable to overclock this video card further. Under no circumstances did I use this card in Vista 64 bit Ultimate. All of the testing on the following pages were solely done under Windows 7 Beta 7048. For testing purposes I used the absolute highest quality I could use during the gaming runs, with the exception of Mirrors Edge. Instead of maxing out the AA (Anti Aliasing) I used an 8x AA setting. For all the other games listed, such as Hawx, Far Cry 2, and Stalker Clear Sky, I used a maximum of 4x AA and DirectX 10. For PhsyX testing I included a 3DMark Vantage run with both PhysX and without. On Mirror's Edge I did a PhysX run and one without. My purpose was to see how this video card would react with some of the most demanding games to date while they were maxed out visually with a nice factory overclocked CPU. Oh, I should mention, I did make it fair. I only ran two resolutions of 1280×1024, both with AA and without, as well as 1024×768 with AA and with out. So, your results will vary greatly from my own results, as this card would gain or lose performance depending on your system settings (game too) and it is system specific. I did not have an comparable video card available at the time of this review. Also, I do not know what the original card capabilities were or could do.
3DMARK VANTAGE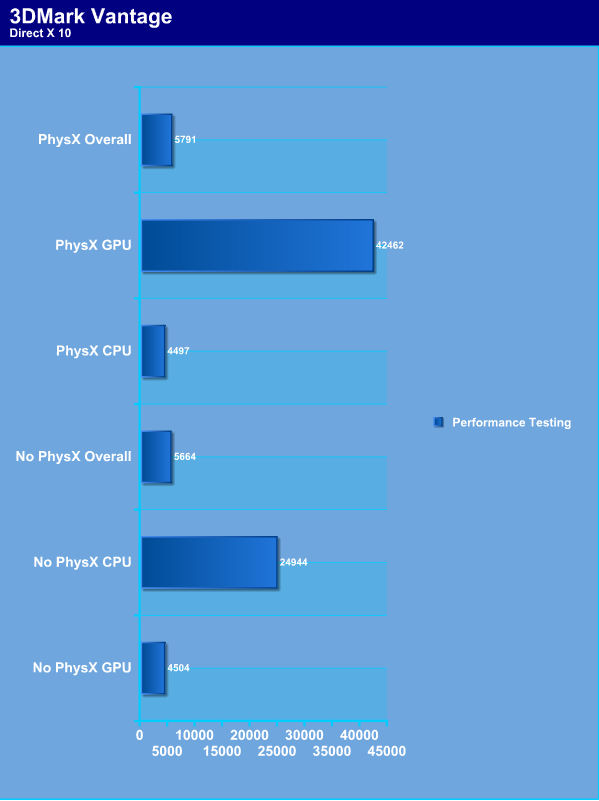 3DMark Vantage's testing is just showing the flexibility of the 9600GT. Also, it visually shows you that this video card can perform duties as a PhysX processor.
HAWX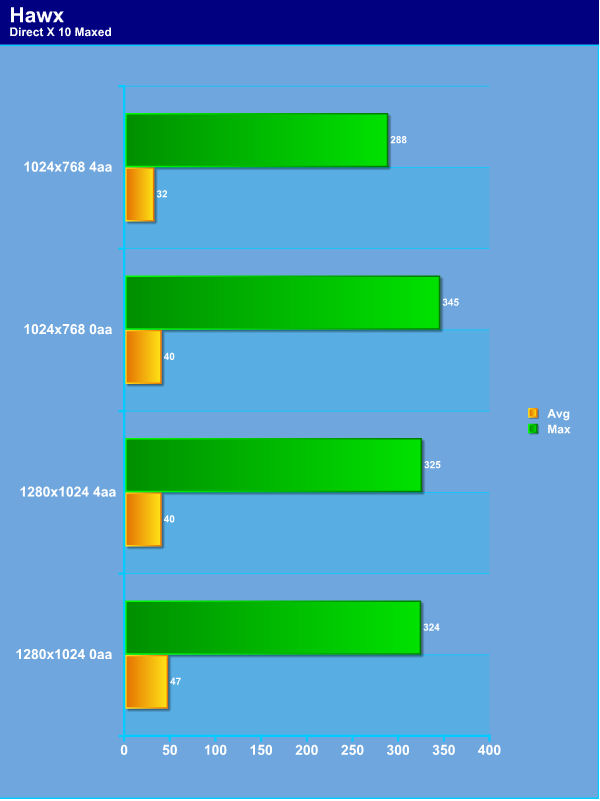 Hawx was not much of an obstacle to the 9600GT video card.
MIRROR'S EDGE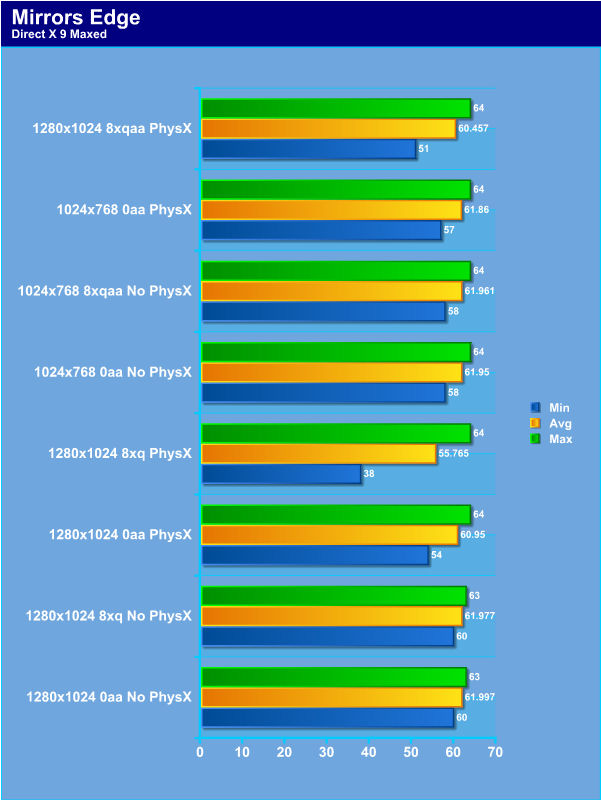 Mirror's Edge is the only DirectX 9 game I used. The biggest difference we see here is when I turn on PhysX vs. turning it off. But, even when I left PhysX on, the 9600GT performed well enough to keep the minimum frame rate above 30 frames per second.
STALKER CLEAR SKY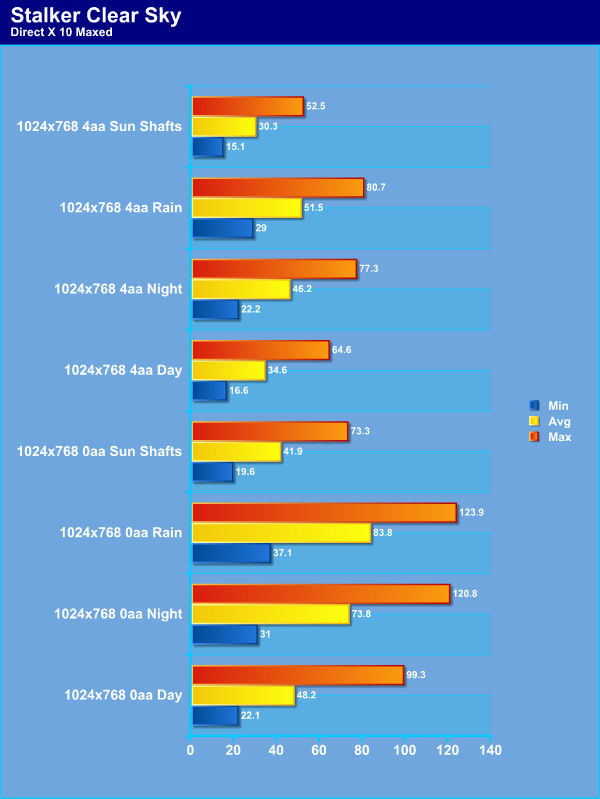 For Stalker testing, the 9600gt video card does manage to handle itself quite well. Looking at the low end of the frame rate, the difference between 4xAA and 0xAA averaged to about 6 FPS. This is a worst case scenario, and your frame rates will improve if minor adjustments are made.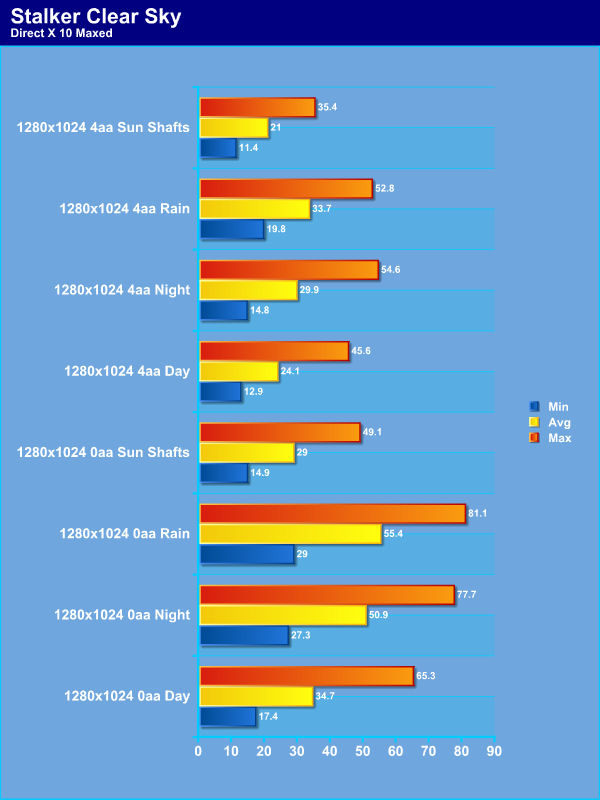 Once again the 9600GT performed as well as expected. Please keep in mind this, Stalker Clear Sky can bring a single video card to its knees quite quickly. Not to mention, I am using absolute maximum settings while in Direct X 10 mode.
FAR CRY 2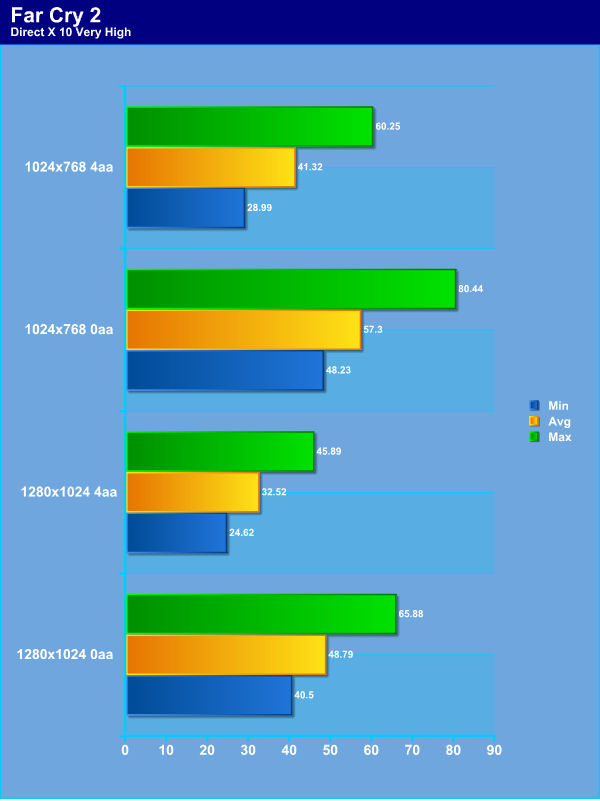 Looking at Far Cry 2 performance, the 9600GT performed very well. Even with 4xAA.
CONCLUSION
The GigaByte 9600GT has proven itself to be a monster performer for its price range. It is also a very flexible video card, being able to play games, work as an HTPC video card, or even a PhysX GPU for those who already own a high end Nvidia video card. By increasing the memory interfacing to 256 bit, it has helped this little card use large textures while maintaining a decent frame rate.
Looking around on the web I seen this video card start at around $110 USD, which again put this in a price point for just about anyone needing or looking for a flexible, yet cheap video card.
Performance 9.5
Value 9
Quality 9
Warranty 9
Features 9.5
Innovation

8
Pros:
+Flexibility of either HTPC, gaming, or PhysX processor (Nvidia cards only)
+Price to performance good
+256 bit memory interfacing
Cons:
–None that I can think of.
Final Score: 8.0 out of 10 and the Bjorn3D Golden Bear Award.