Tired of them so called "Gaming" mice that just do not perform. Well the GM-M8000 miouse from GigaByte is not one of them run of the mill mice we see so much of.
INTRODUCTION
When it comes to todays games we play, we need a mouse that can react fast, have smooth non jarring movements, be able to go from slow precise movements to extremely quick movements with ease, and not have to go into a control panal to do so. Lets face it, them mice of yester year just don't cut it for todays gamers. We as gamers also want to be able to adjust the wieght of the mouse to custoim tailor that part to our every day daily needs,while our mice on multiple mousing surfaces. We also want this to be done effortlessly as well.
GigaByte has ventured into the wonderful world of gaming peripherals, and that includes mice as well. We at Bjorn3d gonna look at a gaming mouse from GigaByte, the GM-M8000 Ghost.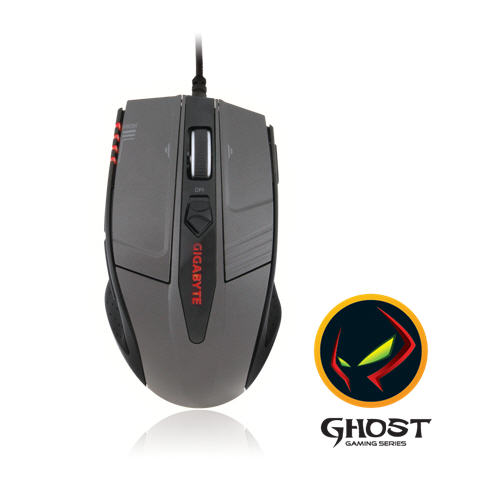 About GigaByte
1986
Founded in 1986, GIGABYTE started as a research and development team and has since taken the lead in the world's motherboard and graphics accelerator markets. To truly reach out to all consumers, GIGABYTE further expanded its product portfolio to include more diverse digital products such as Notebook and desktop PCs, digital home appliances, networking servers, communications, mobile and handheld devices, servicing every facet of people's lives at home or at work.

---

7,070

Up to 2009, GIGABYTE has knitted worldwide networks with 7070 employees in almost every continent to offer the most thorough and timeliest customer cares. GIGABYTE truly believes delighted customers are the basis for a successful brand.

---

100%

GIGABYTE aims for nothing but excellent. With all its outstanding products and designs, GIGABYTE for years has received numerous professional awards and media recognition. What's worth mentioning is GIGABYTE's unmatched record to have 100% of its entry qualified for Taiwan Excellence Award in 11 continuous years of entry.

 

1/10

At least 1 of 10 PCs uses GIGABYTE motherboard everywhere in the world.

---

M1022

GIGABYTE Booktop M1022 is equipped with a 10.1-inch LED backlight screen and the docking station exclusively from GIGABYTE. By attaching the M1022 to this docking station which is also a battery charger, users can turn the M1022 into a desktop and at the same time recharge the battery of the Booktop. Looking like a book that does not occupy much space with its slim appearance, the M1022 is a fashionable home accessory equipped with a 92% full-scale keyboard with 17.5 mm key pitch to deliver a comfortable typing experience.

---

No.1

2oz

GIGABYTE leads the industry with the highest quality and most innovative motherboard design, the latest Ultra Durable 3? technology featuring double the amount of copper for the Power and Ground layers of the PCB. A 2oz Copper layer design also provides improved signal quality and lower EMI (Electromagnetic Interference), providing better system stability and allowing for greater margins for overclocking. GIGABYTE ensures to deliver motherboard with highest quality and leading design.

---

180°

On June 2008, GIGABYTE launched the market 1st touchable and swivel screen mobile pc, M912. With the innovative technology and minimalistic design for truly carefree mobile lifestyles for professional or personal users with different budgets, M912 features the touch screen came with stylus and 180 degree swivel design to transform into a Tablet PC. M912 is the combination of notebook and table PCs that delivers multiple modes for convenience use and leads the industry to follow.

---




Everyday, GIGABYTE aims to "Upgrade Your Life" by knitting a global network to effectively honor its commitment to world wide customers. What's more important, GIGABYTE wishes all users to see and feel the brand through its products and all the touch points from GIGABYTE to the hands of all users.
SPECIFICATIONS
SPECIFICATIONS

Interface
USB
Tracking system
Gaming-grade Laser
Resolution
400~4000dpi (programmable)
FPS(Frame rate per second)
7200 frames per second
Maximum acceleration
20g
Maximum speed
65 inches/ second
Certificate
CE/ FCC/ BSMI
Color
Noble Black
Cable Length
1.8m
Dimension
(L)126*(W)74*(H)43 mm
Weight
145g (Adjust weight add up to 38g )
Packing Contents
Mouse, weights, driver CD, manual
PACKAGING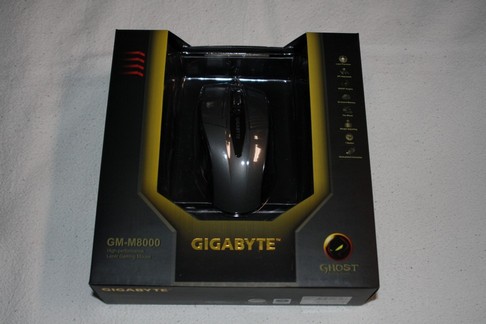 When I get a new toy to review (well now that I think of it, its any new computer toy I get). I can barely contain myself from ripping the packaging to shred's and to just hook that item up and put it to work. With this in mind lets get on with the show so I can start playing, LOL. We need to start somewhere so lets start on the fron of the box/packaging. GigaByte did a pretty good job on packaging thier product. The mouse does not just float around in the box, it is fully secured in a blister type packaging that is centered inside of a card board encasement.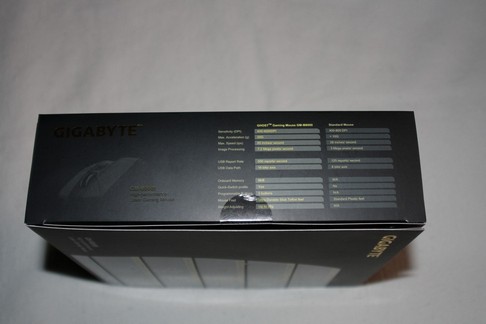 Turning the box over to its side GigaByte lists some general specifications about this peticular mouse. and compares that with a standard mouse.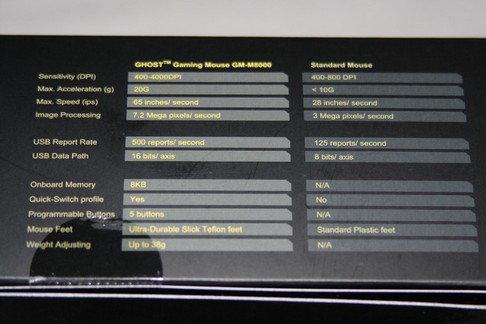 Up close shot of the specifications.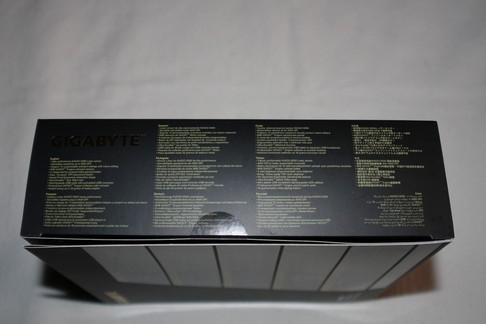 General features of the GM-M8000 mouse. Written in several different languages.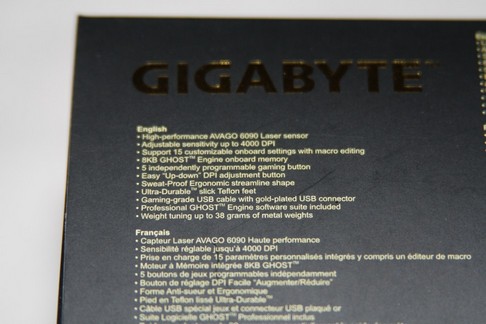 Up close shot of the features, which is in english.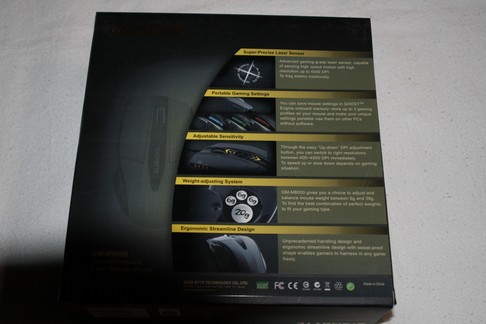 Turning the box over to its back, GigaByte gives us the mouse's capabilities.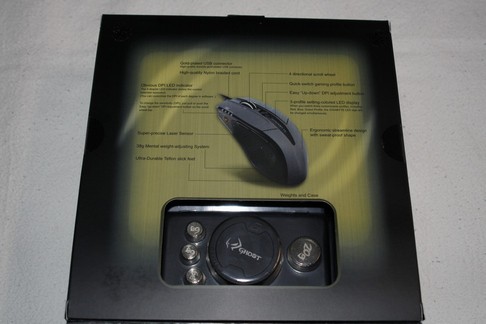 What I found out real fast is that GigaByte used an lid style back for the box itself. So upon opening that, GigaByte lists the main button placements, and also shows us some silver looking discs.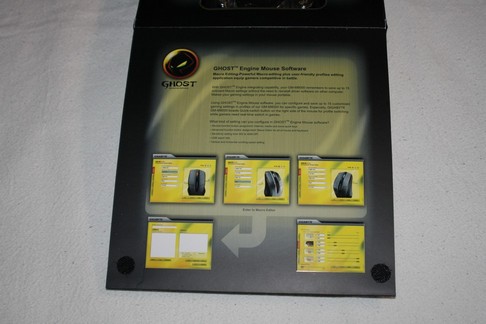 Underside of the back side lid. Giving us information of the "Ghost Software" that is included in with this mouse.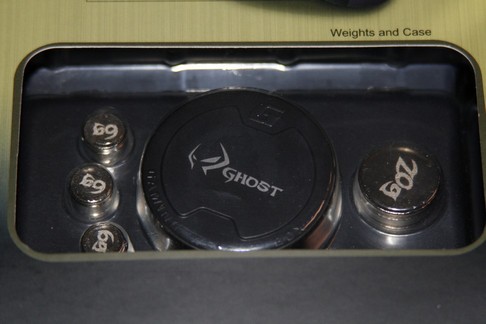 Turns out these silver looking discs are actually wieghts for the mouse.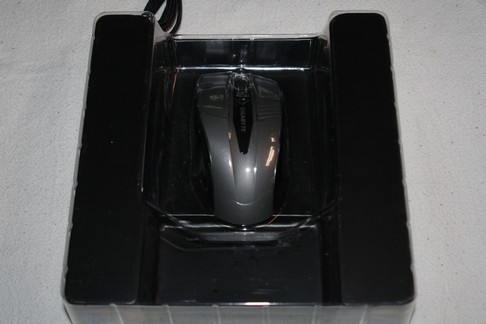 Finally I can open the box up and take out the mouse itself.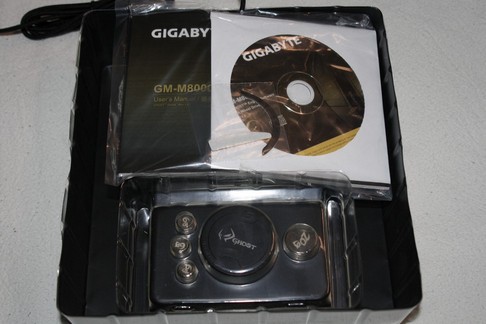 Flipped over the blister package that the mouse was in.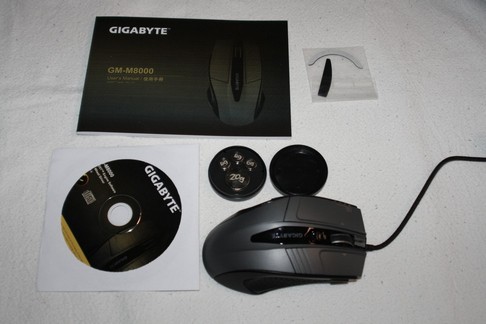 Theres everything laid out for us. Manual (top), Mouse skates (right), CD driver disc (bottom left), extra weights for the mouse with included holder (right), and finally the mouse itself.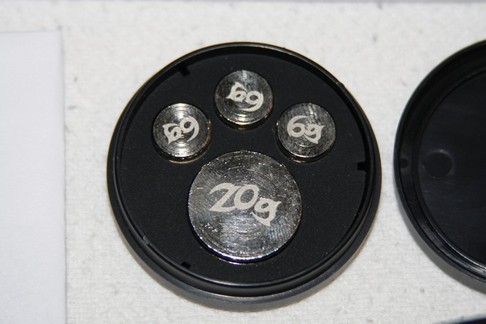 We can customize the wieght of this mouse by adding extra weight if it is needed or wanted. we have 3 x 6 gram weight's, and a single large 20 gram weight. During my testing I ended up using all of these weights in the mouse, as it helped it glide smoother across my mouse surface.
OVERVIEW
I decided not to start off on the mouse itself, but the cord that GigaByte used. Notice its not the everyday rubber coating that we gotten so used to on our mice.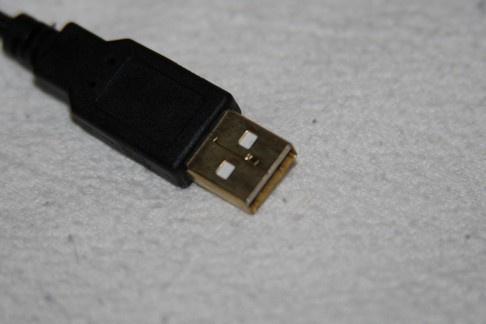 Yep, that is a gold plated USB connector.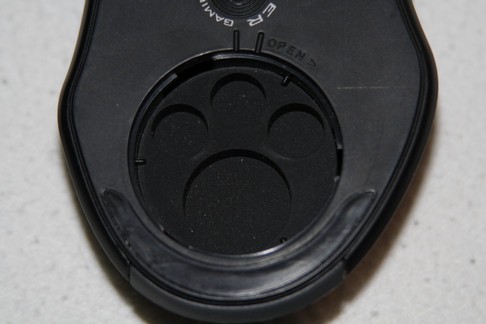 The extra wieght's that GigaByte included get put into on the bottom of the mouse itself. there is a small door, that you twist and remove to gain access to where the wieghts get put into.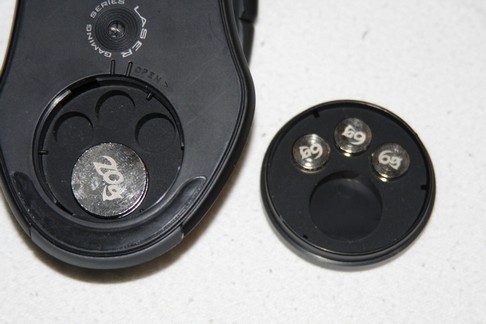 I took a snap shot of the 20gram weight which i started off on, but ended up adding all of the wieght's.
Yes, you are correct that does look like a normal everyday kitchen cutting board we use to cut our veggies/meat/ and anything else we need cutting (fingers are also included) in our kitchens. The mouse looks right at home on this mouse board. And just glides on the surface too.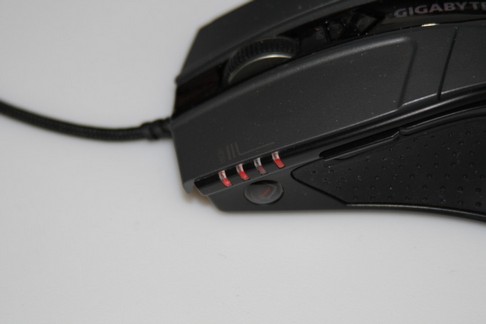 Now the GM-M8000 mouse has a light indicator that informs you what DPI you are currently using. High, medium high, medium, or low, These are dependant on where exactly you customize this mouses DPI settings in the software control panal.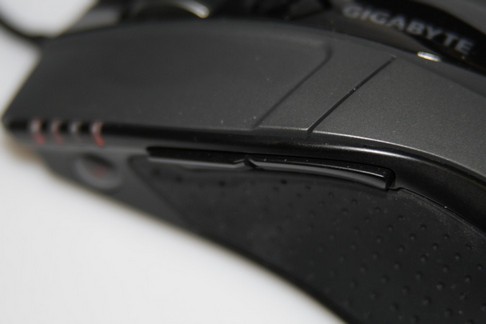 The side buttons, these two buttons are rather high on the mouse.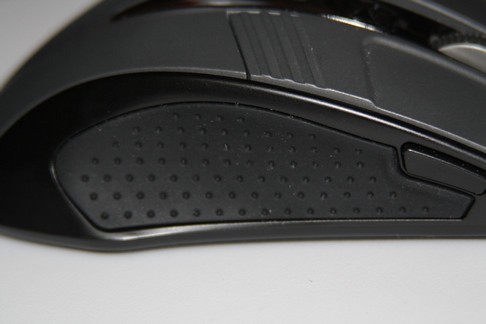 GigaByte used a rubber side to help with our grip. This way the mouse won't be slipping out of our hands when they getting sweaty from long nights of all out killing sprees. Oh, BTW, that is not a button really, that has a different purpose. So far we have two buttons counted.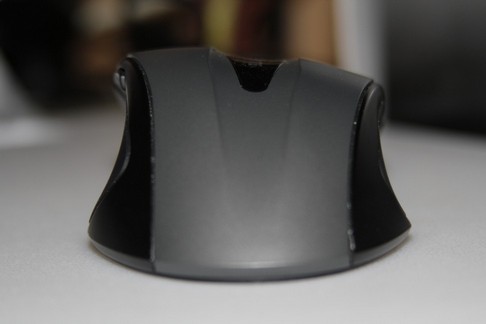 If you are a lefty, then this is not your mouse.
The front side of the mouse. Well natrully we will have two more buttons on this mouse (right and left click) now where is the other three? Well the wheel has the other three buttons. This wheel tilts right and left, as well as down. Giving us a total of seven buttons.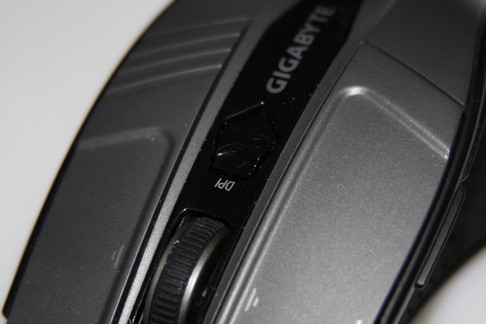 The DPI up/down button are not counted as programmable buttons.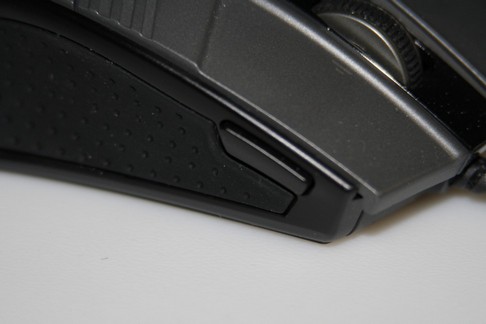 The extra button mystry. If it is not an useable button then what does this button do?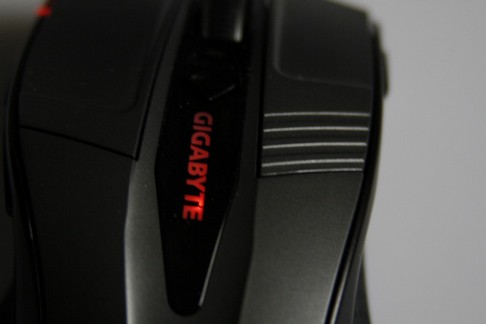 That button changes the colors of the GigaByte symbol on top of the mouse, from red.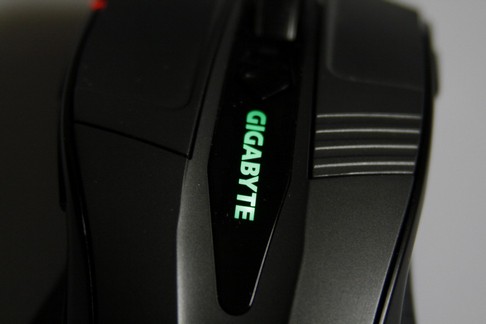 To green.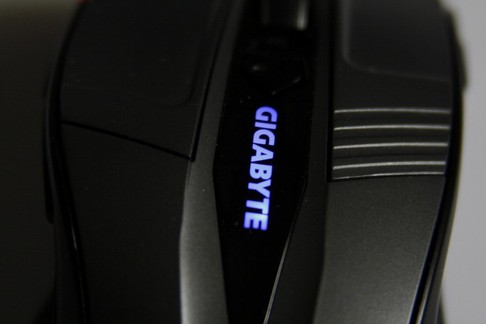 To blue.
Just pictures of my fiddling with the DPI and watching the DPI light go up and down.
TESTING
Well theres not really any way to test the GM-M8000 mouse other then run it. Well I could allways curse at it, yell at it, call it funny names, give it dirty looks, threaten to toss it across the room, and beat on the top of it, just because the computer has crashed, or locked up. Like its the mouses fault the computer stops responding, but it allways seems to get the brunt end of it… Poor mouse. But I will save that type of testing another day, LOL…
The game I chose to test this mouse on was a game I have yet to complete. Even after 5 Years I have never completed this game. And I was determined to finally complete this game come hell or high water this game was going to get started and completed. The game I chose is none other then the Chronicles Of Riddick Escape From Butcher Bay. This game still provides enough good visuals to keep our interests, and uses a combination of movement types we use on our mice in order to complete it. Starting off with this game in the first attempt of escaping Butcher Bay, The gamer needed to go from quick decisive movements, to nice slow and smooth movements. The GM-M8000 Mouse and the on the fly DPI adjustment provided me with these types of movements effortlessly, I would be sneaking around in a dark area, with my weapon in hand just waiting for any type of movement. I hear "Say good Night A**Hole", I drop the DPI down a few notches, scope in and shoot a round right in between the guards eyes, and responded in kind, "good night". Then raise the DPI, because I was now facing multiple enimies.
I ended up Using all the wieghts in the mouse, as it provided me with the best control I needed when moving the mouse across my mouse surface. I also tried this mouse in Paint Shop Pro cutting and pasting various images. Just like my gaming experiences, this mouse ran flawlessly. Dialling up the DPI to a max of 4000, to move across my large screen area, to dropping the DPI to the lowest setting for the precise cuts I needed to make. Then turn the DPI up, and repeat this procedure.
THOUGHTS AND CONCLUSIONS
The GM-M8000 mouse performed very well during testing and general use. The thing that makes this mouse stand out, is the ease of use, the ability to to add weights to custom tailor this mouse to our personal needs, and the visual representation of the DPI setting that the mouse is using at that time. While getting my hand adjusted to the new mouse, it was very comfortable to use and did not cause my hand to hurt or ache. Placing 3 of the 7 buttons of this mouse on the mouse wheel is another plus, this will help take the guess work out of what button does what, and makes access 5 out of the 7 buttons with very little effort. Because our fingers are allready on or near these buttons.
Placing two more buttons on the side has its advantages, but the placement of these on this mouse makes it somewhat difficult to gain access to these. Especially for people with small hands, every time I went to go click on one of these buttons my hand would shift position on the mouse and move my point of view causing me to get my head blown off by the bad guys during my gaming sequence. These buttons could have been placed a little lower on the side of the mouse. The shape of this mouse makes this only a right handed user, so for them lefty's looking for a good mouse that they can use will have to look else where. I do have a "South Paw" daughter and she absolutly hates this mouse because it is for righty's only, my other daughter likes this mouse but of coarse she is a righty her self.
Looking around the web for a pricing for this mouse, I see it goes from around 75 USD. Which puts this mouse a little on the high side for pricing in todays market, but on the other hand this mouse is versatile enough to account for its pricing. If this mouse was suited for both righty's and lefty's I feel the pricing be more substantiated.
Performance 9.5
Value 9
Quality 9
Warranty 9
Features 9.5
Innovation

8
Pros:
+Adjustable weight
+Smooth gliding
+Good placement of buttons
+Comfortable
Cons:
–Only for right hand users
–Awkward postioning of the 2 side buttons for us small handed people
Final Score: 8.5 out of 10 and the Bjorn3D Golden Bear Award.