With the introduction of the Phenom 2 X4 series DDR3 Dual channel is back in the limelight. We have a 4 GB kit of Kingston HyperX 1600 MHz DDR3 to put through its paces.
INTRODUCTION
When AMD brought the Phenom 2 X4 lineup off the drawing board to E-Tailers, it brought with it DDR3 Dual Chanel memory. Of late, the focus has been on Triple channel memory but with Phenom 2 and Core i5 making its debut soon, DDR3 Dual channel is going to be back in the news quickly. To that end we obtained a Kingston HyperX DDR3 1600 4GB Dual Channel Kit to take a look at on the Phenom 2 Platform. We'll be running the HyperX through its paces and putting it against a single 4 GB kit of Crucial Ballistix that runs at 1333 to see if we get any performance gains from moving from 1333 to 1600MHz. Sometimes that little bit of extra speed can mean the difference between a snappy system and a system that seems to drag.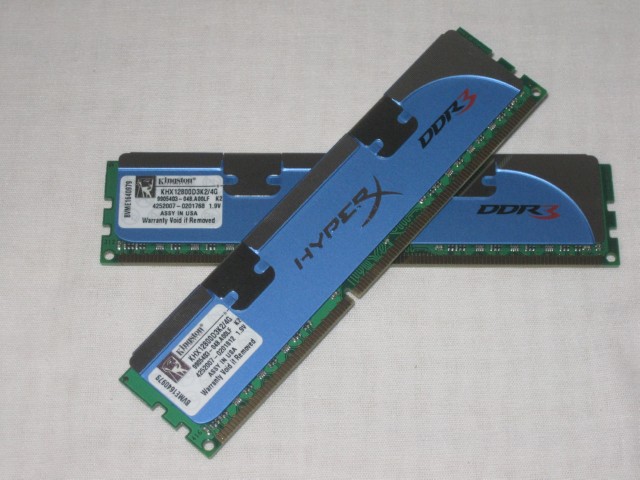 About Kingston
Kingston Technology Company, Inc. is the world's independent memory leader.

Founded in 1987 with a single product offering, Kingston® now offers more than 2,000 memory products that support nearly every device that uses memory, from computers, servers and printers to MP3 players, digital cameras and cell phones. In 2007, the company's sales exceeded $4.5 billion.

With global headquarters in Fountain Valley, California, Kingston employs more than 4,500 people worldwide. Regarded as one of the "Best Companies to Work for in America" by Fortune magazine, Kingston's tenets of respect, loyalty, flexibility and integrity create an exemplary corporate culture. Kingston believes that investing in its people is essential, and each employee is a vital part of Kingston's success.

Kingston serves an international network of distributors, resellers, retailers and OEM customers on six continents. The company also provides contract manufacturing and supply chain management services for semiconductor manufacturers and system OEMs.

At the Forefront of Memory: The History of Kingston

Kingston Technology grew out of a severe shortage of surface-mount memory chips in the high-tech marketplace in the 1980s. John Tu and David Sun were determined to find a solution. They put their engineering expertise to work and designed a new Single In-Line Memory Module (SIMM) that used readily available, older technology through-hole components. A new industry standard was born — and, on October 17, 1987, so was Kingston Technology.
FEATURES & SPECIFICATIONS
Kingston's KHX12800D3K2/4G is a kit of two 256M x 64-bit 2GB (2048MB) DDR3-1600 CL9 SDRAM (Synchronous DRAM) memory modules, with each module using sixteen 128M x 8-bit DDR3 FBGA components. Total kit capacity is 4GB (4096MB). Each module has been tested to run at DDR3-1600MHz at a low latency timing of 9-9-9-27 at 1.7V to 1.9V. The SPDs are programmed to JEDEC standard latency DDR3-1066Mhz timing of 7-7-7-20 at 1.5V. Each 240-pin DIMM uses gold contact fingers and requires +1.5V.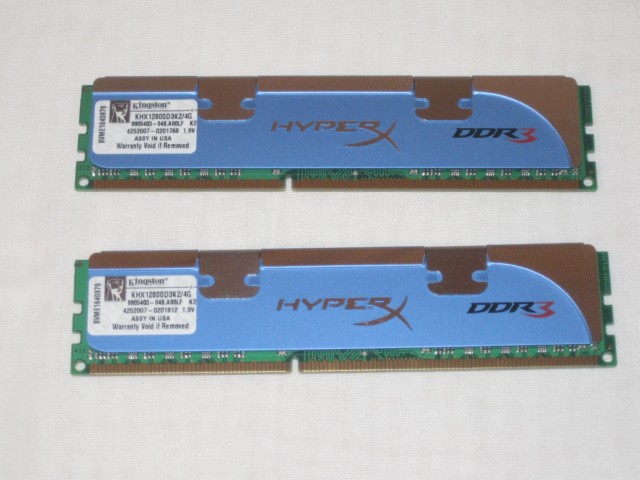 FEATURES
JEDEC standard 1.5V ± 0.075V Power Supply
VDDQ = 1.5V ± 0.075V
533MHz fCK for 1066Mb/sec/pin
8 independent internal bank
Programmable CAS Latency: 6,7,8,9,10
Posted CAS
Programmable Additive Latency: 0, CL – 2, or CL – 1 clock
Programmable CAS Write Latency(CWL) = 7(DDR3-1066)
8-bit pre-fetch
Burst Length: 8 (Interleave without any limit, sequential with starting address "000" only), 4 with tCCD = 4
which does not allow seamless read or write
Bi-directional Differential Data Strobe
Internal(self) calibration : Internal self calibration through ZQ pin (RZQ : 240 ohm ± 1%)
On Die Termination using ODT pin
Average Refresh Period 7.8us at lower then TCASE 85°C, 3.9us at 85°C < TCASE . 95°C
Asynchronous Reset
1066Mbps CL7 doesn't have backward compatibility with 800Mbps CL5
PCB : Height 1.180" (30.00mm), double sided component
SPECIFICATIONS
CL(IDD) 7 cycles (7-7-7-27 1.7v – 1.9v)
Row Cycle Time (tRCmin) 50.625ns (min.)
Refresh to Active/Refresh Command Time (tRFCmin) 110ns
Row Active Time (tRASmin) 37.5ns (min.)
Power TBD W (operating per module)
UL Rating 94 V – 0
Operating Temperature 0° C to 85° C
Storage Temperature -55° C to +100° C
PICTURES & IMPRESSIONS
Kingston ships the HyperX 4 GB kit of 1600 MHz memory in a pretty sturdy clam shell that has the kit's part number and size printed on the label. The Clam Shell was sturdy enough that the kit arrived in pristine condition.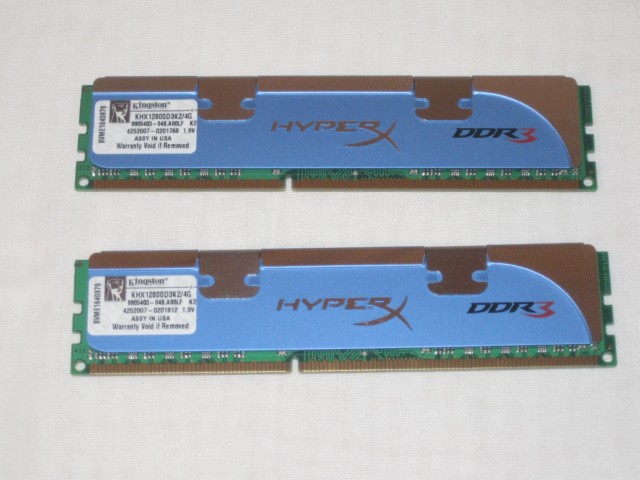 We're using a Fenrir tower CPU cooler in our test rig so it was important to choose a low profile kit of DDR3 to avoid potential conflicts with the tower cooler we chose for the rig. The Kingston IHS (Integrated Heat Spreader) was perfect for this. The heat spreader is a substantial construction and you don't need to be afraid of dislodging the heatspreader clipping the RAM into place.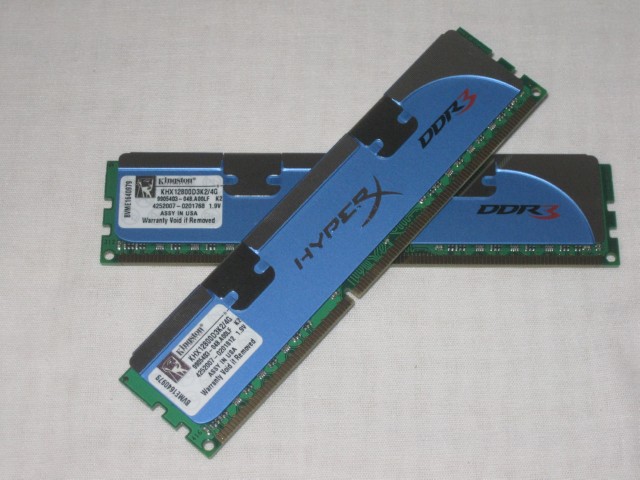 The original HyperX line uses this distinctive heatspreader that looks pretty sharp sitting on the EVGA 790i board we're using today. We chose the 790i  because we are gearing up a huge SLI/Crossfire article and frankly with the size of the article we needed a dependable kit of RAM and to get the rig ready to run some SLI goodness.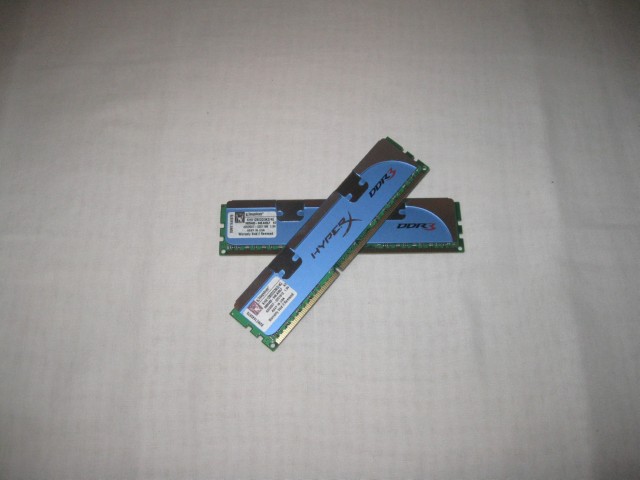 Stepping back from the kit doesn't lessen the impact of the eye. Seeing this kit sitting on your board everyone is going to know that it's an enthusiast kit of DDR3 and not some generic kit.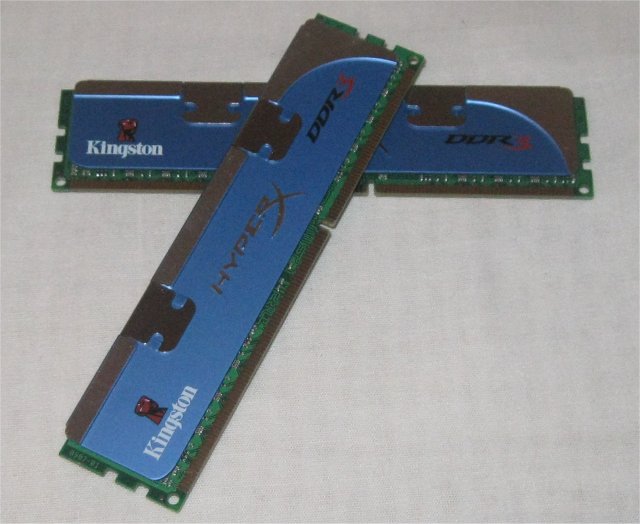 The back side of the kit looks even better than the front of the kit which, like most RAM, has the identification sticker on the front.
TESTING & METHODOLOGY
To test the 4GB Kit of Kingston HyperX 1600 MHz RAM we did a fresh load of Vista 64, updated all the machines drivers, applied all the Vista patches, and disabled any background tasks not required for the machine to run correctly. Then we cloned the hard drive using Acronis in case we should have any doubt as to driver or OS corruption from overclocking. We ran our normal suite of tests against the RAM. Each test was run three times and the average of the three runs reported here.
We also ran the RAM for about a week to get a little break in time and a general feel for the RAM itself. During that week we tried every SPD setting listed by Everest, played games, surfed the internet, and coded reviews. Normal every day activities for us. Benchmarks are fine but we also need to run the RAM outside benches to help round out how we report on it. And let's face it, benches are fine and good and we rely on them a lot, but real life usage and a feel for equipment is just as important as benchmarks.
Test Rig
Test Rig
"Quadzilla"
Case Type
Thermaltake Armor ESA
CPU
Intel Q9400 @ 3.2Ghz
Motherboard
EVGA 790i
Ram
Crucial Ballistix DDR3 1333
Kingston HyperX DDR3 1600
CPU Cooler
Titan Fenrir
Hard Drives
WD 250 Gig Sata 2
Two Maxtor 160 Gig Sata2
Optical
Sony DVD R/W
GPU
BFG GTX-260 OCX MaxCore
Case Fans
Two 120mm Thermaltake Front/Rear Push/Pull
250mm Side fan
90mm Rear Exhaust
90mm Top Exhaus
Docking Stations
Tagan IB290 W/Deskstar 2 1/2 Inch 80 Gig Sata 2
Tagan IB390 W/Maxtor 160 Gig Sata 2
Thermaltake BlackX USB W/Seagate 80 Gig Sata 2
Testing PSU
Thermaltake Toughpower 850 ESA Modular
Legacy
Floppy Drive
Mouse
Razer Lachesis
Keyboard
Razer Lycosa
Gaming Headset
Razer Piranha
Speakers
Logitec Dolby 5.1
Any Attempt Copy This System Configuration May Lead to Bankruptcy
Test Suite
Synthetic Benchmarks & Games
SANDRA XII Professional
Everest Ultimate Edition v.4.50.1330
SuperPi Mod 1.5XS
WinRar v.3.71 Compression Benchmark
EVEREST
"EVEREST Ultimate Edition is an industry leading system diagnostics and benchmarking solution for enthusiasts PC users, based on the award-winning EVEREST Technology. During system optimizations and tweaking it provides essential system and overclock information, advanced hardware monitoring and diagnostics capabilities to check the effects of the applied settings. CPU, FPU and memory benchmarks are available to measure the actual system performance and compare it to previous states or other systems. Furthermore, complete software, operating system and security information makes EVEREST Ultimate Edition a comprehensive system diagnostics tool that offers a total of 100 pages of information about your PC."
The way we have the results formatted in Everest is in GB's.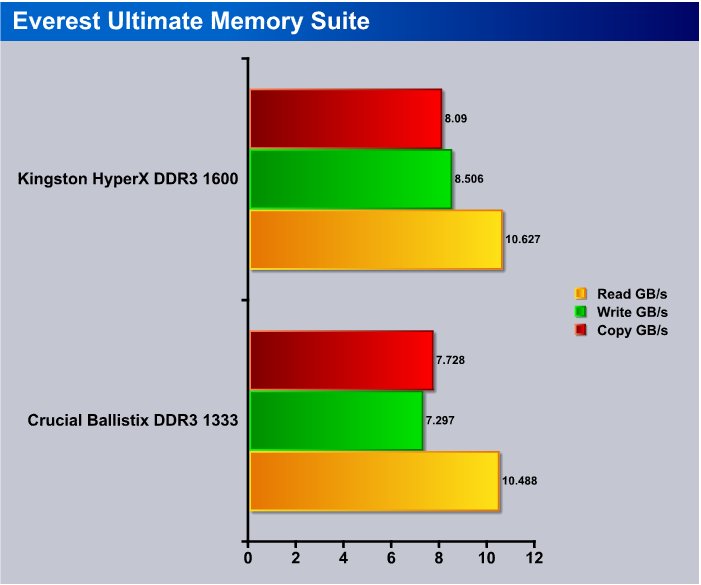 In the Everest Read test we didn't get much difference between the HyperX 1600 kit and the Crucial 1333 kit but when we got to the Write and Copy test we got some pretty significant improvement using the 1600 MHz kit. The difference in speed between the kits is only 267 MHz so we don't expect earth shattering results, but we do expect to see more bandwidth from the faster kit.
SiSoft Sandra 2009 SP1
"SiSoftware Sandra (the System ANalyser, Diagnostic and Reporting Assistant) is an information & diagnostic utility. It should provide most of the information (including undocumented) you need to know about your hardware, software and other devices whether hardware or software. It works along the lines of other Windows utilities, however it tries to go beyond them and show you more of what's really going on. Giving the user the ability to draw comparisons at both a high and low-level. You can get information about the CPU, chipset, video adapter, ports, printers, sound card, memory, network, Windows internals, AGP, PCI, PCI-X, PCIe (PCI Express), database, USB, USB2, 1394/Firewire, etc."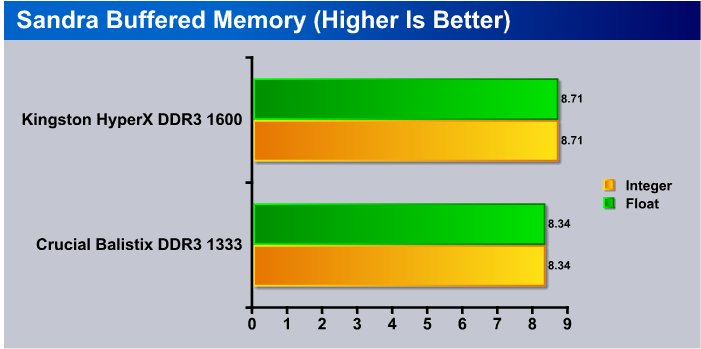 When we got to the Sandra Buffered memory test we got .47 GB/s better bandwidth from the HyperX kit. While that might seem like a small number it's formatting that makes it seem small. That's 470 MB/s faster, every second. Stretch that out across one single minute and you quickly find that it turns into 28.2 GB more bandwidth in a single minute. So while .47 GB/s looks small, translate that into the gain across a minute then an hour and it gets really significant.
WinRar v. 3.8
This module in WinRar generates random data, which contains specially introduced redundancy, increasing the load to both the processor and memory. Data is the passed through RAR compression and decompression algorithms, and the output of the decompression algorithm is compared to the source data. If any differences are found, WinRAR then reports "Errors found – Yes" in the command window. WinRAR displays a size of processed data and compression speed, current and resulting, in kilobytes per second.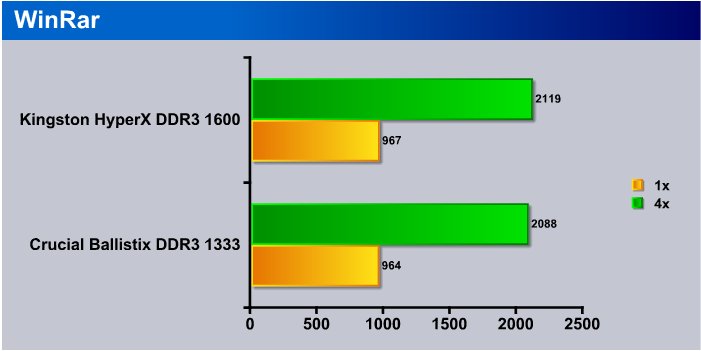 When we moved to WinRar we got some bandwidth benefits from the faster kit. With the difference in speeds just 267 MHz, we didn't get a lot of difference. But once again, if you're compressing or decompressing large files, the added bandwidth is going to add up quickly.
SuperPI
SuperPi is the "Gold Standard" for many when it comes to judging system performance. We ran 1 and 2 MB calculations, again running each test three times and reporting the average of the results.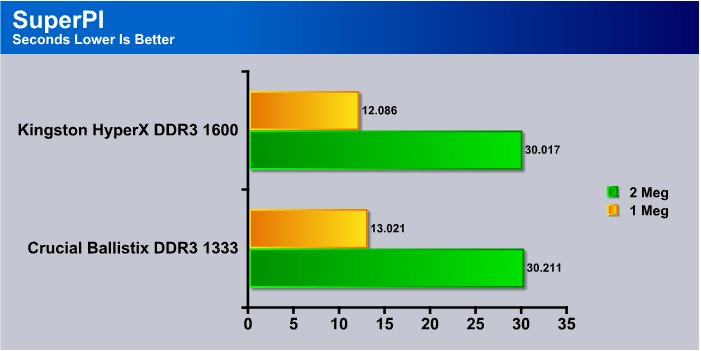 Super PI is a little hard to gauge because of such small differences in the test numbers. In the 1 MB Super PI test we got a .065 second improvement with the HyperX 1600 MHz kit. The 2 MB test shows a .194 second improvement so we are getting some real life benefit from a slightly faster kit. Tightening the timings on the kit or overclocking will get you some more bandwidth.
OVERCLOCKING
Let's take a look at the CPU-Z shot of the whole system running at the Stock Speed.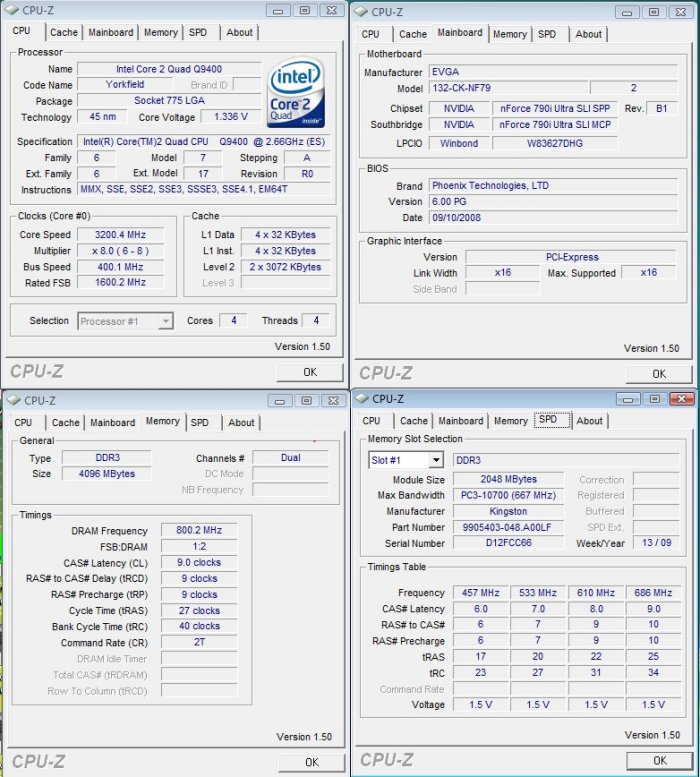 Amazingly enough, we got the kit to its rated speed on the EVGA 790 with nothing more than a voltage bump on the RAM to 1.8v and increasing the North Bridge voltage one notch. The 790i is notoriously hard to tweak RAM on but we needed it ready for a big SLI article so we had no choice but to use it for the Kingston HyperX review. We were quite pleased when the RAM almost plug and played at 1600 MHz.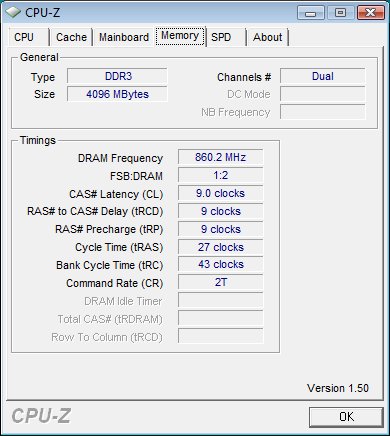 With no voltage increase from 1.8v we were able to maintain the stock timings of 9-9-9-27 and reached a speed of 1720 MHz. Was there more to get from the kit? Yes, there is more overclocking headroom with the kit, or you can tighten down the timings one notch with pretty minimal effort. We hit a speed of 1800 pretty easy but didn't have the extra time to stabilize it on the 790i platform which can take significant time (on the 790i specifically). No fault of the RAM. The 790i is a hag when it comes to tweaking RAM.
CONCLUSION
The differences between a DDR3 1333 and 1600 MHz kit look small on paper. In real life performance and evaluation the 790i responded quicker and the entire system seemed a little snappier. The synthetic benchmarks show that you get improved bandwidth from the faster kit and the small numbers measured in the benches are representative of a single seconds operation. Translate those small gains by the second across a minute of operation and you've transferred 28 GB more data in a single minute. Those small paper gains translate into large gains in the long run.
As always, we like the look of the HyperX lineup. We appreciate still having the option of a low profile kit. Kingston has a new heatspreader on their T1 line of RAM but they also offer low profile heatspreaders which is something companies have been overlooking. In their rush to put a comb like tall heatspreader on RAM, a lot of companies are overlooking the need for low profile ram to fit under modern tower CPU coolers. Kingston has both tall T1 and low profile heatspreaders and in testing we've found Kingston performs as well as a lot of other enthusiast kits. In most cases, better than other enthusiast kits.
Kingston has been around for a long time and they've been pushing into the enthusiast market and their HyperX lineup has been overlooked for far too long. It's less expensive than a lot of brands, yet it still offers the performance and lifetime warranty we look for. Need to supercharge your lagging system? Plug some HyperX into those RAM slots and you'll be amazed at what that single upgrade will do for you.
We are using a new addition to our scoring system to provide additional feedback beyond a flat score. Please note that the final score isn't an aggregate average of the new rating system.
Performance 8
Value 9
Quality 10
Warranty 10
Features 8
Innovation 8
Pros:
+  Effective heatspreader
+  Looks nice
+  Price/Performance Value
+  Not as expensive as a lot of enthusiast kits
+  Solid Construction
+  Kingston Name And Lifetime Warranty Behind them
Cons:
–  Not entirely plug and play but still easy to install
–  LGA 775 doesn't do justice to DDR3
The Kingston HyperX 1600 MHz 4GB kit is an exceptional value for the performance you get from a killer looking set of ram, for the price you pay you'll be hard pressed to find a better value that performs at this level so it scores an: 8 out of 10 and the Bjorn3D Seal Of Approval!