Spire has come up with a card reader that is simple enough for us to use, small enough to carry around from place to place. Lets take a peek at the CombiPod from Spire.
INTRODUCTION
With all of the card readers out there on the market now, makes choosing one a difficult one. Not to mention when you need a card reader you never seem to have one on hand, lol. Next question we need to ask our selves when it comes time to purchase a card reader, do we get one that fits in a 3.5″/5.25″ bays? Or do we get one that sits out side of the chassis? I am going to show you a card reader that sits out side of your chassis, and is somewhat stylish to boot.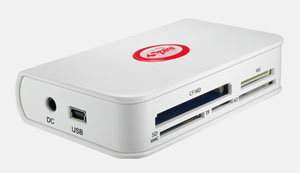 About Spire
Spire-Powered by Innovation: Founded in 1991, Spire is a leading premier brand for computer thermal solutions, power supplies and enclosures. In order to meet the requirements and demands of the global market, we have established our production facilities and corporate office in ShenZhen, China. Our overseas branches are located in USA, The Netherlands, U.K, Germany, France, Taiwan, Japan and Brazil. All locations are strategically located to better work with the customers we serve.

Spire ideals, to which our employees give full recognition, are (1) constantly striving to become stronger, (2) being sincere and active and (3) seeking the latest innovative technology. After years of hard work and dedication in running its business, Spire today is a major presence in three major business fields: computer thermal solutions, power supplies and pc cases. It has received full recognition in its products as well as its services. The purpose built Spire factory and all of the products were approved by CE, UR, CSA, and TUV in 1998. We gained AMD and VIA approvals along with recognition by International Standard Commission for Quality Assurance in 1999 against ISO-9001 & ISO-14001. Spire is also proud of shipping all its products compliant to the standards of The European Union ROHS and WEEE.

Spire Products are dedicated to bringing you the latest technology in computer cooling as it becomes available and to offer a variety of solutions to combat the growing concern of overheating. With today's high-speed processors functioning at an unprecedented speed and output, the demand for better and more reliable cooling solutions has become one of the most important issues in the computer industry today. As a premier manufacturer of high quality cooling solutions, we are able to meet the demands of the computer industry by providing competitively priced products, next day delivery and lifetime warranty. With reliability of products having such high precedence in the business, Spire has earned the loyalty of many well known manufacturers and distributors throughout the world. We have maintained close business ties with international names in the computer industry.
 


Corporate office USA-CA


Branch office Netherlands
 

| | |
| --- | --- |
| | At Spire we continually strive for success and quality products. To improve and develop a wide range of computer products, we have invested heavily in our quality manufacturing process and Research & Development. Our objective is to provide top quality products for national distributors as well as for ODM and OEM clients. Our focus is to build on the current success of the Spire brand so that our brand is recognized world wide as a provider of top quality computing solutions. We will continue to work to maintain the satisfaction of our customers and share the knowledge of our experts – Spire 'Powered by Innovation'. |
SPECIFICATIONS
| | |
| --- | --- |
| Product Specification | |
| | |
| --- | --- |
| Application | Multi card reader & USB Hub |
| Bracket slots | 4 slots |
| Certifications | CE, RoHS, FCC |
| Colors | Black, White |
| Connectors | USB 2.0 |
| Data transfer | 1.5/12/480 Mbit/sec |
| G.W. Weight | 169g |
| Housing | Plastic |
| Interface | Motherboard 9pin / USB1.0 and 2.0 |
| OS support | Win 98/2000/ME/XP/Vista, Mac OS 8.6/8.8/OSX |
| Package Includes | Driver CD;Manual;Screws |
| Packaging | Retail Blister |
| Power | USB |
| Specifications | support memory cards:compact Flash type I/II,MS,SD,MMC,XD,SM etc. |
| Support | CF/MS/XD/SD/TF compatible |
| Version | V2.0 |
| Voltage | DC 5V |
| Warranty | 3 Year Limited Warranty |
PACKAGING
The Combipod card reader comes in a standard plastic blister packaging. Spire, lets us know this will work on either Window, based computers or for Apples Mac's. This model is white in color.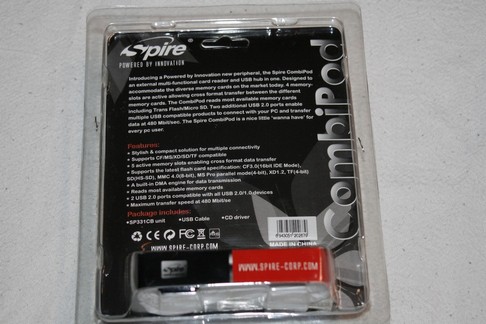 Flipping the packaging over to the back side, Spire gives us a quick introduction and the features of this card readers capabilities.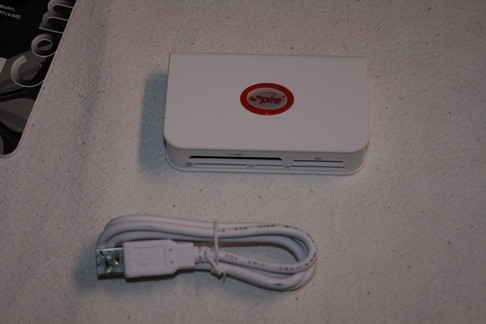 What comes in the blister packaging, a mini CD-ROM disc (not shown because it wandered off), the card reader, and the USB connector cable we will need to hook up to our computers in order for us to use this device.
OVERVIEW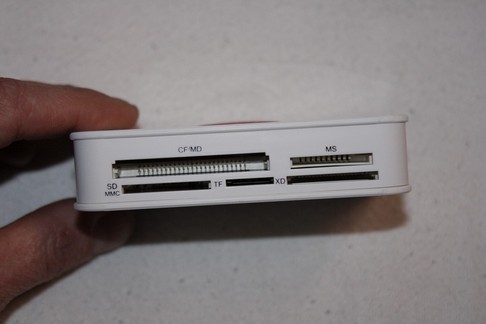 Lets get a quick oveview of the card reader. Looking at where the cards will be plugged into. this card reader handles the five major types of cards out on the market today.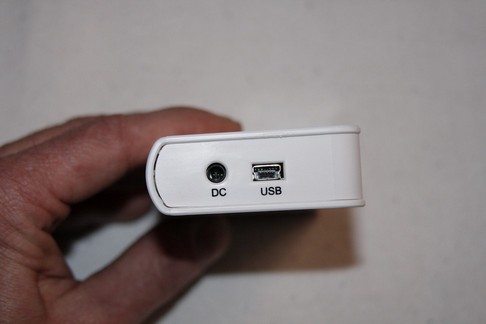 Flipping the card reader over 90° to its side where the USB cable gets plugged into. Whats this? this unit can use a power adapter for them devices that may need that extra boost. But one small problem, no power adapter was included.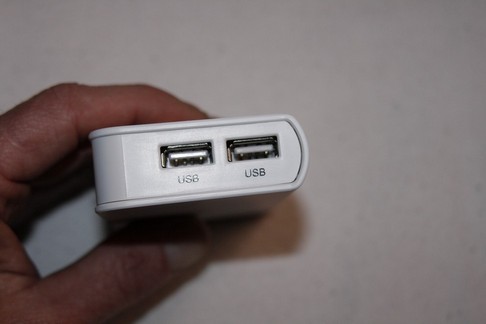 This is a unique little extra, this card reader has two USB ports on the other side. so this way when you use one USB port on your computer you get two back.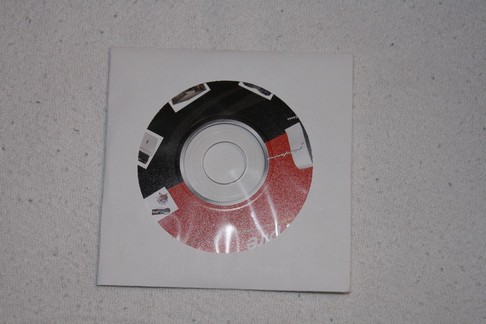 Ah ha, I found that delinquent mini CD-ROM disc.
TESTING
Well before I go and test this unit, I need to hook it up to the computer first.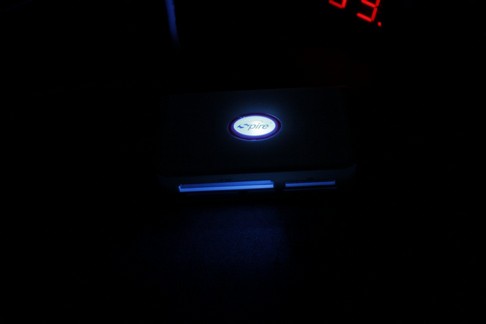 A night time shot of the Spire Combipod card reader. If anything this little card reader looks good when the light are out.
Me shooting the two ends of the card reader at night.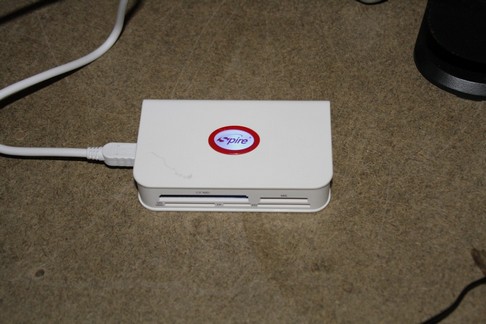 A day time shot of the Combipod card reader. I tried to get a picture of the card reader when a card was used to show you that it changes colors from a blue to a red, on the Spire emblem, but I was unable to, because the one and only SD card I have is/was needed for my Canon Rebel XSi camera. I cant even take a picture of the card that was used for testing.
The SD card I used for testing this card reader is a PNY Optima SD 60minute, or 4 gig capacity card.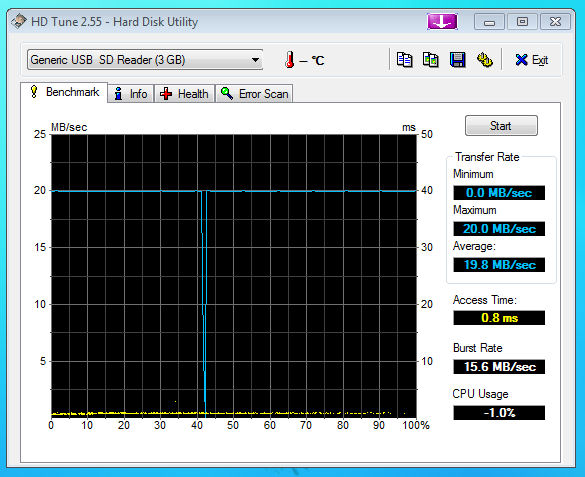 Heres a SS of HDtune of how the card reader did with my SD card. For some odd reason my card just tanked for a few secs but picked right back up, any who, as we can see we are seriously limited by the bandwidth of the USB port.
CONCLUSIONS
The Spire USB CombiPod card reader is a little device that looks good works well, and is flexible enough for our daily needs. If we need to tote this little device from one computer to another it is small enough for us to do so. the extra two USB ports on this little device gives us that something extra in case we may need that USB port this device took over. The only real complaint I have with this device is not including that power adapter that device could use. I have a USB HDD, that is also powered by the USB, and when I plug that drive into this device it would not power up properly. Its an added extra purchase I will need to make tin order to hook up my HDD.
Looking around the web I found out this little device can be bought for around 10 USD. For such a low price even I can overlook some things.
Pros:
+Looks good sitting next to your computer
+Price is low enough for any one to purchase
+Extra USB ports
Cons:
–No included power adapter. I would pay an extra few bucks for a included power adapter
7.0 out of 10 and the Bjorn3D.com Seal Of Approval.