Titan recently released the Titan Fenrir CPU cooler it's another in a long line of very successful tower cooler designs. Will the Fenrir be able to tame the core i7 965?
INTRODUCTION
If you're sitting on a monster CPU you know the importance of keeping it nice and cool. Most overclockers and high end users know about aftermarket CPU coolers. Unfortunately, a large percentage of end users never give it a second thought. We've seen systems come directly from major websites with the wrong CPU cooler, too small a CPU cooler and pieces of plastic stuck between the CPU and the Cooler. CPU cooling bares a little thought and scrutiny. If you're still sitting a stock CPU cooler on your CPU, perhaps you should look up the term pre-planned obsolesce. That would be planning a part or component in such a way as to cause it to fail prematurely in order to get the end user to buy a new one. Well, stock CPU coolers aren't quite that bad, but they're close. In a lot of years we've never really seen a stock CPU cooler that cools the CPU properly and none have ever provided and measure of overclocking headroom.
Today, we're going to look at a tower type CPU cooler from Titan called the Titan Fenrir. If you're sitting on a stock cooler or you aren't happy with your current cooling solution, stick around and take a look at the Fenrir. It not only cools the CPU effectively, it manages to toss a little flair into the mix.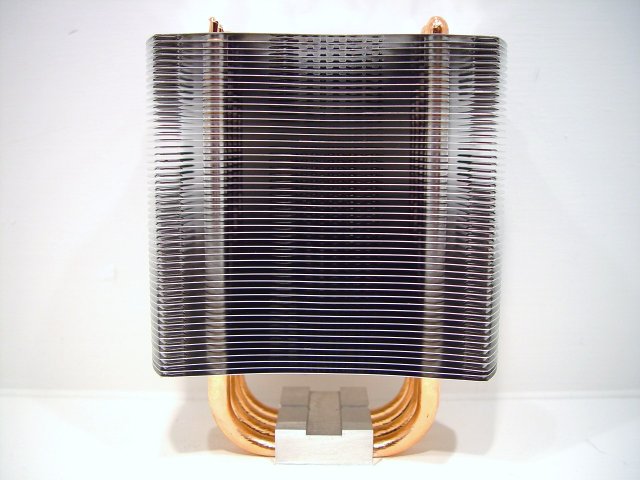 About Titan
TITAN COMPUTER CO., LTD. was established in Taiwan by a group of progressive and experienced engineers in their respective fields. Since our establishment with over 16 years of manufacturing experience with high quality cooling devices for various kinds of PCs, we have successfully gained worldwide recognition for our innovative designs.

TITAN is headquartered in Taiwan and has its own two factories, total approximate 20,000 square meters. Both are located in Guang Dong- China, China. There are around 1200 employees, which provide combined efforts a production capacity of output 1.2 million units per month. TITAN is also leading manufacturer of various thermal products such as: CPU Coolers, VGA Coolers, H.D.D coolers, System Blowers, D.C fans, Heatsinks in comprehensive solution of cooling systems in different applications of PC systems.
FEATURES & SPECIFICATIONS
For AMD Socket AM2+/AM2/AM3/940/939/754/K8
For Intel Socket 775/1366
PWM intelligent controller: automatically adjust fan to provide wonderful balance between performance and rumble generated from CPU
12cm large fan : cover whole area for system cooling + Superior silent performance at 17dBA only
Heat Pipe Direct Touch: provide the maximum heat conductivity and draw heat away immediately
Unique fin design: reduce air resistance to enhance cooling performance
The Titan Fenrir features a fairly new method of cooling called Heat Pipe Direct Touch and that's pretty self explanatory. The heat pipes actually come into contact with the CPU. With that design we've seen good and bad. If the heat pipes are milled and polished correctly and it's a tight fit between the rest of the coolers base and the heat pipes, they tend to perform pretty well. If they fit loose or the thermal material isn't properly applied, they're little better than stock heat sinks.
Having had hands on four or five Direct Touch Heat Pipe CPU coolers, we've come to the conclusion that it works best if you spread a small amount of thermal compound across the base of the CPU cooler to ensure that all the gaps are filled. Then apply thermal compound to the CPU heat sink like normal. This ensures that the small cracks on the base of the CPU cooler are filled with thermal compound and the cooler will perform as advertised. Forget to fill those cracks and you've left a pocket of air where thermal compound should be and air is a great insulator. Your CPU will run hotter.
The Titan Fenrir also uses an intelligent CPU fan controller called a PWM intelligent controller. It will auto adjust the fan for optimal performance. The fan included with the Fenrir is a nice 120mm fan that moves a significant volume of air. That's important because a lot of vendors toss in a fan that is silent but doesn't move a good volume of air. The heat pipes run up through the fins and the fins help to remove the heat with the help of the fan. The fins on the Fenrir are amazingly straight and flat which helps the airflow to not be restricted. Handle your CPU coolers with care. Don't bend those fins. Bending them causes air to be diverted from its intended path and obstructs airflow. As much as possible, handle it by the base of the cooler to help protect your cooler's fins.
Titan Fenrir TTC-NK85TZ Specifications
Outline Dimension: 156 x 124 x 107mm

Fan Dimension: 120 x 120 x 25 mm

Rated Voltage 12V DC

Rated Current: 0.32A

Power Consumption: 3.84W

Rated Speed: 800~2200 RPM ±10%

Airflow: 33.2~78.41CFM

Static Pressure: 0.02~ 0.11 InchH2O

Noise Level: <17.2 ~ <39dBA

Bearing Type: Z-axis Bearing

Lifetime: 60,000 HOURS
The Fenrir isn't any taller than most of the tower coolers we've seen but you still need to make sure that your chassis will accommodate it. The cooler itself is 156mm tall by 124mm long and 107mm wide. It's not a dainty little thing by any means so make sure you're not in some little toy chassis before you pick one of these up. The 120mm fan is a standard 12v fan and is rated for 800 ~ 2200 RPM plus or minus 10%. While a lot of coolers come with 53 CFM fans in order to make silent a marketing point, the fan on the Fenrir is capable of 33.2 ~ 78.41 CFM. The fan will auto adjust as needed to keep the CPU cool. If the fan is running at maximum CFM (Speed), it can reach 39 dBA, so you will probably hear it if you have a flimsy chassis. We're using solid steel Thermaltake chassis lately and inside one of those well built tanks it's all but inaudible, which is part of the reason we like the Thermaltake series of chassis, they dampen noise well.
PICTURES & IMPRESSIONS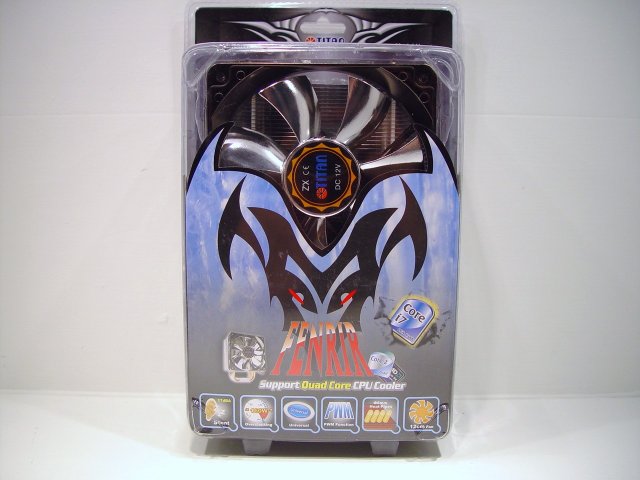 The Titan Fenrir comes in an attractive plastic clam shell that protects the product well enough so that it will survive shipment unscathed. It has an interesting almost Norse looking graphic on the front.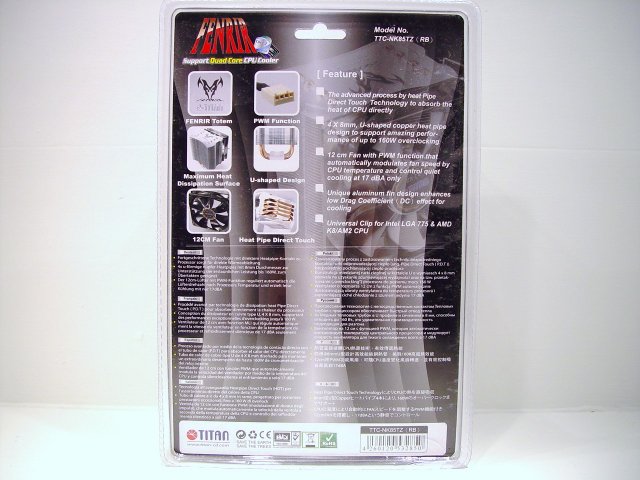 The back of the package has some general information about the Fenrir as well as some small pictures of the different features.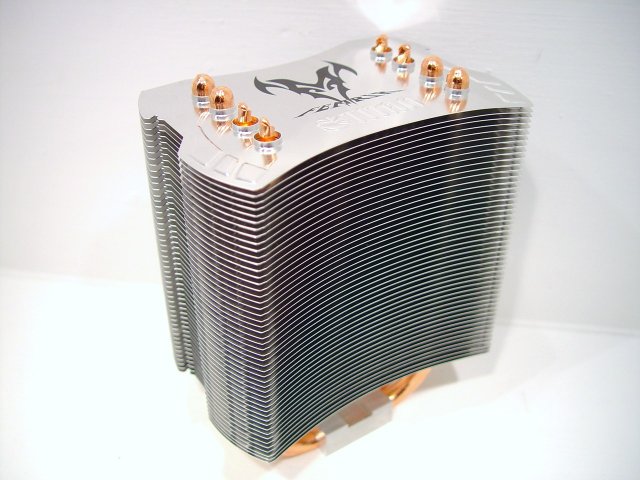 The Direct Contact Heat Pipes are all Copper but the base they are seated in appears to be aluminum. The fins on the Fenrir are very straight and level. You can tell that it is very well constructed and the smooth even fins show they take great care and handling when manufacturing and shipping the Fenrir.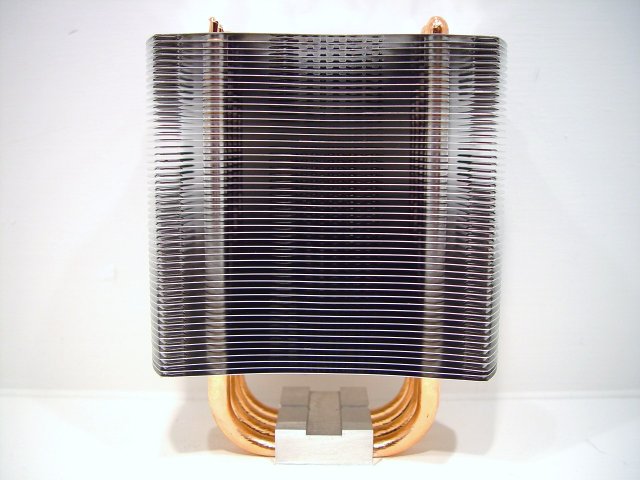 Here's the best "through the fins shot" we could get to show you just how level and even the fins are. Some people might take that for granted but having reviewed quite a number of CPU coolers over the years we can tell you that's not the norm. On most coolers, at least one fin and usually more are deformed slightly. Most of the time, if you spend a few minutes juggling the CPU cooler around in your hands while looking at the packaging you will see the fins were bent during shipping. That wasn't the case with the Fenrir. It was in pristine condition and we've only seen one other cooler come out of the box in this good a shape (the Thermalright Ultra 120).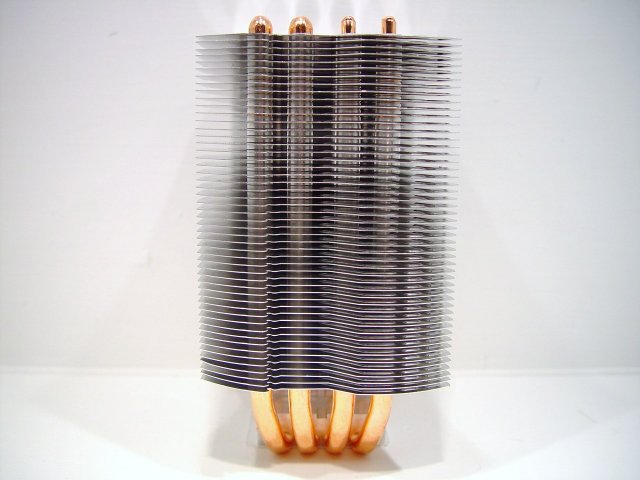 From the side you can see that your looking at a 4 heatpipe cooler but the heat pipes go to both sides so they're releasing the heat to 8 different areas of the fins.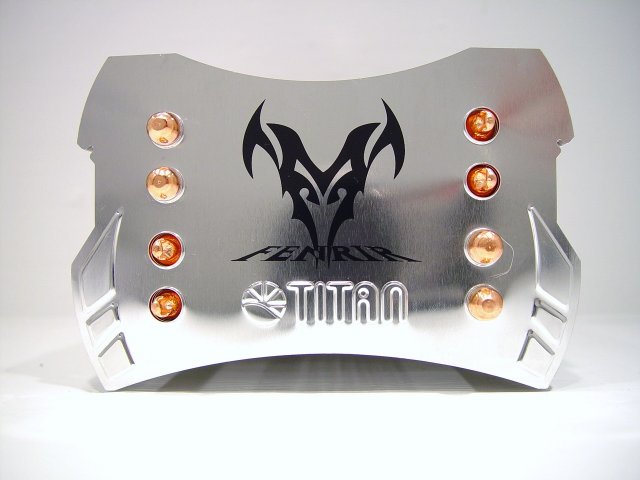 The same graphic that was on the front of the box is on the top of the Fenrir, we've been kicking the graphic around the lab and we've decided it's either a mutated Ram or a Wolf with a lot of ear wax.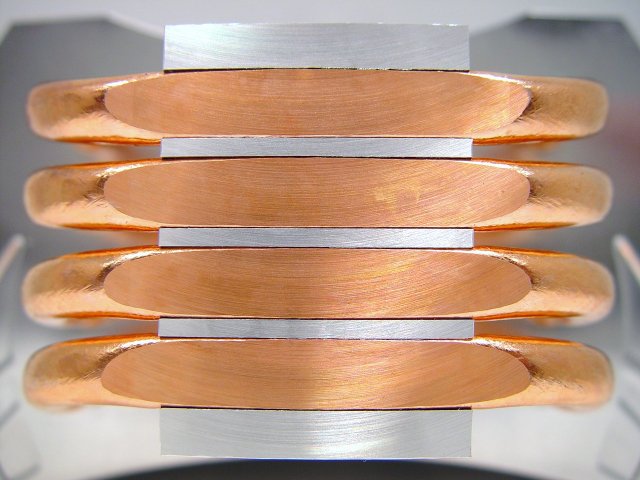 Notice that the milling on the bottom of the Fenrir is pretty good by most peoples standards. We would have liked to see a little more polished look. Take a look at where the heat pipes come to the edge of the CPU block and you'll notice the little gaps we mentioned. Just a small gap that isn't filled with thermal compound will have an impact of the CPU cooler's capability to cool your CPU. Pack those puppies with thermal material like aunt Martha packs her wrinkles with cosmetics (thoroughly).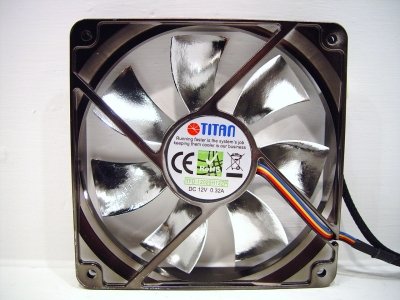 The (up to) 78.41 CFM fan on the Fenrir is a seven blade design and it's chromed out, meaning some chrome looking material over plastic. Overall, the construction of the fan is pretty solid and we don't have any complaints about it. Please note Titan sent us a Green Vision fan and we're not using it in this review but saving fans for a fan roundup at a later date.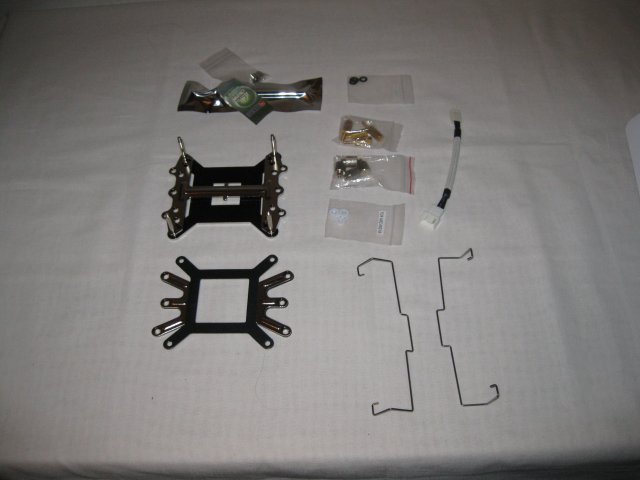 In the box with the Fenrir you'll find:
LGA 1366 mounting plate
Universal LGA 775/AMD Mounting Plate
Universal LGA 775/AMD Back Plate
2 – Fan Mounting Wires
4 pin to 3 pin power adapter
4 – Brass Risers
4 – Phillips head screws
2 – Sets of insulating washers
Royal Grease Thermal Compound
thumb screws
Instructions for mounting (Not Pictured)
If we had to pick one thing out about the Fenrir we didn't like it would be that it only comes with two fan mounting wires, and the back side of the CPU cooler is concave so mounting a second fan would not only be hard but yield questionable results.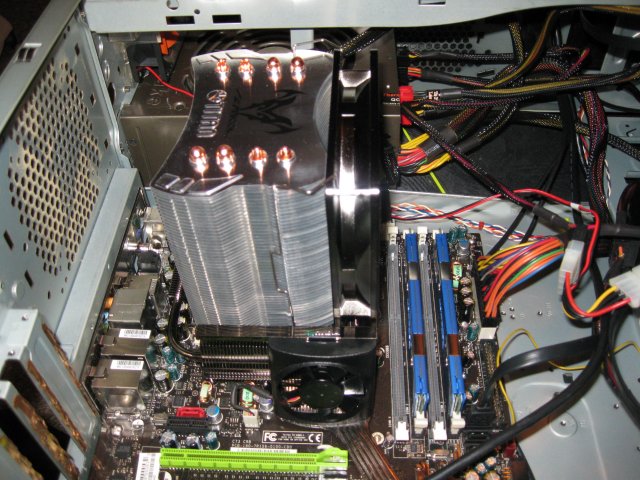 Here's what it looks like mounted on one of our test rigs. We moved it to the Intel Core i7 platform a little later but we were in a rush to run some triple SLI on the EVGA 790i so we popped the Fenrir on there before putting it on our Core i7 965 rig. We thought we'd show you the 790i shot because it fits on that board with no problems. It should fit most boards. The 790i is known to have a lot of clutter around the CPU socket.
TESTING & METHODOLOGY
To test the Titan Fenrir we mounted it on our Asus P6T with the Core i7 965 for the CPU. We didn't bother with a fresh load of Vista 64 because it's not important in CPU cooler testing. As long as we can fire up Prime95 for 30 minutes without the rig crashing and idle at the desktop for 30 minutes we're good to go. The 790i is one of the boards with a lot of taller cooling implements around the CPU socket so if a cooler fits on this board, chances are it'll fit yours.
We Idled the machine for 30 minutes and took the Idle temperatures. Then, without shutting it down we ran Prime95 for 30 minutes and took the load temperature. After getting the load temperature we shut it down for 30 minute to cool it off then repeated the process three times for each cooler. The average of the three test runs are reported here.
Please note that we included our Swiftech Custom Water Loop in testing but only for informational purposes. Comparing air cooling to water cooling isn't something we do but we wanted you to have the information about the water loop temperatures. Keep in mind the custom water loop is valued in excess of $200 (USD) and the air coolers cost much less. That's another reason comparing custom water to air just isn't fair. However, if you're looking for better cooling than air the testing numbers are there for you.
Test Rig
"Quadzilla"
Case Type
Thermaltake Armor ESA
CPU
Intel Core i7 965 Extreme (3.74 GHz 1.3275v for overclock testing)
Motherboard
Asus P6T Deluxe OC Palm Edition
Ram
Corsair Dominator GT 1866 7-7-8-24
CPU Cooler
Titan Fenrir
Thermalright Ultra 120 RT
Noctua NH-C12P SE
Custom Water Loop
Hard Drives
WD 250 Gig Sata 2
Two Maxtor 160 Gig Sata2
Optical
Sony DVD R/W
GPU
Leadtek GTX-260
BFG GTX-260 OCX MaxCore
In SLI
Case Fans
Two 120mm Thermaltake Front/Rear Push/Pull
250mm Side fan
90mm Rear Exhaust
90mm Top Exhaus
Docking Stations
Tagan IB290 W/Deskstar 2 1/2 Inch 80 Gig Sata 2
Tagan IB390 W/Maxtor 160 Gig Sata 2
Thermaltake BlackX USB W/Seagate 80 Gig Sata 2
Testing PSU
Thermaltake Toughpower 850 ESA Modular
Legacy
Floppy Drive
Mouse
Razer Lachesis
Keyboard
Razer Lycosa
Gaming Headset
Razer Piranha
Speakers
Logitec Dolby 5.1
Any Attempt Copy This System Configuration May Lead to Bankruptcy
TESTING RESULTS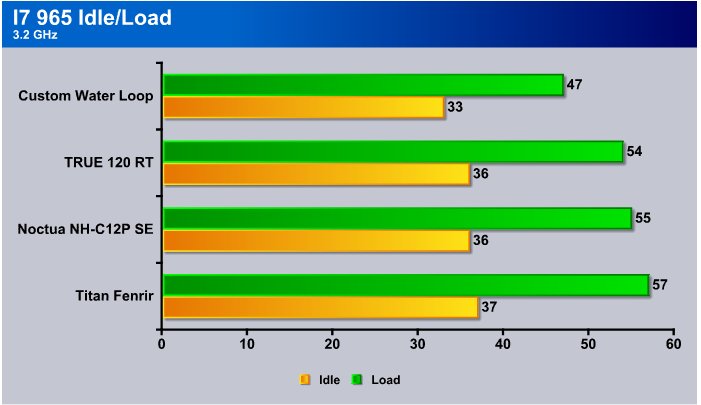 Taking a look at the Titan Fenrir we see it coming in at 57°C and that's about 3°C behind the Thermalright Ultra 120 RT and 2°C behind the Noctua. Of course the TRUE 120 and the Noctua had the advantage of being run with two 120mm fans, so that's a pretty good result for the Fenrir.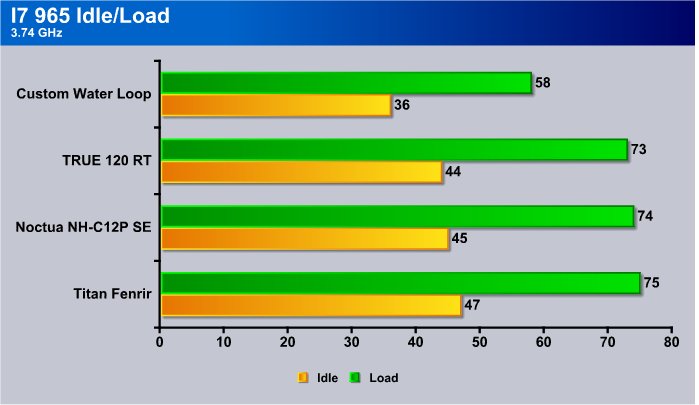 The Titan Fenrir held the Core i7 965 down to 75°C at 3.74 GHz with a core voltage of 1.3275v. That's actually a little more voltage than we need for stability (.0275v more) but we like to kick up the voltage just a little bit for CPU cooler testing because not very many end users are as good at, or have the patience, for voltage trimming. Coming within one or two degrees of two massive dual fan CPU coolers with one single fan is a pretty impressive result for the Fenrir. All three of the coolers ran the CPU a little hotter than we'd like with 30 minutes Prime95 running, but we've tried half a dozen more CPU coolers on the test rig and none do as well as these three. Currently, these three are the only three coolers we have come across that would consider using on Quadzilla. It won't be an issue for normal day to day use, the Fenrir will give you nice overclocking headroom. Not quite enough for us, so we're moving Quadzilla back to watercooling with dual triple radiators, but not everyone is as insane as we are.
CONCLUSION
We're on a marathon CPU cooler mission this week and testing four CPU coolers in total. The Titan Fenrir held the Core i7 965 down to 75°C at 3.74 GHz (1.3275v) and that's almost as good as the other two coolers we tested and they were running a dual fan configuration. That's pretty impressive that a single fan CPU cooler can come that close to the other configurations we tested. Sure, we know that there will be a few out there that say, "Foul you used one fan on the Fenrir." To those few we say, "Phhhhttttt." It came out of the box with one fan, the Noctua came out of the box with two, and the Thermalright Ultra 120. who pays $70 (USD) for an enthusiast cooler and doesn't use two fans? Plain and simple, the Fenrir isn't designed for two fans. One side is concave and from what we can see, for most people they wouldn't need two fans on the Fenrir.
We were happy with the performance of the Fenrir, even in our extreme overclocking world. If it makes us happy, you can rest assured, installed and coated with thermal grease correctly, the Direct Contact Heat Pipes on the Fenrir will do the job for you.
When we trimmed voltage back to normal the Fenrir came in at 73C and the other two coolers dropped a degree or two as well so it performed acceptably in our heavily overclocked testing.
We are trying out a new addition to our scoring system to provide additional feedback beyond a flat score. Please note that the final score isn't an aggregate average of the new rating system.
Performance 8.5
Value 8
Quality 9
Warranty 7
Features 7
Innovation 8
Pros:
+  Looks Nice
+  Great Cooling For A Single Fan Design
+  Cover All Mainstream Platforms Including LGA 1366
+  Blue LED Lighting System
+  Great Overclocking Result
+  If It Holds The Core I7 965 Overclocked to 3.74 GHz With Hyperthreading Turned On The Fenrir Will Cool Any CPU Out There Well Enough For 98% Of Enthusiasts
Cons:
–  Not Designed For Dual Fan Operation
–  Might Not Fit In Some Chassis
–  Might Interfere With The Ram Slots On Some Boards
The Titan Fenrir gave us some nice overclocking headroom on the Intel Core i7 965. We took it to 3.74 GHz and felt safe running the CPU wide open at that with the Fenrir setting on top of it, so the Fenrir scores a: 8 out of 10 and receives the Bjorn3D Seal of Approval.