AMD has recently released a slew of new CPU's, the newest of these CPU's is the Athlon X2 7850 BE. With an unlocked multiplier, and 64nm technology, will the new X2 be a good replacement for the aging X2 6400?
Introduction
In May AMD celebrates their 40th anniversary, and in June the Athlon celebrates its 10 year anniversary, so in commemeration of both of these milestones AMD has decided to release a even higher clocked Ahtlon X2. This new release also helps AMD's offence against Intel's Core 2 platform.
AMD has mounted a counter attack against Intel's older Core 2 platform with their Phenom II series. So far AMD has been gaining a lot of ground after suffereing a let down in performance with the first Phenom. AMD first mounted their offence with the AM2+ X4 920 and 940. AMD has just started to release the new AM3 socket equilants of the 920 and 940. It would almost seem like AMD has forgotten about the lower end market, but not anymore.
Today we have the AMD Athlon X2 7850 BE, the big brother to the X2 7750. With an unlocked multiplier, and 64nm technology AMD plans on going head to head with the older Core 2 dual cores, as well as replaceing the older high end X2's. This new CPU also features L3 cache, which should improve scores in all kinds of tests, along with gameing.
The question remains, can the new Athon compete with the older X2's? Or is this another broken promise by AMD.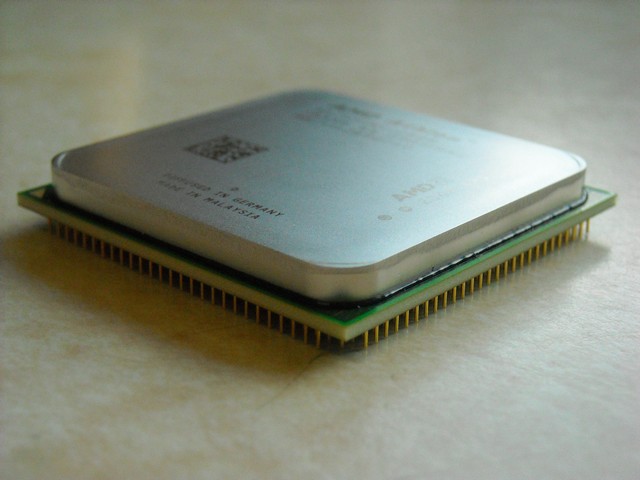 About AMD
Advanced Micro Devices (NYSE: AMD) is an innovative technology company dedicated to collaborating with customers and partners to ignite the next generation of computing and graphics solutions at work, home, and play.

Vision

A world where the amazing power of AMD technology improves the quality of people's lives.

AMD set a goal to enable affordable, accessible Internet connectivity and computing capabilities for 50 percent of the world's population by the year 2015. Learn more about AMD's 50×15 Initiative.

Mission

Lead through innovative, customer-centric solutions that empower businesses, enhance the digital lifestyle, and accelerate global digital inclusion.

Values & Beliefs

AMD's culture is characterized by an indomitable will to succeed and prosper in one of the world's most challenging industries. At the heart of our unique and strong culture is the belief that people are the ultimate source of our competitive advantage. By living these core values, each one of us helps to deliver on our promises to customers, maximize shareholder value and ensure our enduring success.

Respect for People

We respect people, honor diversity and treat each other fairly. These are the cornerstones of our culture and key to our ability to work successfully as a global team. Learn about what it's like to work at AMD.

Integrity

We operate with the highest standards of honesty and responsibility—as individuals and as a corporation—to be a role model worldwide through our business practices, community involvement and environmental stewardship. View our corporate responsibility mission and achievements.

Our Customers' Success

We ensure our customers' ongoing success by forging deep relationships founded on our commitment to meet their diverse technology needs and a shared passion for excellence. Read about how AMD drives customer success.

Customer-Centric Innovation

We lead through innovation—championing creative ideas and solutions that enable our customers to truly differentiate their solutions in the marketplace.

Initiative and Accountability

We deliver on our promises to our customers, stakeholders and to each other by taking risks, seeking proactive solutions and assuming ownership of the results.

At AMD, we take a measured approach to evaluate and continually improve global environmental efficiency, from how we run corporate facilities to how we develop products that deliver superior performance-per-watt. Learn more about AMD's Green initiative at: www.amd.com/climate.

Fair and Open Competition

We believe that fair and open competition places the freedom of choice in the hands of customers, allowing the widest population to have access to the best possible technology.
Features
Major feature enhancements for 65nm AMD X2 Kuma core:
New 2mb L3 cache
More done per clock cycle
Smaller die
Unlocked multiplier
HT3.0
Phenom 2 Dragon Platform Aspect
As you probably already know, AMD is the only CPU manufacturer that can field its own world class GPU's and CPU's, which gave birth to the Dragon Platform concept, a fusion of GPU and CPU, manufactured and designed to compliment each other. While this is a CPU performance review we will be covering the Graphics end of the Dragon Platform in yet another review of this new platform. In the mean time, we wanted to touch on some of the Dragon Platform aspects.
Video Processing on a Radeon GPU:
Continuing on the topic of platform-level performance analysism ATI has just released new Catalyst 9.3 drivers (for Windows and Linux) and a new version of AVIVO which provides a powerful tool for video processing. ATI Stream uses the massive parallel processing power of AMD graphics processors to deliver new capabilities to users that go beyond the traditional usage scenarios of graphics rendering and video processing.
Benefits:
ATI Stream harnesses the processing power of the GPU for high-performance, data-intensive computations over a wide range of applications
ATI Stream enables the hundreds of parallel cores inside AMD GPUs to accelerate general purpose applications
These capabilities will allow ATI Stream-enabled programs to operate with optimized performance (or with new functionality) for a variety of different tasks and from a growing number of software vendors
The CAL (Compute Abstraction Layer) is now included in the Catalyst driver package. CAL is the enabling component for ATI Stream
Every owner of an ATI Radeon HD 4000-series card automatically gains the ability to run ATI Stream enabled applications
Growing number of developers set to deliver ATI Stream enabled applications
ATI Stream application: ATI Avivo Video Converter
Free download
Low complexity, high value application
Dramatically accelerates conversion of video files
Optimized for file sizes common to HD video
Using ATI Stream technology, owners of ATI Radeon HD 4000-series graphics cards can take advantage of this video conversion tool (find it in Catalyst Control Center's "Basic View") to achieve incredible performance levels in video transcoding. We strongly urge you to test ATI Stream during your platform evaluation. You might consider it for an addition to your standard test suite. It should prove useful to test and quantify our raw performance, video processing prowess, and demonstrating the platform benefits of Dragon platform technology.
Upcoming AM3 Phenom II processors:
The AMD Phenom II X4 955 BE processor, launching in April 2009, are socket AM3 backwards compatible with AM2+ and support DDR2 memory on AM2 + and DDR3 on AM3. These new AM3 processors are compatible with both the current socket AM2+ and AM3, supporting both DDR2 and DDR3. This approach allows users, businesses, system builders, and OEMs to migrate across memory technologies at their own pace, when the time is right. AMD's approach continues to be one of flexibility and compatibility to maximize platform longevity. In the current economic climate, we believe this approach makes more sense than ever.
Some Overclocking Tips (Black Edition)
Finding the maximum potential of your CPU is fairly straight forward with a "Black Edition" processor and the latest version of AMD OverDrive on a platform like the AMD 790GX-based motherboard which you'll want to use with your processor. Here is some basic guidance to help get you on your way to voiding your warranty. Just remember, as always, "your mileage may vary." Some chips will overclock better than others, but regardless… you roll the dice when you try.  You can find the latest version of AMD Overdrive: http://game.amd.com/us-en/drivers_overdrive.aspx?p=1
Basic Overclocking Steps
Increase CPU multiplier
Use the HT reference clock slider in steps of 1-to-3 MHz for fine tuning (for less than 50MHz steps in CPU core clock)
Increase CPU Voltage (VID)
Voltage Adjustment
By default, the CPU voltage slider (CPU VID) in AMD OverDrive maxes at 1.45V. You can extend it to the max VID value of 1.550V by editing the "Preference.xml" file (with notepad.exe) in the AOD installation folder. Just find "MaxVcoreEnabled" and change it from "0" to "1"
Depending on the CPU and the cooling solution, the optimal voltage can be anything between 1.40V (an air-cooled part that prefers low volts) and 1.95V (liquid nitrogen at -196C… assuming your processor demonstrates good voltage scaling).
For air-cooling our experts recommend testing from 1.40V up to 1.55V in 0.05V steps in order to find the optimal voltage
NOTE: its quite possible that you start seeing negative scaling after certain voltage point. Remember, every CPU can be a little different
The only things you might want to adjust in the BIOS while overclocking are:
Disable Cool'n'Quiet
Disable C1E
Disable Spread Spectrum
USING EXTREME COOLING (Liquid Nitrogen / Liquid Helium / etc.):
Here's a tip if you've already hit ~5GHz and are looking for even more overclocking headroom with EXTREME cooling. For temperatures below the -70 to -100°C mark we suggest switching the CPU to HT 1.0 mode. Just adjust the "HT Link multiplier" item in the BIOS menu to "1GHz (x5)" mode. The CPU NB clock can still run at default (or overclocked) value – just the HT Link interface requires this adjustment for optimal temperature margin. As per the experience of our internal team, most CPUs overclock well at -190°C using HT1.0 settings. To get the best overclock possible, try setting HyperTransport to HT1 mode. This does not mean that HT Link must run at only 1.0GHz. You can tweak the HT reference clock to higher than the 200MHz default value which will increase the HT Link frequency and HT bandwidth. Try gradually working up with incremental jumps with an eye for a 300MHz HT reference clock (if possible with your chip). This would give a 1.5GHz HT Link speed.
HT3.0 Settings:
Though HyperTransport 3.0 is capable of higher frequencies than the northbridge/memory controller runs at, for best operation and performance, the HT speed should always be set to the SAME FREQUENCY as the memory controller specification for the particular CPU being tested. This can be done in the BIOS or in AMD Overdrive… or just left as-is (default settings) with proper BIOS support.
Example: the HT frequency for systems with the Phenom II X4 940 and 920 processors should be run at 1.8GHz, again the same frequency as the memory controller
DISCLAIMER
While Bjorn3D.com and AMD try to provide information as accurate as possible OCing is a crap shoot. Bjorn3D.com and AMD accept no responsibility for any attempt at OCing or any attempt at (what we have termed) Bone Head Stunts. No guarantee exists that you will be able to OC, or that your part will OC at all. It's a crap shoot. OCing is a combination of carefully selected parts and OCing skill. As usual the contents on this site are provided "as is" without express or implied warranty.
In no case or special event shall Bjorn3D.com or AMD be held responsible for indirect or consequential damages or any damages whatsoever resulting from loss of income or profits, whether in an action of contract, negligence or other tortuous action, arising in connection with the use or performance of this information.
Bjorn3D has provided a number of links to external sites as a service to our readers, this should not be construed as any link between us and any entity or individual nor can we be held responsible for any content on their site.
Bjorn3D.com reserves the right to alter amend or delete any content without further notice.
Any reproduction of information from this site in partial or full is strictly prohibited and will result in legal action unless you have prior written permission from the site owner, or Management Staff.
With that being said: Let the Bone Head Stunts Begin
AMD Athlon X2 CPU Specifications
AMD CPU Specs

Model
Clock Speed
System Bus Speed
Package Profile
Voltage
Max Temp
TDP
Total L2 Cache
Total L3 Cache
955 X4 (Black Edition)
3.2 GHz
4.0 GT/s
Socket Am2+ or Am3
0.875-1.5v
62°C
125w
2MB
6MB
940 X4 (Black Edition)
3.0 GHz
3.6 GT/s
Socket AM2+
0.875-1.5v
62°C
125w
2MB
6MB
920 X4
2.8 GHz
3.6GT/s
Socket Am2+
0.875-1.5v
62°C
125w
2MB
6MB
810 X4
2.6 GHz
4.0 GT/s
Socket Am2+ or AM3
0.875-1.425v
71°C
95w
2MB
4MB
910 X4
2.6 GHz
4.0 GT/s
Socket Am2+ or AM3
0.875-1.425v
71°C
95w
2MB
6MB
805 X4
2.5 GHz
4.0 GT/s
Socket Am2+ or AM3
0.875-1.425v
71°C
95w
2MB
4MB
720 X3 (Black Edition)
2.8 GHz
4.0 GT/s
Socket Am2+ or AM3
0.875-1.425v
73°C
95w
2MB
6MB
710 X3
2.6 GHz
4.0 GT/s
Socket Am2+ or AM3
0.875-1.425v
73°C
95w
2MB
6MB
7750 X2 (Black Edition)
2.7 GHz
3.6 GT/s
Socket Am2 or AM2+
0.875-1.425v
73°C
95w
1MB
2MB
7850 X2 (Black Edition)
2.8 GHz
3.6 GT/s
Socket Am2 or AM2+
0.875-1.425v
73°C
95w
1MB
2MB
Pictures & Impressions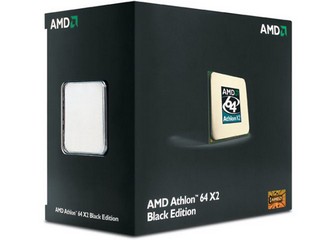 While my CPU didn't come with a box, I have decided to show a picture of what it should look like. This is the box that is used on the older X2 Black Editions such as the 5600. Expect it to have information about the CPU printed on the back of the package.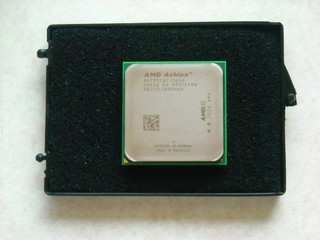 My CPU was delivered in this black plastic container. As you can see AMD threw in some foam so none of the pins of the CPU would be bent before it got here. My first thought after opening the package was, this looks exactly like my X2 6000.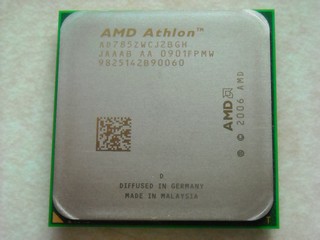 Here we have the whole reason where here. As stated before, this chip looks identical to pretty much every AMD chip on the market. One thing that did catch me a little bit off guard was the year 2006 printed on the chip, it was almost as if AMD has had this chip ready to be sent out since 2006. Near the top is the classic AMD Athlon in print. Below that are the random numbers that tell you exactly what the CPU is. I kind of wish AMD would print out the specs of the chip in plain english like Intel does. This would make it a lot easier to determine if you received the right chip without installing the chip.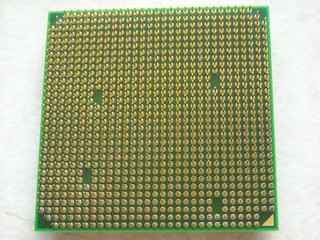 As we flip the CPU over we see all 940 of its pins. If you look at any other AM2 socket CPU you will see the same exact thing, including the gold triangle that shows which way the CPU should be inserted. Please do not attempt to insert this CPU into a AM3 motherboard, unfortunately it is not a AM3 CPU, so it will not fit.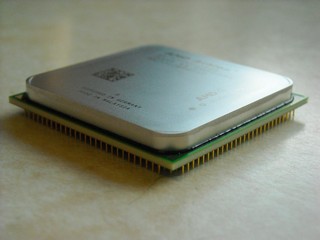 Now here is a nice side shot. From here you can see everything on the chip, includeing its curves. I know it looks good, but please refrain from getting too excited. Now lets go see what this baby can do!
Testing & Methodology
To test the X2 7850, I used Windows XP 32-bit, because this is more of a budget CPU. I went through each test three times to ensure that I had very accurate data. Doing the test multiple times ensures that an out layer is not in the data, thus skewing the final results. Both of the CPU's were tested on the same machine to make sure that there are no added benefits to one CPU. I have included a table with my full system specs.
Test Rig

Case Type
Cooler Master HAF922
CPU
AMD X2 7850 BE @ 2.8 GHz, 3 GHz
AMD X2 6000 @ 3 GHz
Motherboard
Sapphire 780G
Ram
(2×2) Corsair XMS2 @ 800 mhz 5-5-5-18
CPU Cooler
Coolink Silentator
Hard Drives
WD 80GB SATA
Optical
Lite-On DVD R/W
GPU

HIS HD 4850 1GB

Case Fans

One Top 200mm Exhaust
One Front 200mm Intake
One Back 120mm Exhaust

Testing PSU

Corsair TX650
Test Suite
Synthetic Benchmarks
3DMark06 v. 1.1.0
SiSoft SANDRA XII Professional SP2
Everst Ultimate Edition v. 4.60
Cinebench R10 64 bit
WinRar v. 3.71
3DMark06
3DMark06 developed by Futuremark, is a synthetic benchmark used for universal testing of all graphics solutions. 3DMark06 features HDR rendering, complex HDR post processing, dynamic soft shadows for all objects, water shader with HDR refraction, HDR reflection, depth fog and Gerstner wave functions, realistic sky model with cloud blending, and approximately 5.4 million triangles and 8.8 million vertices; to name just a few. The measurement unit "3DMark" is intended to give a normalized mean for comparing different GPU/VPUs. It has been accepted as both a standard and a mandatory benchmark throughout the gaming world for measuring performance.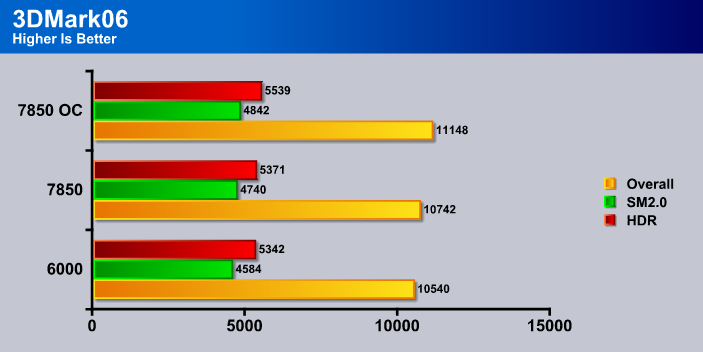 Right from the start the 7850 gets a great start. Despite being 200 mhz slower than the 6000, the 7850 still manages to just edge out the 6000. When the frequency is increased, the 7850 increases the gap by a pretty big margin.
Cinebench
"CINEBENCH is a real-world test suite that assesses your computer's performance capabilities. MAXON CINEBENCH is based on MAXON's award-winning animation software, CINEMA 4D, which is used extensively by studios and production houses worldwide for 3D content creation. MAXON software has been used in blockbuster movies such as Spider-Man, Star Wars, The Chronicles of Narnia and many more. MAXON CINEBENCH runs several tests on your computer to measure the performance of the main processor and the graphics card under real world circumstances. The benchmark application makes use of up to 16 CPUs or CPU cores and is available for Windows (32-bit and 64-Bit) and Macintosh (PPC and Intel-based). The resulting values among different operating systems are 100% comparable and therefore very useful with regard to purchasing decision-making. It can also be used as a marketing tool for hardware vendors or simply to compare hardware among colleagues or friends."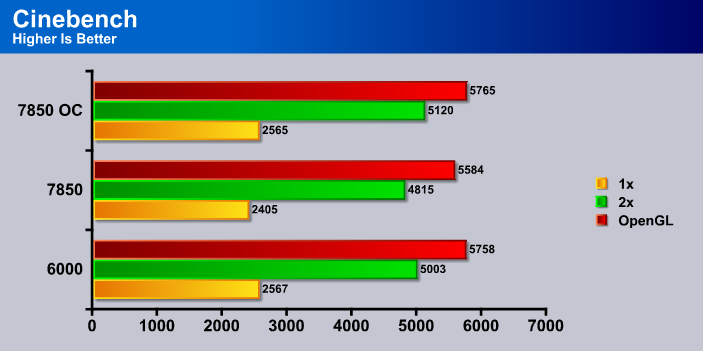 Here we see the 7850 looses its edge a bit. When it is at the same frequency as the 6000 it just manages to beat it by a very small margin, but a little none the less. So far the 7850 is off to a great start. It has not lagged behind in any of the tests, which is a good thing. Also worth noteing is the 7850's 2x performance gain when it switched to both cores. This is great results, as the 6000 only managed a 1.97 multiplier.
WinRar v. 3.71
This module in WinRar generates random data, which contains specially introduced redundancy, increasing the load to both the processor and memory. Data is then passed through RAR compression and decompression algorithms, and the output of the decompression algorithm is compared to the source data. If any differences are found, WinRAR then reports "Errors found – Yes" in the command window. WinRAR displays a size of processed data and compression speed, current and resulting, in kilobytes per second.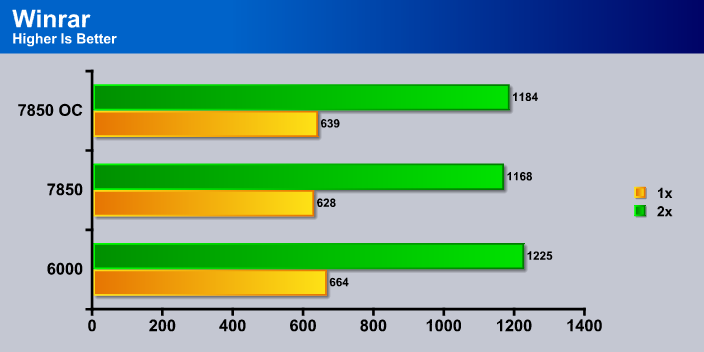 Here is the first disappointment of the day. The 7850 looses to the 6000 in the Winrar test. The good news is that it is not a huge loss. The difference is so little that you will probably not notice the difference between CPU's.
Everest
"EVEREST Ultimate Edition is an industry leading system diagnostics and benchmarking solution for enthusiasts PC users, based on the award-winning EVEREST Technology. During system optimizations and tweaking it provides essential system and overclock information, advanced hardware monitoring and diagnostics capabilities to check the effects of the applied settings. CPU, FPU and memory benchmarks are available to measure the actual system performance and compare it to previous states or other systems. Furthermore, complete software, operating system and security information makes EVEREST Ultimate Edition a comprehensive system diagnostics tool that offers a total of 100 pages of information about your PC."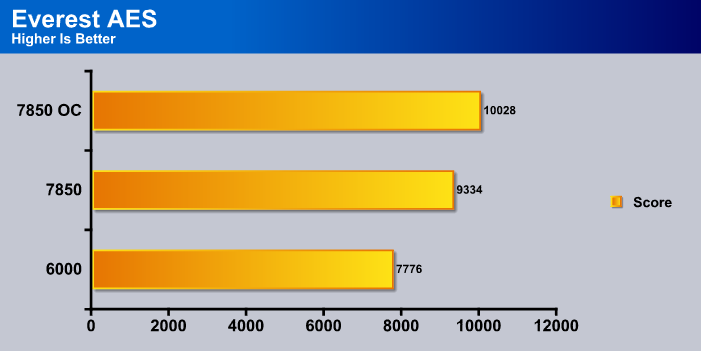 The 7850 has quickly climbed back ahead of the 6000. The 7850 killed the 6000 in this test to say the least. This test really shows the difference of the improved artitexture.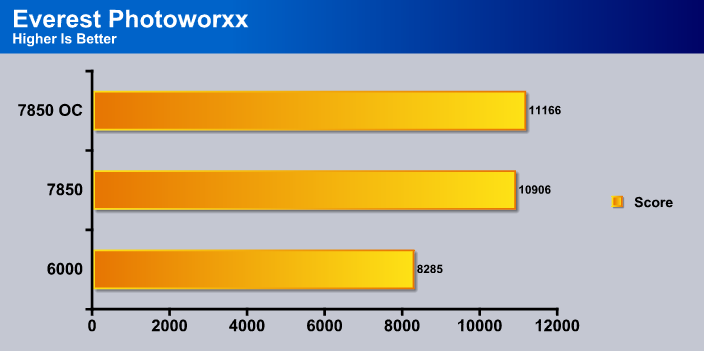 The Photoworxx test is always one that anyone who plans on doing a lot of photo editing should pay attention too. As you can see the 7850 once again puts quite a beating on the 6000.
As we move onto the CPU Queen test we see that the 6000 gains back some ground. Even at 200 mhz slower, the 7850 still manages to almost match the 6000's score. The overclocked 7850 has no problem putting the 6000 to shame.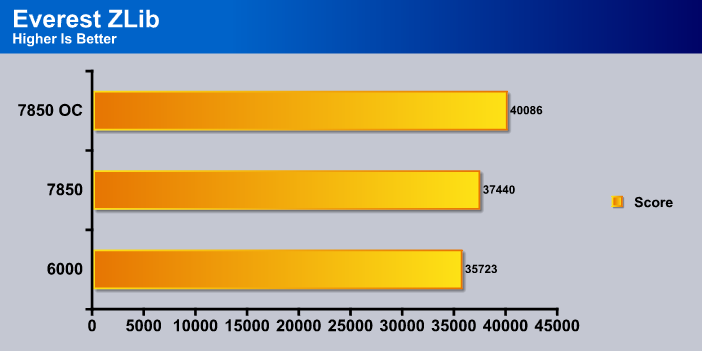 Again the 7850 beats out the 6000. As the frequency of the 7850 is increased, it continues to build on its already stunning lead.
Sisoft Sandra 2009 SP1
"SiSoftware Sandra (the System ANalyser, Diagnostic and Reporting Assistant) is an information & diagnostic utility. It should provide most of the information (including undocumented) you need to know about your hardware, software and other devices whether hardware or software. It works along the lines of other Windows utilities, however it tries to go beyond them and show you more of what's really going on. Giving the user the ability to draw comparisons at both a high and low-level. You can get information about the CPU, chipset, video adapter, ports, printers, sound card, memory, network, Windows internals, AGP, PCI, PCI-X, PCIe (PCI Express), database, USB, USB2, 1394/Firewire, etc."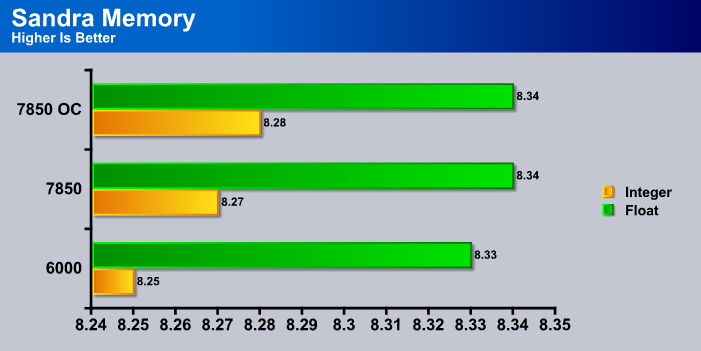 (This graph was especially made for Miker)
 As you can see the memory bandwidth is a bit higher than the 6000. I doubt you will see any real world difference here, but its always nice to say you have more memory bandwidth than your freind down the street.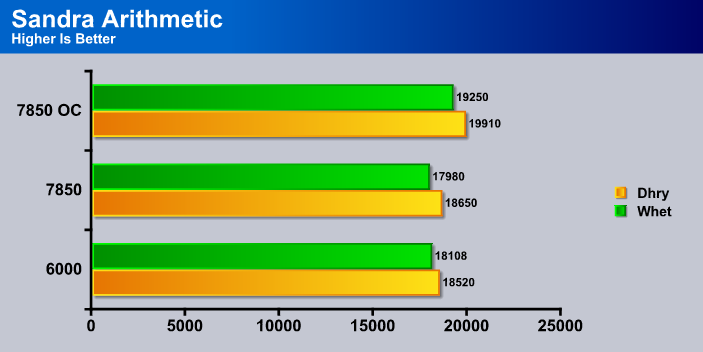 While the 7850 did loose by a bit, I call this a major victory. The 7850 almost matched the 6000's score, despite being lower clocked. No other test really shows a CPU's processing power quite like Sandras Arithmetic test.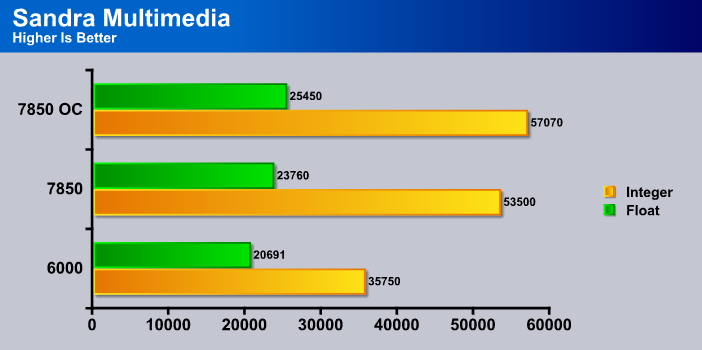 I think the graph really says it all on this one. The 7850 is a monster at multimedia compared to the 6000. Even at stock speeds the 7850 beat the 6000 by over 17 thousand points.
Overclocking
Now its time for everyones favorite part of the review, the overclocking section. Here at Bjorn3D we always like to warn the consumer about overclocking. It can damage your hardware, however if you play it safe your hardware will be just fine. We also dont take any responsibility for any fried hardware, and always remember what we acheive is never the lowest or highest. With some tweaking you can probably acheive more, but you may not, in which case your chip didnt react to overclocing as well as ours did. Now on to the fun!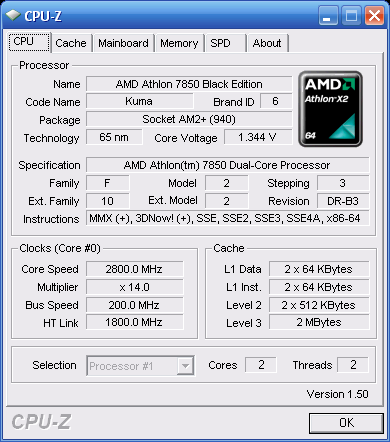 As you can see CPUZ confirms that this CPU is running at its stock speed. The HT speed only says 1800, but dont be alarmed because that speed is doubled to come up with the full 3600 mhz for the HT speed.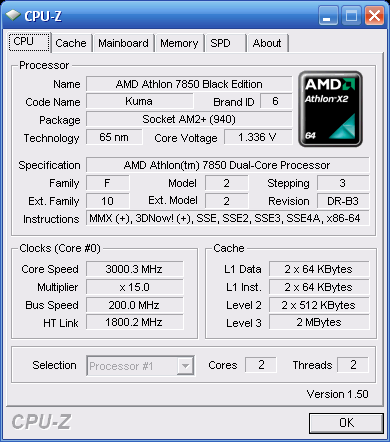 Unfortuneatly the board used only contains AMD's SB700. It is a commonly known fact that AMD's SB750 overclocks CPU's much better than the SB700. Look forward to seeing this chip on a SB750 board in the near future. As for now the highest overclock I was able to acheive was 3 ghz, which was rock solid on stock voltage.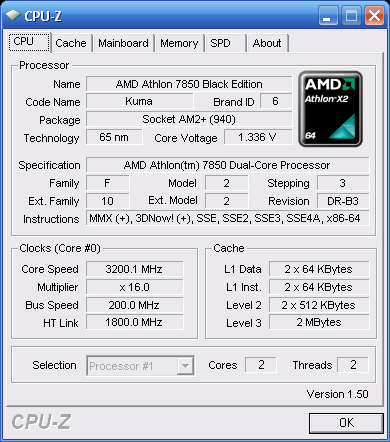 The highest speed I was able to boot into windows with was 3.2 ghz. I could not no matter how hard I tried get this speed to be fully stable. I am completly confident that this CPU will easily be able to hit 3.4, and probably will be capable of 3.6 ghz or higher.
Conclusion
Lately AMD has really been pushing for more competitive pricing in the lower end market. Many consider the AMD platform to be the most flexible platform to date. With its ability to run either DDR2 or 3, and expandability for AMD's future CPU's, AMD has Intel beat on one side of the field. Intel may hold the performance crown, but is that all that's important? Statistics say that there are more sales in the lower end market than the higher end enthusiast market. In this respect AMD truly has the market locked down.
What is also is important is making better and faster CPU's. AMD has done this with the X2 7850. As you saw with testing, despite being slower clocked the 7850 was able to keep up with or beat the older X2 6000. This is exactly what AMD set out to do with the new X2 7*** series of CPU's for AM2, and that is what they accomplished. Not only that, but AMD also managed to keep this chip compatible with the older chipsets. Even Nvidia's old 5 series chipset can support these chips, depending on the manufacturer.
The only sad part about this CPU is its user base will most likely never see the chip at its highest speeds. The chip has a suggested retail price of $69 USD, which means someone buying a new one will most likely buy a 780G or similar chipset. This means they will probably not have SB750. Despite that I was still able to acheive 3 ghz, which is probably a good thing for those new to overclocking. This took no voltage increase, which is always a good thing, and with SB750 I can only expect to go a lot higher. The AMD X2 7850 BE is really a capable CPU with an almost unbeatable price that saves on the wallet, but still provides plenty of performance
We are trying out a new addition to our scoring system to provide additional feedback beyond a flat score. Please note that the final score isn't an aggregate average of the new rating system.
Performance 9
Value 10
Quality 10
Warranty 8
Features 10
Innovation 8
Pros:
+  Great Price/Performance
+  2MB L3 cache
+  Works with older chipsets

Cons:
–  Needs SB750 to get good overclock
With a final score of 8.5 out of 10 the AMD X2 7850 BE receives the Bjorn3D Seal of Approval.

| | | | | | | | |
| --- | --- | --- | --- | --- | --- | --- | --- |
| CPU Name | Cores | Clock | L2/L3 Cache | HT Bus | Socket | TDP | Price |
| AMD Phenom II X4 965 BE | 4 | 3.4GHz | 2+6MB | 4000MHz | AM3 | 140W | $179 |
| AMD Phenom II X4 955 BE | 4 | 3.2GHz | 2+6MB | 4000MHz | AM3 | 125W | $165 |
| AMD Phenom II X4 945 | 4 | 3.0GHz | 2+6MB | 4000MHz | AM3 | 125W | $159 |
| AMD Phenom II X4 925 | 4 | 2.8GHz | 2+6MB | 4000MHz | AM3 | 95W | $139 |
| AMD Phenom II X4 910e | 4 | 2.6GHz  | 2+6MB  | 4000MHz | AM3 | 65W | $169 |
| AMD Phenom II X4 905e | 4 | 2.5GHz | 2+6MB | 4000MHz | AM3 | 65W | $175 |
| AMD Phenom II X4 810 | 4 | 2.6GHz | 2+4MB | 4000MHz | AM3 | 95W | $139 |
| AMD Phenom II X3 720BE | 3 | 2.8GHz | 1.5+6MB | 4000MHz | AM3 | 95W | $104 |
| AMD Phenom II X3 710 | 3 | 2.6GHz | 1.5+6MB | 4000MHz | AM3 | 95W | $99 |
| AMD Phenom II X3 705e | 3 | 2.5GHz | 1.5+6MB | 4000MHz | AM3 | 65W | $119 |
| AMD Phenom II X2 555 | 2 | 3.2GHz  |  1+6MB | 4000MHz | AM3 | 80W | $99 |
| AMD Phenom II X2 550 | 2 | 3.1GHz | 1+6MB | 4000MHz | AM3 | 80W | $91 |
| AMD Athlon II X4 635 | 4 | 2.9GHz | 2MB | 4000MHz | AM3 | 95W | $120 |
| AMD Athlon II X4 630 | 4 | 2.8GHz | 2MB | 4000MHz | AM3 | 95W | $102 |
| AMD Athlon II X4 620 | 4 | 2.6GHz | 2MB | 4000MHz | AM3 | 95W | $99 |
| AMD Athlon II X3 440 | 3 | 3.0GHz | 1.5MB | 4000MHz | AM3 | 95W | $84 |
| AMD Athlon II X3 435 | 3 | 2.9GHz | 1.5MB | 4000MHz | AM3 | 95W | $75 |
| AMD Athlon II X3 425 | 3 | 2.7GHz | 1.5MB | 4000MHz | AM3 | 95W | $72 |
| AMD Athlon II X2 255 | 2 | 3.1GHz | 2MB | 4000MHz | AM3  | 65W | $75 |
| AMD Athlon II X2 250 | 2 | 3.0GHz | 2MB | 4000MHz | AM3 | 65W | $65 |
| AMD Athlon II X2 245 | 2 | 2.9GHz | 2MB | 4000MHz | AM3 | 65W | $61 |
| AMD Athlon II X2 240 | 2 | 2.8GHz | 2MB | 4000MHz | AM3 | 65W | $53 |