With today's computers having more video cards, HDD's, and anything else we can think of adding, the need for a reliable, safe PSU has become a necessity.
INTRODUCTION
When gamers and overclockers like myself start adding more and more video cards, hard drives, fans, and pumps and when we push these components even harder to the point of breaking by overclocking them, the need of a high out put, highly efficient power supply becomes necessary.
Which brings us to another point, what type of PSU to get? We already know we need a PSU that is powerful, but what kind? Do we need a single rail PSU? Or do we go multi railed? Boy, this really helps us narrow things down (sarcasm). Well, why not get a power supply that can do both? SilverStone, a name we overclockers trust and know for having one of the top of the line power supplies in the market, brings us a PSU that can be switched from multi railed to single rail by a flick of the switch.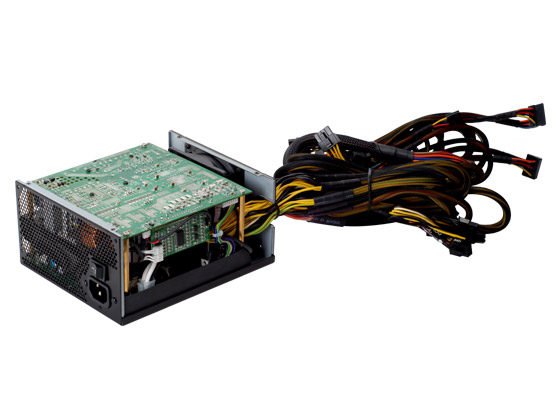 About SilverStone
Intro
   Founded in 2003, SilverStone is an established leader in its field, with an elite team of engineers; we started our quest of providing products that create inspirations.  We have since expanded the lines of products as well as types of products we produce, giving our customers a wide selection of choices. 
With distribution centers in different areas of the globe, SilverStone products can be seen all over the world, not just for computer users but also for home entertainment use.  Providing leisure with integration of advanced technologies that is functional and making them enjoyable to use.
Here at SilverStone Technology, we continue to pride ourselves in providing the highest level of standards in designing and manufacturing computer enclosures, power supplies, and accessories.  Our pursuit for the first class aesthetic appeal is relentless; our teams of devoted engineers are constantly searching for the best technologies that suit end-users with different needs and will make our products as technologically sound as they are beautiful.
Philosophy

   SilverStone Technology's philosophy is based on our recognition that merely having innovative expertise within the industry is not enough. Our objective is to ensure that our expertise is delivered to all products with consistency, in response to user's needs, and with maximum user satisfaction.  SilverStone Technology thrives on challenges of rapid technological advancements and creating aesthetic standard for the industry.
SPECIFICATIONS
 Model No.

SST-ZM1200M

 Max. DC Output

1200W

Load Range (Six rails mode)

 

+3.3V
+5V
+12V1
+12V2
+12V3
+12V4
+12V5
+12V6
+5VSB
-12V
-5V

Max.(Amps)

28A
30A
17A
17A
17A
17A
17A
17A
4.0A
0.5A
/

Peak (Amps)

/
/
/
/
/
/
/
/
/
/
/

Min.(Amps)

0A
1.0A
0.8A
0.8A
0.8A
0.8A
0.8A
0.8A
0.1A
0A
/

Range (%)

±1%
±1%
±1%
±1%
±1%
±1%
±1%
±1%
±5%
±5%
/

Ripple(mVp-p)

50mV
50mV
120mV
120mV
120mV
120mV
120mV
120mV
50mV
120mV
/

Load Range
 +3.3V
 +5V
 +12V
 +5VSB
 -12V
 -5V
 28A
 30A
 95A
 4.0A
 0.5A
 /
 /
 /
 /
 /
 /
 /
 0A
 1.0A
 3.0A
 0.1A
 0A
 /
 ±1%
 ±1%
 ±1%
 ±5%
 ±5%
 /
 50mV
 50mV
 120mV
 50mV
 120mV
 /

 combined +3.3, +5V

180W

 combined +12V

95A / 1140W

 Input Voltage

90V~264V

 Input Frequency Range

47Hz ~ 63Hz

 PFC

Active PFC (PF>0.99 at full load)

 Efficiency

over 80% (typical loading)

 MTBF

100,000 hours at 25℃ , full load

 Operating temperature

0 ~ 50℃

 Protection

Over current protection, Over power protection, Over voltage protection, Short circuit protection.

 Connectors

1 x 24-pin motherboard connector (550mm)
1 x 8-pin EPS12V connector (750mm)
1 x 8/4-pin EPS12V connector (750mm)
3 x 8-pin PCI-E connector (550mm)
6 x 6-pin PCI-E connector (550mm)
2 x triple SATA connector (500mm +250mm + 250mm)
2 x triple 4-pin IDE & single floppy power connectors
(500mm + 250mm + 250mm + 150mm)

 Color

Black (lead-free paint)

 Cooling System

Single 80mm ball bearing fan

 Noise Level
 Dimension

150 mm (W) x 86 mm (H) x 215 mm (D)

 Weight

3.2 kg

 Certification

CrossFire

 Other
PACKAGING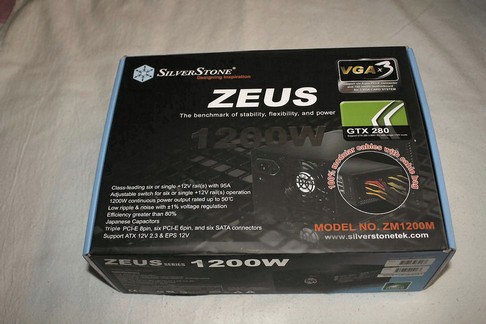 Let's start off on the front top of the packaging that SilverStone used. We can already tell that SilverStone made sure that the people who are purchasing or looking at power supplies know right off that this PSU can handle three video cards and also that this PSU is SLI certified for three Nvidia 280 GTX. Glancing over the top of the packaging, we see some general features that this PSU has a 100% modular designed and that this PSU can also go from a multi rail PSU (total of six 12 volt rails) to one massive 95 AMP 12 volt rail. Not too mention this PSU is 80+ certified and uses 100% Japanese capacitors.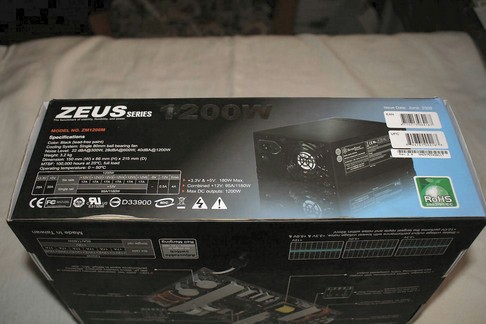 Turning the packaging on to one of its sides SilverStone gives us the general AMP rating of this PSU.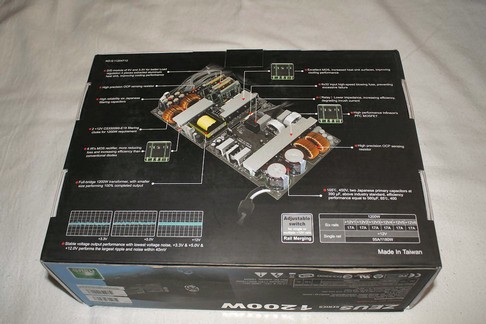 On the Backside SilverStone gives us a general idea on the Zeus's construction.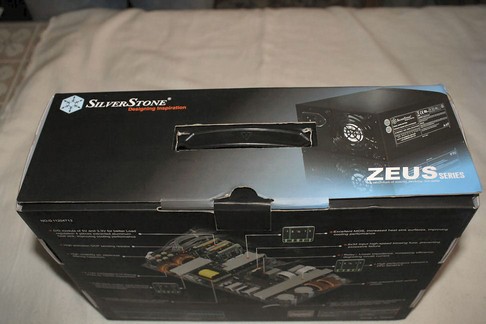 Just flipping over the packaging for the remaining three sides. I will go over the cables a bit more in detail later.
Opening up the packaging, SilverStone includes a instruction booklet.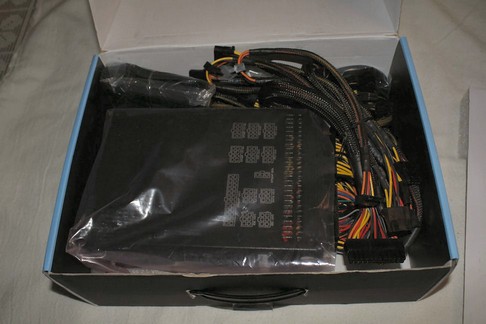 Opening the inner lid of the packaging we see the monster of a PSU. Nothing really spectacular on packing the PSU. SilverStone could have done a bit better on protecting a large investment of a PSU we made.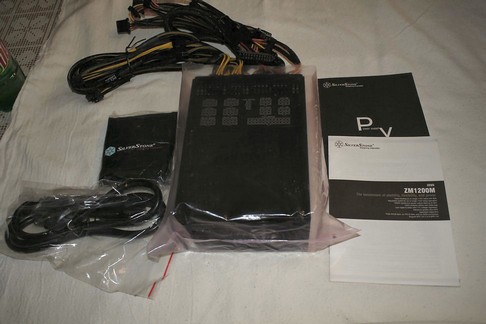 All of the cables were already plugged into this PSU. That helps keep you from losing them. The packaging contents laid out. Center is the PSU with cables, and yes, there are a bunch of them. To the right of the PSU is the cable bag (for unused power cables), and the power cord we will need to use. To the left is the instruction manual on how to mount and use this PSU. SilverStone did make sure that no large particles would get inside of this PSU during transportation by covering it with a plastic bag.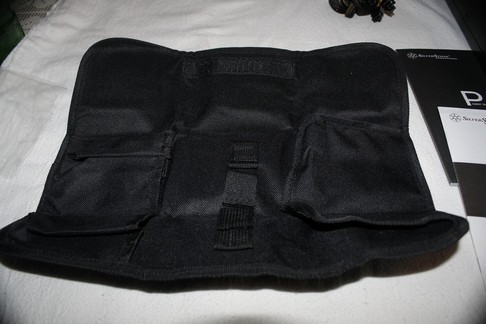 I just opened up the cable bad that SilverStone included. This will definitely help out on keeping loose cables in one spot. Now we just need to remember not to lose that cable bag.
EXTRA
The extra bit is a video that SilverStone wants us to post up to show you on how the 1200 watt Zeus power supply gets assembled. Please take a few minutes and watch the video. I, myself, found it intriguing.
OVERVIEW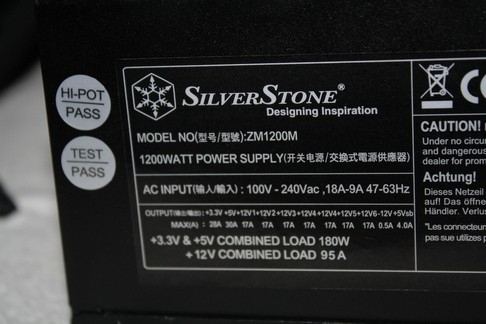 Starting off on the AMP rating of this PSU, we see that the Zeus PSU has 6 x 12 volt rails @ 17 AMPs per rail. Now, this is if you run this PSU in multi rail mode. Otherwise it is 95 AMPs on a single 12 volt rail.
The warning we normally see on PSU's do not open this up as it is hazardous to our health.
This is how the layout of the modular cables on the PSU. This is located on top of the PSU towards the back. The EPS 24p sensor plug is for the main 24 pin power cable and this needs to be hooked up to the PSU and the main 24-pin power plug on the motherboard (not to worry the motherboard side of the plug is still 24-pin. This is required so the PSU will stay on if there is a load).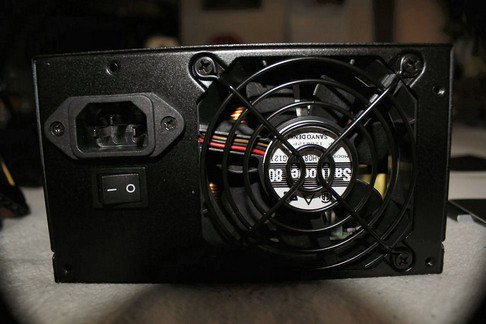 The absolute back end of the PSU. SilverStone only used 1 80mm fan to keep this sucker cool.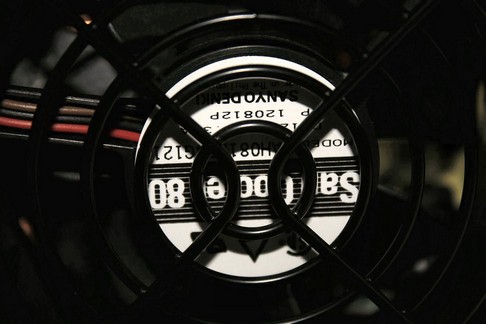 Close up shot of the 80mm fan.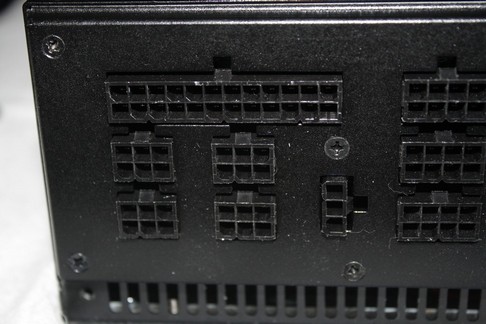 Up close view of the modular power cable plugs on the PSU side.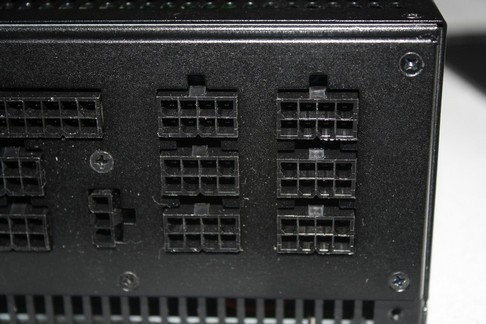 The other half of the modular hook ups.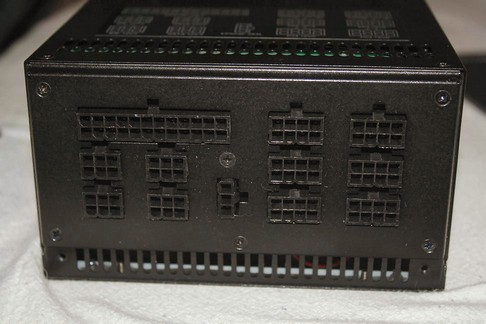 The entire front side of the PSU modular hook ups. Yes, there are a bunch of hook ups.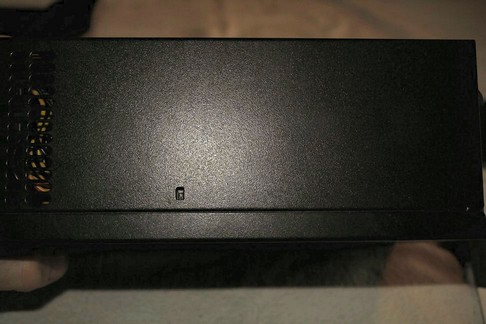 This is where we switch this PSU from multi rail (default) to single. Please refer to SilverStones website for more information.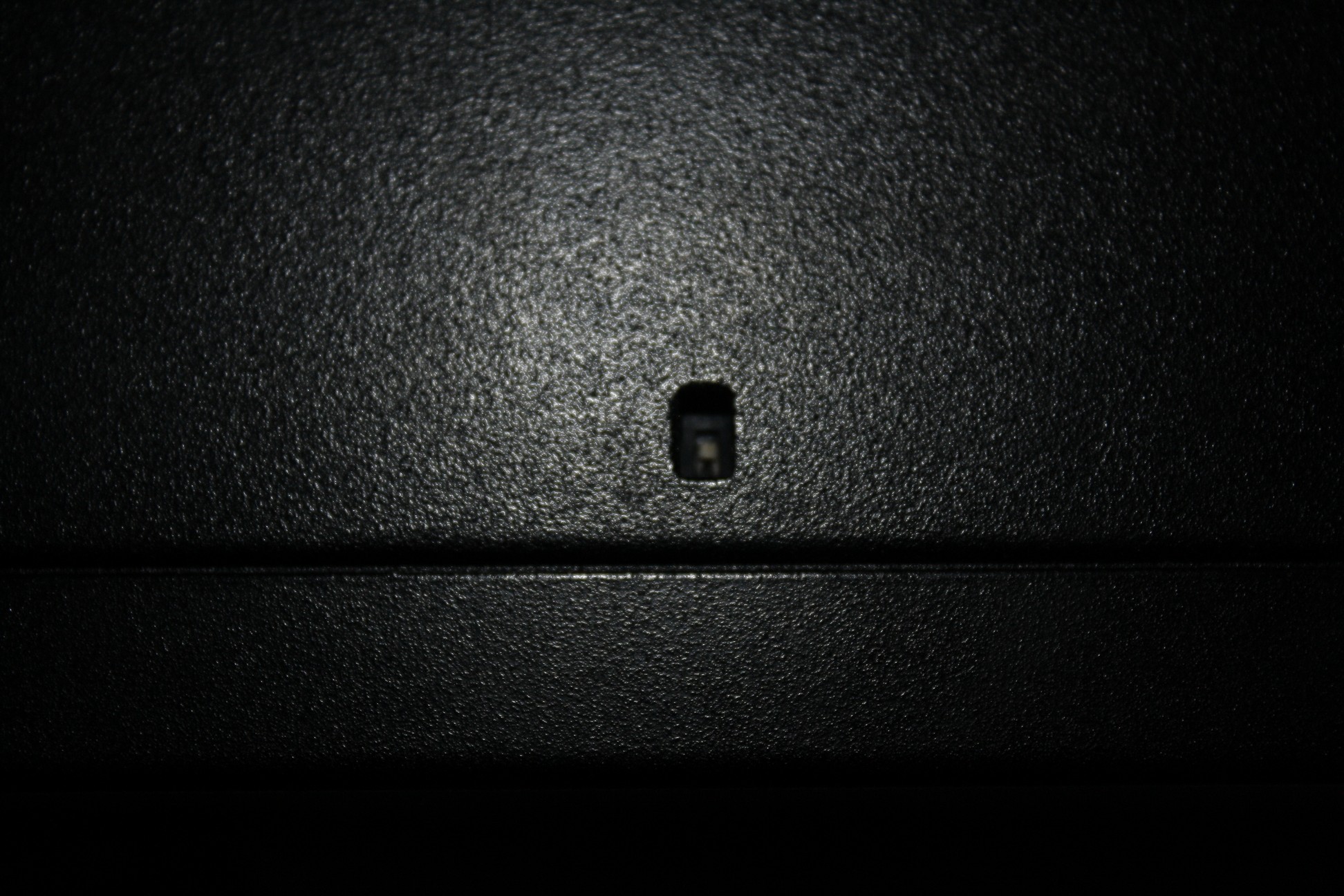 A little better picture of this switch. It is a rather small switch so be careful. You could break it if not careful.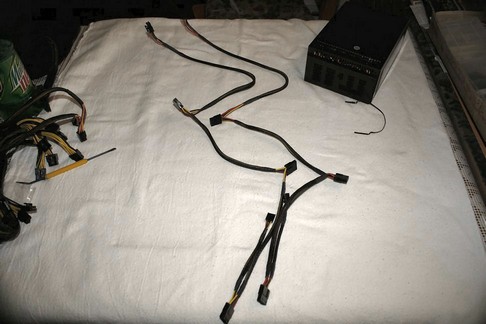 These are the two Molex power cables. Each cable has three 4-pin Molexs and one floppy connector. Check out the length of these cables.
The two SATA power cables. Again there are three SATA power plugs on each power cable and are fairly long, so if using these in a full tower chassis you should have no issues reaching your drives.
Here are the six PCI-E power cables and the two EPS power cables. Starting from the bottom working our way up, the first two power cables are the EPS CPU power cables, the next three are the 6+2, with a 6-pin PCI-E power cable, and finally the last one is a standard 6-pin PCI-E power cable.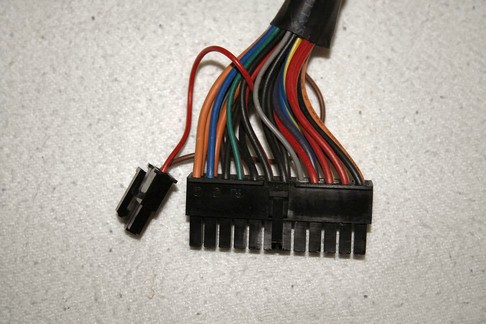 This is the main 24-pin power cable that gets plugged into the PSU. Notice the extra pair of wires (brown and red) these are the sensor wires.
The motherboard side of the 24-pin power cable.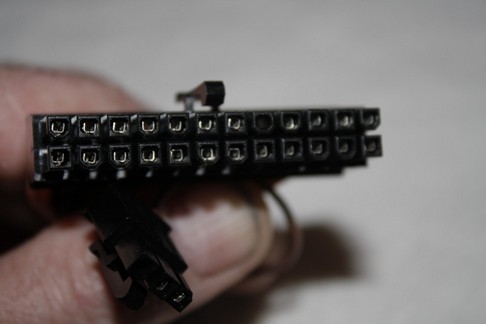 Just looking at the plugs themselves. I personally would like to see these gold plated.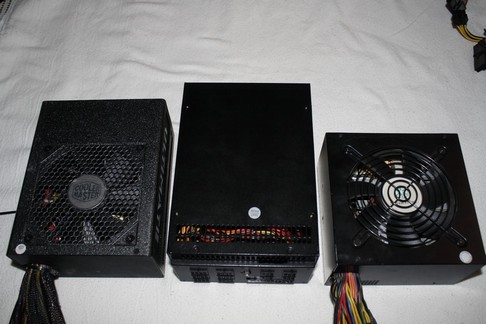 A comparison to the other two PSU's I have used. The center being, of coarse, the Zeus, the left one a Coolermaster UCP 900 watt, and the right one another SIlverStone 850 OP850 watt PSU. The Zeus Dwarfs these other PSU's.
INSTALLATION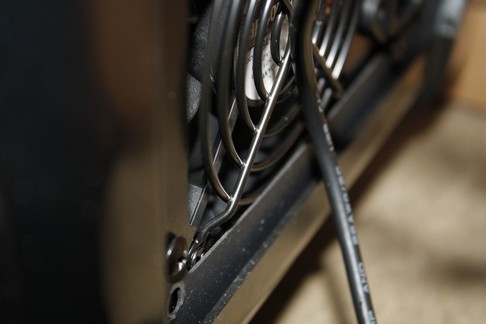 Installing the Zeus 1200 watt PSU is no different from any other PSU. Just make sure your chassis is big enough to handle a PSU of this size. Looking at the Back (and only fan). See how the fan grill hits the inner side of my Cosmos chassis? This made their PSU a bit more difficult installing it into my chassis. Instead of completely flush against the back of the chassis this PSU sits back by an 1/8 of an inch. SilverStone could have used a non raise grill to prevent this from happening.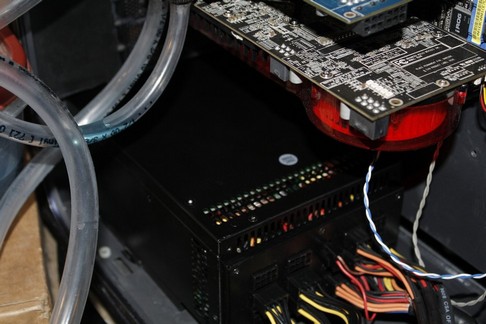 All in and secured. Time to find out what cables I need and hook them up and do some minor cable management.
Hooking up my DVD-ROM drive I noticed that the SATA power plugs are inverted 90° plugs. Odd.(notice the wires are coming from the top and not from the bottom).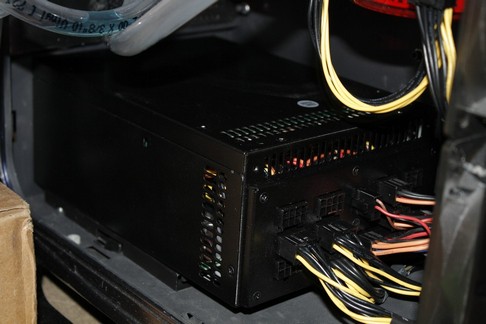 One last look after everything is hooked up and making sure I did not miss anything.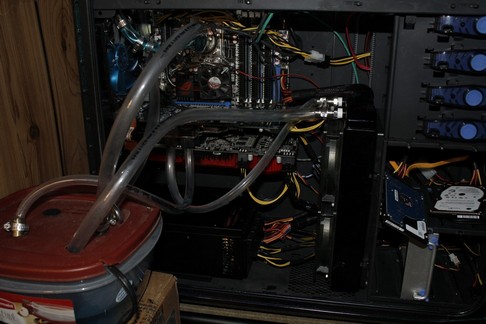 Final hook up. Not bad at all. This PSU makes my case look clean. WOW.
TESTING METHODOLOGY
Test Setup &Testing Methodology
CPU
Lapped Core i7 920
Motherboard
ASUS Rampage II GENE
Case
Coolermaster Cosmos
Memory
Crucial BallistX 1333MHz
Video Card's
Sapphire 4870×2, HIS 4870
Hard Drives
 2 x Seagate 2.5″ HDD's Raid-0, 1 160 gig WD HDD Backup.
CDRom Drive
Lite On Sata1 DVD Burner
Power Supply
SilverStone 1200 watt PSU, Coolermaster 900 UCP
Type Of Coolers Used
DD MC-TDX , Koolance VID-487X2 (Dual Loop), VID-487 Koolance
CPU Speeds Used
4080MHz 215 x 19
Operating System Used
Microsoft Windows 7 7048
Type of Software Used During Testing
Orthos X2 for CPU, 3DMark Vantage for GPU's, 4 gig file transfer drive to drive for SATA, DVD copy for DVD, molex 8 120 mm Fans
To test this PSU, I used Orthos x 2 instances and checked both the EPS CPU power cable and the 24-pin main power cable. To test the PCI-E cables I used both video cards, the 4870×2 and 4870 in Crossfire X mode and ran 3DMark Vantage, then tested each power cable per video card then also checked the main 24-pin power cable as well. For testing the HDD SATA cables, I ended up moving a rather large 4 gig file from my primary Drives (RAID0 Seagate's) to my back up WD 160 Gig HDD and measured the SATA power cables as well as the 24-pin main power cable. For testing the DVD SATA power cable, I ended up coping an entire 4 gig disc to my back up HDD and measured the DVD SATA cable and the 24-pin main power cable. For Molex testing I used all I have that uses this kind of connection, eight 120mm fans. I also am using a Monster Power, Power conditioner from the wall outlet of the house to make sure my power to this PSU was clean at all times. I did not use a Kill-A-Watt meter as this just gives us the actual wattage being used, not how efficient the PSU is. I am going to include an extra Picture of how I measured the voltages of this PSU and the Cooler Master 900 watt UCP.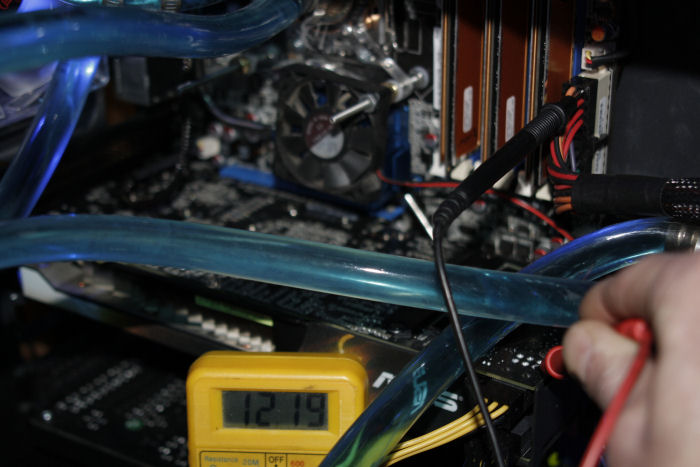 The video card has changed and the motherboard has changed since my testing. If we reviewers ever use the same machine for more then a week, then something's wrong with us.
TESTING
SilverSTone Zeus 1200 watt

CoolerMaster 900 watt UCP
OutPut Power
Idle
Load
OutPut Power
Idle
Load
24-pin Main 12 volt
12.10
12.11
24-pin Main 12 volt
12.16
12.13
24-pin Main 5 volt
5.12
5.12
24-pin Main 5 volt
5.04
5.02
24-pin Main 3 volt
3.42
3.43
24-pin Main 3 volt
3.36
3.36
EPS CPU 12 volt
12.19
12.17
EPS CPU 12 volt
12.23
12.18
PCI-E 6+2, 6-pin 1 12 volt
12.19
12.18
PCI-E 6pin 1 12 volt
12.23
12.15
PCI-E 6+2, 6-pin 2 12 volt
12.18
12.17
PCI-E 6-pin 2 12 volt

12.24
12.16
PCI-E 6+2, 6-pin 3 12 volt
12.20
12.20
PCI-E 8-pin 1 12 volt
12.23
12.18
PCI-E 6-pin 4 12 volt
12.20
12.20
PCI-E 8-pin 2 12 volt
12.22
12.16
Molex 12 volt
12.17
12.17
Molex 12 volt
12.19
12.19
Molex 5 volt
5.15
5.15
Molex 5 volt
5.06
5.06
SATA 12 volt
12.17
12.16
SATA 12 volt
12.24
12.23
SATA 5 volt
5.13
5.12
SATA 5 volt
5.06
5.03
SATA 3.3 volt
3.44
3.40
SATA 3.3 volt
3.38
3.35
Comparing these two PSU's together, it is really hard to determine that one is better than the other. mainly because both PSU's maintained a good voltage throughout each one of their testing. I will have to say the SilverStone Zeus 1200 watter barely even budged on the voltages, making me even questioning myself if I was even measuring the right power cables. Only having a 0.01 variance between load and idle modes on the 12 volt rail is exceptional. The 3.3 volt line varied more then any one of the other voltages and that was a mere 0.04 volts. The only thing that puzzles me is the main 24-pin power cables 12 volt line. It has a difference of a roughly 0.08 volts from the other 12 volt lines. Normally, single rail PSU 12 volt lines are within a couple of volts of each other. I would not worry about this too much because it could have been the way the probe from the multimeter was hitting the connector. Its not an exact science. Nothing ever is really.
CONCLUSION
To sum up the SilverStone 1200 watt Zeus PSU, it is simply AWSOME. The next question is this, do all of us need such a large and powerful PSU powering our computers? If you are the type of person who is running a single/couple of 280/260GTX or a single/couple of 4870/4850 cards, then your answer is no, you would not need a 1200 watt PSU. Now, if you are the one who is powering Tri/Quad SLI or Tri/Quad Crossfire with one of today's Quad core CPU's, then you would need such a large PSU to keep things evenly powered. Anything less would be suicide.
For those who need a 1000+ watt PSU to keep their machines powered up properly, then the SilverStone 1200 watt Zeus would be the perfect candidate. When it comes to powering my personal computer, I only prefer the best of the best. SilverStone is one of those companies that fall in this category. I guess I need to list the pricing of this PSU so I will go ahead and do that for y'all. Looking at Newegg and various other web based e-tailers puts this PSU at around the $380 USD mark and that is a good price to pay to have a reliable PSU with such a high Wattage rating.
Performance 10
Value 9
Quality 9
Warranty 10
Features 9
Innovation

9



Pros:
+ Large size and quiet operation
+ Up to 50°C operating temperature
+ Modular Design
+ Switchable single to multi rail on the 12 Volt lines
Cons:
– Non gold plated connectors (more of a personal perference)
– Rear fan grill sticks out a little bit
– The switch could be a tad bit larger
Final Score: 9.0 out of 10 and the Bjorn3D Golden Bear Award.