The Thermaltake SpinQ is a new CPU cooler that features a fan inside the cpu cooler itself, it's not so much designed for overclocking as it is for that modded look.
INTRODUCTION
CPU coolers – nobody really likes to think about them much. They just sit on top the CPU and keep it from frying. Most end users are happy with the cooler that came with the CPU and have little realization that the Stock CPU cooler really won't do the job of keeping the CPU cool and certainly won't allow for any real overclocking. Look at the facts though. The overclocking community is just a small percentage of end users. Most end users will look at you and say, "Overclocking. I've heard of that." Sad but true. Most people don't overclock and in most cases review sites tend to cater to that community.
Bjorn3D is just as guilty as any other high end hardware site in catering to the overclocking community. But in this case we're looking out for the Modding community. Modding a CPU cooler yourself really isn't a good idea but there are some unique coolers out there that have the pre-modded look. We're going to look at one today that's aimed more for modders than overclockers, the Thermaltake SpinQ.

About Thermaltake
The Company
We live in a world where most things seem to move at the speed of light. At Thermaltake, we feel the same way and that is exactly how Thermaltake conducts itself to deliver innovative, reliable and customer-centric solutions to the worldwide market.
Since the beginning of Thermaltake in 1999, it has been at the forefront of creating new and exciting products at a time where most computer users were provided little to no choices for components that may seem irrelevant, but in reality crucial to the performance of a PC.
Thermaltake Server Series solutions, with years of thermal experience and industry leadership, sets its goal on reforming total thermal management in server segment by formulating the perfect mixture of versatility, efficiency and thermal management with each respective server product category: Rackmount Chassis, Server Fixed & Redundant Power Supply and Server CPU Cooling Management Solutions.
With its comprehensive line of products available, it enables Thermaltake's core customers to enjoy a one-stop-shop experience, reduce product design-in evaluation period and most important of all, flawless integration process. Each of Thermaltake's strengths enables its customer to focus on their core business while taking advantage of the skills and efficiency of a single thermal management solution partner.
Values & Principles
– While still a relatively young company, established in 1999, Thermaltake is built on unwavering will and dedication to address issues and innovate at the same time for computer enthusiasts and corporate users worldwide .
– With strong support of Research & Development team standing behind the brand, Thermaltake is committed to never-follow but always-lead.
– In past decades, the industrial and technological advancements in different fields have shaped the world we live in today and have also made a big impact on the environment. Thermaltake takes great measures to ensure the product that we produce relieve these impacts by being first to act on 80 PLUS® specification for computer power supply that greatly reduces the amount of electricity that a computer consumes.
– Always striving to be the best, we continuously benchmark our performance against the very best internally and externally.
– Customers are our greatest asset and Thermaltake does not take that for granted. That is why Thermaltake is the industry leading in customer service and customer support with around-the-clock automated product return service.
FEATURES & SPECIFICATIONS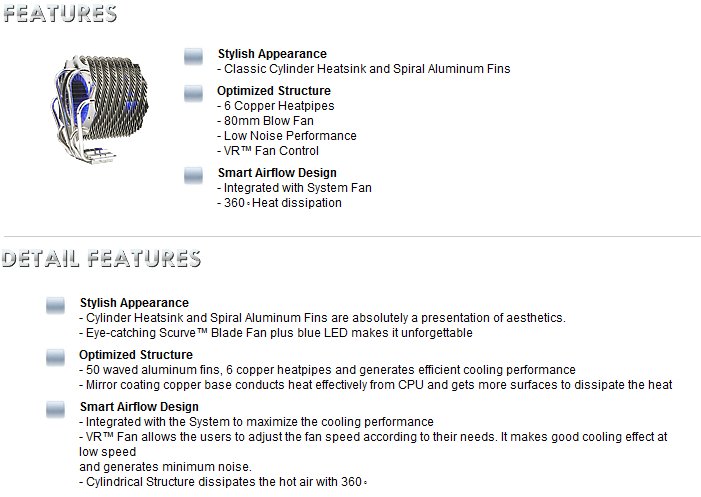 The SpinQ features six heat pipes and an interior squirrel cage fan that is 80mm in diameter. It's got a cylinder design which gives it that premodded look and has sturdy aluminum fins. You might want to be a little careful seating this one because the fins are pointed and if your hand slips you could add a little blood to that premodded look. The airflow design on this one is a 360 degree design and it not only cools the CPU but the air coming off the cooler will also help to cool the chipset around the CPU socket.
The accessories with the SpinQ will allow it to accommodate almost all modern CPU's, but we feel that including the LGA 1366 family is a little ambitious for the SpinQ. Unlike a lot of CPU cooler on the market today, it's not one of those huge towering hulks but it's no dainty little thing either. The fan operates at a whisper quiet 1000 – 1600 RPM and we couldn't hear it inside the chassis during normal operation. With the side open and the fan cranked up we could hear it at full output which is 86.5 CFM. It features a blue LED lighting system and should fit in most cases and all motherboard fan headers. The accessory pack with the SpinQ is adequate to handle all the listed CPU sockets.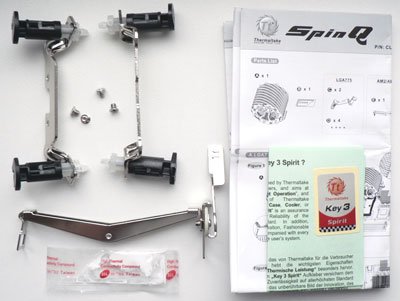 The dreaded push pin method of mounting is the way you mount the SpinQ. It's not among our favorite methods. Then, you get a typical rocker type mount for AMD systems. We wouldn't recommend using the included SilMore thermal compound and opted to use Arctic Silver 5 ourselves. The SilMore will do if you forgot to purchase a higher quality thermal compound, but if you did you'll want to replace the SilMore as soon as possible as it's known to suffer thermal breakdown and over time performance degrades like most silicon based thermal compounds.
PICTURES & IMPRESSIONS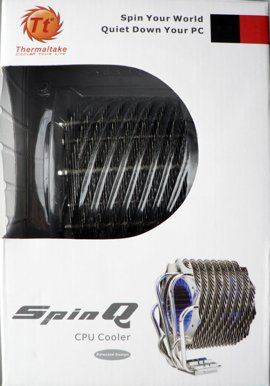 The front of the box has a nice display opening so the perspective customer can see how it looks and a stylized beauty shot of the SpinQ on the lower right hand corner.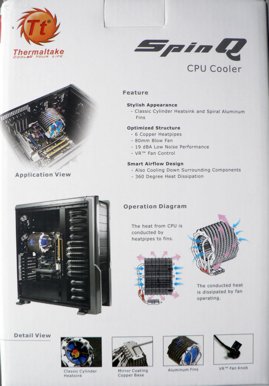 The back of the box contains enough information and specifications to help inform the consumer about the purchase of the SpinQ and the box is sturdy enough to protect it during shipping.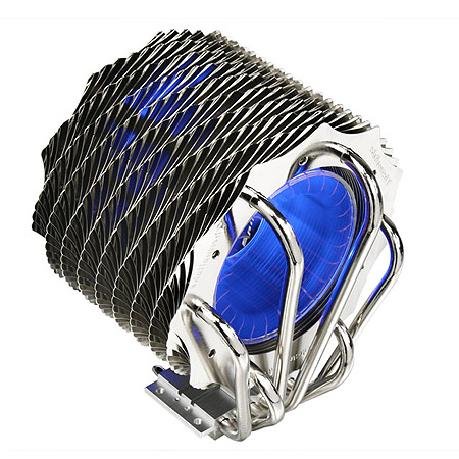 Like we mentioned earlier the SpinQ has a distinctive pre-modded look to it and features a Blue LED lighting system, we've never seen any CPU cooler that looks like it and around the lab we call it the "Cheese Grater".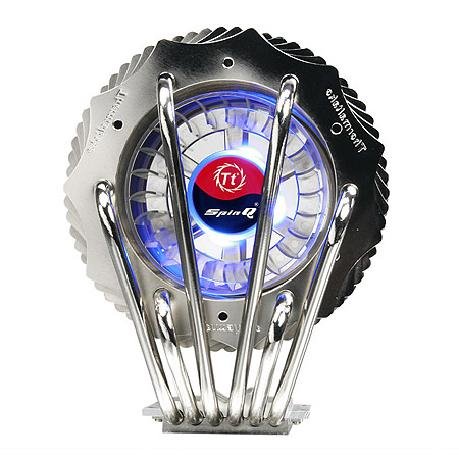 You can see that the fan on the SpinQ is entirely encased by the cooler itself and if the fan goes that's no replacing this fan which is a little bit of a negitive but given it's long mean time between failure it's not really an issue. By the time the SpinQ decides to head for the great recycling bin in the sky the computers of today will be relegated to the garage sales of tomorrow.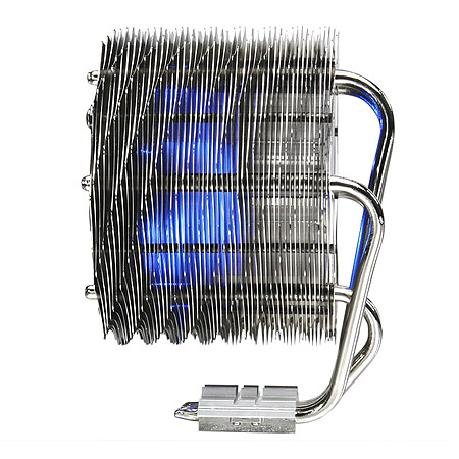 If you don't use the SpinQ for a CPU cooler you could certainly use it for personal defense, pull one of these things out of your pocket and wave it at a potential attacker and they'd either run in fear, or think you were nut's and run. Either way it's a win win for a defensive device.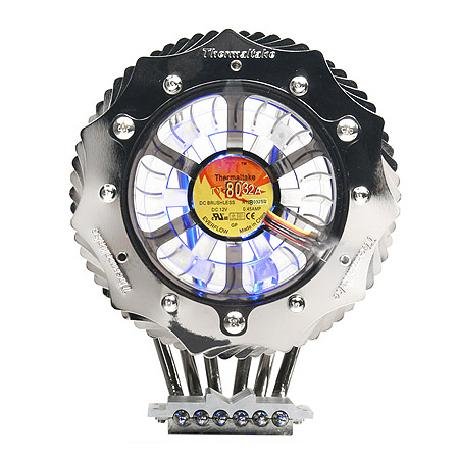 The other side of the SpinQ shows the sticker on the fan and let's you know it's an 80 MM design fan, but at it's rated CFM of 86.5 CFM you wouldn't think an 80 mm fan could churn that much air.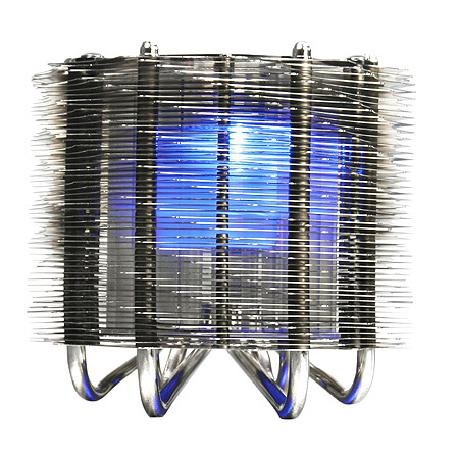 From the top the SpinQ looks pretty neat especially lighted, if your looking for the one thing that will draw attention and add a little bling this might just be it. Like we mentioned earlier we don't see it as a major player for overclocking but for style points it's got it going on.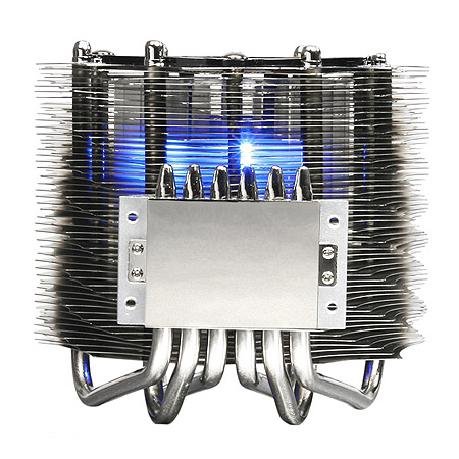 The Base of the SpinQ is nice and flat but up close we noticed a few milling marks but not nearly as bad as most CPU coolers we see. Most CPU coolers when delivered look like a crack addict was at the controls when the base got milled and we feel an urge to get out the lapping kit. With the SpinQ the surface is flat and smooth enough we didn't feel that urge.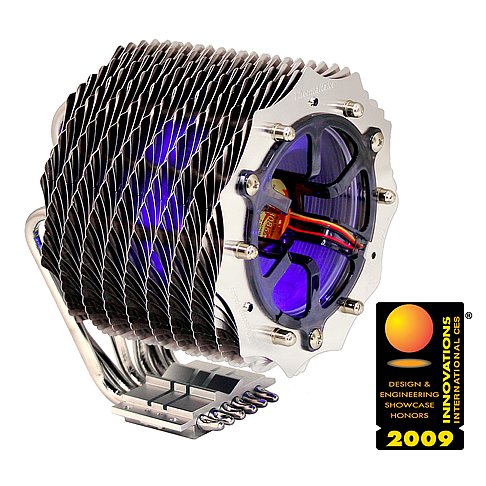 Then lastly we wanted to throw in this shot we snagged from the Thermaltake webby so you could see the way the fan is wired. It took us about 5 minutes of turning it over in our hands looking at the SpinQ to even think about how it was wired and while handling it we got the distinct urge for some Colby Cheddar Cheese (Shrug).
TESTING & METHODOLOGY
To test the Thermaltake SpinQ we mounted it on our EVGA 790i with the Q6600for the CPU. We didn't bother with a fresh load of Vista 64 because it's not important in CPU cooler testing. As long as we can fire up Prime95 for 30 minutes without the rig crashing and idle at the desktop for 30 minutes we're good to go. The 790i is one of the boards with a lot of taller cooling implements around the CPU socket, so if a cooler fits on this board chances are it'll fit yours.
We Idled the machine for 30 minutes and took the Idle temperatures. Then, without shutting it down we ran Prime95 for 30 minutes and took the load temperature. After getting the load temperature we shut it down for 30 minute to cool it off then repeated the process three times for each cooler. The average of the three test runs are reported here.
Test Rig
Test Rig
"Quadzilla"
Case Type
Thermaltake Armor ESA
CPU
Intel Q6600 @ 3.2 Voltage 1.3875 vcore
E6750 Max FSB testing only
Motherboard
EVGA 790i
Ram
OCZ DDR3 2000 MHz
CPU Cooler
Thermaltake SpinQ
Titan Fenrir
Noctua NH-C12P
Variety of water cooling not for comparison to air coolers
Hard Drives
WD 250 Gig Sata 2
Two Maxtor 160 Gig Sata2
Optical
Sony DVD R/W
GPU
Leadtek GTX-260
BFG GTX-260 OCX MaxCore
In SLI
Case Fans
Two 120mm Thermaltake Front/Rear Push/Pull
250mm Side fan
90mm Rear Exhaust
90mm Top Exhaus
Docking Stations
Tagan IB290 W/Deskstar 2 1/2 Inch 80 Gig Sata 2
Tagan IB390 W/Maxtor 160 Gig Sata 2
Thermaltake BlackX USB W/Seagate 80 Gig Sata 2
Testing PSU
Thermaltake Toughpower 850 ESA Modular
Legacy
Floppy Drive
Mouse
Razer Lachesis
Keyboard
Razer Lycosa
Gaming Headset
Razer Piranha
Speakers
Logitec Dolby 5.1
Any Attempt Copy This System Configuration May Lead to Bankruptcy
TESTING RESULTS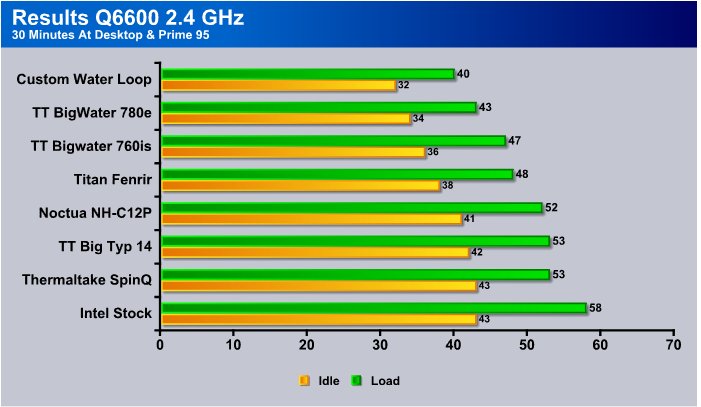 We had some water cooling numbers on our charts and they aren't there for comparison to air coolers but we thought it would be nice to leave them there for informational purposes. We had the fan running at the highest setting on the SpinQ, churning out 86.5 CFM by specifications and the SpinQ came in ahead of the Intel Stock cooler, but not by much. We weren't really looking at the SpinQ as an overclocking champion anyway but more as a functional pre-modded cooler. Still, it knocked a few degrees off the stock cooler's temps so we're good to go at 2.4 GHz. Remember, most of the people out there don't overclock. We overclockers are a small percentage of end users (Granted, the elite portion of end users, but we're in the minority).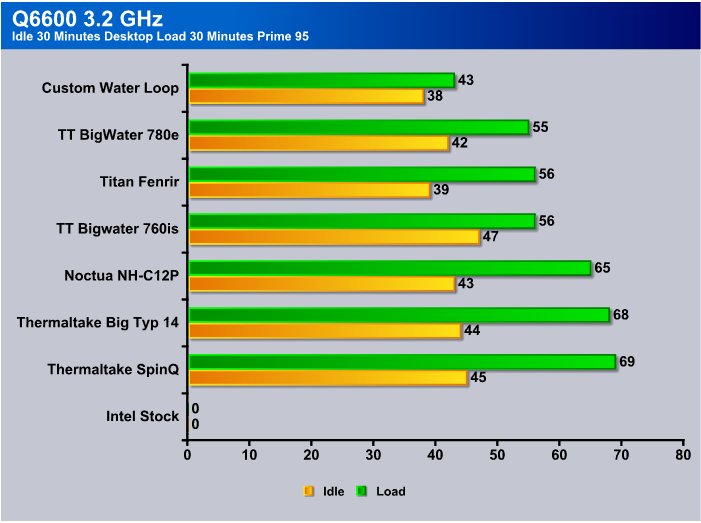 The Intel stock cooler failed to make acceptable temperatures at 3.2 GHZ and the SpinQ and TT Big Typ 14 pro came close to failing the 3.2 GHz test. We cut off the testing at 70°C and consider anything above 70°C as failure and take a hammer to the offending CPU cooler.
CONCLUSION
The Thermaltake SpinQ certainly has a stylish look about it and adds a little bling to the inside of your chassis and provided a little overclocking headroom. We managed to get to 3.2GHz on the Q6600 and stay under 70°C, which is our cutoff for CPU cooler testing in most cases. We didn't expect to get that much overhead for overclocking from such a stylish cooler but still, if you're looking for killer overclocking headroom, this probably isn't the product for you.
If you're looking for a stylish cooler that provides better cooling than the Intel Stock cooler and helps bring a little style to the stark boring interior of the gaming shrine then the SpinQ might just be what you're looking for.
We are trying out a new addition to our scoring system to provide additional feedback beyond a flat score. Please note that the final score isn't an aggregate average of the new rating system.
Performance 7
Value 8
Quality 8
Warranty 7
Features 7
Innovation 10
Pros:
+  Looks Nice
+  Better Than Intel Stock Cooling On the Q6600
+  Easy To Install
+  Blue LED Lighting System
+  Decent Overclocking Result
+  Innovative Design
Cons:
–  Edges Are Sharp
–  Not Really For Hardcore Overclockers
–  Little Pricey For The Performance But Priced Right For The Bling
The SpinQ gave us a little more overclocking headroom than the Intel Stock Cooler on the Q6600 which granted, is a 65nm part, and isn't real easy to cool. That's what makes the Q6600 good for CPU cooler testing. It overclocks like a demon and produces enough heat that it demands superior cooling to do it. We got a nice little 800 MHz performance boost with the SpinQ and the SpinQ looks good on the EVGA 790i. So, for moderate overclockers it will perform nicely and scores a: 7.5 out of 10.