Flash drives are a very important piece of today's daily technology, and all kinds of people around the world use them for transporting data. How does this 64GB model perform?
INTRODUCTION
Flash drives are and have been a very important piece of pocket size technology for quite a while now. And flash drives are used on a daily basis by all kinds of people around the world. Some people use them for storing music or pictures, and sometimes movies, but at the same time, others use flash drives to take their computer based data with them on the go. Either way, people need a reliable device that can handle a light, or in some cases, heavy beating.
Super Talent has been in the computer storage industry for quite a while now, and seems to have a very good idea of what they are doing. Today, Super Talent has bestowed upon me a 64GB Luxio flash drive to review for you guys today, and I must say that I'm pretty excited to see how well this puppy performs.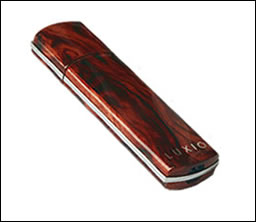 ABOUT SUPER TALENT
Super Talent Technology, headquartered in San Jose, California, designs and manufactures a full range of DDR, DDR2, and DDR3 memory modules and Flash based storage devices for computers and consumer electronics. An ISO 9001 certified company, Super Talent utilzes its state-of-the art factory and leading-edge components to produce award winning products with outstanding reliability. Super Talent is an active member of JEDEC, ONFI and USB-IF standards bodies, and holds over 200 patents in Flash and DRAM technology.
uper Talent's Silicon Valley based electrical, mechanical, and software Engineering teams develop leading-edge DRAM and Flash memory solutions for a multitude of applications. Our US-based engineering enables Super Talent to bring advanced new products and technologies to market well ahead of the competition. A leading innovator, Super Talent holds over 200 patents on DRAM and Flash module design and manufacturing processes, making Super Talent one of the world's chief patent holders in memory device categories. Super Talent is an active member of JEDEC, the association that defines future memory standards. The company is a technical leader in producing industry standard memory modules as well as in developing custom memory solutions.
With state-of-the-art ISO 9001 certified manufacturing facilities in both USA and China, Super Talent has over 20 highly automated surface mount (SMT) assembly lines. The company relies on its 20-years of experience making memory products and adherence to strict quality standards to produce high quality products with outstanding reliability.
Our memory modules are rigorously qualified in Super Talent's compatibility labs, and are then tested and approved by top motherboard manufacturers and other industry partners. Every memory product from the production line is subject to essential hardware and software testing standards for consistency and functionality. Our intensive quality control and testing procedures are designed to ensure the highest possible product quality. Super Talent's extensive statistical analysis of manufacturing data helps drive constant improvement in operations.
FEATURES AND SPECIFICATIONS
– Full compatibility with USB 1.1 and 2.0
– Dual channel flash memory architecture
– Hot plug and play; Functions like another hard drive
– Supports password protection
– Supports ReadyBoost™
– AES-256 hardware Encryption included  (User Manual)
– Custom black leather carrying case included
– No driver needed for most operating systems (Windows 98SE driver available online)
– LED indicates power, busy
– More than 10 years data retention
– Limited lifetime warranty
Dimensions:
  21 mm x 76.5 mm x 9.5 mm 
PICTURES AND IMPRESSIONS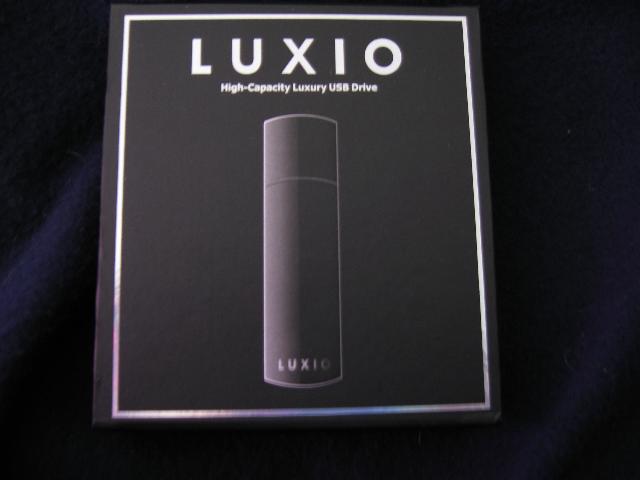 Here we have the front of the box. It's very class and gives the consumer an extremely good first impression.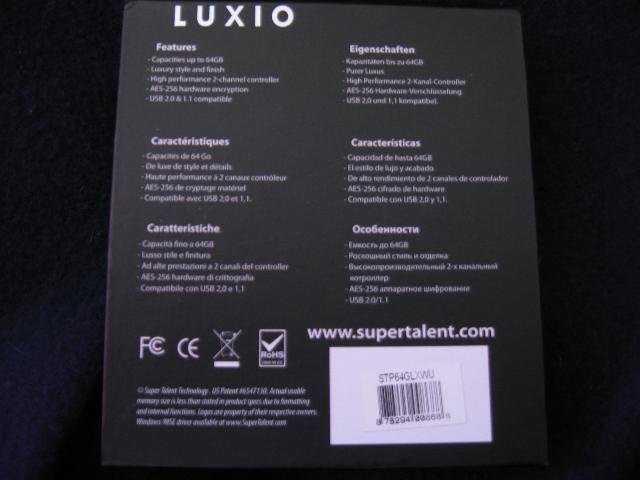 Here is the back of the box listing all the different features of the drive and also listing the Super Talent website.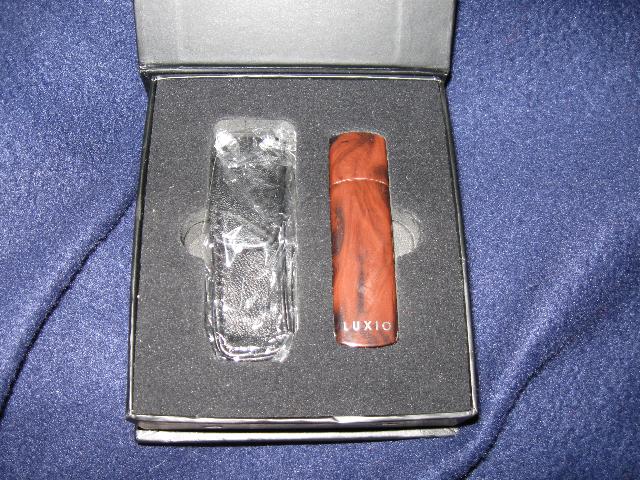 Here's the drive and the little leather holster that comes with it.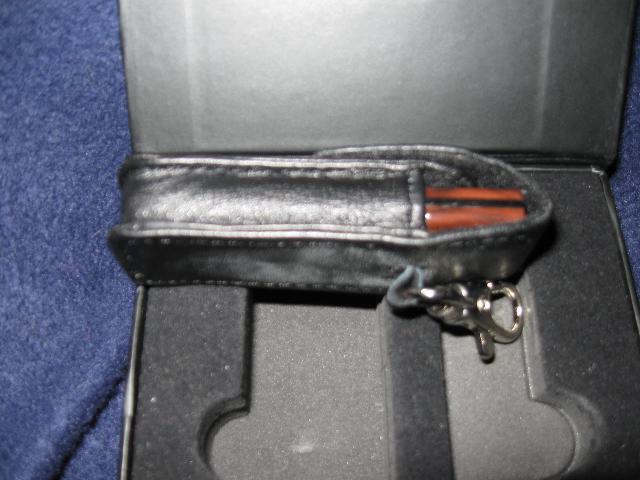 And finally, the drive in the holster. You can see the holster has a hook so that it can be attached to your keychain, belt, or anything else you might want to attach it to so you can carry the drive around with you safely as you go places.
So far, I am very impressed with the classiness of this USB drive, and I think that Super Talent has really outdone themselves on this one. That, of course, is not a bad thing for us as it leaves us with a very finely polished product! Now, onto the testing. Let's see if this Luxio 64GB drive performs as well as it looks like it would.
TESTING
Super Talent Luxio 64GB Test Setup


Case

Cooler Master HAF 932

Motherboard

EVGA x58 3x SLI

CPU

Intel Core i7 920 @ 4GHz

Memory

6GB OCZ Platinum 1600

GPU

XFX GTX280

HDD

Western Digital 640GB

PSU

In-Win Commander 1200W

Cooling

TRUE 120
USB Drives

64GB Luxio

8GB Cruzer
SYNTHETIC BENCHMARKS

SANDRA XII Professional
HD Tune
HD Tach
TEST RESULTS
Each test was run three times and an average was computed to verify valid results.
HD TUNE RESULTS

TEST

64GB Luxio

8GB Cruzer

BURST RATE

24.9 MB/s
17.7 MB/s

MIN TRANS. RATE

19.2 MB/s

18.1 MB/s

MAX TRANS. RATE

27.3 MB/s

20.5 MB/s

AVG TRANS. RATE

19.7 MB/s

18.8 MB/s

ACCESS TIME

0.7 ms

0.6 ms
The Luxio drive out performed the Cruzer in everything except for access time, but I don't think that 0.1 ms is an huge loss for the Luxio.
SISOFT SANDRA PRO 2009 RESULTS

TEST

64GB Luxio

8GB Cruzer

2MB READ

30.1 MB/s
27.13 MB/s

2MB WRITE

11.33 MB/s

5.37 MB/s

256MB READ

29.87 MB/s

25.6 MB/s

256MB WRITE

17.07 MB/s

8.53 MB/s
In SiSoft, the Luxio drive absolutely stomped all over the Cruzer drive. At close to 30MB/s in each test, the Luxio is really showing that it's not only built for large storage, but also that it's a very speedy little device.
HD TACH RESULTS


TEST

64GB Luxio

8GB Cruzer

8MB ZONE RANDOM ACCESS

0.6 ms
0.6 ms

32 MB ZONE RANDOM ACCESS


0.7 ms

1.0 ms

8MB AVG READ

20.6 MB/s

20.0 MB/s

32MB AVG READ


20.6 MB/s

19.6 MB/s

8MB BURST SPEED
32.9 MB/s
29.2 MB/s
32MB BURST SPEED
32.8 MB/s
29.1 MB/s
In the final test, HD Tach, the Luxio drive and the Cruzer were within 3ms and MB/s in every test, but the Luxio was the one on top each time. These tests show us how Super Talent not only had a massive amount of storage space in mind for your pocket, but they also proved themselves by making it a very speedy little device.
SecureLock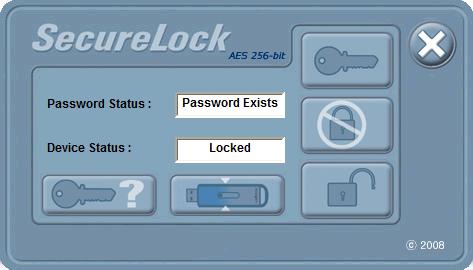 This is the the AES 256-Bit encryption application called SecureLock which is used to make two seperate partitions on your flash drive. The cool thing about this is, you get to set a password for the second partition so that no one can go in and mess around with your files. You simply login by clicking the unlock picture and typing your password. The flash drive then "reboots" and another flash drive will show up in My Computer; this is the secured part of your flash drive.
CONCLUSION
This flash drive has got to be one of the most unique items that I've had the opportunity to get my hands on. I haven't seen any other flash drives with a wood like finish, or even one that's built as well as this. I can tell you from past experiences that my flash drives take a heavy beating, and, although I am going to try and be more careful with this one, so far the Luxio 64GB has stood up to my daily abuse. No cracks, scratches, nothing bad so far!
You may think that 64GB of storage on this device is a bit overkill, but you should take into consideration that file sizes are expanding. The size of media files, specifically movies, have shot up through the clouds recently with Blu-Ray, and this drive makes it very convenient for me to move a full Blu-Ray movie from one computer to the other, and have the ability to watch it anywhere I please.
If you haven't been able to figure it out yet, I am extremely happy with the performance, looks, and overall wow factor of the Luxio 64GB USB drive. However, every product has a down side, and for the Luxio, that is the $132 USD price tag on the Egg, but there is a $20 mail in rebate to bring it down to $112 shipped. If you need storage, speed, and also the ability to throw all that into your pocket, the Luxio is the piece of tech for you.
We are trying out a new addition to our scoring system to provide additional feedback beyond a flat score. Please note that the final score isn't an aggregate average of the new rating system.
Performance

10
Value 8.5
Quality 10
Warranty 10
Features 8.5
Innovation 9.5
Pros:
+  64GB of Storage Space!!!
+  No bigger than traditional USB Drives
+  Seems to take a beating fairly well
+  Performance
+  Build Quality
Cons:
– Steep Price Tag
The Super Talent Luxio 64GB USB drive has been a fun item to review, and I hope to see more from this leading company in on-the-go storage.
Final Score: 9.0 out of 10 and the Bjorn3D Golden Bear Award.