Looking for a lot of storage in a tiny package? How about the tiniest package? Check out the Pico 16GB from Super Talent.
INTRODUCTION
As many of us know, computers, and their related hardware, have been getting smaller and smaller over the years. Peripherals and add-ons are no exception, of course. Laptop mice have become a niche all their own, desired for their small size and portability. So too, have the USB thumb drives. Leading the charge when it comes to miniaturizing is Super Talent, with their Pico line of USB drives. The Pico has been around for some time now, but the 16GB generation is a relative newcomer.
The Pico-C (the one being tested here today) is the smallest of the small drives. It has no cap, no sliding cover, just an eyelet at the end. Worried about damaging it? Don't. This thing is rugged, water-resistant and even feels solid. This is not some flimsy little plastic drive, it's metal and it's durable. Good thing it's tiny, lack of extra material goes a long way to keep the weight down.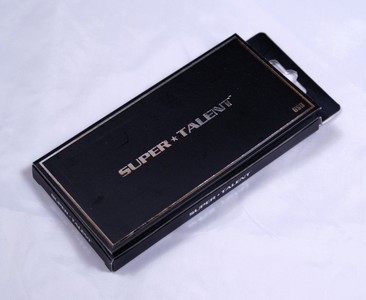 ABOUT SUPER TALENT
Super Talent Technology, headquartered in San Jose, California, designs and manufactures a full range of DDR, DDR2, and DDR3 memory modules and Flash based storage devices for computers and consumer electronics. An ISO 9001 certified company, Super Talent utilzes its state-of-the art factory and leading-edge components to produce award winning products with outstanding reliability. Super Talent is an active member of JEDEC, ONFI and USB-IF standards bodies, and holds over 200 patents in Flash and DRAM technology.
uper Talent's Silicon Valley based electrical, mechanical, and software Engineering teams develop leading-edge DRAM and Flash memory solutions for a multitude of applications. Our US-based engineering enables Super Talent to bring advanced new products and technologies to market well ahead of the competition. A leading innovator, Super Talent holds over 200 patents on DRAM and Flash module design and manufacturing processes, making Super Talent one of the world's chief patent holders in memory device categories. Super Talent is an active member of JEDEC, the association that defines future memory standards. The company is a technical leader in producing industry standard memory modules as well as in developing custom memory solutions.
With state-of-the-art ISO 9001 certified manufacturing facilities in both USA and China, Super Talent has over 20 highly automated surface mount (SMT) assembly lines. The company relies on its 20-years of experience making memory products and adherence to strict quality standards to produce high quality products with outstanding reliability.
Our memory modules are rigorously qualified in Super Talent's compatibility labs, and are then tested and approved by top motherboard manufacturers and other industry partners. Every memory product from the production line is subject to essential hardware and software testing standards for consistency and functionality. Our intensive quality control and testing procedures are designed to ensure the highest possible product quality. Super Talent's extensive statistical analysis of manufacturing data helps drive constant improvement in operations.
FEATURES AND SPECIFICATIONS
One might expect that USB drives are all pretty much the same. For the most part, this is true. There are however, exceptions to the rule. From the very beginning the Pico is very different. Just looking at it you know it's something special. This drive is small enough to conceal in your shoe, yet holds enough data to fill more than 20 standard CD-R disks, or almost as much as 4 DVD-R disks (perfect for all that industrial espionage you're planning). Here's a list of all the other important stuff:
Weight less than 6g
Up to 30MB/s (200X) data transfer rate
Fully compatible with USB 2.0 and 1.1
Water resistant
Powered by USB bus – no external power is required
Durable solid-state storage – 10 years data retention
Hot Plug & Play – enable you to install and uninstall Pico anytime
Supports ReadyBoost™
PICO-A: Swivel
PICO-B: Retractable
PICO-C: Capless; rugged
   * This model also comes in Nickel plating
   * Special Limited Edition: 24k gold plated PICO-C
PICO-D: Swivel
PICO-E: Sliding Lid
Pico drives are available in capacities ranging from 1GB to 16GB
PICTURES AND IMPRESSIONS
Like many of you, this is my favorite part of reviews so I won't waste a lot of your time here. Behold…PICTURES!!!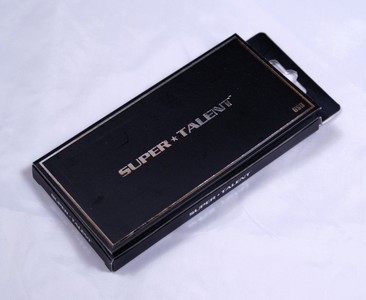 Attractive packaging, it matches the drive exactly. For those that have trouble seeing the details of the drive in the pictures below, this gives a pretty good idea of what it looks like up close.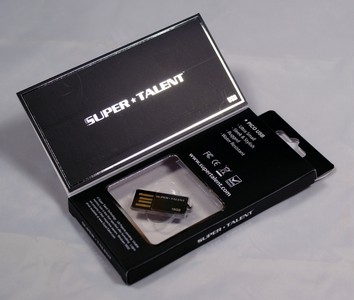 I've always appreciated the flip-open style packaging. It allows you to take a closer look at the hardware you're about to spend your hard-earned money on.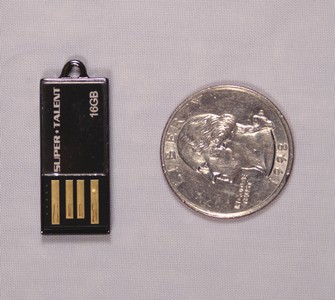 Told you it was tiny…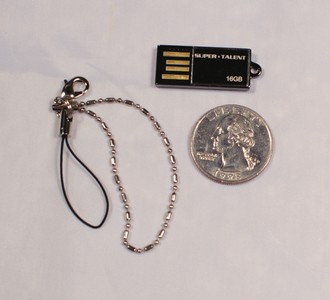 Okay, for some reason when I saw this picture (my wife is the photographer) I assumed that the chain would be big enough to wear on my wrist or something. It's not.
TESTING METHODOLOGY
USB thumb drives are mercifully simple to test. All we really need to know is, how fast is it? We all know the theoretical limits of USB 2.0, but what will a given drive actually achieve? Thus, the reason we test. For our testing purposes today we are using the following setup:
SUPER TALENT PICO 16GB TEST SETUP


Case

Danger Den Tower 26

Motherboard

EVGA 790i Ultra

CPU

Q6600 1.400v @ 3.0 GHz

Memory

GPU

EVGA 8800GT SC 714/1779/1032

HDD

2 X WD Caviar Black 640GB RAID 0

PSU

In-Win Commander 1200W

Cooling

Laing DDC 12V 18W pump

MC-TDX 775 CPU Block

Ione full coverage GPU block G92

Black Ice GTX480 radiator

USB Drives

Pico 16GB
Optima Attache 2GB
Imation 1GB
SYNTHETIC BENCHMARKS

SANDRA XII Professional
HD Tune
HD Tach
TEST RESULTS
Each test was run three times and an average was computed to verify valid results.
HD TUNE RESULTS

TEST

IMATION 1GB

OPTIMA ATTACHE 2GB

PICO 16GB

BURST RATE

8.3 MB/s
16.6 MB/s
24.9 MB/s

MIN TRANS. RATE

8.6 MB/s

12.8 MB/s

29.2 MB/s

MAX TRANS. RATE

8.8 MB/s

17.3 MB/s

31.2 MB/s

AVG TRANS. RATE

8.6 MB/s

17.2 MB/s

30.2 MB/s

ACCESS TIME

0.6 ms

0.7 ms

0.7 ms
As you can see from the results above, the PICO is by far the fastest drive tested, it does an excellent job of combining superb transfer rates with average access times. The Optima, in second place, posted number a little better than half in most categories, the 12.8 MB/s minimum transfer rate was a downward spike, not representative of the entire test. The average transfer rate is the one to watch here, with the Pico clearly dominating.
SISOFT SANDRA PRO 2009 RESULTS

TEST

IMATION 1GB

OPTIMA ATTACHE 2GB

PICO 16GB
2MB READ

8.57 MB/s
16.37 MB/s
30.07 MB/s

2MB WRITE

4.90 MB/s

5.07 MB/s

5.43 MB/s

256MB READ

8.53 MB/s

17.07 MB/s

29.87 MB/s

256MB WRITE

4.27 MB/s

4.27 MB/s

8.53 MB/s
SiSoft Sandra showed results that greatly favored the Pico. As you can see from the chart above, read rates were almost twice as fast as the nearest competitor, with the write rate maintaining the trend, except for the 2MB write test.
HD TACH RESULTS


TEST

IMATION 1GB

OPTIMA ATTACHE 2GB

PICO 16GB
8MB ZONE RANDOM ACCESS

0.6 ms
0.6 ms
0.7 ms

32 MB ZONE RANDOM ACCESS


0.6 ms

1.0 ms

0.7 ms

8MB AVG READ

9.1 MB/s

18.0 MB/s

31.7 MB/s

32MB AVG READ


9.1 MB/s

18.0 MB/s

31.8 MB/s

8MB BURST SPEED
9.2 MB/s
18.4 MB/s
32.9 MB/s
32MB BURST SPEED
9.2 MB/s
18.2 MB/s
33.0 MB/s
The Pico clearly wins out in HD Tach as well. Not quite double the average read or burst speeds, but it's almost there. The only place the Pico doesn't quite win out is the 8MB and 32MB random access tests, but its only off by .1 ms, which isn't too shabby.
Across all the tests, the Pico remained the clear winner. Not bad for a 16GB drive.
CONCLUSION
Well, this drive was an easy one to like. Many people don't consider access times, read speeds and so on when they're considering a USB drive. They tend to focus more on capacity first, and for many people the second factor is size. In this area, the Pico has no rivals. It is the first, and the only, drive that I have seen with a 16GB capacity that is this small. In the words of a good friend "It's not a thumb drive, it's a thumb-nail drive." 
Perhaps more importantly than the small size is the durability. What good is a small drive if it can't survive riding around in a pocket, purse, or backpack? This drive spent a rough couple of weeks between my pocket, my school bag (which gets thrown around a lot), and perhaps worst of all, the top of my desk. It has performed flawlessly to this day.
So you're asking yourself "what are the drawbacks to this drive?" I have found one; how do you avoid losing the drive? Maybe that's just a problem for me, as it disappears constantly on my desk. I find it eventually, but it blends in and will hide under just about anything. It's easy to forget that it's plugged in as well, as it only sticks out of my extension cable about 1/2″. All in all though, that's not much of a complaint, I know.
The Pico is available with an MSRP of $49, cheaper through your favorite e-tailer. It also, like all Super Talent USB drives, comes with a lifetime warranty. Doesn't get any better than that!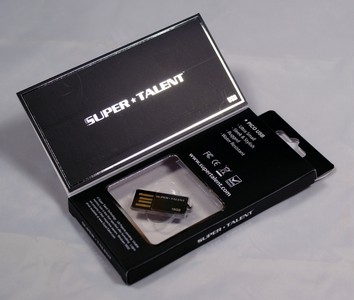 We are trying out a new addition to our scoring system to provide additional feedback beyond a flat score. Please note that the final score isn't an aggregate average of the new rating system.
Performance 9.5
Value 8.5
Quality 10
Warranty 10
Features 8.5
Innovation 9.5
Pros:
+  Smallest USB drive available
+  Fastest USB drive tested
+  Rugged
+  Water-resistant
Cons:
– Easy to lose on my desk
The Super Talent Pico 16GB is by far the best USB drive I've tested. With it's small size combined with the high capacity it is something that every college student or IT professional could use, rather than lugging around oversized drives.
Final Score: 9.5 out of 10 and the Bjorn3D Golden Bear Award.