So you bought a new shiny i7? How about treating it to some triple channel RAM? Mushkin offers up its crack at DDR3 1600 triple channel with the HP3-12800.
INTRODUCTION
DDR3 memory has been slowly taking over DDR2 as the new standard in RAM. Lower voltages and higher speeds make the difference easily worth the price. The lower voltage means lower energy bills. In the long run it can save you hundreds of dollars over years of use. These savings add up, and easily make DDR3 worth the extra cost. On top of these savings you get more performance. This performance also guarantees a bit of future proofing. If you look back at the life span of RAM you will find that DDR and DDR2 both lasted for years, so it is pretty safe to assume that DDR3 will last just as long as the previous standards of DDR. With this in mind, it makes a lot of sense to be considering upgrading that old computer that just isn't as fast as it used to be.
There is no better choice than the new Intel Core i7 platform. While it may be a little more pricier than AMD's offerings, the Core i7 packs a lot more punch. To complete that punch you will need a triple channel kit of RAM. What better kit of RAM to get than a Mushkin HP3-12800? This kit is aimed at the mid range system builder, with a speed of 1600 MHz. While not the fastest DDR3 out there, it is the perfect blend of speed and price to keep you from breaking your wallet in half. Another nice feature of this RAM is its ability to run on only 1.5 volts, which should help out on the power bill even more. That is, unless you plan on overclocking it. With overclocking results of Mushkin RAM of the past, there is no doubt these sticks will overclock quite nicely.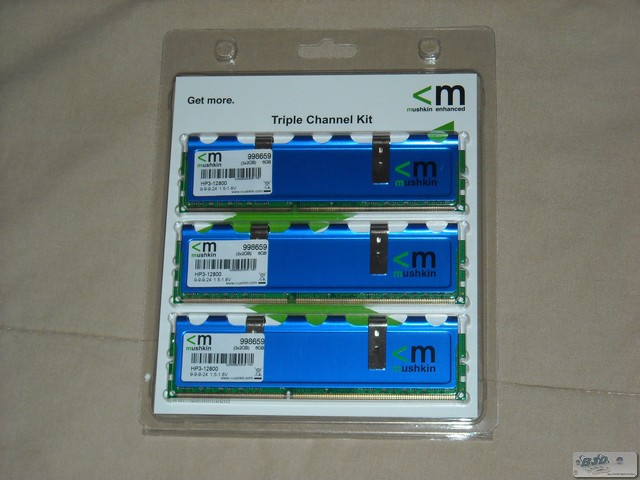 About Mushkin
Founded in 1994, Mushkin is best known for producing "Enhanced" memory modules. Located at the base of the Rocky Mountains in Denver, Colorado Mushkin provides performance enhanced computer products to users worldwide. Exceptional quality, enhanced performance and unparalleled customer support are what make Mushkin products the best in the industry.
Mushkin products include an enhanced power supply line and a complete selection of memory upgrades for desktops, servers and notebooks – we offer something for everyone from business user to gamer. Our enhanced memory products are available in several performance categories from standard to extreme, with our REDLINETM series in a class of its own. Our enhanced power supply line offers superb regulation and ripple characteristics, modularity and plenty of power to supply the most demanding systems.
With customers including everyone from Apple Computer and NASA to gamers and web browsers, Mushkin knows what is important to customers – enhanced performance with uncompromised quality. With Mushkin you Get More.

Mushkin, Inc.Mushkin, Inc. 333 West Colfax Ave. Suite 400 Denver CO 80204 Support / Sales (M-F 9am to 5pm MST) 800-569-1868 303-534-5306 (local)
SPECIFICATIONS
Mushkin HP 12800 DDR3

Frequency
1600MHz
Latency
9-9-9-24
Voltage
1.5-1.6V
Module
256Mx64
Parity
Unbuffered
Pins
240
Chip
128Mx8
PACKAGING
RAM package
The packaging on the Mushkin RAM is pretty normal. They have used the same design for years, but is there really any need to reinvent the wheel? The plastic case works just fine for keeping static from zapping the RAM. The package includes a piece of paper that contains some information about the RAM, but nothing about the particular kit. This is probably the same packaging they use for all of their triple channel kits, so it makes it easier on their end to make them all the same. Each stick is firmly clipped in to ensure that they wont fall onto the floor if you have a hard time opening the package. A nice feature of the package is its ability to be easily opened, but not so easily you can open it on accident. Rest assured, your RAM sticks will be perfectly safe until they reach your door.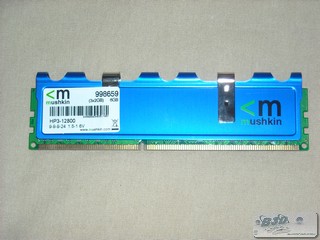 Front of RAM stick
The front of the RAM sticks are the same Mushkin style that have been around for years. While other manufacturers have moved on to different heat sink styles, Mushkin stands alone by staying with their older design. The heat sink design certainly isn't a bad one, but there is a possibility of better cooling with taller RAM. Owners of the Cooler Master V10, such as I, will be happy to see the shorter sticks, as taller ones will not fit. As with just about every other stick of RAM, Mushkin has chosen to put a sticker on the RAM sink to remind you of the default speed and timing of the RAM. This can be very helpful since the package does not include this information.
Back of RAM stick
Mushkin did not include any cool designs on the back. That doesn't make the RAM any faster so there's not a whole lot of point in it. A design would have been a nice addition, sort of like the designs on graphics cards. Then comes the issue of who really cares. Most of the time RAM is the last thing someone looks at, so in reality it would have been a nice touch but the RAM certainly isn't lacking anything by not including it.
TESTING METHODOLOGY
Test Setup &Testing Methodology

CPU
Intel Core i7 920
Motherboard
Intel SmackOver X58
Case
Tagan El Diablo Advance
Memory
Mushkin (2×3) 1600, G.Skill Pi (2×2) 1333
Video Card
Sapphire 4870
Hard Drives
640 GB SATA II Western Digital SE16
Cdrom Drive
Samsung DVD Burner
Power Supply
Coolermaster HX1000W
Coolers
Cooler Master V10
CPU Speeds/Memory speeds


920 @ 3.9 (190×20): RAM @ 1560

920 @ 3.7 (185×20): RAM @ 1802

Operating System
Microsoft Windows Vista 64 bit Ultimate
Testing Software
Everest v5, SiSoft, Crysis, Super PI, Winrar
I ran each benchmark three times looking for consistency in my scores and to make sure that stability of the scores was present. The G.Skill was run in dual channel, which gives the Mushkin an edge, but shows the benefits of triple channel over dual channel. The CPU had to be downclocked to run the Mushkin at 1802 Mhz. This affected scores, especially in SuperPi.
OVERCLOCKING RESULTS
With this kit I was able to boot at 1802. Upon stability testing with LinX, the RAM would fail after about 9 minutes. I really feel the RAM could be stabilized at this speed, but the board and RAM just were not clicking together. I was able to easily test back to back at 1802 with no issues, so I have decided to include those results in the preceding graphs. I have included a CPUZ screen shot to verify my overclock.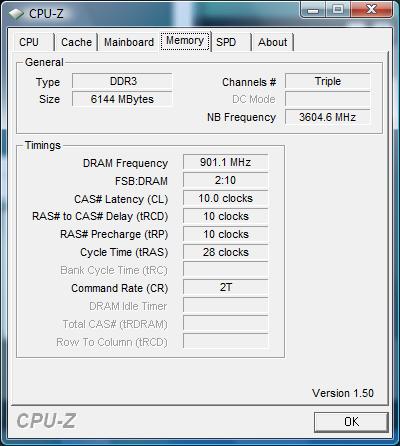 As you can see, I had to relax the timings a bit to get there, but the speed far makes up for the looser timings. Overall, a pretty good overclock for DDR3 1600.
SiSoft Sandra 2009 SP1
"SiSoftware Sandra (the System ANalyser, Diagnostic and Reporting Assistant) is an information & diagnostic utility. It should provide most of the information (including undocumented) you need to know about your hardware, software and other devices whether hardware or software. It works along the lines of other Windows utilities, however it tries to go beyond them and show you more of what's really going on. Giving the user the ability to draw comparisons at both a high and low-level. You can get information about the CPU, chipset, video adapter, ports, printers, sound card, memory, network, Windows internals, AGP, PCI, PCI-X, PCIe (PCI Express), database, USB, USB2, 1394/Firewire, etc."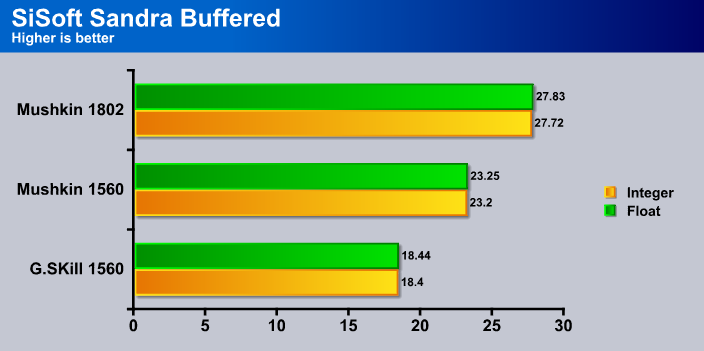 The Mushkin comes out of the gate with a good head start. This lead is only due to triple channel and its added bandwidth. As you can see, it is quite a large amount. Increasing the RAM speed only helps increase its lead substantially. Intel really upped the performance when they added triple channel RAM.
Crysis

Crysis is the most highly anticipated game to hit the market in the last several years. Crysis is based on the CryENGINE™ 2 developed by Crytek. The CryENGINE™ 2 offers real time editing, bump mapping, dynamic lights, network system, integrated physics system, shaders, shadows, and a dynamic music system, just to name a few of the state-of-the-art features that are incorporated into Crysis. As one might expect with this number of features, the game is extremely demanding of system resources, especially the GPU. We expect Crysis to be a primary gaming benchmark for many years to come.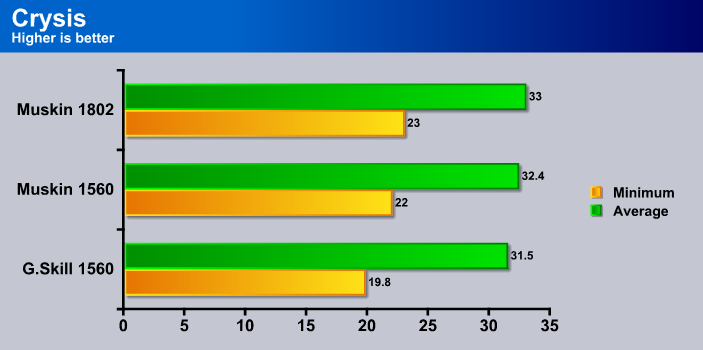 When looking at this chart you will see a slight difference. Crysis may be a good game to test RAM usage, but didn't really benefit much from the extra 2 GB of RAM. The speed also played a minimal difference in increasing frame rate. If you where to play a seriously demanding RTS, such as the new Warhammer, you should notice more of a difference with more RAM.
SuperPi v1.5
SuperPi is the "Gold Standard" for many when it comes to judging system performance. We ran 1 and 2 MB calculations, again running each test three times and reporting the average of the results.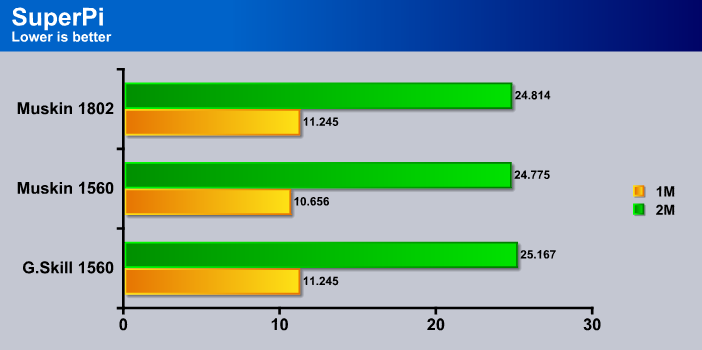 The results of this test especially are a bit hard to compare. CPU clock speed happens to play a very large part in SuperPi. To get the Mushkin to 1802 I had to underclock the CPU some. This affected the SuperPi score some, so the triple channel kit actually scored lower than the dual channel. The Mushkin at 1802 scored the highest, but not by a large margin.
WinRar v. 3.71
This module in WinRar generates random data, which contains specially introduced redundancy, increasing the load to both the processor and memory. Data is the passed through RAR compression and decompression algorithms, and the output of the decompression algorithm is compared to the source data. If any differences are found, WinRAR then reports "Errors found – Yes" in the command window. WinRAR displays a size of processed data and compression speed, current and resulting, in kilobytes per second.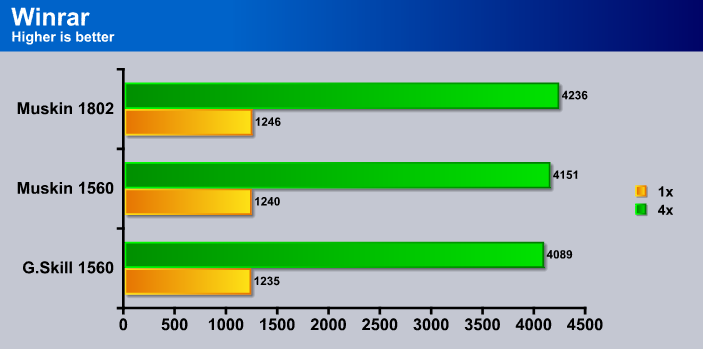 The difference in WinRar is almost nothing. This is quite surprising as the CPU for the higher clocked Mushkin was only at 3.7 GHz. This shows that the added RAM bandwidth makes up for CPU speed in WinRar. This is only more proof that the speed of the RAM has its advantages.
EVEREST ULTIMATE 5.0
"EVEREST Ultimate Edition is an industry leading system diagnostics and benchmarking solution for enthusiasts PC users, based on the award-winning EVEREST Technology. During system optimizations and tweaking it provides essential system and overclock information, advanced hardware monitoring and diagnostics capabilities to check the effects of the applied settings. CPU, FPU and memory benchmarks are available to measure the actual system performance and compare it to previous states or other systems. Furthermore, complete software, operating system and security information makes EVEREST Ultimate Edition a comprehensive system diagnostics tool that offers a total of 100 pages of information about your PC."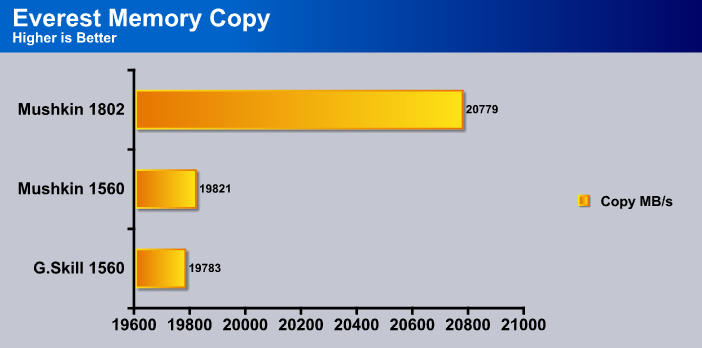 As you can see, the overclocked Mushkin beat both the G.Skill and stock Mushkin by a fair margin. Tri channel did not make much of a difference in this test, which surprises me a bit. You should technically see a little bit better performance with tri channel, but either way this is much more bandwidth than past LGA775 systems.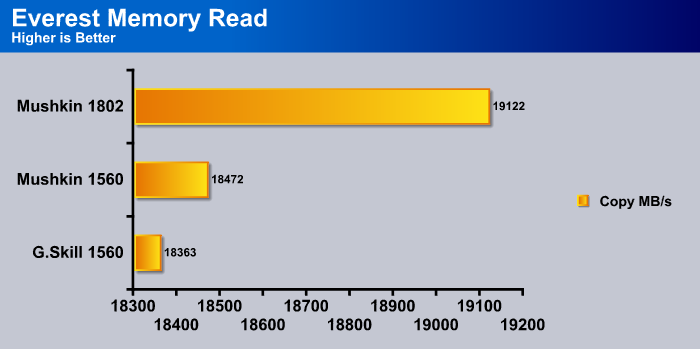 With the memory read test, we automatically see an improvement with tri channel memory. The overclocked memory still wins out due to its increased speed.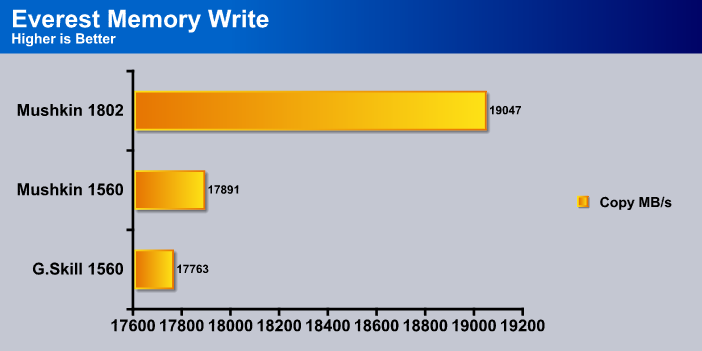 Tri channel once again proves to help out the Mushkin, propelling it in front of the dual channel G.Skill kit. The overclocked RAM so far has easily been able to dispose of the lower clocked RAM, which comes at no surprize.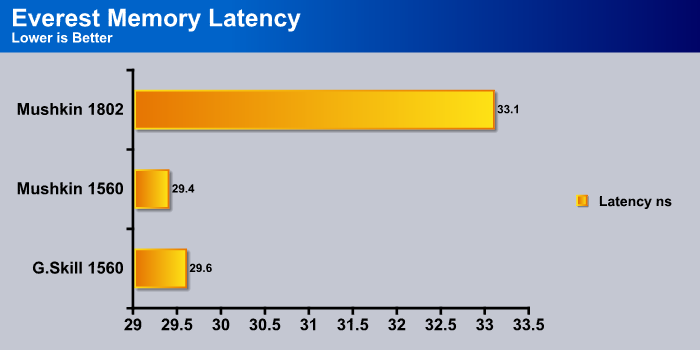 No real surprize here, the higher clocked RAM has higher latency. This is due to the overclocked Mushkin's higher latency, and higher divider. Overall latency is not essential
CONCLUSION
There are many things that can be said about Mushkin. They have been around the block for many years, spanning many changes in RAM technology. You don't have to look much further than Mushkin to find good quality RAM that you can depend on. The HP series is a great entry to their already colorful RAM legacy. Also worth noting is Mushkin's amazing lifetime warranty. This shows that Mushkin really stands by their RAM, guaranteeing it to last longer, until the next big thing comes out.
The benefits of triple channel are undeniable. Intel made a great move with being the first to support it. If you are on the fence about whether to get a triple kit or not, I suggest you jump off that fence right now. Triple channel is were its at, and with falling prices on DDR3 the price on this particular kit will only become lower.
The Mushkin 1600 MHz speed is perfect for the average user as well as the avid gamer. It provides plenty of bandwidth. In fact, it has leaps and bounds more bandwidth than Intel's previous socket, 775, ever could. Now is the perfect time to jump on board the Core i7 train. You can depend on the HP3-12800 to deliver the performance you want without the large price tag high end equipment carries.
We are trying out a new addition to our scoring system to provide additional feedback beyond a flat score. Please note that the final score isn't an aggregate average of the new rating system.
Performance 9.5
Value 9
Quality 10
Warranty 10
Features 10
Innovation 8
Pros:
+  Warranty
+  Price
+  Low voltage

Cons:
–  Older heatsink
–  Only comes in blue
With a final score of 9 out of 10 the Mushkin HP3-12800 receives the Bjorn3D Golden Bear Award.