Nvidia has just released the GTX-275 which fills an empty price point slot in their lineup. It promises to be an Enthusiast level GPU targeted to the value conscious enthusiast.
INTRODUCTION
In the ongoing price/performance wars in the GPU arena Nvidia had released yet another new variant of the GTX-200 lineup. A welcome addition to the "Enthusiast" lineup targeted toward the value conscious enthusiast and expected to debut at $229 – $249 dubbed the GTX-275. With Nvidias dedication to the concept of naming GPU's in the linear numeric manner you can expect the new GPU to fall between the GTX-260 and the GTX-280 leaning more toward the GTX-280 performance than the GTX-260.
Nvidia has dedicated considerable effort and resources to ensure that their product is the price/performance king at every price point and you can bet that the Nvidia GTX-275 delivers on that promise. We're not betting we're benching so sit back and relax while we drive the Nvidia GTX-275 as hard as it will go and see if this addition to the Nvidia arsenal fills the gap between the GTX-260 and GTX-280/285.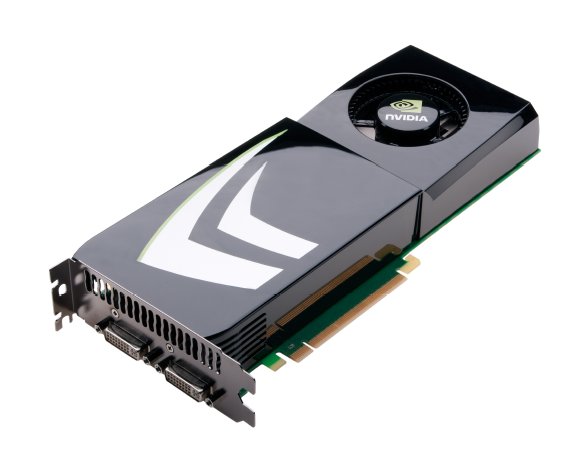 About Nvidia
NVIDIA® touches lives of people throughout the world with innovative products, community and diversity outreach, and environmental awareness initiatives:

Our award-winning products enable significant advances in the medical, scientific, and biotech industries
NVIDIA employees are creating a serious impact in their local communities by investing in causes that further education and human services
The NVIDIA Community partners to improve our environment and create a more sustainable business

The Role of Visual and High Performance Computing in Scientific Innovation

Visual and high performance computing, driven by NVIDIA® GPUs, is testing the boundaries of science and medicine. Scientists and researchers are intrigued and challenged by the potential advances at their fingertips, such as accelerated diagnoses, increased precision and prediction, and virtual environments in which patients can speed their own wellness.

NVIDIA CUDA Recognized for Life Saving Potential

Tech News World recognizes NVIDIA's CUDA architecture, which allows the GPU to be used by scientists for groundbreaking research and results, as one of "the most magical, excellent, almost perfect products of 2008".

Dramatically Accelerating the Search For a Cure

Stanford University's [email protected] program has become a major force in researching cures to life-threatening diseases such as Alzheimer's disease, Huntington's disease, and some cancers by combining the computing horsepower of millions of individual processors to simulate protein folding. By running the [email protected] client on an NVIDIA GeForce® GPU, protein-folding simulations can be done 140 times faster than on some of today's traditional CPUs.

The Many Faces of NVIDIA

Diversity is a key focus at NVIDIA. We believe that the growth and development of a diverse employee culture provides a comprehensive business advantage. We are continually building programs and policie s that encourage and support all lifestyles, ideals, and backgrounds, and we are committed to investing in employment programs and practices that motivate and encourage all employees.
Specifications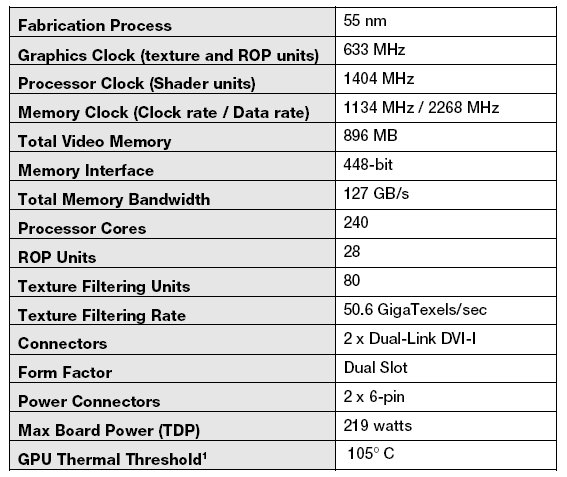 GPU Comparison Table Reference Design
GPU
Comparison Table
 
Nvidia GeForce GTX 295
Nvidia GeForce GTX 285
Nvidia GeForce GTX 280
Nvidia GeForce GTX 275
Nvidia GeForce GTX 260 Core 216
ATI Radeon HD4870 X2
ATI Radeon HD4870 1GB
GPU
2x GT200b
GT200b
GT200
GT200b
GT200/GT200b
R700 XT
R700
Process (nm)
55
55
65
55
65/55
55
55
Core Clock (Mhz)
576
648
620
633
576
750
750
Shader Clock (Mhz)
1242
1476
1296
1404
1242
750
750
Memory Clock (Mhz)*
999
1242
1107
1134
999
900
900
Memory Size
(MB)
1792
(2x 896)
1024
1024
896
896
2048
(2x 1024)
1024
Memory Type
GDDR3
GDDR3
GDDR3
GDDR3
GDDR3
GDDR5
GDDR5
Unified Shaders/ Stream Processors
480
(2x 240)
240
240
240
216
800
 800
Texture Mapping Units
160 (2x 80)
80
80
80
74
80 (2x 40)
40
Raster Operation Units
56 (2x 28)
32
32
28
28
32 (2x 16)
32
Memory Interface
(bits)
896
(2x 448)
512
512
448
448
512
(2x 256)
256
Outputs (on reference design)
2x Dual-Link DVI
1x HDMI
2x Dual-Link DVI
S-Video
2x Dual-Link DVI
S-Video
2x Dual-Link DVI
S-Video
2x Dual-Link DVI
S-Video
2x Dual-Link DVI
S-Video
2x Dual-Link DVI
S-Video
Power Connectors
1x 6-pin, 1x 8-pin
2x 6-pin
1x 6-pin, 1x 8-pin
2x 6-pin
2x 6-pin
1x 6-pin, 1x 8-pin
2x 6-pin
 Thermal Design Power (w)
289
183
236
182
286
150
Birthed from the 55nm process the GTX-275 comes in with 896 MB of memory like the GTX-260 but offers a core clock of 633 MHz and a memory clock of 1134 MHz. It has the same 448 bit memory path and Nvidia has reserved the wider 512 bit memory path for the ultra high end GPU's. Interestingly enough the GTX-275 has a full 240 shaders like the GTX-280/285 so we're seeing a hybrid GPU with aspects of the GTX-260 and GTX-280/285. If you tossed another 128 MB of memory and widened the memory data path to 512 bit and gave it 4 more ROPs this puppy would out run a GTX-280. It's going to offer lower power consumption, lower price and still pack a good punch when it comes time to gaming.
Features & Specifications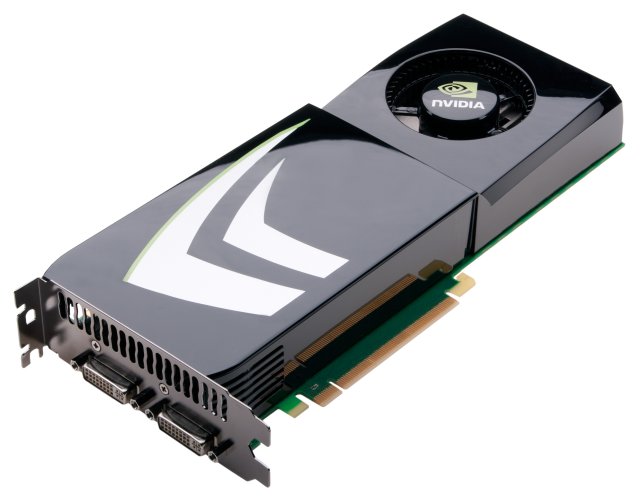 FEATURES
PCI Express 2.0 GPU
Provides Support for
Next Generation PC Platforms

GPU/Memory Clock at
 

633/1134

MHz!!
HDCP capable

896 MB 448-bit

memory interface for smooth, realistic gaming experiences at Ultra-High Resolutions /AA/AF gaming
Support Dual Dual-Link DVI with awe-inspiring

2560×1600

resolution
The Ultimate Blu-ray and HD DVD Movie Experience on a Gaming PC
Smoothly playback H.264, MPEG-2, VC-1 and WMV video–including WMV HD
Industry leading 3-way NVIDIA SLI technology offers amazing performance
NVIDIA PhysX™ READY
PCI Express 2.0 Support

Designed to run perfectly with the new PCI Express 2.0 bus architecture, offering a future-proofing bridge to tomorrow's most bandwidth-hungry games and 3D applications by maximizing the 5 GT/s PCI Express 2.0 bandwidth (twice that of first generation PCI Express). PCI Express 2.0 products are fully backwards compatible with existing PCI Express motherboards for the broadest support.

2nd Generation NVIDIA® unified architecture

Second Generation architecture delivers 50% more gaming performance over the first generation through enhanced processing cores.
GigaThread™ Technology

Massively multi-threaded architecture supports thousands of independent, simultaneous threads, providing extreme processing efficiency in advanced, next generation shader programs.
NVIDIA PhysX™ -Ready

Enable a totally new class of physical gaming interaction for a more dynamic and realistic experience with Geforce.
High-Speed GDDR3 Memory on Board

Enhanced memory speed and capacity ensures more flowing video quality in latest gaming environment especially in large scale textures processing.
Dual Dual-Link DVI

Support hardwares with awe-inspiring

2560-by-1600

resolution, such as the 30-inch HD LCD Display, with massive load of pixels, requires a graphics cards with dual-link DVI connectivity.

Dual 400MHz RAMDACs

Blazing-fast RAMDACs support dual QXGA displayswith ultra-high, ergonomic refresh rates up to 2048×[email protected]

  Triple NVIDIA SLI technology

Support hardwares with awe-inspiring

2560-by-1600

Offers amazing performance scaling by implementing AFR (Alternate Frame Rendering) under Windows Vista with solid, state-of-the-art drivers.

Click to Enlarge

Microsoft® DirectX® 10 Shader Model 4.0 Support

DirectX 10 GPU with full Shader Model 4.0 support delivers unparalleled levels of graphics realism and film-quality effects.

OpenGL® 2.1 Optimizations and Support

Full OpenGL support, including OpenGL 2.1 .
Integrated HDTV encoder

Provide world-class TV-out functionality up to 1080P resolution.
NVIDIA® Lumenex™ Engine

Support hardwares with awe-inspiring

2560-by-1600

Delivers stunning image quality and floating point accuracy at ultra-fast frame rates.

16x Anti-aliasing: Lightning fast, high-quality anti-aliasing at up to 16x sample rates obliterates jagged edges.
128-bit floating point High Dynamic-Range (HDR): Twice the precision of prior generations for incredibly realistic lighting effects

Dual-stream Hardware Acceleration

Provides ultra-smooth playback of H.264, VC-1, WMV and MPEG-2 HD and Bul-ray movies.

High dynamic-range (HDR) Rendering Support

The ultimate lighting effects bring environments to life.

NVIDIA® PureVideo ™ HD technology

Delivers graphics performance when you need it and low-power operation when you don't. HybridPower technology lets you switch from your graphics card to your motherboard GeForce GPU when running less graphically-intensive applications for a silent, low power PC experience.

HybridPower Technology support

Delivers graphics performance when you need it and low-power operation when you don't. HybridPower technology lets you switch from your graphics card to your motherboard GeForce GPU when running less graphically-intensive applications for a silent, low power PC experience.
HDCP Capable

Allows playback of HD DVD, Blu-ray Disc, and other protected content at full HD resolutions with integrated High-bandwidth Digital Content Protection (HDCP) support. (Requires other compatible components that are also HDCP capable.)
Keynote Features
We've encountered some features we feel worth expanding on so we're including a Keynote features page in this review. Their features that often get overlooked, glossed over, or are new features we want you to know about.
Ambient Occlusion
Ambient Occlusion is an exciting new technology specific to Nvidia GPU's, it inserts shadows into games on a driver level and adds some really nice eye candy to gaming. Let's throw out a few shots of before and after Ambient Occlusion and let the pictures do most of the talking.
World In Conflict Before Ambient Occlusion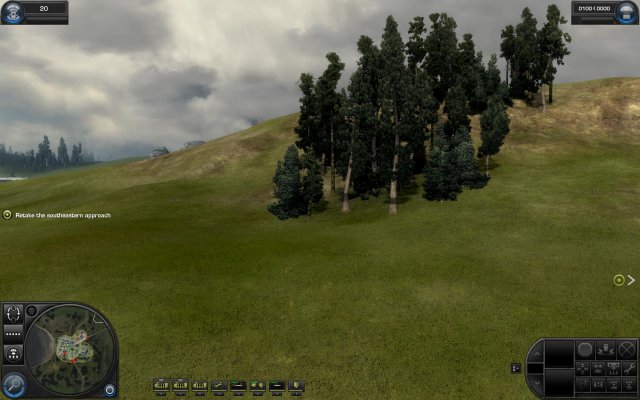 World In Conflict After Ambient Occlusion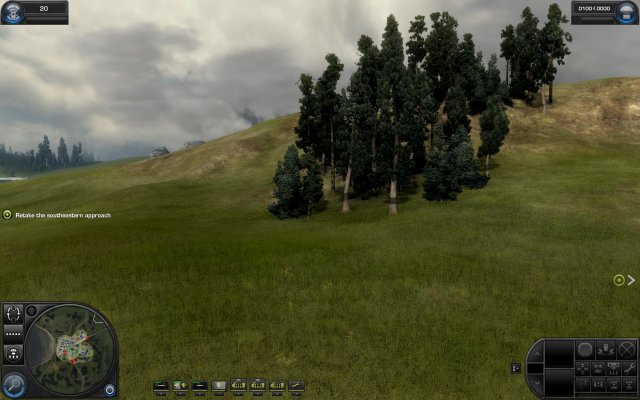 What you'll notice most in these shots is that the grass is more detailed but that's not all Ambient Occlusion does for you, if calculates and adds shadows in games.
Half Life 2 Before Ambient Occlusion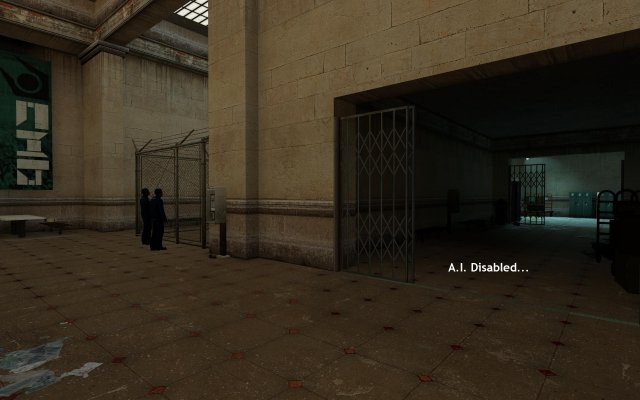 Half Life 2 After Ambient Occlusion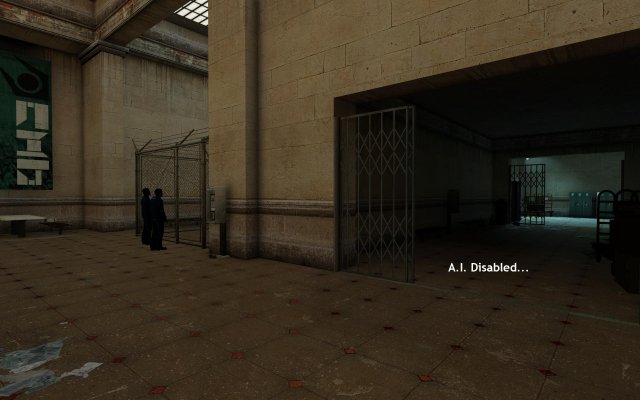 Take a look at the phone booth in the first picture as well as the corner next to it, notice in the second picture the Ambient Occlusion feature has calculated and inserted shadows. It's a glaring omission in some games where the light source isn't throwing shadows and Ambient Occlusion addresses that. Currently it's set to on or off in the Nvidia Control Panel and available on limited games but we expect that list to grow as time progresses. Here's a graphic of the games Ambient Occlusion is available in now, the highlighted games are the ones Ambient Occlusion works best in.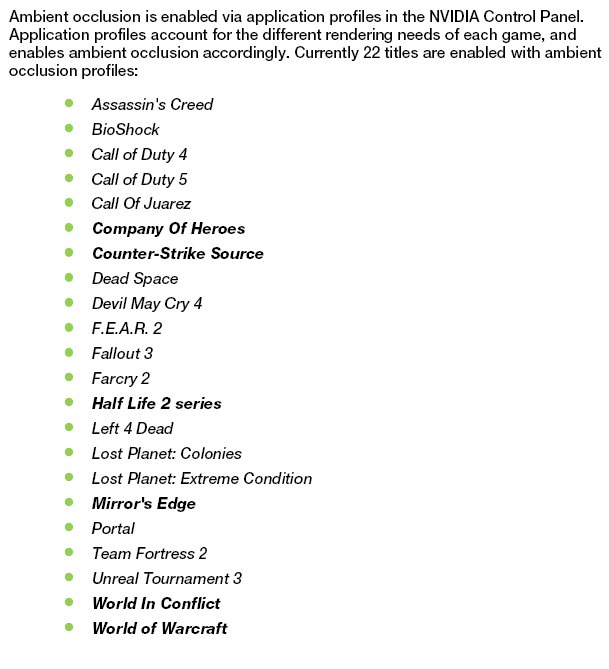 We know that one big question in your mind is does Ambient Oclussion come with a performance hit on frame rates, yes like all eye candy it comes with a performance hit. You can expect 20 – 40% decrease in frame rates so depending on the game you might need a pretty beefy GPU to drive the added eye candy. A lot of the games it's available on though have high enough frame rates that the overhead for Ambient Occlusion will reside in undisplayable frames anyway. Meaning that if your monitor has a refresh rate of 60 Hz which is typical for most LCDs and frame rated are 80 – 100 FPS then your FPS will go down on paper but since your only capable of displaying 60 FPS on a 60 Hz monitor your not losing any displayable FPS.
Windows 7 Ready
Nvidia and Microsoft have been working closely together to ensure that when/if you make the move to Windows 7 the drivers for your Nvidia GPU will be there and ready for you. We've done some quite successful testing with drivers in Windows 7 and you'll see the results starting to appear in review very soon. Here's a little information on it gleaned from an Nvidia product information packet.
Not only are Nvidia GPU's Windows 7 ready the operating system itself will be using GPU's to accelerate performance. This is going to happen 2 ways. Through CUDA which we'll cover in a few minutes and through Intel endorsing parallel computing with OpenCL in Havoc. While OpenCL in Havoc is still pretty much a paper concept we have no doubt that Intel has the resources to make it work. Here's the interesting point. OpenCL and Havoc will run on Nvidia and ATI GPU's so Windows 7 should (If OpenCL Havoc gets off paper and into code) be able to use Nvidia and ATI GPU's for parallel processing. There's still a downside, if you want PhysX in games (PhysX not Havoc) and GPU acceleration in Windows 7 you can only get both on an Nvidia GPU. With no less than 10 new PhysX titles slated for release in the remainder of 2009 we're seeing a growing number of game developers turn to PhysX to reach the next level of gaming. With Intel endorsing Parallel computing we're pretty sure GPU parallel computing is going to come of age and the pioneers of that, and the company with the most experience in it is of course Nvidia.
CUDA
Now that we've open the Parallel computing and CUDA can of worms we need to expand on that just a bit.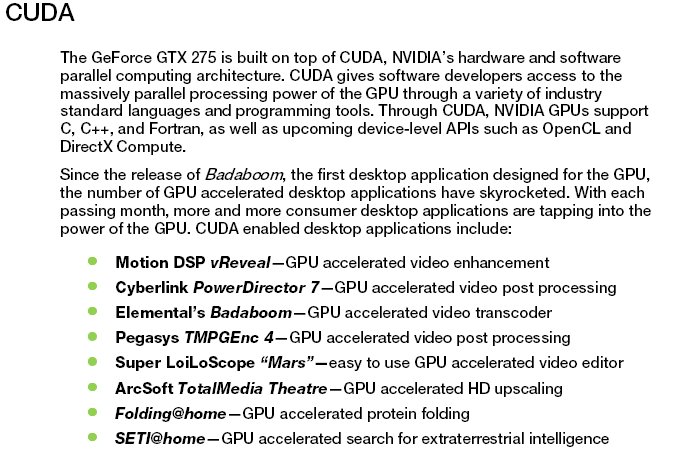 With humble beginnings in [email protected] and [email protected] CUDA has expanded it's base to other endeavors. Right now that seems to be mainly Video Processing but you can bet that as programmers catch up and are given the tools to use CUDA you'll be seeing more parallel computing applications including the Operating Systems of the future. The inclusion of Parallel computing in the OS itself we can't stress how exciting and important that is. Here's a graphic of the road map of already released and soon to be released CUDA capable applications.
We included the graphic of applications including CUDA so that you can see that programmers and applications are picking it up and having great success with it. If major companies like the ones in the graphic are picking up CUDA you can bet others will follow. CUDA offers faster processing and programs and applications that don't embrace CUDA and parallel programming won't run as fast. People are speed oriented from birth, we hate waiting on things, and in a lot of cases we just won't wait. CUDA will help reduce the wait times. Right now the video editing is reaping the bulk of the CUDA benefits but as time progresses the technology will trickle down.
PhysX
PhysX is more than just the ability of your GPU to take the load off the CPU while doing boring calculations. The effects you'll see in game are a result of lengthy difficult PhysX calculations that without a PhysX enabled GPU will drag your frame rates down to unplayable levels. Now in most games you can turn off PhysX and still play but lets examine the differences you'll see with and without PhysX in a newly patched PhysX title Sacred 2 Fallen Angels.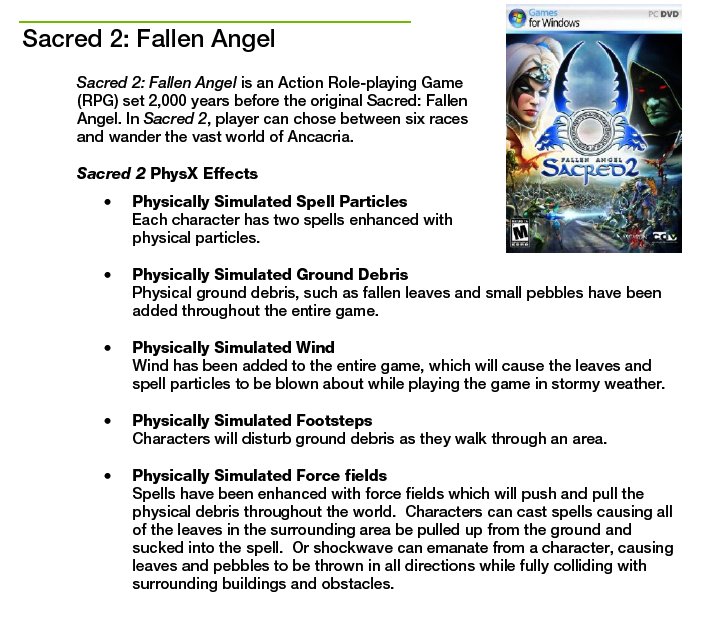 We'll be doing a separate review of Sacred 2 soon because we can only cover so much ground in the limited time we had to get the GTX-275 benched, charted and posted so we snagged some screen shots from the game for you to take a gander at. Believe us when we tell you the screen shots don't do the technology justice.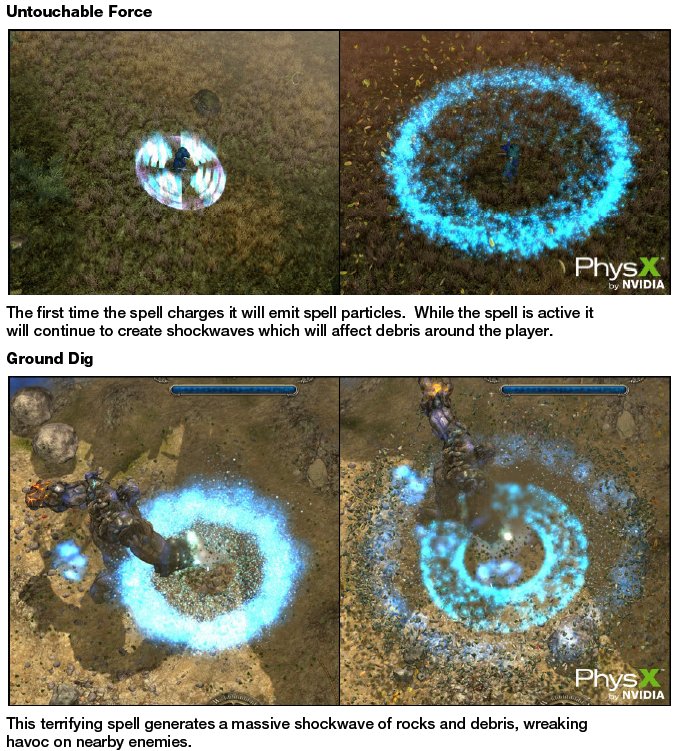 In the pictures the left side is without PhysX and the right side is with PhysX. The left side of the graphic shows the Untouchable Force spell without PhysX and lacks any environmental effects. The Right side top shows the same spell with PhysX and you'll see a better looking effect and the leaves and rocks are strewn about by PhysX making it a better looking effect and frankly more realistic. The next spell is Ground Dig and the left side of the graphic you just see a blue ring of magical energy, the right side you actually get to see the spell interacting with the environment. In other words without PhysX the ground doesn't really get dug. With PhysX the objects surrounding you during the spell interact with it and the ambient environment. We're not sure how you feel about it but look at it this way, take a shotgun and aim it some distance in front of you and shoot a pile of leaves (yes go get a real shotgun). Do you expect to see the shot impact the leaves or do you expect it to impact the leaves and blow the pile of leave to the four corners of the Earth? You expect the leaves to scatter, that's what in game PhysX does for you. Objects are no longer objects they interact with the environment and you. Glass doesn't just fade away it becomes a persistent object and unlike non-physX games it can hurt you and properly used hurt enemies. Once again if you have glass fall on you in real life you kind of expect to get hurt, not to see the glass fade into the gound and melt away.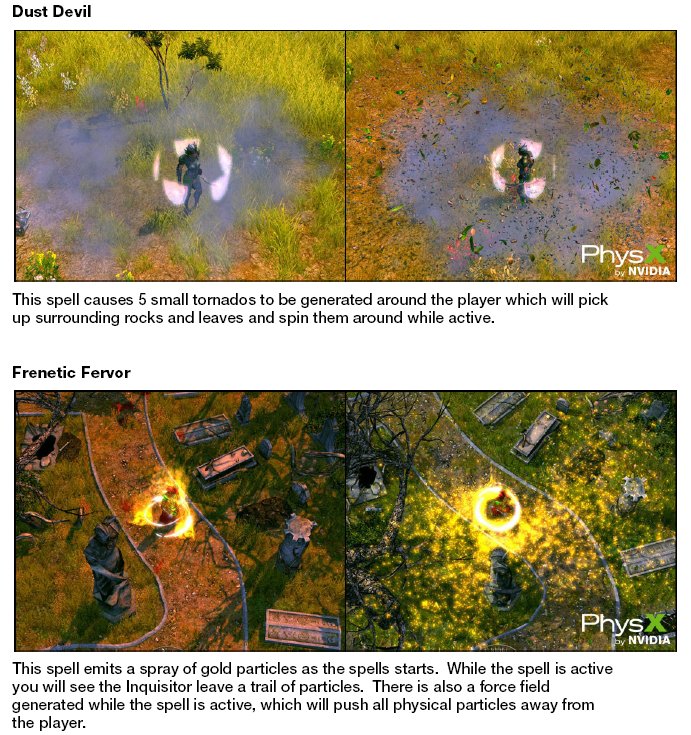 The top graphic in this one is Dust Devil, in the left pane we might refer to it as Dustless Devil. You get a little flash of light and a purple haze. The right pane with PhysX applied you get Dirt, Dust and Debris scattering away from you which is what you'd expect from a spell called Dust Devil.
The Second pane shows the spell Frentic Fervor and in the left pane without PhysX you get a golden flash of light, the right pane with PhysX you get a trail of magic particles, and the force shield pushes all physical particles out and away from the spell. Might seem like a minor difference, until you've seen it in practice. We've yet to see someone experience the difference that wasn't impressed. We wish the effects were available on all GPUs but at this time you can only experience it fully with Nvidia GPUs and using any other GPU frame rates with a good CPU taking the PhysX load FPS will drop down to a choppy nasty looking 10 FPS. Lesser CPU's it gets even more painful to watch.
3DVision
That brings us to our last keynote feature Nvidia 3DVision. As the name implies this version of 3D gaming is only available on Nvidia GPU's and you'll need additional hardware to experience it.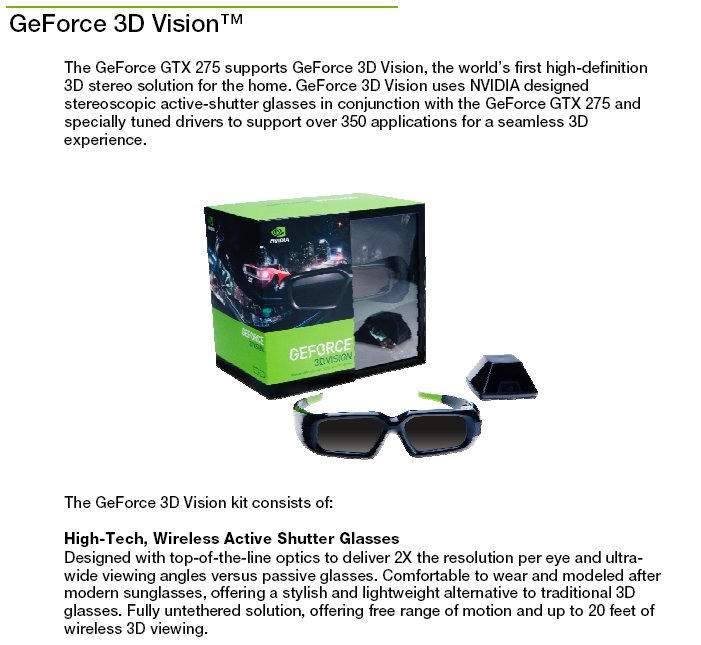 TO experience Nvidia 3D Vision you'll need the 3D Vision kit with the associated hardware that comes in the kit and you'll need a True 120 HZ monitor.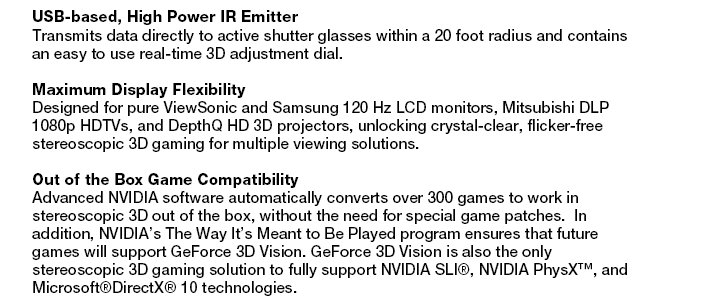 The initial requirements might be a little steep but once you have the equipment 3D Vision takes place at a driver level and out of the box supports more than 300 games currently and unlike some 3D systems you don't pay for 3d by the game, once you have the hardware you can experience true 3D gaming in the comfort of your own gaming shrine at no additional cost.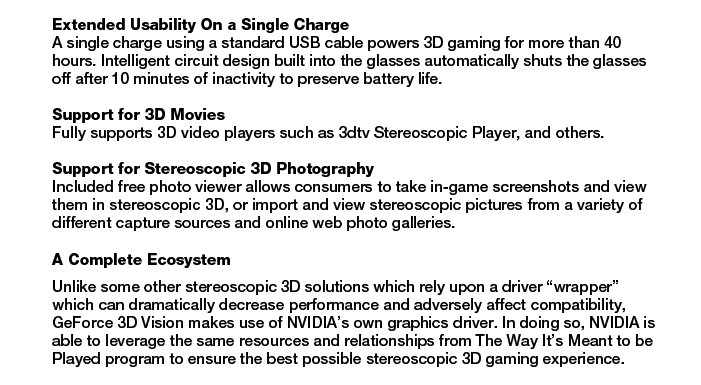 When it comes to Nvidia 3D Vision it's another one of those thigns that words can't describe well, we've reviewed the 3D Vision system and believe us when we tell you it's an evolution in gaming. Once you've gamed in 3D chances are your spoiled for life.
Pictures & Impressions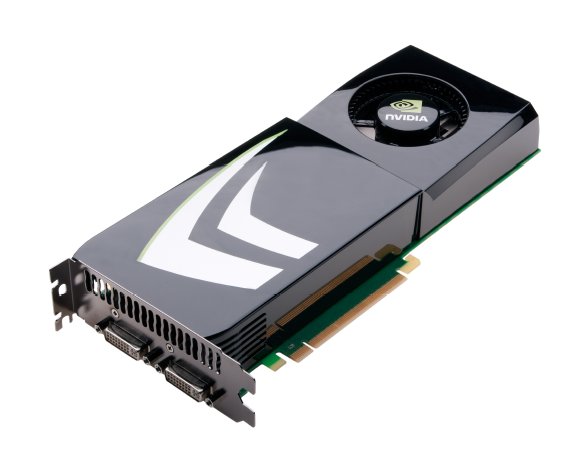 The GTX-275 we received is an unbranded reference card direct from Nvidia so there's no fancy sticker or anything to gander at. Just the Nvidia logo on the side of the GPU. Rest assured it's a fully functional model just like retail.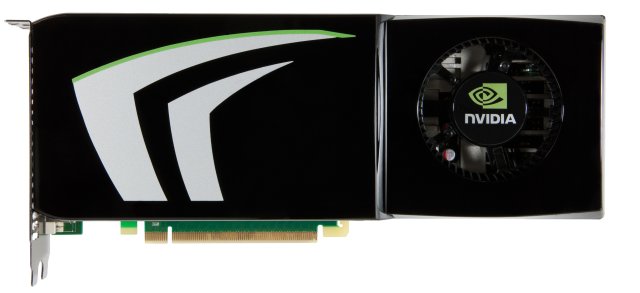 The GTX-275 looks to be a pretty standard dual slot card with squirrel cage fan and follows suit with the rest of the single core GTX-2XX family.
The GTX-275 has the same dual slot layout we've become accustomed to since the 8800 class enthusiast GPU's came out some years back.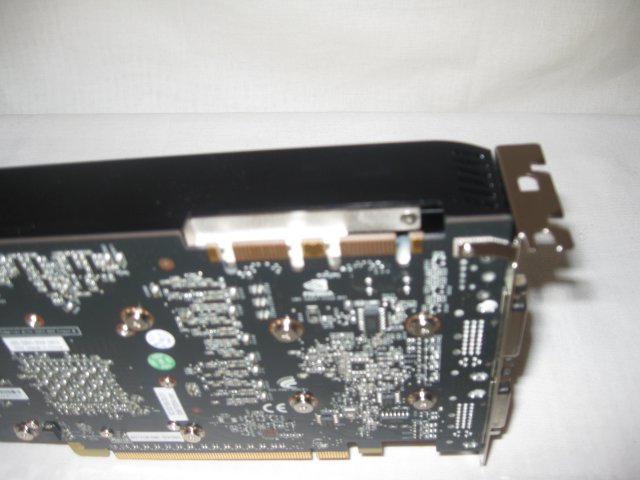 Like most of the enthusiast class GPU's we've seen of late the GTX-275 is triple SLI capable, we've arranged for another GTX-275 in the near future for SLI testing but we probably won't do triple SLI testing on it because it's just to hard to get 3 GPU's of the same model in one spot for that purpose.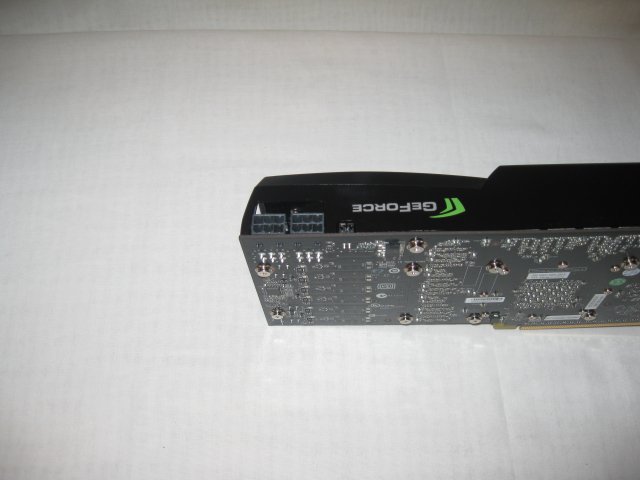 The GTX-275 takes two 6 Pin PCI-E connectors to power it but don't let that fool you this puppy practically sips on power compared to a lot of GPU's we've seen in this class.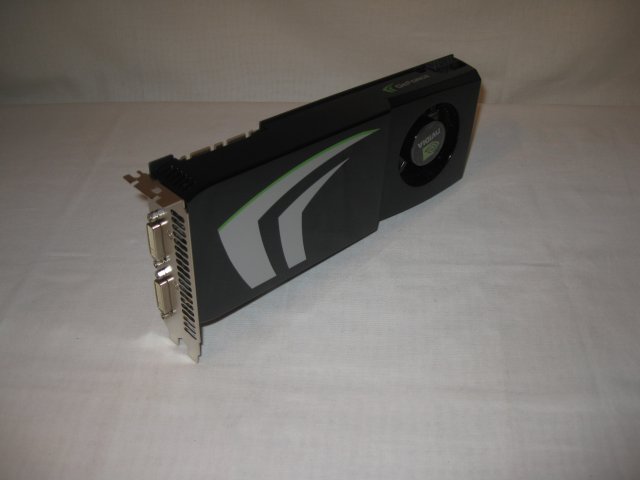 We'll leave the Pictures and Impressions section with my favorite shot of the GTX-275, the standing angled shot of the Enthusiast class GPU's has always been a favorite with the staff here at Bjorn.
TESTING & METHODOLOGY
To test the Nvidia GTX-275 we did a fresh load of Vista 64. We loaded all the latest drivers for the Asus P6T Deluxe motherboard, downloaded the latest drivers for the GPU, and applied all patches and updates to the OS. Once we had everything updated and the latest drivers installed, we got down to installing our test suite.
Once we had everything up to snuff, we loaded our testing suite, applied all the patches to the games, and checked for updates on 3DMark06 because it was crashing on load. We found that some update we'd done had knocked out the OpenAl portion of 3Dmark06's install. We downloaded the OpenAl standalone installer and ran that, which fixed our crash in Vista 64 (Ultimate). Then, we went ahead and installed 3DMark Vantage, stoked up a pot of coffee and we were ready to run. We ran each test at least three times and report the average of the three test runs here. Some runs were made more than three times (the coffee didn't get done quickly enough), then we cloned the drive using Acronis to protect ourselves from any little overclocking accidents that might happen. Testing was done at the default clock speed of the GPU's tested unless otherwise noted.
Test Rig
Test Rig
"Quadzilla"
Case Type
Top Deck Testing Station
CPU
Intel Core I7 965 Extreme (3.74 GHz 1.2975 Vcore)
Motherboard
Asus P6T Deluxe (SLI and CrossFire on Demand)
Ram
Corsair Dominator DDR3 1866 (9-9-9-24 1.65v) 6 GB Kit
CPU Cooler
Thermalright Ultra 120 RT (Dual 120mm Fans)
Hard Drives
Patriot 128 GB SSD
Optical
Sony DVD R/W
GPU Tested
Nvidia Reference GTX-275
Asus HD Radeon 4890 Voltage Tweak Edition
PNY GTX-285 Performance Edition
EVGA GTS-250 1 GB Superclocked
XFX GTX-285 XXX
BFG GTX-295
Asus GTX-295
EVGA GTX-280 (2)
XFX 9800 GTX+ Black Edition
BFG GTX-260 MaxCore
Leadtek GTX-260
Drivers for Nvidia GPU's 185.63
Palit HD Radeon 4870X2
Sapphire HD Radeon 4870 512MB
Diamond HD Radeon 4879 1 GB
Sapphire HD Radeon 4850 Toxic
Drivers for ATI GPU's 9.3
Case Fans
120mm Fan cooling the mosfet CPU area
Docking Stations
Thermaltake VION
Testing PSU
Thermaltake Toughpower 1200 Watt
Legacy
Floppy
Mouse
Razer Lachesis
Keyboard
Razer Lycosa
Gaming Ear Buds

Razer Moray
Speakers
Logitech Dolby 5.1
Any Attempt Copy This System Configuration May Lead to Bankruptcy
Synthetic Benchmarks & Games
Synthetic Benchmarks & Games
3DMark06 v. 1.10
3DMark Vantage
Company of Heroes v. 1.71
Crysis v. 1.2
World in Conflict Demo
FarCry 2
Crysis Warhead
Stalker Clear Sky Stand Alone Benchmark
Company Of Heroes v. 1.71

Company of Heroes(COH) is a Real Time Strategy(RTS) game for the PC, announced on April, 2005. It is developed by the Canadian based company Relic Entertainment and published by THQ. COH is an excellent game that is incredibly demanding on system resources thus making it an excellent benchmark. Like F.E.A.R., the game contains an integrated performance test that can be run to determine your system's performance based on the graphical options you have chosen. It uses the same multi-staged performance ratings as does the F.E.A.R. test. Letting the games benchmark handle the chore takes the human factor out of the equation and ensures that each run of the test is exactly the same producing more reliable results.
You'll notice we have one GPU highlighted in red, that one is the Asus 4890 Voltage Tweak and the other is the Nvidia GTX-275 reference card highlighted in Green. Those are the two cards that set closest in price points. More and more we're faced with price point comparisons. You can't really (in a fair manner) compare a 4870×2 or GTX-295 to a 4890 or a GTX-275. The Dual GPU core cards cost about twice what the single core 4890 and GTX-275 cost and it's just not a fair comparison. So we're moving to a more price/performance based comparison. To that end, in this review, we've highlighted the two GPU's both ATI and Nvidia that are closest in price and performance. This is a result of charts that contain almost to many GPU's to make it easy to distinguish which one is the focus of the review.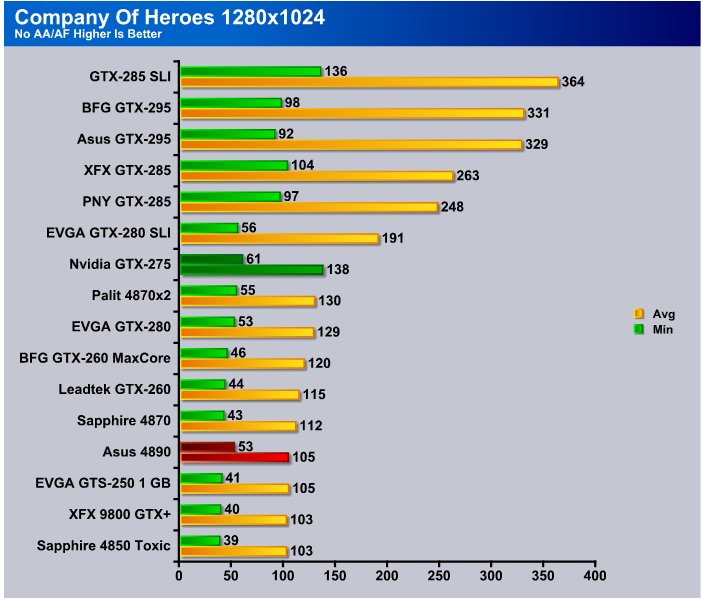 Keep in mind we're running with fairly early drivers that aren't even released for public use right now so later on down the line things might change a little. When running CoH at 1280×1024 the game is more CPU bound than GPU bound but some of our readers are still gaming at this resolution so for now we're still including it. The Nvidia GTX-275  came in 9 FPS ahead of the 4890 in minimum FPS which is where a lot of the focus of GPU reviews falls. The 4890 also came in 10 FPS below the 4870 in average FPS so it makes for a hard call at this resolution. Personally with Average FPS being that high we'd rather have higher minimum FPS to prevent choppiness at this resolution.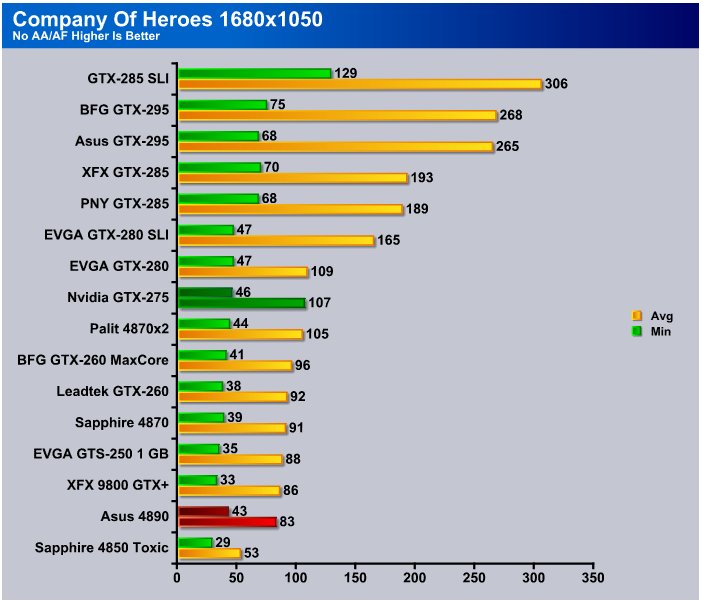 We're seeing the same thing with the GTX-275/4890 match up at 1680×1050, the GTX-275 is coming in 3 FPS higher than the 4890 in minimum frames and 24 FPS ahead of it in average FPS. That's a pretty decent lead for a GPU at about the same price point.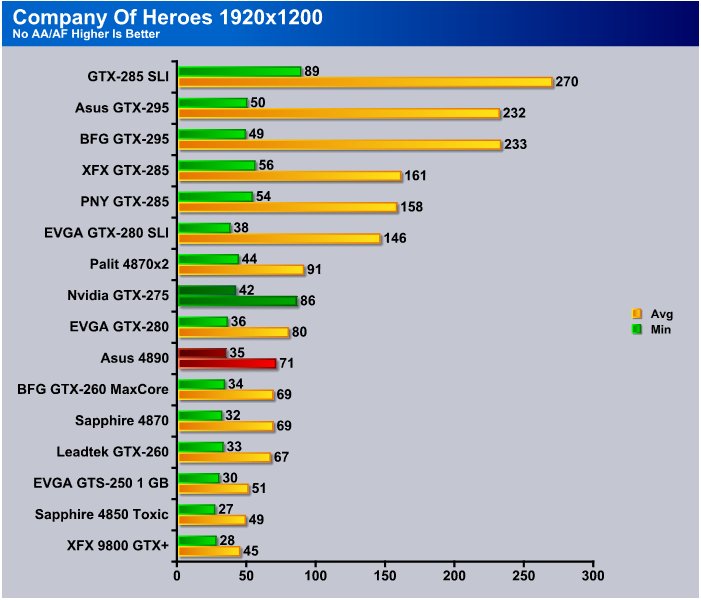 What we see at the highest resolution we tested is the GTX-275 comes in ahead of the 4890. We're seeing 9 FPS faster at minimum FPS and 15 FPS on average FPS.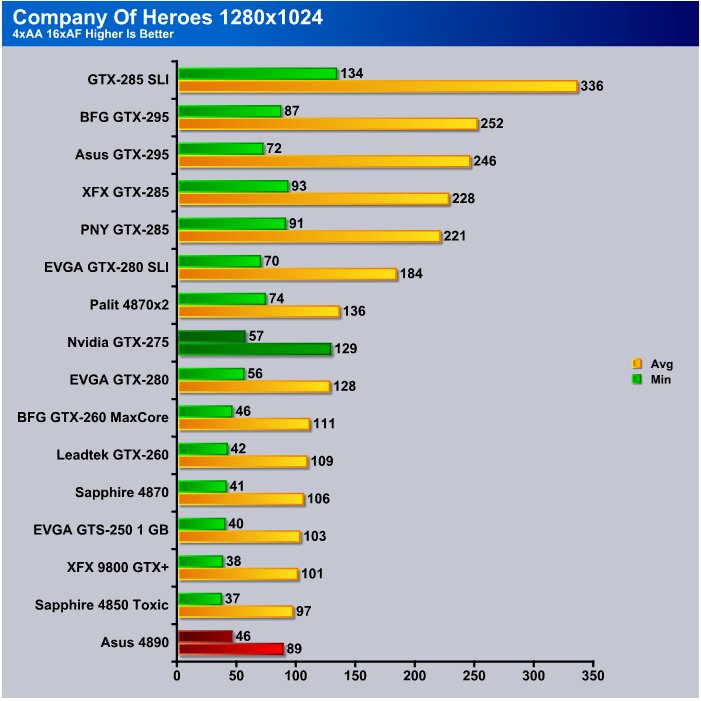 With AA/AF turned on at 1280×1024 we see a pretty big difference between the GTX-275 and the 4890, the GTX-275 is way up there in the chart and the 4890 bottomed out the chart because of lower average FPS. Both GPU's at this price point are still churning out pretty good FPS.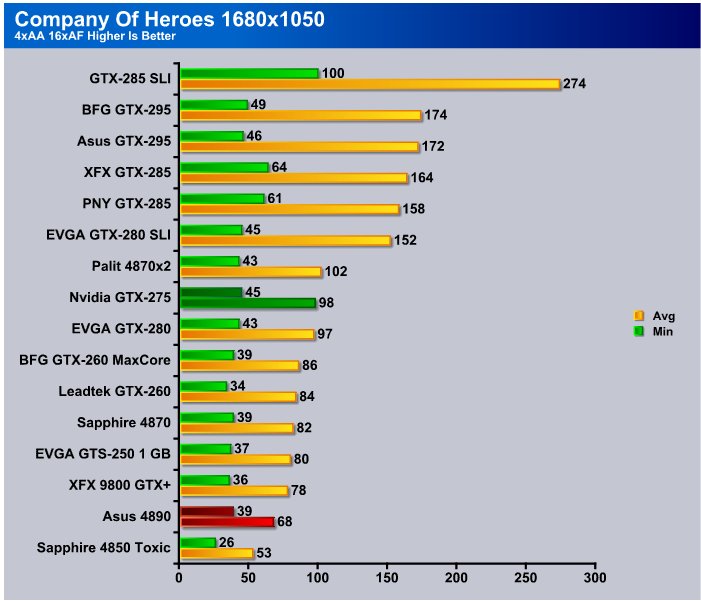 At 1680×1050 which is a balance of CPU and GPU power the minimum FPS on the Nvidia GTX-275 are looking really good fo testing in DirectX 10 with AA/AF on. The GTX-275 comes in 6 FPS ahead of the 4890 in minimum FPS and 30 FPS ahead in average FPS.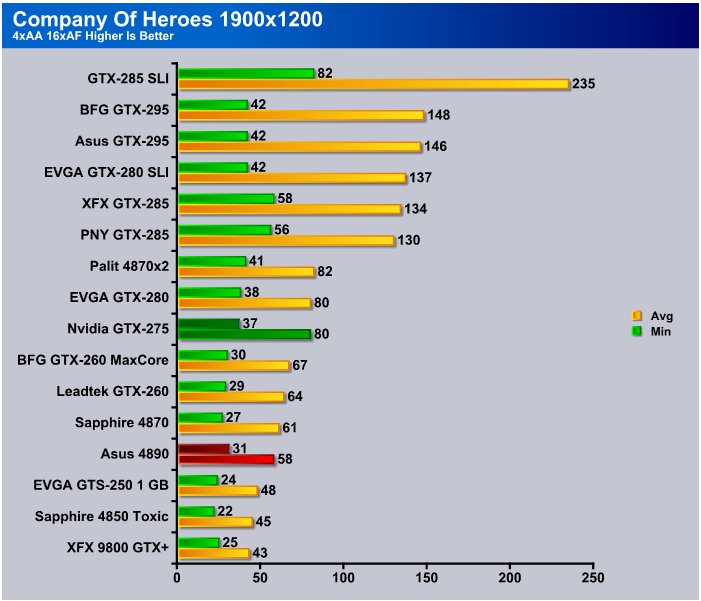 At the highest resolution tested with all the eye candy and AA/AF turned on we're still seeing the GTX-275 has a higher FPS than the 4890 in Minimum FPS and in average FPS the GTX-275 is smoking the 4890. Another thought we had was that Company of Heroes is a little long in the tooth and the drivers might not be to well optimized for it at this time. We've run the review drivers in a small selection of games and they're a little rough in our opinion.
World in Conflict Demo

World in Conflict is a real-time tactical video game developed by the Swedish video game company Massive Entertainment, and published by Sierra Entertainment for Windows PC. The game was released in September of 2007. The game is set in 1989 during the social, political, and economic collapse of the Soviet Union. However, the title postulates an alternate history scenario where the Soviet Union pursued a course of war to remain in power. World in Conflict has superb graphics, is extremely GPU intensive, and has built-in benchmarks. Sounds like benchmark material to us!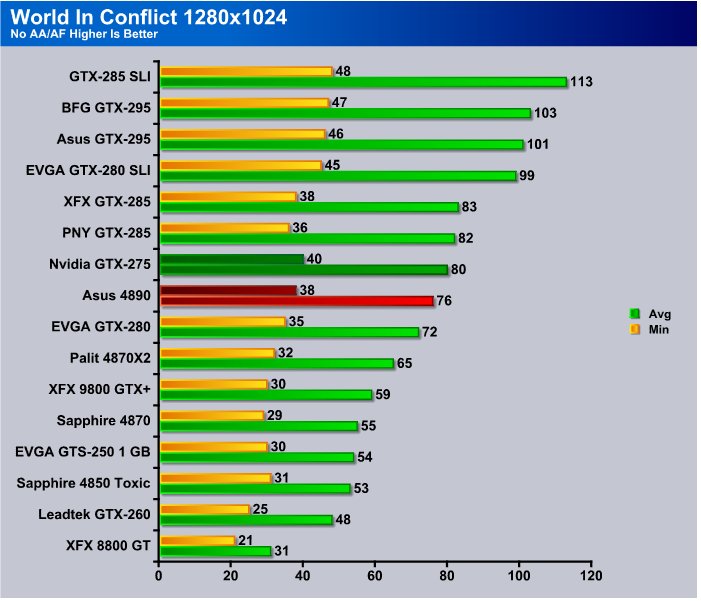 At 1280×1024 WiC is a little CPU bound but it scales well across the selection of GPU's we tested. The GTX-275 edges out the 4890 at this low resolution.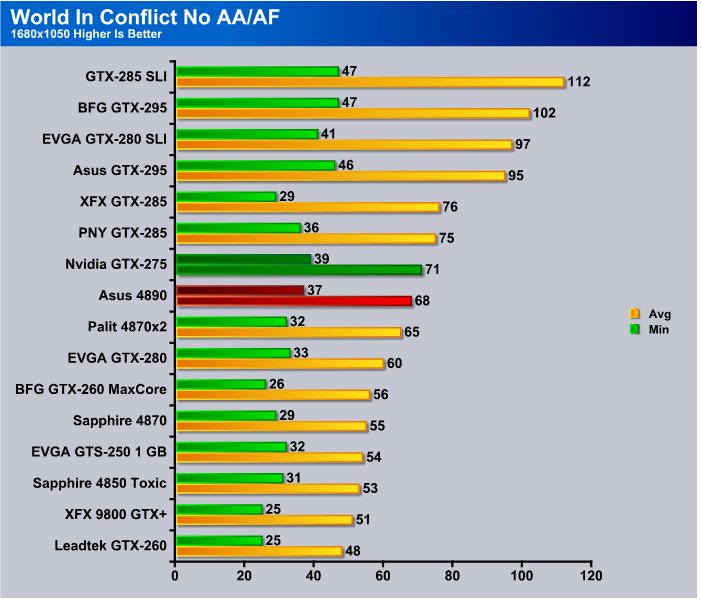 Moving to 1680×1050 we start to get a handle on the GTX-275s true power. Looking at the GTX-275 and it's performance compared to the 4890 they come in close to each other but the GTX-275 edges the 4890 out by a few FPS. Keep in mind that even though it's showing 2 FPS that translates to 120 frames per minute. When you look at it from that perspective it does make a difference. (For those of you doing mental math that's 7200 frames per hour ahead for the GTX-275,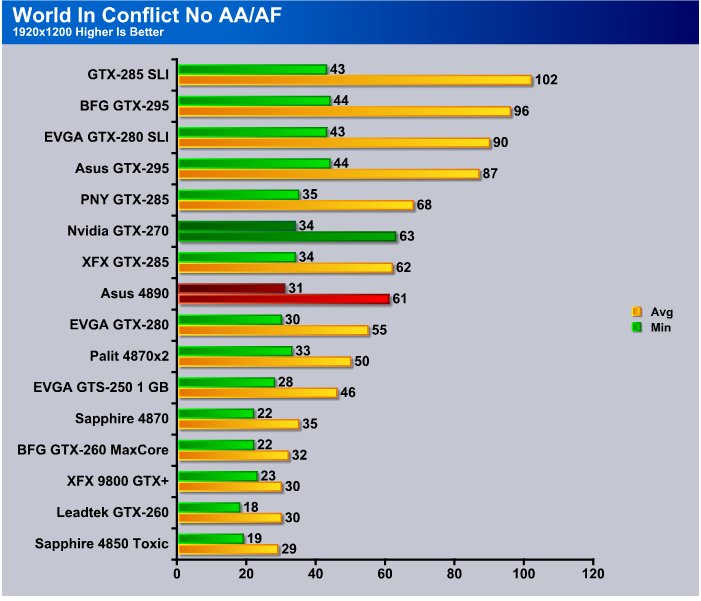 Moving up to 1920×1200 we see the 4890 lagging a little behind the GTX-275 even though the GTX-275 has a stock clock of 633 MHz and the 4890 has stock clocks of 850 MHz. Given the advantage of 217 MHz core clock the 4890 has it makes one wonder where all that raw power is going if it's not outrunning a 633 clocked core.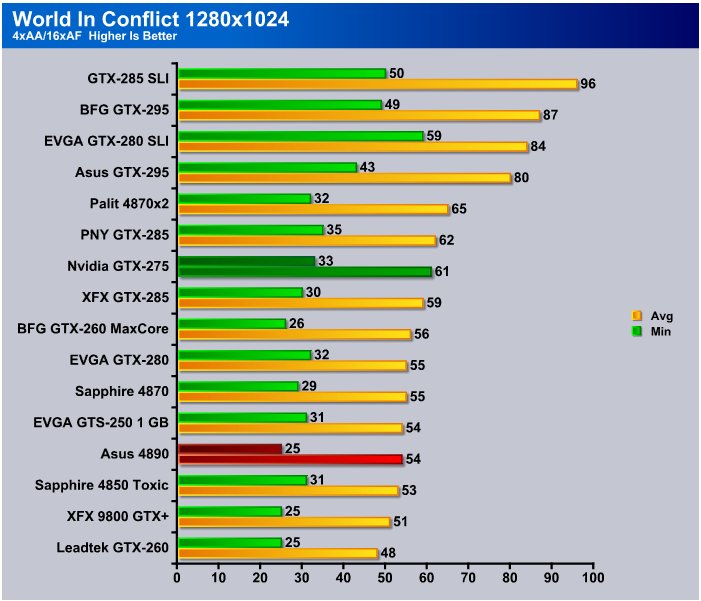 We got a little bit of an odd result again at 1280×1024, the Asus 4890 dropped below the 4870 again at the lowest resolution, but the GTX-275 stayed right there and performed as expected and possibly a little better than expected.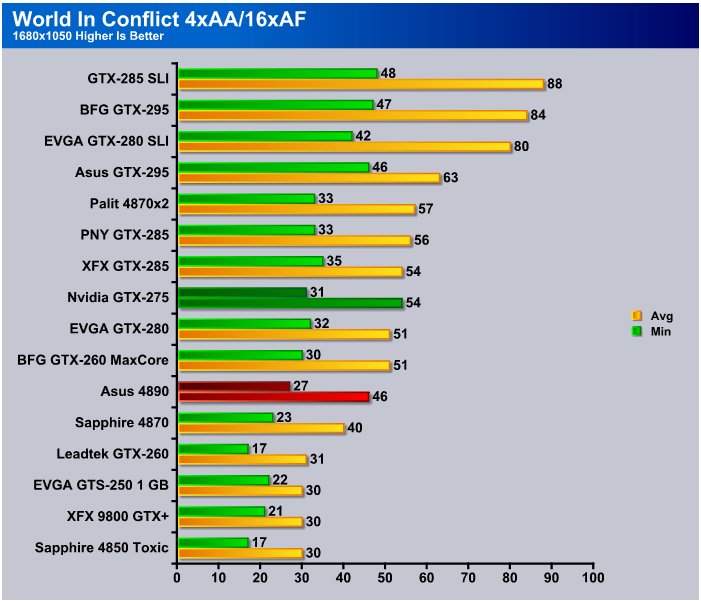 When we get to what we consider the normal resolution for gaming (where most gamers game) we see the 4890 4 FPS behind the GTX-275 and dropping below the magic 30 FPS required for rock solid graphics. At this level it would be microstutters that can almost fool the eye into thinking there's no lag. We'd rather see above 30 FPS at this level and the GTX-275 stayed in the playable rock solid range.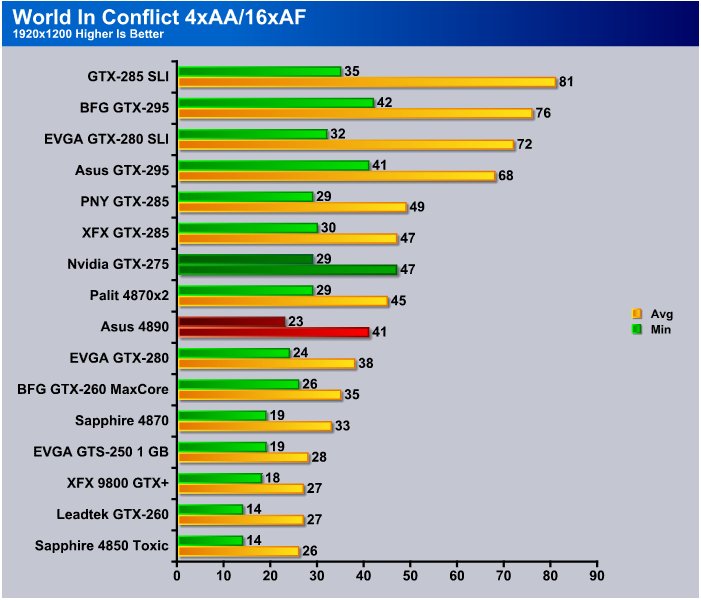 Coming to the highest resolution tested 1920×1200 the GTX-275 dropped 1 FPS below the 30 FPS rate we consider minimum. It came out 6 FPS ahead of the 4890 in minimum FPS which was a little choppy at this level of eye candy. We didn't really notice any choppiness on the GTX-275 and you have to keep in mind we use insane eye candy levels for testing.
Crysis v. 1.2

Crysis is the most highly anticipated game to hit the market in the last several years. Crysis is based on the CryENGINE™ 2 developed by Crytek. The CryENGINE™ 2 offers real time editing, bump mapping, dynamic lights, network system, integrated physics system, shaders, shadows, and a dynamic music system, just to name a few of the state-of-the-art features that are incorporated into Crysis. As one might expect with this number of features, the game is extremely demanding of system resources, especially the GPU. We expect Crysis to be a primary gaming benchmark for many years to come.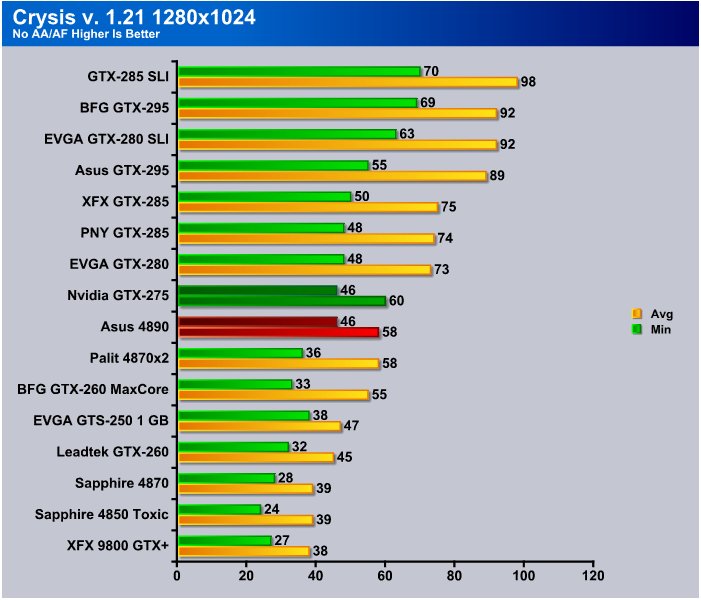 Crysis is the current GPU crushing standard by which all GPU's are judged, it's hard to pass a conversation on GPU performance without uttering the dreaded "Crysis" word. When we started into the epic game benchmarking we see that the Nvidia GTX-275  and comes in ahead of the 4890 we positioned at the same price point. Yes we have another GPU war at hand and it can only be good for the end consumer.
No matter your personal preference in brands your sure to benefit from a GPU war price wise. Which do we prefer? Why all of them of course, mounds and mounds of GPU's stacked safely in the Gun safe we store them in. Yes we love them all that much, they are installed in a machine or safely stored in a gun safe on the shelf right above our collection of ram.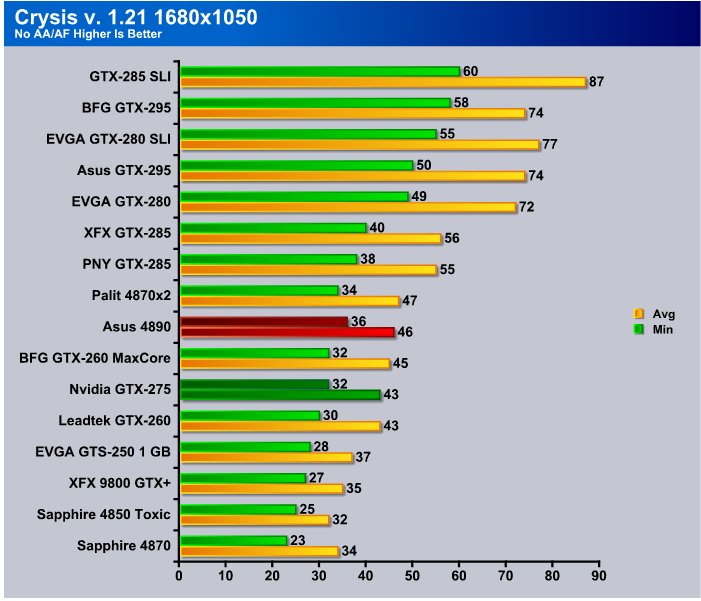 When we went to 1680×1050 in Crysis the Asus 4890 Voltage Tweak edition jumped out a little in front of the GTX-275 but we might be looking at drivers that are a little rough because the GTX-275 should be above the GTX-260 in performance.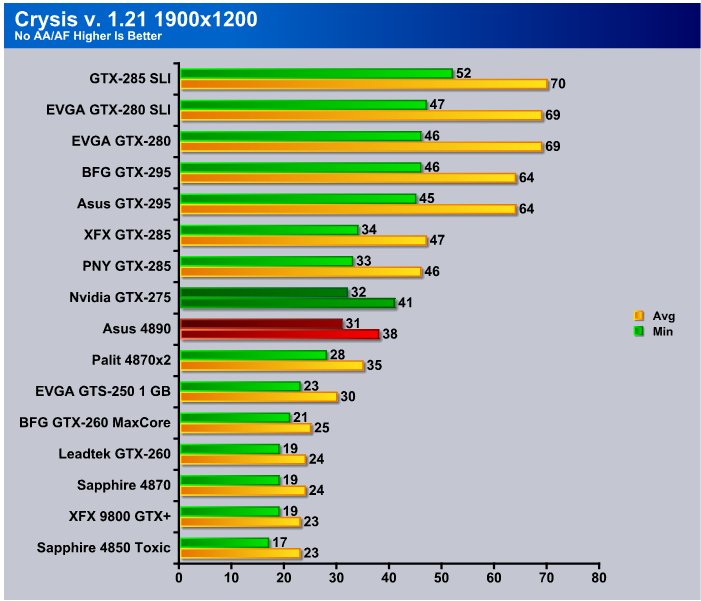 The GTX-275 edged out the price point competitor the 4890 by a slim margin in Crysis at 1920×1200 the highest resolution we tested. One of the things the GTX-275 is designed for is higher levels of AA/AF so lets se how it looks with the eye candy turned on.
You really can't judge Crysis at 1280×1024 because it's as CPU bound as GPU bound so we opted to skip 1280×1024 and move straight to 1680×1050. At this level the 4890 edged out the GTX-275 and we suspect it's nothing more than immature drivers because the GTX-275 should top the GTX-260.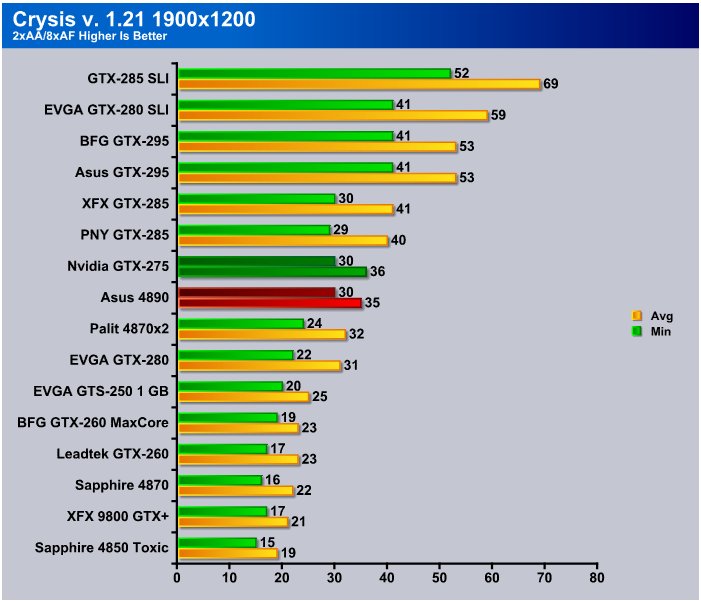 At 1920×1200 with everything set to high and AA/AF turned on is where the GPU meets the road, at the highest resolution and 2xAA 4xAF the GTX-275 is still in the playable frame rate range and that says a lot for any GPU. If you'll notice the 4890 slipped ahead earlier but at high resolutions with AA/AF on the GTX-275 shines.
CRYSIS WARHEAD

Crysis Warhead is the much anticipated sequel of Crysis, featuring an updated CryENGINE™ 2 with better optimization. It was one of the most anticipated titles of 2008.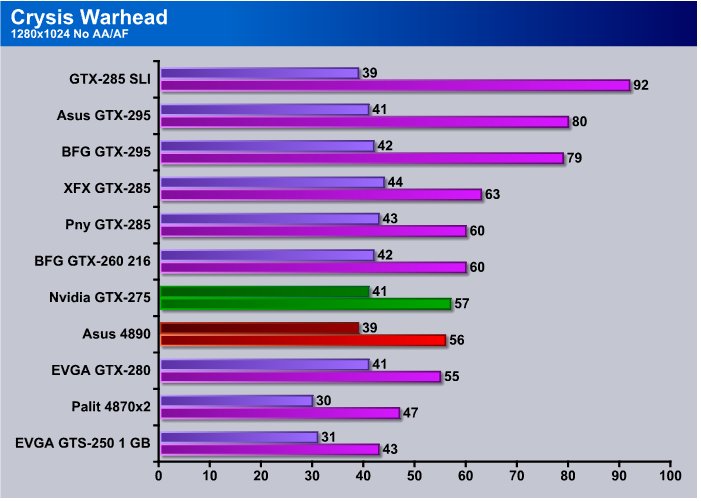 Crysis Warhead uses an updated Cryengine and is theoretically a little better optimized. It's still a GPU crushing game that yields consistent results. We've still got a few GPU's to benchmark off the stack in Warhead but the pack of technological change has been happening so fast it's been slow going. Sometime technology is like a Tsunami, you either stay out in front of it and ride the wave or it will come crashing down and drown you. This one of those exciting stay ahead of the Tsunami times in computing, new platforms are emerging, new GPU classes emerging, new ram kits, it tends to be a little overwhelming to most but we assure Bjorn3D with the assistance of it's partners is riding that wave and consistently hanging 10.
The lowest resolution we tested we see the Nvidia GTX-275 and the Asus 4890 performing pretty close together, the GTX-275 came out just a hair ahead and push comes to shove in this one the overclocking ability of each card might make the difference in this test. Unfortunately with the release of two such epic cards simultaneously we couldn't do OC testing within the allotted time frame.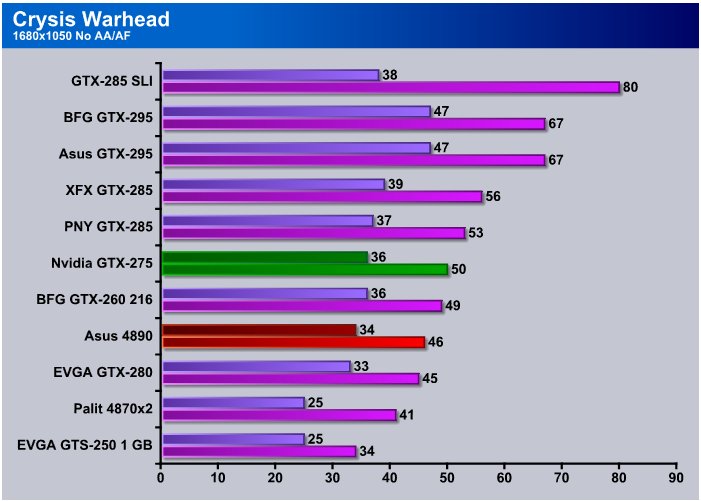 Moving to 1680×1050 with no AA/AF we see the gap between the GTX-275 and the Asus 4890 getting a little larger but both cards are still well into the playable region. The Factory overclocked BFG GTX-260 MaxCore snuck into the position between them.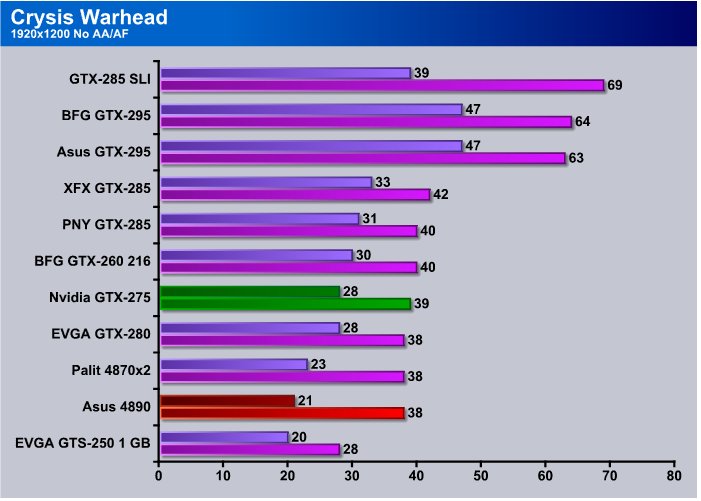 Hitting 1920×1200 both the Ati and Nvidia card at this price point were starting to drag a little. Of course we are running insane levels of eye candy and that affects things quite a bit. We noticed a few lags with the Asus 4890 but that's to be expected at this resolution with the theoretically optimized CryEngine 2. What amazed us is that the GTX-275 didn't lag any that we could see, the paper numbers in the benchmark show below 30 FPS minimum but the eye couldn't detect the drops.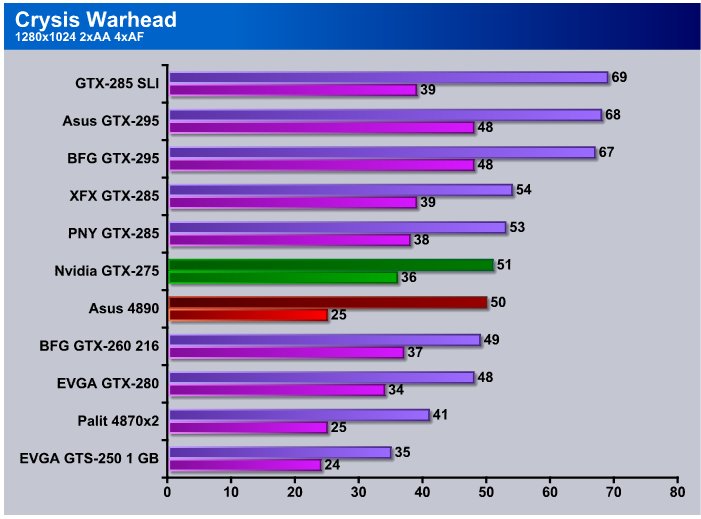 Getting a little AA/AF action into the mix at 1280×1024 the Nvidia GTX-275 seemed to fare a little better and in minimum FPS the GTX-275 came out 11 FPS ahead of the 4890. Thirty FPS is considered the minimum for rock solid gameplay.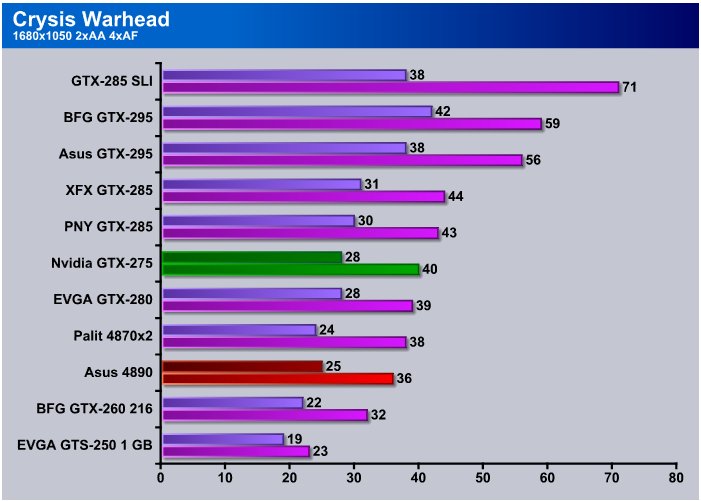 At 1680×1050 in Warhead most GPU's start to struggle pretty good. The GTX-275 dropped just below 30 FPS but once again we couldn't detect any stutters while watching the benchmark or playing the game.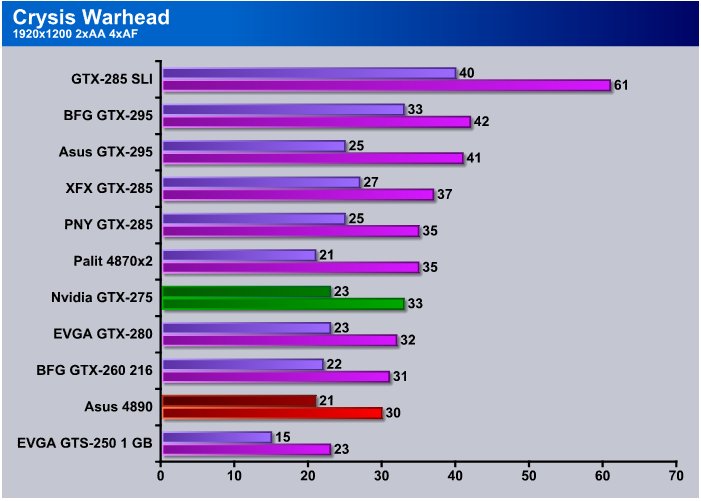 When we hit the highest resolution tested with AA/AF turned on we noticed a little lagging with both cards at this price point, it's to be expected with Warhead and not so much a reflection on the GPU's as the game and the settings we used. Dialing down the level of eye candy a notch (which we tested) we were able to run this epic game at levels we consider perfectly acceptable with the GTX-275. Setting Vegitation to one level down from insanely high and we were back into the playable range no problem.
Far Cry 2

Far Cry 2, released in October 2008 by Ubisoft, was one of the most anticipated titles of the year. It's an engaging state-of-the-art First Person Shooter set in an un-named African country. Caught between two rival factions, you're sent to take out "The Jackal". Far Cry2 ships with a full featured benchmark utility and it is one of the most well designed, well thought out game benchmarks we've ever seen. One big difference between this benchmark and others is that it leaves the game's AI (Artificial Intelligence) running while the benchmark is being performed.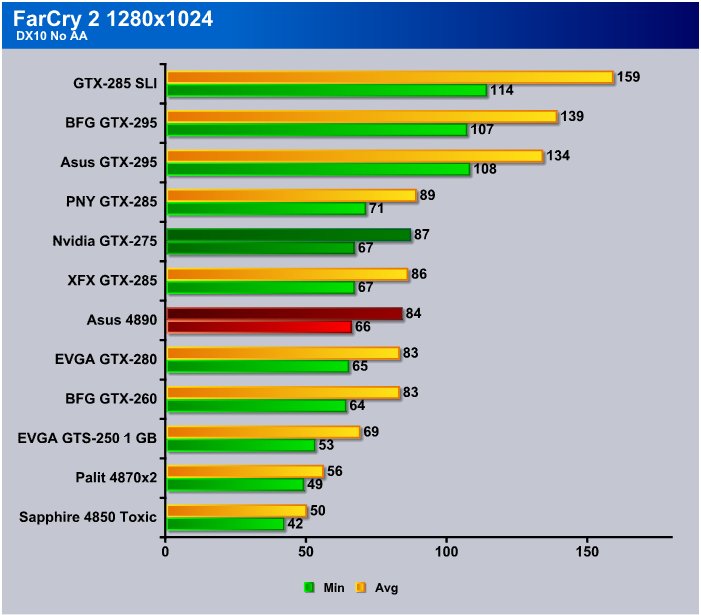 Farcry 2 and the GTX-275 seem to be doing pretty well at 1280×1024. You expect GPU's to do well at this resolution (unless your playing Crysis) so it's no big surprise that both GPU's at this price point are doing well.
FarCry 2 is new enough we went ahead and got expanded data at 1680×1050 and it shows the GTX-275  beating out the 4890 by a hair and amazingly enough the GTX-275 jumped out ahead of the GTX-280.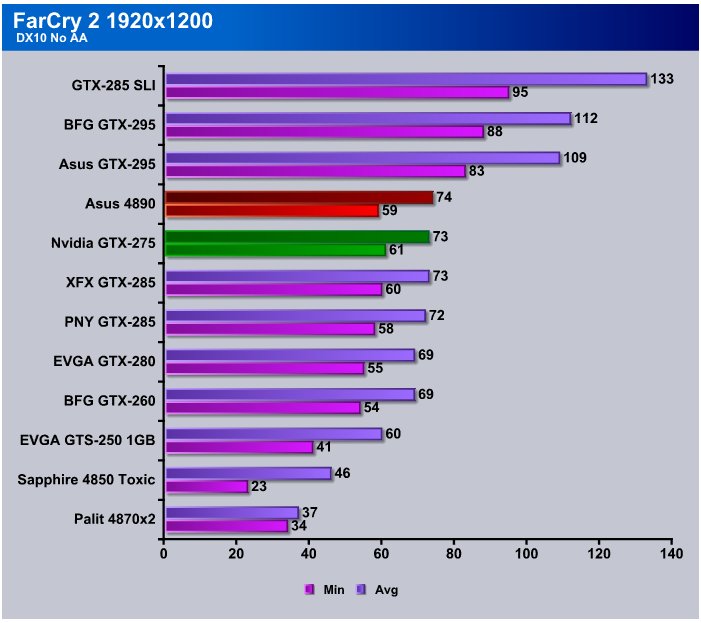 At 1920×1200 the Asus 4890 Voltage Tweak Edition squeezed out a win over the GTX-275 by one FPS. Keep in mind though that these are still mind blowing FPS being delivered by both cards and it was a give and take win. Minimum FPS the GTX-275 came in ahead by one FPS, and at Average FPS the Asus 4890 came out ahead by one. If you look at it that way it's more of a tie than a win but considering the positioning in the chart and the Frame rates both did really well in this test. With the short time frame we had, only the 4890 and GTX-275 were tested with the newest driver so we can expect to see some repositioning when we retest the stack. (After we get more mature drivers)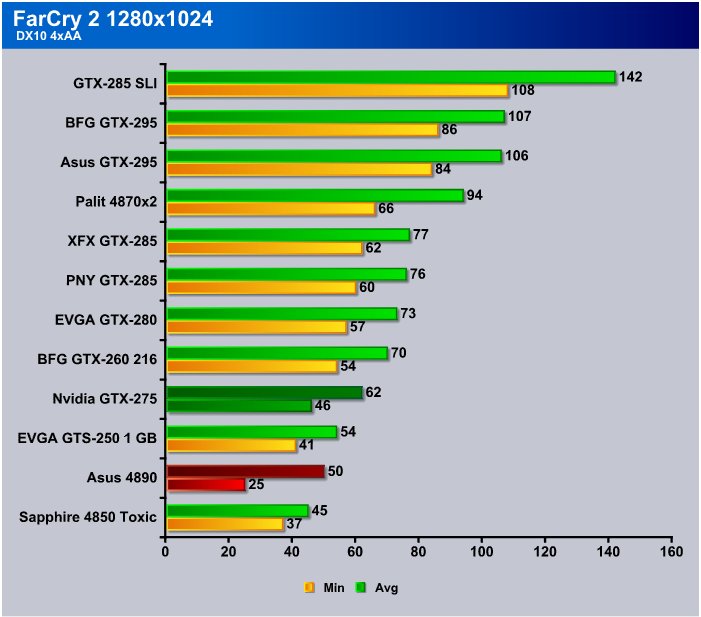 Getting back to 1280×1024 with AA/AF turned on the face of things appears to be changing, at this CPU constricted resolution with AA/AF turned on the GTX-275 easily keeps us in the playable FPS range and the 4890 has dropped to 25 FPS.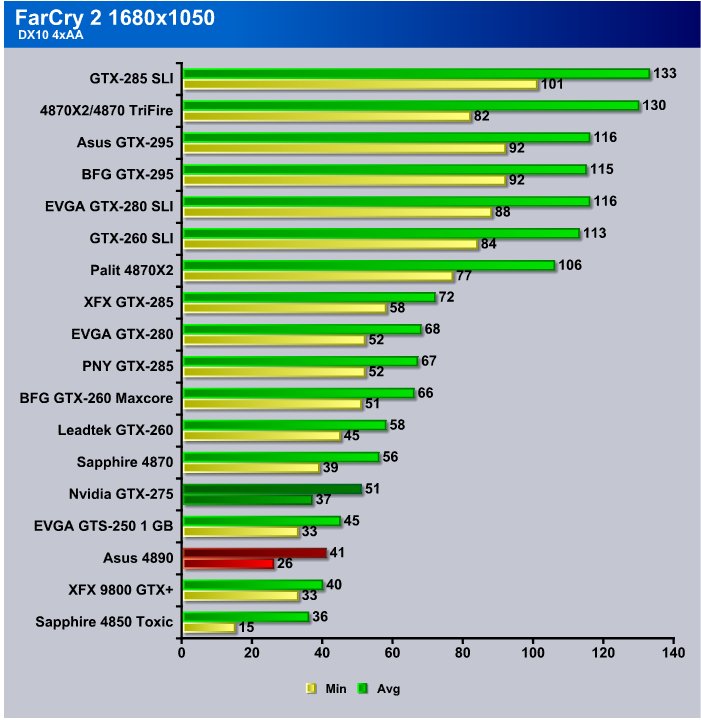 Again keep in mind we're using almost insane eye candy setting in FarCry2 and it shows on the GPU performances and we'd almost have to call early driver on this test. GPU's tend to be very consistent in their placement within a given price point and in this test they aren't, when that happens either we're asleep at the switch or there's a driver problem. Considering the number of energy shots we've downed there's no chance of sleep in the next decade so we suspect early drivers being a little rough.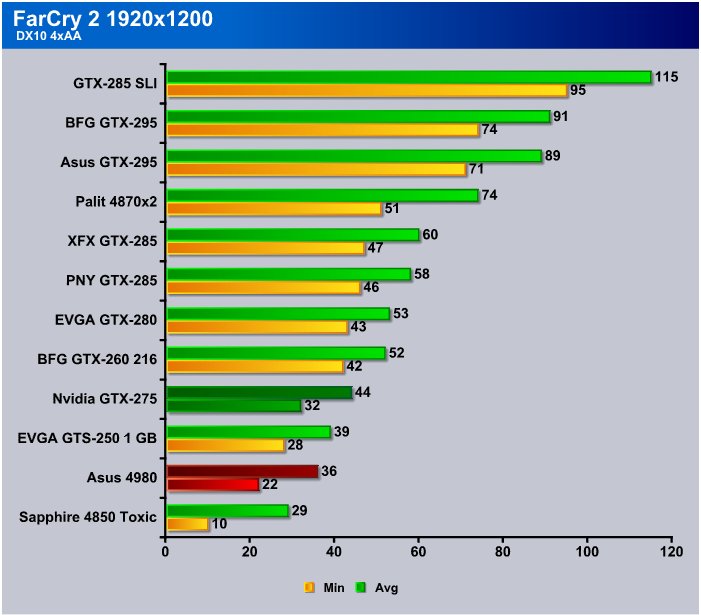 Again we see GPU's out of position at 1920×1200 and we carefully watched the benchmark at this resolution the GTX-275 was still churning playable FPS but the 4890 was down to 22 FPS. At this level there was microstuttering but it's been a long hard week so it might have been our eyes going into convulsions.
Dawn of War Warhammer 40,000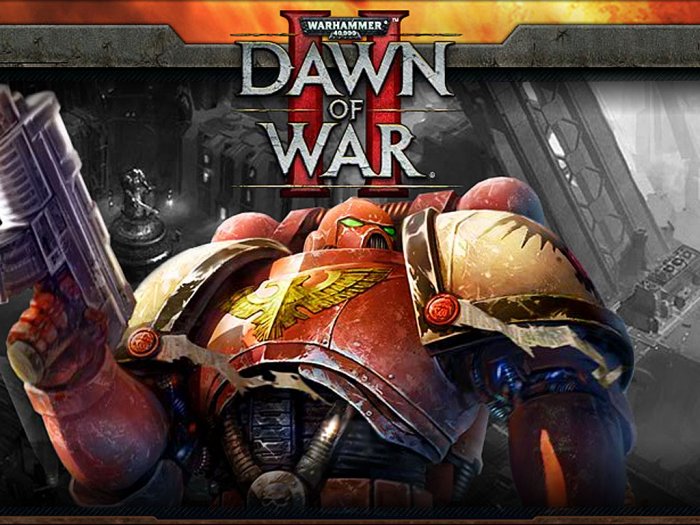 Developed by award winning Relic Entertainment, Dawn of War II ushers in a new chapter in the acclaimed Real-Time Strategy series – taking players to the brutal frontlines of war to lead an elite strike force on a mission to save the galaxy.
It is the 41st Millennium in Sub-Sector Aurelia – a cluster of worlds on the edge of the Galaxy – and a battle of epic proportions is about to begin. Ancient races will clash across the planets that dot this section of space, battling for the greatest of stakes – not only the claim to the land and its bounty – but the fate of each race.
With a focus on fast-action RTS gameplay, Dawn of War II brings to life the science fiction universe of Warhammer 40,000 like never before. Experience the intimate brutality of battle as you play through the epic campaign. Clash with enemies on battlefields ablaze with visceral hand-to-hand and ranged combat. Lead and develop your squads into the most battle hardened elite strike force in the Galaxy.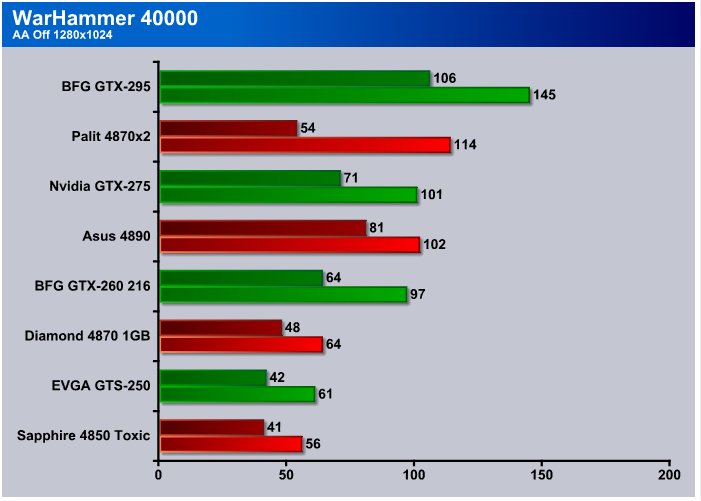 Dawn of War 2 Warhammer 40,000 is one of the titles we're looking at that benches well, scales well across the different GPU,s and is a new enough title to make an impact on GPU performance. In this series of charts we went with price point sorting. Meaning that the GPU's are positioned on the chart according to their price (or expected price) The Asus 4890 comes in at 10 FPS ahead in minimum FPS over the GTX-275 which was a little suprising. It's hard to make a call at 1280×1024 because a lot of games are CPU constricted so lets look at 1680×1050.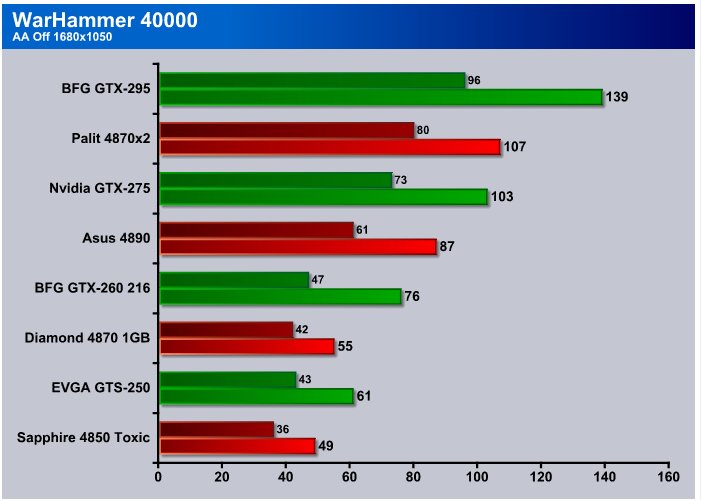 Hitting the 1680×1050 resolution you can see the GTX-275 actually picked up some FPS from the 1280×1024 test that's how you can tell if a game is CPU bound at lower resolutions. At this resolution the GTX-275 comes out 12 FPS ahead of the 4890 in minimum FPS and 11 FPS ahead in average FPS.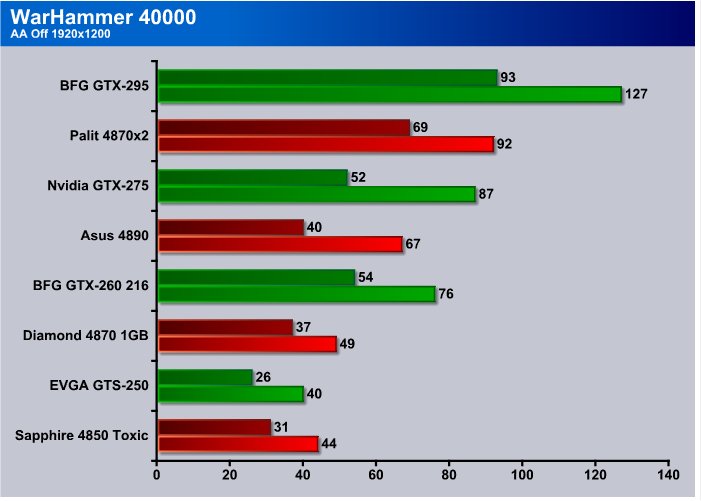 Even topped out at 1920×1200 the GTX-275 is popping out FPS fast enough to make all but the hardest core enthusiast happy and their only unhappy because they're unhappy all the time. That's why they are hard core enthusiasts, things can always be a little better for them, in some circles that could be considered obsessive compulsive.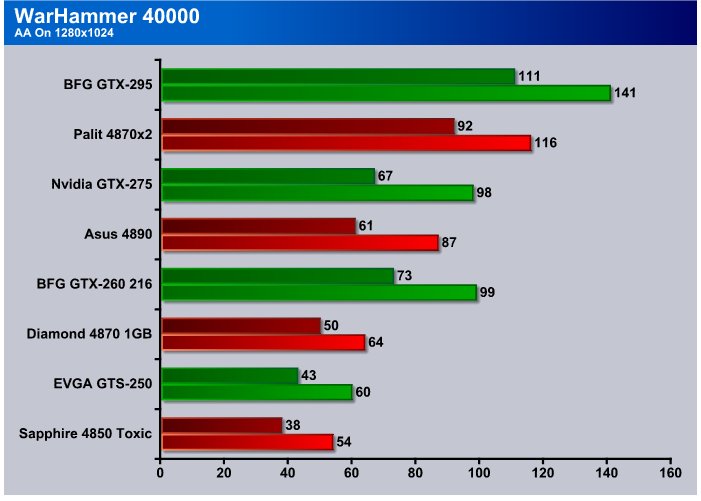 The AA setting in Warhammer in the game controls just says on and off, so rather than try and mess with driver level controls every time we benchmark it and possibly make settings mistakes we simply set it to on and let the game handle it. Compared to the 4890 the GTX-275 is looking pretty good. Now to give credit where credit is due this is a performance jump for ATI with the 4890, but you might keep in mind that Nvidia had to take two steps backwards to match the performance. With things looking like they are now Nvidia has 3 Single core GPU's that beat the performance of the 4890, currently we'd consider the GTX-275, GTX-280 and GTX-285 above the 4890 in performance. The question you have to ask yoursellf is how much performance do you need and how much money do you want to spend. We believe that the answer to that question for a lot of people is going to be GTX-275 performance and between $200 and $249.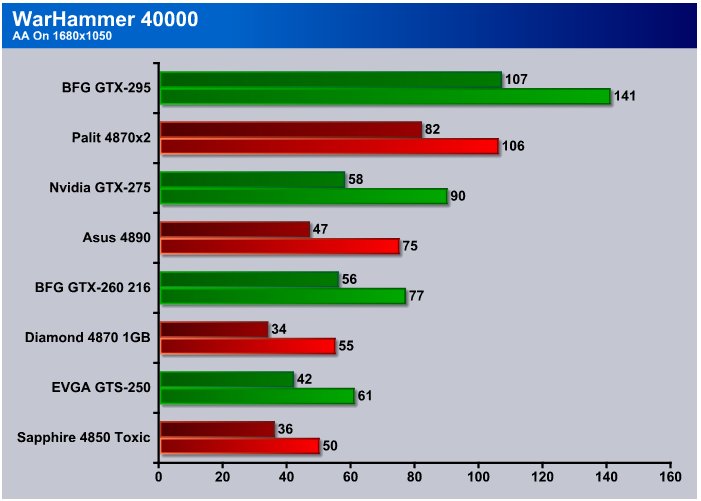 We can already tell the the GTX-275 is going to be a great price/performance GPU, and at this price point it's 11 FPS ahead of the 4890 in minimum FPS and 15 FPS ahead in average FPS.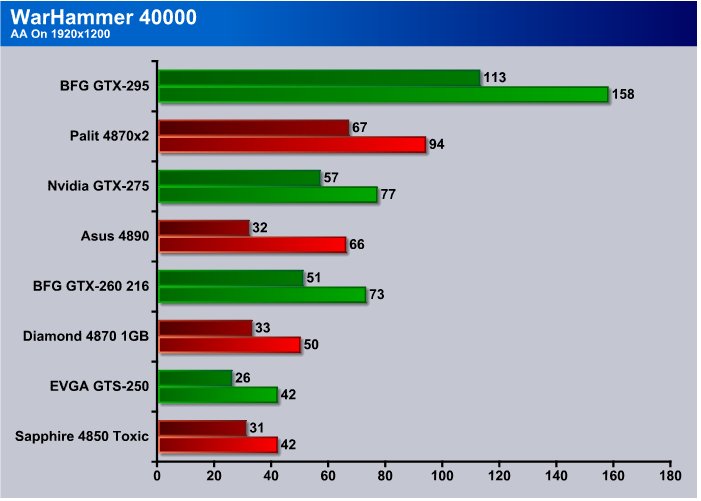 The GTX-275 is still churning out FPS like mad at 1920×1200 with AA on. While the 4890 is still above 30 FPS the GTX-275 is almost double the FPS you need for good solid graphics. We mentioned earlier the GTX-275 is designed with higher levels of AA/AF in mind and it's showing the engineers were right on the money here.
Stalker Clear Skys
There's a new stand alone benchmark out for the new title Stalker Clear Sky and even though we had a tight deadline with the Nvidia GTX-275 we wanted to get some Stalker action in. We didn't have time to run the whole stack against Stalker so we settled for just running the GTX-275 against it and posted the screenies of the results. Expect to see more of it in our testing regiment in the near future (if we can come to a common ground on how to test and report the results).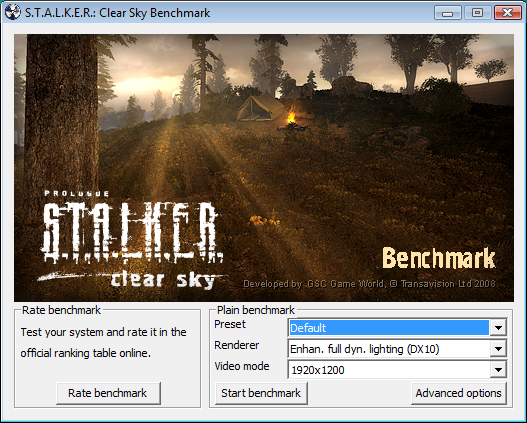 Here's a screen shot of the settings we used in Stalker Clear Skys, you'll quickly see why we're looking at it as a possible addition to our benchmarking suite. Some of the most powerful GPU's in the world can't stay consistently above 30 FPS even without AA/AF in this GPU busting benchmark. It's perhaps a little harsh but offers longevity for benchmarking in that we can benchmark it for some time to come without fear that a GPU is going to come out in 2 months that blows the benchmark out of the water.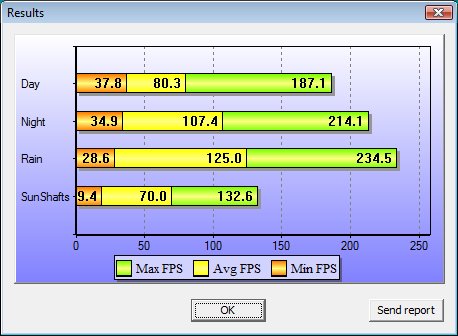 At 1280×1024 the benchmark is a little CPU constricted but begins to open up at 1680×1050.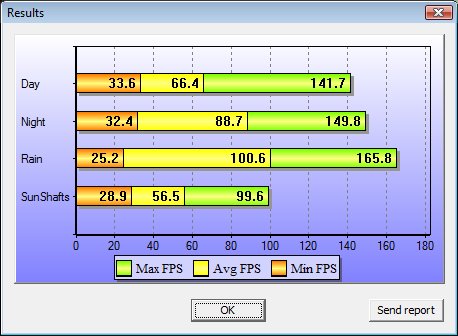 Notice how SunShafts picks up pretty signifigant FPS at 1680×1050 with no AA/AF applied that's your indicator that it's a little CPU bound. At this level you get pretty good FPS.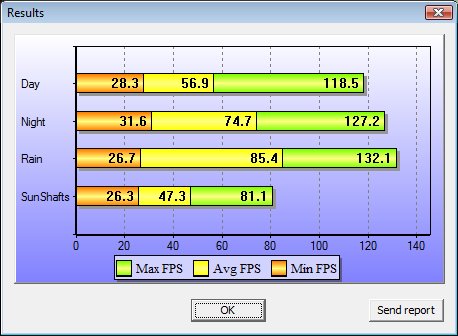 Then we get to 1920×1200 and the FPS drop a hair or two indicating it's GPU constricted at this point.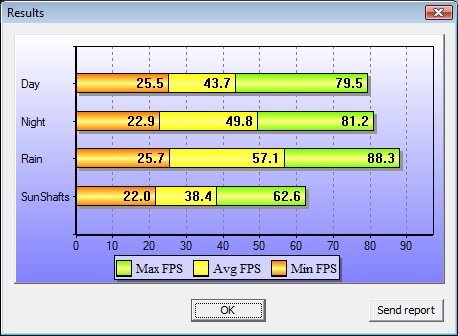 Then we went back and tested at 1680×1050 with 4xMSAA and FPS dropped again. This could be some good benchmark material if we can reach a common ground on how to report on it.
3DMARK06 V. 1.1.0

3DMark06 developed by Futuremark, is a synthetic benchmark used for universal testing of all graphics solutions. 3DMark06 features HDR rendering, complex HDR post processing, dynamic soft shadows for all objects, water shader with HDR refraction, HDR reflection, depth fog and Gerstner wave functions, realistic sky model with cloud blending, and approximately 5.4 million triangles and 8.8 million vertices; to name just a few. The measurement unit "3DMark" is intended to give a normalized mean for comparing different GPU/VPUs. It has been accepted as both a standard and a mandatory benchmark throughout the gaming world for measuring performance.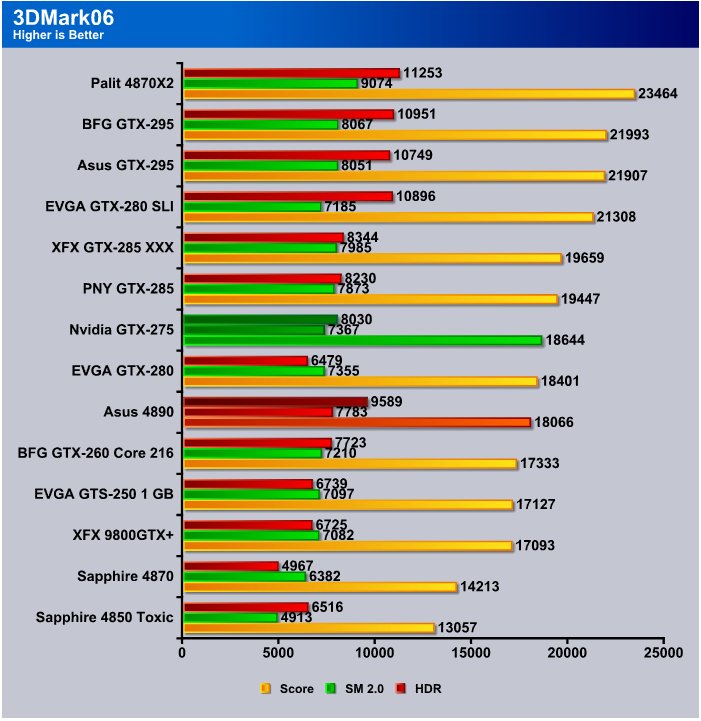 While 3Dmark06 is a synthetic benchmark and in games we prefer real life benchmarks it is useful in showing the raw performance differences of GPU. In 3DMark06 we see the GTX-275 about 600 points out in front of the 4890 even though the 4890 sports a much higher core clock.
3DMark Vantage

For complete information on 3DMark Vantage Please follow this Link:
www.futuremark.com/benchmarks/3dmarkvantage/features/
The newest video benchmark from the gang at Futuremark. This utility is still a synthetic benchmark, but one that more closely reflects real world gaming performance. While it is not a perfect replacement for actual game benchmarks, it has its uses. We tested our cards at the 'Performance' setting.
Currently, there is a lot of controversy surrounding NVIDIA's use of a PhysX driver for its 9800 GTX and GTX 200 series cards, thereby putting the ATI brand at a disadvantage. Whereby installing the PhysX driver, 3DMark Vantage uses the GPU to perform PhysX calculations during a CPU test, and this is where things get a bit gray. If you look at the Driver Approval Policy for 3DMark Vantage it states; "Based on the specification and design of the CPU tests, GPU make, type or driver version may not have a significant effect on the results of either of the CPU tests as indicated in Section 7.3 of the 3DMark Vantage specification and white paper." Did NVIDIA cheat by having the GPU handle the PhysX calculations or are they perfectly within their right since they own Ageia and all their IP? I think this point will quickly become moot once Futuremark releases an update to the test.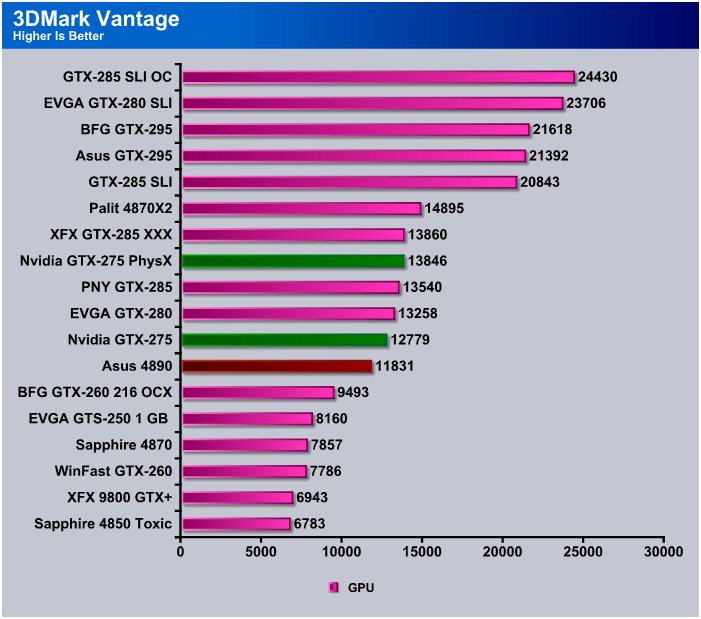 Things stay pretty tight in 3Dmark Vantage and the GTX-275 comes out about 900 points in the lead without PhysX. Turn PhysX on which we hear a lot of bellyaching about being fair and the GTX-275 jumps out to about 1700 points ahead. One way to look at it, carry a knife to a gunfight and no one is going to yell that's not fair. They're going to get a gun or leave the scene quietly. So as far as forum arguments go on this point, get a gun (with PhysX) or leave the scene quietly. We report both PhysX and non-PhysX scores on the currently reviewing GPU so lets keep the "Not Fair moaning to a minimum".
TEMPERATURES

To get our temperature reading, we ran 3DMark Vantage looping for 30 minutes to get the load temperature. To get the idle temp we let the machine idle at the desktop for 30 minutes with no background tasks that would drive the temperature up. Please note that this is on an open test station, so your chassis and cooling will affect the temps your seeing.
GPU Temperatures
Idle
Load
47°C
84° C
POWER CONSUMPTION

To get our power consumption numbers we plugged in out Kill A Watt power measurement device and took the Idle reading at the desktop during our temperature readings. We left it at the desktop for about 15 minutes and took the idle reading. Then, during the 30 minute loop of 3DMark Vantage we watched for the peak power consumption, then recorded the highest usage.
GPU Power Consumption
GPU
Idle
Load
Nvidia GTX-275 Reference
217 Watts
367 Watts
Asus HD 4890 Voltage Tweak Edition
241 Watts
359 Watts
EVGA GTS-250 1 GB Superclocked
192 Watts
283 Watts
XFX GTX-285 XXX
215 Watts
369 Watts
BFG GTX-295
238 Watts
450 Watts
Asus GTX-295
240 Watts
451 Watts
EVGA GTX-280
217 Watts
345 Watts
EVGA GTX-280 SLI
239 Watts
515 Watts
Sapphire Toxic HD 4850
183 Watts
275 Watts
Sapphire HD 4870
207 Watts
298 Watts
Palit HD 4870×2
267 Watts
447 Watts
Total System Power Consumption
Keep in mind all we can measure here is total system consumption so as the test rig evolves the numbers go up and down.
OVERCLOCKING

For Overclocking results we pulled a shot of the EVGA Precision Overclocking Utility with the GTX-275 at stock and used CPU-Z for verification and the OC speed.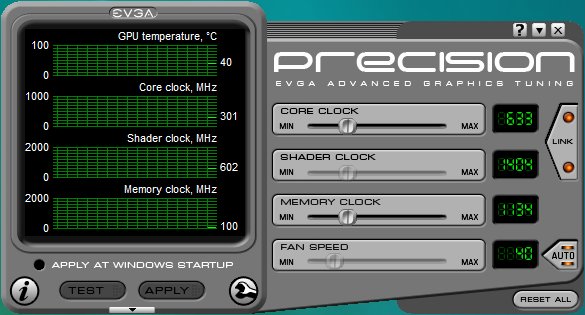 You can see from the stock speed shot that the clocks are exactly as advertised and that power saving mode is active. So when you piddling on the Internet or on the desktop and non 3D intensive applications the GPU will idle down and save power.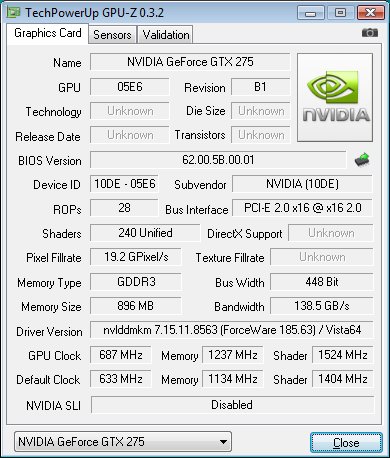 We managed a 687 OC on the GTX-275 and when we went past 687 we got a driver stopped responding error. It would recover politely and we would reboot to make sure and continue testing. That a big reason why we think we're looking at immature drivers, normally you get screen corruption and a lot of times a BSOD when you've overclocked to high. We didn't get that we got a polite driver stopped responding error, so were looking forward to a little more mature driver and throwing a few BSODs, err retesting the OC on the GTX-275 because we believe the GTX-275 has more to give and the drivers wouldn't let it give a maximum OC. That being said overclocking is a crapshoot, but we firmly believe there's more to get.
CONCLUSION
Nvidia has ask us to inform you that public drivers will be available for you on April 2nd, 2009 on the Nvidia site and they will be 185.65 and not the 185.63 drivers we used for review purposes. Performance wise they informed us that there is no need to retest but the newer driver has a performance tweak for SLI in Dawn Of War 2 Warhammer 40,000 SLI scaling and some other non-performance bug fixes.
We found the Nvidia GTX-275 to be a good gap filler in the Nvidia "Enthusiast" lineup and priced at $249 it's got a good price/performance ratio. Faster than the GTX-260 216, not quite as fast as the GTX-285. As far as the competition goes it's a little early to make a solid judgment but from what we've seen so far it takes the ATI 4890 to task and runs just ahead of it in most testing. Keep in mind the 4890 is the top end single core GPU in the red lineup, Nvidia actually had to take a couple of performance steps back to develop a GPU to compete at that price and performance level so there are faster cards out there. Price performance wise though you'll be hard pressed to beat the price/performance ratio of the GTX-275 and chances are a couple of these in SLI will perform on the same level if not better than the GTX-295. The advantage being it's cheaper than the GTX-285 so you can pick one up now for $249, catch a sale on them later, or wait for a price drop and get another one for SLI and have world class performance.
Single card operation is going to work for the most demanding games with just a slight adjustment to eye candy and you can't overlook the dedication Nvidia has shown in adding value to their GPU lineup with CUDA, PhysX and the ability to run 3D Vision. More and more games are adopting PhysX and when OpenCL for Havoc comes to fruition Nvidia GPU's will run both Havoc and PhysX giving them an edge in high end eye candy settings. One new setting Ambient Occlusion adds shadows to some existing game titles and you can bet profiles are being developed for new games. Nvidia updates their drivers often, and with each iteration of their drives we see improvements in stability and performance. That type of dedication and persistence to a piece of hardware is rare and help to set Nvidia apart from other choices in the GPU world.
A lot of applications are adopting CUDA for accelerating computing but most of those currently reside in the Video processing arena. We like the added abilities of Nvidia GPU's and appreciate the value added aspect of them. However if all Nvidia had was the performance level they do now and the dedication to keeping their drivers updated and high levels of customer service and a good end user experience it would be enough for us. The rest is just icing on the cake.
We are trying out a new addition to our scoring system to provide additional feedback beyond a flat score. Please note that the final score isn't an aggregate average of the new rating system.
Performance 8
Value 9
Quality 10
Warranty 8
Features 10
Innovation 9
Pros:
+  Runs Cool Enough
+  Able to Run Triple SLI
+  Out-performs Other GPU's At The Same Price Point
+  Promises To Be Killer In SLI (We'll Find Out Soon)
+  Lower Power Consumption
+  Value Added Functions, Cuda, PhysX, Ambient Occlusion and 3D Vision
Cons:
–  Drivers Currently A little Immature (That's To Be Expected)
–  Not having Two Right Now For SLI
The Nvidia GTX-275 fills a gap in the "Enthusiast" line of GPUs and offers a good price/performance ratio making it an attractive choice for value conscious enthusiasts, that is good news for enthusiasts but with that much performance for that little price it might stall the sales of higher end GPU's so it scores an: 8.5 out of 10 and the Bjorn3D.com Seal Of Approval.