Razer has been busy at it again this season and is introducing an entry level gaming keyboard, the Arctosa. We're lucky enough to get an early release Arctosa for review today.
INTRODUCTION
Gaming and the tools to achieve pawnage have really evolved in the years we've been looking for the perfect gaming shrine. Once upon a dinosaur ago we can remember pounding away at an IBM keyboard in the green monochrome glow of a CRT and thinking that this was the stuff dreams were made of. Then, CGA (3 Color) and EVGA (16 color) monitors hit the streets and we knew we'd achieved the pinnacle of gaming.
Lots of years have passed since then and gaming equipment has made leaps and bounds and it's hard to keep track of all the high end gaming gear out there. We often overlook the midrange gaming market, so we've got a Razer Arctosa entry level gaming keyboard for those that want better equipment but don't feel they need the highest end uber expensive setup.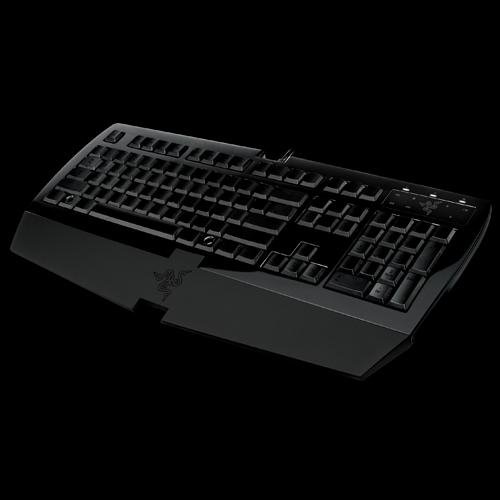 Razer: The Company
"Razer collaborates with gamers to develop, manufacture and market cutting-edge gaming peripherals utilizing proprietary technologies that give gamers the competitive edge. We reinvented the computer gaming industry by bringing this competitive edge to gamers when professional computer gaming was in its infancy. In the mid 90s, with the advent of networked gaming and competitive first-person-shooter (FPS) games, gamers found that their legacy peripherals were inhibiting rather than enhancing their gameplay."
"Having led the technology arms race and overpowered competitors, Razer once again stamped its authority in gaming technology in the fall of 2005, by launching the Razer Copperhead™."
"Right about then, Microsoft and Razer decided to co-develop and co-brand Microsoft's next generation of gaming peripherals, culminating in the Microsoft|Razer Habu gaming mouse, and the Microsoft|Razer Reclusa gaming keyboard."
"Undoubtedly, Razer is the worldwide leader in terms of professional gaming peripherals. While we are light years ahead of our competitors in terms of technology, design and ergonomics, we are not resting on our laurels but are developing other key products and peripherals with the gamer in mind to bring that competitive edge to gameplay that Razer is synonymous with."
"Headquartered in Carlsbad, California, Razer collaborates with gamers to develop, manufacture and market cutting-edge gaming peripherals utilizing proprietary technologies that give gamers the competitive edge. Razer products have earned critical praise and won multiple awards from around the world for their precision, sensitivity, usability and distinctions in product design. Engineered to near perfection, Razer's reputation of being the leader in gaming peripheral technology is embodied in every single Razer product. For more information, please visit www.razerzone.com"
"Razer – For Gamers. By Gamers™."
SPECIFICATIONS
Engineered with industry- leading gaming technology from Razer, the Razer Arctosa comes with outstanding features like fully-programmable Hyperesponse™ keys with macro capabilities, customizable software profiles with on-the-fly switching and 1000Hz Ultrapolling™, giving you the competitive edge to perform faster and better in-game.
Features
Fully-programmable keys with macro capabilities
Selective anti-ghosting for WASD gaming cluster
Slim keycap structure with Hyperesponse™ technology
Easy access media keys
Gaming mode option for deactivation of the Windows key
10 customizable software profiles with on-the-fly switching
1000Hz Ultrapolling™ / 1ms response time
Detachable wrist rest
Approximate size:
470mm (length) x 165mm (width) x 20mm (height) – without wrist rest
470mm (length) x 222mm (width) x 20mm (height) – with wrist rest
System Requirements
PC with built-in USB
Windows® XP / x64 / Vista / Vista64
CD-ROM drive
Internet connection (for driver installation)
35MB of free hard disk space
Pictures & Impressions
Click Image For a Larger One
The Razer Arctosa comes in an attractive black box that will drive your camera flash insane reflecting shades of Mauve all over your photos. It has plenty of information and specifications to help inform the consumer about its purchase.
Click Image For a Larger One
The Arctosa is a nice looking keyboard but the box and keyboard drove our cameras insane. Three different cameras, two different lighting systems and it just seems to want to be Mauve but in reality it's traditional Razer shiny black. After a hundred or so photos and two sets of batteries we gave up and snagged some beauty shots off the Razer webby for you. Notice the Razer webby shots are black background and ours is white so that might account for the reflective tones we got.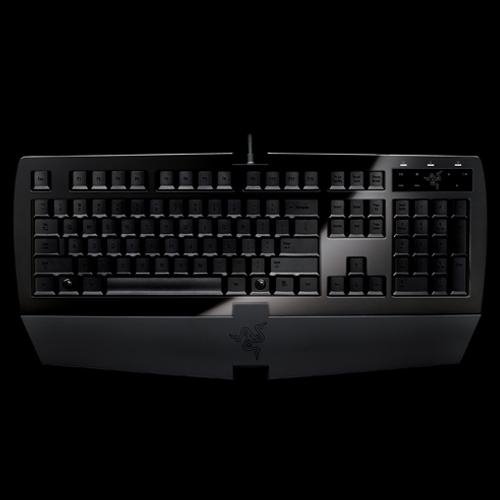 The one thing you should notice and know about before getting an Arctosa is that it has black key lettering on black keys and the keys can be very hard to see in normal lighting conditions. That's really the only fatal flaw we found with the Arctosa but it's a pretty glaring issue. Unless you type by touch you might have to struggle with it or find some lighting that almost directly shines down on the keyboard.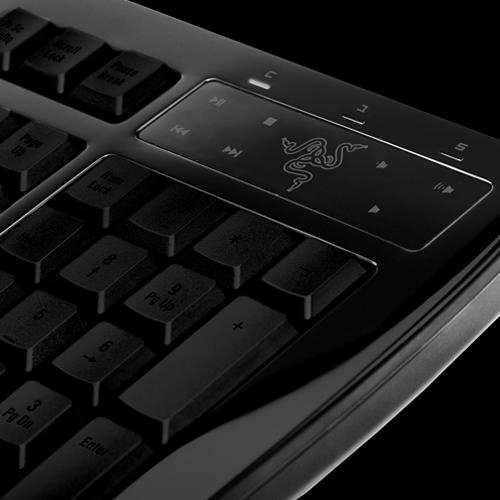 The Arctosa has a touch panel right above the numeric keypad that allows you to select different profiles, adjust the volume, and has the normal VCR type controls for your media player. In this close up shot you can see what we mean about the key lettering color, setting back from it with normal overhead lighting we found ourselves struggling to see the keys. Lighting here is somewhat muted so you might not have that problem but white lettering, or a different color scheme (Razer Green) would have made things a little easier on the eyes.
Razer included a Quick Start Guide and Certificate of authenticity with the Arctosa as well as a couple of Razer Emblem stickers (Not Pictured). The setup for the drivers is web based so you'll need an internet connection to install the drivers.
Testing
There's really only one way to test a gaming keyboard. Fire up some games and jump in fingers first. We fired up Crysis because we're really familiar with the keyboard commands and we fired up Dawn of War Warhammer 40,000 because we don't know the keyboard layout for the game. That way, we'd get a feel for a well known game and one that we have minimal experience with.
As it turns out, in Crysis we were fine and quickly found that the dark lettering on the keys didn't bother us much. We were easily slipping in and out of cover and finding the movement and grenade keys just like on the Razer Lycosa we normally use. We did notice that he Arctosa just doesn't have that solid feel that we like in a high quality keyboard but the key response was exceptional with it's 1000 MHz UltraPolling. With UltraPolling, the keyboard scans for input 1000 times a second and keystrokes are met with instantaneous responses. That, we liked a lot. Volume was easy to adjust in game without having to resort to dropping back to Vista or opening the game options screen. We set a profile in Crysis for the keyboard and switched to it easily using he profiles button.
When we came to Dawn of War Warhammer 40,000, it was a little different story. Most of the game lends itself to the mouse more than the keyboard. We laid out the Keyboard shortcut portion of the manual (photocopied) and set about pawning some space Orks and Eldar. It quickly became obvious that the black letters on the black keys were a disadvantage. We found ourselves a little frustrated with trying to locate keys we hadn't trained our fingers to find without looking. If you type by touch, you'd probably be okay with the Arctosa but if you hunt and peck, this might not be the right choice for you.
Conclusion
While everything on the Arctosa worked as advertised we didn't like the black on black scheme of the keys and found that trying to type was a little difficult for someone who wasn't a touch typist. We also found that gaming with the Arctosa in games we knew wasn't hard but much prefer easier to see key layouts or backlit keys.
The black on black and less than substantial feel of the Arctosa is a deal breaker for us. The profile capabilities of the Arctosa are nice, its ultra responsive, but finding yourself tilting the keyboard to find the occasional lost key doesn't do a lot for our gaming abilities. The Multimedia pad is nice for adjusting volume and multimedia playback and the keys have a nice feel to them and respond quickly to the touch, but if you can't find the key at that confusing critical in game moment you're not going to be able to club the opponent with the keyboard and might end up the victim of a fatal headshot while searching a black on black landscape while wondering who took the letters off your keys.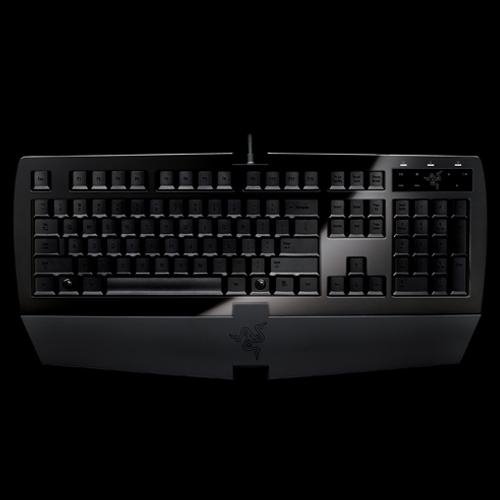 We are trying out a new addition to our scoring system to provide additional feedback beyond a flat score. Please note that the final score isn't an aggregate average of the new rating system.
Performance 6
Value 7
Quality 7
Warranty 8
Features 6
Innovation6
Pros:
+  1000 MHz Polling
+  Customizable Profiles
+  Multimedia Panel
+  Good Key Response
Cons:
–  Web Based Driver Setup
–  Black Keys With Black Lettering Hard To See Or Find
–  Doesn't Feel Very Substantial
–  Would Require Direct Overhead Lighting That might Be Annoying during Gaming
The Razer Arctosa is a close miss for us, we like a lot of things about the Arctosa but the Black on Black Key design is a deal breaker so it scores a: 6.5 out of 10.