Today we will be looking at two amplified antenna from Rosewill. The RMS-HDA5000 is an indoor/outdoor antenna designed for home-use while the RMS-DA7600 is an portable antenna that is meant for laptop or desktop use.
INTRODUCTION
With the economy in recession, many of us have to cut back on our spending. Cutting back does not necessary mean that we must make huge sacrifices. In fact, sometimes it is as simple as change a lifestyle and makes small adjustments. One of the easiest ways to save $40 bucks a month or more in a common household is cutting the cable service and switch back to the old rabbit ear antenna. If you are like me who do not watch that much television, this little adjustment means a $500 saving a year.
In fact, many of the cable shows can be found at Hulu.com and at the television networks' own website, often in HD format. So if the shows you watch can be found online or at the network's website, then cutting that cable service is a good way to save money.
Switching back to the old antenna could possibly means that you are in the shop for a new antenna. The high definition digital signal is different from the old analog signal. You either get all or none deal with the picture. This means that no more granny picture with statics when you get weak reception. What you will get instead is just a black screen. However, if you get a good reception, it means clear picture without any interference. Thus, your location and distance from the TV broadcasting signal tower and your receiver would be the dominating factor in receiving a picture.
The truth is that all television antennas are designed to receive signals at Ultra High Frequencies (UFH), Very High Frequencies (VHF), or both regardless or analog or digital. This means that even the old antenna that you have in your house from the analog age would still work with current HDTV. Do not get fooled by all of the marketing hypes of HDTV antenna. However, even among all of the antennas, there are some with good reception and some are having poor reception. In my opinion, as long as an antenna is able to receive a clear signal, then it is a good antenna.
Today, we are going to look at two amplified antenna courtesy of Rosewill. The RMS-HAD5000 is an indoor/outdoor antenna and the RMS-DA7600 is an indoor antenna that is designed to be portable.

Both antennas are amplified antenna. Amplified antennas are capable of increase the signal strength, thus are able to get a slightly better reception. However, do not be fool by thinking that if you are located in an area with poor reception you will automatically get a good reception with the antenna. It does not work like this. Instead, it would only amplify the signal that the receiver receives to boost its signal. It can also be beneficial to have an amplified antenna when running a long cable or several splitters between the antenna and TV.
About Rosewill
About Rosewill
Not long ago we had an idea – bring quality hardware and affordable prices together. From that idea Rosewill was born. Formed from a top team of hardware professionals, Rosewill is dedicated to our mission to compete and win on price, quality, and service. We work only with the best partners – businesses we know and businesses we trust.
The Rosewill mission
Our vision is to become the leading brand in computer hardware and peripherals. We aim to achieve this goal by creating superior customer satisfaction. We view our customers as our most important assets. Through our integrity, our innovative products, and our excellent customer service, we aim to create lasting customer relationships.
Customer satisfaction
We believe that excellence is a standard. Our customers deserve nothing less than the best. By purchasing a Rosewill product you are choosing exceptional value, unrivaled customer service and top quality hardware. If you are a Rosewill reseller, you can have the comfort of knowing that we at Rosewill value the success of our business partners..
The future
We will soon be introducing a full line of hardware that will encompass the Rosewill commitment to excellence. New product launches are on the way, so check back with us soon.
RMS-HDA5000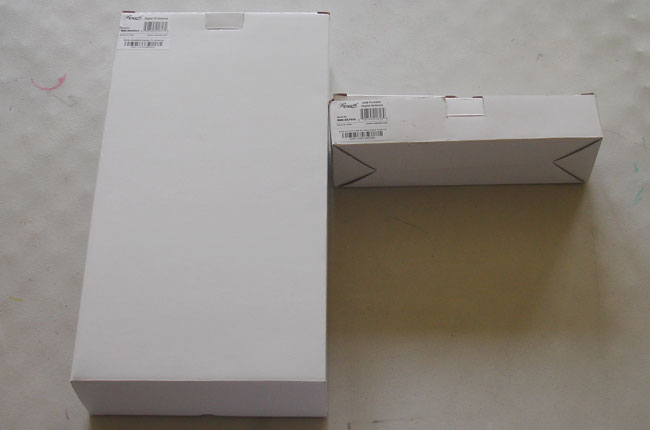 First up is Rosewill's RMS-HDA5000. The antenna is currently on sale from Newegg at This is their indoor/outdoor antenna. As you can see the package of the antenna is simply a white cardboard box.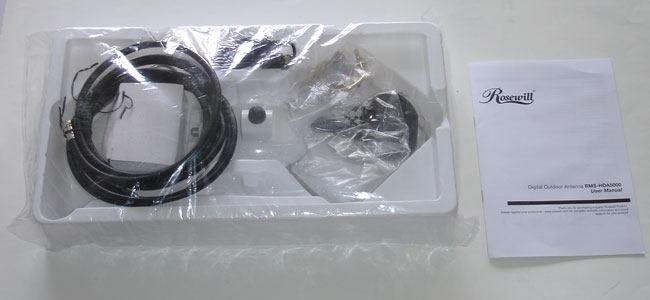 Rosewill packages the antenna fairly well despite it's plan white box. The components are being placed in a plastic cutout where you will find all of the parts in its own compartment.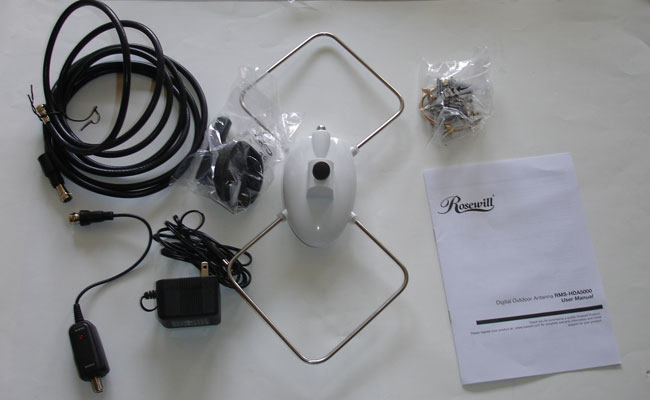 This is what you will find:
The antenna
A coax cable
A power brick
Signal amplifier
A bag of screws to be used to mount the antenna to a pipe
A manual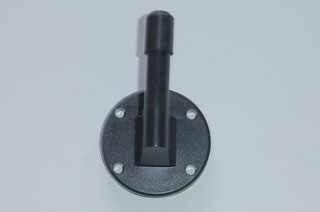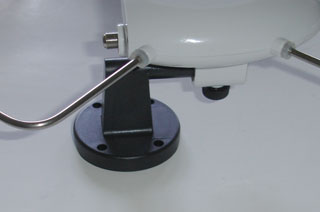 Because this antenna can be used in the outdoor, Rosewill is kind enough to include a bag of screws to be used to mount it onto a pipe or a pole. In addition, it can be mounted to the wall with the included stand. Although it is designed to be used outdoor, its small size means that it will not be too distracting if it's mounted indoor.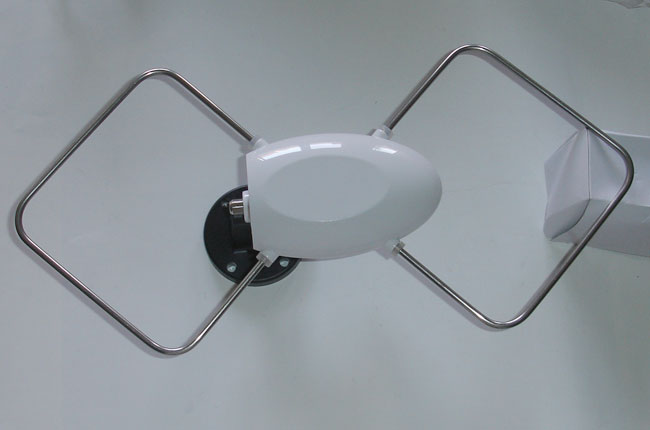 The antenna is shaped with an egg-like center receiver (mmmh, maybe it's because Newegg owns Rosewill, who knows) with two rhombus shaped metal loop. The antenna is meant to be mounted vertically with the cable hanging down the bottom of the egg shape receiver. It is designed to receive UHF in 470~870 MHz and VHF 47~230 MHz frequencies.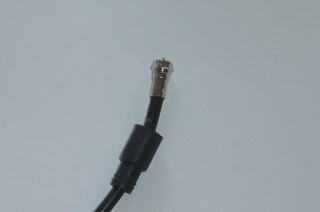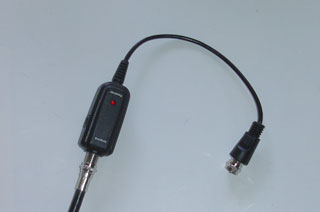 A rather long, 3 meters, cable is included. It is slightly thicker than most indoor antenna's coax cable which is good as it provides extra shielding and can help with its endurance if it is being placed outdoor. The antenna and the cable are water proofed and have an anti-UV coating. A rubber shielding is covering the connector that will protect it against rain and sunlight. Since this is an amplified antenna, it is required to be plug into a wall socket.
Feature and Specs:
Compact and stylish design
Different installations method, wall-mounted or pole-mounted installation
UHF 470-870MHz
VHF 47-230MHz
Gain 20+-3dB
Power 120VAC/230VAC, DC9~12V
Low noise amplifier technology
High directionality
Water-proof and anti-UV coating
Performance
The antenna works fairly well. I was able to pick up all of the channels that my old rabbit ear antenna was able to pick up and a few more (although those channels have no shows on them). Of course the reception is purely depended on my physical location and your mileage may vary.
One thing to note with the HD RMS-HDA5000 is that I receive less interference with it and need less adjustment than my old antenna. My old rabbit ear can easily pick up interferences on some channels and would result in some checker box image. Most likely due to the amplifier that makes the signal coming of the Rosewill antenna is a bit stronger so I get less interference. Also, I do not need to make as much directional adjustment to view some channels which I had to with my old antenna. I have been using the antenna for over a month now and over this period, I did not have to many any directional adjustements at all.This antenna pretty much only need to be setup once and leave it as it would work with all of the channels I was able to pick up.
When I tried the antenna with the AutumnWave GT tuner, I was able to receive 7~31 channels with the amplifier. Of course, the difference is mainly due to the placement of the antenna. Without the amplifier, I was only able to receive 1 channel. With the antenna that was included by the AutumWave, I was only able to receive 11 channels. Because the antenna has a longer cable, I was able to place the antenna farther away from the tuner, which I believe is what helps it receiving better signals.
I was able to monitor the signal to noise ratio with the AutumWave GT. The antenna gives 20~25 dB of signal to noise ratio and with the right placement, it stays above 20 dB in all of the channels it has detected.
There is, however, a minor annoyance with this antenna. There appears to be slight delay in the signal when you first tune to each channel. This can be a bit annoying as you may need to wait a second or two when you are browsing the channels.
RMS-DA7600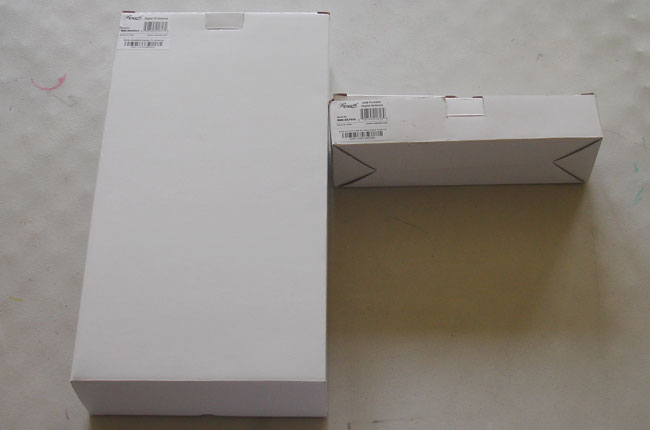 Just like the RMS-HDA5000, this antenna is also packaged in a plan white box. Contrary to the RMS-HDA500 which is designed for indoor and outdoor use, the RMS-DA7600 is designed as more like a portable antenna. This antenna is very small, which makes it very portable for those who may wish to watch TV on the go. It is currently selling at an affordable price of $15 over at Newegg.
The following items are included:
The RMS-DA7600 antenna
A manual
A clip
A stand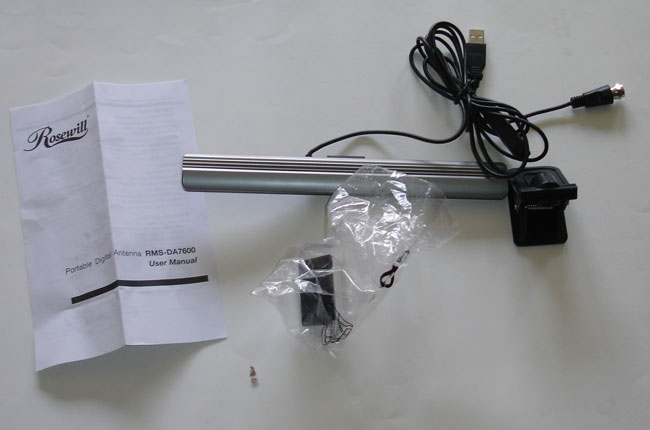 You will see a 24 cm receiver with no extension. There is approximately 1 meter of cable attached to it. As oppose to the RMS-HDA5000 which has thick cable because it is designed for outdoor use, the RMS-DA7600 has a very thin cable. The cable has a split toward the end 30 cm where you will see an USB connector on one end and the regular coax connector on the other end. The USB connector allows the antenna to draw power directly through the computer's USB port to amplify the signal.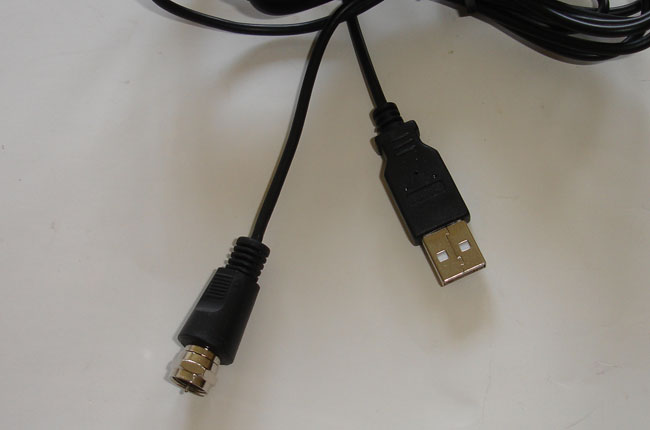 Rosewill includes a clip to be installed on the bottom of the antenna to let user clip the antenna onto their computer screen. Furthermore, a stand is included in case you wish to place it on a table.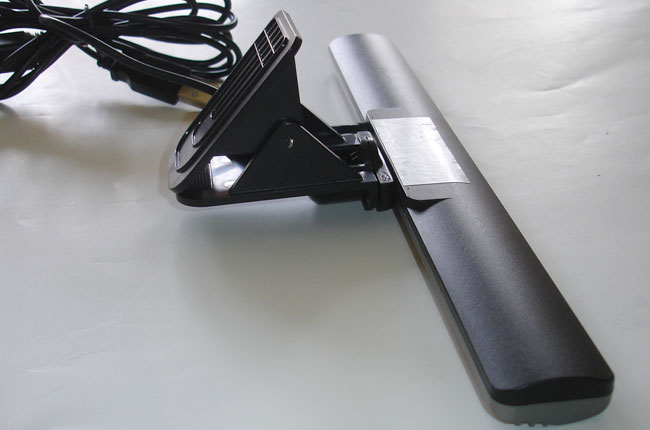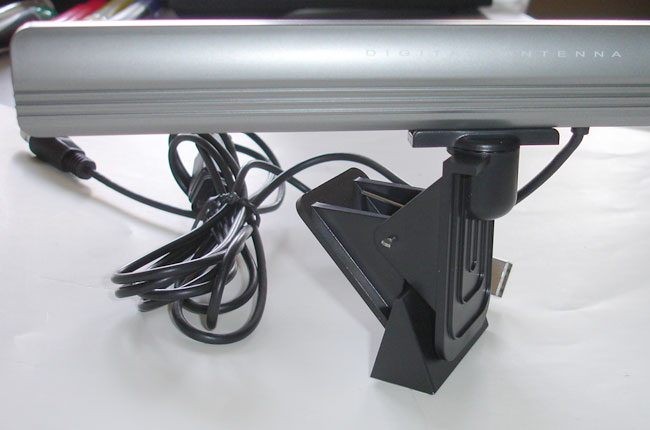 The antenna can be rotated left and right. Unfortunately, it does not offer any tilt adjustment which may pose problem if you wish to fine-tune your reception.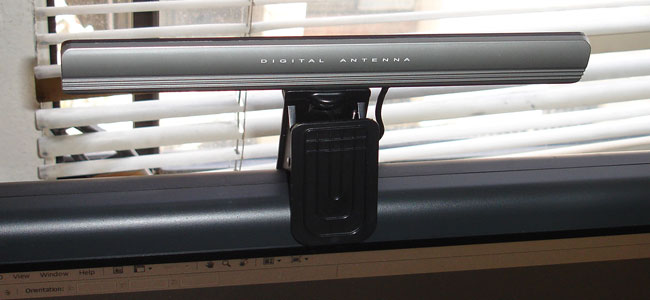 Specification
RNA-DA7600 is an active digital antenna, which is designed for laptop or desktop users to amplify the digital signal picked by their built-in or external PC TV tuners.
VHF: 174 ~ 230Mhz
UHF: 470 ~ 870Mhz
Amp. Gain :13 ± 5dB
Noise figure: < 2dB
RF Output Impedance: 75Ohm
RF output cable: 1.5C-2V/Male/USB Jack/100 cm with Power Inserter
Support USB powering
Dimension: 9.45″ x 0.79″ x 1.1″
Weight: 0.29 lbs.
Performance 
Depending on the placement of the antenna, I was able to get somewhere from 6 to 19 channels easily with the AutumnWave OnAir GT tuner. Unfortunately because the antenna only allows left and right rotational adjustment, it can be somewhat difficult to find the ideal position to receive the best signal. It would have been nicer if the antenna is designed with some vertical adjustment so in addition to rotate it to the right position, users can also tilt it up or down a bit to fine tune the receiver.
If you can find a good position, then the amplifier works great. I was able to get very good signal on the channels I was able to pick up. Using the AutumnWave's signal to noise ratio viewer, I routinely get 20~25dB with the antenna and with the AutumnWave's own antenna, I was able to get around 20dB of signal. So the amplifier definitely is able to give it a small boost.
Overall, it's a decent tuner for those who got a TV tuner in a small space. Considering it is only selling at $15, it would be a good antenna for those who need to watch OTA HDTV on the go. Unfortunately, finding the best position can be slightly hard due to lack of the tilt adjustment.
CONCLUSION
I like the RMS-HDA5000 antenna's space saving design. It would work great even for indoor use as it does not take up much of the space. It is a good replacement if you still use the old rabbit ear antenna so you don't accidentally poke your eyes out with that antenna leg. Its reception is good and I was able to pick up all of the channels that are available. The signal to noise ratio is also very strong that there is no additional adjustment needed while watching TV shows.
The only small complain I have with the RMS-HDA500 is the slightly delay with the TV tuning. Other than that, it's a great product.
The RMS-DA7600, on the other hand, is a good idea but has some design flaw that makes it otherwise a great product. Its slim design makes it very portable. The amplifier is a great idea for signal boost which works quite well with my USB TV tuner. Unfortunately, finding the perfect position can be a bit of challenging because of the limited adjust it provides. If it would have some tilt adjustments to allow users to fine-tune the antenna, it probably would be a very good antenna for those who got a TV tuner on their HTPC or for those who have USB TV tuner on their laptop.
We are trying out a new addition to our scoring system to provide additional feedback beyond a flat score. Please note that the final score isn't an aggregate average of the new rating system.
RMS-HDA500

RMS-DA7600

Performance 9
Value 8.5
Quality 10
Warranty 8
Features 10
Innovation 9

Performance 9
Value 9
Quality 10
Warranty 8
Features 9
Innovation 9

 

 

Pros:

+  Compact and space saving design
+  Amplifer
+  Good reception
+  Multiple mounting mechanism
+  Long and water resistant cable

Pros:

+  Compact and very portable
+  Amplifier via USB port
+  Good construction
+  Good reception

Cons:

–  The reception without the amplifier is weak

Cons:

–  No tilt adjustment for fine-tuning the signal
Both the RMS-HDA500 and RMS-DA7600 will receive a score of 8.5 out of 10.