We've waded through some of the highest end Ram on the Planet and now we're wading through some Cas 9 OCZ Reaper TC 1866 6B ram for Core i7 rigs. The Reaper awaits you.
INTRODUCTION
We've been waist deep in ram reviews at Bjorn3D. Some of the fastest kit's in existence have passed through our hands and we've driven them as hard as they will drive. We have on hand a kit of OCZ Reaper and we're going to do something a little different with this 6 GB kit of Reaper DDR3 TC 1866 ram. We're going to review it at stock speeds on the Core i7 965 then pass it on to another reviewer with a Core i7 920 and let him run it stock and OC so we can see how much difference we get from a multiplier OC and a FSB OC to settle the FSB/Multiplier OC debate once and for all.
Should be an interesting approach to a killer set of OCZ Reaper, most of the time a review is done on one test rig with one CPU and we're thinking outside the box on this epic kit of Reaper. The Reaper awaits you, and he'll be back if he doesn't get you this time.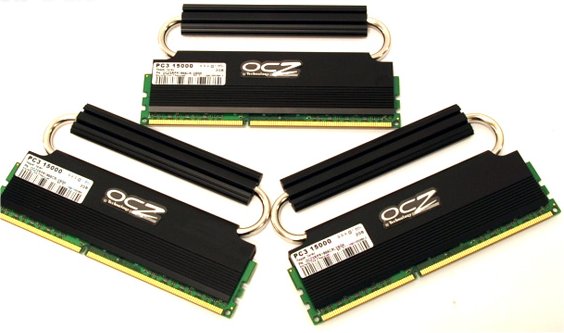 About OCZ Technology
Entering the memory market in August 2000, OCZ Technology was built around the determination to manufacture the best high speed DDR and RDRAM. OCZ was founded by enthusiasts, for enthusiasts, and our commitment to the end-user has not digressed. OCZ Technology has been an innovator in many areas. We were the first manufacturer to make Dual Channel optimized memory available to the public, which originally took advantage of nVidia's Twinbank or Dual DDR architecture, found in their nForce chipset. We have now taken that technology and tailored it for the Canterwood, and Granite Bay chipset's. OCZ developed and was the first to implement ULN technology, which has been a critical element in our manufacturing process for some time. We at OCZ diligently work to improve communication with CPU and motherboard chipset manufacturers prior to the release of their products. Only in this manner can we fine-tune our memory's SPD settings, ensuring a synergistic relationship between the memory module, memory controller, and microprocessor. In today?s rapidly evolving semiconductor industry, such communication is not simply research, but a necessary component of our manufacturing process.


Our Goals:
At OCZ we have one primary goal, and it is to make sure that every customer is 110% satisfied. Every employee at OCZ is dedicated to accomplishing this goal. Our engineers are constantly developing the fastest and best performing products. Our finance department works every angle to bring customers our product at the best price. Our marketing department ensures all the information needed to make an informed purchase is available and presented in an easy to understand format. The technical support department constantly studies and tests the latest hardware to be as informed as possible to help you with any issue you may have. Our customer service department is filled with customer satisfaction fanatics who will refuse to let you be unsatisfied.

Customer Service Goals:
We offer a Lifetime warranty on every memory module we sell. We back this warranty with friendly, courteous staff that is willing to answer any question. At OCZ, if a staff member cannot answer your question, they will be forthright and put you in touch with a technician or engineer who can properly assist you. OCZ Technology is in tune with the needs of enthusiasts and overclockers alike, because we are just like you. Chances are you may have already spoken with an OCZ employee in a hardware forum, as we do bring our work home. We seek motivated, qualified applicants, whom already have a firm grasp, and a passion for the PC. Our technicians are available to answer your questions anytime, and our "technical" section can be referenced at anytime.

We have come from the grass-roots to bring you to new heights, and our products speak for themselves. There is a reason OCZ is considered the best memory on the market and that reason is that we will not settle for anything less then perfect.
SPECIFICATIONS
Specifications
1866MHz DDR3
CL 9-9-9-28 (CAS-TRCD-TRP-TRAS)
Available in 6GB Triple Channel Optimized kits
Reaper HPC Heatspreader
Lifetime Warranty
1.65 Volts
240 Pin DIMM
6GB (3X2048MB) T/C kit PN – OCZ3RPR1866LV6GK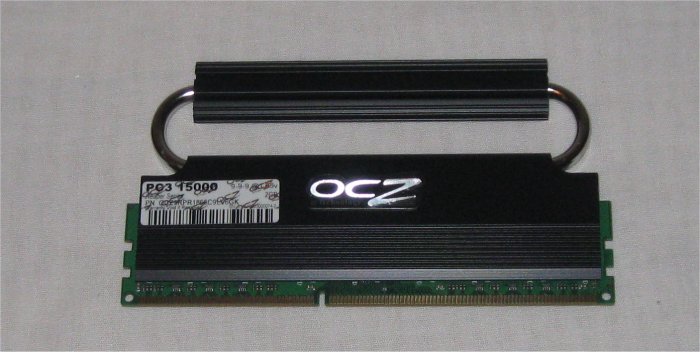 The Specifications page is usually a little dry for our tastes so we though we'd toss a picture of this killer ram in there to keep you awake.

Here's a shot of the sticker for those of you that like to know exactly which part we have on hand.
PICTURES & IMPRESSIONS
Click Image For a Larger One
The OCZ Reaper DDR3 1866 6GB kit was delivered in retail packaging that protects it well during transit. Rather than redesign existing packaging for Triple Channel OCZ went with two sticks in one clam shell and one stick in the other clam shell. They look even better after you get them out of the box.
Click Image For a Larger One
The innovative heatpipe design on the Reaper ram helps to move the heat away from the heat spreader and the airflow in your case should dissipate any residual heat easily. We ran the heck out of the Reapers and they remained cool to the touch the entire time. That's saying a lot for a ram kit because they can get a little toasty at times when running at higher speeds.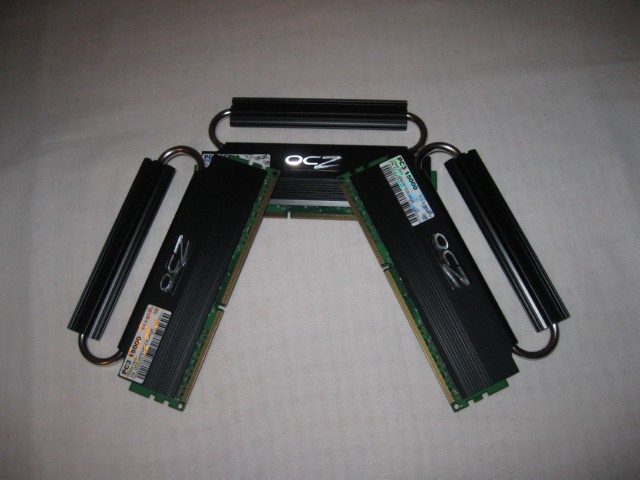 The black heat spreaders and heat pipe design give them a distinctive look and are quite sturdy so you don't have to worry about the heat spreaders popping off like some clip on spreader designs. The only drawback, and this is no fault of the ram, is that some CPU coolers have gotten so big there might be issues with fitting them under the CPU cooler.
TESTING & METHODOLOGY
To test the 6GB Kit of OCZ Reaper 1866 MHz RAM we did a fresh load of Vista 64, updated all the machines drivers, applied all the Vista patches, and disabled any background tasks not required for the machine to run correctly. Then we cloned the hard drive using Acronis in case we should have any doubt as to driver or OS corruption from overclocking. We ran our normal suite of tests against the RAM. Each test was run three times and the average of the three runs reported here.
We also ran the RAM for about a week to get a little break in time and a general feel for the RAM itself. During that week we tried every SPD setting listed by Everest, played games, surfed the internet, and coded reviews. Normal every day activities for us. Benchmarks are fine but we also need to run the RAM outside benches to help round out how we report on it. And let's face it, benches are fine and good and we rely on them a lot, but real life usage and a feel for equipment is just as important as benchmarks.
Test Rig
Test Suite
Synthetic Benchmarks & Games
SANDRA XII Professional
Everest Ultimate Edition v.4.50.1330
SuperPi Mod 1.5XS
WinRar v.3.71 Compression Benchmark
EVEREST 5.0
"EVEREST Ultimate Edition is an industry leading system diagnostics and benchmarking solution for enthusiasts PC users, based on the award-winning EVEREST Technology. During system optimizations and tweaking it provides essential system and overclock information, advanced hardware monitoring and diagnostics capabilities to check the effects of the applied settings. CPU, FPU and memory benchmarks are available to measure the actual system performance and compare it to previous states or other systems. Furthermore, complete software, operating system and security information makes EVEREST Ultimate Edition a comprehensive system diagnostics tool that offers a total of 100 pages of information about your PC."
The way we have the results formatted in Everest is in GB's.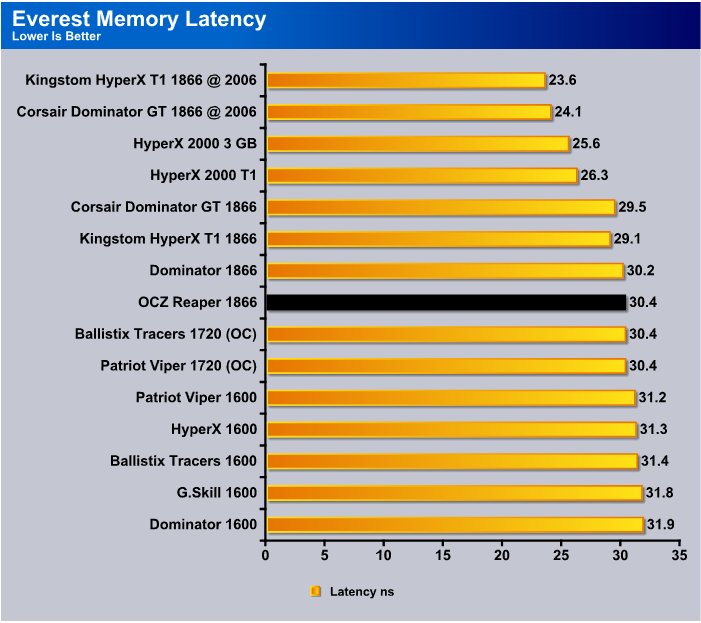 In the Everest Latency test we got a 30.4  ns which is right in line with most 1866 MHz kits. This kit is a Cas 9 kit which is a little loose for a high performance kit so we'll have to see if the Cas 9 timings affect the overall performance much.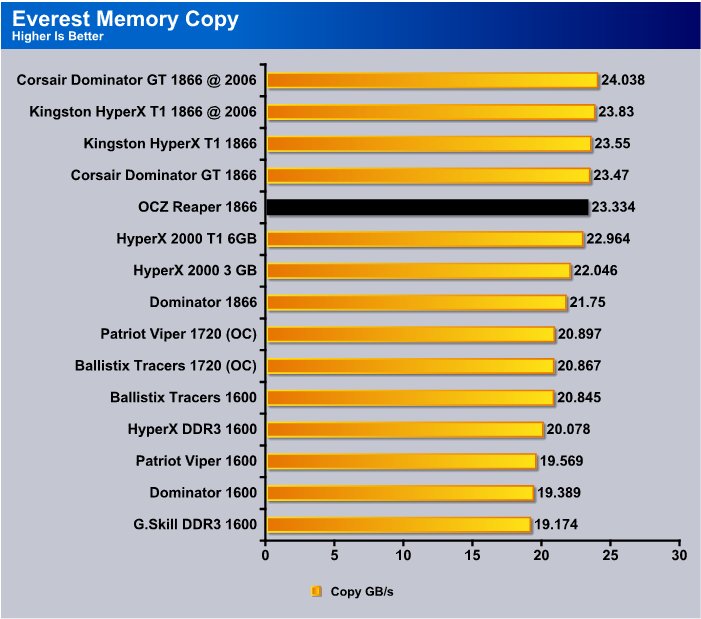 Despite the Cas 9 timings the OCZ Reaper is churning out Bandwidth similar to kits that are tighter timings and right in line with most 1866 MHz kits.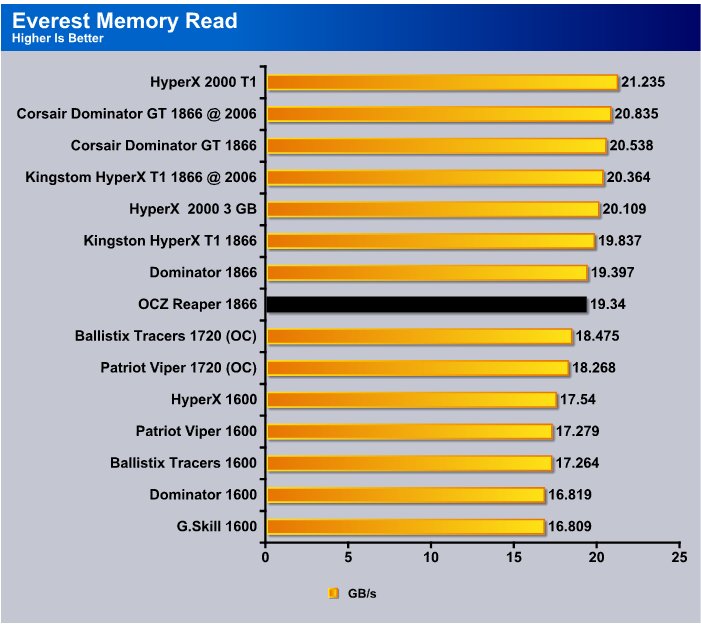 Notice the difference between the Dominator GT 1866 kit and the OCZ reaper kit, the Dominator kit is a Cas 7 kit and is running about 1 GB/s faster than the OCZ Reaper kit. You would of course face a premium price for the Dominator GT kit and for the 800 MB/s faster speed the price difference is something you'd have to wrestle with. Most people would probably be fine with the Reaper kit but there's always those few that have to have the absolute top end kits.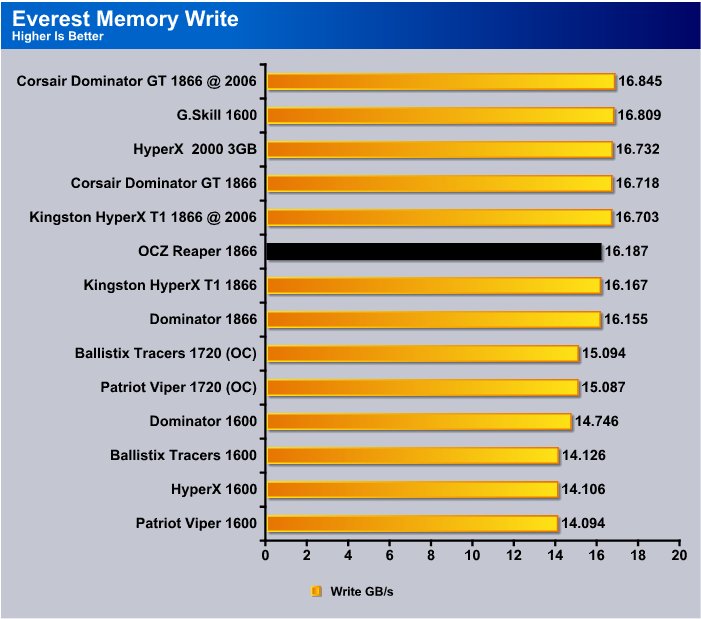 Really from what we're seeing here, and there are other differences that are harder to measure, the Cas 9 timings aren't making much difference for bandwidth or day to day operation. The question we all have to ask ourselves is how much extra performance do we get in real life applications from a CPU that's primarily designed for 1066 MHz triple channel memory. The tighter Cas timings will be a little more responsive, but how much more responsive is a hard thing to judge. Computers have gotten so fast things happen in nano seconds, human perception doesn't work on that scale.
SiSoft Sandra 2009 SP1
"SiSoftware Sandra (the System ANalyser, Diagnostic and Reporting Assistant) is an information & diagnostic utility. It should provide most of the information (including undocumented) you need to know about your hardware, software and other devices whether hardware or software. It works along the lines of other Windows utilities, however it tries to go beyond them and show you more of what's really going on. Giving the user the ability to draw comparisons at both a high and low-level. You can get information about the CPU, chipset, video adapter, ports, printers, sound card, memory, network, Windows internals, AGP, PCI, PCI-X, PCIe (PCI Express), database, USB, USB2, 1394/Firewire, etc."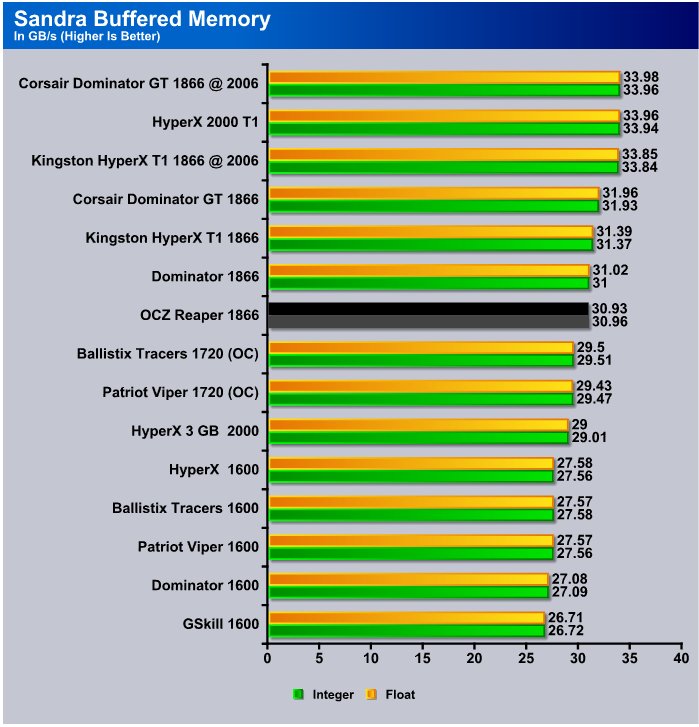 Again we're seeing about a 1 GB/s difference between the Cas 9 Reapers and the tighter timed kits. The biggest problem we've seen with that is that the tightest timed kits run at a premium cost. No matter what you do to get that little bit of extra performance is gong to cost a lot more than a kit with a little looser timings. We've always said that last ounce of performance is the most expensive.
WinRar v. 3.8
This module in WinRar generates random data, which contains specially introduced redundancy, increasing the load to both the processor and memory. Data is the passed through RAR compression and decompression algorithms, and the output of the decompression algorithm is compared to the source data. If any differences are found, WinRAR then reports "Errors found – Yes" in the command window. WinRAR displays a size of processed data and compression speed, current and resulting, in kilobytes per second.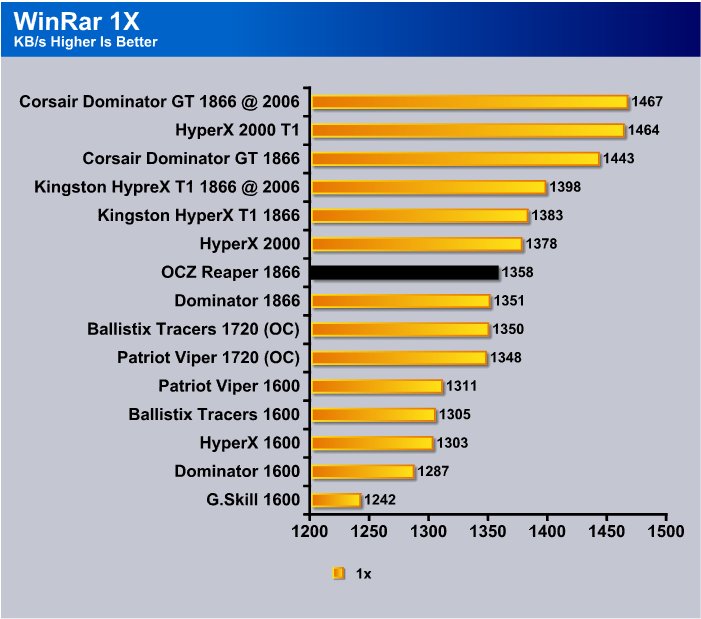 In WinRar we finally get to see some differences in the performance in an application that is more than just a synthetic benchmark and the difference between the Dominator GT 1866 kit and the OCZ Reaper 1866 kit is about 25 KB/s. The difference between the OCZ 1866 kit and the fastest 2000 MHz kit is just over 100 KB/s. So we're back to the same place, how much performance do you need from a ram kit, and how much performance will make you happy. If games are any indication the differences between the kits amount to 1-4 FPS depending on the speed of the kit so there is some small difference. What we've been seeing is that from 1600 to 1866 MHz is the sweet spot for price/performance and we would expect most end users to fall somewhere between 1333 and 1866 MHz. We would recommend from 1600 to 1866 MHz because from 1333 to 1600 MHz we see a pretty good performance gain, if you can afford a little extra 1866 MHz gives a little better performance and might stave off the urge to upgrade later on down the line.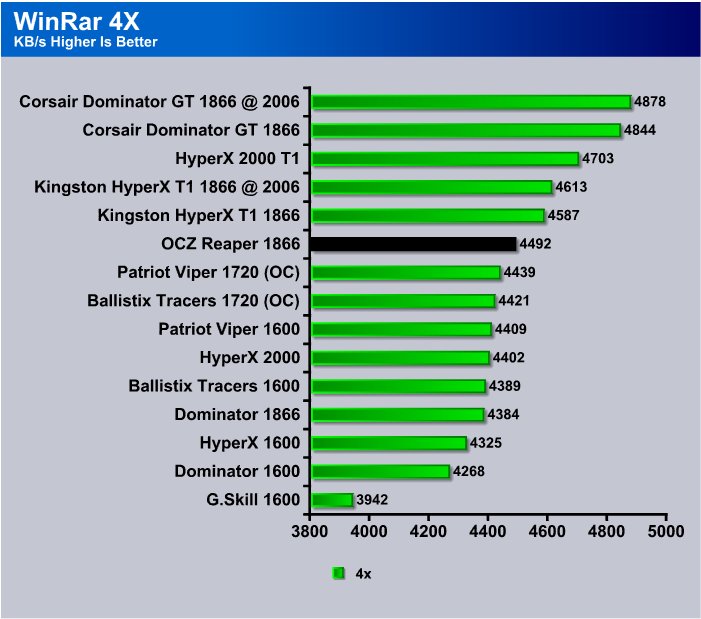 We see the greatest difference between the kits when all 4 cores are churning away at WinRar (4 cores 8 virtual cores). Most applications with the exception of Video processing don't really use all 4 cores at this time so it depends on what applications you use if this result is going to make much difference to your purchase decision. If you use heavily multi-threaded applications, or do video editing for a living then we'd say faster ram is a must. If your interneting or gaming we'd question the worth of having the highest end kits. That being said most of us run as fast a kit as we can get. With the initial cost of setting up a core i7 rig though many people are faced with compromise and 1866 MHz kits like the OCZ Reaper might be a little bit of a luxury. If you can afford that luxury the performance gains are nice and might hlep prevent the "Later on upgrade to better" syndrome.
SuperPI
SuperPi is the "Gold Standard" for many when it comes to judging system performance. We ran 1 and 2 MB calculations, again running each test three times and reporting the average of the results.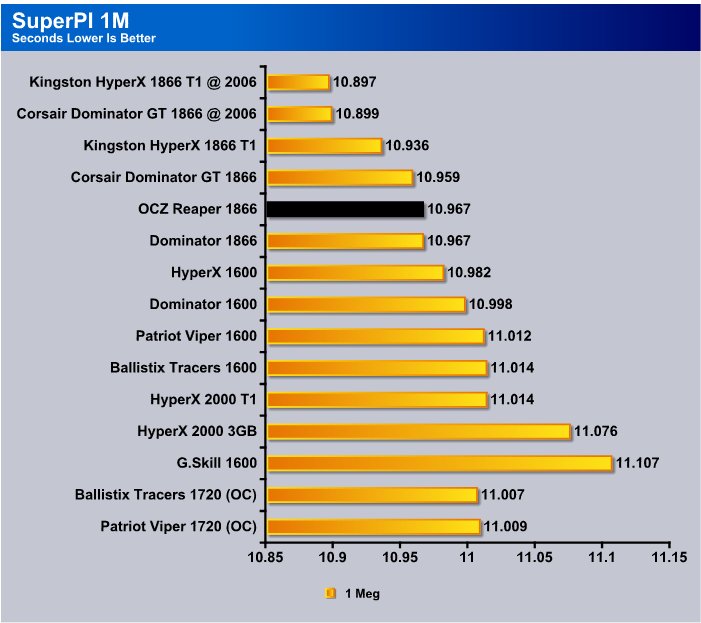 SuperPi is always a hard call for us because there's so many ways to tweak a system to make it run faster. Generally we don't tweak the system to run it because that would provide unrealistic numbers and every kit tweaks a little different. So we run them at stock speeds right out of the box and present the numbers that way. With differences running in hundredths and thousandths of seconds how much of a conclusion can you draw from SuperPi. Looking at the OCZ Reaper and the tighter timed Dominator GT kit apparently about 8/1000th's of a second worth of conclusion. With speeds like the high end kits we've tested there's really nothing to complain about, and most of the kits with proper tweaking will drive a sub 10 second time. That depends on how high a FSB you can get and how high a frequency you can hit with the CPU. The higher end tighter timed kits are easier to hit sub 10 second times with but how many people sit around trying to break 10 seconds in SuperPi.
When you jump from the 1 meg test to the 2 meg SuperPi test you get a little greater difference between the kits and the tighter timed kits tend to increase their lead over the looser timed kits. Again at these speeds and scores there's really nothing to complain about.
Crysis v. 1.2

Crysis is the most highly anticipated game to hit the market in the last several years. Crysis is based on the CryENGINE™ 2 developed by Crytek. The CryENGINE™ 2 offers real time editing, bump mapping, dynamic lights, network system, integrated physics system, shaders, shadows, and a dynamic music system, just to name a few of the state-of-the-art features that are incorporated into Crysis. As one might expect with this number of features, the game is extremely demanding of system resources, especially the GPU. We expect Crysis to be a primary gaming benchmark for many years to come.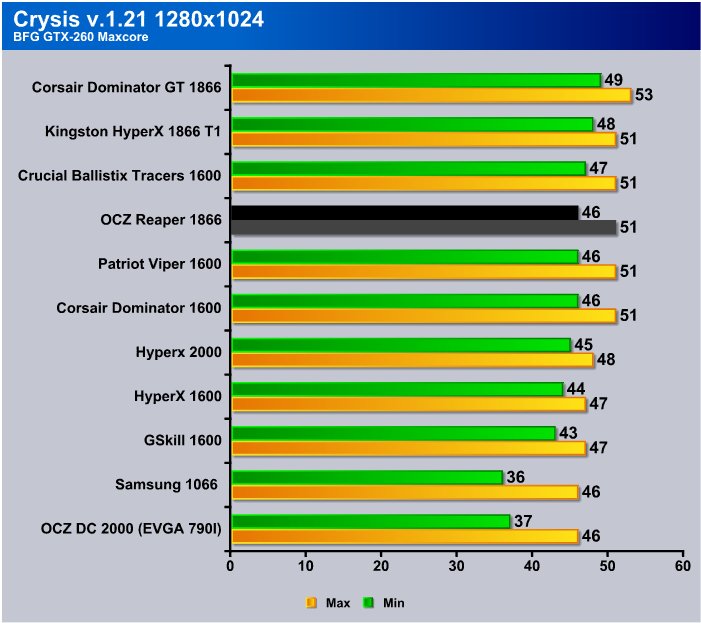 We've been waffling a little bit about including a video games FPS results in connection to a ram review. Most of the high end kits of ram perform similarly with little differences between the FPS on each kit. In this case we wanted to look at the FPS the Samsung 1066 triple channel kit and the faster kits. What we see there is a pretty good performance gain of 10 FPS between the 1066 kit and the OCZ Reaper 1866 kit so there is a performance gain even at this low of a resolution where the game is as much CPU and Ram dependent as GPU dependent. We see a smaller gain from 1600 MHz to 1866 MHz but again there is a performance gain. It just depends on the kit and how the rig is set up. The tighter timed 1600 MHz kits do as well as the looser timed 1866 MHz kit, the looser timed early 1600 MHz kits don't perform quite as well. The fastest and tightest timed kits top the charts so we are getting a benifit from faster ram kits. How much that extra speed is worth to you is a choice you'll have to wrestle with.
CONCLUSION
When it comes to memory faster is better, and tighter timings are better. We've been making mention of the Dominator GT 1866 as compared to the OCZ Reaper 1866 kit throughout the review. Here's why, the OCZ Reaper 1866 6 GB kit timed at 9-9-9-28 runs between $139.99 and $149.99 (USD) at several popular e-tailers, a normal Dominator 1866 kit timed at 9-9-9-24, not even Dominator GT which are sure to cost even more if you can find them, runs about $280.99 (USD). So the crux of the issue to us is the extra bit of performance you get from a much more expensive kit worth the additional $130 to $140 dollars you'll pay for it?
The OCZ Reapers at about half the cost of a lot of more expensive kits performs just about as well, so from a price/performance standpoint they're a hard kit to beat. You can pay the extra cash for faster, tighter timed kits but your paying a serious premium for that last little bit of performance.
From a day to day operation standpoint we couldn't tell any difference between the Reaper kit and the more expensive kit. We understand some people have to have the highest performance to satisfy that need for speed, but economically speaking the Reaper kit makes a lot more sense. Performance was very high for a reasonably priced kit and we would have no problem with recommending it for 95% of all users. The other 5% we wouldn't recommend it for are the hardest core enthusiasts.
We like the performance of the Reaper 1866 kit, and we're going to pass the kit to another Bjorn Reviewer and see what he thinks of the kit, and let him overclock this kit until it screams. That way we can see the difference between a multiplier OC and a FSB OC on a more common CPU, the i7 920. The comparison should be interesting and you haven't seen the last of the Reaper, the Reaper will be back to visit you again in yet another unique perspective review from Bjorn3D.
We are trying out a new addition to our scoring system to provide additional feedback beyond a flat score. Please note that the final score isn't an aggregate average of the new rating system.
Performance 9
Value 10
Quality 10
Warranty 10
Features 7
Innovation 8
Pros:
+  Unique Heat Pipe Construction
+  Runs Cool
+  Price/Performance Value
+  Best Looking Value Kit We've seen
+  Solid Construction
+  OCZ Name And Lifetime Warranty Behind them
Cons:
–  Little Tall For Some CPU Coolers
–  No XMP Profile
The OCZ Reaper 1866 MHz 6GB kit is an exceptional value for the performance you get from a killer looking set of ram, for the price you pay you'll be hard pressed to find a better value that performs at this level so it scores an: 8 out of 10 and the Bjorn3D Seal Of Approval!