The Seagate Momentus 7200 RPM hard drive is a 2.5 inch form factor hard drive suitable for laptop, or desktop use. It's faster than 5200 RPM drives and smaller than desktop drives.
INTRODUCTION
We recently got a new laptop in the lab because our Athlon 64 3200 (single core) HP laptop was getting long in the tooth and we decided to go with a dual core laptop from Toshiba. We decided to go with a low to mid-range system because it's primary use is writing reviews and the opportunity to upgrade presents itself to us a lot more often than the ordinary end user. When we got the new Toshiba with the Core 2 Duo T5800 2 GHz CPU and 4 GB of ram with a copy of Vista 64 we thought it was running a little slow for the specifications.
We did some checking and it turns out they shipped the laptop with a 1.5 GB/s Sata 1 5200 RPM drive. The system itself wasn't dragging but the hard drive was starving it with a slow data transfer rate. So when Seagate contacted us about testing the Momentus 7200 RPM 500 GB drive it was a match made in heaven. It gives us a chance to rip the offending drive out of the Toshiba and run a drive worthy of a Bjorn3D laptop. We won't take a hammer to the 5200 RPM drive, but we will stick it in a USB external enclosure and let it live out it's life in an environment befitting it's pathetic speed. After experiencing the Seagate Momentus we feel fully justified in calling the old drive pathetic. Stick around and see how bad the pathetic 5200 RPM drive got it's butt kicked.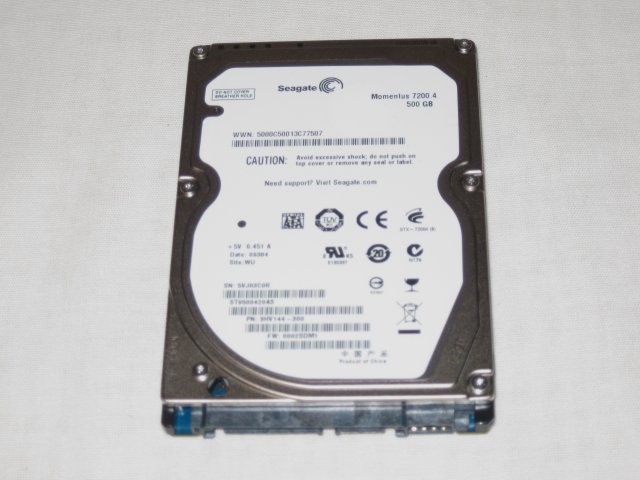 Seagate:  A Brief Overview
Seagate was founded in 1979 and was the first company to build 5.25-inch hard disc drives for the PC. And while it may have seemed like a minor milestone at the time, today this hard disc drive introduction is regarded as one event that helped fuel the PC revolution. Suddenly, people could access unprecedented amounts of information, which eventually gave rise to the Internet and other developments. And for nearly a quarter of a century, Seagate has been developing the technology and manufacturing the products that helped make it all happen.
25 years later, the world runs on information. Every time you access the Internet, use an ATM, watch TV, listen to digital music, enjoy a movie with computer-generated special effects, or use a consumer-electronics device, you access and share large amounts of digital information on disc drives — the core of Seagate's business.
Seagate also has its sights set years into the future. From hand-held computers and web phones, to intelligent storage that knows what information you want and when you want it, to home networks that deliver entertainment, education and services on demand — Seagate has the knowledge and resources to develop the technologies required for tomorrow. The company is committed to developing new solutions and technologies, pushing storage further than anyone could have imagined in 1979.
At the core of Seagate's success is its advanced development of hard disc drive products. Seagate is the market leader with products in, 2.5-inch and 3.5-inch form factors in internal and external formats. In capacities ranging up to 2 TB, this comprehensive line includes products for the price-sensitive desktop market, consumer electronics devices (hand-held to in-home audio/video), pocket and portable storage, notebook computers and enterprise-class network servers.
FEATURES & SPECIFICATIONS
Key Advantages
    * Highest available notebook performance
    * 500-GB capacity
    * Native Command Queuing
    * Green features:
          o Lowest-power 7200-RPM laptop hard drive yet
          o Ramp load features improve idle power consumption
    * State-of-the-art error correction
    * Fluid dynamic bearing motor
    * Support for S.M.A.R.T. drive monitoring and reporting
    * Support for Read Multiple and Write Multiple commands
Best-Fit Applications
    * High-performance and mainstream laptop PCs
    * Small form factor PCs
    * Workstations
    * Industrial applications
    * Non-mission-critical blade servers
You can see from the specifications we snatched off the Seagate website that they proclaim that this is the fastest performance available for notebooks so we have high expectations for it. It has a 500 Gb capacity, has native Command Queuing and is the lowest power consumption laptop 7200 RPM drive on the market. It consumes barely more than a 5200 RPM laptop drive. It has state of the art error correction, a fluid dynamic bearing motor and supports S.M.A.R.T. drive technology (If your laptop supports S.M.A.R.T. drive technology the drive will rat itself out if it's going bad).
The drive itself is best suited for high-performance laptops, small chassis desktops, workstations, industrial machines and non-mission critical blade servers. The reason they say non-mission critical blade servers is that blades typically use high end ultra expensive enterprise class drives with a million or so hours MTBF (Mean Time Between Failures).
The Seagate Momentus has a whopping 16 MB cache which is unheard of in a laptop drive, 500 GB capacity which is fantastic for laptop storage, and designed for laptop operation but the computer industry is pushing for the move to smaller faster drives so don't be suprized if 3 1/2 inch destop drives go the way of the dinosaur. The spindle speed on the Momentus (this model) is 7200 RPM with an average latency of 4.17 ms, random read time of 11 ms, and random write seek time of 13 ms. If you know much about laptop drives you'll quickly realise that those specifications are smoking for a laptop drive. SSD's might offer a faster alternative but at a much higher price per gigabyte and lower storage capacity. Several Bjorn3D reviewers and staff have tried SSD's for laptops and most have turned back to standard platter drives for one reason or another. Higher capacity high-performance 2.5 inch platter drives are far less expensive and until SSD technology improves and the price drops drastically platter drives are the most economiclly feasable alternative we have.
PICTURES & IMPRESSIONS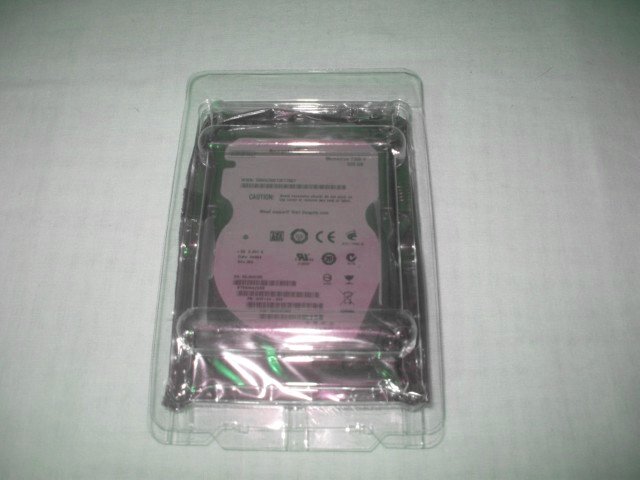 The Seagate Momentus came to us OEM (Original Equipment Manufacturer) style. That's just a bare drive with no retail packaging which is fine by us because less packaging is good for the environment. Most of the time the box quickly ends up in a closet or the trash so we really prefer OEM drives for our purposes. OEM drives are also usually a little less expensive than retail box.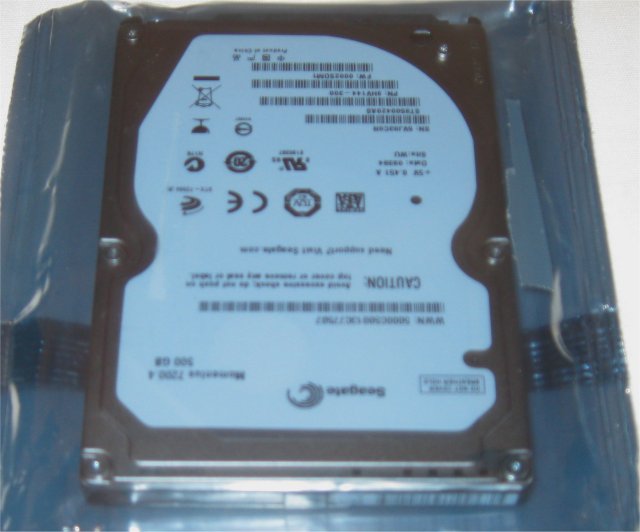 Inside the plastic clam shell the drive is further protected by an antistatic bag which is required to protect against static discharge. There's nothing quite like breaking the seal on a new antistatic bag and getting a whiff of fresh electronic components.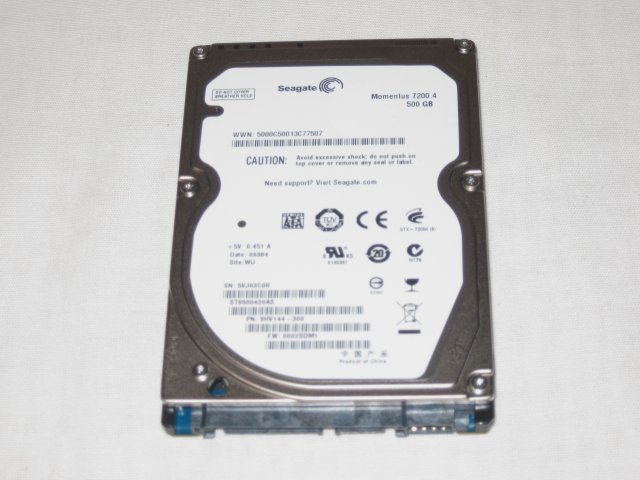 The Seagate Momentus is a standard form factor 2.5 inch drive designed to fit most laptops that use a regular 2.5 inch drive. It's also suitable for small chassis, non-mission critical blade servers, and external enclosures. Since it's a Sata 2 3.0 Gb/s drive with a normal Sata interface any machine with a Sata drive controller can utilize the Momentus. We've seen machine modifications with drives like this mounted to the motherboard side case panel with hidden wiring and they look great. It looks like no hard drives in the machine and reduces the clutter. Believe us as you'll see later on there's really no downside to using one of these drives as compared to an ordinary 3.5 inch desktop drive.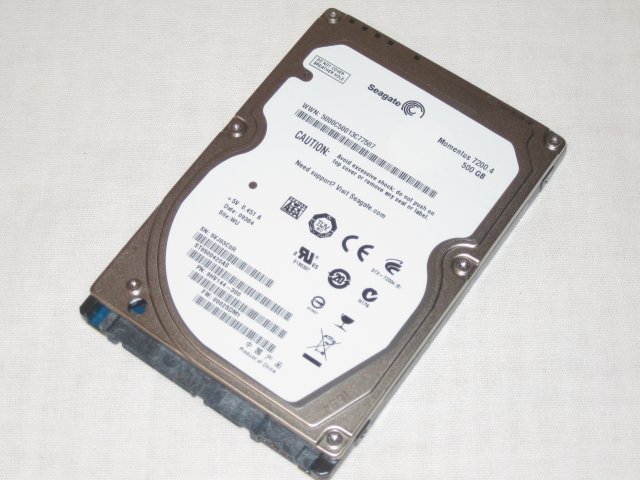 Having come up from the 5.5 inch hard drive days when hard drives took up two 5 1/2 drive bays (full height drives) it still amazes us that you can fit 500 GB of data on such a small device. It doesn't seem that long ago that we marveled at 5 1/2 inch 30 MB drives and lusted after them because all we could afford was a 20 MB RLL (Run Legnth Limited) hard drive. A small drive like this running at 7200 RPM and 16 MB of cache is truly amazing considering it's cache is bigger than my first hard drive (10 MB RLL hard drive given to me by the college I attended because I was the campus tech and they thought I had to have the latest technology).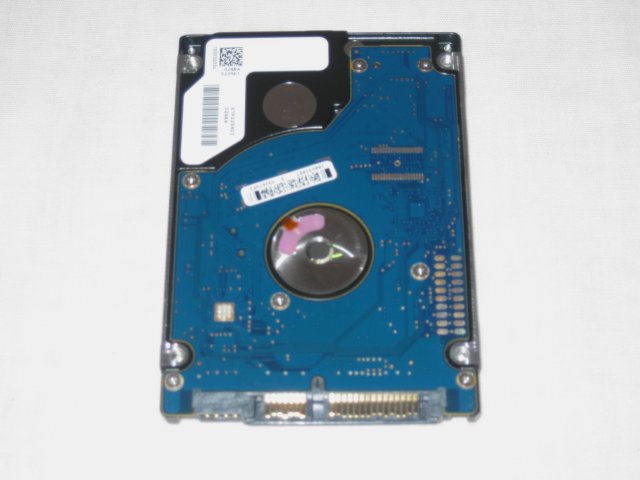 Like we mentioned earlier the drive has standard Sata connectors and a nice looking blue PCB. We'd hazard a guess that the Blue PCB wasn't a artistic decision and was a requirement to make this puppy run at 7200 RPM and only consume .05v more than a 5200 RPM drive. Pretty impressive that to make it run at 7200 RPM they only use .05v more voltage.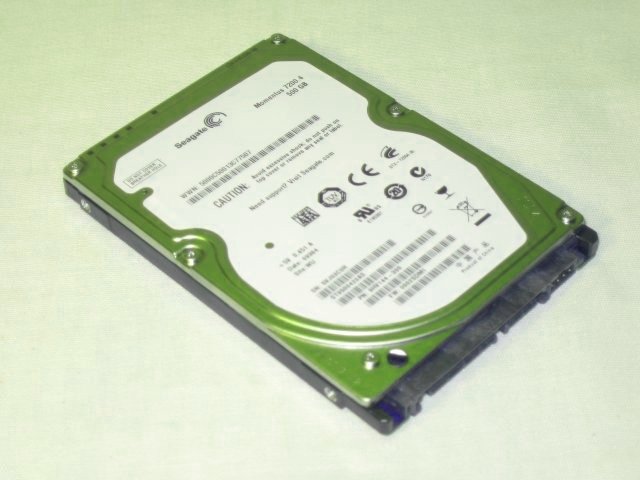 We'll leave the Pictures & Impressions section with a a close up of this tiny powerhouse.
TESTING & METHODOLOGY
To test the Seagate Momentus 500 GB 2.5 inch drive we decided to connect it to a desktop that we use for drive testing and test it with the same machine we've tested all our drives on to maintain a level playing field. Then we installed it in our lab laptop and ran it for a week to see how it runs in a real life situation. To that end we cloned the old laptop drive to the Seagate Momentus because as we all know there's nothing like a fresh load of Vista to speed up a machine. If we had done a fresh load we wouldn't get a feel for the drives true speed in comparison to the old drive which had been up and running for a couple of months.
To clone better than 50 GB of data and programs from the old drive to the Seagate Momentus took about 12 minutes and we can tell you that it would have been faster if Toshiba hadn't decided to hang us with a Sata 1, 1.5 Gb/s Hitachi Deskstar. We didn't even really know they were still manufacturing Sata 1 drives until we saw the 2008 manufacturing date on the Toshiba's sticker. It flabbergasted us that they would want to turn out new laptops with Core 2 Duo 2 GHz processors and nice 17 inch screens yet decide to chuck in a low quality low speed drive. We did some checking on the laptop front and you might want to take a look at your lappies drive and see what you got hung with, the Seagate Momentus had such a profound effect on the lappy we use at the lab it's almost like using a different faster machine.
Once we had the drive mounted in the test rig, we ran our usual drive testing suite, and each test was ran a total of 3 times on each drive. We average the three runs and report the average of the three test runs here.
Test Rig
Test Rig
"Quadzilla"
Case Type
Top Deck Testing Station
CPU
Intel Core I7 965 Extreme (3.74 GHz 1.2975 Vcore)
Motherboard
Asus P6T Deluxe (SLI and CrossFire on Demand)
Ram
Corsair Dominator (9-9-9-24 1.5v) 6GB Kit
CPU Cooler
Thermalright Ultra 120 RT (Dual 120mm Fans)
Hard Drives

Seagate Momentus 500 GB 2.5″ (ST9500420AS) 7200.4
Hitachi DeskStar 320 GB 2.5″ (HTS543232l9SA00)
G.Skill Titan 256 GB SSD (FM-25S2S-256GBT1)
Patriot 128GB Warp SSD
Intel 80 GB SSD X25-M
G.Skill 64GB SSD (FM-25S25-64GB)
2 WD VelociRaptor's 300GB (In single and Raid0)
WD 160 GB SATA 2
Maxtor 160 GB SATA 2
WD & Maxtor in Raid 0

Optical
Sony DVD R/W
GPU
BFG GTX-260 MaxCore Drivers 182.20
Case Fans
120mm Fan cooling the mosfet CPU area
Docking Stations
None
Testing PSU
Thermaltake Toughpower 1200 Watt
Legacy
None
Mouse
Razer Lachesis
Keyboard
Razer Lycosa
Gaming Ear Buds

Razer Moray
Speakers
None
Any Attempt Copy This System Configuration May Lead to Bankruptcy
Test Suite
Benchmarks
ATTO
HDTach
Crystal DiskMark
HD Tune Pro
Atto
Before we get any farther we'd like to clarify a few things. We initially were going to trim down the hard drive charts and just compare the 2.5 inch laptop drives but we quickly realized that we've seen to many review sites trim charts to a minimal level to make products look better than they are. We detest that practice and refuse to participate in that type of activity. To that end we highlighted the two laptop drives we tested in different colors than the desktop and SSD drives we have on the charts. That way you get to see all the drives we've tested but you should note that for comparison purposes we're sticking to laptop drives compared to laptop drives. We'll make occasional mention of the Momentus beating desktop drives but we have several categories of drives on our charts and firmly believe that for our purposes today it's apples to apples. Currently we've covered SSD's, Desktop drives, VelociRaptors, and now laptop drives. Each is a different category drive and while they can be compared you'll find it hard stuffing a desktop drive into your laptop, but you can fit a laptop drive into a desktop. So we feel justified in making comparisons to some desktop drives because you can use the Momentus in a desktop.
By the same token you can fit most SSD's into a laptop but you would be comparing an ultra expensive drive that uses a different technology to a traditional platter drive. It makes reviewing 2.5 inch drives a little more complicated but as much as possible let's stay with platter drives compared to platter drives as they are still the most prevalent and affordable technology in use today. Later when SSD's drop in price we'll deal with that when the prices of SSD's match platter drives closely GB per GB. Or in other words when prices equalize.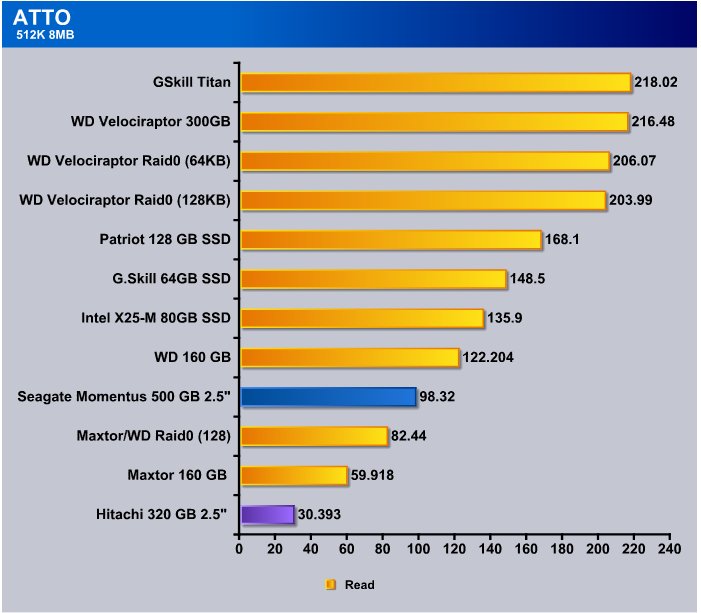 Earlier in the introduction we described the Hitachi Deskstar as pathetic, that's a little bit stronger description than we like to use but considering in the ATTO 512k Read test the Seagate Momentus churned out 98.32 GB/s and the Hitachi 320 GB drive came in at a pathetic 30.393 we feel justified in describing it as pathetic and openly invite Hitachi to send over their top of the line laptop drive for testing. If Hitachi can come up with a drive that even comes close to the Seagate Momentus we'll give credit where credit is due, until then the word Pathetic fits pretty well. Notice the Seagate Momentus outperforms our ad hoc Maxtor/WD Raid0 array and the Maxtor drive by itself. That's why we said the Momentus is a viable option for desktop usage as well as our preferred laptop drive.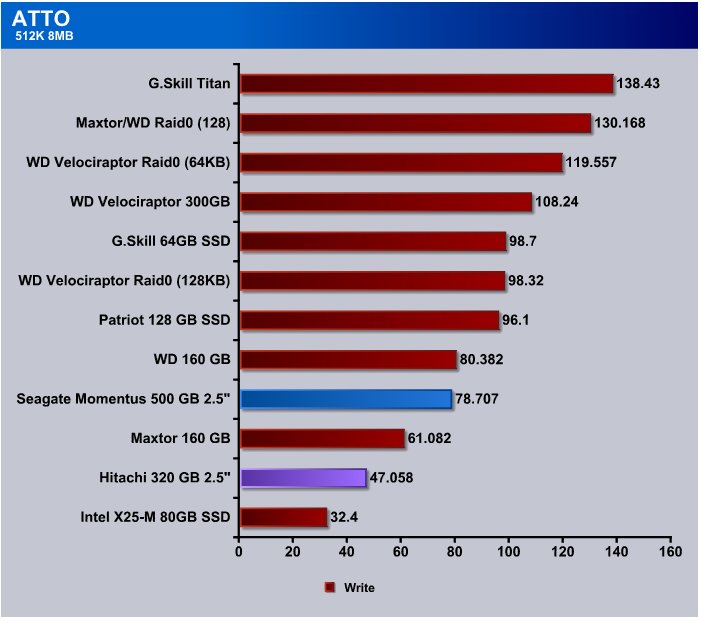 When we got to the ATTO 512k write test we saw the Seagate Momentus writing at more than double the speed of the Deskstar, if you double the speed of the Deskstar the Seagate Momentus would still be 14 GB/s ahead of the Deathstar err Deskstar.
Well in the first two tests we saw triple the speed of the Deskstar and double the speed of the Deskstar so it's no surprise that in the 1024k read test in ATTO that we see the Momentus running at more than double the speed of the Hitachi Deskstar. All we can say for the Deskstar is we hope that they're really cheap and people buy them for external enclosures because it looks to us like it's running barely over USB drive speeds. The Seagate Momentus on the other hand is consistently beating the Deskstar and Maxtor single drive and the Maxtor/WD Raid0 array. Pretty good for a tiny but lightning fast 2.5 inch drive.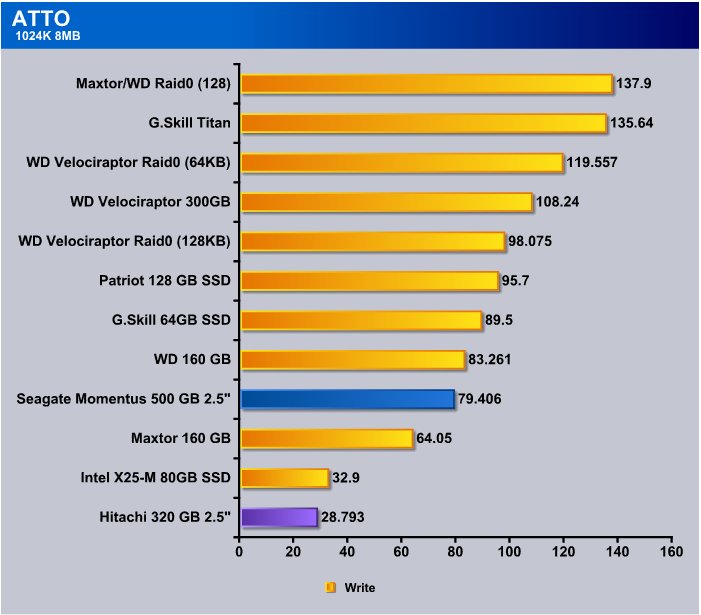 Coming to the ATTO 1024 Write test we see a pretty lackluster performance from the Hitachi Deskstar and it dropped below 30 MB/s, the Seagate Momentus came in at 79.406 and by this time had renewed our faith in the new lab laptop which is much faster and more responsive then when it was trying to regurgitate the Hitachi. (Yea we're pretty sure we heard gagging noises coming from the laptop)
HD Tune Pro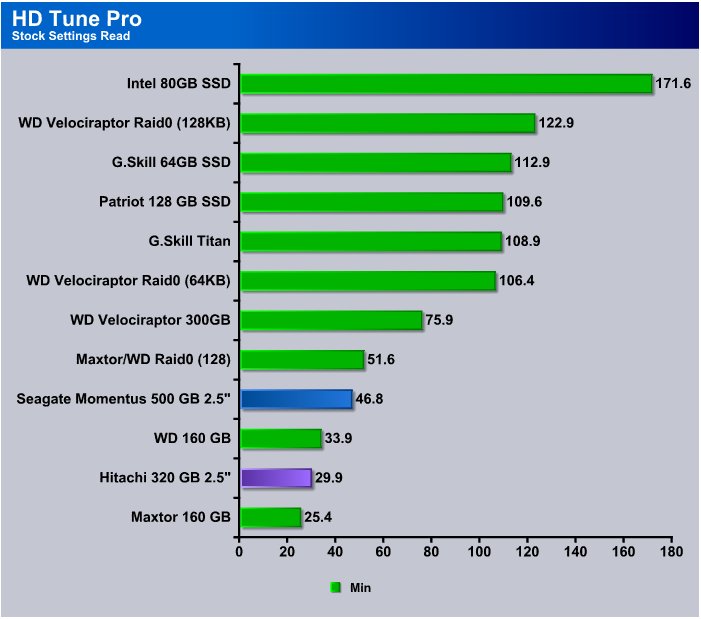 In order to avoid errors during hours long benching sessions we run HD Tune Pro at stock settings for hard drive testing, there's nothing worse than ending a 2 hour benching session in HD Tune Pro and finding out you had a setting wrong and having to repeat the tests (Ok we've done that but only before coffee). So we adjusted our strategy and run it at stock settings. The Momentus minimum speed comes in at 46.8 GB/s which typically occurs at the end of the drive testing. The Hitachi Deadstar (yea we know how to spell it), came in at 29.9 GB/s and in the minimum speed test the Momentus is running 50% faster than the Desktar. (Desktar gotta love that one)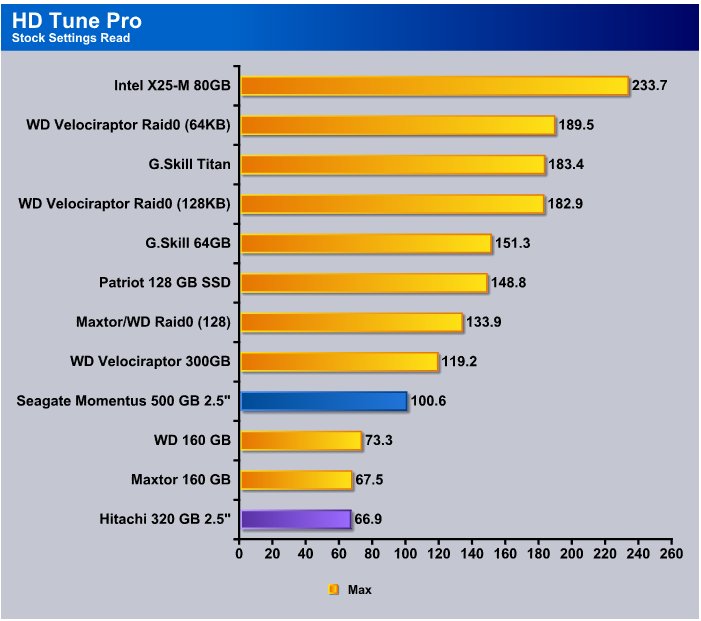 Running flat out the Momentus turns in a 100.6 GB/s speed which is blazing for a laptop drive, who are we kidding that competes with a lot of desktop drives we've seen and plainly beats the WD and Maxtor drives we had laying around handy at the time of testing. Granted the WD and Maxtor are 8 MB cache drives but still a 3 1/2 inch drive and the Momentus is seriously kicking their platters all over the place. The Hitachi Deskstar is desperately clinging to last place in the hopes it doesn't fall of the chart all together. Again if Hitachi would like to contact me at the address listed at the top of the review and toss one of their top of the line drives into the mix we're more than willing to test it but I have 5 bucks that says the Momentus will trounce it soundly. (Payable to the Hitachi rep that provides the winning drive)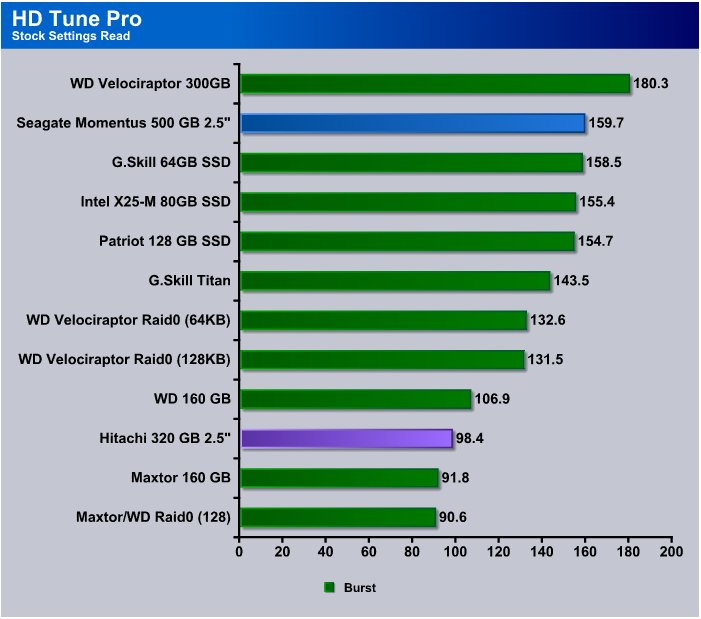 The burst test in HD Tune Pro threw some pretty amazing results, we realize that burst testing is fairly unimportant but you can't help but love a 2.5 inch drive that rises to second place among the "Rock Star" drives we've tested. Only beaten by the mighty VelociRaptor the Seagate Momentus has nothing to be ashamed of. It should be setting up there beating on it's platters giving it's best Tarzan yell. The Hitachi is bursting at 98.4 which isn't a bad speed if all you data will fit into the drives cache every time you use it (not going to happen).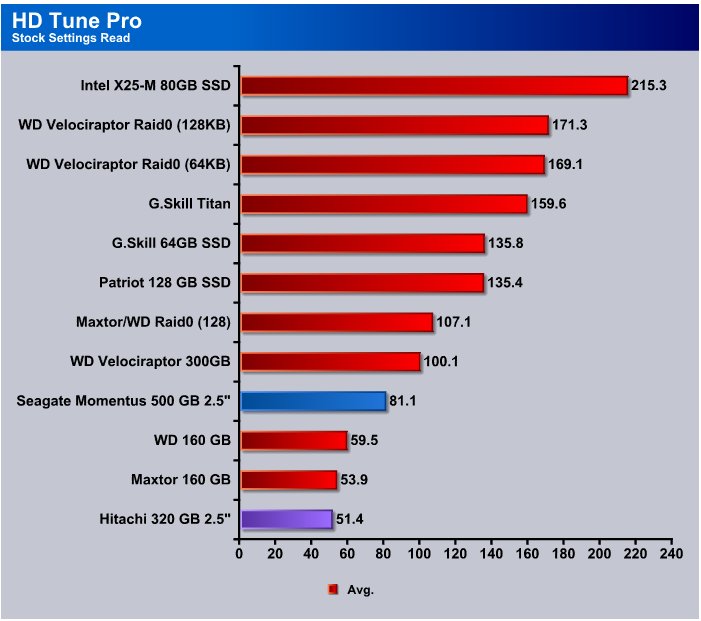 Average speed is where we concentrate a lot of our attention in drive reviewing. What is the drive going to do in normal operation without the burst speed, or maximum speed, it's what you can expect the drive to operate at on an ongoing and sustained basis. The Momentus comes in at 81.1 GB/s and low and behold the VelociRaptor is right above it in the charts with a 19 GB/s lead. That brings us a price/performance question in our minds. VelociRaptor at 300 GB/s for $300 (USD) for 300 GB storage capacity or Seagate Momentus at 81.1 GB/s for $100 (USD) and 500 GB storage space. Questions like that keep us up late at night hovering over the add to cart button during our online purchases. Most of the time we're going for the lower cost option that offers more storage space. Now don't get us wrong we love our VelociRaptors but $600 for 600 GB/s for 2 Velociraptors. It would be extremely interesting to see how 6 Momentus drives (same cost) in RAID0 compare to 2 VelociRaptors. It would be the David and Goliath of the drive testing world.
Crystal DiskMark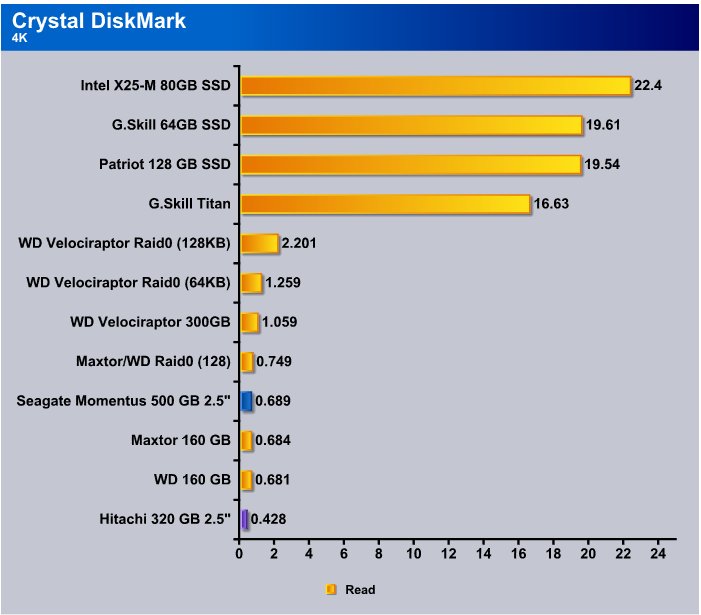 The Crystal DiskMark 4k test both Read and Write is brutal on hard drives, it Reads or Writes a series of files that are 4k in size during the whole test. The reading and writing of files of that size is brutally hard on drives and it's normal to see speeds around 2GB/s and under. The Seagate Momentus isn't any exception to this rule and comes in at .689 GB/s. The Hitachi Deskstar comes in at .428 GB/s so even in this brutal test the Momentus is running 50% faster than the Hitachi.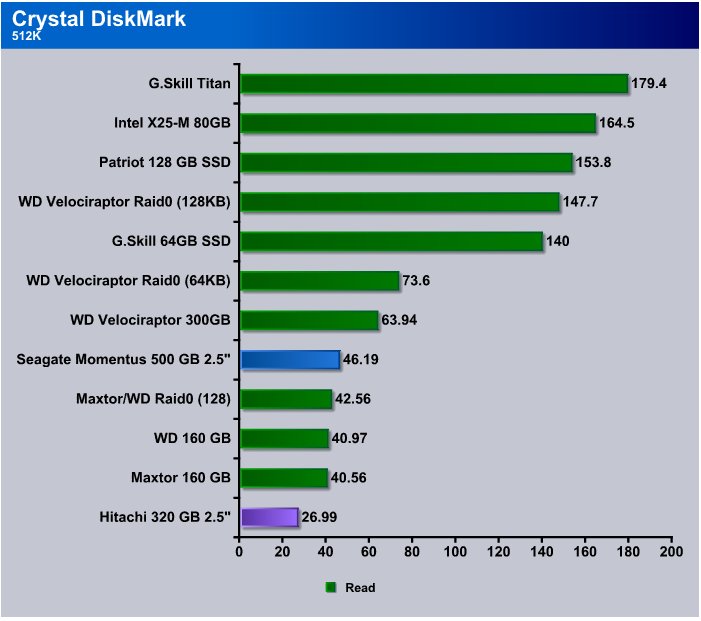 The 512k test in Crystal DiskMark shows the Momentus coming in at 46.19 GB/s and the Hitachi dragging the bottom of the chart again. We can't stress enough how much difference it makes using the Momentus in the Toshiba laptop we use daily. The difference is night and day. Synthetic benchmarking is great for noting the difference in drive speeds, but actually using the drive in day to day operation prompted us to write to Toshiba and suggest they change their hard drive vendor. We'd rather pay a few dollars more for a laptop than suffer a hard drive bottleneck.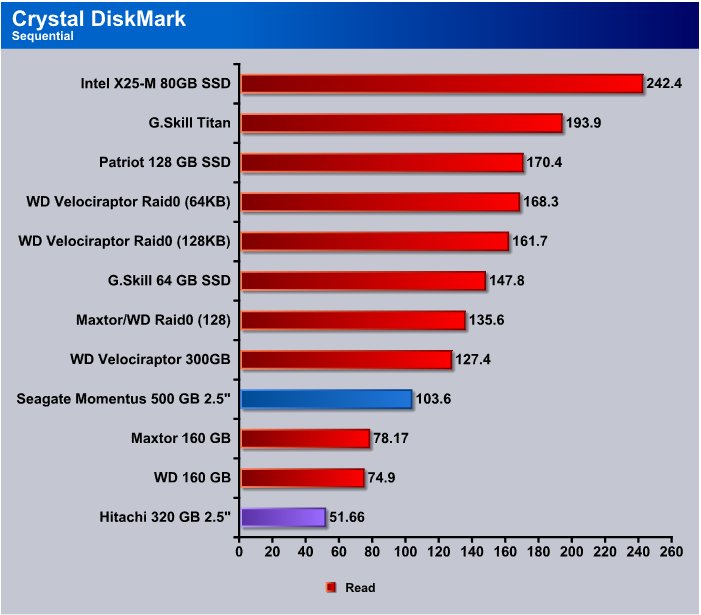 The Sequential Read test shows the Momentus topping 100 GB/s and again running twice as fast as the Desktar. We really think that renaming the Deskstar to Desktar would be a more appropriate and descriptive nave for the drive. On the other hand the Seagate Olympus has a nice ring to it or possibly the Seagate Zeus (Just kidding Michael, but if you use our proprietary naming scheme at least make a Bjorn3D version, big Bear Claw graphic would do nicely).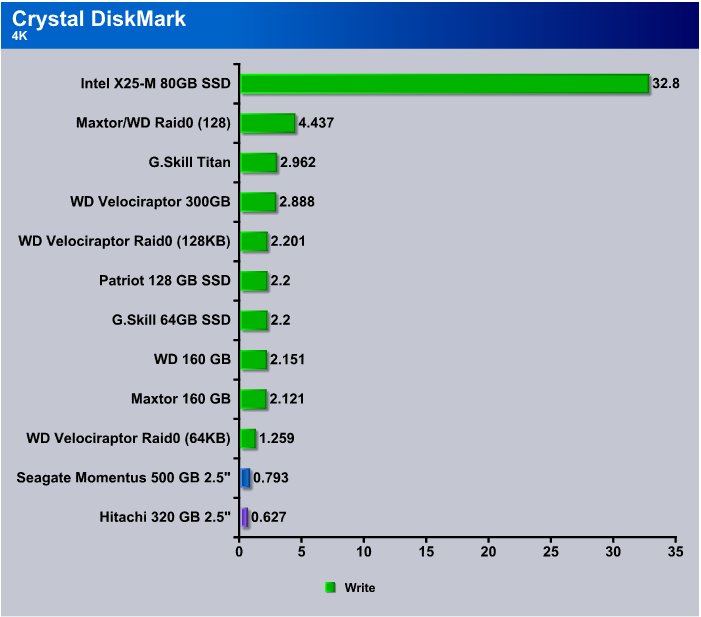 Back to reality, the 4k Write test sees the Hitachi Deskstar as close as it's ever going to come to the performance of the Seagate Momentus and while we don't put much stock in the 4k test (who writes 4k files all day) the Seagate Momentus has outperformed the other laptop drive we tested in every single test. Truthfully we didn't expect that result.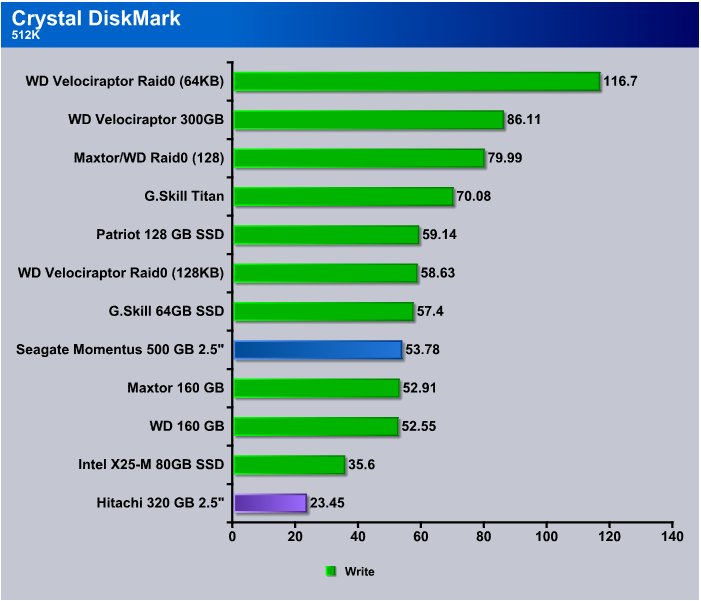 The 512k Write test sees the Seagate Momentus coming in at more than twice the speed of the Hitachi and unbelievably close to the speed of the G.Skill 64 GB SSD and far out ahead of the Intel X25-M 80 GB SSD. We would encourage you to do copious research on SSD's before moving to one in the current state of the technology. They have their strengths and weakness just like any other drive, but the cost is prohibitive and the performance you get for the price per gigabyte no way even comes close to the cost of traditional platter drives.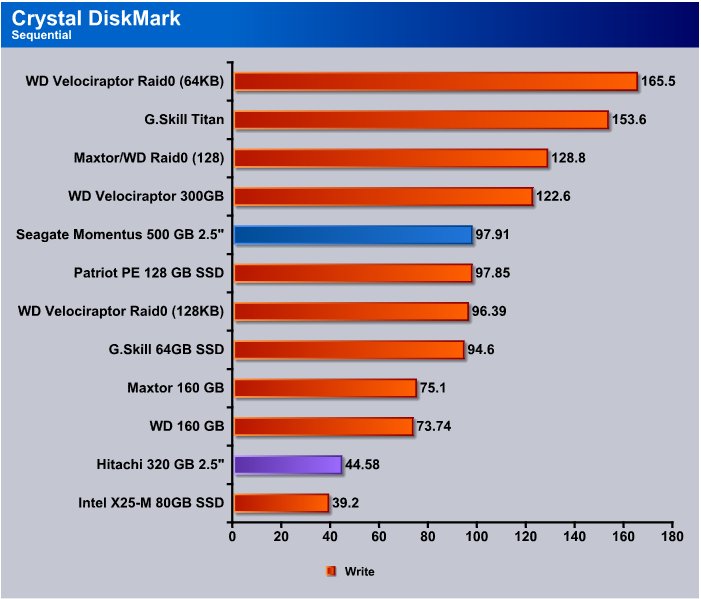 Finishing out Crystal DiskMark the Seagate Momentus comes in at 97.91 GB/s and even the Hitachi managed to beat out the Intel SSD, we discovered that when the Intel 80 GB SSD gets about 80% full both reads and writes suffer a huge hit in performance. The Seagate Momentus leaves Crystal DiskMark running at more than double the speed ot the Hitachi Deskstroyed.
HDTach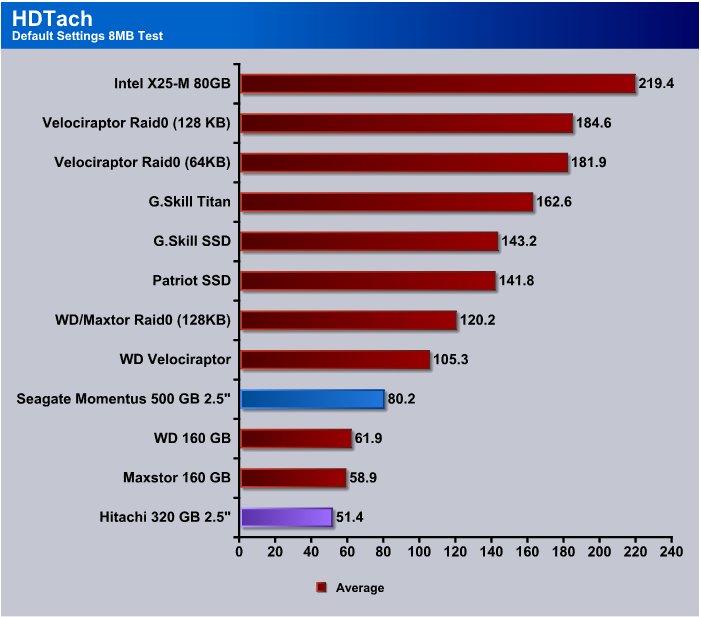 HDTach see's the Momentus running at 80.2 GB/s and the Hitachi Deskstar coming in at 51.4 GB/s and the Momentus is still almost 30 GB/s faster even in this classic hard drive testing utility.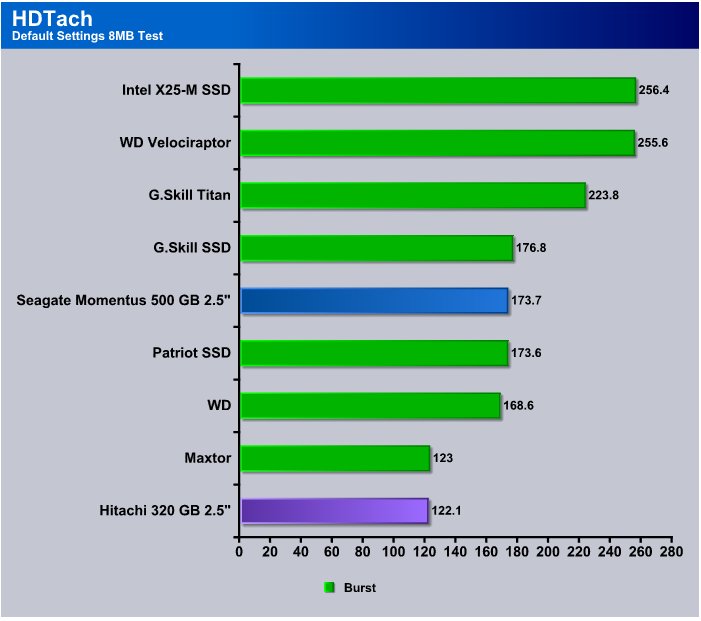 In the HDTach burst test the Seagate Momentus hits a blazing 173.7 GB/s and the Hitachi Deskstar stubbornly maintains is last place standing. The Hitachi did manage to pop up one spot in one test but only because we found a design flaw in the Intel SSD and exposed the flaw. The Momentus beat the Hitachi Deskstar hands down every test and in most tests ran at least twice as fast. The Momentus often beat the Western Digital and Maxtor 8 MB cache drives we had around the lab for backup purposes. It's a pretty amazing drive for a 2.5 inch form factor drive. It probably kept us from returning the Toshiba laptop because before we installed the Momentus we just weren't happy with it's performance. Considering this laptop contains a lot of information vital to the day to day operation of Bjorn3D Seagate migh well have saved Bjorn3D if not the world. Well that's going a little far but you know what we mean.
CONCLUSION
We found the Seagate Momentus 500 GB 2.5 inch (7200.4) to be a great upgrade to what had been the questionable purchase of a POS Toshiba laptop. Previous to the Seagate Momentus we were using the laptop but not entirely happy with it's performance. Having used equivalent Core 2 Duo desktop processors running at 2 GHz which we were entirely satisfied with, the 2 GHz processor in the laptop just didn't seem to be performing up to par. So being computer gurus we started looking at issues like all good gurus would. After extensive testing, attempting to strip the fluff from Vista and disabling virtually every service and background task we thought safe the laptop was still dragging.
We finally pinned it down to the hard drive and less than 2 days later got notification from Seagate that they'd like the Momentus reviewed. We quickly scrambled to cancel our online hard drive order and waited anxiously for the Momentus to arrive. The very next day the truck rolled up with relief for our dragging Toshiba and we burnt the candle at both ends testing late into the night on the Momentus.
The Next day we cloned the old hard drive to the Momentus and installed it into the Toshiba laptop. In under 15 minutes of surfing and gaming, general day to day operation of the Seagate Momentus we knew that we had a serious winner here. Forget the charts, forget the benches we had a real life winner here. The 7200 RPM platter speed consuming only .05v more voltage than a 5200 RPM drive had won us over quickly.
We were of course committed to chart and post the charted benchmark results, and we're glad we did because the Momentus kicked some serious butt and often doubled the speed of the Hitachi Desktar. In at least one case tripled the speed of the Hitachi. This is the first time in many years we felt that if it were possible we could just post this:
The Seagate Momentus 500 GB 7200.4 RPM Drive Just Buy One!
It would have been enough to describe how we felt about the Momentus
We are trying out a new addition to our scoring system to provide additional feedback beyond a flat score. Please note that the final score isn't an aggregate average of the new rating system.
Performance 9.5
Value 9
Quality 10
Warranty 9
Features 9
Innovation 10
Pros:
+  Quiet Operation
+  Holds It's Own With Some 3.5 Inch Hard Drives
+  Double And Triple The Speed Of The Hitach DeskTar
+  Much Less Expensive Than SSD's
+  The Momentus 7200 RPM Drive Requires Hardly Any More Voltage Than a 5200 RPM Drive
+  Did We Mention Lightning Fast
Cons:
–  No Bjorn3D Edition Available
–  Forced Us To Spend Half A Day Thinking Of An Alternative Word To "Pathetic" To Describe The DeskStar
The Seagate Momentus wowed and amazed us in benchmarks and giving the laptop we use daily a significant boost in speed so it scores a: 9.5 out of 10 and the Bjorn3D Golden Bear Award!