We were quite impressed by the HornetTek's 3.5" SATA to eSATA enclosure that we have reviewed in the past. Today we will look at their 2.5" SATA to USB enclosure. Can this unit impress us as it has in the past? Let's find out.
INTRODUCTION
We previously looked at the HornetTek's 3.5'' eSATA enclosure. We were quite impressed by its futuristic design and its cooling performance. Today, we have received their 2.5'' SATA to USB enclosure that we are going to put through our test.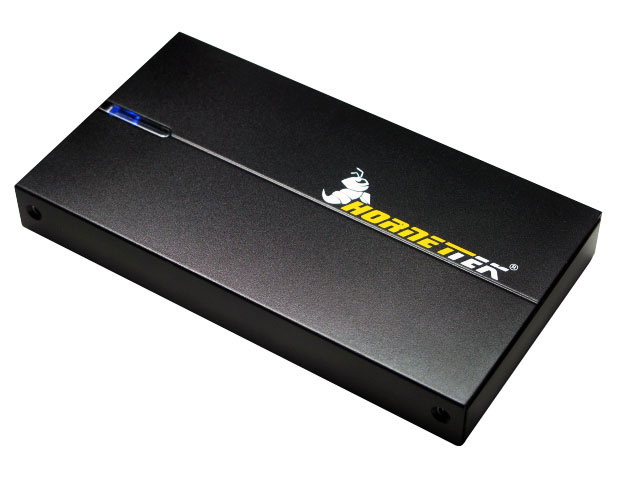 The 2.5'' SATA to USB is HornetTek's Rhino series of 2.5'' SATA external enclosure. In addition to the Rhino series, HornetTek also has the Traveler Series which is designed with USB cable attached to the enclosure for those who carry the enclosure on the go. In addition, there is the One Touch Series which comes with a button for one touch backup. The Rhino series, on the other hand, is your plain USB enclosure without much fan-fare or any special feature.
Features and Specification
Support for SATA devices configured either as master or slave.
Fitting for 9.5mm & 12.5mm 2.5" SATA HDD.
System Works with PC and MAC.
OS Supports Win ME/2000/XP/Vista, Linux and Mac OS 9.x/10.x or above.
Material: ABS 94V0 front and back panel and Aluminum housing; Internal metal shielding.
CE / FCC certified
RoHS compliance

ABOUT HORNETTEK
As one of the leading peripheral enclosure solution provider, HornetTek specializes in Storage and Multimedia External Enclosure solutions and we constantly offers state-of-the-art design of hard disk enclosure to provide user-friendly peripherals to consumers at all ranges.
HornetTek is a global peripheral enclosure provider with manufacturing facility located in China since 1999. We deliver high quality standard products at competitive price in which provide our customers has an excellent opportunity to be successful in the competitive International Enclosure marketplace.
Our reputation, experience, keen industry insight and power of direct manufacturing allowed us to surpass OEM and ODM requirements and provide our customers with superb value, high-quality-in-demand products.
Our R&D engineering team is accustomed to form a standard yet efficient new product development procedure to satisfy timely requirement from the market and with our experts on delivering the freshest technologies available. We are always in tune to what is hot in the market place by creating innovation product with competitive price value.
Overall, we will achieve our mission through excellence in product design, factory manufacturing and customer service.
HORNETTEK RHINO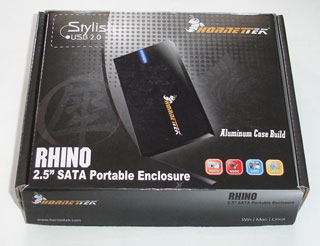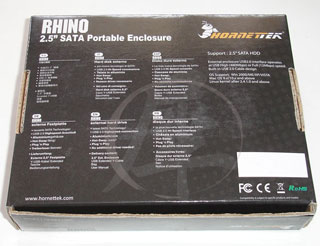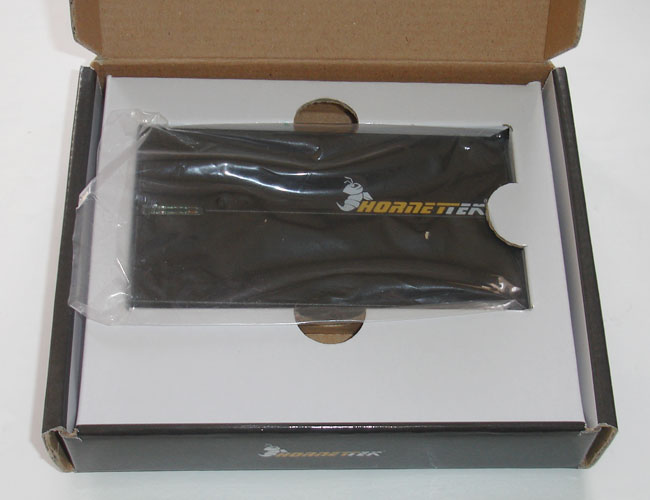 The package of the Rhino is very small but its design is quite attractive. On the front, you will find a front shot of the enclosure. On the back, you will find the enclosure specification in six different languages. Open up the fold over cover, you will find the enclosure neatly placed on the top and underneath is where all of the accessories are located. Here is what you will find inside of the box: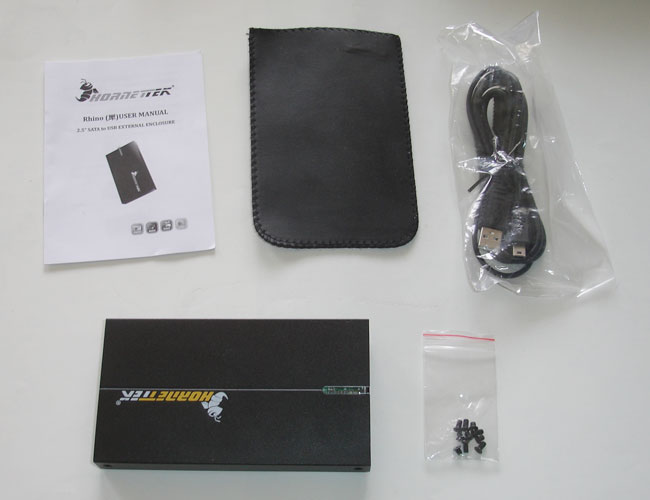 The enclosure
A USB Y-cable
A carrying pouch
A bag of four screws
A manual
The Rhino supports SATA I and II hard drives. The nice thing about the Rhino is that it supports mobile hard drive in 9.5mm and 12.5mm. This means that regardless of which 2.5'' hard drive you ended up purchasing or your laptop includes, you would have no issue putting it in the Rhino.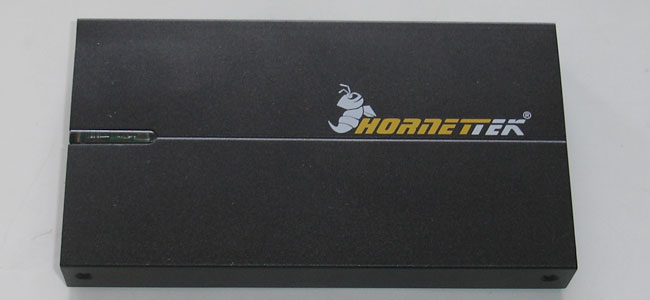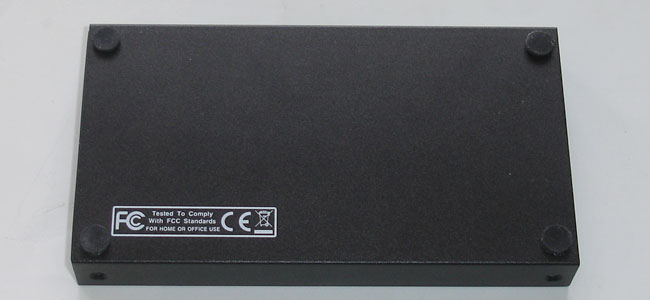 The enclosure is made with aluminum which is a plus in aiding heat dissipation since the enclosure lacks any fan or active cooling mechanism. The aluminum that is used feels good quality and its thick enough that it won't easily bend. It is quite heavy, mainly due to the all metal surface. Many of the external enclosures we have reviewed are made with part metal and part plastic which reduces its weight but, generally speaking, results in worse heat dissipation. We do appreciate the all metal surface of the Rhino.
The top of the Rhino has the HornetTek logo. In addition, you will find a blue LED indicator. The Rhino comes black in color only so if black is not your taste, look elsewhere. We love the smoother surface and appreciate the fact that it is not coated so it won't attract finger prints easily. This is not a major complaint but we would actually like to see the edge of the Rhino a bit more rounded so that its sharp corner will not accidentally scratch any other hardware.
On the bottom, you will find four little feet that prevents the metal surface from scratching your furniture or other hardware. Four screw holes are on the side of the Rhino.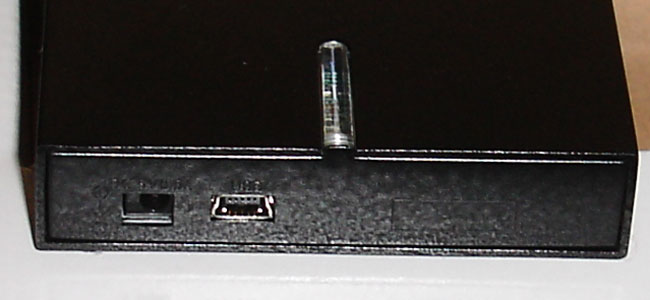 The usual ports are to be found on the back of the Rhino. You get a mini-USB port and a power jack. Oddly enough, the Rhino does not need any additional power as it draws power directly from the USB port. I am not too sure why there is such jack on the back. Presumably, maybe the PCB board that is used is designed to be compatible with other enclosures which may need additional power.
There seems to be a place for the eSATA port on the back of the enclosure bracket but the enclosure does not support such connector.  I am a bit disappointed to find the enclosure is missing the eSATA port. Although still not widely available, eSATA is slowly gaining its acceptance. It would have been a good idea to include such port to make the enclosure more future-proof.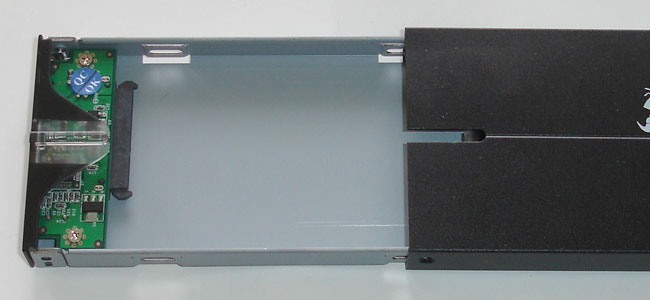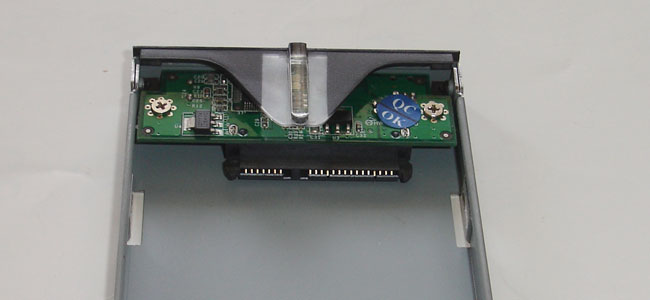 The outer shell can be slid off to reveal the hard drive compartment. Here we see a small PCB on the back of the enclosure and it's where the hard drive will be installed. There is enough space for the hard drive to sit inside the enclosure where it can then be slid into the SATA connector and the power connector easily. Some of the enclosures we have reviewed have such a tight space that it would require the hard drive to be installed at an angle where it can potentially break off the connector, but that is not the case with the Rhino.
To install the 2.5'' SATA hard drive, we simply put the hard drive in the drive tray and align the connector. Then, we slide the hard drive back toward the connector. Afterwards, we simply screw the four screws on the side to secure the hard drive and the four screws on the outside of enclosure to secure the outer cover to the tray. Simple enough. We actually are happy to find that HornetTek includes a total of 10 screws, that is, two extra than what is needed. In case you lose a couple of screws, you won't have to fumble around to find them or look for a compatible screws. Very thoughtful.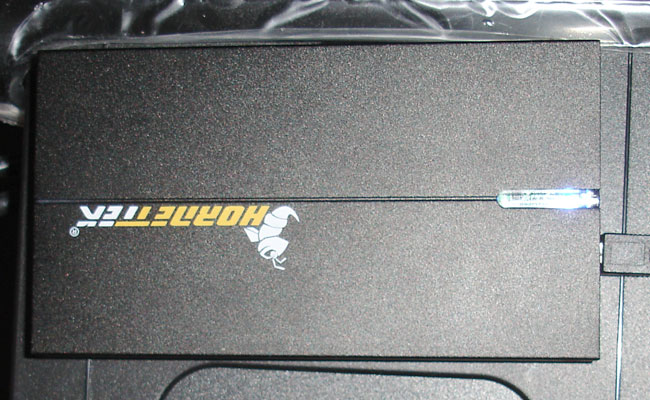 Though it is not found in many of the external enclosures we have reviewed, we would still appreciate to find some sort of noise damping mechanism or some padding to protect the hard drive from sudden movement.
An Y shaped USB cable is included. The extra USB connector is meant to provide additional power to the hard drive, thus, no need to carry any additional cables around. HornetTek is also kind enough to provide a nice carry pouch. It's a nice gesture but we are not sure how well it can withhold the multiple insertion as it is a bit thin and the sharp edge of the enclosure feels that it can rip the pouch apart after a few multiple insertion.
TESTING
System Configuration

Processor

Intel E6600 Core 2 Duo

Motherboard

EVGA nForce 680i SLI (BIOS P30)

Memory

Team Group TXDD2048M800HC4DC-D

Hard Drive

Seagate Barracuda Barracuda 7200.10 SATA ST3400620AS (16MB cache) 

 Western Digital WD2500KS-00MJB0 SATA (16MB cache)

Graphics Cards

Foxconn 8600 GTS

Sound Card

Creative X-FI

Operating System

Windows XP SP2
The test is conducted with the Seagate ST96023AS (60GB, 7200 rpm, 8MB cache) hard drive installed in the Eagle Tech iNeo NA205UE. In addition, we threw in a few extra SATA and IDE enclosures we have in our lab. For the SATA enclosure (ICY DOCK MB633UR-1S and Eagle Tech ET-CS2LSU2-BK), we used the same 2.5" SATA hard drive but for the IDE enclosure (MB448UR), we paired it with the Toshiba 8026GAX (80GB, 5400rpm, 16MB cache). Do keep in mind that the results are highly dependant on the hard drive that is used.
RESULTS
HD Tach 
| | | | | |
| --- | --- | --- | --- | --- |
| Feature/Specification |  Burst Speed (MB/s) | Average Read (MB/s) | Random Access (ms) | |
| HornetTek Rhino (USB) | 37.4 | 33.4 | 15.2 | 7 |
| Eagle Tech I-NA205UE (USB)  | 35.3 | 33.3 | 15.2 | 7 |
| Eagle Tech ET-CS2LSU2-BK | 35.2 | 33.2 | 15.3 | 4 |
|  ICY DOCK MB663UR-1S with Seagate ST96023AS (internal) | 37.5 | 33.3 | 15.2 | 5 |
| ICY DOCK MB663UR-1S with Seagate ST96023AS (external) | 35.4 | 33.3 | 15.2 | 4 |
|  ICY DOCK MB448UR with Toshiba 8026GAX (internal) | 35.1 | 29.6 | 18.2 | 5 |
|  ICY DOCK MB448UR with Toshiba 8026GAX (external) | 35.1 | 29.5 | 18.3 | 3 |
The external USB enclosures generally offer very similar results because the limiting factor usually is depended on the hard drive that is used. We can see that the HornetTek's Rhino is able to offer 2MB/s better burst speed than the Eagle Tech's enclosure and tie with the ICY Dock's enclosure. It's average read speed is the best among the enclosures tested but the CPU usage is a tad higher than other enclosures. 
TEMPERATURE
This is where the HornetTek's Rhino shines. The all aluminum body is able to keep the hard drive running cool by efficiently conduct heat away from the hard drive. During our test, the hard drive is only heats up 4~5°C.
CONCLUSION
The Rhino from the HornetTek is a simple 2.5'' SATA to USB enclosure. Although its look does not impress us like with what we have seen with other HornetTek's enclosure, we certainly appreciate its all metal construction. We also appreciate the simple installation process and its wide compatibility with all existing 2.5'' hard drives ranging from 9.5 mm to 12.5mm in thickness. We also liked the fact that the enclosure can be powered via USB port so no additional power cable is needed.
Like many enclosures we have tested, the Rhino's performance is similar against other 2.5'' external enclosures when it's using the USB port for data transfer. Only those enclosures that comes with eSATA ports can provide better transfer rate but unfortunately, the Rhino lacks such port. Though we would have been happier if it would also support eSATA for future-proof, we won't make too much fuss about it as eSATA is yet to be found in many systems.
Luckily, the Rhino stands out against other enclosures with its cooling performance. As you can see in our test, the hard drive is being cooled quite effectively with the metal body conducting the heat. However, the all aluminum body does has its small advantage of added weight which makes the enclosure a bit heavier than other enclosures we have tested.
Overall, the HornetTek Rhino is a good product. Its weight may prevent it from being a good portable enclosure. For that, you may wish to check other lines of products from the HornetTek. But its sturdy exterior and metal surface sure would be a good enclosure for those who need a tough case to put their precious hard drive in.
We are trying out a new addition to our scoring system to provide additional feedback beyond a flat score. Please note that the final score isn't an aggregate average of the new rating system.
Performance 9
Value 9
Quality 9
Warranty 7
Features 7
Innovation 7
Pros:
+  Metal body
+  Very good cooling performance
+  Easy to install
+  USB powered
 
Cons:
–  Edges are a little bit sharp
–  No eSATA port
 
 The HornetTek Rhino will receive a score of 8.5 out of 10 and Bjorn3D's Seal of Approval.