Corsair has done it again with their Corsair Dominator GT 1866 Triple Channel Ram. A blend of style and performance unmatched in the ram industry.
INTRODUCTION
We've seen a lot of ram kits come through Bjorn3D this season. The introduction of Core i7 and Triple Channel ram spurred the industry to come up with low voltage high performance ram that seems like every kit sets new bandwidth records. Corsair has been on the forefront of that revolution of low voltage ram development.
Corsair has a new line of Dominator ram that they've named the "GT" series. It sports a little more flair than traditional Dominator with it's monochrome black heat spreader. We suspect that they have a little more than flair in mind with the Dominator GT lineup so we've set our sights high on the Corsair Dominator GT 1866 kit we have to look at today. We may have our sights set a little to high by shooting for speeds in excess of 2 GHz from an 1866 kit but we've come to expect great things from Corsair so lets see if reality meets expectations.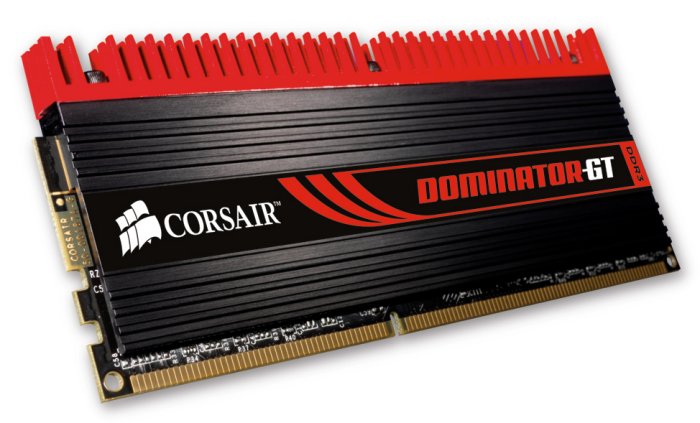 About Corsair
Products to Meet the Demands of Performance Computing
Corsair has been a leader in the design and manufacture of high-speed modules since 1994. Our focus has always been on supporting the special demands of mission-critical servers and high-end workstations, as well as the performance demands of extreme gamers. While maintaining this core focus, in recent years, we've also brought our expertise, technology leadership and legendary quality and reliability to memory and other technology products for the more mainstream consumer.
Memory That Meets The Toughest Demands
As a pioneer in high-speed module design, Corsair is a trusted supplier to many computer manufacturers. In high-density memory solutions, Corsair has always been one of the first suppliers to achieve advanced qualifications on Intel, Tyan and SuperMicro server platforms. We also work closely with other major server platform manufacturers to release product that is 100% compatible with their latest server products.
What Sets Corsair Apart?
With more high-speed experience than anyone in the industry, we know the importance of design features like tightly-controlled trace lengths, controlled impedances, clock trace design, unbroken power and ground planes, and selectively plated gold. Corsair Memory has developed an industry-wide reputation for quality, compatibility and performance.
Performance Memory For Enthusiasts
Our flagship memory products are the DOMINATOR™ line of performance memory, which is designed for the unique demands of the serious enthusiast community. Featuring patent-pending Dual-path Heat Exchange (DHX) technology, the DOMINATOR family maximizes on performance, minimizes on heat, all the while running with heighten reliability and stability. The DOMINATOR line has set world performance records and won numerous awards. Corsair's mainstream performance memory solutions are the XMS family. The XMS family includes XMS2 DHX, featuring innovative DHX technology now in the mainstream; XMS Xpert, the first modules with real-time display of parametric data; XMS Pro Series, gaming memory with real-time activity LEDs; and XMS2, high-performance DDR2 modules with black heat spreaders. The XMS Family also includes DDR1 solutions in XMS, available in either black or platinum heat spreaders.
Our Value Select memory brings our quality and compatibility standards to cost-effective products for today's most popular desktops and laptops. Value Select is available in DDR1 and DDR2.
We also offer a large range of ultra-reliable server memory for mission-critical servers and high-performance clusters.
Flash Memory, Liquid Cooling and Power Supplies
Corsair has expanded beyond memory modules to offer performance liquid cooling units and blocks under our Corsair Nautilus brand and power supplies under our HX Series brand.
In addition, we offer a line of specialty Flash memory. From our ultra-rugged Flash Survivor™ family to the multi-award winning durable Flash Voyager™ family, Corsair has quickly established itself as an industry leader for USB drives.
SPECIFICATIONS
From the Corsair Website

DOMINATOR-GT – The Ultimate Memory Module from Corsair Engineering

Very few components make it into the DOMINATOR family. Even fewer are hand selected to build the DOMINATOR-GT. Corsair's team of engineers run extensive and exhaustive in-house testing and qualification with the premium performance motherboards used by overclockers and ultra enthusiasts.

This unique combination of over-clocking performance testing and guaranteed reliability and compatibility coupled with a limited lifetime warranty, make the DOMINATOR-GT – the cream of the crop, and… the ultimate solution for the ultra enthusiast and overclocker.
Part Number TR3X6G1866C7GTF
Size 6 GB (3 x 2 GB)
Voltage 1.65v
Timings 7-8-8-20 2T
XMP Version 1.2 (Extreme Memory Profiles)
Corsair's Dual-path Heat Xchange (DHX) technology
Corsair Airflow Fan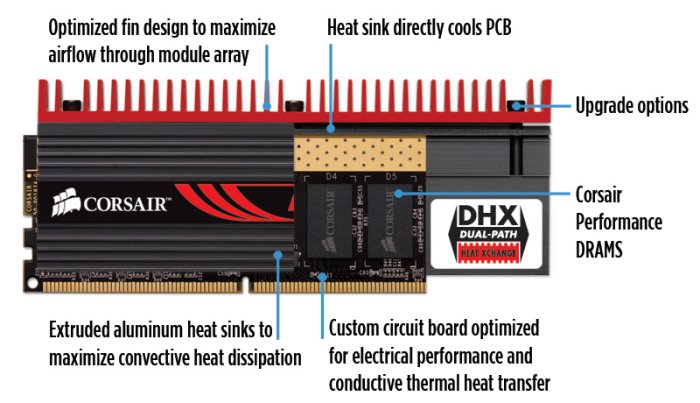 The Extruded Aluminum heat sinks on the Dominator line of ram got a little face lift in the GT series. They feature a flash of red on the sticker and a new red crown on the heatsink itself. We have to tell you we like the Dominator black crown that they traditionally use but this new red crown just makes them stand out and adds some serious flash to an already good looking kit of ram. You see a kit of these puppies on a rig you know your looking at a serious enthusiast. Not only does the DHX heatsink cool the memory chips themselves they also directly cool the memory module PCB, which in case you haven't noticed is black. What do there puppies look like on a board, that's a fair question.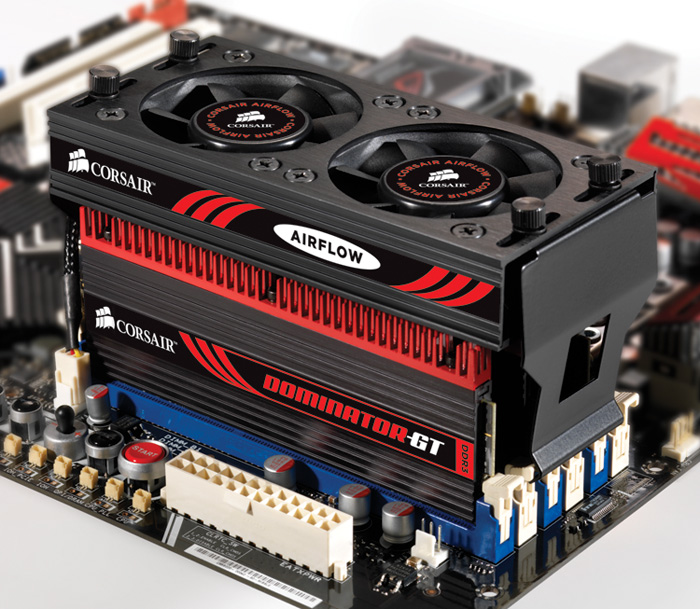 Pictured here on an Asus Rampage series board they look pretty darn good. We have a few shots of the kit on QuadZilla but you'll have to move on to the next page to see that shot of this monster kit.
PICTURES & IMPRESSIONS
Click Image For a Larger One
We received our kit well packed in a plain white box with air pillows helping to keep it safe. We can't tell you if this is the retail packaging you'll see if your lucky enough to find this much sought after kit in stock on your local E-Tailors shelves. We can tell you that it was well packed and arrived safely.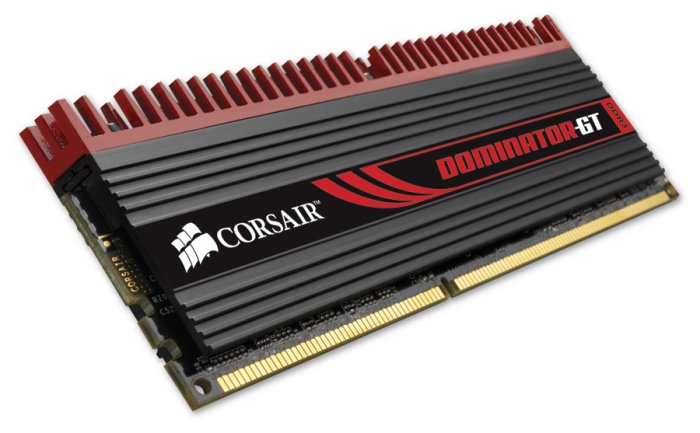 We couldn't help but lead out with some beauty shots of this kit. Notice the lengths Corsair has gone on this kit to make sure it's distinctive Corsair. On the left edge of the kit you can see "Corsair" in raised gold lettering on the edge of the PCB. How's that for attention to detail.  The Heatsink is traditional Dominator black  but they've added a little red to the lable to help establish the Dominator GT's individual identity. In addition to the red label Corsair has changed the vanes on top the ram to red which just makes the ram jump out at you when you first see it. Corsair isn't known to add additional flash to their kits so you can bet your looking at something special.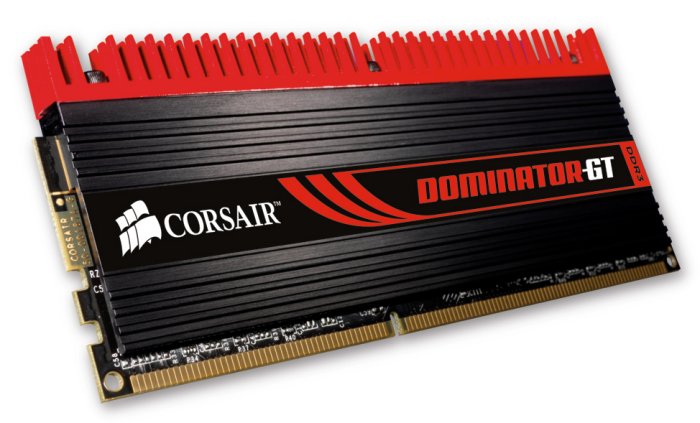 We had a hard time getting past the individual module pictures, there's just something about a new module that arrives without a scratch or blemish on it that mesmerize us.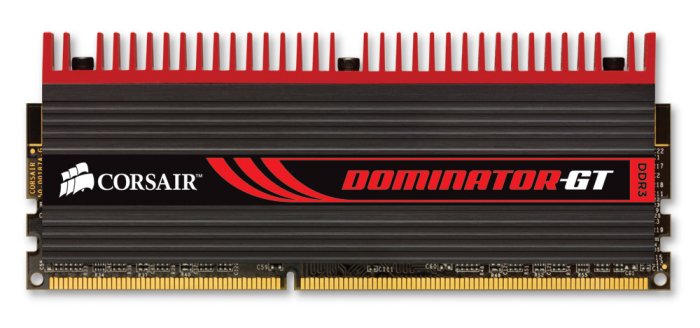 The modules themselves have a rally nice quality look and feel to them, some modules you get you hesitate to apply any pressure on them to get them into the slots for fear of damaging the heatsink. The Corsair Dominator GT gt is so solid that you need have no fear of inserting the kit, your more likely to hurt your finger than damage the kit (as long as it's inserted correctly, if you put it in backwards feel free to send the kit to us).
Click Image For a Larger One
We didn't notice a Corsair Flash Voyager Mini listed as a promo with the Dominator GT 1866 kit but we received one with our kit and you know we'll have to toss in a few screen shots of the benchmarks on it a little later. We'd benchmark our TV remote if we could. The Voyager Mini we got is a 4 GB flash drive that is about 3/4 of an inch long and easily the smallest flash drive we've ever seen.
The Dominator GT kit came packaged as individual modules in plastic clamshells and the airflow fan was boxed separately. The packaging was secure enough that the modules arrived safely despite the best efforts of the shipper to crush the outer box it was packed in.
Click Image For a Larger One
The whole kit laid out is fairly impressive without even seating it in a machine. The new red vanes jump out and catch your attention and when you hold the whole kit in your hand they're pretty substantial.
Click Image For a Larger One
Laid out next to the Dominator 1866 kit the Dominator GT 1866 just catches the eye a little better and we're betting since they're hand selected parts they have a little more under the hood to give you for OCing.
Click Image For a Larger One
Included with your Dominator GT kit you'll find one of the Corsair Airflow fans to keep your ram nice and cool. Additional cooling for your ram will help insure it's long life and provide some overclocking headroom. The fan arrives disassembled but only takes a few minutes to put together and requires no tools.
Click Image For a Larger One
Seated on QuadZilla you can easily see how much the Dominator GT kit stands out. Once you have the Air Flow Fan mounted it mutes that down a little bit which is almost a shame.
TESTING & METHODOLOGY
To test the 6GB Kit of Corsair Dominator GT 1866 MHz RAM we did a fresh load of Vista 64, updated all the machines drivers, applied all the Vista patches, and disabled any background tasks not required for the machine to run correctly. Then we cloned the hard drive using Acronis in case we should have any doubt as to driver or OS corruption from overclocking. We ran our normal suite of tests against the RAM. Each test was run three times and the average of the three runs reported here.
We also ran the RAM for about a week to get a little break in time and a general feel for the RAM itself. During that week we tried every SPD setting listed by Everest, played games, surfed the internet, and coded reviews. Normal every day activities for us. Benchmarks are fine but we also need to run the RAM outside benches to help round out how we report on it. And let's face it, benches are fine and good and we rely on them a lot, but real life usage and a feel for equipment is just as important as benchmarks.
Test Rig
Test Suite
Synthetic Benchmarks & Games
SANDRA XII Professional
Everest Ultimate Edition v.4.50.1330
SuperPi Mod 1.5XS
WinRar v.3.71 Compression Benchmark
EVEREST 5.0
"EVEREST Ultimate Edition is an industry leading system diagnostics and benchmarking solution for enthusiasts PC users, based on the award-winning EVEREST Technology. During system optimizations and tweaking it provides essential system and overclock information, advanced hardware monitoring and diagnostics capabilities to check the effects of the applied settings. CPU, FPU and memory benchmarks are available to measure the actual system performance and compare it to previous states or other systems. Furthermore, complete software, operating system and security information makes EVEREST Ultimate Edition a comprehensive system diagnostics tool that offers a total of 100 pages of information about your PC."
The way we have the results formatted in Everest is in GB's.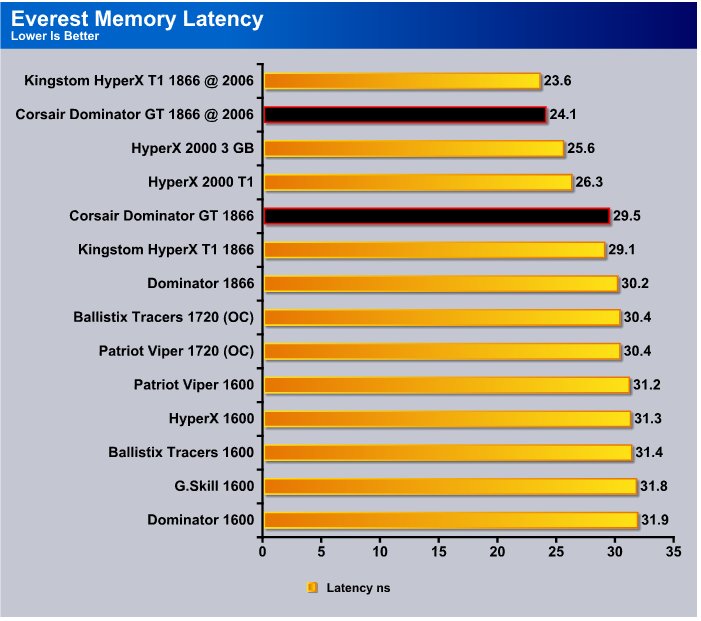 The Everest Latency test shows the Corsair Dominator coming in at a blazing 24.1 ns right behind an OCed kit of HyperX. At stock speeds it comes in at a more than respectable 29.5 ns latency. Notice the 1866 and 2 GHz kits dominate in the latency tests.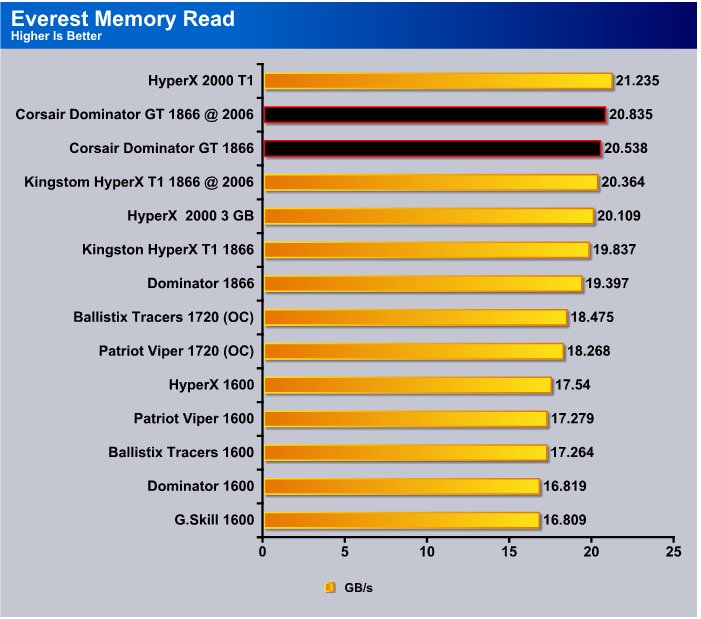 In the Everest memory read test the Dominator GT came in second and third (Overclocked and Stock speeds) and at 20.5 and 20.8 GB/s in the read test it is simply put, smoking fast. We've only seen one other 1866 kit capable of hitting 2006 MHz and those two kits have pretty much established their superiority in testing and remain our favorite kits for daily use. The Dominator GT provides the speed we want and with the Air Flow Fan system helps to keep the ram cooler so generally we use it on QuadZilla day to day. Not to mention that with the new red vanes it just adds a little flair to an already tricked out rig.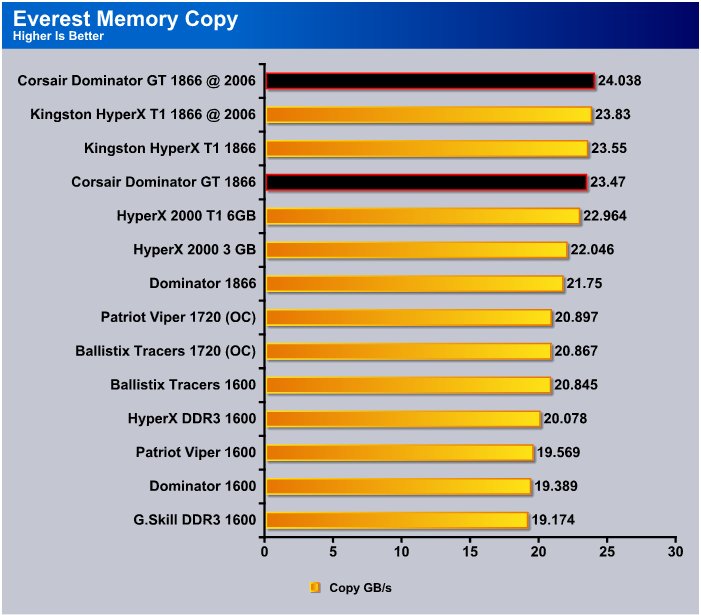 In the Copy test the Dominator GT 1866 kit topped the chart reaching speeds a hair faster than the HyperX kit, which reminds us of a movie, (Fast and Furious) where one of the actors says; "Ask any racer a win is a win whether it's by an inch or a mile." At stock speed (which we consider fast enough) the Dominator GT 1866 kit comes in at almost 23.5 GB/s which is an astounding score for Everest.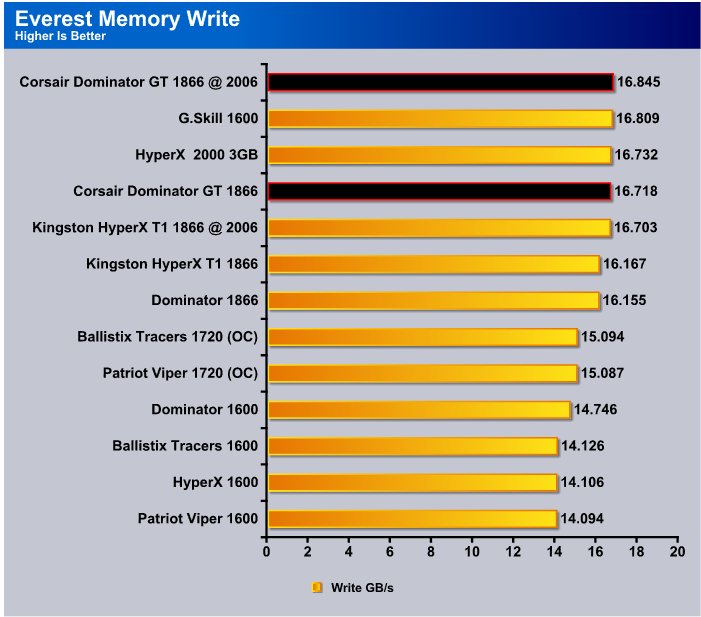 THe Write test in Everest usually sees things slowing down a little and this kit was no exception, but since it's an across the board slow down it's the test and not the ram kits. The Dominator GT 1866 kit overclocked comes in at 16.8 GB/s and at stock hits 16.7 GB/s. Stock or overclocked this kit is no slouch.
SiSoft Sandra 2009 SP1
"SiSoftware Sandra (the System ANalyser, Diagnostic and Reporting Assistant) is an information & diagnostic utility. It should provide most of the information (including undocumented) you need to know about your hardware, software and other devices whether hardware or software. It works along the lines of other Windows utilities, however it tries to go beyond them and show you more of what's really going on. Giving the user the ability to draw comparisons at both a high and low-level. You can get information about the CPU, chipset, video adapter, ports, printers, sound card, memory, network, Windows internals, AGP, PCI, PCI-X, PCIe (PCI Express), database, USB, USB2, 1394/Firewire, etc."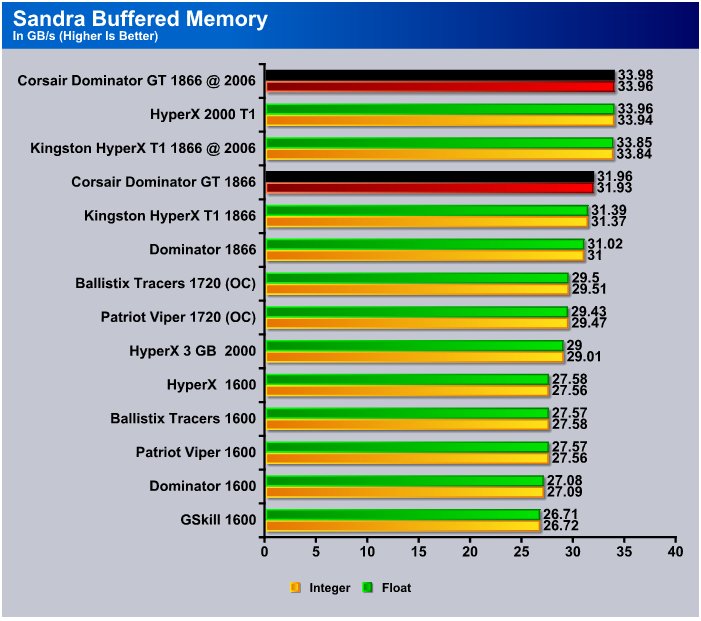 We saved Sisoft Sandra for last because it's one of our more trusted benchmark programs and is updated regularly keeping it current with chipsets and testing methods. We made a few extra runs at the buffered memory test trying to top 34 GB/s and we came up just short enough to aggravate us. We're sure that investing a couple of hours tweaking the Dominator GT 1866 kit we can break 34 GB/s but for right now we're stuck at 33.98 GB/s, .02 GB/s short of 34 GB/s. If we make it the Dominator GT 1866 kit will be the first kit we've been able to break the 34 GB/s bandwidth barrier and of all the kits we have available it's the one kit we have faith in breaking the 34 GB/s barrier. At stock speed we hit 31.96 GB/s which isn't a bandwidth to sneeze at.
WinRar v. 3.8
This module in WinRar generates random data, which contains specially introduced redundancy, increasing the load to both the processor and memory. Data is the passed through RAR compression and decompression algorithms, and the output of the decompression algorithm is compared to the source data. If any differences are found, WinRAR then reports "Errors found – Yes" in the command window. WinRAR displays a size of processed data and compression speed, current and resulting, in kilobytes per second.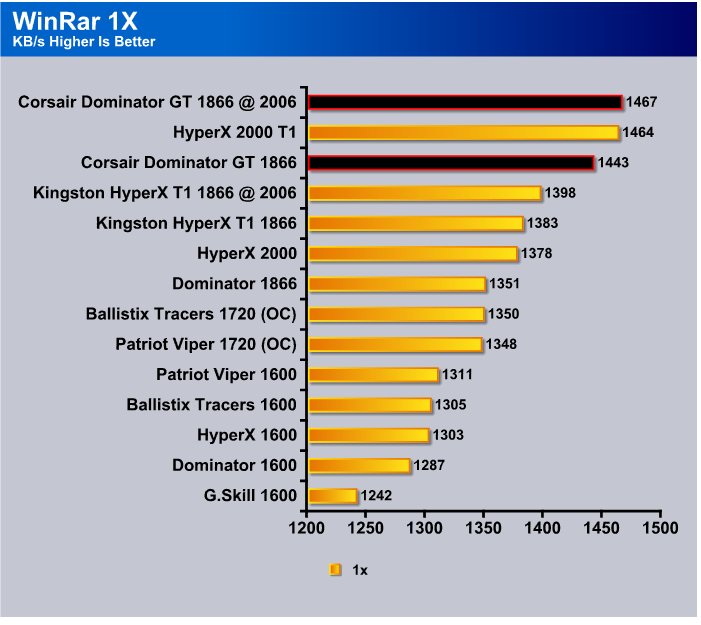 The Corsair Dominator GT 1866 at stock speed was only beaten by a 2 GHx kit of Kingston HyperX and when we overclocked the Dominator GT it took the lead by a few KB/s. It also beat the older 3gb kit of HyperX (Prior to the T1 version) which ran at 2 GHz. The OC speed of 2006 was easily reached without a ram voltage increase. We did have to bump up the QPI voltage a little to get it stable.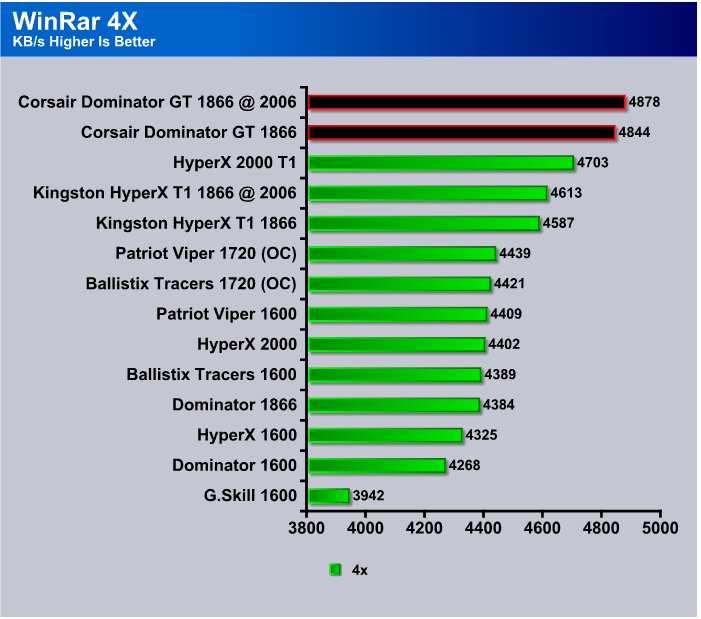 When we hit the multi-threaded test in WinRar the Dominator GT 1866 kit took off and placed first and second. Pretty impressive for an 1866 kit even if it is the top of the line Dominator GT.
SuperPI
SuperPi is the "Gold Standard" for many when it comes to judging system performance. We ran 1 and 2 MB calculations, again running each test three times and reporting the average of the results.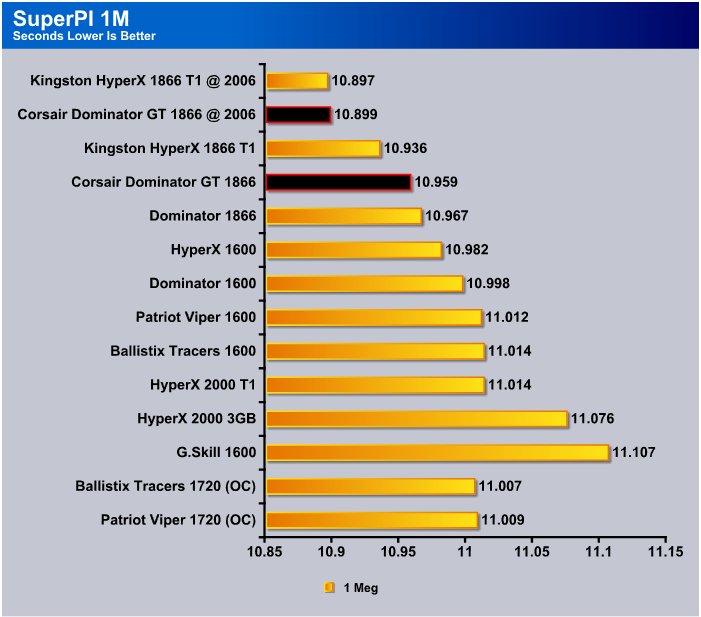 There's a couple of things that you have to understand about SuperPi, usually we're dealing with hundredths and thousandths of a second differences and SuperPI is a tweakers benchmark. We generally run the ram at stock and OC speeds without much tweaking because that's what most end users do. You can get better scores by playing with your FSB, Ram Timings, and dividers, SuperPI is that sensitive to changes. The Corsair Dominator Kit came in two thousandths of a second behind the Kingston HyperX 1866 kit when both were overclocked. Differences as small as this can be attributed to nothing more than minute variations in the bench runs. At Stock speeds the Dominator kit was eight thousandths of a second slower and again we refer you to our minute differences in the bench runs statement.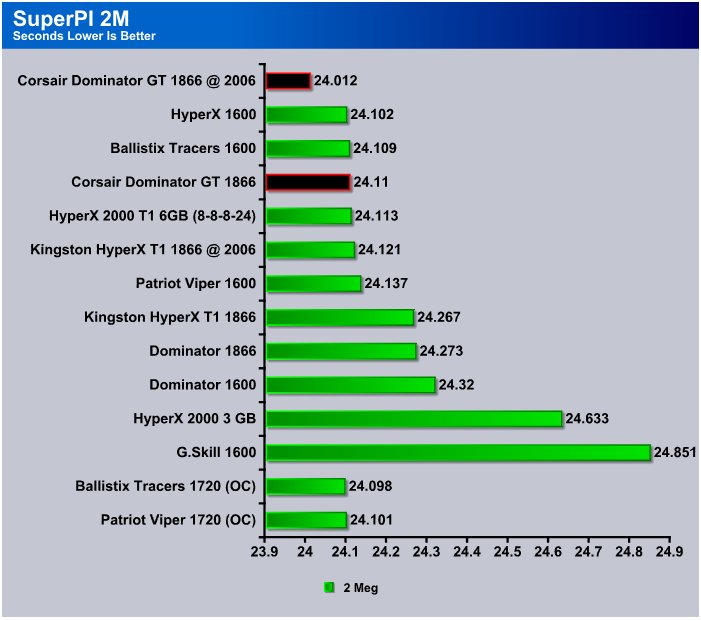 In the 2 Meg test in SuperPI where SuperPI calculates the value of PI to 2 million places the Dominator GT 1866 kit overclocked took the win, a couple of 1600 MHz kits came in ahead of it but they have a better ram divider/CPU ratio and tighter timings which we suspect made the difference. Raw bandwidth the Dominator GT 1866 kit is sure to kick them to the curb.
OVERCLOCKING
Since we've included the overclocking results in the chart of late the overclocking section is a little redundant but we know that you like to see that CPU-Z shot of the ram running at 2006 MHz the highest speed we achieved in the limited time we had. The kit itself was plug and play on the Asus P6T Deluxe motherboard that we've come to love for memory testing. We understand that some lesser boards have problems with the XMP profiles and you have to tinker with settings to get ram to run. On our test rig this kit was plug and play and the 2006 MHz OC was easy to reach. Since we're using a i7 965 with an unlocked multiplier for testing we left the machine at 3.7 GHz and ran the Dominator GT 1866 while running 1866. To get to 2006 MHz we dropped the multiplier from 28 to 26 and increased the FSB to 143, bumped the QPI voltage a few times until we loaded into Vista and checked stability with Prime95. Much to our surprise on the third QPI voltage bump (up around 1.65v) we tested stable.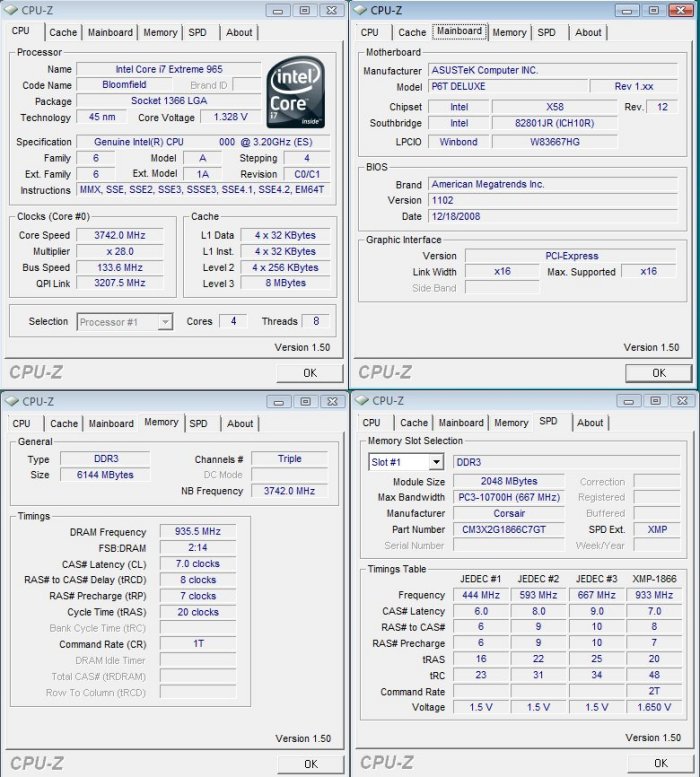 There's our stock shot of the CPU-Z story showing we're running the i7 965 Extreme and Asus P6T Deluxe motherboard along with the stock speed of 1866 on the Dominator GT 1866 kit. At this point we should mention (in case you skipped the specifications page) that the Dominator Gt 1866 kit has the tightest timings of any 1866 kit we've seen so far. Most kits in this range are Cas 8 or Cas 9 depending on the cost of the kit. This kit is Cas 7 and that's helped it win a place on our test rig. It's rated to run at 7-8-7-20 at 2T, we were able to run it at 1T with no stability problems at all.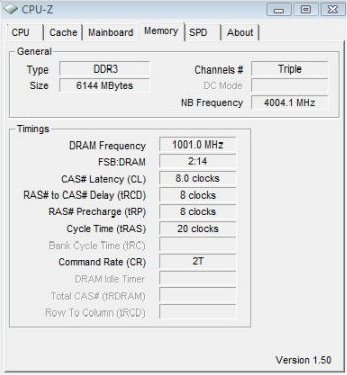 We couldn't get the kit to maintain the 7-8-7-20 timings at 2006 MHz (by BIOS) unless we kicked the dram voltage up to 1.75v which we don't like to do. We were able to hit 2006 at Cas 8 using 8-8-8-20 and 2T without increasing the ram voltage which is pretty amazing.
CORSAIR FLASH VOYAGER MINI
Along with our Dominator GT 1866 kit we got a Corsair Flash Voyager Mini 4 GB flash drive with a few of the nice beauty shots you saw earlier. While we're not going to go into great detail on it you know we can't let it go without throwing up a few benches and specifications on it. Not to worry though we've already been to chart lane so we're just going to throw up a few screens of the benches and move on to our conclusion.
Please take note that the Dominator GT doesn't include a Voyager Mini bundled with it, we receive media photos and review information on the drives, but we liked the Mini so much we decided to include a page on it.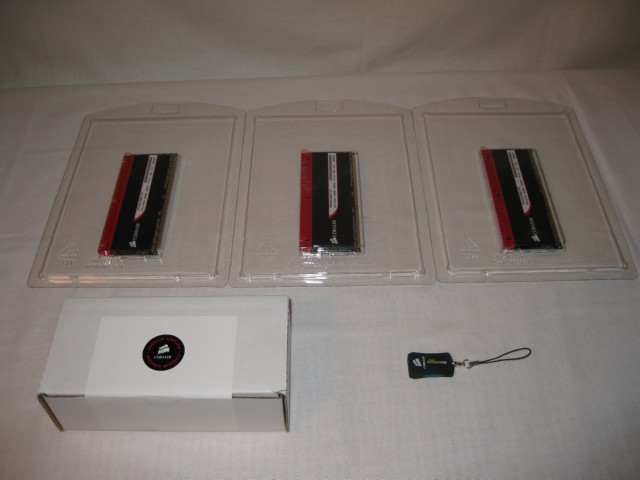 To give you an idea of the size of the Voyager Mini 4 GB drive we put it in front of the ram sticks, it's less than an inch long yet still manages to hold 4 GB.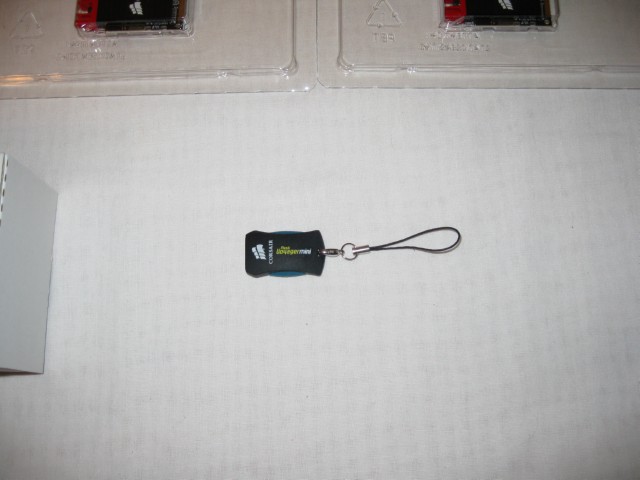 The drive itself is a pretty substantial little chunk of hardware, we've been carrying it in our pocket for about a week and it's survived that abuse. It's a solid rubberized surface and doesn't even show any marring from the various screws we end up mixed in with our change at the end of the day. (Yea reviewers sometimes end up with odd screws in their pockets at the end of the day)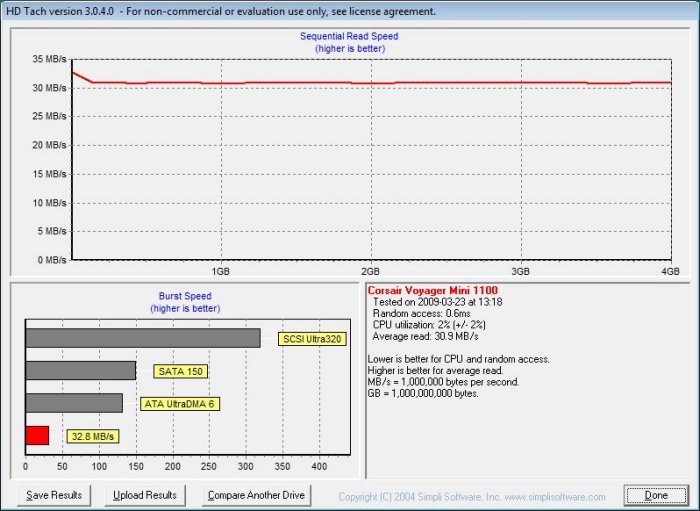 HD Tach we get almost 32 MB/s transfer rate which is a little higher than most of the USB drives we've been seeing. Typically Flash drives that we have around the shop tend to fall in the 25 27 MB/s range so despite it's smaller size the Voyager Mini is running faster than the other drives we have laying around.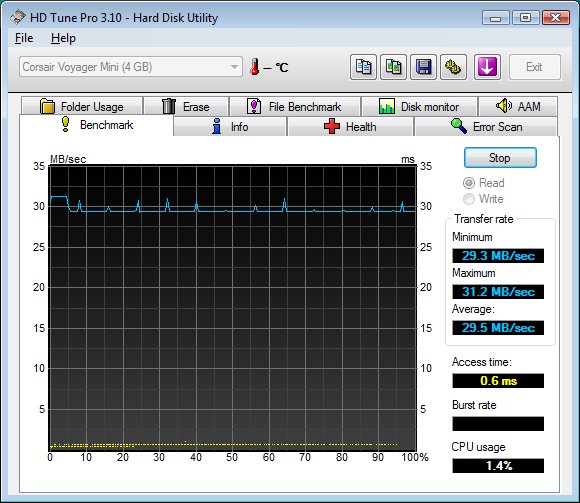 HD Tune Pro shows an average speed of 29.5 MB/s and a blazing fast access time of 0.6 ms. The other drives we have around the lab generally run in the 25 MB/s range so again the Corsair Flash Voyager Mini is outrunning the (mostly generic) flash drives we have available.
Conclusion
The Voyager Flash Mini 4 GB is a welcome addition to our collection of flash drives. It survived more than a week of pocket change abuse and is still running strong. The rubberized surface remains unmarred and it's really handy to have such easy access to storage. The small size amazed us when we saw the capacity, and while we were amazed the size is also the only flaw we saw. Like many Flash drives they are so small it's easy to lose one.
The use of Flash drives has all but stopped us from wasting CD/RW disks for file transfers and our consumption of RW disks has dwindled to no more than one or two a week, previously it wasn't unheard of to burn a 50 pack in a couple of weeks. The transfer speed is really reasonable and the Voyager Mini Flash fits right on a key chain.
We are trying out a new addition to our scoring system to provide additional feedback beyond a flat score. Please note that the final score isn't an aggregate average of the new rating system.
Performance 9
Value 8
Quality 10
Warranty 8
Features 10
Innovation 8
Pros:
+  Under an inch long
+  Good Transfer Rates
+  Out-performs Other flash drives we have available
+  Takes pocket abuse pretty well
+  Rubberized grip helps prevent static electricity from zapping your drive
Cons:
–  Under an inch long (Easy to lose)
–  Not using flash drives before we went through several hundred RW disks
The Voyager Flash Mini impressed us with it's speed and small size so it recieves a: 8.5 out of 10 and the Bjorn3D.com Seal Of Approval.

CONCLUSION
The Corsair Dominator GT 1866 6 GB kit has shown us that once again Corsair is at the leading edge of low voltage high performance ram development. The new Red highlights used on the label and the cooling vanes on the IHX (Integrated Heat Xchanger) really make the ram stand out from the crowd. It's not hard to find high performance PC parts if you know where to look, it's rare to find high performance parts that operate at a full level above performance specs. With the Dominator GT 1866 kit you can pay for a 1866 kit and run it like a 2 GHz kit and that's rare to see. Most of the 2 GHz kits we've seen so far lack overclocking overhead.
Dominators have long been some of our favorite ram for good reason, they may have just been replaced by the Dominator GT kit. The extra flash and hand picked components make them a very good choice for serious enthusiasts. Hand picking the parts for the Dominator GT's lets the serious enthusiast know that not only is he going to get the advertised performance of the kit, but they also get the OCing goodness they want.
We are trying out a new addition to our scoring system to provide additional feedback beyond a flat score. Please note that the final score isn't an aggregate average of the new rating system.
Performance 10
Value 7
Quality 10
Warranty 10
Features 10
Innovation 10
Pros:
+  Air Flow Fan Included
+  Runs Cool
+  1866 Kit running above 2 GHz
+  Looks really Sweet
+  Tight Timings
+  Corsair Name Behind them
Cons:
–  Price
–  Might not fit under some larger CPU Coolers
The Corsair Dominator GT 1866 6 GB kit awed and amazed us with it's ability to clock up to 2 GHz, it topped the charts in bandwidth and has shown that Corsair is on top the game when it comes to low voltage high performance triple channel kits so it receives a final score of: 9.5 out of 10 and the Bjorn3D Golden Bear Award!