Cooler Master has recently introduced their new Storm line of cases. Today we have the newest addition to their lineup, the Scout. Will its practicality live up to its name?
Introduction
Cooler Master has once again spiced up the computer case market with their new Storm lineup. The newest case in the series, the Scout, is a little brother to the previously released Sniper. You can see that the Scout drew a bit of inspiration from the Sniper, as they have similar design features. One of the things that stands out with the Scout is its focus on being a LAN case. This is clearly evident in its top handle and its light weight. This case doesn't sacrifice quality for weight either. At just under 20 pounds, its not very heavy, yet it's still made out of steel.
A lot can be said about the Scout. One of your options may be looks, which I think look better than the Sniper. The side window sure helps with its appearance, letting everyone see your hard work you put into doing some serious cable management in your case. It also allows them to see any extras you put in, such as cold cathode ray lights. The red LED's on the front and back fans add a spectacular touch, something that many other cases simply don't offer.
When you add all of these together you get a case that is made with superior quality and excellent looks.
About Cooler Master
Cooler Master was founded with the mission of providing the industry's best thermal solutions. Since its establishment a decade ago, the company has remained faithful to this mission, emerging as a world leader in products and services for companies dealing with devices where heat issues must be resolved.
A critical component of Cooler Master's ability to successfully pursue its mission is an unstinting commitment to quality, as demonstrated by the ISO 9001 certification granted to its main manufacturing plant in Taiwan. It has also enforced ISO guidelines and is in the process of applying for ISO 9002 certification at its second and third plants, located in China. Cooler Master has also implemented a number of analytical and testing protocols to ensure top quality, including at subcontractors, to further ensure thorough quality control. Moreover, Cooler Master's dedication to quality extends beyond manufacturing to every aspect of its operation, including service.
Cooler Master's current business encompasses a comprehensive lineup of thermal solutions for a full range of applications. Its products range from heat sinks and fans to component housing, chassis, and ducting for computers, industrial machinery, telecommunications equipment, and many other devices.
FEATURES
CM Storm deploys Scout, the True LAN Gaming Chassis. Mobility, security and 20 years of advanced technology converge in one rugged portable mid-tower chassis. Every Scout is engineered with Storm Tactics: a dedicated focus on Strength, Security and Control. The Scout blends into the darkness with a menacing all black interior showcasing your internal hardware.

An automotive tinted side window with dual fan exhaust brings efficient cooling with subtle transparency. A single button triggers stealth mode deactivating cooling fan LEDs. This covert outlook is complimented by innovative internal designs allowing swapping CPU coolers without motherboard removal. Inside, intelligent cable management maximizes space while supporting internal 2.5″ and 1.8″ SSD bays. On top, a rugged, steel reinforced handle allows the Scout to be easily wielded in a single hand.
The Scout has been built around a solid steel body, and comes equipped with a 140mm front intake fan, as well as 140mm top and 120mm rear exhaust fans, providing an accurate airflow to efficiently manage the heat from your gaming hardware. The aggressive window side panel, with its dark automotive tint, provides mounting locations for yet another 2 x 120mm fans to deal with thermal hotspots from over-clocked CPUs and GPUs.
The Scout has been fortified even further with the patented StormGuard™ accessory; this unique and widely acclaimed security solution from the CM Storm Labs consists of a specially designed PCI-bracket located at the rear of the chassis body. By locking your peripherals and side panel firmly in place, Storm Tactics and the StormGuard™ will protect your PC and gaming gear from thieves and other thuggish individuals whenever you are AFK. Never again return to your seat at a LAN-party, only to find that some villain has grabbed your gaming mouse and headset, or even worse, your entire system.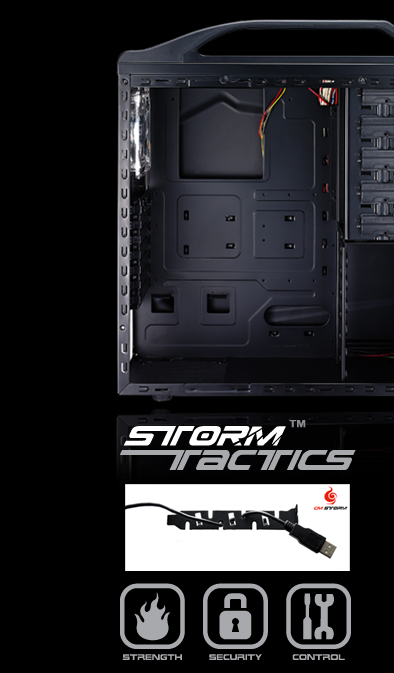 | | |
| --- | --- |
| | The most attention-grabbing feature of the Scout is found right on the top of the chassis. These sturdy, reinforced carrying handles make mobilization and relocation to your next LAN-party an extremely easy task. The carrying handle is inspired by assault rifle charging handles. |
Moving to the front of the Scout, the I/O panel offers not only extensive connectivity through eSATA, FireWire, HD Audio and a whopping four USB2.0 ports, but it also sports an integrated LED-switch, letting you decide exactly when to show off the red lights and the menacing all black interior, and when to go into stealth mode and chill out in the dark with your favorite movies.
SPECIFICATIONS
Color

Black

Material

Steel, ABS / PC plastic, Mesh Bezel

Dimentions

(D)489 x (W)219 x (H)495.5mm
(D)19.2 x (W)8.6 x (H)19.5 inch

Net Weight

8.7kg / 19.23lb

M/B Type

Micro-ATX / ATX

5.25″ Drive Bay

5 Exposed (without the use of exposed 3.5 inch Drive Bay)

3.5″ Drive Bay

5 Hidden (HDD); 1 Exposed (converted from one 5.25 ince Drive Bay)

Cooling System

Front: 140mm Red LED fan (Included) or 120mm Fan x1 (optional)
Top: 140mm Fan (Included) or 120mm Fan x1 (optional)
Side: Acrylic window; Supports 120mm x 2 (optional)
Rear: 120mm Red LED Fan (included)

Expansion Slots

Standard x 7

I/O Panel

USB2.0 x 4; eSATA x 1; Mic x 1; HD Audio+AC'97 x 1

Power Supply

ATX PS2
PICTURES & IMPRESSIONS
Outside of box
The Scout comes in your standard run to the mill cardboard box. I noticed that the cardboard was a bit tougher than some other case boxes I've seen. This makes the case more protected, but gives me more work in breaking down the box when its time to throw it away. It's a trade off I willingly accept. The front of the box shows a picture of the top of the case, along with its name. Cooler Master has also included a short blurb relating to the case. On the back is the ever present list of features. Always read this information before making a purchase to ensure you buy the right product.
Wrapped up case
As with many other cases, this one comes with a plastic wrap covering it and Styrofoam surrounding the top and bottom of the case. This insures a safe delivery from the warehouse to your home. The Styrofoam used on this case is also of high quality like the cardboard. Cooler Master has certainly went above and beyond with the packaging. While many manufacturers generally overlook high quality on the packaging, Cooler Master has decided to focus on it. Hopefully, this shines through on the rest of the case.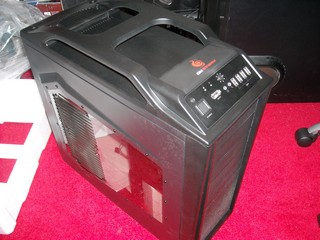 Full case view
The Scout has a very cool design in my opinion. The top handle really blends in with the overall design of the case. The black color is always a welcome, as black is my favorite computer case color. From a quick glance you can see some of the Sniper with the side panel. According to Cooler Master this case was inspired by military weapons, but I guess my eyes don't work well, because I don't see the resemblance.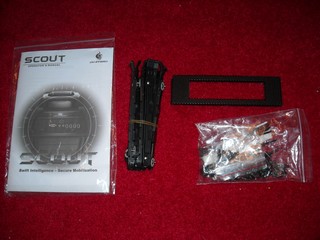 Accessories
The Scout comes with a variety of accessories. Including a manual to help out anyone who is not sure what they are doing. There are also accessories for the tool less drive bay. These can be inserted into your disk drive to help secure it inside the case. There is also a cover for the Floppy drive, due to it only being a 3.25″ drive, and the disk drive bay being 5.25″. This allows the case to continue its smooth design. Included in the bag are basic accessories such as standoffs and screws. These are always a great addition, as some manufactures short change you, and you're left struggling to find pieces laying around your house.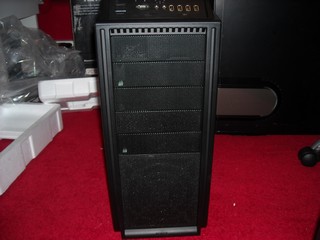 Front of case
The front of the Scout really resembles the Sniper. One thing you cant see from the front are the air filters behind the drive bay covers. This is a nice added feature that will keep your system from getting full of dust and thus lengthen the time between those painful cleaning sessions. There also happens to be an air filter for the front 140mm intake fan. Dust filters are quickly becoming a standard in the higher end cases, so it's always nice to see them included with a case.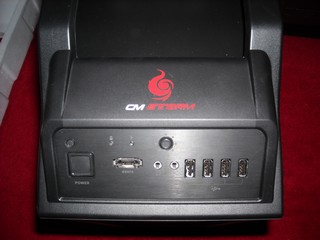 Front panel
The Scout has a variety of inputs, including four USB ports. This is double the normal two found on most other cases. This will help out all those people who need multiple devices plugged in at once. There is an eSATA port so you can quickly connect and disconnect an external hard drive for some of the larger file transfers. The power button is a large square button and impossible to miss. When it is pushed in it feels of high quality, not the cheap click ones that feel like they could fall into a hundred pieces any second. The reset button is a bit less obvious. It is right on top of the power button and has a small R printed on the button. The case also includes your standard audio outputs and inputs. The little button in the middle top of the front panel is the on/off switch for the red LED lights on the front and back fans. Unfortunately, Cooler Master has not included LED's on the top 140mm fan. The CM Storm logo really comes in and wraps everything up. I love the design and it adds a bit of color to go with the black background.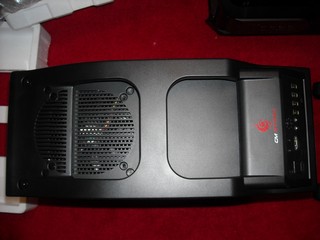 Top of case
The first thing I noticed when I looked at the top was the large handle. Cooler Master did a superb job at incorporating it into the design of the case. It molds with the natural lines of the case, creating a functional design piece. The top 140mm does not seem to move very fast at all and I can barely feel it move any air at all. This makes it silent, but I have the V10's fans on full blast, so the quietness of the fan isn't really helping me a lot. Cooler Master gives you the option of installing a 120mm fan, but I'm not sure why you would want too since a 140mm can move the same amount of air while doing it quieter than a 120mm fan.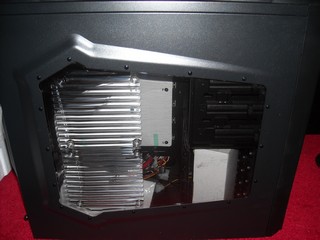 Front side of case
Unlike the Sniper, the Scout has a side window. For someone like me this is a nice feature, as I love to show off what is inside my pretty box. This attitude is especially prevalent when awesome cable management is done and cold cathode ray lights are used. Cooler Master has left the option of installing two 120mm fans on the side of the case if you choose to do so. This will help improve airflow, but if you use a larger cooler such as the V10 like me, you will find it hard to fit a fan in that spot.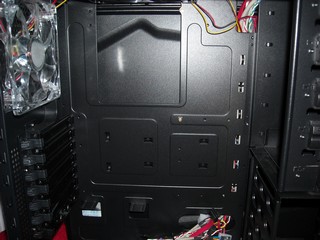 Motherboard tray
When I opened the side panel and saw that the whole inside of the case was black, I was overzealous. I feel that a case looks much better if it is one color, so the inclusion of the full paint job earns Cooler Master some brownie points. Also something to note that very few case manufactures do, is the cutout hole right behind the CPU. This has been proven to help lower CPU temperatures. Later on when I test the temperatures, this will be put to the test. The expansion slots have a tool less system. I love tool less systems, especially when they are of high quality. This system does not disappoint. It has a great construction that holds the card tight so you can be assured you won't be busting off anything from your motherboard.
Disk drive bay
The disk drive bay also uses a tool less system. This one is a odd design, but it works great. You simply attach sliders to the side of the drive, insert the drive into the bay completely, and push the slider to the right then pull the tab down. The tab locks the drive into place so no matter how hard you jar at the case, your disk drive will not come out. If you are interested in installing a floppy, then you use the very bottom drive bay. It has a cut out so you can easily slide the FDD inside and secure it. Make sure that you don't forget to use the specialized FDD cover which fills the gap between the FDD and the outside of the front cover of the case.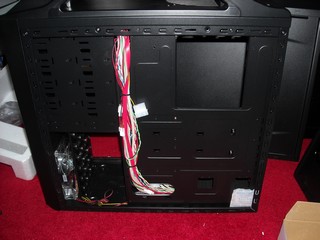 Behind back panel
As you can see, Cooler Master has done a significant amount of the cable management already by routing all of the cables to the bottom of the case. Some more management is needed to get this case looking exceptional though. To give you a comparison of how much space is between the back plate and the back panel, look to the Antec 1200. The have the same amount of area in the back. This allows you to run a whole bunch of cables behind the back plate, thus cleaning up the front of the back plate. Many people like me find this to be a great addition, because when you're OCD, you hate to see random cables hanging around.
For your viewing pleasure I have included some pictures of my whole computer installed in the case. Enjoy!
I apologize for the half way done job. Later on when I take some more time to do better cable management I'll post up some pics in the forum, so stay tuned!
METHODOLOGY
To test the idle temperature of the graphics card and CPU I let the computer sit doing nothing for a half an hour. I then used LinX to load the CPU to the highest amount of heat it can generate. For the GPU I used Furmark 1.65 to make the graphics card toasty. I used Realtemp to monitor the CPU temperature and then averaged all the cores into one temperature. I used the built in temperature sensor for the GPU. I first verified that it read the same temperature as Catalyst, and it did, so it can be considered valid data.
Test Rig

Case Type

Tagan El Diablo Advance
Cooler Master Storm Scout

CPU
Intel I7 920 @ 3.7
Motherboard
Intel SmackOver X58
Ram
(2×3) Mushkin HP3-12800 @ 1480, 8-8-8-20
CPU Cooler
Cooler Master V10
Hard Drives
WD SE16 640 GB
WD SE16 750 GB
Optical
Lite-On DVD R/W
GPU

Sapphire HD 4870 1GB

Case Fan

One Front 140mm Intake
One Back 120mm Exhaust
One Top 140mm Exhaust

Testing PSU

Corsair HX1000W
RESULTS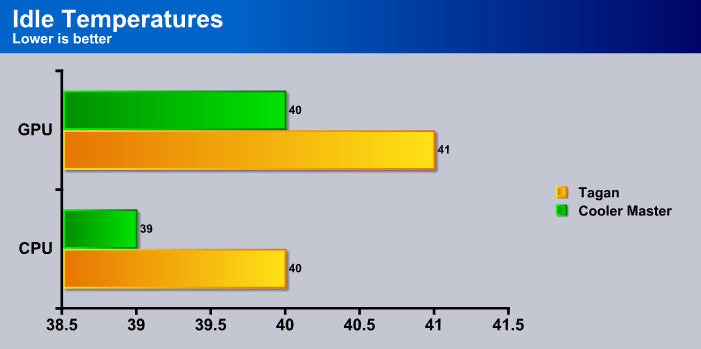 As you can see, the Cooler Master Scout manages a slight edge. This slight edge is only 1°C, but as any overclocker will tell you, every degree counts. There should be a bigger difference between temperatures when the computer is loaded.
When a load is applied the Scout really starts to shine. Despite the Tagan having a massive 360mm fan on the side, it just isn't efficient in controlling temperatures. The Scout's smarter design wins out against pure force.
Conclusion
Cooler Master has set out to attract enthusiasts and new buyers alike with the Storm series of cases. So far, the series has stressed on smaller, but better cases. Both the Sniper and Scout are mid tower cases. There are a lot of enthusiasts out there who prefer to use full towers because of the added space. I myself prefer the extra space, but hate all the extra weight. I am also not a fan of larger aluminum cases, which make it possible to be lighter, but sacrifice the strength of steel. Cooler Master has made a compromise, with making the case smaller they can keep the weight down, and still keep the strength of steel.
Another thing many mid tower cases lack is cable management. Due to their smaller size, there is not a lot of room to hide away cables. This is not the case with the Scout. Cooler Master has created a back compartment where you can route a slew of cables. Seeing this made me feel that Cooler Master really took the time to plan this case out for enthusiasts. Not only was the cable management great, but the build quality of the case was outstanding. The steel in the case certainly helped, but even the little things like the power button felt like they were crafted to not give out after a hundred pushes.
There is so much good that there seems nothing Cooler Master can do to sweeten the deal, but they have let the Scout go for only $109 USD. The Sniper is a bit expensive for a mid tower at $180 USD, but some online retailers such as Newegg have a deal for only $150. This makes the Sniper look like a rip off. The quality on the Scout will certainly be better than other full towers in the price range, but the full towers will have more space. It is a decision that you will have to make, more space or better quality. Overall, I thought the Scout was a very capable case. It's able to hold anything you want to put in it and the superior build quality makes it more than worth the price, and then some.
We are trying out a new addition to our scoring system to provide additional feedback beyond a flat score. Please note that the final score isn't an aggregate average of the new rating system.
Performance 10
Value 9.5
Quality 10
Warranty 8
Features 9
Innovation 8

Pros:
+  Excellent performance
+  Superior build quality
+  Weight
+  Steel construction

Cons:
–  Long wait to release
The Cooler Master Storm Scout-The True Gameing Case receives a perfect score of 10 out of 10, and the Bjorn3D Golden Bear Award.