The ATI 4890 offers the highest performance of the single core ATI GPU lineup, the Asus 4890 Voltage Tweak offers more than the standard 4890, you can increase the core voltage.
INTRODUCTION
Asus has always been one of the driving forces in computing with their wide range of products. They've consistently pushed the boundaries of technological achievement and been the standard other vendors shoot for. The introduction of the Asus 4890 Voltage Tweak GPU is no exception to this rule. Using the Asus Smart Doctor software and just a click and drag of the mouse you can increase the core voltage of this already fast GPU. Usually voltage tweaks are relegated to pencil mods, or resorting to soldering or software tricks to increase the core voltage, just a hair, to give an enthusiast the advantage they need to pull off that sweet score they want.
The Asus 4890 Voltage Tweak allows you to increase the core voltage without having to resort to such primitive methods. Take a GPU that is already capable of a 950 Mhz speed (overclocked) without tweaking the voltage and add a little voltage to it and you could be looking at 1 GHz core speed bragging rights. That little advantage that enthusiasts look for without all the convolutions to get it. Asus is truly pushing the envelope with the 4890 Voltage Tweak, and once again embracing the true enthusiast in all of us.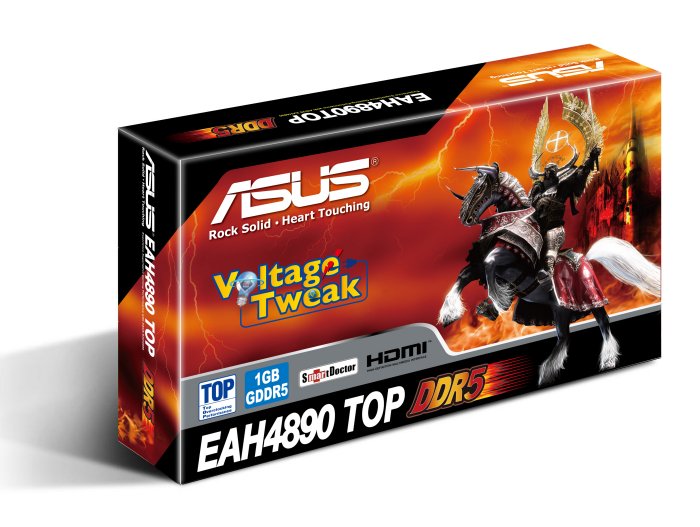 About ASUS
ASUS, a technology-oriented company blessed with one of the world's top R&D teams, is well known for high-quality and innovative technology. As a leading company in the new digital era, ASUS offers a complete product portfolio to compete in the new millennium.
In 2007, one in three desktop PCs sold was powered by an ASUS motherboard; and the company's 2007 revenues reached US$6.9 billion.
ASUS products' top quality stems from product development. It's like learning Chinese Kung-Fu; one must begin with cultivating the "Chi" and inner strength. Besides innovating cutting-edge features, ASUS engineers also pay special attention to EMI (electromagnetic interference), thermal, acoustics and details that usually go unnoticed to achieve complete customer satisfaction. ASUS notebooks are the first TCO'99-certified notebooks worldwide.
The requirements for this honor include radiation emission control, energy (battery consumption), ecology (environment friendly) and ergonomics. To succeed in this ultra-competitive industry, great products need to be complimented by speed-to-market, cost and service. That's why all 8,000 over employees of ASUS strive for the "ASUS Way of Total Quality Management" to offer the best quality without compromising cost and time-to-market while providing maximum value to all customers through world-class services.
With unyielding commitment to innovation and quality, ASUS won 2,568 awards in 2007, meaning on average, the company received over 7 awards every day last year. BusinessWeek has ranked ASUS amongst its InfoTech 100 for the 10th straight year. ASUS has also achieved the number one title on the annual league table of Taiwan Top 10 Global Brands with a brand value of 11.96 billion US dollars.
Corporate Vision
Imagine innovations that simplify our lives and enable us to realize our full potential. It is technologies' responsibility to accommodate us, not the other way around, because all devices should perform and communicate seamlessly anytime, anywhere.
ASUS thrives to become an integrated 3C solution provider (Computer, Communications, Consumer electronics).
Mission and Value
As a major player of the IT industry, ASUS has established its corporate mission: Provide innovative IT solutions that empower people and businesses reaching their full potential.
The philosophy of ASUS product development is to do the fundamentals well first before moving forward. Started with computer components such as motherboards, graphic cards, and optical storage devices, ASUS now has now over 16 product lines, including desktop barebone systems, servers, notebooks, handhelds, network devices, broadband communications, LCD monitors, TVs, wireless applications, and CPT (chassis, power supply and thermal) products.
Achieving Our Mission
Passion for Technology
Technology is the heart of ASUS. We continue to invest in our world-class Research and Development so that we are always able to provide leading-edge innovations to people and businesses.
Quality
Quality is of utmost importance to ASUS. We continue to refine our quality management process to ensure customers receive quality solutions cost effectively.
Long-term Relationships
Whether they are our customers, media, shareholders or consumers, we believe in growing with our partners at all levels. Relationships with those key stakeholders are one of the most important factors of our continuing success.
Perseverance
All ASUS employees share the same sense of purpose. We thrive under pressure and we look forward to challenges. And all of us are working to accomplish the same mission, to empower people with innovative IT solutions.
Management Philosophy
| | |
| --- | --- |
| | Inspire, motivate and nurture our employees to explore their highest potential |
| | Commit to integrity and diligence; focus on fundamentals and results |
| | Endlessly pursue to be number 1 in the areas of quality, speed, service, innovation and cost-efficiency |
| | Strive to be among the world-class high-tech leaders and to provide valuable contributions to humanity |
Features
Redefine HD Gaming
The ATI Radeon HD 4800 Series graphics cards boast up to 3 times the performance of the previous generation1 of GPUs and deliver a cinematic gaming experience. These graphics cards possess the same engine architecture as the award-winning ATI RadeonTM HD 4800 Series and can propel you deep into your game play with fast frame rates and high resolutions. Enhanced anti-aliasing (4X AA) and anisotropic filtering creates striking graphics with unparalleled realism so you can jack up the settings on the most demanding next-generation games. Play today while preparing for tomorrow with Microsoft DirectX® 10.1 and scalable ATI CrossFireXTM technology in dual mode.
Break-through Efficiency
Save time and energy with the ATI RadeonTM HD 4800 Series graphics cards which provide optimal performance, break-through efficiency and stability. These graphics cards are a great option for business users who engage in video conferencing or use creative applications that require fast frame rates and exceptional visual quality. With platform-independent intelligent power management, the ATI RadeonTM HD 4600 Series graphics cards deliver the power needed to blaze through even the most intense applications while intuitively conserving energy at idle or when demand is low. Expand your visual workspace with multi- monitor support for advanced multi- tasking to help you get more done in less time.
Go Beyond HD Video
Add an ATI Radeon HD 4800 Series graphics card to your PC and watch the latest Blu-ray and HD movies play with incredible fidelity1 – upscale to nearly twice the display resolution of HD content.2 Take full advantage of Blu-ray functionality with dual-stream, picture in picture (PIP) capabilities. Sophisticated new features within ATI AvivoTMHD technology give you the freedom and flexibility to edit videos and convert them to H.2.64 and MPEG-2 formats. Support for the latest audio visual interconnects ensures you can take advantage of the latest display technology.
HDMI Video and Audio
A system with an ATI RadeonTM HD 4800 Series graphics card can help enhance the HD entertainment experience by providing a seamless connection to an HDTV or home theater system. With built-in 7.1 surround sound audio (AC3 / DTS ), the new GPUs and graphics cards support single cable connection directly to a compatible HDTV, projector or receiver. This single cable carries both the HD video and 8 channel audio for a clean, high definition connection. Some graphics cards will be equipped with an HDMI connector, while others will output the HDMI signal using a special ATI Radeon DVI-I to HDMI adapter. These options give consumers more options and flexibility when connecting their PCs to monitors or home theaters for maximum enjoyment of HD content. The new GPU also supports xvYCC color which can display a wider range of color when connected to capable HDTVs.
Microsoft® DirectX® 10.1 support
ATI RadeonTM HD 4800 series GPUs offer full support for the new DirectX® 10 and DirectX® 10.1 API (Application Program Interface) from Microsoft; ready to meet the demanding needs of new, next generation games. DirectX 10 is the first totally new DirectX in the last 4 years and brings important graphics innovations that can be used by game developers for the next generation of games. DirectX 10 introduces crisp, never-beforeseen detail-rich images, visual effects and game dynamics capable of accurately simulating the real world. No matter which ATI RadeonTM HD 4600 Series GPU you choose, you can be assured that games will look as good as the developer intended!
ATI CrossFireXTM Technology
New ATI CrossFireXTM multi-GPU technology takes your gaming experience to the next level with more scalability, performance and compatibility. The technology combines the awe-inspiring capabilities of multiple ATI RadeonTM graphics cards and an ATI CrossFireX ready motherboard to meet the hard-core demands of your alternate reality. New ATI RadeonTM HD graphics cards are designed with an internal ATI CrossFireXTM Bridge Interconnect system to simplify installation. Experience stunning visual realism in today's demanding 3D games with uncompromising image quality, especially on HD displays.
Microsoft® Windows Vista®
ATI RadeonTM HD 4800 series graphics cards provide support for the Microsoft® Windows Vista® operating system and take advantage of the Windows AeroTM graphical interface. You will be amazed by the dazzling 3D visual effects and have peace of mind that the ATI CatalystTM software and drivers are designed and thoroughly tested to ensure full compatibility and stability to help keep you up and running. All these new technologies and features make the ATI Radeon HD 4800 series of GPUs the ideal solution for ultimate HD gaming and HD video entertainment with the Windows Vista OS.
Specifications
GPU

HD 4850 512MB


HD 4850 1GB


HD 4870 1GB

HD 4890 1GB

Core Design

Rv770

Rv770

Rv770

Rv790

GPU Frequency

625 MHz

625 MHz

750 Mhz

850 Mhz

Memory Frequency

993 MHz

993 Mhz

900 Mhz

975 Mhz

Memory Bus Width

256-bit

256-bit

256-bit

256-bit

Memory Type

GDDR3

GDDR3

GDDR5

GDDR5

# of Stream Processors

800

800

800

800

Texture Units

40

40

40

40

ROPS

16

16

16

16

Bandwidth (GB/sec)


63.6

63.6

115.2

124.8

Process

55nm

55nm

55nm

55nm
As you can see to outward appearances the Asus HD 4890 essentially has the same specifications as the HD 4870 1 GB, The Asus 4890 features a faster core, and faster memory speed, and the core it uses has been dubbed the rv790 core. So it seems from the 4870 1 GB to the 4890 1 GB it's all about the core which now boasts a faster then ever speed and extended overclocking abilities. We like to check the advertised specifications against GPU-Z so here's the GU-Z shot.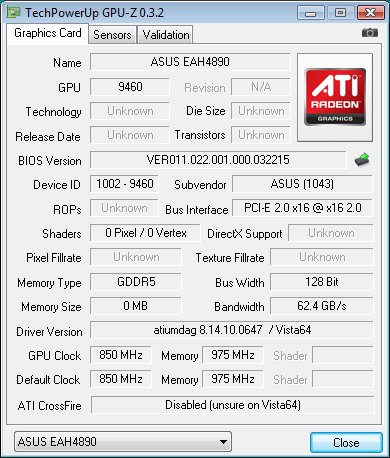 You can see that everything GPU-Z could detect is just as advertised. GPU-Z obviously needs an update before it can read all the specifications of the 4890 but that's to be expected with a core redesign like the rv790.
The Asus 4890 Voltage Tweak will go a little farther than most ordinary 4890s because you can increase the core voltage through the Asus Smart Doctor utility.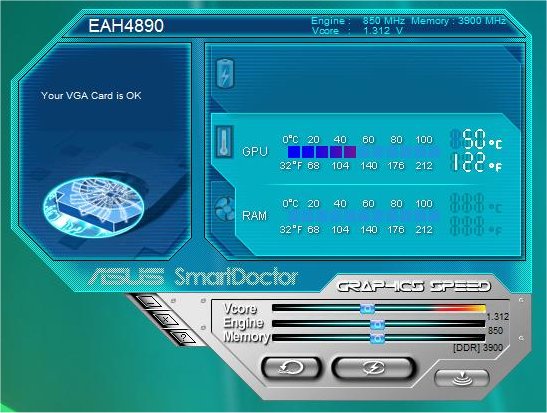 Notice the top slider is Vcore and it's currently set to 1.312 which is stock voltage for the Asus 4890 Voltage Tweak Edition. Grab that slider and move it to the right and you can easily apply up to 1.45v to the 4890 core giving it a little more overclocking ability. We'll save just how much for the overclocking section.
PICTURES & IMPRESSIONS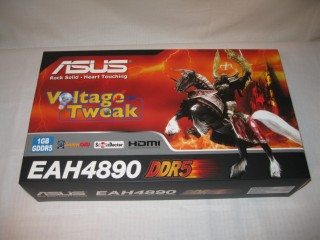 The Asus 4890 comes in an attractive box with a nice graphic and proclaims that it is the 4890 and has the Voltage Tweak option.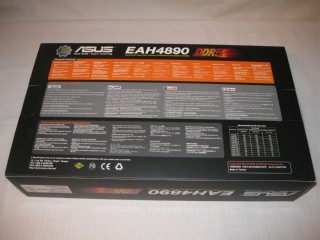 The back of the box contains plenty of information and specifications to help inform the consumer about the purchase of the GPU.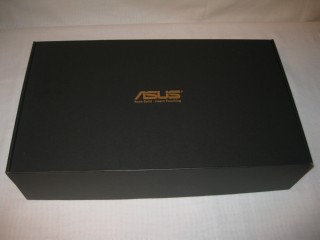 Inside the brightly colored box you'll find a substantial black box, if we know Asus they'll have the equipment further protected inside the outer inner box.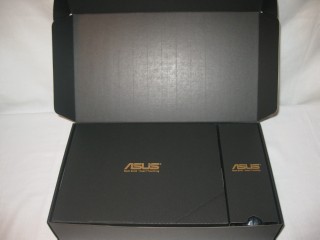 Inside the box that was inside the outer box we have yet more boxes. Once we peel away this layer we should get to see some bundle and equipment.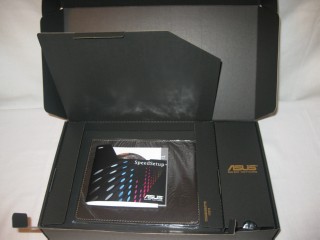 The larger box on the left had a quick start guide and driver disk along with a nice little surprise. We found a snazzy leather like mouse pad branded with the Asus logo. It could have been a little better, it could have been an Asus Bikini for our girlfriend but the Mouse pad doesn't hurt our feelings. We'd still like to have the option for an Asus Bikini though. Maybe make the top of the bikini out of mouse pads but girls and bikinis and Asus should go together.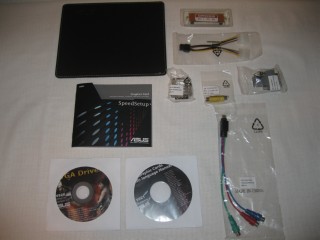 The whole bundle laid out has the Quick start guide, driver disk, VGA card manual disk, mouse pad, optical adapters, DVI to HDMI, DVI to VGA, crossfire bridge, and dual molex to single 6 pin power connector. We thought that was a little strange including a single 6 pin adapter because the 4890 uses two six pin power connectors but in our case we don't need power adapters so it's not an issue for us.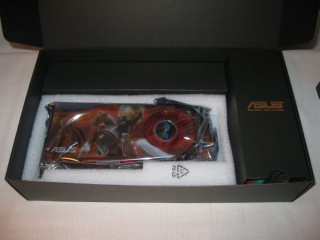 Finally with all the layer peeled away we get a glimpse of the Asus 4890 nicely protected in an anti static bag. If we'd encountered any more layers of protection we'd have called in a couple of miners to dig through all the layers. We really don't mind though, a card protected like this is sure to arrive in pristine condition.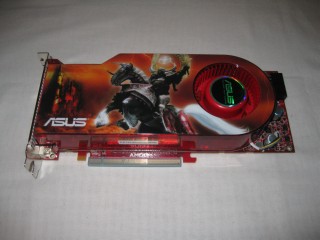 The Asus 4890 Voltage Tweak edition sports the typical ATI GPU look with a bright red body and squirrel cage fan layout.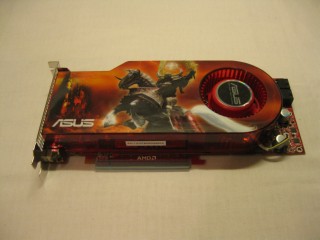 We discovered that if you angle the camera just right you can light up the whole photographic background with a matching rose red color from the shiny red finish.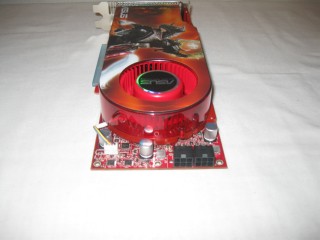 Standard two 6 Pin PCI-e Power connectors on this beast. Solid capacitors aren't hurting our feelings any. From handling the card it has a nice solid feel to it and from the layout we don't think aftermarket cooling will be a problem but probably un-needed unless your going for the extreme or bragging rights.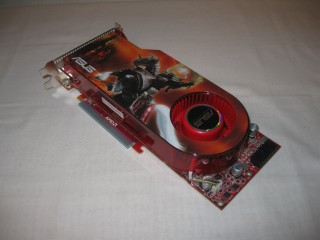 Asus has been shipping most of their cards with plastic protectors covering the PCI-E connectors, Crossfire bridge's and in most cases the DVI and video connectors. We like this little added detail because the extra protection is welcome and it helps keep our eager hands from leaving finger prints on the various connectors.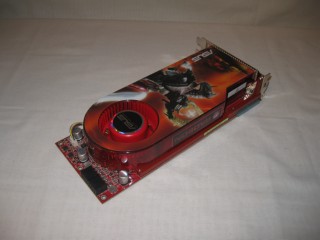 One of the things we like about ATI cards is most of the major GPU's come with a stabilization bar along the top for added structural strength. It never hurts to reinforce the top portion of the card where pressure is applied to insert it into the PCI-E slot.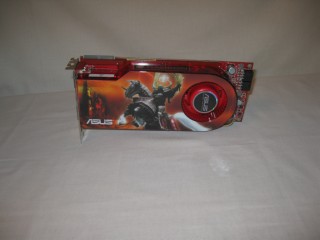 It might just be the Voltage Tweak lettering on the box but we feel like this card is promising some record setting core speeds and we've been hearing rumors of 1 GHz and above on some models.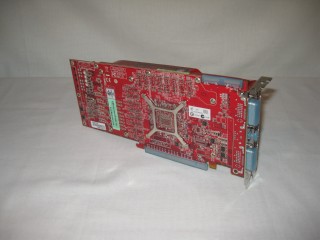 The back of the card is unremarkable but you can get a look at the protective covers on the video out ports and protective cover on the Crossfire connector's. We generally uncap a DVI port and the PCI-E connector and leave the others in place to protect them until they are needed.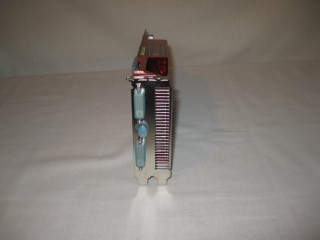 The 4890 like it's brethren is a dual slot card and it sports the same basic design we've seen across the last few generations of ATI dual slot cards. The bracketing is nice and solid and the venting provides good airflow out of the chassis.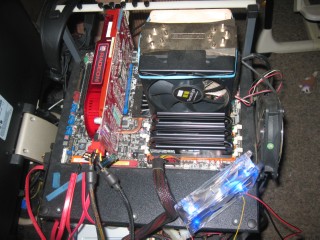 Then finally there's the Asus 4890 Voltage Tweak Edition seated on the test rig. No worried for temperature testing we took the 140mm fan we've got blowing across the Ram and GPU off the rig. We can tel you though that having a fan positioned like that provides a good measure of cooling for both the Ram and GPU so it's an option you might want to think about.
TESTING & METHODOLOGY
To test the Asus 4890 Voltage Tweak 1 GB we did a fresh load of Vista 64. We loaded all the latest drivers for the Asus P6T Deluxe motherboard, downloaded the latest drivers for the GPU, and applied all patches and updates to the OS. Once we had everything updated and the latest drivers installed, we got down to installing our test suite.
Once we had everything up to snuff, we loaded our testing suite, applied all the patches to the games, and checked for updates on 3DMark06 because it was crashing on load. We found that some update we'd done had knocked out the OpenAl portion of 3Dmark06's install. We downloaded the OpenAl standalone installer and ran that, which fixed our crash in Vista 64 (Ultimate). Then, we went ahead and installed 3DMark Vantage, stoked up a pot of coffee and we were ready to run. We ran each test at least three times and report the average of the three test runs here. Some runs were made more than three times (the coffee didn't get done quickly enough), then we cloned the drive using Acronis to protect ourselves from any little overclocking accidents that might happen. Testing was done at the default clock speed of the GPU's tested unless otherwise noted.
Test Rig
Test Rig
"Quadzilla"
Case Type
Top Deck Testing Station
CPU
Intel Core I7 965 Extreme (3.74 GHz 1.2975 Vcore)
Motherboard
Asus P6T Deluxe (SLI and CrossFire on Demand)
Ram
Corsair Dominator DDR3 1866 (9-9-9-24 1.65v) 6 GB Kit
CPU Cooler
Thermalright Ultra 120 RT (Dual 120mm Fans)
Hard Drives
Patriot 128 GB SSD
Optical
Sony DVD R/W
GPU Tested
Asus HD Radeon 4890 Voltage Tweak Edition
PNY GTX-285 Performance Edition
EVGA GTS-250 1 GB Superclocked
XFX GTX-285 XXX
BFG GTX-295
Asus GTX-295
EVGA GTX-280 (2)
XFX 9800 GTX+ Black Edition
BFG GTX-260 MaxCore
Leadtek GTX-260
Drivers for Nvidia GPU's 182.06
Palit HD Radeon 4870X2
Sapphire HD Radeon 4870 512MB
Diamond HD Radeon 4879 1 GB
Sapphire HD Radeon 4850 Toxic
Drivers for ATI GPU's 8.12
Case Fans
120mm Fan cooling the mosfet CPU area
Docking Stations
Thermaltake VION
Testing PSU
Thermaltake Toughpower 1200 Watt
Legacy
Floppy
Mouse
Razer Lachesis
Keyboard
Razer Lycosa
Gaming Ear Buds

Razer Moray
Speakers
Logitech Dolby 5.1
Any Attempt Copy This System Configuration May Lead to Bankruptcy
Synthetic Benchmarks & Games
Synthetic Benchmarks & Games
3DMark06 v. 1.10
3DMark Vantage
Company of Heroes v. 1.71
Crysis v. 1.2
World in Conflict Demo
FarCry 2
Crysis Warhead
Stalker Clear Sky Stand Alone Benchmark
Company Of Heroes v. 1.71

Company of Heroes(COH) is a Real Time Strategy(RTS) game for the PC, announced on April, 2005. It is developed by the Canadian based company Relic Entertainment and published by THQ. COH is an excellent game that is incredibly demanding on system resources thus making it an excellent benchmark. Like F.E.A.R., the game contains an integrated performance test that can be run to determine your system's performance based on the graphical options you have chosen. It uses the same multi-staged performance ratings as does the F.E.A.R. test. Letting the games benchmark handle the chore takes the human factor out of the equation and ensures that each run of the test is exactly the same producing more reliable results.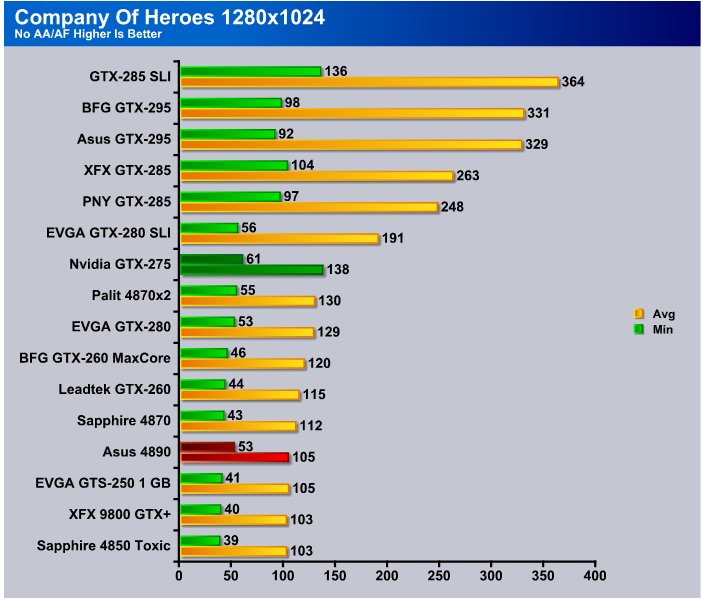 The Asus 4890 comes out 10 FPS ahead of the 4870 in minimum FPS at this resolution but the 4870 comes in 7 FPS ahead in average FPS.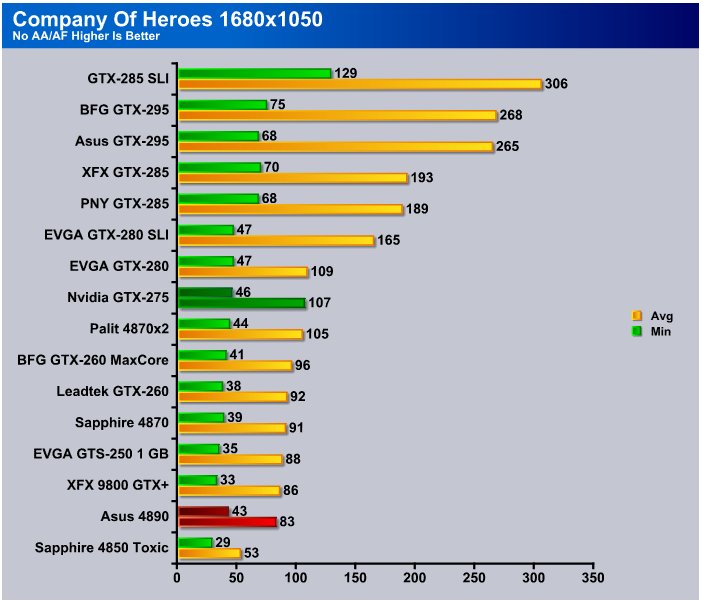 At 1680×1050 the the 4890 keeps it's minimum FPS lead over the 4870 and is still lagging behind in average FPS.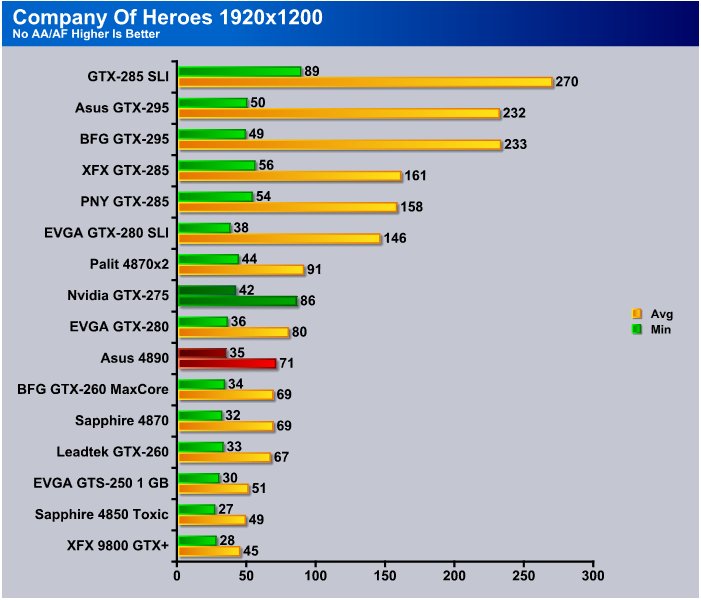 When we get to average FPS the 4890 jumps out ahead of the 4870 by a little bit.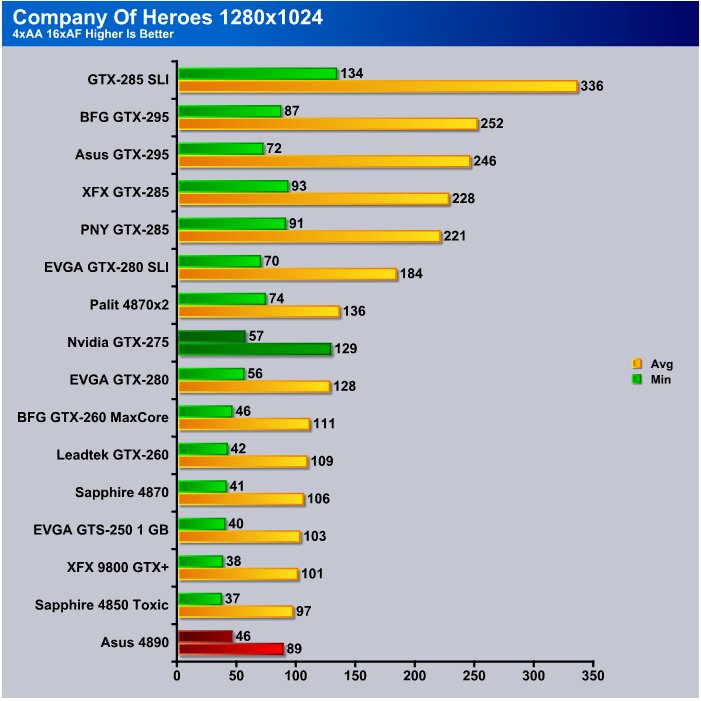 Turning on AA/AF we bottomed out the chart with the Asus 4890 on average FPS and by now were pretty sure were looking at a driver issue.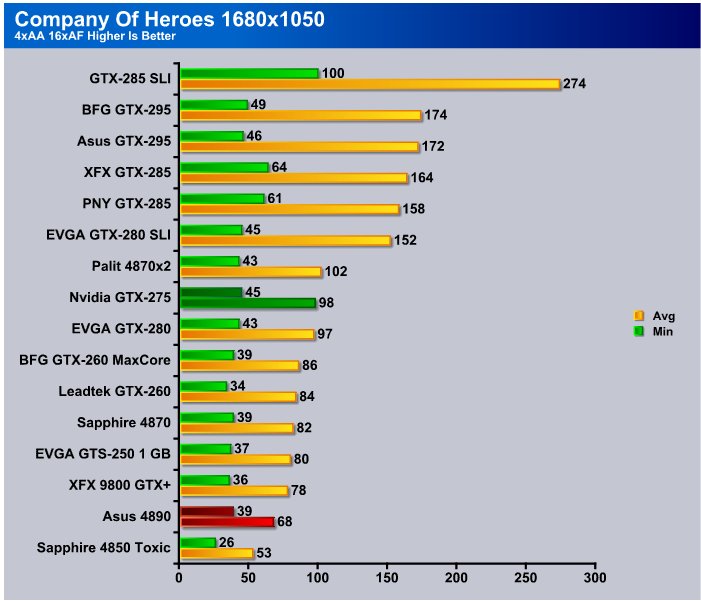 At 1680×1050 the 4890 matches the 4870 in minimum FPS but is still lagging behind in average FPS.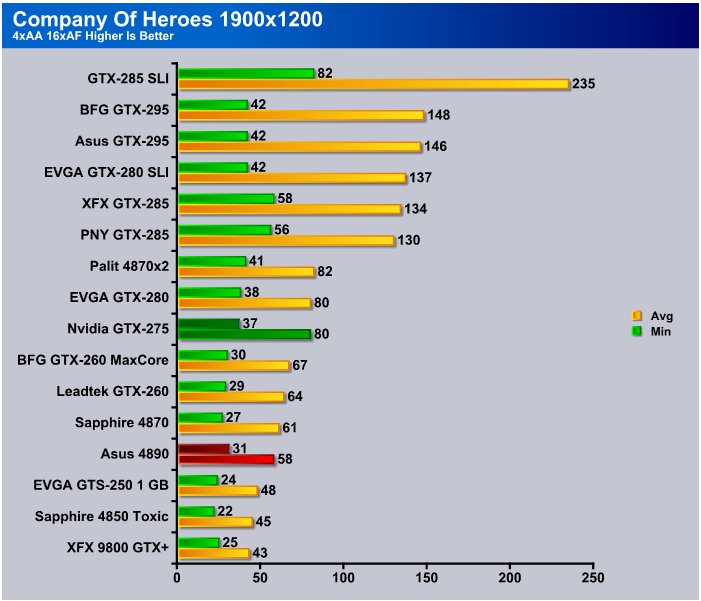 The Asus 4890 jumps ahead in minimum FPS here at the highest resolution tested and narrows the gap to 3 FPS in average FPS with the 4870. Like we said prolly driver issues.
World in Conflict Demo

World in Conflict is a real-time tactical video game developed by the Swedish video game company Massive Entertainment, and published by Sierra Entertainment for Windows PC. The game was released in September of 2007. The game is set in 1989 during the social, political, and economic collapse of the Soviet Union. However, the title postulates an alternate history scenario where the Soviet Union pursued a course of war to remain in power. World in Conflict has superb graphics, is extremely GPU intensive, and has built-in benchmarks. Sounds like benchmark material to us!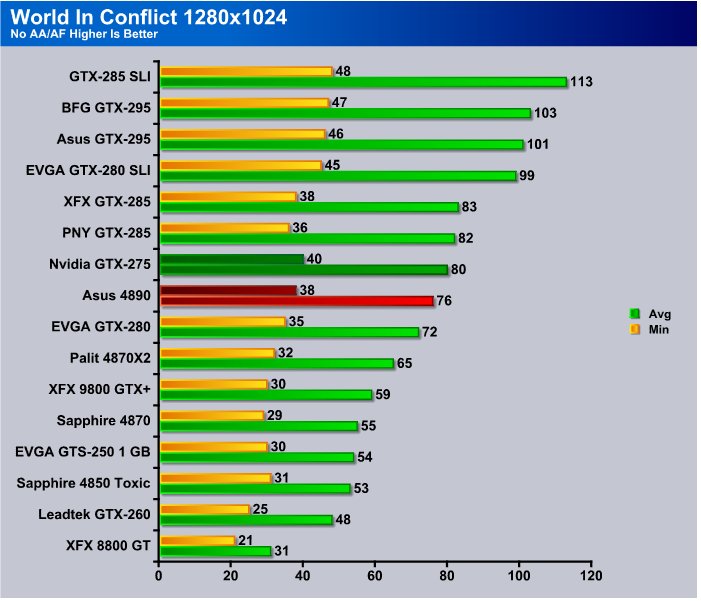 See what we mean about potential driver error in CoH, when we move to WiC the 4890 jumps right to where it should be, that's usually an indication of immature drivers.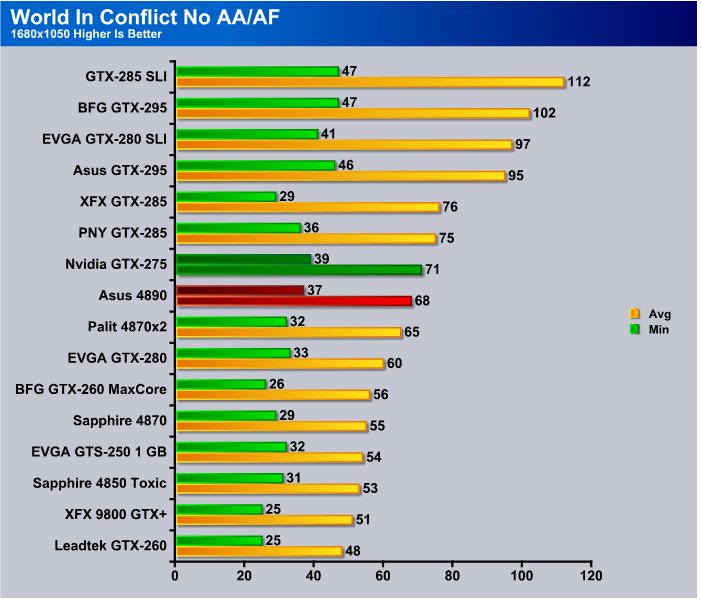 The Asus 4890 left the 4870 so far behind in WiC at 1680×1050 that the 4870 is wondering what blew by it.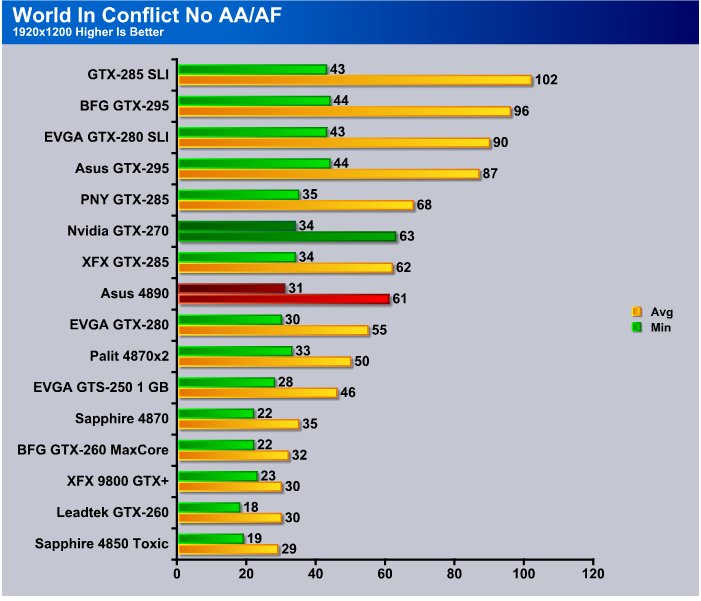 Please note that the chart says GTX-270, it's the GTX-275 and in our rush to get the two simultanious reviews coded we put GTX-270.  The Asus 4890 is still way out ahead of the 4870 at 1920×1200 so this looks like a pretty good perfomance gain over the 4870.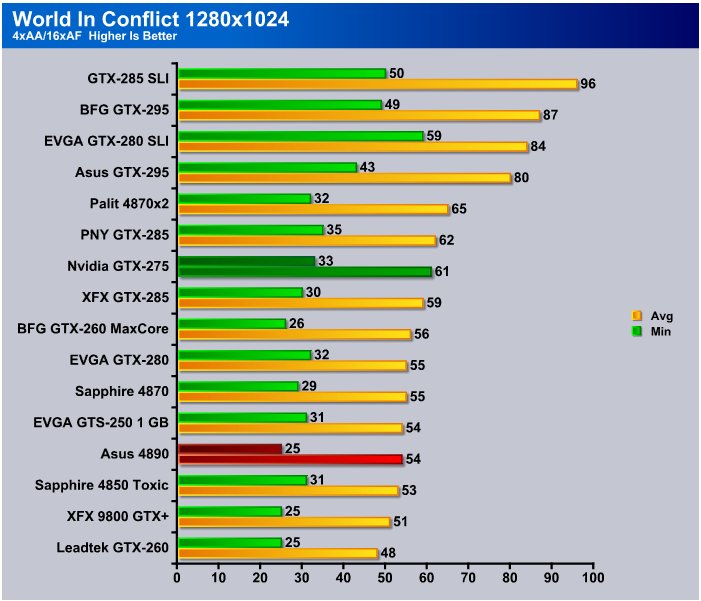 Then when we move to 1280 which admittedly is a little CPU bound in WiC the 4890 drops below the 4870 again. We can already see that we're going to heve to retest with mature drivers sooner than we'd hoped.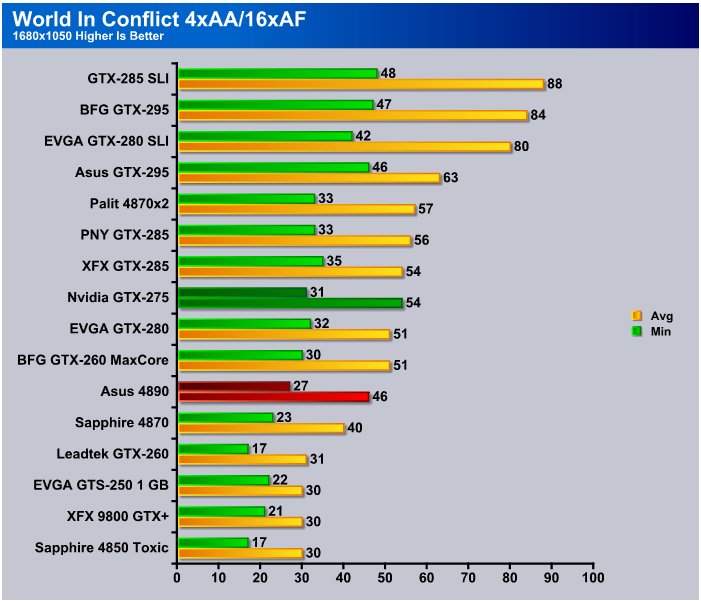 Moving to 1680×1050 the Asus 4890 is starting to get stressed but with the insane amounts of eye candy we use for testing it's to be expected.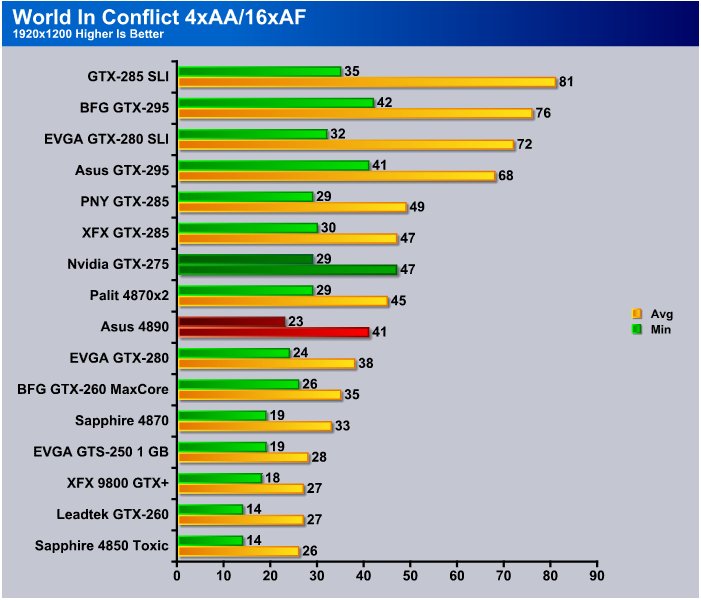 When we got to 1920×1200 a lot of th GPU's are stressed and the Asus 4890 stays out ahead of the 4870. With the higher clocks the Asus 4890 offers we expect it to gat a nice lead over the 4870 in all the tests with more mature drivers.
Crysis v. 1.2

Crysis is the most highly anticipated game to hit the market in the last several years. Crysis is based on the CryENGINE™ 2 developed by Crytek. The CryENGINE™ 2 offers real time editing, bump mapping, dynamic lights, network system, integrated physics system, shaders, shadows, and a dynamic music system, just to name a few of the state-of-the-art features that are incorporated into Crysis. As one might expect with this number of features, the game is extremely demanding of system resources, especially the GPU. We expect Crysis to be a primary gaming benchmark for many years to come.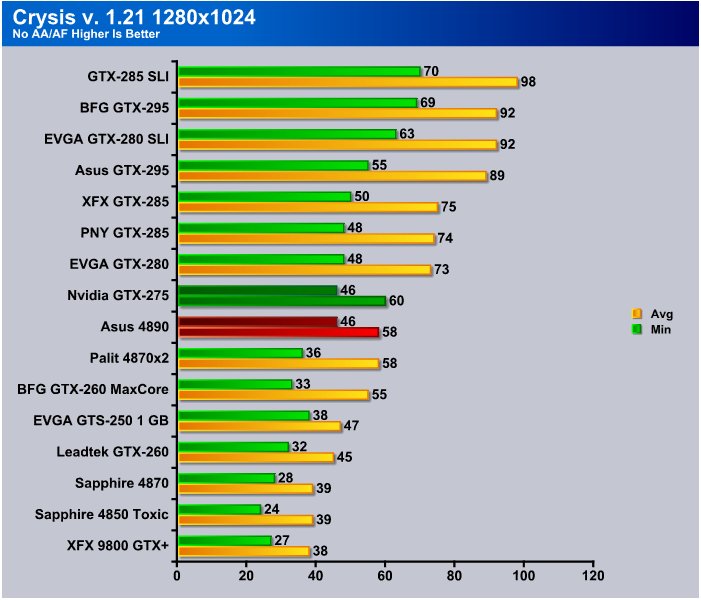 Crysis which is tough on GU's all around sees the 4890 way out ahead of the 4870, with the 4890s newer rv790 core and faster core clocks this is what we expect to see.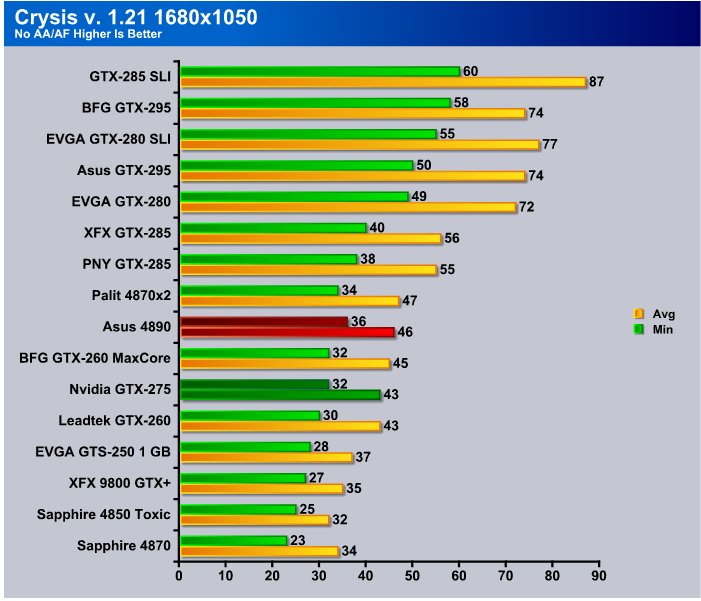 The Asus 4890 looks like it got a jump not only on the 4870 but also the GTX-275. Lets see how it fares at 1920×1200.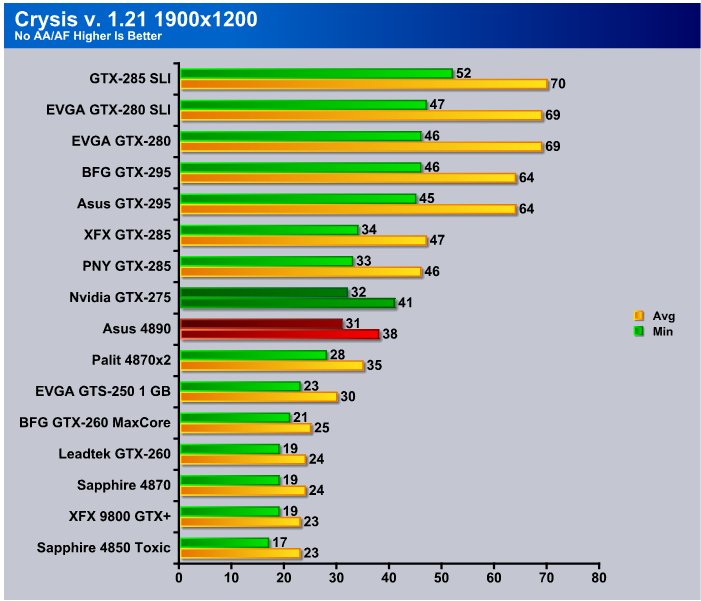 At the highest resolution tested 1920×1200 with no AA/AF the 4890 is still a respectable distance ahead of the 4870 512 Sapphire card. Crysis like frame buffer memory and a nice large ram kit so that's probably a pretty typical result.
With AA/AF turned on at 1280×1024 the Asus 4870 churns out a pretty good performance. It once again sneaks by the GTX-275 and it looks like in some cases the overclock ability of the two cards might make a difference.
SpaceAt 1680×1050 the Asus 4890 is shining, it's jumped in front of the GTX-275 and competing with the GTX-285 but lets see how it holds up at 1920×1200.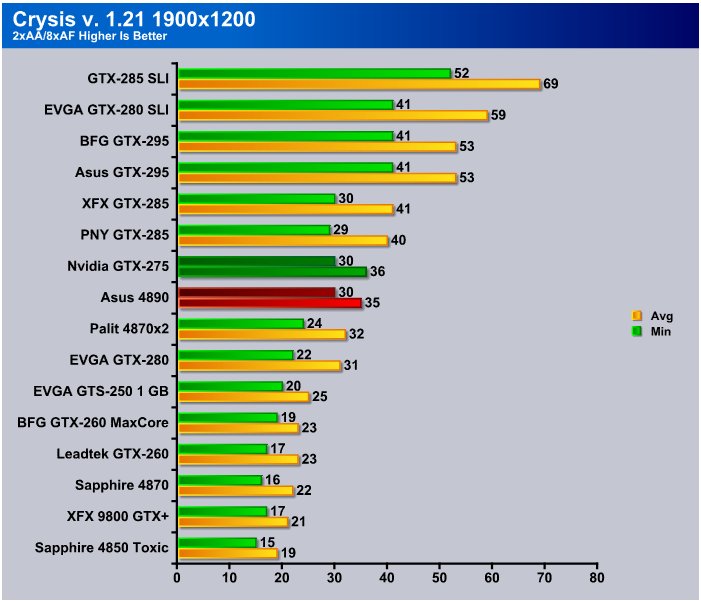 The GTX-275 popped up on top of the Asus 4890 but only by one FPS and that's pretty impressive for the 4890 because the GTX-275 is designed for AA/AF and tends to do well with eye candy turned on.
CRYSIS WARHEAD

Crysis Warhead is the much anticipated sequel of Crysis, featuring an updated CryENGINE™ 2 with better optimization. It was one of the most anticipated titles of 2008.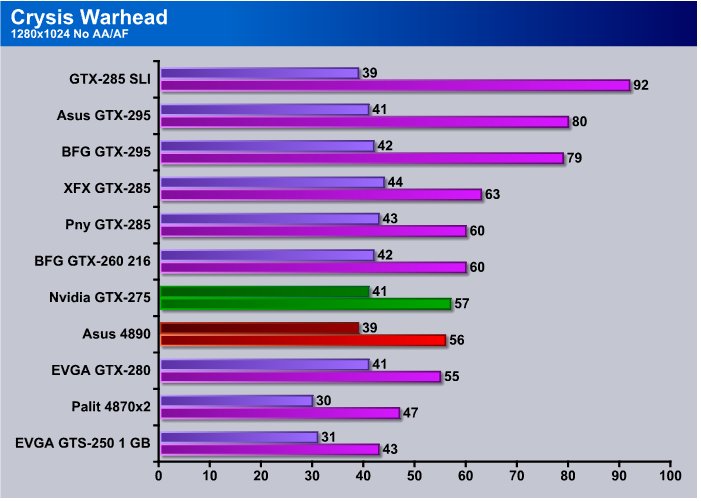 Crysis Warhead sees the Asus 4890 and GTX-275 performing at about the same level at the lowest resolution we tested. We're still expecting to get a call in a few weeks asking for a retest with more mature drivers though. We will of course retest but we'd like someones first born child as remuneration for that effort. (Kidding) We are thinking of charging a new FPS game title for retesting. (Kidding again it is April Fools Day after all)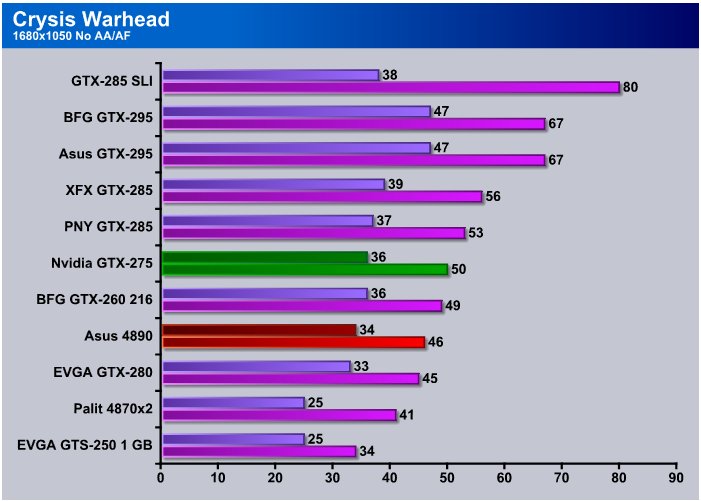 We really wish we had time to bench all the cards in Warhead but we had two monster cards on hand and one week to bench chart and review both so we got as much done as we could but in reality it takes a couple of weeks to go through one card normally so two in a week is a herculean effort.Were getting playable frame rates out of the 4890 but we'd like to have time to bench the 4870 in this one. We had it on loan a few miles away to another reviewer and couldn't get away to retrieve it.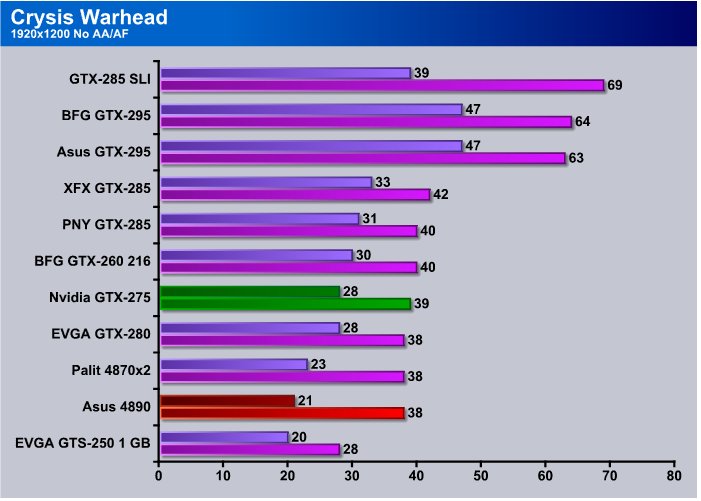 At 1920×1200 the Asus 4890 Voltage Tweak Edition is struggling a little but that's normal for Warhead, crank the eye candy up far enough and Warhead can make fully grown GPU's cry like babies.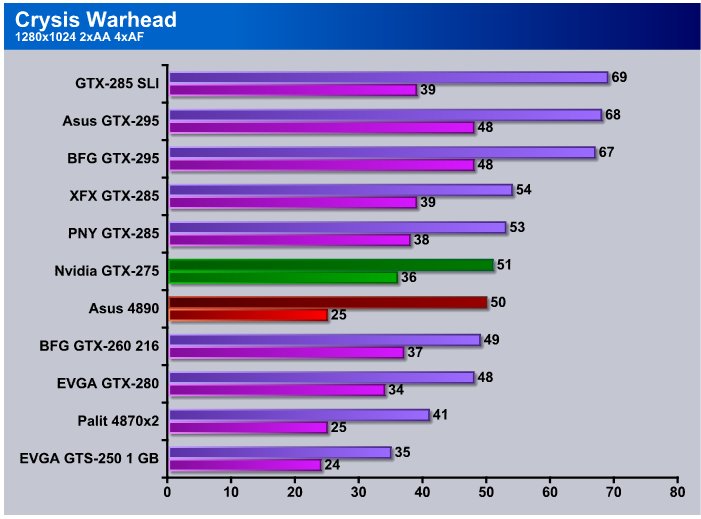 In Warhead like a lot of games no matter what you do at 1280×1024 your a little CPU bound, we can't see it being normal for the 4890 to be running 25 FPS minimum anf 50 FPS aveage so were looking at CPU bound or driver glitch again.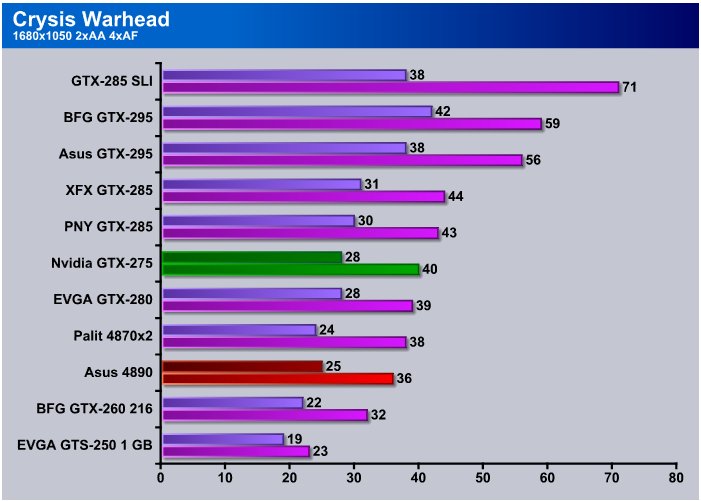 Hitting 1680×1050 with AA/AF enabled a lot of the cards are starting to struggle and sometimes we wonder about testing with such high levels of eye candy. At least it shows worst case situations but most people would be in options tweaking settings by this point.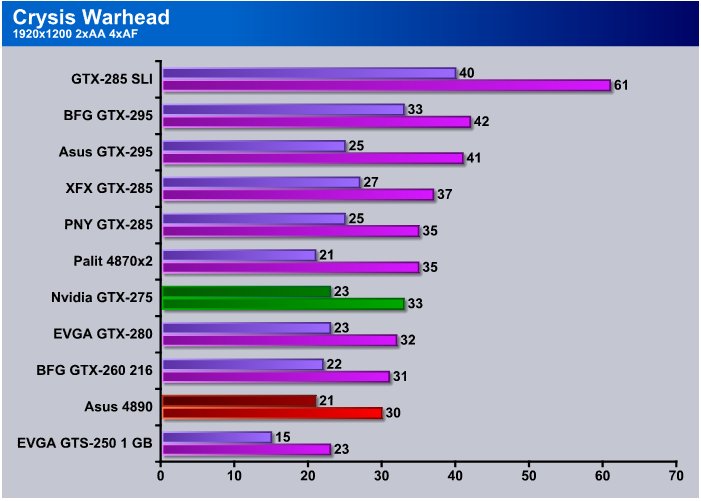 Then the highest and most painful level of resolution and eye candy we tested at we see the Asus 4890 at 21 FPS Minimum and 30 FPS Average which is pretty good considering even the dual GPU core cards are having a hard time coping.
Far Cry 2

Far Cry 2, released in October 2008 by Ubisoft, was one of the most anticipated titles of the year. It's an engaging state-of-the-art First Person Shooter set in an un-named African country. Caught between two rival factions, you're sent to take out "The Jackal". Far Cry2 ships with a full featured benchmark utility and it is one of the most well designed, well thought out game benchmarks we've ever seen. One big difference between this benchmark and others is that it leaves the game's AI (Artificial Intelligence) running while the benchmark is being performed.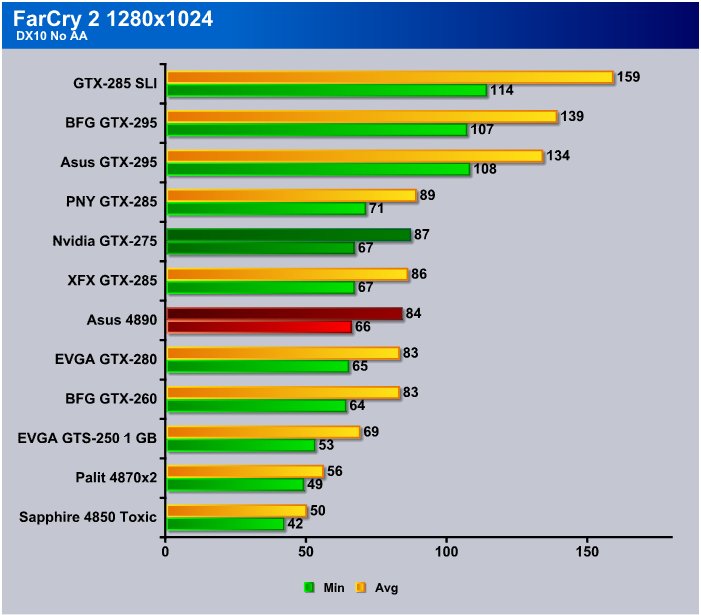 Farcry 2 and the Asus 4890 seem to be getting along pretty well, at 1280×1024 frame rates were high enough to please the most demanding enthusiast.
FarCry 2 is new enough we went ahead and got expanded data at 1680×1050 and it shows the Asus 4890 beating out the GTX-280 by a hair but still lagging a little behind the GTX-275.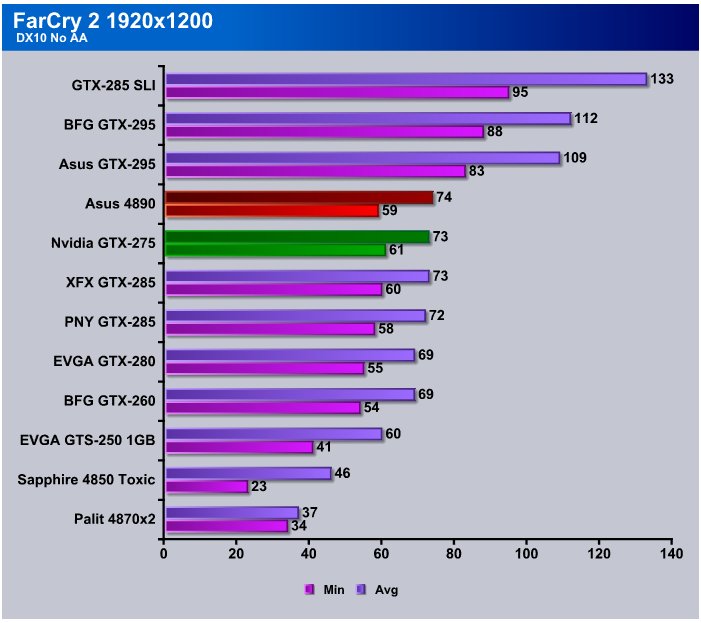 At 1920×1200 the Asus 4890 Voltage Tweak Edition squeezed out a win over the GTX-275 by one FPS. Keep in mind though that these are still mind blowing FPS being delivered by both cards and it was a give and take win. Minimum FPS the GTX-275 came in ahead by one FPS, and at Average FPS the Asus 4890 came out ahead by one. If you look at it that way it's more of a tie than a win but considering the positioning in the chart and the Frame rates both did really well in this test. With the short time frame we had only the 4890 and GTX-275 were tested with the newest driver so we can expect to see some repositioning when we retest the stack.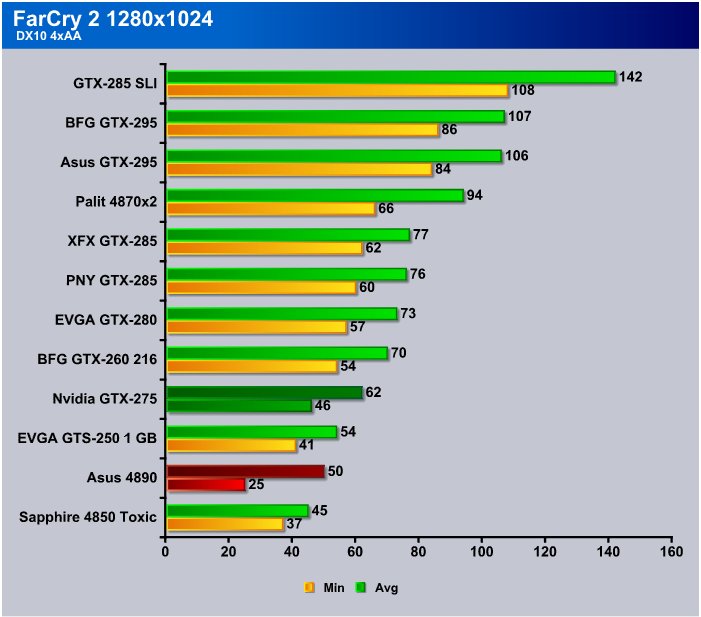 Getting back to 1280×1024 with AA/AF turned on the face of things appears to be changing, the Asus 4890 appears to be struggling a little but we suspect it's actually the CPU struggling to push enough data at it to keep it happy at this lower resolution.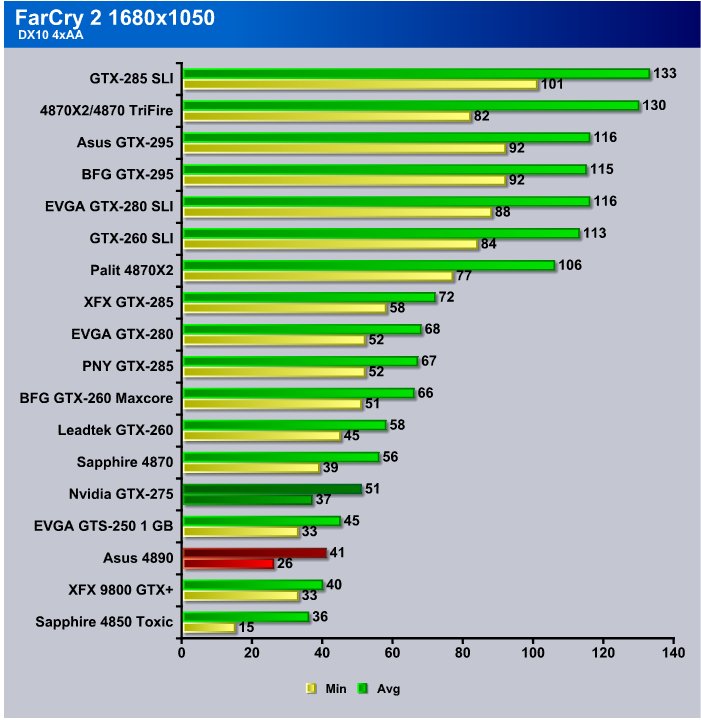 Again keep in mind we're using almost insane eye candy setting in FarCry2 and it shows on the GPU performances and we'd almost have to call early driver on this test. GPU's tend to be very consistent in their placement within a given price point and in this test they aren't, when that happens either we're asleep at the switch or there's a driver problem. Considering the number of energy shots we've downed there's no chance of sleep in the next decade so we suspect early drivers being a little rough.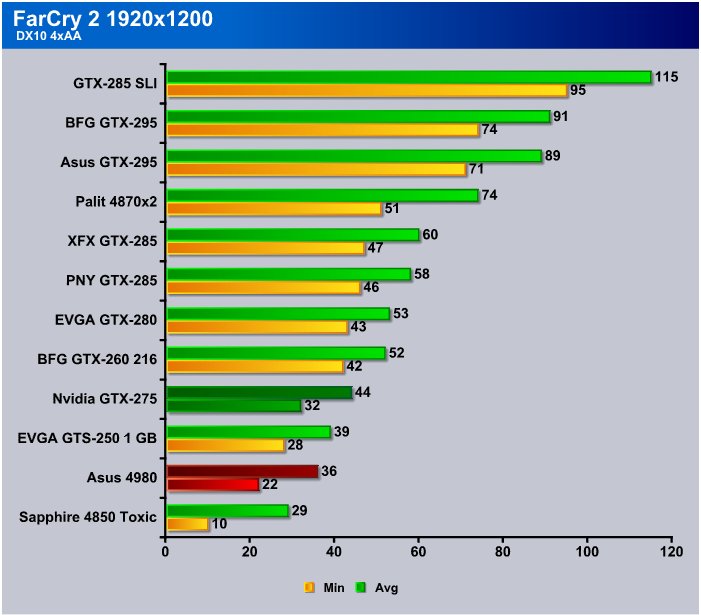 Again we see GPU's out of position at 1920×1200 and we carefully watched the benchmark at this resolution, the Asus 4890 didn't look like it was dragging in the benchmark but on paper it shows 22 FPS minimum. The GTX-275 fared considerably better.
Dawn of War 2 Warhammer 40,000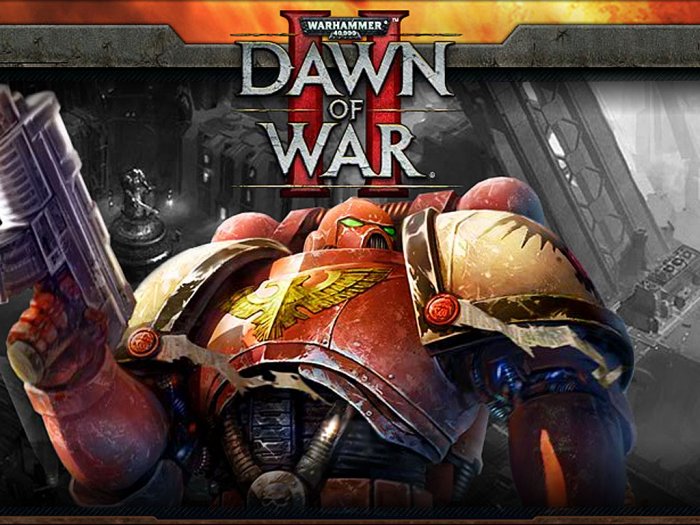 Developed by award winning Relic Entertainment, Dawn of War II ushers in a new chapter in the acclaimed Real-Time Strategy series – taking players to the brutal frontlines of war to lead an elite strike force on a mission to save the galaxy.
It is the 41st Millennium in Sub-Sector Aurelia – a cluster of worlds on the edge of the Galaxy – and a battle of epic proportions is about to begin. Ancient races will clash across the planets that dot this section of space, battling for the greatest of stakes – not only the claim to the land and its bounty – but the fate of each race.
With a focus on fast-action RTS gameplay, Dawn of War II brings to life the science fiction universe of Warhammer 40,000 like never before. Experience the intimate brutality of battle as you play through the epic campaign. Clash with enemies on battlefields ablaze with visceral hand-to-hand and ranged combat. Lead and develop your squads into the most battle hardened elite strike force in the Galaxy.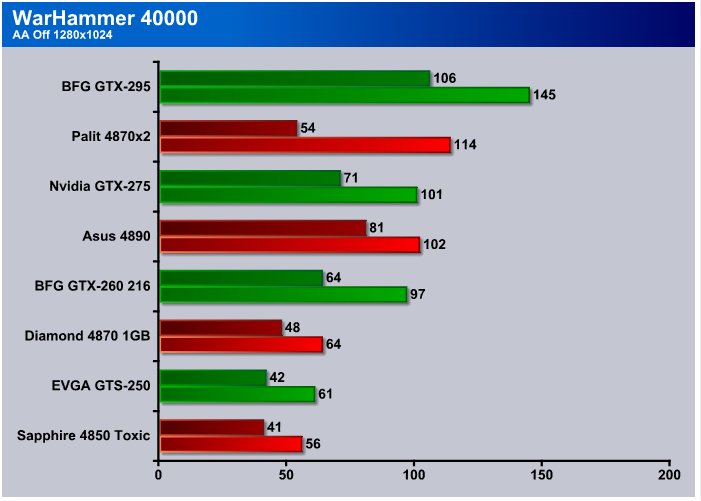 Dawn of War 2 Warhammer 40,000 is one of the titles we're looking at that benches well, scales well across the different GPU,s and is a new enough title to make an impact on GPU performance. In this series of charts we went with price point sorting. Meaning that the GPU's are positioned on the chart according to their price (or expected price) The Asus 4890 left the Diamond 4870 1GB wondering what blew past it.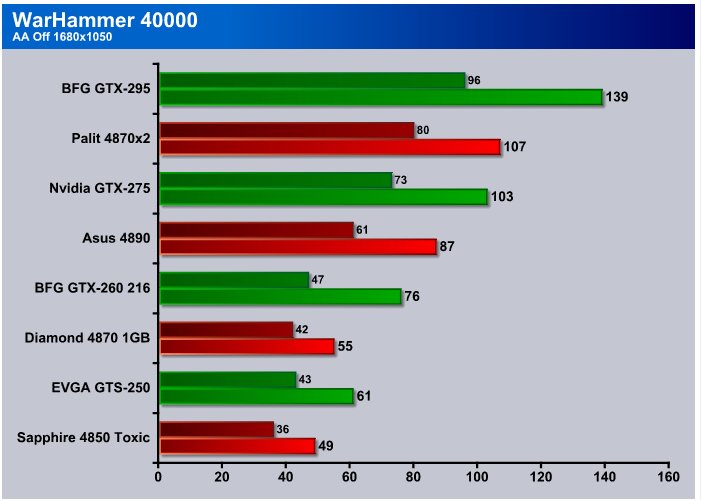 Hitting the 1680×1050 resolution you begin to see how much better a design the Asus 4890 is than the 4870. Minimum FPS the Asus 4890 is running 19 FPS faster than the 4870, and Average FPS it's running 32 FPS faster than the 4870, that's a pretty impressive performance gain generation to generation.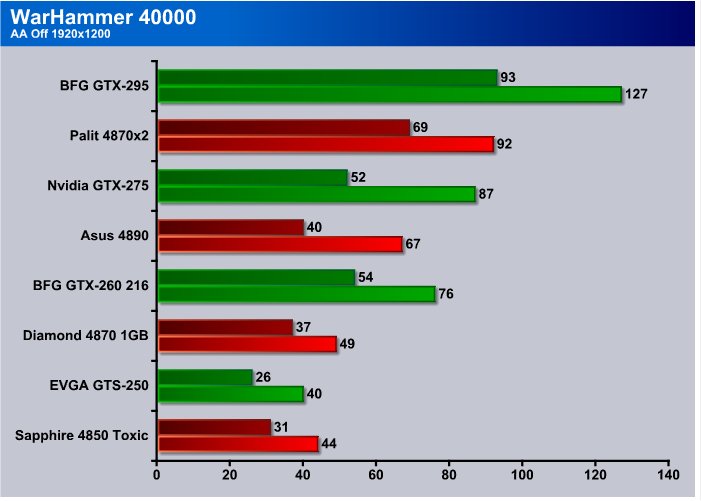 Even topped out at 1920×1200 and both the 4870 and 4890 sporting a hefty 1 GB of frame buffer memory the Asus 4890 comes out ahead of it's older brother the 4870. The move from rv770 core (4870) to rv790 (4890) had done this generation of ATI GPU's well.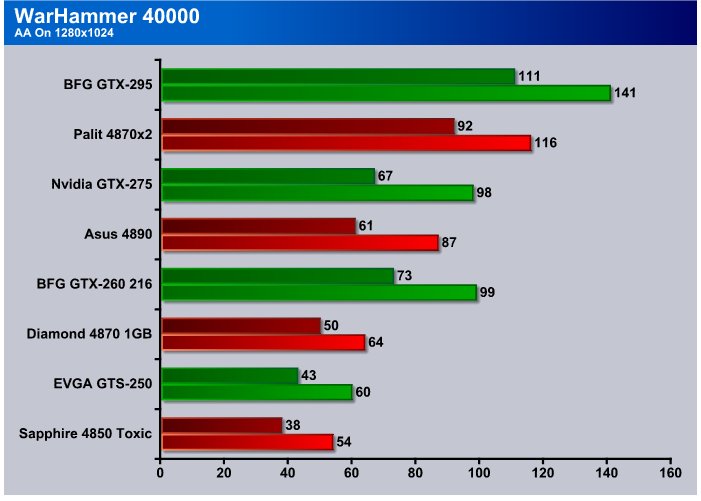 The AA setting in Warhammer in the game controls just says on and off, so rather than try and mess with driver level controls every time we benchmark it and possibly make settings mistakes we simply set it to on and let the game handle it. Compared to the 4870 1 GB the Asus 4890 is looking pretty good to us.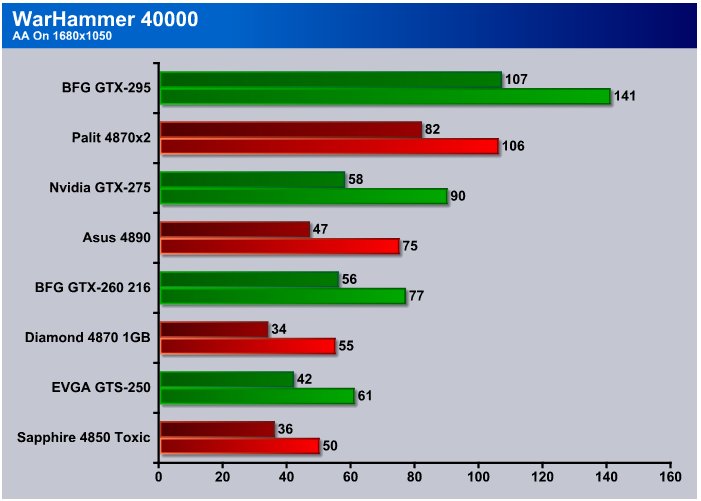 We can already tell the Asus 4890 Voltage Tweak Edition and the 4890 in general is going to be one of those "Doh" moments for people that purchased the 4870. Given the performance increase the 4890 offers many a 4870 owner is going to be left shaking their head.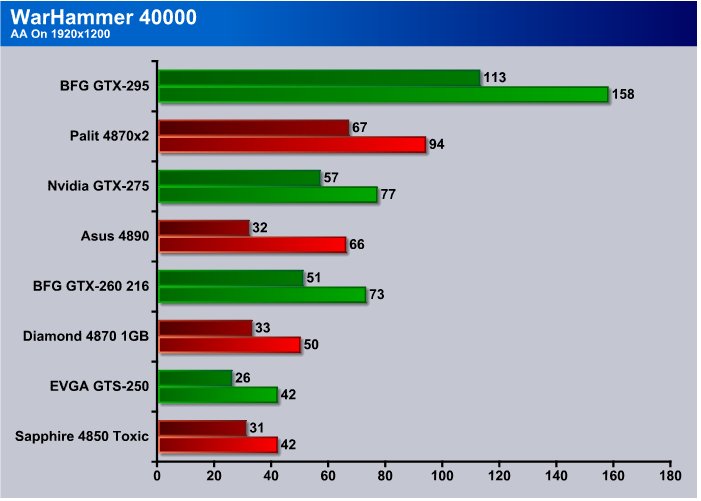 When we got to 1920×1200 the Asus 4890 was still churning out playable frame rates but notice the 4850, 4870 and 4890 all come close in minimum frame rates. Little things like that are a red flag for driver issues. They are all still in the playable frame rate range but someone out there writing drivers needs to take a look at that phenomenon.
Stalker Clear Sky
There's a new stand alone benchmark out for the new title Stalker Clear Sky and even though we had a tight deadline with the Asus 4890 Voltage Tweak Edition we wanted to get some Stalker action in. We didn't have time to run the whole stack against Stalker so we settled for just running the Asus 4890 against it and posted the screenies of the results. Expect to see more of it in our testing regiment in the near future (if we can come to a common ground on how to test and report the results).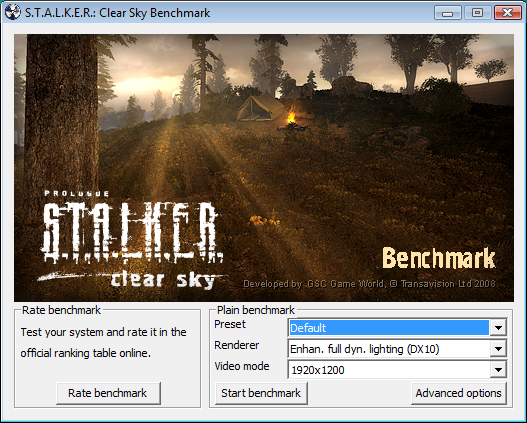 We ran the Stalker Benchmark at it's default settings with AA turned off and in Direct X 10 mode. We did go back and bench at 1680×1050 but that was just an extra step as you'll see Stalker is quite demanding even with AA turned off.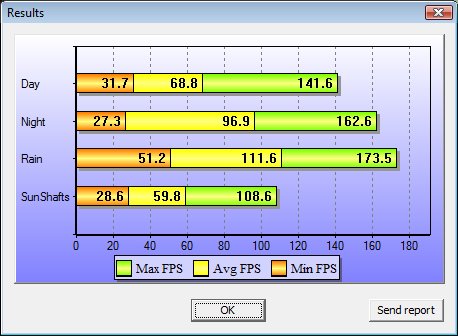 At 1280×1024 we see the Asus 4890 dipping down below 30 FPS, the magical number where graphics look rock solid to the eye, and even at this low resolution at night and during SunShafts (Aka God Rays) we dipped below the 30 FPS rate.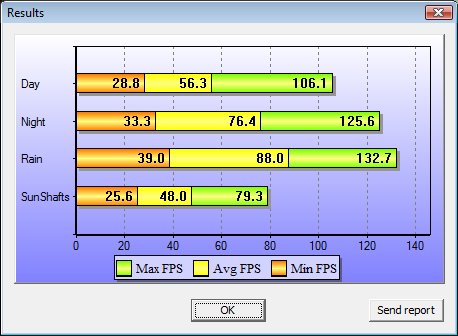 Moving into the 1680×1050 resolution you can begin to see that Stalker scales pretty well across resolutions. The graphic detail in the benchmark is pretty amazing and rivals the eye candy you can get in Crysis.
By the time we hit 1920×1200 every bench in this demanding game drops below 30 FPS except night scenes.
The at 1680×1050 with AA/AF set to 4xMsaa every single benchmark was below the 30 FPS level so you can see why we are looking at Stalker as a possible benchmark to make standard in reviews. It stresses the GPU as well as any game we've seen. Coming to a common ground on how to report Stalker scores seems to the the crux of the issue. We seem to be leaning toward averaging all 4 scores Day, Night, Rain, and SunShafts and reporting that number for Minimum and Average Frames.
3DMARK06 V. 1.1.0

3DMark06 developed by Futuremark, is a synthetic benchmark used for universal testing of all graphics solutions. 3DMark06 features HDR rendering, complex HDR post processing, dynamic soft shadows for all objects, water shader with HDR refraction, HDR reflection, depth fog and Gerstner wave functions, realistic sky model with cloud blending, and approximately 5.4 million triangles and 8.8 million vertices; to name just a few. The measurement unit "3DMark" is intended to give a normalized mean for comparing different GPU/VPUs. It has been accepted as both a standard and a mandatory benchmark throughout the gaming world for measuring performance.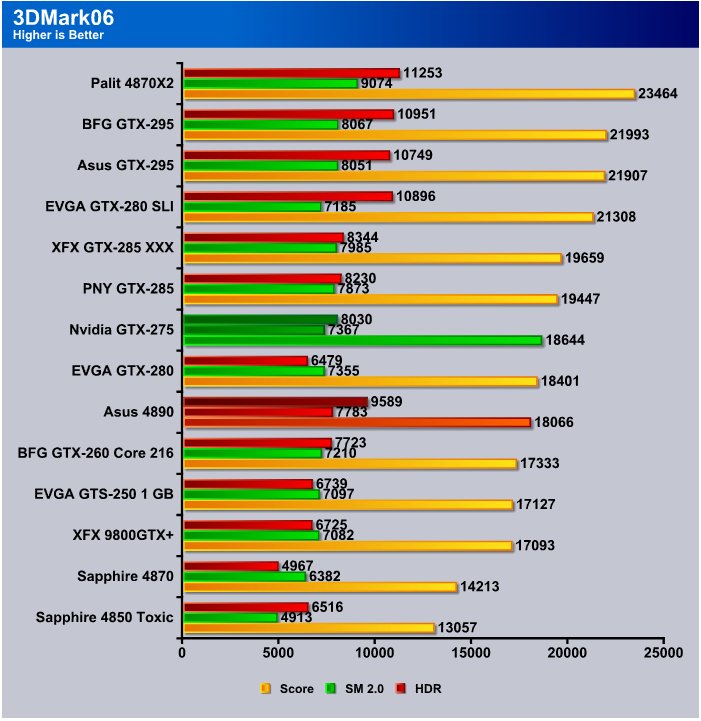 Looking at the 4870 and comparing it the the Asus 4890 at stock clocks the Asus 4890 beats the 4870 by about 4000 points a pretty significant performance gain over the previous generation rv770 core. These rv790 cores overclocks like demons so you can edge out a little higher score if you feel like it.
3DMark Vantage

For complete information on 3DMark Vantage Please follow this Link:
www.futuremark.com/benchmarks/3dmarkvantage/features/
The newest video benchmark from the gang at Futuremark. This utility is still a synthetic benchmark, but one that more closely reflects real world gaming performance. While it is not a perfect replacement for actual game benchmarks, it has its uses. We tested our cards at the 'Performance' setting.
Currently, there is a lot of controversy surrounding NVIDIA's use of a PhysX driver for its 9800 GTX and GTX 200 series cards, thereby putting the ATI brand at a disadvantage. Whereby installing the PhysX driver, 3DMark Vantage uses the GPU to perform PhysX calculations during a CPU test, and this is where things get a bit gray. If you look at the Driver Approval Policy for 3DMark Vantage it states; "Based on the specification and design of the CPU tests, GPU make, type or driver version may not have a significant effect on the results of either of the CPU tests as indicated in Section 7.3 of the 3DMark Vantage specification and white paper." Did NVIDIA cheat by having the GPU handle the PhysX calculations or are they perfectly within their right since they own Ageia and all their IP? I think this point will quickly become moot once Futuremark releases an update to the test.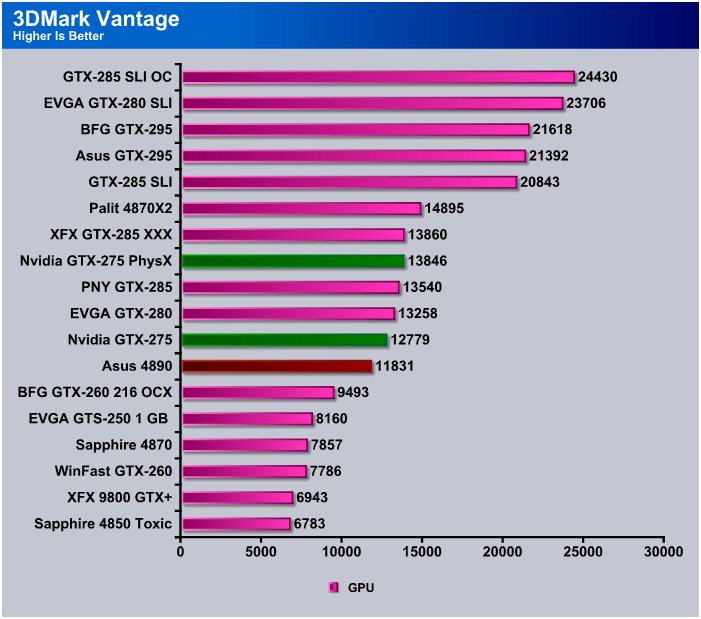 Moving to 3DMark Vantage which is a little newer we're seeing the tremendous advantage the Asus 4890 has over the 4870. Once again the Asus 4890 is showing about a 4k advantage over the 4870 which we need to rebench with current drivers. With reviewing it's darn if you rebench and darn if you don't. If a score happens to drop from the original bench you'll hear about it from the vendors, if they think it will go up they complain because it's to low. So we pretty much ignore the whole debate and periodically rebench the whole stack and let the chips fall where they may. However in this specific case we got drivers and GPU's less than a week ago and rebenching the whole stack just isn't feasible.
TEMPERATURES

To get our temperature reading, we ran 3DMark Vantage looping for 30 minutes to get the load temperature. To get the idle temp we let the machine idle at the desktop for 30 minutes with no background tasks that would drive the temperature up. Please note that this is on an open test station, so your chassis and cooling will affect the temps your seeing.
GPU Temperatures
Idle
Load
50°C
86° C
POWER CONSUMPTION

To get our power consumption numbers we plugged in out Kill A Watt power measurement device and took the Idle reading at the desktop during our temperature readings. We left it at the desktop for about 15 minutes and took the idle reading. Then, during the 30 minute loop of 3DMark Vantage we watched for the peak power consumption, then recorded the highest usage.
GPU Power Consumption
GPU
Idle
Load
Asus HD 4890 Voltage Tweak Edition
241 Watts
359 Watts
Nvidia GTX-275 Reference
217 Watts
367 Watts
EVGA GTS-250 1 GB Superclocked
192 Watts
283 Watts
XFX GTX-285 XXX
215 Watts
322 Watts
BFG GTX-295
238 Watts
450 Watts
Asus GTX-295
240 Watts
451 Watts
EVGA GTX-280
217 Watts
345 Watts
EVGA GTX-280 SLI
239 Watts
515 Watts
Sapphire Toxic HD 4850
183 Watts
275 Watts
Sapphire HD 4870
207 Watts
298 Watts
Palit HD 4870×2
267 Watts
447 Watts
Total System Power Consumption
OVERCLOCKING

For Overclocking results we pulled a shot of the Asus Smart Doctor with the Voltage Tweak controls to show our maximum overclock.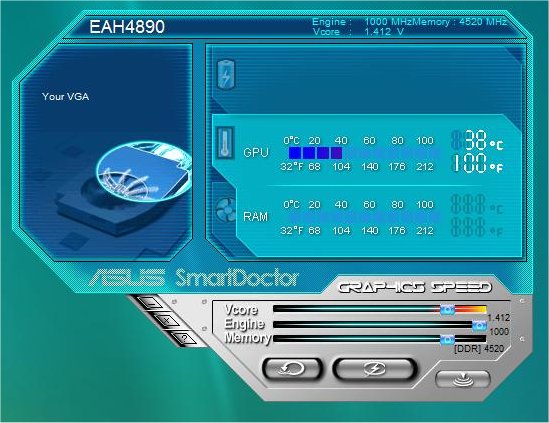 We easily hit a great overclock of 1 GHz core and 1130 memory, we did have to bump the core voltage up to 1.412 to get stability on the overclock which is about a .1v voltage increase. We're not sure if we'd run it that way 24/7 but were betting that for some glory runs benchmarking (short term) it would be fine. That's a total core overclock of 150 MHz pretty impressive for an already highly clocked GPU.
CONCLUSION
ATI needed a little bit of a jump in performance to compete with some of the higher end Nvidia offerings like the GTX-275 and GTX-280. The Asus 4890 Voltage Tweak edition easily tops the GTX-260 216 and come close to the performance of the GTX-275 with some minor overclocking.
The new rv790 core is capable of speeds up to, and in some cases over 1 GHz, with a few minor changes to the GPU design it could literally be a beast. It will surely be very attractive to hard core overclockers drooling for aftermarket cooling solutions.As it stands now it's a very competitive design both price and performance wise. We're glad to see such a viable GPU coming from the ATI camp and look forward to the GPU wars it's sure to ignite.
The Asus 4890 Voltage Tweak Edition has a lot going for it, fast enough stock for most people, toss in a little more voltage and you've got 1 GHz bragging rights. It's certainly enthusiast class and with the new core clocking this high we're sure to see some interesting variants that we can't wait to get hands on. Until we do get hands on the variants the Asus 4890 Voltage Tweak Edition deserves a little more testing and we feel sure more mature drivers from ATI will yield better results.
We are trying out a new addition to our scoring system to provide additional feedback beyond a flat score. Please note that the final score isn't an aggregate average of the new rating system.
Performance 8.5
Value 8
Quality 10
Warranty 8
Features 10
Innovation10
Pros:
+  Runs Cool Enough
+  Able to Run CrossfireX
+  Out-performs The 4870 1 GB By A Good Margin
+  Good Price Point
+  Lower Power Consumption
+  Clocked Up To 1 GHz Easily
Cons:
–  Fan Was Pretty Noisy When We Kicked It Up
–  Not Having Voltage Tweak Option Sooner (Just kidding Eric)
The Asus 4890 Voltage Tweak Edition offers good stock speeds for casual users, voltage tweak options for hardcore enthusiasts, and is the first GPU we've seen capable of a 1 GHz core clock, it's the top performing single core ATI GPU out there but it's not the fastest single core GPU on the market so it deserves a: 8.5 out of 10 and the Bjorn3D.com Seal Of Approval.