I have no problem recommending the Thermalright AXP-140 to anyone looking for a high quality performance low noise cooling solution for their HTPC or for that matter their Lan rig.
Introduction
With Home Theater PC's (HTPC) becoming more and more popular everyday and with more and more companies offering specialty low profile chassis designed to fit into today's modern living rooms, it's extremely hard to find a performance low profile heat sink to handle the heat output of today's dual and quad core processors. Thermalright has come up with a special solution to this problem by designing a low profile heat sink that not only fits in today's HTPC chassis, but offers the option of using either a 120 or 140mm fan to get the most performance out of your system while still maintaining a acceptable noise level so that you can still enjoy watching your favorite movie.
To see just how well the AXP-140 performs, we're going to run it on a high heat generating gaming/HTPC that I have upstairs in my living room. If all holds true to the reputation that Thermalright has earned over the years, we're looking forward to some pretty good results.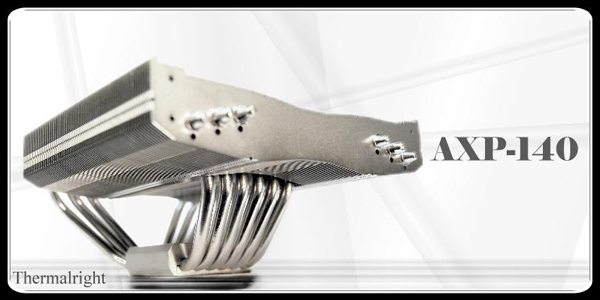 Company Info
Thermalright is an elite design house that manufactures cooling products for computer components for the best quality and performance your money can buy. In 2002, AMD released its first generation Thunderbird CPU and since then we have been there every step of the way to counter high voltage and high heat with innovative design and highly acclaimed cooling solutions not only for AMD but for Intel as well. One of early well known solutions was the SK-6. With many positive and rave reviews under its belt Thermalright bolted to the top as the heat sink manufacturer mostly preferred by Overclockers and enthusiasts around the World. To this day, innovation never left our vocabulary as we keep coming up with leading edge designs staying ahead of the competition.
Specifications

Features
* Low profile CPU cooler with down draft style of air cooling makes it perfect for HTPC; Heatsink total height is 70.2 mm.
* Down draft air flow helps to cool CPU surroundings such as MOSFET and North Bridge chipset producing a general reduction in temperature inside your computer case.
* Large surface area for cooling (140mm x 140mm) with option to install a 120mm fan or a 140mm silent fan, balancing noise and performance to suit your preference.
* Six nickel-plated heatpipes to reduce oxidation effect, maintaining top performance for long term usage.
* Features an all copper base and soldering technology that has each heatsink fins soldered to the heatpipes for a definite contact in producing high efficiency rate of heat transfer.
 
Technical Spec
# Dimension: L145 x W147 x H70.2 mm
# Weight:550g (Heatsink only)
# Heat pipes: Six heat pipes with Nickel plated
# Heat sink base : copper
# Recommended fan: 120*120*25mm or 140*140*25mm fan
Compatibility
CPU Compatibility : Support Intel Socket 775 motherboard / Socket 1366 (optional)
Case Compatibility : For any case that has at least 110mm of height clearance, you can choose to install AXP-140. 80% of HTPC cases in current market are within the compatible range. Only under special circumstances where the case manufacturers incorporate ventilation system would hinders AXP-140 from being installed properly.
PICTURES & IMPRESSIONS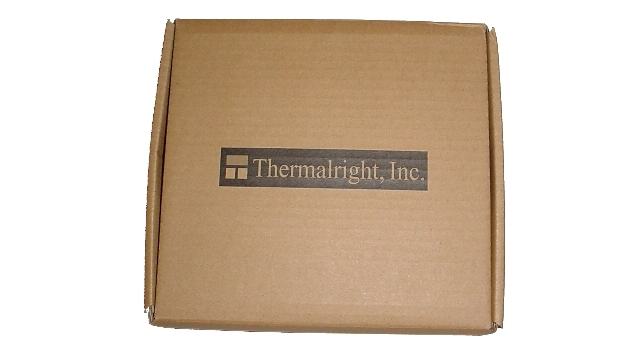 As with all Thermalright products, the AXP-140 comes in Thermalright's basic brown cardboard box. There's no fancy graphics or anything on the box, just the Thermalright logo on the top and the model of the product on the sides.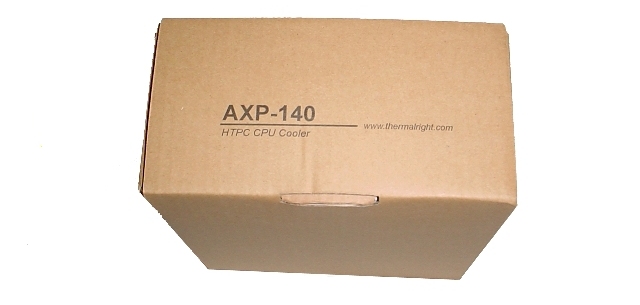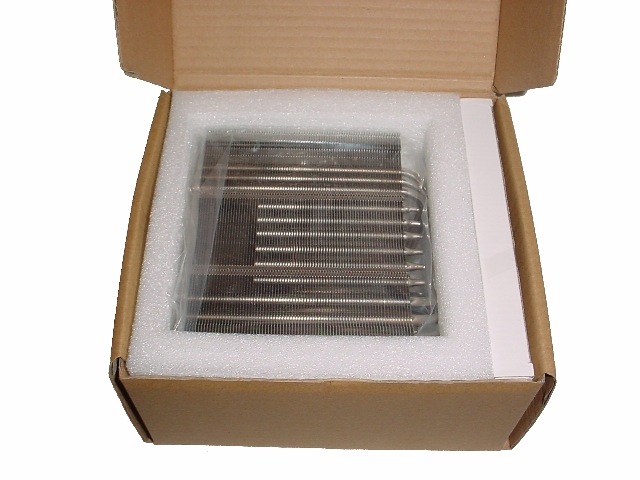 The AXP-140 is extremely well packed to prevent any damage to the cooler during shipment. This is the same with all Thermalright products; I have yet to receive a shipping damaged component from Thermalright.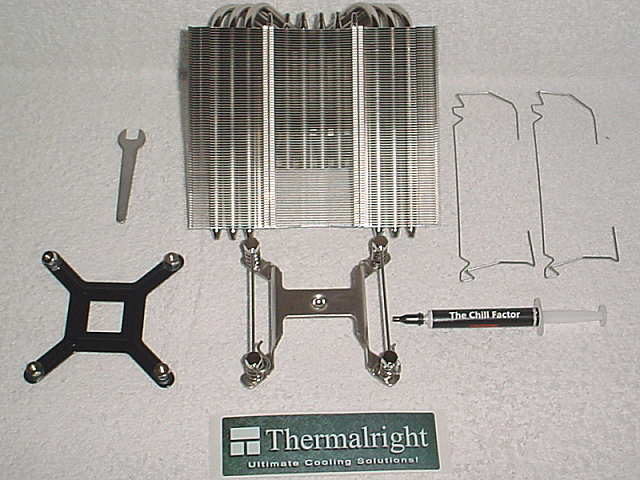 Everything you need to install the cooler is included in the package, except for the fan that is. By Thermalright not including a fan, it saves on the price for Thermalright and the end-user because not all people will like the same fan, and considering this cooler is designed for use in HTPC's, everyone has a different noise tolerance level and will purchase a fan that suits that level.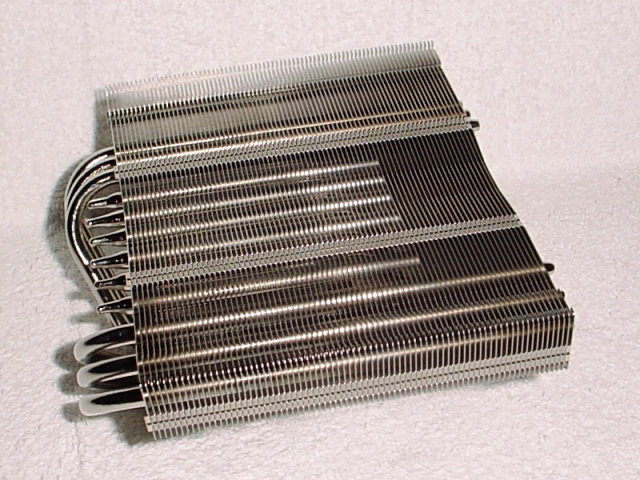 There's no mistaking that the AXP-140 is a huge cooler. So, before you make your purchase, make sure that it'll fit your motherboard because the AXP-140 is designed as a low profile cooler that Thermalright says will fit in just about any HTPC chassis. When I was installing it on my Gigabyte EP-45T it would only fit in one direction due to the type of ram I'm using and the extra large NB cooler.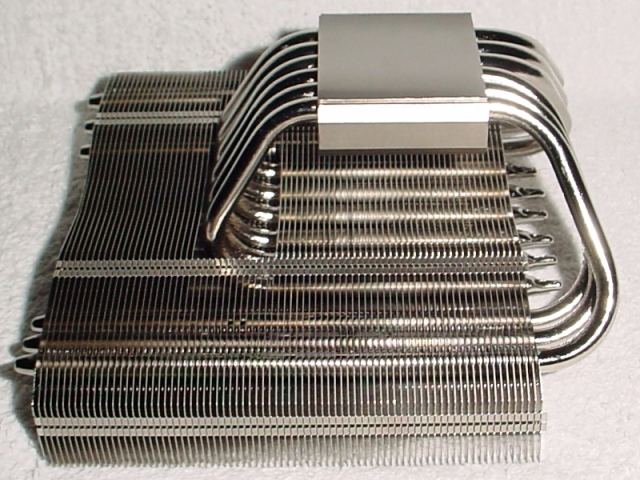 There are a total of six heat pipes that run through the base and exit out both sides where they then turn upwards and enter the heat sinks aluminum cooling fins. The six on the inner most side enter the cooling fins about mid way in the center portion of the sink. The six outside heat pipes turn upwards towards the cooling fins and then split so that three pipes run along either side of the six center heat pipes. This design makes for a very sturdy cooler with an exceptionally large heat pipe to cooling fin contact area to get the most performance out of the cooler as possible.
 Click Image For A Larger Picture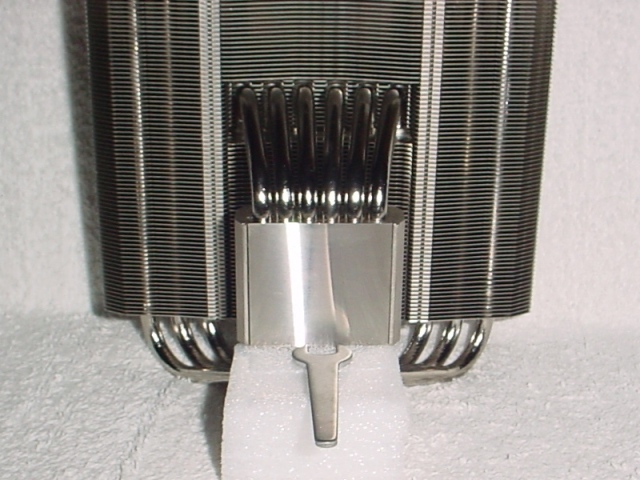 The base of the AXP-140 is what I conceder typical of Thermalright products, flat and nicely finished, although without the high polishes shine that you get from other companies' products. This just goes to show that you don't really need a polished finish for great performance; just having a smooth flat contact surface is more than enough.
Testing & Methodology
All temperatures were taken using RealTemp v3.0 and HW Monitor v1.3. Idle temps were taken after the system sat idle in Windows for 30 minutes. Load temps were taken after running Prime95 v25.7 for 30 minutes. Room temps were maintained as close as possible to 20°C throughout the testing. The CPU core and coolers were cleaned and a fresh coat of thermal paste (Arctic Silver Céramique) was applied between each test cooler and each was burned in for 24 hours before testing started. Each cooler was removed and reinstalled three times to ensure that there wasn't an error in mounting that resulted in incorrect temps. The temps from these tests are only a sample of what these cooling solutions can do on my computer system. Your results will vary as the temps are reported from the system CPU and no two report exactly the same. But the CPU reading will show if one cooler performs better than the other on the same system given voltages and overclock settings are kept the same. The reported temps will have an error of 0.5 degrees C as the reporting software either rounds the temp to the nearest whole number.
Testing was done at the following settings; System default (2.4 GHz) and an overclock of 333×9 (3.0 GHz) at 1.36v. These different setting should show how each cooler's performance scales to the different heat loads.
All readings were taken in a fully operational PC installed in a case with all side panels installed.
Test Rig
"Just Playing"
Case Type
Sunbeam Silent Storm
CPU
Intel Q6600 @ stock and 3.0 Voltage 1.36 vcore
Motherboard
Gigabyte EP-45T Extreem
Ram
Patriot DDR3-1600
CPU Cooler

Stock Intel Cooler / Thermalright AXP-140 w/ SUNBEAM Silent Core Fan (1200 rpm)

Hard Drives
Seagate 250 Gig SATA
Optical
Lite-On DVD R/W
GPU
MSI HD4870
Case Fans
3 x 120mm fans total
Testing PSU
OCZ Game XStream 700w
Mouse
Logitech
Keyboard
Saitek
Just an every day little rig.

Test Software

RealTemp v3.0
HW Monitor v1.13
Prime95 v25.7
RESULTS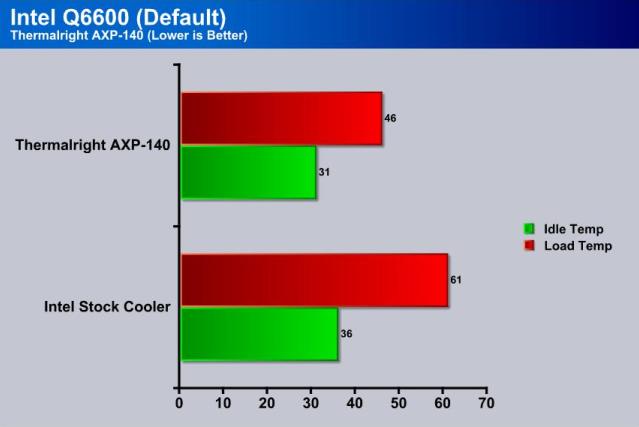 You can't argue with the results we got at the CPU's default settings. The AXP-140 is running 15 degrees Celsius cooler at load than the Intel stock cooler. And that's with only a 1200 rpm 120mm fan installed. Just think of how large the difference would be if we had a 140mm fan on hand to test the cooler with.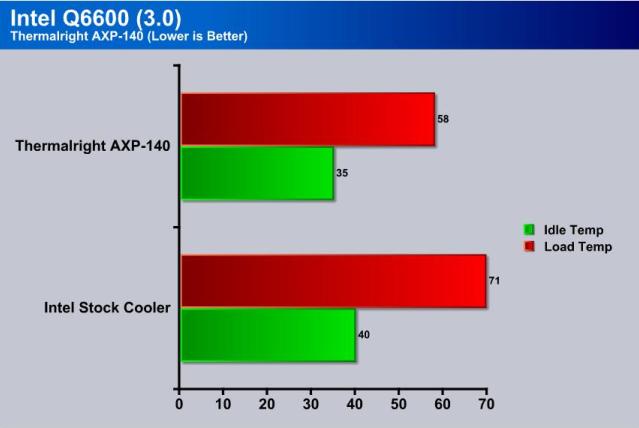 At a mild 3.oGHz overclock we saw basically the same type of results as we did at CPU default settings, but this time the Thermalright AXP-140 beat the Intel stock cooler by only 13 degrees.
CONCLUSION
The Thermalright AXP-140 is a very good performing low noise performance CPU heat sink that is designed for use in today's HTPC world. As a matter of fact, it would also make for a good cooler in your Lan Box or something of that nature where vertical height clearance is critical, although for use in a Lan Box/Gaming rig I would consider installing a bit higher performing fan for max performance.
There are only two small issues I have / had with the AXP-140. The first is the missing anti-vibration strip. I'm sure that this doesn't happen very often with Thermalright products as this is the first time I was ever missing any of the supplied components from the package, but it needs to be pointed out nonetheless. My second issue is the lack of an included fan. I know Thermalright normally doesn't include fans with their products, but in my opinion for the premium price asked for Thermalright products, a middle range fan would be a great help to get people started on their way to happier cooler computing. I know this is sort of a trivial point, but it's the same point I make on every component I review, doesn't matter if it's a CPU cooler, water block or whatever. The basics need to be included, like bards for a water block or fans for coolers.
OK, now that I'm done with my little rant, the Thermalright AXP-140 is an outstanding HTPC CPU cooler, with or without an included fan.
We are trying out a new addition to our scoring system to provide additional feedback beyond a flat score. Please note that the final score isn't an aggregate average of the new rating system.
Performance 9
Value 8
Quality 10
Warranty 9
Features 9
Innovation 9
Pros:
+  Great performance vs. noise.
+  Outstanding build quality.
+  Looks good.
+  Overall good compatibility with different chassis.

Cons:
– No fan included for the relative high price.
– Package was missing one of the anti-vibration strips (quality control).

Out side of the one or two seemingly minor issues listed above, I have no problem recommending the Thermalright AXP-140 to anyone looking for a quality performance low noise cooling solution for their HTPC.
With that said, we are awarding the Thermalright AXP-140 a
Final Score of 8.5 out of 10 (Extremely Good) and the Seal of Approval.