Tired of hanging a weight off your ear and calling it a bluetooth headset? Want something small and unobtrusive? Check out the Honeywell Airlite 740.
INTRODUCTION
If you are anything like me, you get tired of having a weight hanging off of your ear all day long in the form of a Bluetooth headset. While a Bluetooth headset is a definite improvement over the days-gone-by technology of wired headsets, it can become uncomfortable over time. It used to be that by the time I got home at the end of the day my ear would hurt from having the headset on all day. Not anymore!
Meet the Airlite 740 by Honeywell. It is the lightest and one of the most compact Bluetooth headsets I have ever come across. At only 9 grams, I challenge anyone to find a lighter headset. Weight is, however, not everything. Will this device deliver sound quality, ease of use, and reliability? For that, you will have to read on!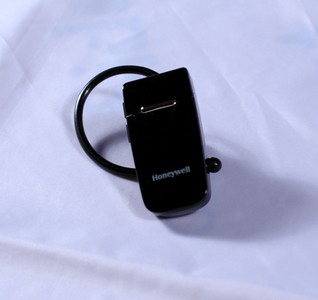 ABOUT SOYO, INC.
The SOYO brand name is synonymous with quality, performance and value.
Established in 1985, SOYO opened its first United States office in 1989. With headquarters in Ontario, California, SOYO, Inc. (OTCBB: SOYO) is an innovative provider of consumer electronics such as: LCD HDTV's, Home Theatre Furniture, Bluetooth Headsets, Portable Storage Devices, Computer Monitors, Computer Motherboards and Computer Peripheral Devices. SOYO developed these products to meet the growing needs of technology savvy consumers in all markets-from the end user to the enterprise.
SOYO, better known as a manufacturer of designer motherboards, recognized the demand for cost-effective, reliable and high-quality peripherals that provide universally compatible solutions early on. SOYO has continued to expand its product lines to include LCD Monitors, LCD HDTV's, Bluetooth Devices, 1.8 inch Portable Storage Devices and the new Le Vèllo line of Home Theatre Furniture. These exciting products continue to meet the growing needs of the consumer; SOHO, SMB, enterprise and gaming markets to complete a modern lifestyle. Recently, the Company signed a minimum six and a half year licensing agreement with Honeywell Intellectual Properties Inc. to produce Consumer Electronics products.
Over the years, SOYO has established strategic relationships with major global manufacturers, and through our extensive sales channels, we deliver a wide range of cutting edge, cost-effective products solutions. With sales offices in California and Sao Paulo, Brazil, SOYO sells its products through an extensive network of authorized distributors, resellers, system integrators, VARs, retailers, mail-order catalogs and e-tailers.
SOYO brands: HoneywellCE, Privé, and Le Véllo Furniture.
FEATURES AND SPECIFICATIONS
The Airlite 740 is a stylish little headset from a relative newcomer to the headset market. Soyo has been around for some time now but has recently entered into an agreement with Honeywell to produce Bluetooth headsets for them. They have done a pretty good job of keeping the important features while keeping the size minimal. Let's have a look at the specs to see what we're working with.
Bluetooth V2.0 +EDR
Digital Sound Processing offers: Background noise reduction and echo cancellation and automatic volume control
Up to 10 meter range
Frequency; 2.4GHz – 2.4835GHz ISM Band
Security: Pairing, encryption and authentication
Compatibility: Bluetooth devices supporting headset & hands-free profiles
Battery Type: 3.6V Li-Polymer
Weight: 9 grams (0.32 oz)
Dimension 1.5″(L) x 0.7″(W) x 0.5″(H)
Talk time: up to 6 hours
Standby time: Up to 200 hrs
Includes 5 ear cap, 3 sizes for indoor use and 2 for outdoor use
Includes 2 ways to charge: AC adapter and USB charger
FIRST IMPRESSIONS
One of the first things that I noticed when I received the Airlite 740 was the small size. It comes in pretty standard packaging, a hangar box with a front window to get a good idea of the size and color. Without further ado: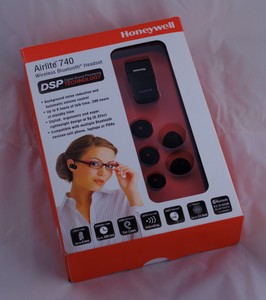 Here's the front view of the box with the standard summarization of features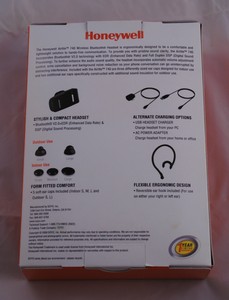 On the back of the box we get a product summary and a visual list of all the included accessories. That's right, there's not a single "sold separately" to be found!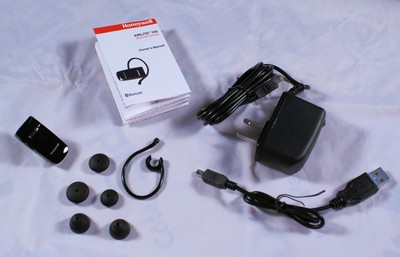 Here's a close-up of the entire bundle. The five ear pieces are a nice touch. My favorite though was the USB charger. I know I hate hauling extra chargers around when I'm on a business trip. Having a simple USB cable was much more compact and lightweight.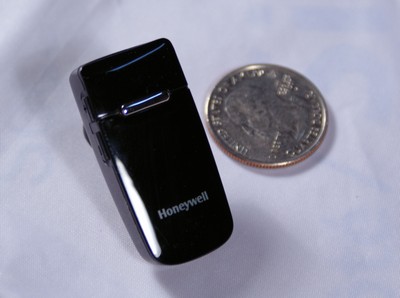 This picture is for those of you that thought I was exaggerating the small size of this thing. Really, it's tiny.
TEST METHODOLOGY
Testing a device like the Airlite 740 is not a difficult process. It is, unfortunately, a very subjective process. Every user will have a different idea of what testing should look like and what the results mean. After spending three weeks evaluating the Airlite I have done some pretty thorough evaluations. Before I get ahead of myself however, let's take a look at the test setup and procedures.
Airlite 740 Test Setup

Devices Used

Motorola Razr V3

Sanyo Pro-700

Sony PS3
That's right, I didn't want to stop with one device, so we went with three! Both phones were tested for reception quality and volume, the feedback from call recipients, pairing, and the ability to maintain a connection. The PS3 was tested for ease of pairing and overall sound quality, both on my end and the side of the people I was killing (virtually, of course).
TEST RESULTS
This is the part everybody reads the reviews for. Does it work and how well does it work are the big questions everybody wants to know the answers to. Have a look for yourself:
PAIRING
Pairing was simple with this device. Simply turn off the Airlite and hold down the power button for 7 – 10 seconds until both LED's blink and hit the search button on your device. I had no problems pairing this device with either of the phones. When I set it up on the PS3 it gave me a connection error the first time, but worked flawlessly when I went back in and paired it again.
STEADY CONNECTION
This is where things got a little confusing for me. Typically, with other Bluetooth device I have owned, a device will not turn off until I switch it off. The Airlite 740 has a neat little energy-saving feature; when I take it off my ear and place it on the desk it would disconnect from the phone. At first I was getting a little frustrated with why the Bluetooth wasn't connected when I picked it back up when receiving a call. Eventually, I figured out that it would reconnect when I put it back in my ear, but it takes a few seconds. Once I figured that out, it was a nice feature and one that serves a genuine purpose.
SOUND QUALITY
This is perhaps the most subjective test. Quality sound is different for everybody out there. One of the important factors, perhaps the most important in regards to Bluetooth headsets, is sound clarity. This is an area that the Airlite 740 truly excels. When receiving calls from either a landline or cell phone callers, the sound is as clear as can be. I did not detect any static or dropped conversations. As for the person on the other end, my wife summed it up well with this statement, "You're using your Bluetooth?" She told me she couldn't tell the difference between when I was talking on the headset compared to the phone itself. I generated some background noise with the TV on and while she could hear the TV (I was sitting 2 1/2 feet from it) she could still hear me just fine.
As for the indoor vs. outdoor inserts, I prefer the outdoor variety. They are formed like a double-flange earplug and cut out a lot of the outside noise making it much easier to hear your calls in a noisy environment. It is not an actually earplug however and while my wife could hear me just fine, I had difficulty hearing her. This is one thing that I have noticed with many Bluetooth headsets is the fact that they are not capable of very high volume. This happens to be one of the only problems that I noted with the Airlite 740. It just isn't very loud.
CONCLUSION
When I first received the Honeywell Airlite 740, I was a little skeptical. Honeywell, while producing high end electronics for many years now, has never offered a Bluetooth headset until very recently. After spending much time extensively testing the Honeywell Airlite 740 Bluetooth little device I was pleasantly surprised.
The thing enjoyed the most about the Airlite was the comfort. Not having ever used a Bluetooth headset that was comfortable for long term wear, I found that I could wear the Airlite for hours and actually forget it was there until my phone rang and I heard the little beep in my ear. Not many headsets can offer that kind of long-term wearability. Typically, my ear hurts not only from the band that holds the device against my head, but the inside of my ear will begin to ache due to the constant pressure from the ear-piece. Not so with the Airlite, it was comfortable for several hours. After long-term wear, you can tell that a little padding on the arm would have been nice, but the ear-cup is extremely soft and comfortable.
The biggest problem I have seen with the Airlite 740 remains the volume. This is not a problem that is restricted to Honeywell however, as most manufacturers I have seen don't have a volume setting that is high enough for me to hear when I'm in the car with the stereo up.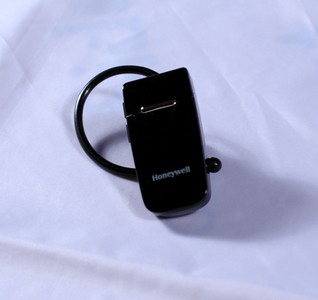 We are trying out a new addition to our scoring system to provide additional feedback beyond a flat score. Please note that the final score isn't an aggregate average of the new rating system.
Performance 9
Value N/A (Prices not yet released)
Quality 9
Warranty N/A
Features 8
Innovation 7
Pros:
+  Great Sound Quality
+  Looks Nice
+  Extremely small and lightweight
+  Most comfortable earpiece I've worn
+  Simple, sleek design
Cons:
–  Volume not high enough for high noise situations
The Honeywell Airlite 740 is the most comfortable earpiece I've tried. Combined with the excellent sound quality and ease of use it has earned:
Final Score: 8.5 out of 10 and the Bjorn3D Seal of Approval.