You can think of the M3800 as a hybrid device, in that it provides not only the space to store your media, as well as the ability to function as a playback device.
INTRODUCTION
The Home Theater PC (HTPC) market has really taken off in recent years, with manufacturers designing various products like cases and gadgets to fill them up with. The first iterations of the HTPC were very basic and often times clumsy. It took a bit of tweaking here and there to get things working, and even then things were often not as user friendly as they could be. Fast forward a few years and we have HTPC's that integrate seamlessly into our living rooms, allowing us to easily access our media from the comfort of the couch. Thecus, more often known for their NAS devices, has jumped into the Home Theater arena with their M3800 Stream Box. You can think of the M3800 as a hybrid device, in that it provides not only the space to store your media, but it also has the ability to function as a playback device when hooked directly up to a display device. So, whether you want to use the M3800 as a storage unit for all of your networked devices to communicate with, or as a direct playback device, Thecus has designed this product to suit your needs.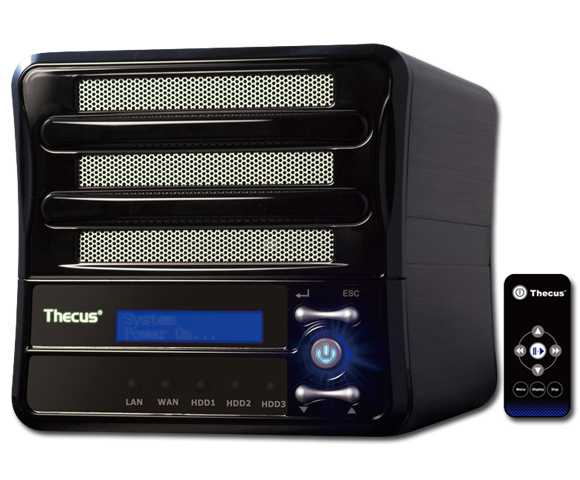 ABOUT THECUS
Thecus Mission
"In today's networked world, digital content is truly the most precious asset. At Thecus, we take pride in developing innovative storage solutions that keep data safe and secure. Founded in 2004, the Thecus team brings decades of R&D expertise, Thecus brand marketing channel development, and a strong customer focus to deliver high-quality products that meet the storage needs of individual, small/medium business and enterprise.
Thecus focuses on hardware and software integration and development, and the core protocols of digital media storage. The result is products that are easier to use and can offer greater connectivity to consumer devices. Thecus envisions greater integration of data storage for both home and office environments, and we strive to be a pioneer in these fields and provide our users with the products that are second-to-none.
To develop optimal storage solutions for such a wide range of users, Thecus has assembled a best-in-class development team with extensive experience in both storage hardware and software development. By combining engineering expertise with a keen focus on the end-user experience, Thecus builds products that are not only powerful but easy-to-use, making advanced storage products accessible to users of all skill levels. Thecus' mission is to transform the most sophisticated technology into easy-to-use solutions to introduce comfortable network storage environment to people's everyday life. By crafting technology that is transparent as possible, Thecus continues to bring exceptional data storage solutions to advanced users and organizations around the world."
THECUS ON THE M3800
Based on the AMD Geode processor, the M3800's design concept is centered on the home theater. Users can use the M3800 to centrally store, manage, easily access, and enjoy their movie and music files. The whole family can view their favorite blockbuster hits and listen to their favorite tunes without the hassle of having to locate files saved in different locations or multiple machines throughout the house.
"The feature-rich Thecus M3800 combines innovative design and the low-power, high-performance of the AMD Geode processor to deliver a robust centralized home media storage solution," said Buddy Broeker, director of AMD's Embedded Computing Solutions Division.  "The M3800 offers a compelling solution for households to easily store and share their digital media throughout the home network."
Headlining the M3800 is its robust media playback capabilities, which include compatibility with the most popular media formats. For video playback, the M3800 supports WMV9, WMVHD and AVI up to a resolution of 1080p. Supported audio formats include WMA and PCM. 
But the goodness doesn't end there. The M3800 is the currently the only 3-bay NAS device with home theater video and audio sharing functionality. The M3800 supports RAID 5 for excellent data security, and adds wireless capability to allow all users throughout the house to enjoy stored media anytime they please. In addition, the M3800 supports USB webcams, making it easy for users to keep tabs on what's happening in their homes for added peace of mind.
With the launch of the M3800, Thecus' confidence in the AMD platform is undeniable. "We were really looking forward to working with AMD on this product," commented Thecus General Manager Florence Shih. "When users are enjoying their M3800, we hope that users can experience the care and innovation Thecus puts into each of its products."
FEATURES
Total Media Storage and Playback
The M3800 is your total media storage and playback solution. Featuring HDMI, component, and AV out, the M3800 can play digital content directly through your existing home theater system. The M3800 supports multiple file formats including WMV9 and VC-1, and even supports 1080P for playback on today's high-definition displays. What's more, with the included remote control, you can enjoy movies, music, photos and more from the comfort of your living room couch.
Home Application Oriented Features
The M3800 is perfect for the home. Its Media Server allows easy connections to DLNA-compatible devices. The iTunes® Server offers music streaming throughout the entire home, while the Photo Web Server enables users to share their precious photos anywhere on the network. With the M3800, the digital lifestyle can be fully realized.
Home NAS with RAID5 Protection
Our most advanced home NAS yet. The M3800 is the first of its kind that offers RAID 5, offering a perfect combination of data security and performance. Enjoy the speed of a striped array with the security of complete data redundancy. What could be better?
Stylish Design
Featuring clean lines and sophisticated styling, the M3800 is equally suited for the study or the living room. It's distinct design makes it an appliance that users will want to show off.
Easy Disk Management
Thecus is known for making things simple, and the M3800 is no exception. With its uniquely-designed disk management system, installing and removing disks is a snap, which means that users can spend more time enjoying their digital media and less time setting things up.
LCD Display
The handy LCD panel makes managing the M3800 easy, even in dimly-lit environments like a living room during a movie screening.
Wireless Ready
Optional wireless connectivity via compatible USB dongle allows users to access their media files all without the need for cumbersome wires.
SPECS
Thecus M3800 – Hardware Specifications

Item:
Spec
Processor:

AMD LX800

Chipset:
CS5536
System Memory:
256MB DDR SODIMM
LAN Interface:
RJ-45×2 : 10/100/1000 BASE-TX Auto MDI/MDI-X
USB Interface:
USB 2.0 host port x2(Front x1, Back x1)
eSATA Interface:
eSATA port X1 (Back)
LED Indicator:

Power(Blue)

HDD1 Failed/Activity(Red/Orange)

HDD2 Failed/Activity(Red/Orange)

HDD3 Failed/Activity(Red/Orange)

WAN (Link : Green; Activity : Orange), WOL supoorted

LAN (Link : Green; Activity : Orange), WOL supoorted

LCD Module:
2*16 character display with 4 buttons
Power Supply:
External 12V 96 Watts AC power adaptor
Disk Interface:
SATA x3 via backplane
Thermal/Fan Control:

Thermal sensor on HDD and processor temperature

Temperature controlled system FAN speed

Real-time Clock:
Battery

backup system clock

IR Receiver:
38Hz frequency controlled by Micro Processor
Buzzer:
Frequency controllable
Chassis:
Metal chassis
Environment:

Temperature : 5C to 40 C

Humidity : 0 ~ 80 % R.H. (Non-condensing)

Safety:
CE, FCC,BSMI, C-Tick, VCCI, RoHS Compliant

Thecus M3800 – Software Specifications

RAID
Raid Modes:
RAID 0, 1, 5, JBOD
Auto-rebuild:
Supported
Hot-swap:
Supported
Network
Configuration:
Fixed IP Address, Dynamic IP Address, DDNS
IP Sharing Mode:
Can be enable/disabled
Transport Protocols:
TCP/IP/Appletalk
File Protocols:
SMB/CIFS, HTTP/HTTPS, FTP, NFS, AFP
Wireless LAN:
802.11b/g AP mode supported by USB Dongle (ZD1211x based)
Data Access
Client OS Support:

Windows 98/ME/NT/2000/XP/2003/Vista

Unix/Linux

Mac OS 9/X

WebDisk:
Web-based file access
FTP:
File Transmission Protocol
Download Manager:
HTTP, FTP, BT
Print Server (IPP):

1. Support USB printers

2. Support IPP various printers

3. Client can manage (list/delete) the print job queue on web interface

Data Backup
USB copy via LCM Operate:
Copy USB mass storage device contents to specified location to NAS
Multimedia Support
iTunes Server:
Supported file types: AAC, MP3 w/ID3 tag, WAV
Photo Web Server:

1. Supported file types: GIF, JPG, BMP, PNG

2. Support EXIF display

3. Support slide show

Media Server:
Support uPnP AV streaming protocol
Webcam:

1. Support capture, preview, schedule

2. Support image sizes: 160×120, 320×240, 640×480

User Authentication
Local User:

Supports built-in user accounts

Local Group:

Supports built-in user groups

Microsoft PDC/AD:
Supports PDC/AD users/groups
File System
Type:
Journaling File System
Capacity:
3TB or above
File Size Supported:
Support files max: 2TB
Language Support:
Unicode Support
Authorization:
Read, write, deny options on individual users or groups
Administration
Multi-lingual Web-based Administration:
Web-based server management interface supports: Englis, Traditional Chinese, Simplified Chinese, Japanese, Korean, French, German, Italian, Spanish
Utility Program:

MS Windows/Mac OSX setup wizard, support multilingual

Support Windows 2000/XP/2003/Vista, Mac OSX backup utility

Email Notification:
Send the system messages via email to the system administrator
CLOSER LOOK: PACKAGING AND EXTRAS
Upon removing the M3800 from the shipping box, I was greeted with a very colorful retail packaging design. Unlike most retail packages, there is not much information about the actual product featured on the outside of the box. One thing that is clearly being pushed however, is the wording "RAID 5 comes Home". This feature was fully tested in this review and will be covered later on. Other than the mention of a few basic features, the M3800's packaging is sparse of information.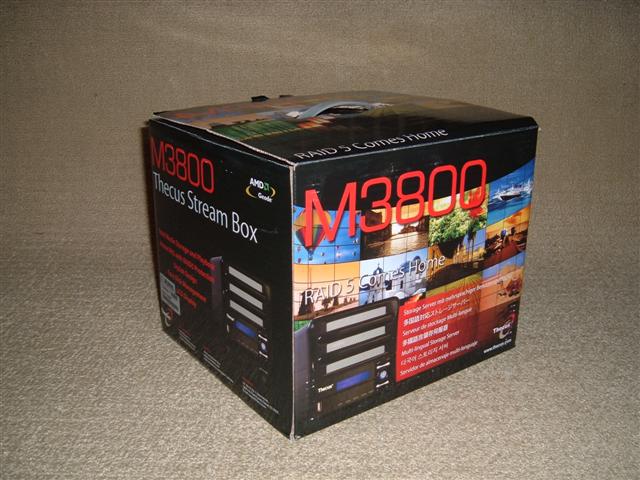 Included with the M3800 for direct display connections are a set of Composite A/V video cables, a set of Component video cables, an HDMI cable and a network cable. All three of the cables below can be used to connect to your A/V gear to provide sound and video.
An external 96 watt 12V power supply is used to provide juice to the M3800. Unfortunately I would have liked to see an internal power supply, as this helps to keep things in order, but this is not a deal breaker by any means, and it might even help keep the heat down inside the case. The power supply is the size of an average laptop power supply and provides ample cable length if needed.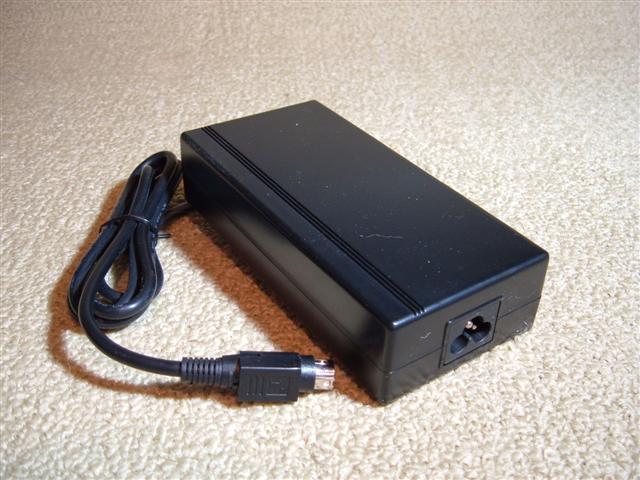 For when the M3800 is used as a media device, a small remote is included to provide control over some of the basic multimedia functions. Basic Play/Pause/Stop buttons as well as navigational, menu, and power buttons are featured to control the M3800. The remote is very small and light weight, reminding me of a car stereo remote.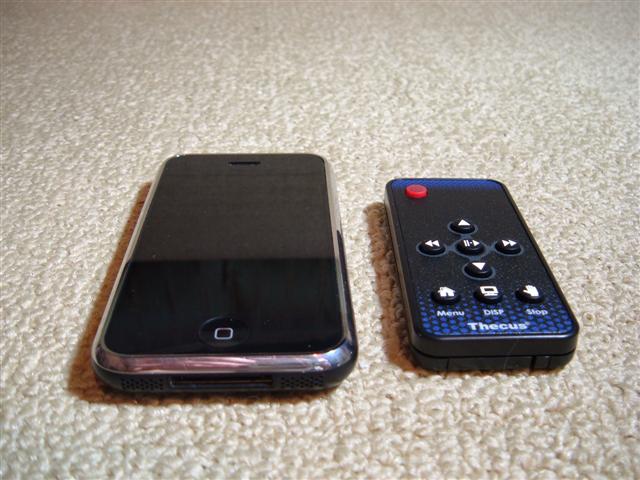 CLOSER LOOK: M3800
Out of its packaging, the M3800 really shines. The front panel is dedicated to displaying various information, as well as the intake for the system fan. On the upper two-thirds of the front panel is a plastic piece plays host to three perforated grills that allow air to come into the case and flow across the hard drive bays inside. This top portion easily lifts up and off to provide access to the hard drive rails.
The bottom portion of the M3800 is home to the LCD status screen with two rows of 16 characters each. When powered on, the display scrolls through a variety of informational screens, showing you the following items:
Hostname
WAN IP
LAN IP
RAID Status
Fan Speed
Temperature
Date and Time
Up Time
A grouping of five buttons is located to the right of the LCD screen, and they control the various functions of the screen and on-screen menu. Simple up and down arrows are used for menu navigation, and an ENTER and ESC button commit menu changes. The ESC button can also be held for three seconds to disable the LCD backlight. Pressing any of the buttons will turn the backlight back on. Surrounded by the menu buttons is the power button, which does the obvious and controls the power for the M3800.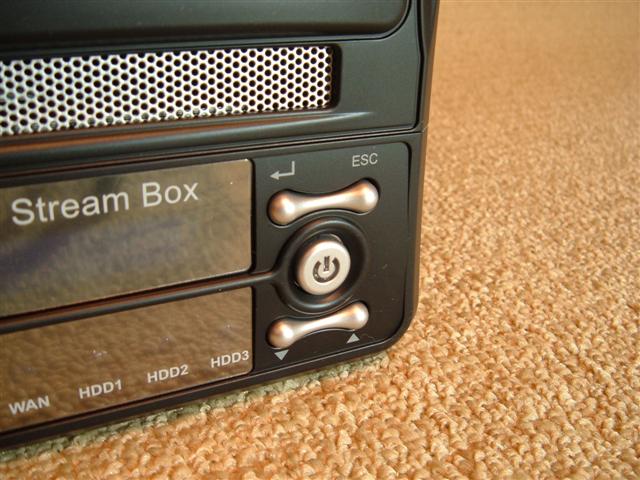 Just below the LCD screen is the IR receiver and a single USB 2.0 port that provides connectivity to supported USB devices such as external hard drives or webcams. Just to the side are five LED indicators that represent the LAN, WAN, and hard drive devices on the M3800. Each LED flashes an amber color when there is activity on one of these devices. For those of us in the IT world, amber LEDs usually mean something is wrong, so it might take you back a bit when you see amber LEDs flashing on the device. The sides of the M3800 have a nice brushed look to them that is sure to match most home theater equipment. On the bottom of the case are rubber feet to keep the unit in place, and these will also help dampen any vibrations from the hard drives.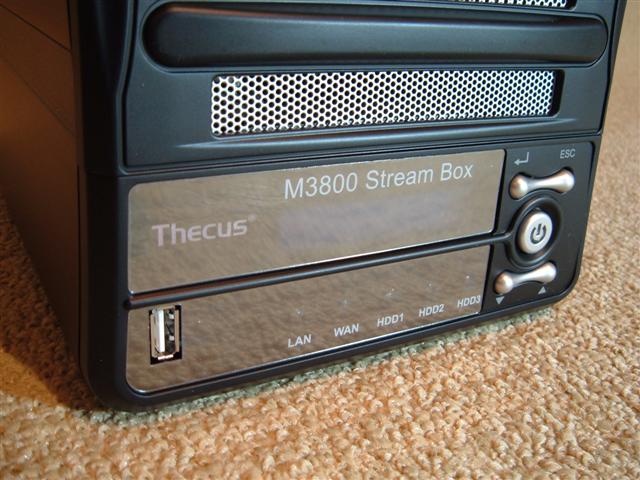 Around back there is much to see. Taking up the main stage is a thermally controlled fan. I love that this fan is not just spinning a full speed, as this does not go hand in hand with a device that may very well be placed in the living room, or even the hooked up to a bedroom TV. Below the fan are the 10/100/1000 LAN and WAN ports for network connectivity. As media formats move more towards HD content all the time, gigabit Ethernet is definitely a welcome feature.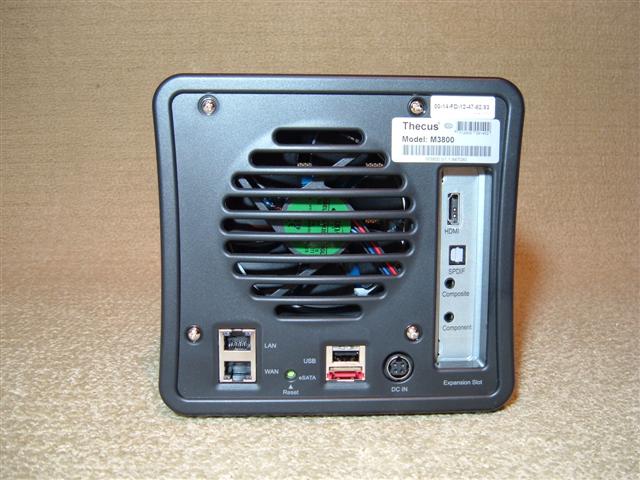 A small reset button is sandwiched in between the network ports and the rear USB and eSATA ports. One odd thing I noticed is that there are actually two USB ports on the mainboard of the M3800, but the plastic of the rear panel is blocking the top one. The inclusion of an eSATA port is great, as this is becoming more and more of a common connector. The last plug on the back is for connecting the external power supply.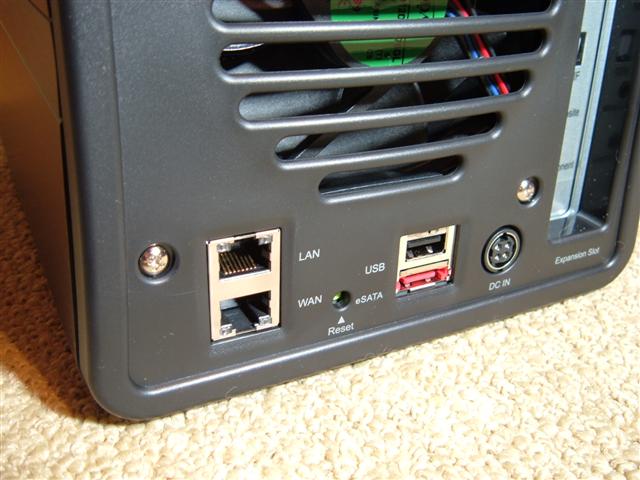 Filling up the single expansion slot at the back of the M3800 is a pretty slick card. Connectivity options are quite large, including HDMI, composite A/V and component video. S/PDIF is also included for an optical audio solution.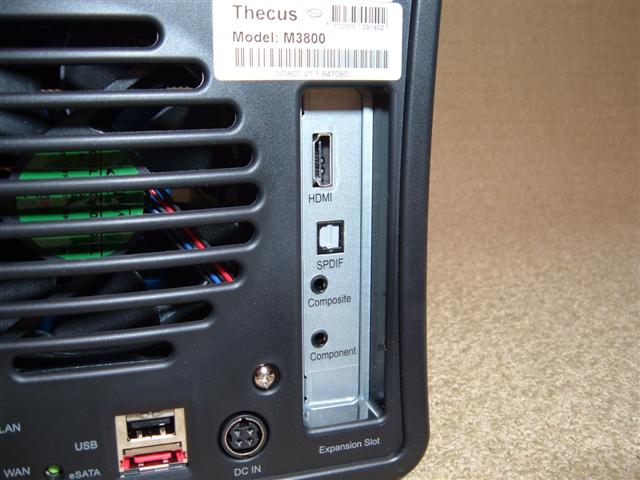 SETUP
Setting up the M3800 is a very simple process. Thecus designed the unit to be very user friendly, and the installation of hard drives can be done without any tools. Once the top portion of the front panel has been removed, the drive rails can then be un-screwed from their positions and attached to the hard drives. Once attached to the drives, they are simply aligned with their rails and slid back into place. Tighten the thumb-screws and toss the front panel back on. Once that is complete, and you have hooked up the power and WAN network port, it's time for the real fun to begin.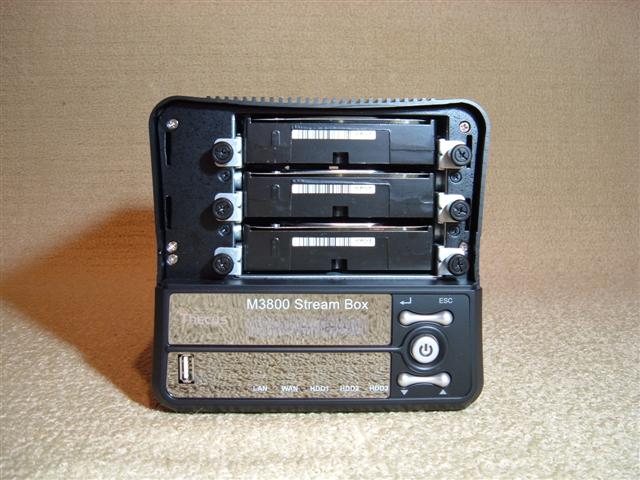 Thecus provides an easy way of finding the M3800 on your network, thanks to the software provided on the included CD. A simple discovery application searches your network for the M3800 and reports its findings back to you in the application window. Basic network configuration settings are then made, and a system password is created. Once the wizard is complete, simply fire up a web-browser and head to the IP address that was just configured to be greeted by the M3800's web interface.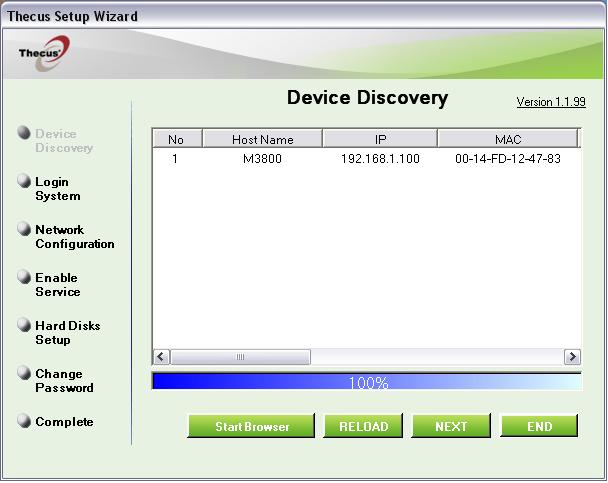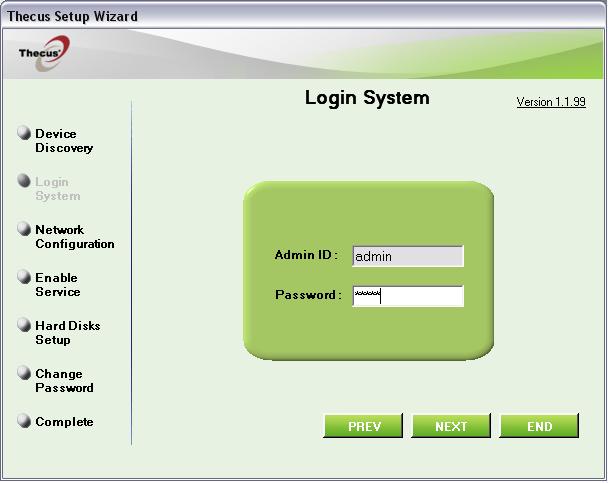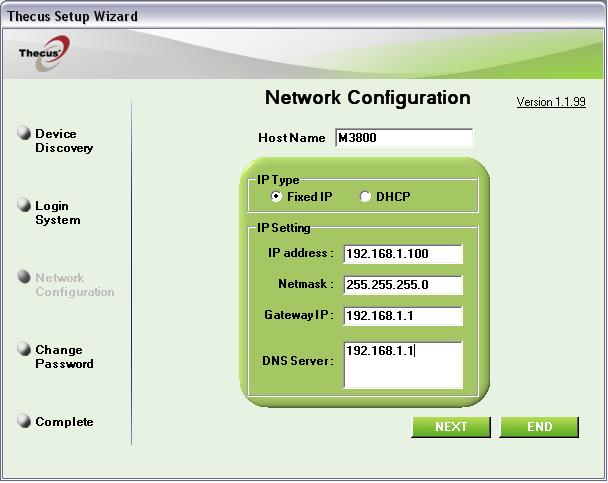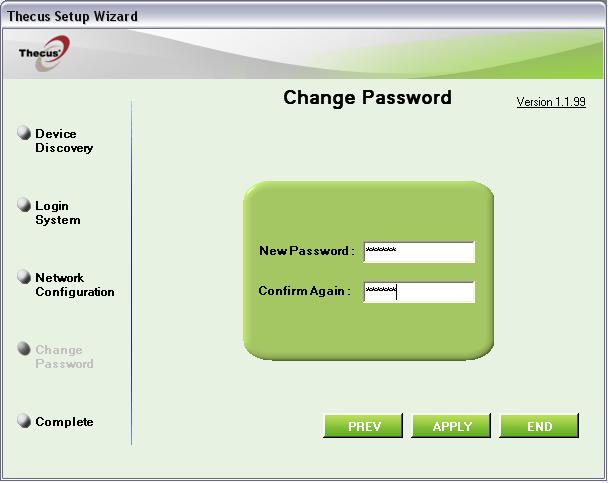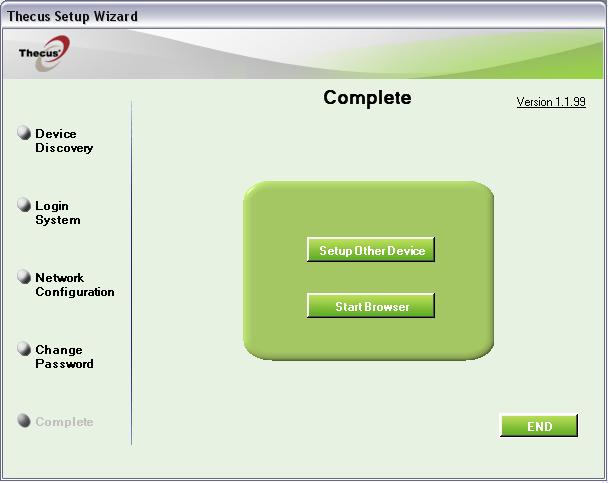 The next step is to configure the RAID array on the M3800. As stated earlier, the M3800 supports RAID 0, 1, 5, and JBOD. Later on, test results for RAID 0, 1, and 5 will be given. Don't be afraid if you are unfamiliar with RAID arrays, as they can be confusing, especially on enterprise-level equipment. Fortunately, Thecus has made setting up an array very simple.
Simply navigate to the RAID configuration page in the Storage area of the web interface, and select your preferred RAID level, the drives you wish to use in the array and click the "Create" button.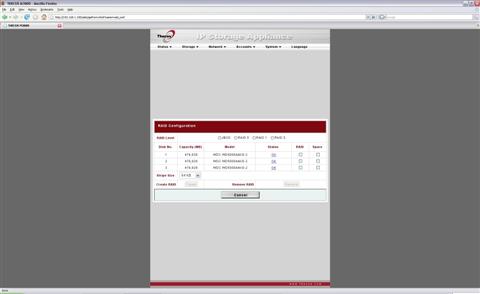 You will then be presented with a RAID information page, showing you the status of the array. The building process of creating a RAID array can be a time-consuming task, as using three 500GB 7200rpm drives to build a RAID 5 array took nearly 4 hours.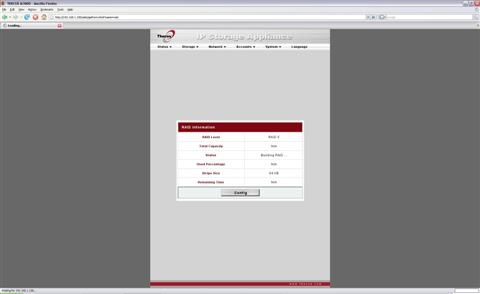 Once the array is built, you will then be taken to a RAID information page showing various items of interest in regards to the array. From here on, you are free to configure the M3800 to suit your needs. Here are just a few ways to enjoy the Thecus M3800.
File Server

Host files on your network and allow users to access them from other devices on the network. Easy to configure users and groups allow for standard permissions settings.
FTP Server

Connect via FTP from across the Internet and have access to your files.
Backup Server

Use the included Thecus Backup Utility to ensure that your vital files are kept safe.
Media Server

The M3800 is DLNA certified, so feel free to use it in combination with all of your other DLNA devices. UPnP is also supported for connecting to the M3800 with devices like the Playstation 3.
iTunes Server

Fire up Apple's iTunes and listen to your music stored on the M3800.
Webcam Server

Use supported USB webcams to capture images according to the schedule of your choosing.
NAS TESTING
Now that the Thecus M3800 is up and running, it is time to put it to the test. I used Intel's NAS Performance Toolkit to run the M3800 through a variety of standard NAS applications that a home user might perform. Here is a quick overview from Intel about the NAS Performance Toolkit:
"The Intel® NAS Performance Toolkit (Intel® NASPT) is a file system exerciser and analysis tool designed to enable performance comparisons between network attached storage (NAS) devices. Intel NASPT focuses on user level performance using real world workload traces gathered from typical digital home applications: HD video playback and record, data backup and restore utilities, office productivity applications, video rendering/content creation and more. Intel NASPT reproduces the file system traffic observed in these traces onto whatever storage solution the user provides, records the system response, and reports a rich variety of performance information. The end result is readily comparable performance measurements that are useful to developers as well as intuitive and compelling to consumers."
Test System

Processor
Intel E4300 Core 2 Duo
Motherboard
EVGA 680i 122-CK-NF63-TR
Memory
2GB OCZ PC2-6400
Hard Drive (internal)
2 x 250GB Western Digital SATA 3.0Gb/s 16mb cache
Video Card
XFX GeForce 8800 GS XXX
Power Supply
Corsair TX750W
Case
Antec P182
Operating System
Windows XP Pro SP3
For this review, I have outfitted the M3800 with three 500GB, 7200rpm Western Digital WD5000AAKS 500GB drives. These drives are brand new, so they should be performing in tip-top shape. The M3800 is attached to one of the gigabit Ethernet ports on a Linksys SRW224 managed switch to utilize the gigabit speeds of the built-in network port. The test PC was also connected to one of the SRW224's gigabit ports.
The M3800 was configured with RAID 0, 1, and 5 arrays for each set of tests using NASPT. Each set of tests was run three times for each array type, and the average of the results was used to formulate the results in the tables below.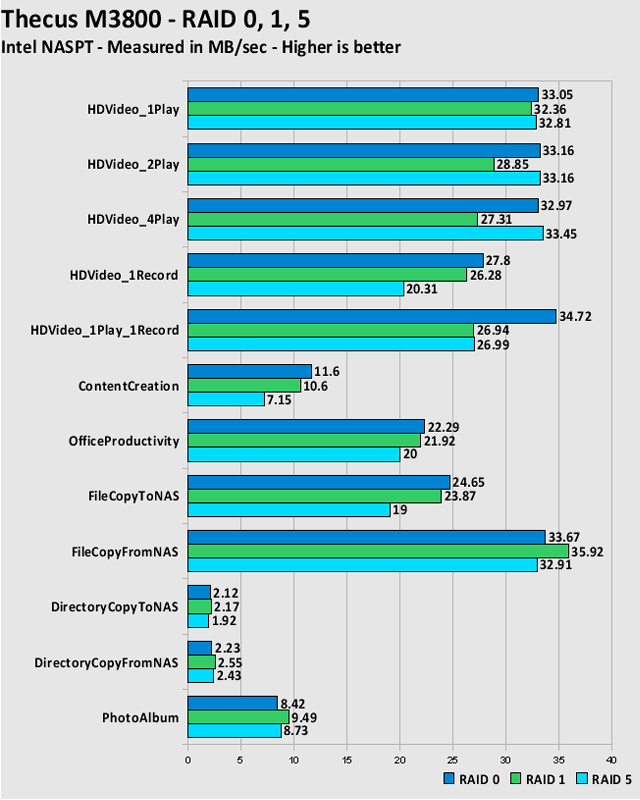 The above graph shows little difference between RAID types as far as performance is concerned. For all-out performance, the RAID 0 configuration leads the pack throughout most of the tests. Many users would be quick to say that they are only concerned about performance and that RAID 0 is the best setting for them. That may be true in some cases, but the major drawback to RAID 0 is that if any of the drives were to fail, the array would be destroyed. Sure the performance and size benefits are nice with RAID 0, but are you willing to risk your data? The performance of RAID 1 is slightly lower than the other arrays in some cases, but this is due to the fact that the data is being written to all drives simultaneously. There may be a performance hit in some areas, and you only get the storage area of one drive, but if a drive or two were to fail, the array will keep on running. Last and certainly not least is RAID 5. Of the options available on the M3800 this one is my favorite, and is found in environments all over. Although the RAID 5 array only led the results in a few of the tests, the added reliability and disk size utilization make it my recommended choice for use in the Thecus M3800.
MEDIA TESTING
Not only does the M3800 function as a standard NAS, it also has the ability to serve as a digital media player when connected to a display device. There are plenty of connectivity options to choose from when connecting the M3800, but I chose to go with my current favorite, HDMI. By using the HDMI connection, I can use a single cable to transmit digital video and audio to my television. To test the Thecus M3800 as a media player, I connected it to a 50″ rear-projection Sony LCD. Although the TV is going on three years, it still provides a great image up to a resolution of 1080i. The M3800 easily supports this resolution and is even capable of 1080p video playback, as well as lower resolutions of 420p and 720p.
One thing I noticed when using the M3800 in my living room was just how distracting the flashing LEDs for the hard drives were. Luckily the LCD screen on the front of the unit can be dimmed, but the flickering of LEDs is something that cannot be adjusted.
Menu
The menu for the M3800 is very basic. This is both a good and bad thing. Good because it keeps things simple, and bad because it is just plain boring. There are many other media devices that have a much more polished look when compared to the one Thecus provides. Menu navigation is very easy, thanks to the included remote, but moving around the menu is very sluggish and un-responsive. There were multiple times when I had to press buttons two or three times just to get the command to register.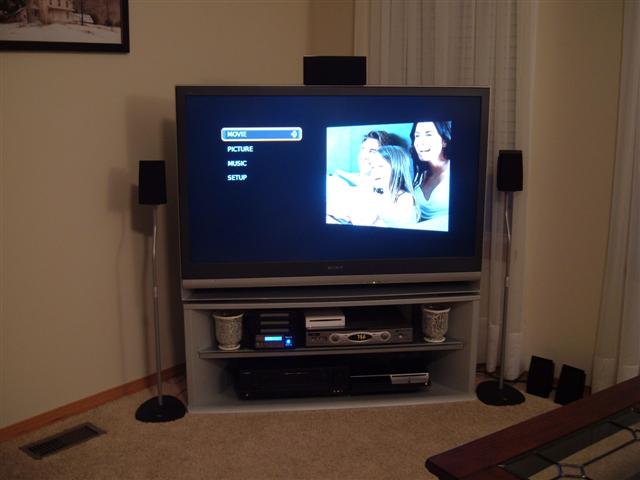 Thecus M3800 Main Menu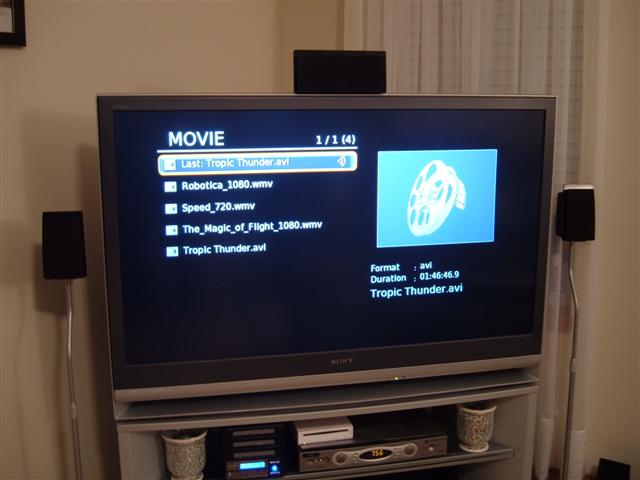 Thecus M3800 Movie Menu
Video Playback
After using the disappointing menu, I was a bit skeptical of Thecus' claims about the ability to playback 1080p video. Luckily Thecus was right, and I was wrong. I tested the HD content playback using a few WMV videos from Microsoft's HD Content Showcase. Both 720p and 1080p (automatically scaled down to 1080i for my TV) looked and played just as good as HD digital cable or Blu-ray content. To test AVI playback, I ripped one of my DVD movies and copied it to the M3800 for playback. The quality of playback was great. One problem I did have with video playback was in relation to the fast-forward feature. While fast-forwarding the AVI file, I was unable to get the M3800 to resume playback or respond to any input from the remote. I ended up having to hold the power button on the front of the unit until it performed a hard shutdown. I was able to repeat this condition multiple times, so hopefully Thecus is working to resolve this issue.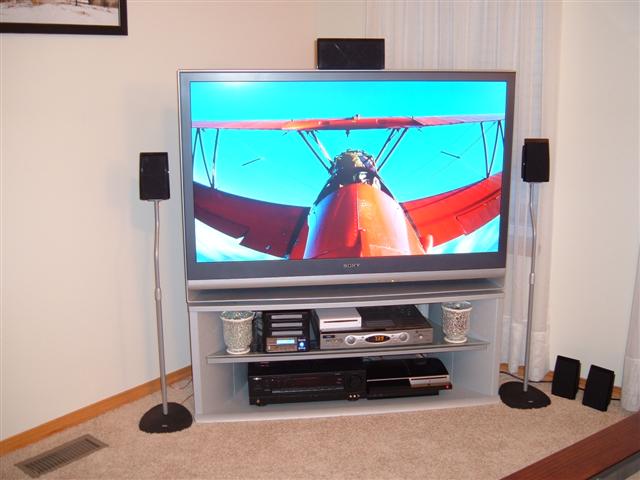 HD Playback
HD Playback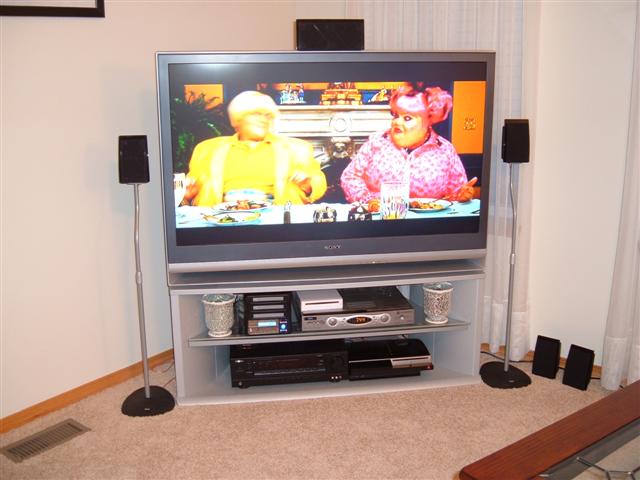 AVI Playback
Audio Playback
Music files are also supported by the M3800, but many users will be surprised to realize that the unit does not play MP3 files. Only WMA, AAC, PCM, M4A formats are supported for audio files, so users with large MP3 collections would have to convert their library in order for the M3800 to play their tunes. Supported file formats played just fine, however the progress bar for the song seemed to move at a random pace, which is more of a minor inconvenience than anything. Again, the menu speed was slow, so moving through a vast library of music would become very frustrating.
Photo Playback
The M3800 can also play your photo collection in a slide show mode, but I wouldn't even bother, as it is the most boring slide show you will ever see, no matter how interesting the pictures. There are no settings available for the slide show, so be ready for flashbacks to the days of sitting in class as the teacher went from slide to slide explaining some boring subject.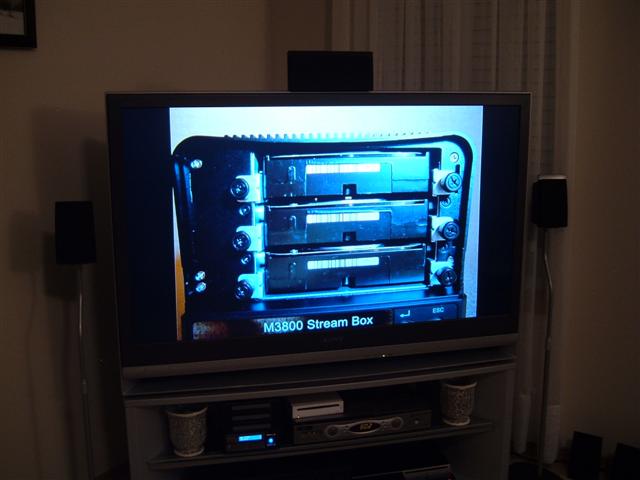 Thecus M3800 Photo Slide Show
CONCLUSION
Thecus is not a new player in the NAS game, and this is evident with the M3800. With support for a variety of configurations including FTP, functioning as an iTunes server, and a web cam server, there are a myriad of uses for the M3800. The ability to implement RAID 0, 1, 5 and JBOD allows users to configure the device to fit their needs, whether it be for a slight advantage in performance, disk space, reliability, or a combination of all of these. Gigabit ethernet allows for fast transfers across the wire, and the ability to add on a supported wireless adapter means you don't have to run wires if a network drop is not available.
The area that Thecus is new to however is the media player realm. The menu for the M3800 is bland and boring, and navigation through the menu with the included remote is very sluggish. Many times I was required to press buttons multiple times in order to achieve the desired results. Supported file formats are somewhat limited for playback operations, as there is no support for MP3 playback. Most of the functionality of the media player was acceptable, but I was able to re-create problems when trying to navigate through video files, resulting in a manual hard shutdown of the M3800. Where Thecus did get things right was with the variety of connections offered for hooking the M3800 up to your display devices. Support for HDMI and resolutions of up to 1080p are very strong points as well.
To sum things up, Thecus has created a device that provides great NAS performance and options with unpolished media playback capabilities. Streaming media to other devices on the network works flawlessly, and the performance and protection that RAID arrays provide is a very welcome feature.
We are trying out a new addition to our scoring system to provide additional feedback beyond a flat score. Please note that the final score isn't an aggregate average of the new rating system.
Performance 8
Value 8
Quality 9
Warranty 9
Features 9
Innovation 8
Pros:
+ Excellent NAS performance
+ RAID 0, 1, 5 and JBOD support
+ Support for over 3TB
+ HDMI, S/PDIF, 1080p
+ iTunes, FTP, uPnP server capabilities
+ Low noise output
Cons:
–  Slow responding media player menu
–  Small list of file-types supported, no MP3 playback
–  LEDs can be distracting when used as a media player
–  Price may limit market group
Final Score: 8.5 out of 10.