Rosewill has finally come up with a chassis that is both functional and has room inside. Let's take a peek at the Conqueror chassis.
INTRODUCTION
A mid-tower chassis is a happy medium between a full tower and a mini ATX tower. These types of computer towers are easier to move around, generally lighter, and also can house large computer components without sacrificing airflow our computer components may need to help them stay cool.
Searching for a chassis to house all of our computer components is difficult, especially when our needs require the use of a smaller chassis design. These types of chassis have to be both rugged, to allow enough room to accommodate larger computer components, and provide enough air flow to keep those computer components cool. Also, it doesn't hurt to be stylish. Today, I am going to look at one of these types of mid-tower chassis from Rosewill. Let's step inside and take a peek at the Conqueror chassis, shall we?
About Rosewill
About Rosewill
Not long ago we had an idea – bring quality hardware and affordable prices together. From that idea Rosewill was born. Formed from a top team of hardware professionals, Rosewill is dedicated to our mission to compete and win on price, quality, and service. We work only with the best partners – businesses we know and businesses we trust.
The Rosewill mission
Our vision is to become the leading brand in computer hardware and peripherals. We aim to achieve this goal by creating superior customer satisfaction. We view our customers as our most important assets. Through our integrity, our innovative products, and our excellent customer service, we aim to create lasting customer relationships.
Customer satisfaction
We believe that excellence is a standard. Our customers deserve nothing less than the best. By purchasing a Rosewill product you are choosing exceptional value, unrivaled customer service and top quality hardware. If you are a Rosewill reseller, you can have the comfort of knowing that we at Rosewill value the success of our business partners..
The future
We will soon be introducing a full line of hardware that will encompass the Rosewill commitment to excellence. New product launches are on the way, so check back with us soon.
SPECIFICATIONS
Model
RPS-01-W BK
Case Type
ATX Mid Tower
Material
SECC Cold Rolled Steel
Dimension

7.85″x17.52″x17.32″(W x H x D) (Without front Bazel)

or 7.854″x 19.5″x 18.11 with Front Bazel

Drive Bays
5 1/4″ External x 9
3 1/2″ External x 1
3 1/2″ Internal  x 4
Motherboard

Standard ATX ,Micro ATX

Expansion Slots

7 Full Size Expansion

Front Access Ports
2x USB
MIC In
Audio Out
1x IEEE1394
System Cooling
2x 120mm Blue LED Intake Front Fans
1x 120mm Exhaust Rear Exhaust Fan
Side Air Duct
(Option)1x 120mm,1x 92mm or 1x 80mm
Warranty
1 year
Features
Ideal for high performance Intel® & AMD® Systems
Thermally optimized for Prescott®& AthlonT64 processors
Modern, attractive front panel styling # Mid-size tower chassis for all around integration
Maximum air intake design-perforated front bezel.
Two front loaded HDD cages for up to 6 hard disk drives
Each HDD cage attached with 1x120mm blue LED fan acts as a air duct to take air in more efficiently for Hard drives, graphic card or CPU.
Advanced cooling systems: -2x120mm blue LED intake front fan -1x120mm exhaust rear fan -1x120mm & 1x92mm or 1x80mm fan can be mounted in the side panel.
9 Drive Bays: -3x external 5.25";6x internal 3.5" for HDD, or -6x external 5.25";3x internal 3.5" for HDD, or -2x external 2.25";1x external 3.5";6x internal 3.5" for HDD, or -5x external 5.25";1x external 3.5";3x internal 3.5" for HDD
Top mounted I/O ports-Power, Reset, 2x USB 2.0, 1x IEEE1394, Audio in & out.
PACKAGING
Starting off on the front side of the box, Rosewill used a pretty plain looking box. We have the company's name and the chassis name in the upper left hand corner.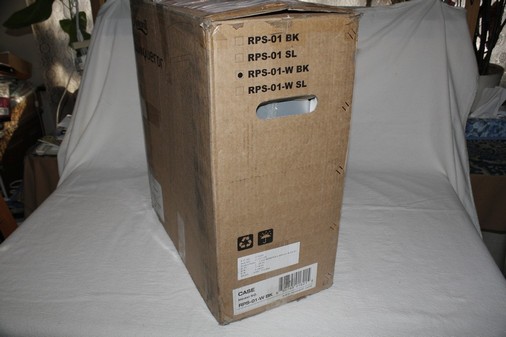 Turning the box 90° to the side. Rosewill lists the four different types of Conqueror chassis and marks what this chassis is.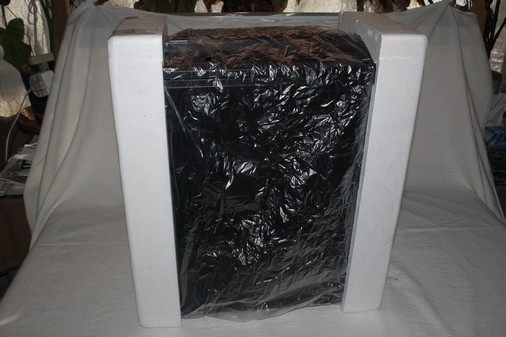 Since the packaging was pretty plain, I did not see any point in continuing on. So here how Rosewill wrapped the Conqueror chassis. They used the standard styrofoam end caps, and covered the chassis itself in a plastic bag.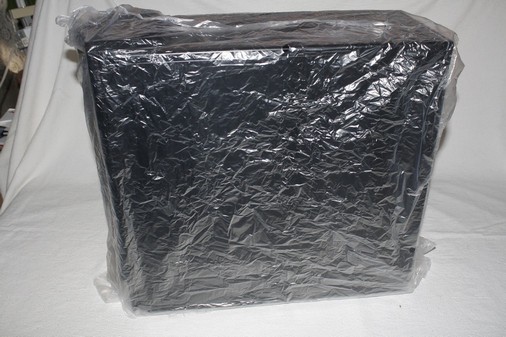 The chassis Styrofoam end caps removed.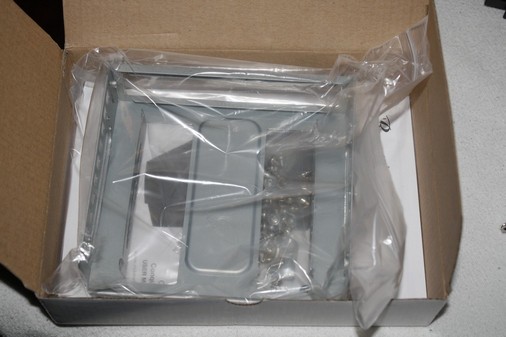 This are the extras that come with the chassis. In this bag we get a handful of motherboard standoffs, & screws. Also, there is a 5.25 floppy drive adapter in here for those who are still using a floppy drive.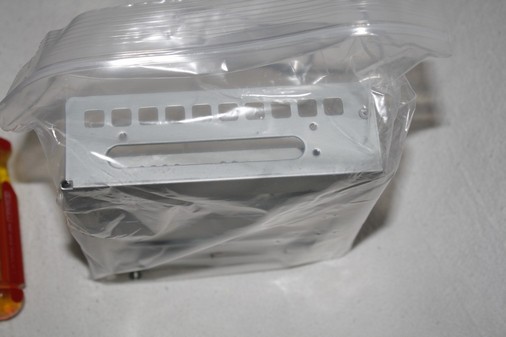 Side view of the 5.25 bay floppy drive adapter.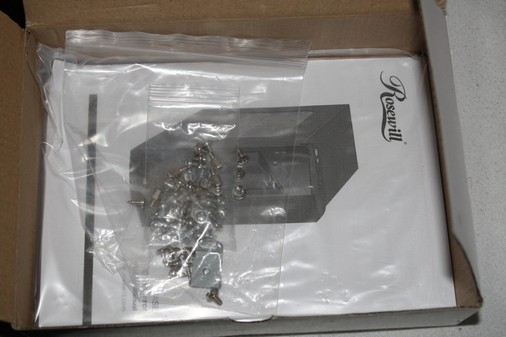 Up close view of the bag of screws we will need to install our components into this chassis.
 EXTERIOR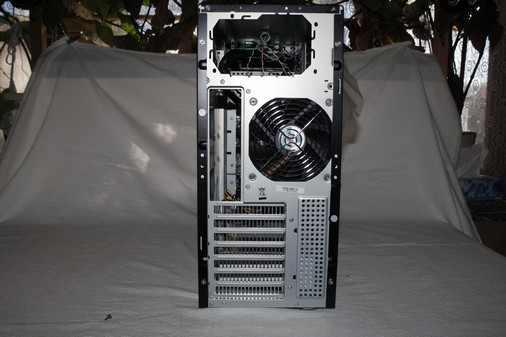 With the chassis out of the box, let's do the exterior overview. Looking at the back side of the Conqueror, Rosewill put the PSU up on top of the chassis (I prefer to have my PSU's bottom mounted). Working down, we can make out a 120mm fan and vented PCI expansion covers (these have gained in popularity) and it's good to see Rosewill including these.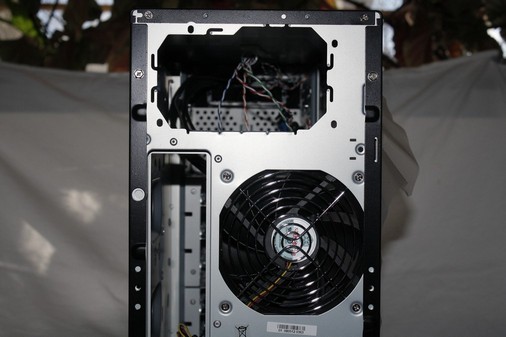 Better view of the upper portion of the back side of the chassis.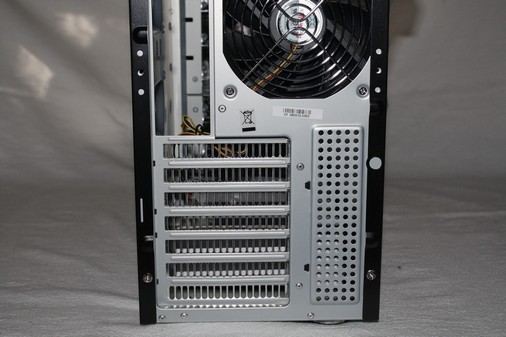 Up close shot of the lower portion of the back side of the chassis.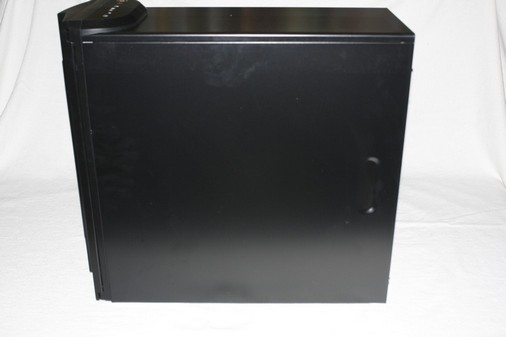 The right side of the Conqueror chassis (motherboard side). Nothing spectacular here.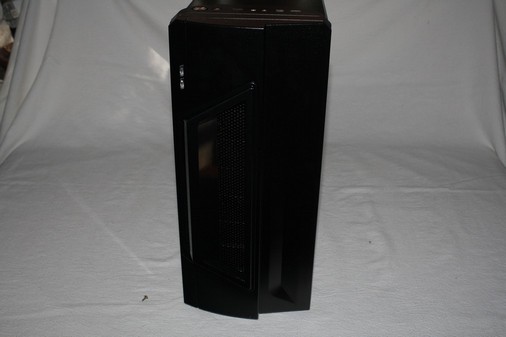 The front of the chassis. To the left side of the front door Rosewill put in a elongated vent. In the upper left part of the door we can make out where the HDD and power LEDs will be located.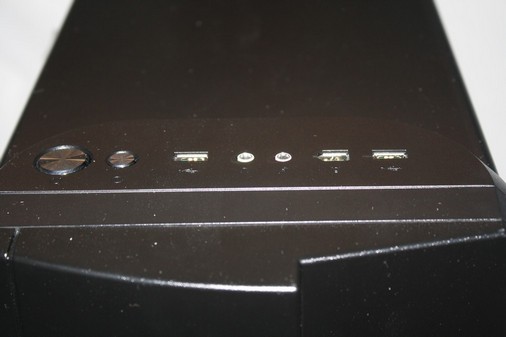 Up top and in the front of the chassis are the front IO ports (2x USB ports, one mic, one headphone jack, and also one Firewire port) and the power and reset buttons.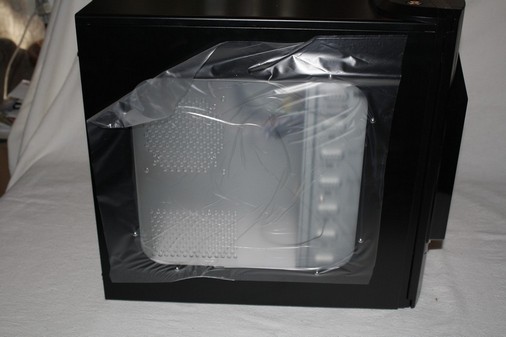 The left side of the chassis. Rosewill put a side window with a place for one 120mm fan up around where the CPU goes, and a vented area around the video card's placement. Also, the Plexiglas was well protected to keep it from getting scratched.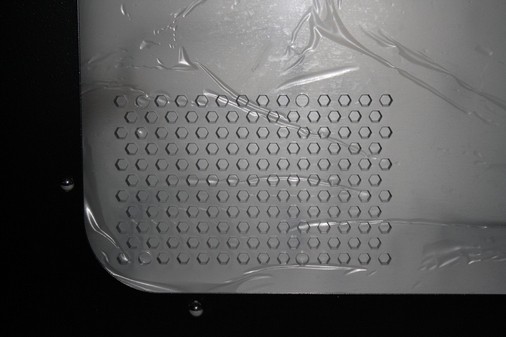 Plastic removed showing a close up of the video card vent.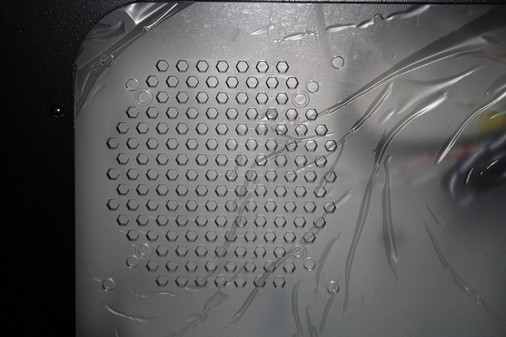 Up close shot of the CPU fresh air side fan. Looking at this more closely, we can see that we can use either a 80, 92, and 120mm fans.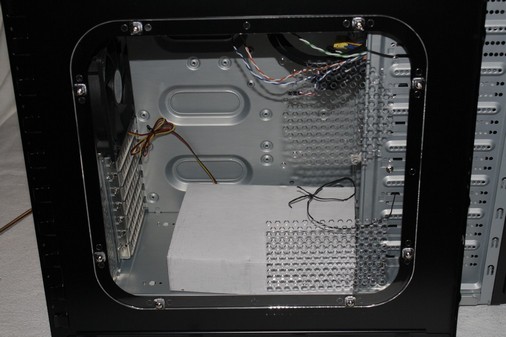 I removed the protective covering from inner side of the side panel.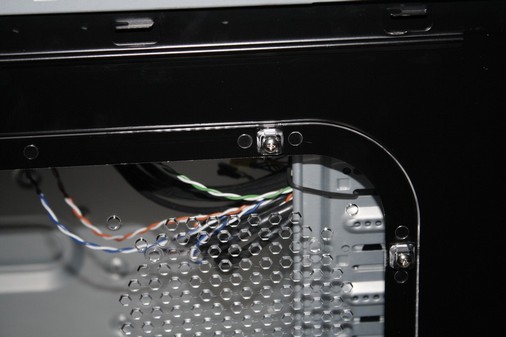 Rosewill used screws to secure the Plexiglas to the metal side panel.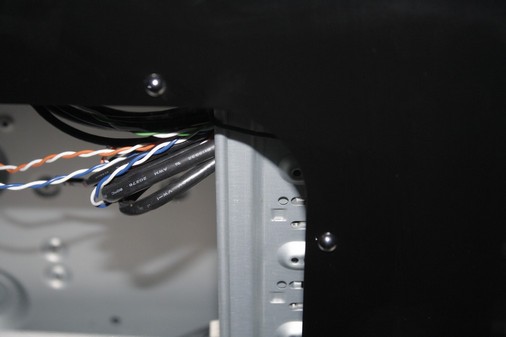 Closer look at the outside of the side panel. Rosewill did a good job of finishing the overall look of the side panel. The metal edges are rounded out (no sharp edges) and they used half mooned plastic nuts that help secure the Plexiglas.
INTERIOR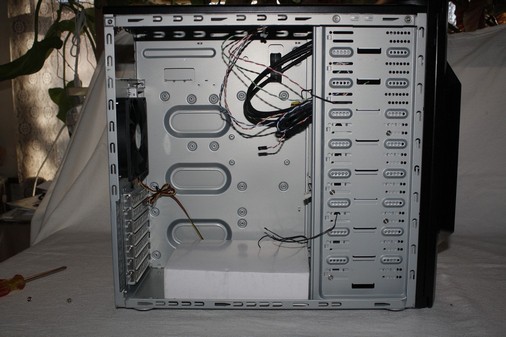 With the left side, side panal removed. We get a look at what the internal of this chassis looks like. It uses a standard layout we see with so many other cases. With 1 thing that is different, where do the HDD's go?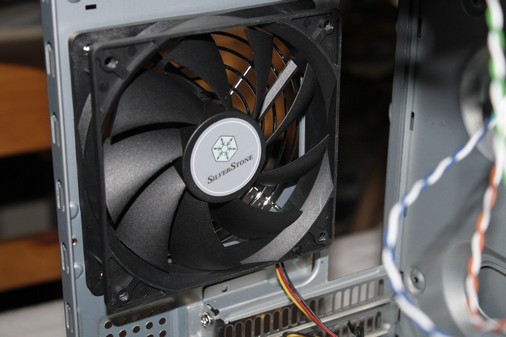 Now, the one thing that caught my eye on this chassis, while looking at the fans they had SilverStone written on them. A fan, is a fan, no matter where it comes from.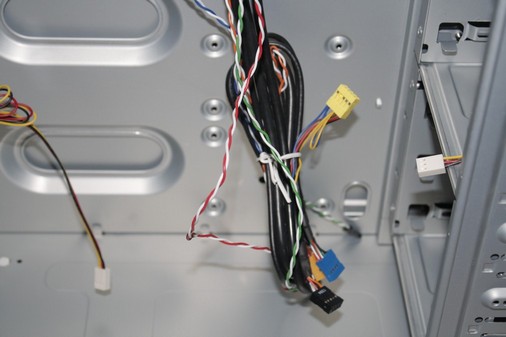 Close up view of the front IO connectors.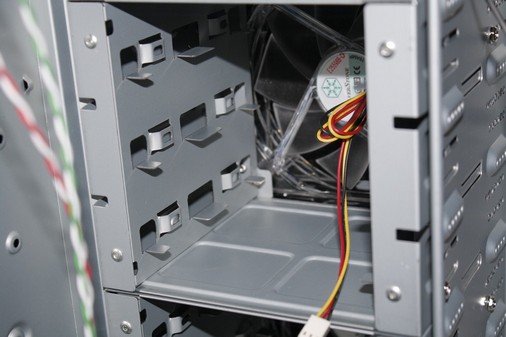 So that's where the HDD's will get mounted. The Conqueror chassis uses 2 HDD cages that can mount 3 HDD per cage. Each HDD cage takes up 3 5.25″ bays.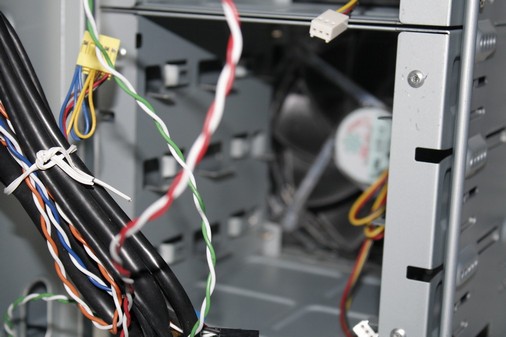 Blurred out is the bottom HDD cage.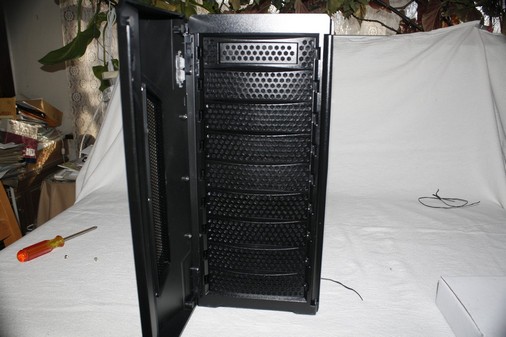 By opening the front door of the Conqueror chassis, we can get access to the front of the 5.25″ bays. There are a total of 9 5.25″ bays and all of these bays use a vented cover.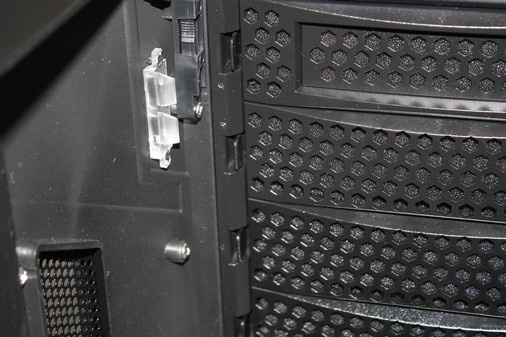 Removing the front 5.25 bay covers seems to be a fairly simple task. Simply squeeze the 2 tabs on the sides of the 5.25″ bay covers towards each other.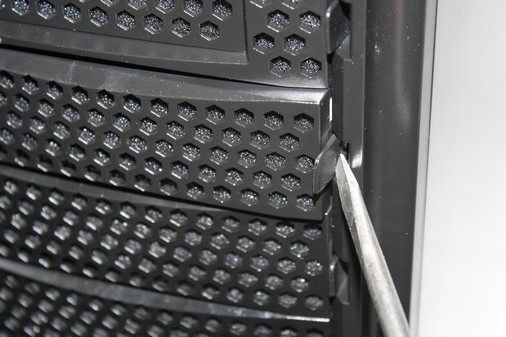 Turned out these covers, did not remove as easy as I have hoped for. I had to grab a Flat bladed screwdriver to help remove the 5.25″ bay covers. Not really a big thing but it was worth mentioning.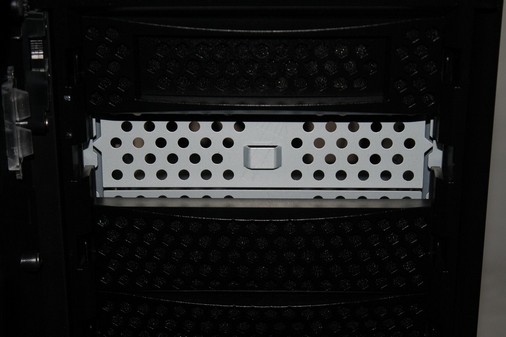 The front 5.25″ bay cover removed.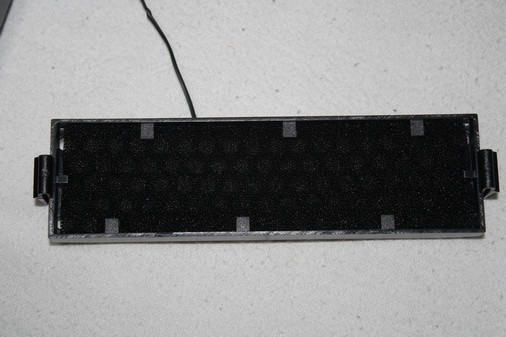 Another feature that is being utilized more and more is, manufacturer's are placing foam filters on the vented front 5.25″ bay covers.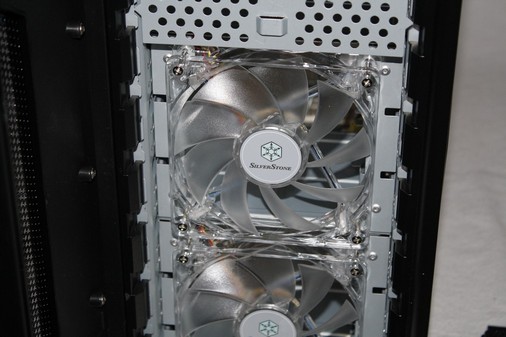 Yep the HDD cage uses a clear cased, blue LED SilverStone 120 mm fan.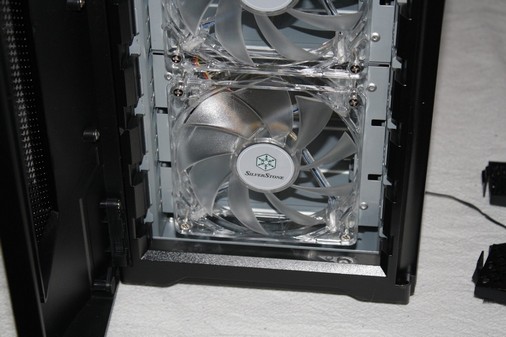 Also the bottom HDD cage uses the same clear cased, blue LED SilverStone 120 mm fan as the top HDD cage.
INSTALLATION
The HDD installation into the HDD cage. I only had 1 extra HDD that I could use and that HDD was a IDE. OMG, I just said a bad 3 letter word of IDE… ewwwwwww….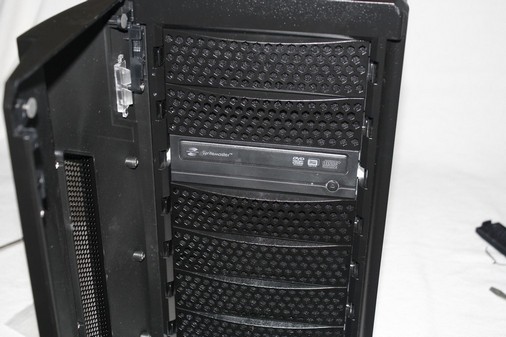 The DVD burner installation. I decided to put the DVD burner the third 5.25″ bay down from the top. You will see why in a bit.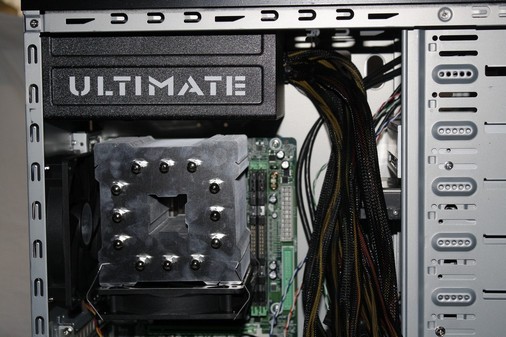 The PSU I used, was my 900 UCP from Cooler Master. Man this thing has a ton of cables. Reasoning of my placing the DVD burner down a bit from the top, I need the space to hide the cables. The Conqueror chassis has no problem handling an large PSU.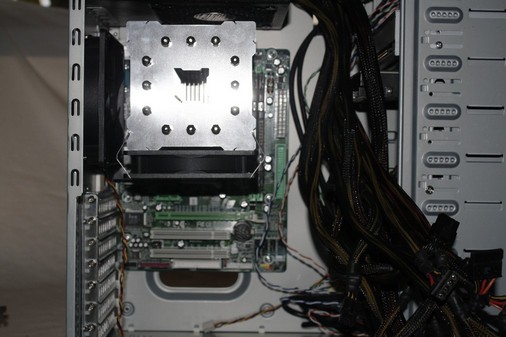 Motherboard installation.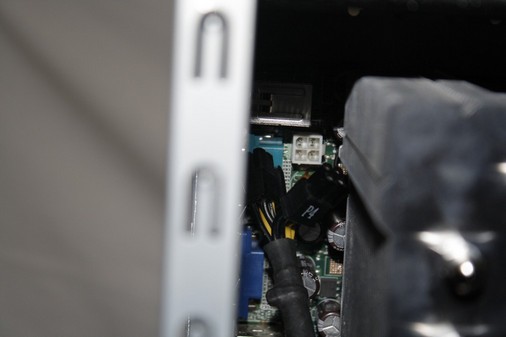 The tight spacing around the CPU 12 volt power plug is not really the chassis issue. Mainboard manufacturers really need to find a better place for this plug. I ended up having to removing the back 120mm fan to reach that plug, so I can plug the CPU power plug from the PSU. Thankfully Rosewill did not vent the rear 120mm fan, instead they used a fan grill that came out once the fan was removed. What the chassis manufacturer's can do more of, is include an EPS power extension to help alleviate any problems requarding this power cable.
I just want to point this little issue out. Looking at this little ity bity pop rivet. We can see it sticks out, on the inside of the chassis on where the video card goes. Because of this sticking out, my video card PCI mount kept hitting this pop rivet making installation a tad bit more troublesome.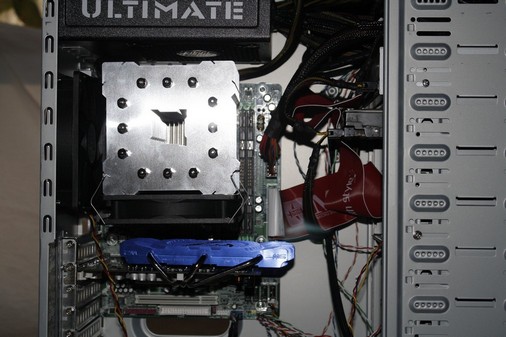 Final look, after everything was installed into the Conqueror chassis.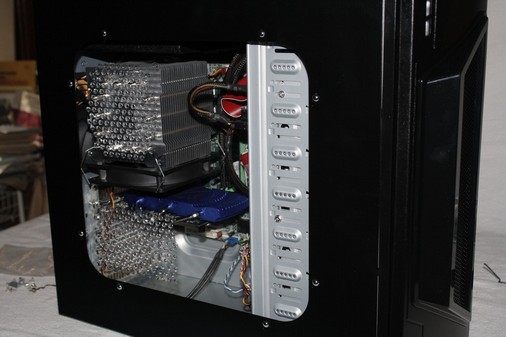 Wow, the side panal just slides right into place, with no problems. This chassis can use large CPU coolers with ease, nice.
CONCLUSIONS
Overall, the Conqueror chassis is a well built sturdy design that can house some fairly large computer components used in today's rigs. This chassis also did not have any sharp edges on its steel construction, thereby reducing chances of cutting or injuring our hands, fingers, and any other part of our bodies that may come into contact with it during assembly. Another great plus that this chassis has is the two removable HDD cages. This will allow users to remove, or to move the HDD cages around to better accommodate their needs. This chassis was extremely quiet as well. It was so quiet, in fact, that my old 20 gig Western Digital HDD made more noise than anything else.
The only real complaint I have with this chassis is the location of the pop rivet near the video card slot, as this will cause some minor issues when installing a video card in this chassis.
These are area I feel that Rosewill could do to better improve this chassis. The vents that Rosewill used on the side panel could have been flipped around (the upper fan vent could have been moved down towards the expansion ports of the motherboard to greatly increase airflow in this area and the bottom vent could been moved to where the CPU is located). Placing the PSU on the bottom of the chassis would greatly improve cable management as well as air flow in the chassis itself. Another thing or two that they could have done better would have been to have made the interior of the Chassis one inch taller and put this space right below the motherboard tray area, and also add 1.5 inches in length in the front portion of the motherboard tray area. By adding this extra space would greatly add more compatibility with larger video cards and there ever increasing larger heatsinks.
Having a price point on around $60 USD with a power supply (the one I reviewed did not have a PSU so the price would be cheaper, of coarse) makes the Rosewill Conqueror chassis ideal for those who need a rough and sturdy, well thought out designed chassis.
We are trying out a new addition to our scoring system to provide additional feedback beyond a flat score. Please note that the final score isn't an aggregate average of the new rating system.
 
Performance 9.5
Value 9.5
Quality 9
Warranty 9
Features 9
Innovation 9.5
Pros:
+Solid construction
+No sharp edges for our fingers to get shredded
+Clear side panel
+Removable HDD cages
Cons:
–PSU located up top of the chassis (personal preference)
–Pop rivet near video card PCI expansion
–Side panel vents could be reversed
Final score of 9 out of 10 and receives the Bjorn3D Golden Bear Award.