The NH-U12P was considered one of the best, if not the best CPU cooler up to this point. Will it fare as well on Intel's new LGA1366 socket CPU's?
INTRODUCTION
The NH-U12P has been considered one of the best, if not the best air CPU cooler. It is truly a master of engineering, with no detail overlooked in the design process. The cooler was built with, not only quality in mind, but price also. The price is easliy comparable to the Thermalright TRUE 120, but unlike the TRUE, it includes two fans. While you may be able to run the TRUE without a fan due to its great design, a fan lowers the temperatures by leaps and bounds.
Due to Intel moving on to the LGA1366 socket, the previous version of the NH-U12P was not able to support the new socket. Noctua quickly stepped up to the plate once again and has released a new hardware mount, so now the cooler works on the 1366 socket. One burning question remains, will this cooler perform as well on a new socket? Going by previous accomplishments of Noctua, I would be willing to bet it will come through.
As we all know, the Noctua has been around for long enough for many other companies to release new heat sinks that are better than previous designs. Will the Noctua be able to keep up with these newer coolers? Cooler Master, a veteran company, has released their V10 that claims to be the flagship of their new heat sink lineup. Will the SE1366 pull ahead of the V10, or will this new cooler on the scene pull ahead of one of the best heat sinks ever designed?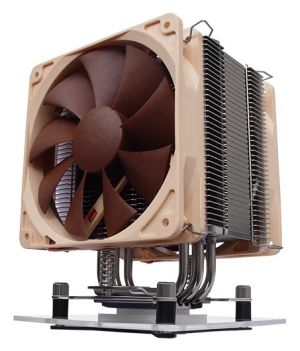 About Noctua
Noctua arises from a cooperation between the Austrian Rascom Computerdistribution Ges.m.b.H and the Taiwanese Kolink International Corporation and entertains a development partnership with the Austrian Institute of Heat Transmission and Fan Technology (Österreichisches Institut für Wärmeübertragung und Ventilatorentechnik, ÖIWV). These connections form the key to the achievement of our goal: The partnership with the ÖIWV permits the application of scientific measurement instrumentation, methods of calculation and simulation technology in the R&D process. Rascom's long, customer-oriented experience in developing and distributing sound-optimised high-end products ensures a clear focus on the users' needs. The use of Kolink's advanced manufacturing technology and ultra-modern production plants allows us to efficiently implement our technical edge and provide solutions of the highest standard in quality and performance.

Rascom Computerdistribution Ges.m.b.H. is specialised in the distribution of PC accessories for the highest demands. Business customers and consumers alike benefit from a product range that is selected according to strict quality criteria, a high level of availability and personal, obliging service. The core of the business activities is made up of cooling (with a special focus on silent components), design- and high-end cases and quality power supplies. Furthermore, Rascom offers a broad range of high grade accessories (e.g. external drive enclosures, removable racks, input devices, etc.), whereas direct import from the far east, continuous contact with international manufacturers and the attendance at trade fairs permit a fast and flexible reaction to new trends.

At Noctua, Rascom employees contribute their know-how mainly in the areas of R&D, marketing and support and manage the second level of the Noctua quality assurance program. In addition, the import to Europe and the supply of distributors and resellers is conducted by Rascom.
"In a difficult market, technical advantage, thoroughgoing quality and complete customer orientation are in demand. Our long experience in developing, importing and distributing sound-optimised premium components decisively contribute to Noctua's compliance with these requirements."
Mag. Roland Mossig, CEO Rascom Computerdistribution Ges.m.b.H
Kolink International Corporation is a cooling specialist established in 1996 and well known among industry insiders. Throughout the years, Kolink designed and manufactured many top-performing heat-sinks under various brand names that succeeded in international markets. An experienced R&D team and ultra-modern production plants in Taiwan will ensure continuous progress, efficient manufacturing conditions and strict quality standards. Kolink's retail brand "Coolink" is just about to venture into the European retail market.

At Noctua, Kolink is involved in the R&D process and responsible for the manufacturing and on-site quality control, which is the first level of the Noctua quality assurance program that was framed in coordination with Rascom.

"We're very confident about the prospect of Noctua. Their advanced and focused R&D department is a pleasure to work with. We always enjoy trustful cooperation at a professional level with people who know their own minds."
Kuo-Chen Chu, CEO Kolink International Corporation
The Austrian Institute for Heat-Transmission and Fan Technology (Österreichisches Institut für Wärmeübertragung und Ventilatorentechnik, ÖIWV) was originated in 2004 by Mag. Manfred Stadler MBA and Mag. Roland Mossig, CEO Rascom Computerdistribution Ges.m.b.H, to harness existing capacities in industry and research in support of new developments in electronics and component cooling as well as stimulating application and market oriented research projects. The ÖIWV's fields of activity involve detailed monitoring of the international scientific development, publication activity, patent situation and market situation, project-oriented resource and know-how pooling between Austrian research facilities and high-tech companies. The priority objective is to give a competitive edge in development to the projects of Austrian companies through the application of scientific measurement instrumentation, methods of calculation and simulation technology.

The development partnership between Noctua and the ÖIWV is made up of a variety of different research projects, surveys and test series, which, combined with the institute's know how pool, form the crucial technical basis for the development of Noctua products. The use of scientific testbeds and simulation environments shortens development times and accelerates internal evaluation procedures.
"The development partnership between the ÖIWV and Noctua clearly shows how the enormous potential of Austrian research facilities and high-tech companies can be implemented in market leading quality products with economic success."
Mag. Manfred Stadler MBA
FEATURES
Award-winning NH-U12P Heatsink
The NH-U12P SE1366 is built around Noctua's premium quality NH-U12P heatsink that is renowned for its excellent quiet cooling performance and has received more than 100 awards and recommendations from leading international websites and magazines.
 
SecuFirm2™ for LGA1366
Designed to combine outstanding reliability, optimal contact pressure and easy, straightforward installation, SecuFirm2™ is an enthusiast-grade mounting system that meets the highest demands in safety, performance and ease-of-use.
 
2x NF-P12 Premium Fan
Including two of Noctua's award-winning NF-P12 120mm fans with Low-Noise and Ultra-Low-Noise-Adaptors, the NH-U12P SE1366 offers full flexibility in fine-tuning the cooler for supreme quietness and maximum performance in push-pull mode.
 

NT-H1 Thermal Compound
Noctua's much-acclaimed NT-H1 is a pro-grade TIM solution that provides minimum thermal resistance, excellent ease-of-use and outstanding reliability.

Special Edition Premium Kit
Bundled with a tube of NT-H1, two top quality NF-P12 fans and SecuFirm2™ for LGA1366, the NH-U12P SE1366 forms a complete premium value package that's backed up with 6 years manufacturer's warranty and contains everything you need in order to achieve superb quiet cooling performance on Intel Core i7 CPUs.
SPECIFICATIONS
Heat Sink
 
Socket compatibility

Height (without fan)

Width (without fan)

Depth (without fan)

Height (with fan)

Width (with fan)

Depth (with fan)

Weight (without fan)

Weight (with fan)

Material

Copper (base and heat-pipes), aluminium (cooling fins), soldered joints & nickel plating

Application

Fan compatibility

120x120x25mm / 120x120x38mm

Scope of Delivery

2x NF-P12 premium fan
Ultra-Low-Noise Adaptor (U.L.N.A.)
Low-Noise Adaptor (L.N.A.)
NT-H1 high-grade thermal compound
SecuFirm2™ Mounting Kit for LGA1366

Warranty
Fan
| | |
| --- | --- |
| Model | |
| Bearing | |
| Blade geometry | |
| Rotational Speed (+/- 10%) | |
| Rotational Speed with L.N.A. (+/- 10%) | |
| Rotational Speed with U.L.N.A. (+/- 10%) | |
| Airflow | |
| Airflow with L.N.A. | |
| Airflow with U.L.N.A. | |
| Acoustical Noise | |
| Acoustical Noise with L.N.A. | |
| Acoustical Noise with U.L.N.A. | |
| Input Power | |
| Voltage Range | |
| MTBF | |
PICTURES & IMPRESSIONS
Cooler box
The box is pretty standard for all computer components. What stands out a bit is the window. It's the first product that I have seen in awhile that includes one to get a glimpse of the product inside. The front of the box includes the basic info for those who just want a basics to see if it will work in their system. The back of the box goes into much more detail, even explaining the design of the fan and how it benefits airflow across the cooler.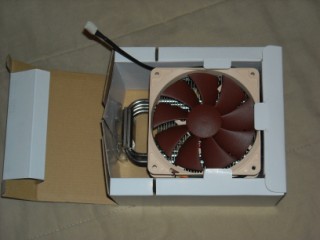 Cooler in box
The box was not packaged with foam, but this is forgivable due to coolers being much stronger than many other computer components. The cardboard around the cooler kept it tight in the box, so you can be sure the cooler will not be traveling around breaking parts off.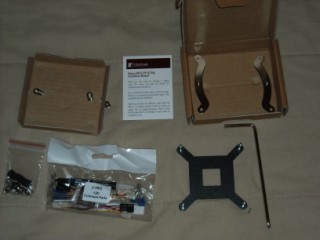 Accessories
The SE1366 comes with a variety of accessories. These are pretty standard for any higher end cooler such as this. The one thing absent are mounting brackets for every socket except LGA1366. Make sure you pick up the other version of the SE1366 meant for those other sockets. It was nice of Noctua to include a cheap, but effective screwdriver. I know many times I feel too lazy to go out to the toolbox to pick one up, so this should help others who have my ambition.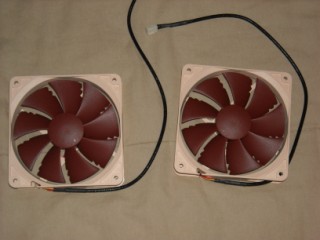 Fans
Noctua was kind enough to include two fans with the SE1366. These fans are not something to smile about. With only 54.32CFM, these fans are not very powerful. With only 19.8 dBA they are quite quiet, but I have seen 78 CFM fans that only made 2 dBA's more, which is very negligible compared to how much performance you would probably gain. I would be very interested in the performance gain of higher CFM fans on this cooler. It's too bad Noctua didn't include some more beefier fans.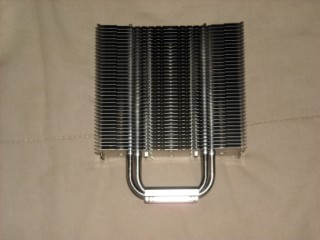 Front of cooler
If you have ever seen a Thermalright TRUE 120, then this will look moderately familiar. The frontal design is very close to that of the TRUE 120. The heat pipe layout is a bit different, and it is not wavy like the TRUE. Upon closer inspection you will find that the fins on the SE1366 are spread farther apart, thus there are fewer of them. In theory, this lowers the cooling capacity of the SE1366, but to notice this you will need very high speed fans on the TRUE. Thus, the TRUE will be unbearably loud, and I am sure most people do not want their machine to be over 30dBA.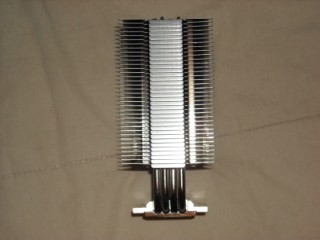 Side of cooler
Once again, with a side view, the SE1366 looks very similar to the TRUE 120. From this angle it is very easy to see the heat fins are quiet a bit farther apart than on the TRUE 120. As you can see, the heat pipe design on the SE1366 differs from the TRUE 120, but the basic function of the heat pipe is the same on all coolers, so I don't see placement as making much of a factor in heat dissipation.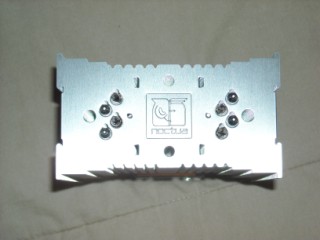 Top of cooler
Looking at the top of the cooler, you will see the heat sink dips in a little bit in the center. This dip allows air to better flow into the fins, thus increasing airflow between the fins. There are also holes on the cooler, for this version of the cooler. They are not needed, so just disregard those. The Noctua logo is a nice little addition. It's similar to the Thermalright logo on top of the TRUE 120. If you look closely on the sides you will see the tracks for the fan fasteners. I feel that these are significantly stronger than those on the TRUE 120.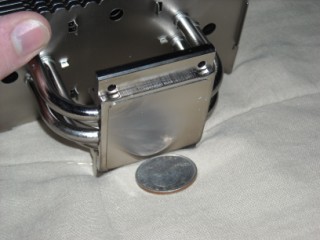 Bottom of cooler
I find this picture unrepresentative of what the reflection looks like. In this picture the reflection looks dull, and skewed. From what I saw, the opposite was true. The bottom of this cooler is polished very nicely. In fact, it's the nicest I have seen in a long time. The cooler also was very flat, and no overall curve could be spotted. Least to say, this cooler should be getting excellent contact with your CPU to achieve the maximum cooling potential.
TESTING
To test the idle temperature of each cooler, I let the computer sit while running the minimal amount of tasks. I did this for 30 minutes to make sure that the CPU was as hot as it could possibly get while doing almost nothing. To test the load temperature, I used five back to back tests of Intel Burn In. I use Intel Burn In because it usually averages at least 5°C hotter than its counterpart Prime 95. The average Intel Burn In lasts about 3 minutes, which may not seem like a lot, but after two of these runs the CPU becomes as hot as it will become in any further amount of tests.
As expected, the Intel Stock cooler did not stand a chance against either of the other two coolers. It did manage to be well under the comfortable temperature level, which is good to see in a stock cooler. The V10 managed to squeeze past the SE1366 by just a small margin. The TEC on the V10 makes a little bit of a difference and maybe the SE1366 will have just enough juice to hang with the V10 at higher speeds.
The SE1366 looses a bit of ground to the V10 in this test. The Intel stock cooler manages to hang in there for just a bit longer. It falls right on the edge of being safe. The V10's fans are rated for more CFM than the SE1366's. This may be a possible reason for the V10 staying out ahead of the SE1366. Another reason could be the TEC on the V10 kicking it into gear and keeping the temperatures down.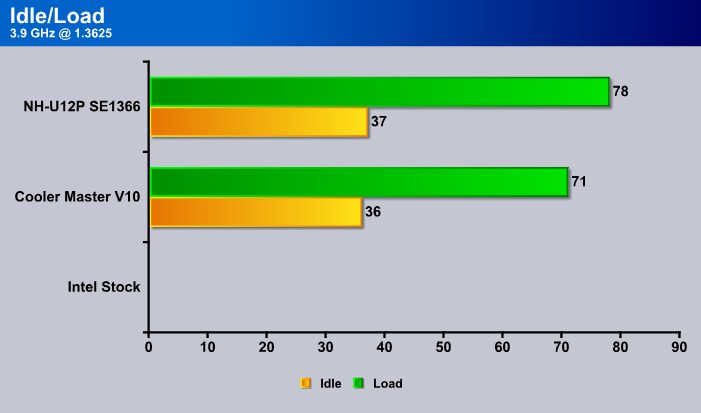 I did not even dare put the Intel stock cooler to the test. Most likely it would have been approaching 90°C, which is far above the danger level. I was a bit worried about the SE1366's extremely high temperature. It almost hit a whopping 80°C! That is much more than I am comfortable with. The V10 sat at a cool 71°C, which is a bit high, but I am not too worried about it.
CONCLUSION
While the Noctua NH-U12P SE1366 was not the top performer today, it did quite well. Keep in mind that the Cooler Master V10 is a whopping $140 USD currently. This is over $50 USD more than the Noctua. Now, if you are only looking for the best performance, and you have a very deep wallet, then go for the V10. For the majority, the NH-U12P will have more than enough power to keep that shiny new Core i7 cool while overclocked.
You will probably not be able to keep 3.9 GHz stable 24/7 with the SE1366, but 3.8GHz, just 100 MHz slower, requires much less voltage. This, in turn, turns down the heat a lot. I have almost no doubt that if you work hard you can run a Core i7 920 at 3.8 GHz with the SE1366. That easily whips the much more expensive Intel Extreme 965, for a fraction of the price. With that money you save you can invest in a better motherboard and RAM to have a better overall system.
By adding Noctua NH-U12P SE1366 cooler for just $85 USD, you can have a top of the line gaming PC built all by yourself. It may cost a bit more, but if you invest in some higher CFM fans, I would be willing to bet you could get a little better performance from this cooler, possibly enough performance to give the much more expensive V10 a run for its money. Overall, the NH-U12P SE1366 is a great addition to the Noctua cooler lineup, one that will continue to evolve as new sockets come out.
Pros:
+  Great Performance
+  Price
+  LGA1366!

Cons:
–  Low CFM fans
–  Color Scheme
 
With a final score of 8 out of 10 the Noctua NH-U12P SE1366 CPU cooler gets:
the Bjorn3D Seal of Approval.