Honeywell has come up with a new line of SecuraDrive's that are easier to use, portable, and lets not forget the encryption it is using. Lets go find out how this little drive did.
INTRODUCTION
With portable external HDD's becoming more and more popular they are also one of the easiest things to magically grow legs and wonder off. Or in plain terms, ripped off or stolen. With that in mind, whatever we have on that drive, the person who took it has complete access to it and the files or personal information that we may have stored on it. Securing an external HDD usually required a software program or a key to physically lock the drive in an attempt to keep our "Private Lives" safe. Which are normally easy to break or crack to access the information on that drive.
External drives also require an extra power cord from the house power, to power up the HDD itself. Which gives us more cables we need to tote around to go from one place to another with that drive.
Honeywell, has came up with a solution that incorporates a good data safe guard and is very easy to tote around from place to place, only requiring a USB transfer cable, the HDD itself, and a security disc. Let's take a look at the SecuraDrive.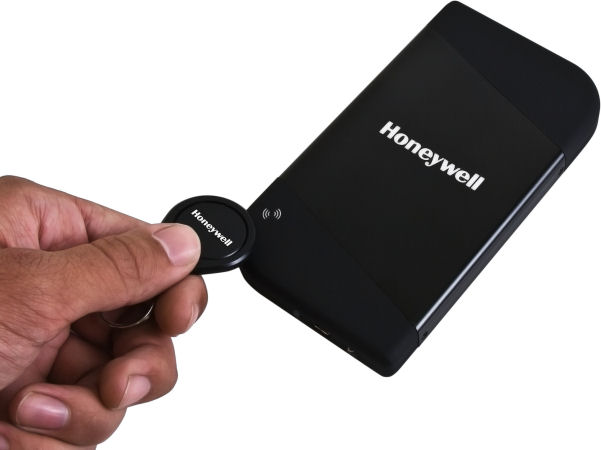 About Honeywell
The Honeywell Trademark is used under license from Honeywell International Inc. by SOYO Inc.  The Honeywell Consumer Electronics line is designed using only the most cutting-edge technology delivering long-lasting, quality products.  Although we at SOYO are strongly focused on our products, our primary goal is to develop a lifelong relationship with each of our customers by providing excellent reliability and customer support through a variety of accessible brands.
The SOYO® brand name is synonymous with quality, performance and value. Established in 1987 with headquarters in Ontario, California, SOYO Inc. (OTCBB: SOYO) is a leading global provider of computer motherboards, computer peripheral devices, consumer electronics, networking, portable storage and broadband telecommunication products and services that meet the needs of all markets – from the end-user to the enterprise.
Best known as a manufacturer of designer motherboards, SOYO provides a robust line of consumer electronics and computer peripherals to meet the needs of every quality conscious consumer.  With their opening price point brand, Privé, LCD TVs and monitors are offered at affordable values.  For those looking to find more bang for their buck, SOYO brand products deliver higher performance while at a competitive price.  The Honeywell Consumer Electronics line represents our top of the line products designed for high-end applications.
Over the years, SOYO has established strategic relationships with major global manufacturers, and through our extensive sales channels, we deliver a wide range of cutting-edge, cost-effective products. With sales offices in California and Sao Palo, Brazil, SOYO sells its products through an elaborate network of authorized distributors, resellers, system integrators, VARs, retailers, mail-order catalogs and e-tailers.
SPECIFICATIONS
System Requirements
•  Hardware requirement: a PC, Notebook or MAC system with available USB Port;
•  Operation system: Windows2000/XP/Vista, MAC, OS 9.x above.
 
Features
• 2.5" internal SATA Hard Drive
• Compliant USB 2.0 to SATA interface, transfer rate max up to 480Mb/s
• RFID technology secures your data
• Supports Plug-and-Play
• Power Supply: Bus powered
 
Package Contents
Before using this product, please check to make sure all package contents are present. If you are
missing any of the below listed accessories, please contact our support at (888) 773-4923
• One Honeywell SecuraDrive™ RFID External Hard Drive
• Two RFID Key Tags
• One USB 2.0 (Y) Cable
• One Carrying Sleeve
• One User's Manual
 
Technology Descriptions
RFID
RFID, or Radio Frequency Identification, is an advanced identification method in which two or more devices contain a unique code that need to match in order to lock and unlock the protected device. The SecuraDrive™ RFID External Hard Drive uses the radio waves to match the unique code programmed into the device with the code located in the RFID Key Tags. If the two codes match, then the drive will unlock and become available for use.
 
Encryption
Encryption is the process locking down and protecting data using an algorithm which requires a unique password in order to unlock and access the data. The SecuraDrive™ uses the unique RFID code as this
password to lock and unlock the encrypted drive.
 
AES 128bit
AES, or Advanced Encryption Standard, is the recognized as the standard for encrypting data by the U.S. Government and the National Institute of Standards and Technology. AES has also been approved by
the NSA to be secure enough to protect highly sensitive data labeled as SECRET by the Government.
About 128 bit AES
This is a brief copy from Wikipedia about the AES 128 bit encryption this drive uses. If you want more information please feel free to click this link Here for more information.
Description of the cipher
AES is fast in both software and hardware[5], is relatively easy to implement, and requires little memory. Unlike its predecessor DES, which used a Feistel network, the AES cipher is a substitution-permutation network.
AES has a fixed block size of 128 bits and a key size of 128, 192, or 256 bits, whereas Rijndael can be specified with block and key sizes in any multiple of 32 bits, with a minimum of 128 bits and a maximum of 256 bits.
Assuming one byte equals 8 bits, the fixed block size of 128 bits is 128 ÷ 8 = 16 bytes. AES operates on a 4×4 array of bytes, termed the state (versions of Rijndael with a larger block size have additional columns in the state). Most AES calculations are done in a special finite field.
The AES cipher is specified as a number of repetitions of transformations rounds that convert the input plain-text into the final output of cipher-text. Each round consists of several processing steps, including one that depends on the encryption key. A set of reverse rounds are applied to transform cipher-text back into the original plain-text using the same encryption key.
 High-level description of the algorithm
AddRoundKey
SubBytes—a non-linear substitution step where each byte is replaced with another according to a lookup table.
ShiftRows—a transposition step where each row of the state is shifted cyclically a certain number of steps.
MixColumns—a mixing operation which operates on the columns of the state, combining the four bytes in each column
AddRoundKey—each byte of the state is combined with the round key; each round key is derived from the cipher key using a key schedule.
Final Round (no MixColumns)
SubBytes
ShiftRows
AddRoundKey
PACKAGING
Now, starting off on the packaging. We see that Honeywell has a really nice presentation of their product. On the front portion of the box, Honeywell gives shows what the SecuraDrive looks like to left side, and on the right side gives us information of the 128 bit AES encryption this drive uses to secure this drive. Also, it tells us that it uses a RFID wireless key. Finally, we are shown that this drive storage capacity is 160 GigaBytes. The actual product that will be on sale will be both the 250 GIG and 500 GIG HDD's, not the 160 GIG in this review. On the back side of the box, Honeywell lists the general specifications of this drive, requirements needed to use this HDD, and also what the contents inside the box are.
The box opened up. It was easy to remove the HDD from the box itself. Simply open the top of the box and slide the inner carton out. Then, remove the top cover over the HDD. Pretty standard HDD packaging, but packaged enough to keep the drive safe during shipping.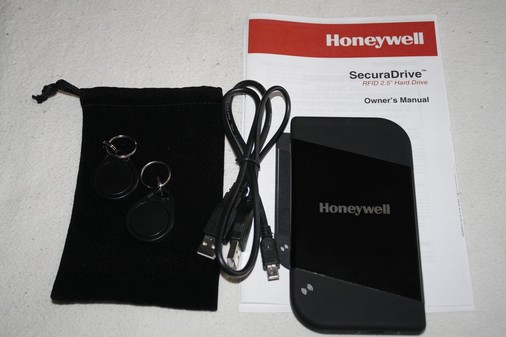 The contents of the box laid out. You get one black carrying case, two RFID wireless discs (on top of the black case), one USB cable (that has 2 USB connectors on one end and a camera type plug on the other), and the HDD it self. No external power cable? This drive does not need an External Power cable. It uses the USB to power up the HDD and also to transfer the data as well. I recommend that you plug in both USB connectors into your computer when using this drive.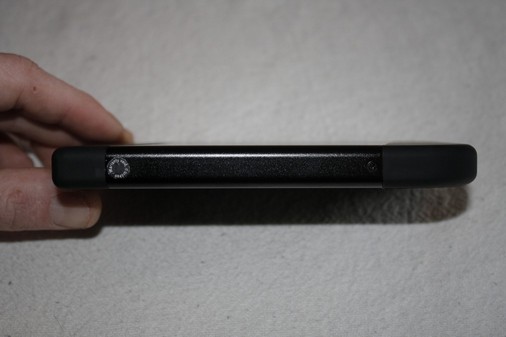 This HDD is pretty thin. Should make toting this around real easy.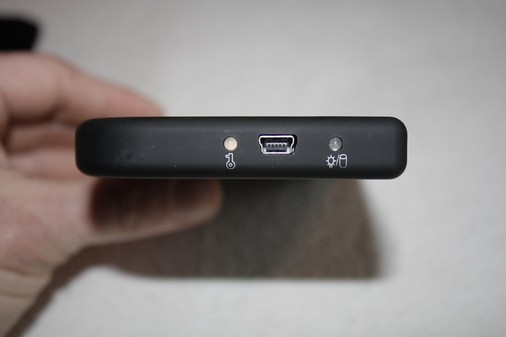 The front of the drive. This drive uses two LED lights and we see the camera style plug in on the drive itself. You should note, even though this drive uses a camera style plug you cannot use a camera cable. It will not work. I already tried.
The other side of the HDD. Here we will see the model number, serial number, and the product name on a sticker. You will need to use these numbers for when you register this product with Honeywell. By registering this HDD with Honeywell, and you end up losing the little security RFID disc's you can get some replacements. Also, by registering this drive with Honeywell, if your drive ever gets stolen, it will keep the perpetrators from ordering the RFID discs to unlock this drive.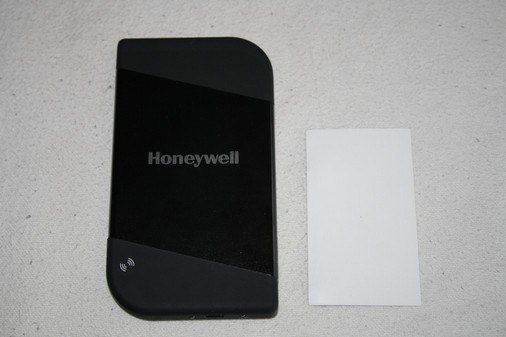 A bit better comparison size to a business card. As we can see this drive is not much bigger than a business card. While we are here, you will see a little wireless symbol only on one side of the HDD. This is where you will use the RFID discs to unlock the HDD for when it is needed.
The USB cable that we will need to power and to transfer the information to and from the HDD. I highly recommend that you use both USB ends in to the computer to power the HDD when in use. During times of high transfer loads this drive would lock up or turn off when I used just one USB plug. After I connected both USB plugs, I no longer had any issues.
 The carrying case with the SecuraDrive inside.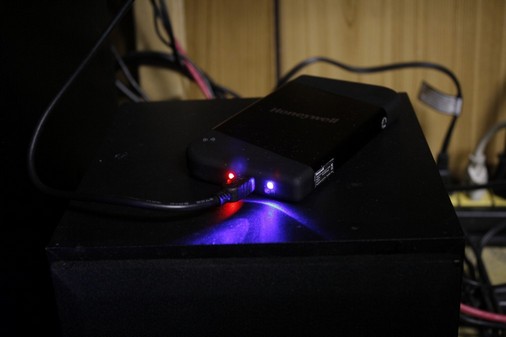 Once you plug in the SecuraDrive on the computer, you will be greeted with two LED's, one red (secured) and one blue (on and activity). The drive will always resort to secure mode when restarted, turning off the computer, or when unplugging this HDD from the computer. Its a good way to make sure your data on this HDD is always secured.
Unlocking the HDD is really easy. So easy, even a caveman can do it…… shh, don't tell Gieco. You take one of the RFID discs that came with this HDD, and while it is powered (plugged into the computer, while you are in your Operating System, always make sure you are in your O.S. when doing this because the posting screens of your computer will re-secure this drive.). Over the wireless symbol on the HDD, gently put the RFID over that symbol and the drive beeps and a green light will turn on showing you the drive is unlocked.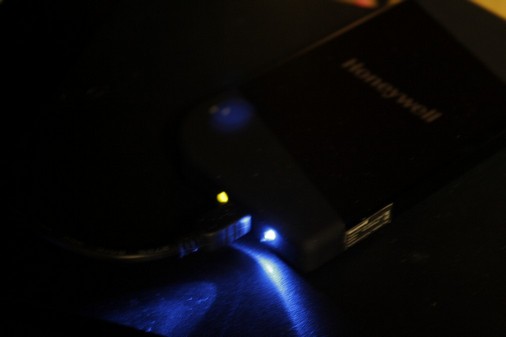 Drive unlocked.
Again, this HDD will always revert to a secure state if you unplug the drive from the computer or if you reboot the computer, or turn off the computer while this HDD is powered on and unsecured. You can secure the drive the same exact way you unsecured the HDD. The green light will turn to red, and the drive will disappear from the Operating System you are using. As long as that red light is on, the drive is secured and no Operating System will see it until you unsecure it.
TESTING METHODOLOGY
Test Setup &Testing Methodology
CPU
Lapped Core i7 920
Motherboard
MSI X58 Platinum
Case
Coolermaster ATCS 840
Memory
Corsair DDR3 1600
Video Card's
Sapphire 4870×2, HIS 4870
Hard Drives
 3 x 160 Gig Sata2 Western Digital, 2 in raid 0, 1 back up, 160 GIG SecuraDrive
Cdrom Drive
Lite On Sata1 Dvd Burner
Power Supply
Coolermaster U.C.P. 900watt 80+ Silver
Type Of Coolers Used
DD MC-TDX , Koolance VID-487X2 (Dual Loop), Koolance cooled 4870
CPU Speeds Used
3990Mhz, 210 x 19
Operating System Used
Microsoft Windows Vista 64 bit Ultimate
Type of Software Used During Testing
Atto, Crystal Disk Benchmark, HDTune, SiSoft
For testing this HDD, I ran each of the above programs 3 times looking for consistancy and making sure no errenous readings were present. The lowest score the 2 drives recieved during testing was the score I used. The comparison HDD I used was a single Western Digital 160 Sata 3GB/s. Now please keep in mind the SacuraDrive is a USB powered only HDD, so the results will vary greatly from one minute to the next.
For the security testing I performed on this HDD, was a few simple test's that I performed on this drive be a worst case scenero. I first tried to use a digital camera USB cable to see if this unit would get powered up by using that cable instead of the one that came with this HDD. I quickly found out that it does not work. (it wont even power up the lights). During a transfer of files from one HDD to the next, I simulated the prospect of stealing the drive during this time and unplugged it from the computer to see if the drive remained unsecured, only to find out that this drive, once it is not powered it automatically secures itself. (I know a little harsh but one may never know what will happen). Left the drive plugged into the computer and unsecured (green light) and rebooted the computer to see how the drive reacts, and once again the HDD would secure it self as soon as the computer started the reboot cycle. (when Windows offically shut down for a brief moment) I did not tear apart this drive at all. I felt that was way to harsh and it probably be frivalous excerise in doing so.
ATTO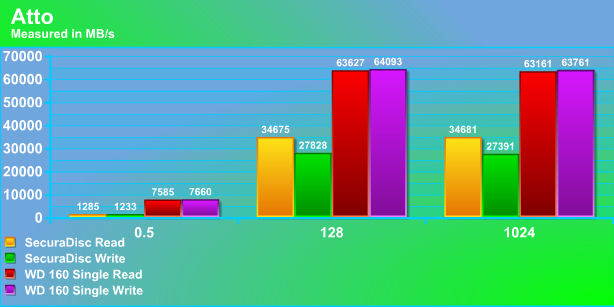 During Atto benchmarking we see that having the limitations of a USB connection and power hurts the performance of this HDD.
SISOFT

Looking at SiSoft we start to see what the actual transfer rate of this drive is capable of (while transferring files from one HDD to the SecuraDrive). During the Physical disks testing, the Secura drive is only slower than the western Digital drive by roughly 20 MB/s.
HDTUNE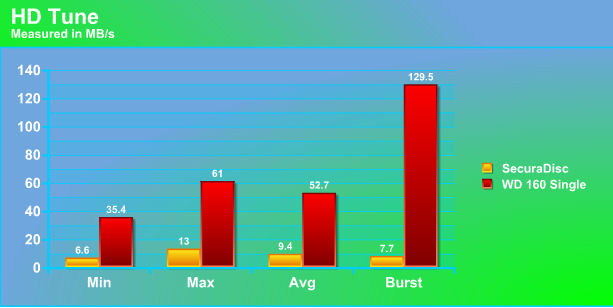 HDTune again shows us the bandwidth limitations of the USB interfacing the SecuraDrive uses.
CRYSTAL DISK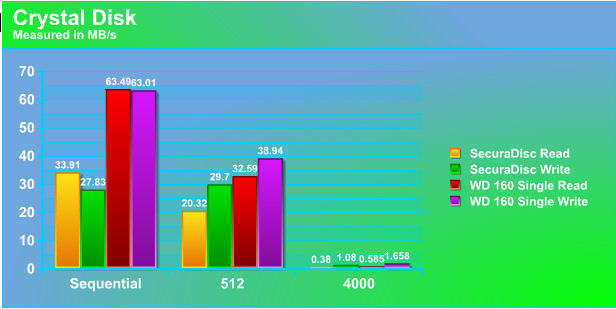 With Crystal Disk benchmarking, during the sequential testing the WD 160 did far better. During the 512/1024 testing the SecuraDrive closes the gap between both tested HDD's.
Since testing is done, let's get on with the conclusions and wrap things up a bit.
CONCLUSIONS
What makes the SecuraDrive stand out from them other external HDD's is that the SecuraDrive has an automatic locking system. As soon as power is lost to the HDD it secures itself. The small size of the unit makes it ideal for just about anyone. There's no extra power cables needed to use this HDD, just plug in the double USB end of the cable to your computer, then plug in the HDD and off you go. No special software is needed to access the HDD, so moving files from one computer to another is just as easy as plug and play.
Unfortunately, I was unable to find a pricing of the SecuraDrive at the time of this review. Honeywell (SOYO) mentioned that the actual retail product will vary from the review product I shown here. The actual product will be both 250 gig and 500 gig HDD's instead of the 160 gig.
The ease of use and the automatic locking system makes the SecuraDrive ideal for anyone who wants that extra security when transporting files to and from work, school, or even to your friend's house.
We are trying out a new addition to our scoring system to provide additional feedback beyond a flat score. Please note that the final score isn't an aggregate average of the new rating system.
 
Performance 5
Value N/A
Quality 9
Warranty 9
Features 9
Innovation 9.5
Pros:
+Ease of hooking up to any computer.
+Automatic locking of the HDD
+Small size
Cons:
–Slow transfer rate
Final score of 8 out of 10 and receives the Bjorn3D Seal of Approval.