When we go looking for T.I.M. for our computer's we normally look at the most expensive stuff we can find. Gelid has broken this cycle, lets take a look at how the GC1 performed.
INTRODUCTION
Since the dawn of computers the need for better T.I.M. (Thermal Interfacing Material) has become just as important as our individual computer components. Companies are constantly trying to find ways on making this T.I.M. perform better, last longer, require no time for curing.
GELID Solutions GC1 has proven that it not only performs very well, it is easy to apply, and it also requires no curing time. Let's take a look at Gelid's Thermal Interfacing Material, the GC1.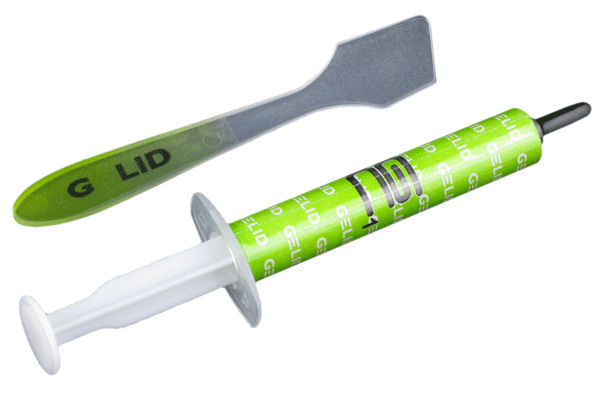 About GELID Solutions
GELID Solutions
The English word "gelid" is derived from the Latin word "gelidus" (extremely
cold, icy). 
GELID Solutions Ltd. is a Hong Kong based company with Swiss Management and founded in 2008 by Gebhard SCHERRER and VC TRAN. Both have worked in the PC Cooling industry for a number of years and successfully built up an  IT company with their expertise. 
GELID designs and manufactures thermal solutions, CPU coolers, fans, and other computer hardware for both gamers and silent enthusiasts. We provide computer hardware distributors, retailers and system integrators with innovative, virtually silent, high- performance and top quality thermal solutions.
Quality and innovation are key. And, being Swiss, we leave nothing to chance. That's why we provide a total solution – from bearings to thermal compound, from design to shipping, from the moulding of the fan to the print on the box – with state-of-the-art machines and experienced staff.
Our Vision:
Combine quality and ingenuity to set the standard in creating best- in- class products for global computer enthusiasts 
As their latest venture, GELID Solutions Ltd. is a privately owned limited liability company with a registered share capital of HKD 1'000'000. Strategically based in Hong Kong, "Asia's World City", it enjoys an unrivalled location at the geographical and economic centre of Asia. For our customers, this means easy and quick access to our vast manufacturing base in mainland China.
 SPECIFICATIONS
Specifications
*INCLUDED:
Applicator
Net Content (g):
5
Specific Gravity (g/cm3):
3.96
Viscosity (Poise):
2850
PACKAGING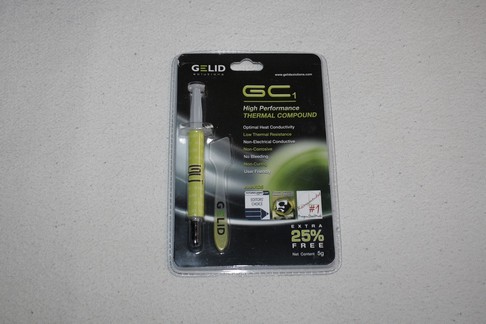 Gelid used a standard plastic blister packaging got the GC1 that we see with a lot of thermal compounds. On the front we have the general features of this product and that the thermal compound has 25% more for free. Off to the left hand side of the packaging we have the thermal compound, and right next to that a plastic applicator that will help spread out the thermal paste evenly on our CPU, GPU, and anything else we use thermal paste on.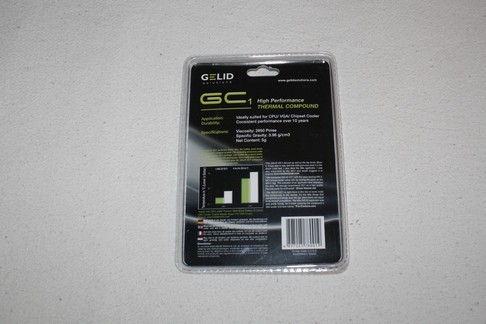 Flipping the packaging over on the back side, we have general specifications, a chart of how the GC1 compares to Acrtic Silver 5, GC1 Green, Acrtic Silver 5 White. Also on the back side of the packaging is testimonials from other review sites.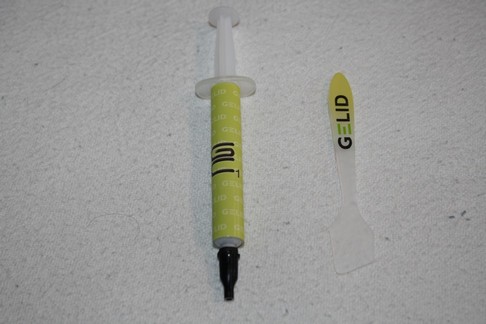 The tube of GC1 and the applicator outside of the packaging.
TESTING METHODOLOGY
Test Setup &Testing Methodology
CPU
Lapped Core i7 920
Motherboard
MSI X58 Platinum
Case
Coolermaster ATCS 840
Memory
Corsair DDR3 1600
Video Card's
Sapphire 4870×2, HIS 4870
Hard Drives
 3 x 160 Gig Sata2 Western Digital, 2 in raid 0, 1 back up
CDRom Drive
Lite On Sata1 DVD Burner
Power Supply
Coolermaster U.C.P. 900watt 80+ Silver
Type Of Coolers Used
DD MC-TDX , Koolance VID-487X2 (Dual Loop), VID-487 Koolance
CPU Speeds Used
3990Mhz, 210 x 19
Operating System Used
Microsoft Windows Vista 64 bit Ultimate
Type of Software Used During Testing
Orthos x 2 45 min runs, Far Cry 2
For testing the GC1 Thermal Interfacing Compound, I used Orthos to fully load all four cores of my CPU for 45 minutes X 2 runs. To make sure the CPU was at optimal max temperature, I allowed the CPU to cool down for 30 minutes after each Orthos run to get a good idle temperature measurement. I allowed FarCry2 to run for 30 minutes x 2 runs to heat up the video card to maximum full load. I then allowed the video card to idle for 30 minutes after each run to get my idle temperatures. I recorded the highest temperature reached in both idle and full loads on CPU and GPU cores. The ambient temperature of the room is round 18°C. Your results will vary greatly from my results.
TESTING
For testing the GC1, I included a smear test and also the application to my CPU on how I apply thermal paste on my CPU's.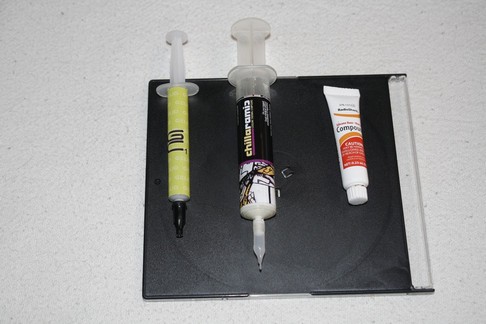 The competition: Gelid GC1 on the far left, Coolink Chilla Ramic center, and finally Radio Shacks silicone based heat sink paste on the far right.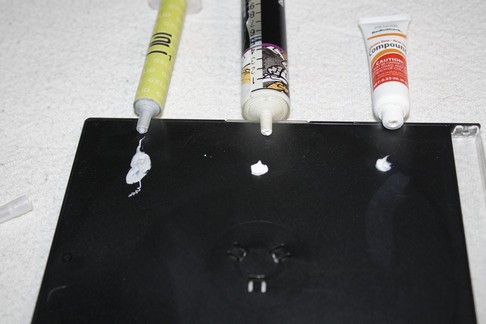 What each of the thermal compounds look like right out of the tubes. The GC1 (left) has a slight grey tint to it and it has the thinnest consistency out of the three thermal compounds. So thin, in fact, I accidentally squeezed too hard on the applicator and a lot came out. You may want be careful when applying the GC1. Chilla Ramic is the thickest out of the three and also has the whitest color. The radio Shack thermal paste has a clear white look to it.
The Smear test. I used the Gelid spreader to perform this test.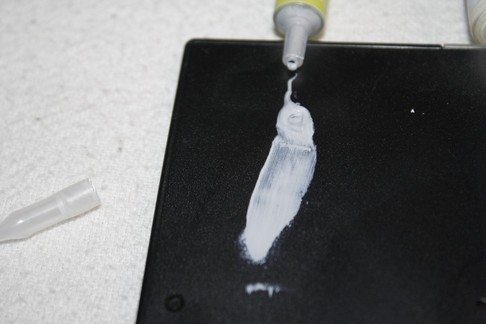 During this part of testing we see the GC1 again has a somewhat of a thin feel to it and spreads out quite quickly and evenly.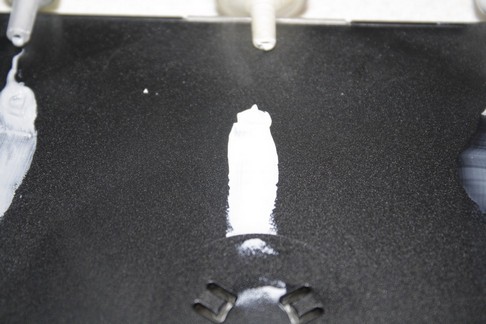 The Coolink Chilla Ramic thermal paste maintains it consistency through out this portion of testing.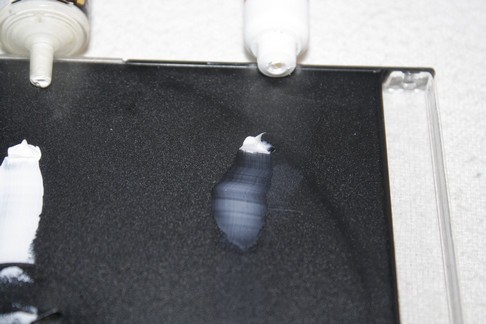 The Radio Shack thermal paste damn near disappears immediately.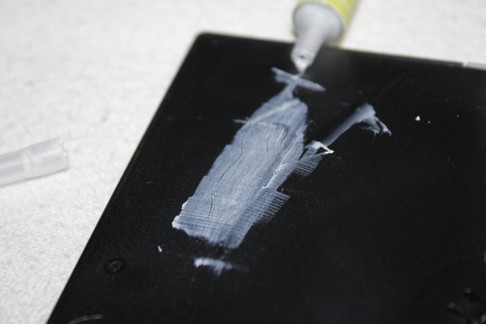 This is the final test dealing with the spreading portion of each of the compounds. I used the Gelid plastic applicator and scraped each compound off of the back side of my black DVD cover. Even though the GC1 is somewhat thinner than the other two compounds, the GC1 left a little bit of residue.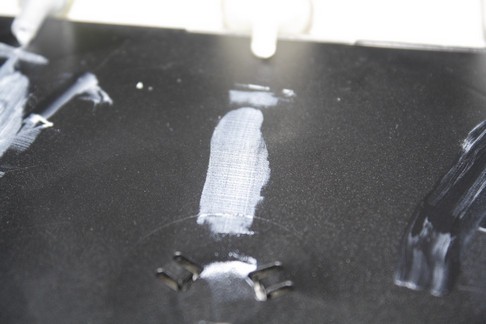 The Chilla Ramic compound did the same thing as the GC1. It too left a bit of residue on the DVD cover.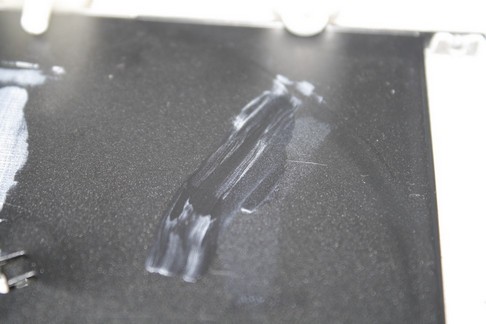 The Radio Shack thermal paste almost disappears during this test.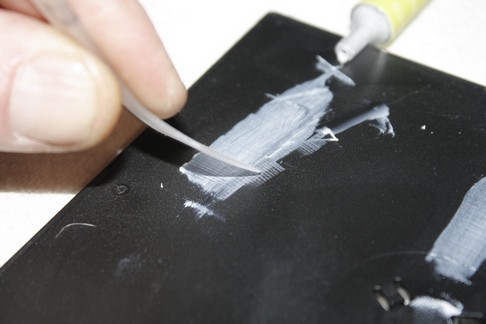 This is how I used the applicator to scrape each thermal paste off of my DVD cover. It's not exactly rocket science, but it is good enough of a test to give me the results I was looking for.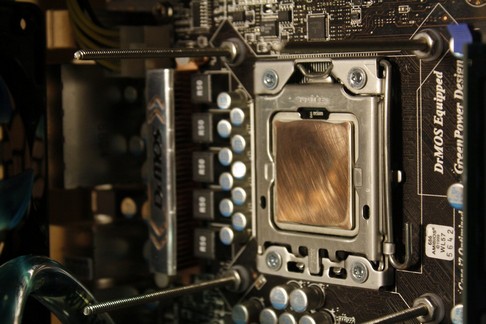 Now it is time to see how the GC1 performs on a Intel Core i7 920 being clocked at 3.990GHz. As we can see, yes, the CPU IHS has been lapped.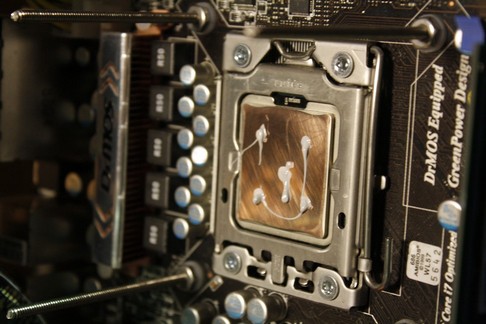 Applying this thermal paste was a bit different from what I am used to. It was a tad bit thinner than I thought. As usual, I use (or try to use) a 5 point pattern on the IHS. One center, and one out from the center towards each of the corners. I have found out this to be the best way on applying thermal paste on my CPU's. I used this same pattern on all of the thermal compounds that I used or tested.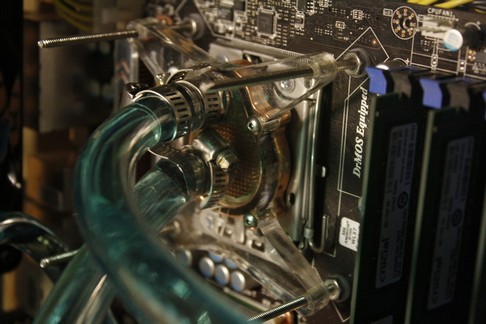 The Danger Den MC-TDX water block is placed on. I can remove the water block with ease and not have to drain the entire loop or remove the motherboard.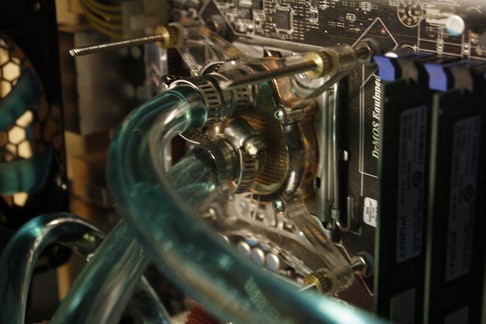 The water block fully secured. Springs? Who uses springs?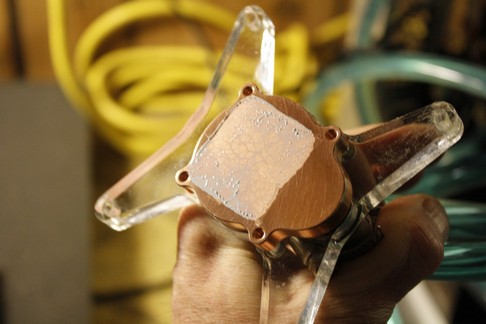 How the GC1 spread out on my water block. Now that's what I call evenly.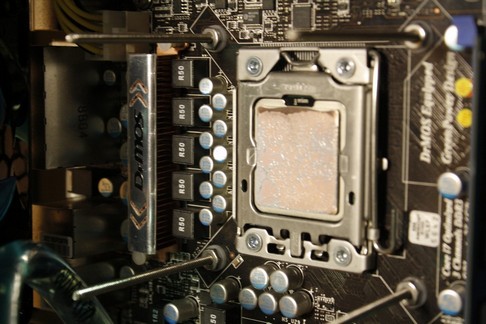 Make sure what you have on the water block (or cooler's base) you get on the CPU. Beautiful.
Now, since all of our test fittings are done and have I re-applied the GC1, its time for TORTURE.
Final Results
| | | |
| --- | --- | --- |
|  CPU Testing | Idle | Load |
| Coolink Chilla Ramic | 27°C | 55°C |
| Radio Shack Silicone Paste | 30°C | 62°C |
| Gelid GC1 | 24°C | 52°C |
The Gelid GC1  just blew away the competition in the CPU testing by bringing my temperatures down by 3C° farther during an idle state than the Chilla Ramic. I also had that same 3C° drop in full load temperatures as well during full load testing.
| | | |
| --- | --- | --- |
|  GPU Testing | Idle | Load |
| Coolink Chilla Ramic 845/1050 | 28°C | 33°C |
| Radio Shack Silicone Paste 770/1000 | 30°C | 38°C |
| Gelid GC1 845/1050 | 27°C | 32°C |
When I used the GC1 on my water cooled HIS HD4870 video card, the GC1 manages to squeeze out 1C° drop. Which, even I myself wasn't expecting much a of a difference.
CONCLUSION
With the continuing need of having a good thermal interfacing compound on our vital computer components, companies need to stay ever more vigilant on making thermal paste. They need to continue to make it perform better, last longer, and make it as simple as possible to apply. GELID Solutions has done a terrific job on making their thermal compound meet these requirements.
GELID Solutions has made a high performance, easy to apply thermal compound that has a long durable life (10 years consistent performance) and rivals even the most expensive thermal compounds out on the market today. With having only a price point of $5 USD, it makes you wonder, now how can you not afford such a great thermal paste?
We are trying out a new addition to our scoring system to provide additional feedback beyond a flat score. Please note that the final score isn't an aggregate average of the new rating system.
 
Performance 9.5
Value 9.5
Quality 9.5
Warranty 9
Features 9
Innovation 9.5
Pros:
+ Easy to apply
+ Great thermal conductivity
+ Cheap
Cons:
–Need to offer a larger size tubing (more of a suggestion than a con)
Final score of 9.5 out of 10 and receives the Bjorn3D Golden Bear Award.