When air cooling alone is not enough, some enthusiasts turn to water. But what if you're not too fond of the idea of water running around your electronics? Well, there's a solution and its called a TEC.
INTRODUCTION
In the constant pursuit of higher clock speeds, one thing is for sure. You will need better cooling. For those who feel more daring than your average Joe, there is a whole slew of aftermarket coolers that can be used to achieve the highest overclock possible. Many of these people consider themselves extreme users. What if you're not feeling so "extreme" and just want to improve your speed without running a liquid system? Well, Cooler Master has answered the call with their V10 CPU cooler.
With a TEC (Thermo Electric Cooling), Cooler Master feels they are able to pump away more heat than your standard aftermarket heat sink. The concept of a TEC is a simple one, but I will cover that later on in the review. The V10 is certainly not the first cooler to ever use a TEC. Previous TEC coolers include the Ultra Chilltec and Titan Amanda. Cooler Master has expanded on these previous concepts by adding a RAM cooler. While the cooler doesn't physically touch the RAM, there is a fan right above it to give some airflow over the RAM, which in turn should reduce its temperatures.
Will this concept by Cooler Master work better than the previous king of 1366 CPU coolers, the Nocta SE1366? I will just have to test that for you now, wont I?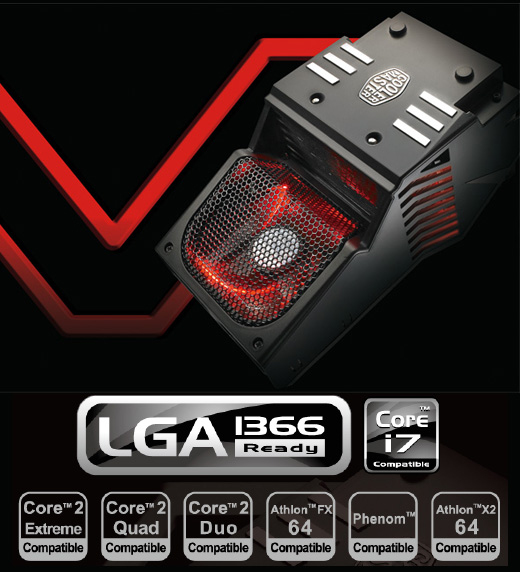 About Cooler Master
Cooler Master was founded with the mission of providing the industry's best thermal solutions. Since its establishment a decade ago, the company has remained faithful to this mission, emerging as a world leader in products and services for companies dealing with devices where heat issues must be resolved.
A critical component of Cooler Master's ability to successfully pursue its mission is an unstinting commitment to quality, as demonstrated by the ISO 9001 certification granted to its main manufacturing plant in Taiwan. It has also enforced ISO guidelines and is in the process of applying for ISO 9002 certification at its second and third plants, located in China. Cooler Master has also implemented a number of analytical and testing protocols to ensure top quality, including at subcontractors, to further ensure thorough quality control. Moreover, Cooler Master's dedication to quality extends beyond manufacturing to every aspect of its operation, including service.
Cooler Master's current business encompasses a comprehensive lineup of thermal solutions for a full range of applications. Its products range from heat sinks and fans to component housing, chassis, and ducting for computers, industrial machinery, telecommunications equipment, and many other devices.
FEATURES
Optimal Cooling Technology

Unique triple heat sink design for supreme cooling performance
10 heat pipes (6 for main body; 4 for TEC) maximize heat transfer
Dual PWM fan ensures huge airflow over the heat sinks




Unique Triple Heat Sink with Modular AI. Fins




Dual PWM Fans

Full coverage of DRAM & CPU for best cooling performance


Full Coverage Cooling (DRAM & CPU)
 
Hybrid TEC Solution

TEC is intelligently activated once CPU reaches extreme temperatures


Main Unit with TEC
SPECIFICATIONS
Model
RR-B2P-UV10-GP
 
CPU Socket
Intel LGA1366 & 775, AMD 754/939/940/AM2
 
Dimension
(L) 9.32 x (W) 5.11 x (H) 6.36 inches
or
(L) 236.5 x (W) 129.6 x (H) 161.3 mm
 
Weight
2.65 lbs
 
Heat Sink Material
Cu base, AL fin, 10 heatpipes
 
Heat Pipes Dimensions
6mm
 
Fan Dimension
(L) 4.73 x (W) 1.00 x (H) 4.73 inches
or
(L) 120 x (W) 25 x (H) 120 mm
 
Fan Speed
800~2400 R.P.M
 
Fan Airflow
90 CFM (max)
 
Fan Air Pressure
2.94mm-H2O
 
Bearing Type
Rifle Bearing
 
Fan Life Expectancy
40,000 hours @ 25 ℃
 
Fan Noise Level (dB-A)
17 dB-A (min)
 
Connector
4-Pin
 
Fan Control
PWM
 
Operation Temperature
25 ~ 70 ℃
 
Power
70W (max)
 
Rated Current
9.8A (max)
 
UPC Code
884102003295
PICTURES & IMPRESSIONS
The packaging looks and feels of the highest quality, and it should given its price tag. The front of the box has a sleek V10 logo on it, along with a clear indication that it works on LGA1366. The back of the box allows the would be purchaser to marvel at the greatness of this cooler.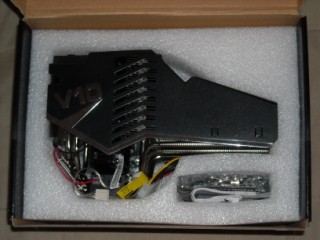 When you first open the box you are greeted with a silver V10 logo on the side of the cooler and a pocket full of accessories. I love the time that Cooler Master took in packaging this cooler. It fits nice and snug to ensure that no damage will come to the cooler on the way to its new home. The cooler looks like it is almost big enough to snap a motherboard into multiple pieces.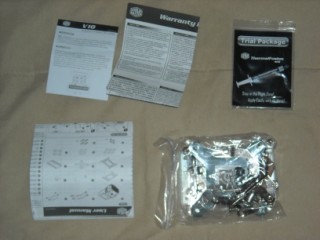 Let's get the accessories out of the way first so we can go back to drooling at the V10. Included is all you need to mount the cooler on the sockets 775, 1366, AM2, 939, and 754. This covers any modern CPU and if your CPU isn't one of these sockets then you should think about investing more money on a hardware upgrade. There are directions, along with a small sample of thermal paste. There is enough paste to get the cooler mounted and the manuals are detailed enough for even the most novice system builders.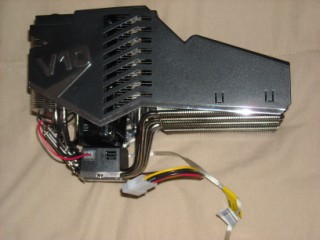 Once you get the cooler out of the package it manages to look even more menacing. This is easily the longest cooler I have ever seen, and possibly the longest ever made. I love how Cooler Master made this cooler look so awesome. I haven't even had it in my system, and it's already becoming my favorite cooler.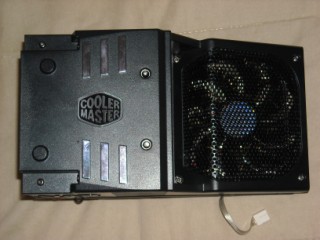 This is the part I was waiting for, the top. Since this is what you will be looking at all the time it should be arguably the coolest looking part of the whole heat sink. Cooler Master does not disappoint. This definitely has a nice look with their logo in the middle, which adds the final touches to an already amazing cooler. I like the effect of the fan seen through the mesh. The mesh is not only there for looks, however, it will help block out some of the larger pieces of dust to keep your heat sink from getting clogged up, and thus lowering its cooling ability. I can't wait to see the effect red LED's have on the look of this fan.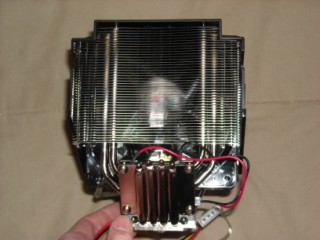 As you can see in the picture, the metal fins on the cooler are quite close together. This helps increase the overall area that the heat will spread. The more area, the more potential for heat to be lost. Thus, if you decrease the space between fins, you will lower temperatures. You can also see the very front of the TEC. This plate that you see on the bottom is where all the heat from your CPU is going. The heat is then carried up to the metal blades via the heat pipes. Definitely a great design choice by Cooler Master. I like this design better than the Ultra Chilltecs due to the heat being farther away from the CPU. On the Chilltec, the second heat plate is right above the CPU. Cooler Master's design is more effective due to it pulling heat further away from the heat sink.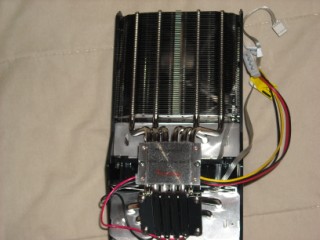 The bottom, of course, is the least looked at spot of the whole setup, but its functions is the most important. This is where all the magic happens that allows your CPU to be cooled. One thing that I wish Cooler Master would have done is sleeve the Molex connector. It would have been the icing on top of the cake, but it is forgivable due to Cooler Master's unparalleled attention to detail on the other aspects of the cooler. Most unnoticed are the included fans. I only know of them because they seem to be the same ones that happen to be on my Aquagate radiator. The ones on the rad are rated for 78 CFM at 22 dBA. Being that Cooler Master lists these as 90 CFM, I imagine they just pumped them up a bit to achieve better cooling. This is a much welcome improvement.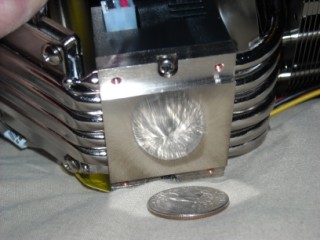 One of the pinnacle ways of telling the ability of a cooler is how well polished it is. If it is as dull as a butter knife then you know the manufacturer did not take the time to polish it nice, so it is probably not of the best quality. Cooler Master does not disappoint here. You can see the reflection of the quarter, but I don't feel the camera really captures the quality of the polish. Looking at it closely you can see every little detail of the quarter, including a few little scratches on the quarter.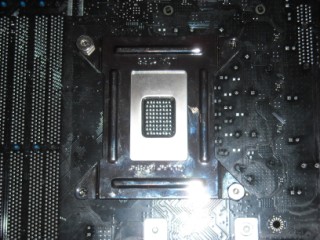 Now that the cooler is out of the way, lets look at what keeps this monster firm on your CPU. It does a great job of blending in. If you look closely you will see the slight outline of it. You can easily see the back plate, the camera just doesn't pick up too well shiny metallic items such as this. This certainly doesn't look any better than your average back plate. It does feel a bit tougher than previous 775 back plates, though that may be due to its increased size.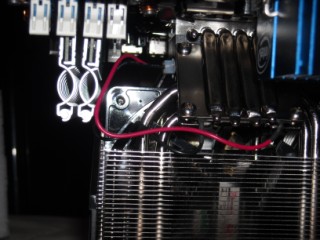 Then comes the big one. This cooler and your RAM. No extreme performance RAM such as Corsair Dominator or G.Skill Pi will fit under this cooler. Only RAM with a normal heat sink will. It is definitely a downfall of this cooler. Fortunately, there are a few faster RAM sets with normal heat sinks such as Mushkin's new 1866 triple channel kit. If you have an Intel X58 like me, you may just be able to fit it in. It does bend the RAM a bit, but it is not enough to make it no longer function, so it is alright.
TESTING
To test the idle temperature of each cooler, I let the computer sit while running the minimal amount of tasks. I did this for 30 minutes to make sure that the CPU was as hot as it could possibly get while doing almost nothing. To test the load temperature, I used five back to back tests of Intel Burn In. I use Intel Burn In because it usually averages at least 5°C hotter than its counterpart Prime95. The average Intel Burn In lasts about 3 minutes, which may not seem like a lot, but after two of these runs the CPU becomes as hot as it will become in any further amount of tests.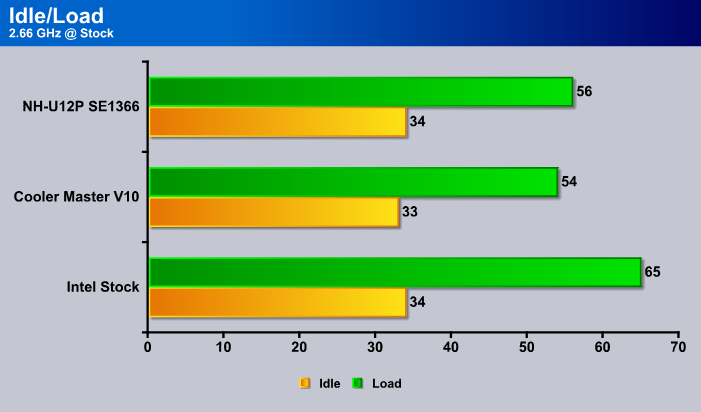 The V10 got off to a good start right off the bat. The cooler managed to beat the stock cooler by a whole 11°C. This is a significant drop and helps immensely in an overclock. The Noctua was able to keep up with the V10 despite the V10s much higher price tag. This was kind of a disappointment for me, as the V10 should have done a lot better against the Noctua.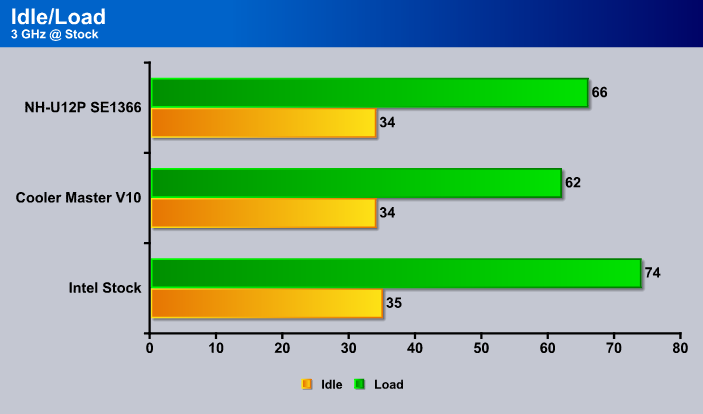 The V10 had a much better showing when the CPU was cranked above stock speeds. The V10 was easily able to increase its lead over the Noctua and restored a bit of confidence back into me. There is still plenty of head room to increase the clocks even more, but I don't think the Intel stock cooler can keep up. It is already on the verge of being too hot for 24/7 operation.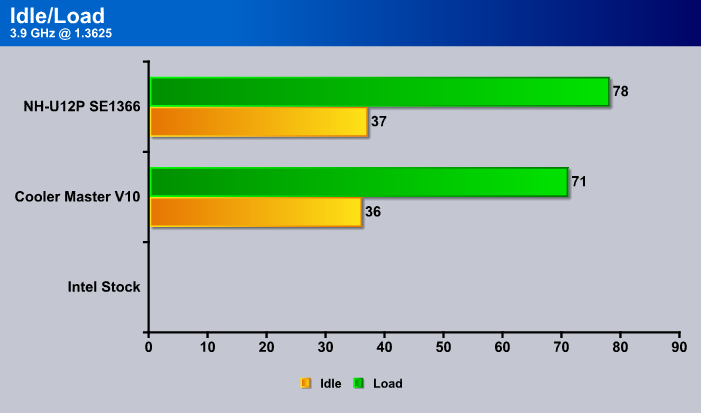 Unfortunately, the Intel stock cooler was so hot I didn't let it run stress tests for very long at all. The temps kept rising and rising. The Noctua almost faced the same fate, but I left it on for a bit to see where it topped off at. The V10 certainly takes the cake here, as it is the only cooler with acceptable temperatures to run 24/7. This was a fair showing by the V10. It managed to beat out the Noctua and Intel stock cooler, which should be expected given the price.
CONCLUSION
The hardest thing about the V10 to judge is its price. Is this cooler really worth $140 USD? Certainly it beats the best of the best coolers for 1366, but I cant answer that question for you. If you have money, why not spend it? I am sure that a lot of you don't have an extra wad of cash laying around to pick one of these up. The price, even more than TEC's of the past, is very steep for a cooler. In fact, it approaches liquid systems in price. That poses another question. Will it compare to a liquid system? In its price range I am sure that the V10 will be able to put numbers that compare or best liquid. This does not apply to higher end liquid systems.
One thing I do wish Cooler Master would have included for the more experienced users is control of the TEC. The TEC does not seem to always be on, and I would love to see results with it on full blast. Even though it is a very small TEC (50 watts) it is capable of pulling a lot of heat of from the CPU as evidenced by the test results. One thing that shouldn't be forgotten is the looks of the cooler. I feel that Cooler Master has stuck a gold mine with this one. The first time I saw this cooler I could not believe how good it looked. To have it perform just as well only sweetens the deal.
The Cooler Master V10 certainly feels like the ultimate cooler. I am interested in seeing if Cooler Master attempts to beat the V10 performance with the upcoming V12. At this pace, Cooler Master will be ranked amongst Thermaltake and Thermalright in terms of good quality coolers. In every field, the V10 has excelled to become a cooler of legendary proportions and will continue to lead the air cooler pack for years to come.
Pros:
+  Unbeatable performance
+  Looks
+  LGA1366 support
+  TEC

Cons:
–  Price
–  Blocks high RAM sinks
With a final score of 8 out of 10 the Cooler Master V10 receives the Bjorn3D Seal of Approval.