Like most other components in the computer, a power supply is 100% required for the computer to function. Let's see how the In Win 850w Commander does.
INTRODUCTION
The power supply is sometimes misunderstood as one of the main components that every computer requires to run. When shopping for power supplies, sometimes we don't understand exactly how important it actually is and tend to not give it some serious thought and even sometimes grab the least powerful/costly unit that we see. This is a very bad idea because the power supply regulates and protects all your other components, and when getting the cheaper units, they tend to die and most times they don't go out alone.
In Win has been targeting the gaming market with the Commander lineup of power supplies and so far the units have seemed pretty impressive. Today we will be cracking down an 850w model from the Commander series, but first lets take a look at who In Win is.

ABOUT IN WIN
IN-WIN Development Inc., an ISO 9001 manufacturer of professional computer chassis, power supplies and digital storage devices, is the leading provider of enclosure solutions to system integrators worldwide. Founded in 1986, IN-WIN provides high quality chassis that conform to all safety regulations, as well as unsurpassed customer service.
In Win was well trained to become a top-notch manufacturer of core technology to enhance internal core competence to meet what customer and market needs constantly. Top Management has been executed four major elements to reach our growing goal: Innovation, Service, Speed, Value, Safety, Warmth, Faithful, Diligence in order to remain our leading edge position and differentiate with other players.
IN WIN'S GOALS
Your partner of choice
Product quality assured
Constant product innovation
High environmental standards & social responsibilities
Continuing the highest demands of service
| | |
| --- | --- |
| | 100~240Vac, 47HZ~63Hz, 10A/5A |
| | |
| --- | --- |
| | +3.3V, +5V+, +12V1, +12V2, +12V3, +12V4, -12V, +5VSB |
| | |
| --- | --- |
| | 30A, 30A, 18A, 18A, 30A, 30A, 0.8A, 3A |
| | |
| --- | --- |
| | 850W. Total Power on +3.3V & +5V is 180W MAX. |
| | |
| --- | --- |
| | ATX 12V 2.3 & EPS 12V 2.91 Version |
| | |
| --- | --- |
| | Full Range Active PFC |
| | |
| --- | --- |
| | Silent 14cm Two Ball Beaning Fan |
| | |
| --- | --- |
| | OVP、OCP、OPP、UVP、SCP |
| | |
| --- | --- |
| | BSMI / CB / CCC / CE / FCC / TUV / UL |
PACKAGING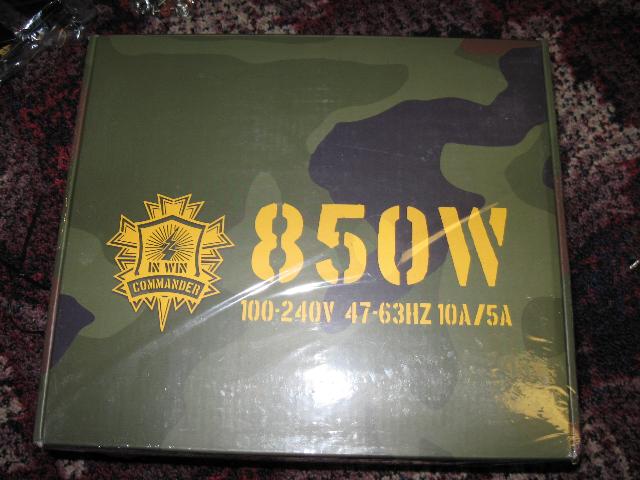 Here's the front of the box, kinda looks like its hiding something inside.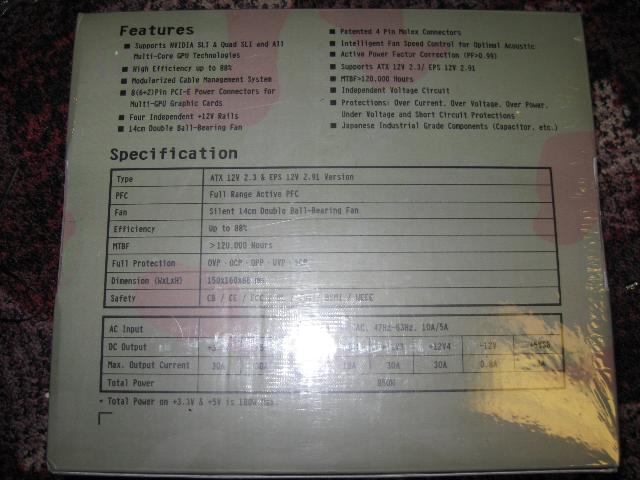 This is the back of the box that lists all the features and power specifications of the unit.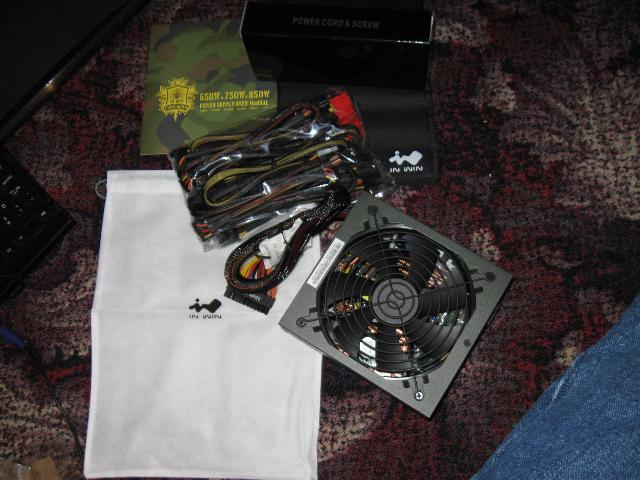 Here's everything that came in the box. You can see all the supplied cables, user manual, included mounting screws and power cord, the power supply, and even a nifty little carry case/bag to slip the power supply in along with all the cables.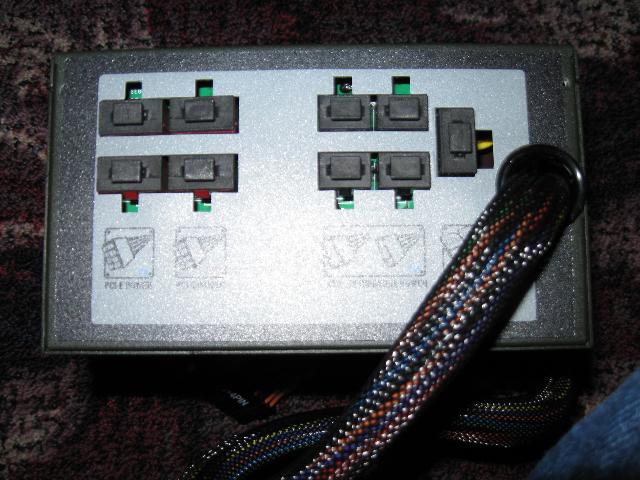 The only cable that comes pre-attached to the unti is the motherboard power cable which is, obviously, used by every computer out there. The left 4 plugins are for PCI-E cables and the others are for SATA drives and 4-Pin molexs. That lonely one on the far right is the power for the CPU.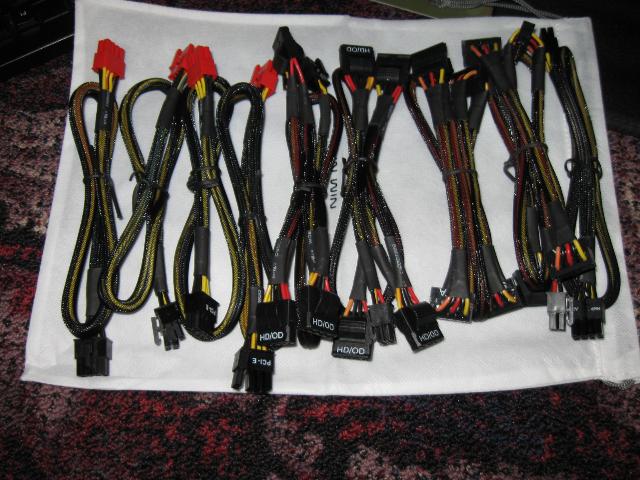 Here are all the cables, you can see that each group and types of cables are labeled so that you can tell which one goes where.
INSTALLATION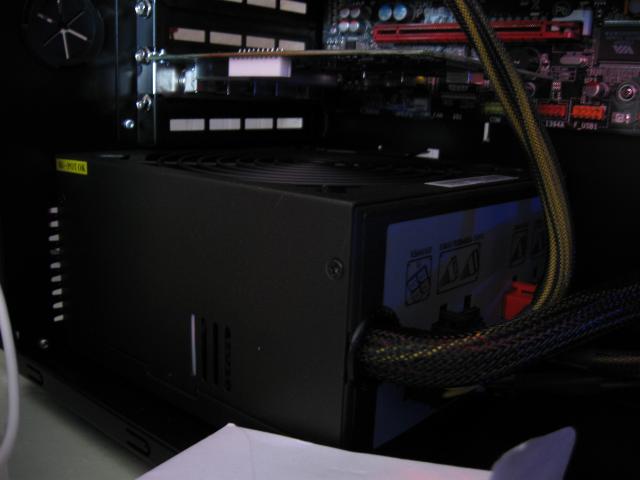 This is the Commander installed in my Antec 900 2 gaming case. The installation of this power supply was a breeze compared to the other PSU's I've used in the past. Afterall, this is the first modular unit I've ever used.
TESTING METHODOLOGY
Test Setup & Testing Methodology
CPU
Core i7 920
Motherboard
ECS X58B-a
Case
Antec 900 2
Memory
Samsung DDR3 1333MHz
Video Card
Leadtek 9800GTX
Hard Drives
640GB Western Digital
CDRom Drive
Lite On Sata DVD Burner
Power Supply
In Win Commander 850W
Type Of Coolers Used
Cooler Master V10
CPU Speeds Used
3.3 GHz
Operating System Used
Microsoft Windows Vista

64

bit

Home Premium
Type of Software Used During Testing
Prime95, WinRar, 3DMark06
To test my power supplies, I used a GB Instruments multimeter. Idle voltages were recorded after letting the computer sit for 15 minutes to ensure everything really was idle. Load results were taken while running 3DMark06, then Prime95 the WinRAR. Both idle and load results were the average of 3 testings.
RESULTS
Power Output Results(V)
Measured With Craftsman Multimeter
Power Rail
OCZ GameXStream 700W

In Win Commander 850W


Idle
Load

Idle
Load

3.3v
3.34

3.31

3.30
5v

4.95


4.96
5.02
5.01
12v1

12.33


12.21

12.04

12.00
12v2
12.35
12.28
12.00
12.00
12v3
12.33
12.30
12.00
12.00
12v4
12.30
12.27
12.03
12.05
5vSB

5.10


5.10
5.11
5.10
The test results from the In Win alone are astounding and compared to my older OCZ power supply, the In Win completely blows that thing away! At the most, the In Win moved from 12.04v idle to 12.00 load which to me seems extremely reasonable. As you can see these results show how well this power supply performs, so all that's left now is the conlusion.
CONCLUSIONS
When designing this power supply unit, In Win has taken careful consideration to all the details and in the end provided an extremely well polished product. This 850w model from the Commander line of In Win PSU's provides stable power across all the rails and passed everything I could throw at it.
The overall looks and appearances of the power supply are different than what the other companies have to offer which is what really sets this unit out from the rest of the group. Although it doesn't light up your case with a bright LED fan, the green paint makes it look badass and the performance lives up to that. The modular design is especially cool, although not unique, because I don't have to run all those extra cables to the back of the motherboard making for some neat and tidy cable management. Although your paying a premium price for the cool features and good looks, at $209 from the Egg, I would for sure say it's worth it.
Performance 9
Value 8.5
Quality 9
Warranty 10
Features 8
Innovation 10
Pros:
+Quiet
+Nice Sleeving around individual cables
+Modular Cables
+Unique Design
Cons:
Final score of 8.5 out of 10 and receives the Bjorn3D Seal of Approval.