If XSPC keeps making top quality performance water cooling products of this quality, they are going to make a huge splash in the enthusiast water cooling community.
Introduction
Video cards these days are just as powerful in some applications as the main processor in today's top end systems and all this power comes at a cost of generating large amounts of heat. Most of the stock coolers are barely sufficient to keep these top end cards cool under the most ideal circumstances. Put them in a crowded cluttered chassis and you're just asking for heat related problems.
The ATi HD4870 is no exception to this rule. Under load, the GPU temp can easily reach upwards of 80 degrees centigrade and hotter in a closed case. When I was asked to take a look at XSPC's new Razor full coverage GPU water block for my MSI HD4870 factory overclocked card, I jumped at the chance because I've already been getting great results from an other full coverage cooler on my Sapphire HD4870 factory overclocked card.
So let's get on with this review and see just how well the two water blocks compare performance wise to each other. It'll be interesting, to say the least.
 

About XSPC
XSPC is a UK based company founded in 2003 and incorporated in 2005. Our main business is the design and manufacturer of PC watercooling components. Our aim is to provide the market with the highest performance liquid cooling components at affordable prices.
We released our first product the R120 radiator in 2004, the following year we released our X2O CPU Waterblock, Pump and Watercooling kit. Since then we have released many award winning products covering all components of watercooling systems, most recently our Razor full cover GPU waterblocks.
All our products are designed for the PC enthusiast market where they are used by gamers and PC modders. Over the past year our products have been proved very popular with boutique PC manufactures and in specialist areas like recording studio PC's.
We are constantly revising our products to improve performance and in 2009 we will be releasing many new exciting products.
FEATURES & SPECIFICATIONS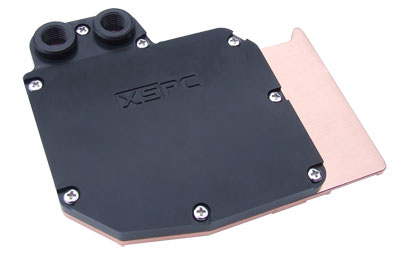 Razor 4870
Full Cover VGA Water-Block
– CNC machined from one piece of copper
– 1mm fins for high performance
– CNC Cut Acetal Top
– Dimensions 140 x 117 x 13.5mm (18mm at ports)
– Prepared for Crossfire with 4 G1/4″ Ports
– Supports ATI 4870 cards
  (ATI Reference Design Only)
Supplied with mounting kit, thermal pads, and thermal paste
PICTURES & IMPRESSIONS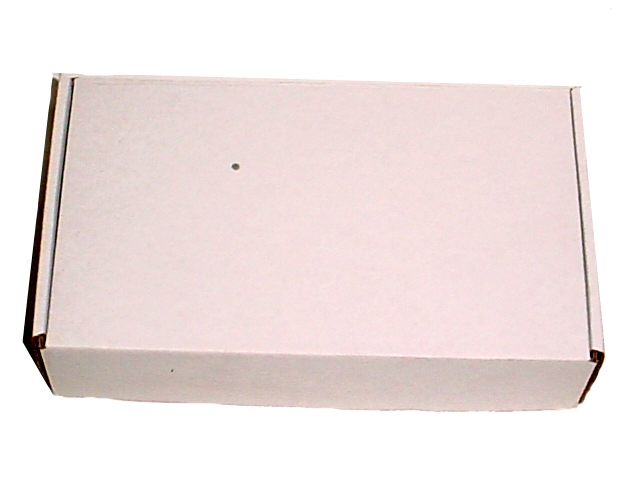 Unlike the XSPC Delta V3 CPU water block that I looked at in my last water cooling product review, which comes in a nice colorful retail box, the Razor comes in a plain white box with only a small bar code sticker on the side indicating what's inside the box.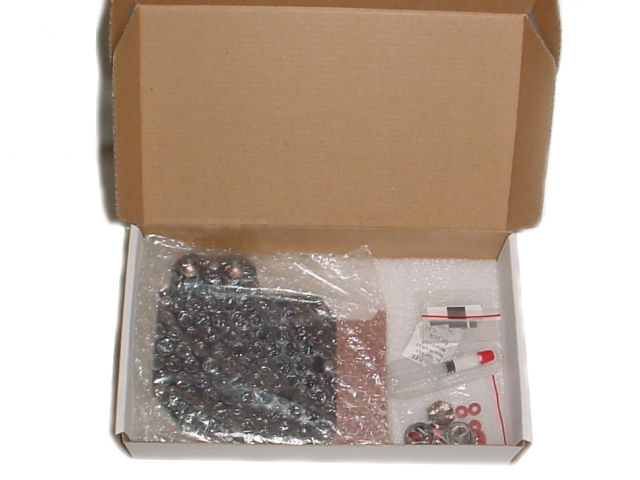 Even if the outside of the box is a little lacking on product information, the Razor itself comes securely packaged with thick foam on the top and bottom along with the block inside a bubble wrap bag.
Included with the Razor is all the required hardware to mount the block to your card as well as a tube of generic thermal paste for the GPU core and the video memory. Thermal pads are provided for the voltage regulator contact areas as well.
Like most XSPC products, there aren't any connection barbs of any sort provided, so be sure to purchase the type that you require in advance to avoid any delays getting your rig up and running.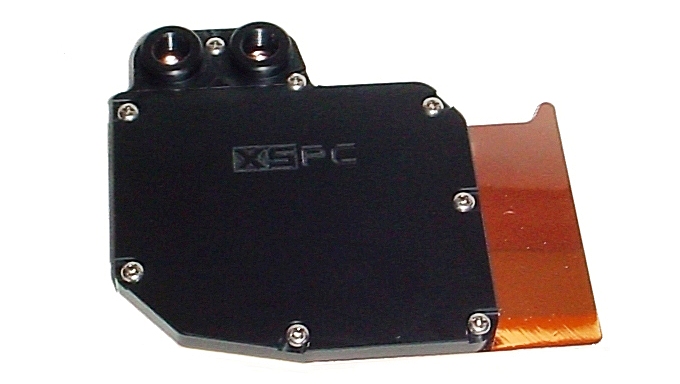 The XSPC Razor itself comes nicely finished and appears to be of high quality craftsmanship with the top CNC Cut out of Acetal and the bottom CNC machined from one piece of copper.
One thing I should make note of here. Even though XSPC's products are designed in the UK, they are contracted out to China to be produced. But that's like most things these days. I just thought I'd let you all know.
 Click Image For A Larger Picture
Looking at the Razor from the side you can tell that it's easily a single slot solution. It does measure slightly more than some of the other full coverage blocks out there, but hey, what are a few millimeters between friends as long as it's a single slot solution? 
 Click Image For A Larger Picture
The bottom of the base is nicely finished and has cooling contact points for all the hot running components on the ATi HD4870 series reference designed cards.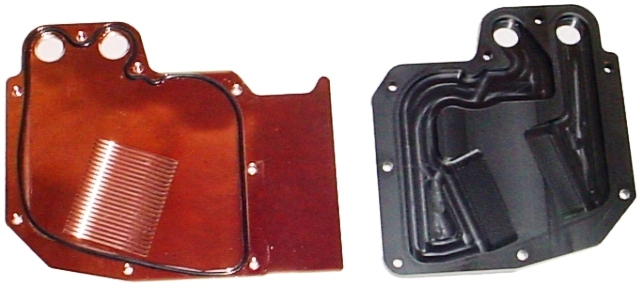 Looking at the inside of the Razor you can see that it's a fairly simple high flow design. The water comes in through either of the two G14" inlets and flows directly over the video memory on one side, then passes through the GPU water channel and out over the other set of video memory. The GPU channel is made up of 21 evenly spaces 1mm fins that are cut into the copper base plate for the Razor, which gives the block its high flow.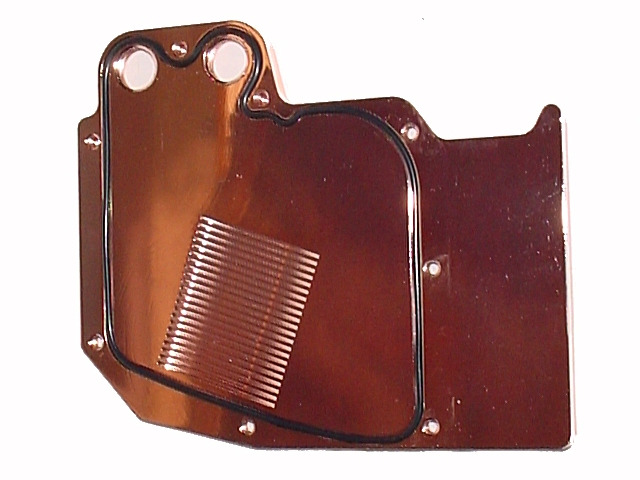 Here's a little larger view of the base so you all can see the quality a bit easier.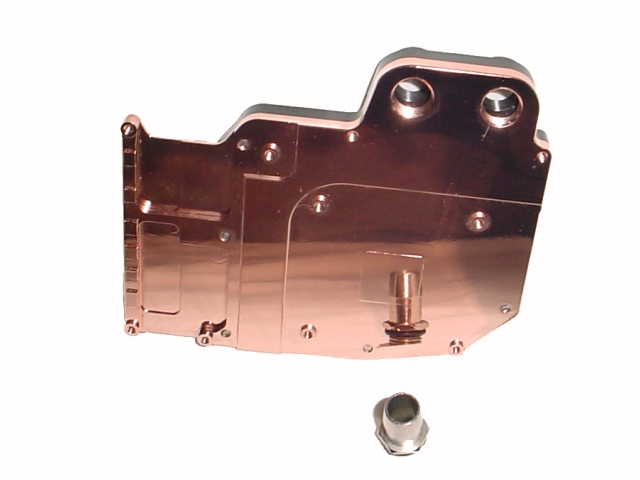 Here you can see just how much work went into finishing the base of the Razor. Checking all the different contact surfaces with a steel machinist rule, I found them all to be extremely flat and well finished. And having well finished contact surfaces on the memory is a huge plus because this block uses thermal paste on the GPU core as well as the memory, and not thermal tape on the memory like most full coverage blocks.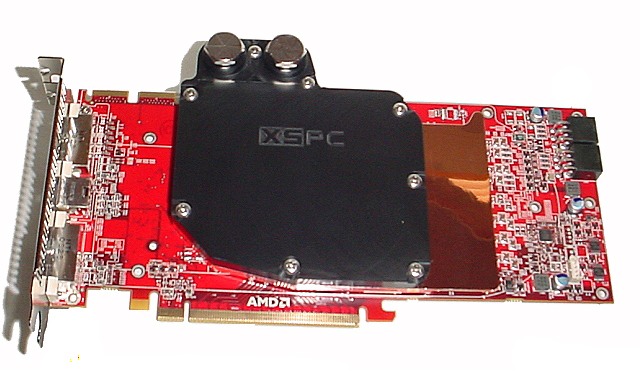 Just a few quick shots of the XSPC Razor installed on a typical ATi HD4870 reference designed card so you all can see what the block looks like installed.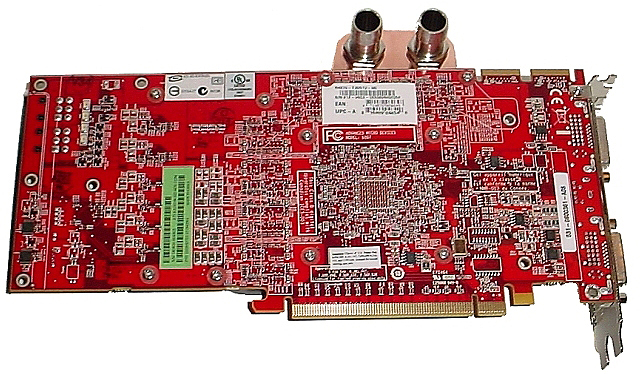 Testing & Methodology
All temperatures were taken using GPU-z v0.3.0 and HW Monitor v1.13, as well as the temperature monitor built into ATi Catalyst Control Center Overdrive feature. Idle temps were taken after the system sat idle in Windows for 30 minutes. Load temps were taken after running Rthdribl v1.2 for 30 minutes and three loops of 3DMark Vantage just to ensure that everything was heated up properly. Room temps were maintained as close as possible to 20°C throughout the testing. The GPU core and water blocks were cleaned and a fresh coat of thermal paste (Arctic Silver Céramique) was applied between each water block test run.
Each water block was removed and reinstalled three times to ensure that there wasn't an error in mounting that resulted in incorrect temps. The temps from these tests are only a sample of what these cooling solutions can do on my computer system. Your results may vary as the temps are reported from the video card itself and no two report exactly the same, but the GPU temperature reading will show if one block performs better than the other on the same system given overclock settings and conditions are kept as close to the same as possible. The reported temps will have an error of 0.5 degrees C as the reporting software rounds the temp to the nearest whole number.
Testing was completed at the following settings of video card default settings (780/1000) and then we pushed the card hard using Riva Tuner to see just how high the card would actually go using the different cooling solutions, 850/1200 was the maximum OC used. These different setting should show how each water block's performance scales to the different heat loads compared to the stock air cooler.
Test Rig
"Monster Rig"
Case Type
Mountain Mods U2 UFO
CPU
Intel Core i7 920 @ 3.6 @ 1.30v
Mother Board
ASUS P6T (SLI and CrossFire on Demand)
RAM
G.Skill Pi Black DDR3-1600 3 x 2 gig

CPU Cooler

GPU Cooler

Test Water Block – XSPC Razor GPU Water Block


Watercooling
Pump – Swiftech MCP655 / Swiftech MCP350
Radiator  – Thermalchill PA120.3 / Swiftech MCR120
Reservoir – Dual 5.25″ bay rez / Swiftech Micro  res
Water Block – XSPC Delta V3 / Koolance VID-487 / Swiftech MCW60
Appropriate 1/2 / 3/8 inch hoses and fittings
Thermaltake 2000rpm 80CFM Fan @ 7v

Hard Drives
Seagate 250 Gig SATA 2, WD 80 Gig SATA2
Optical
Lite-On DVD R/W SATA
GPU
Sapphire Toxic HD4870
Case Fans
8 x 120mm fans total
Testing PSU
SilverStone Strider SST-ST70F
Mouse
Logitech
Keyboard
Saitek
Just an every day little rig.

Test Software

ATi Catalyst Control Center
GPU-z v0.3.1
HW Monitor v1.13
3D Mark Vantage
Rthdribl v1.2
Rthdribl v1.2
Rthdribl is a technical demo of "High Dynamic Range Image-Based Lighting". DirectX 9.0 high-precision texture formats and version-2.0 of Pixel Shader represent real-time true HDR rendering.
Technical features of this demo are:
– True HDR (High-Dynamic Range) Rendering
– IBL (Image-Based Lighting)
– Glare Generation (Afterimage, Bloom, Halo, Ghost, and Star)
– Automatic Exposure Adjustment
– Iris shaped Depth of Field blur
– Realistic Motion Blur
– FSAA (Full-Scene Anti-Alias)
– Fresnel Reflection (Specular Reflectance, Metallic Color-Shift)
 
3DMark Vantage
For complete information on 3DMark Vantage Please follow this Link: www.futuremark.com/benchmarks/3dmarkvantage/features/
The newest video benchmark from the gang at Futuremark. This utility is still a synthetic benchmark, but one that more closely reflects real world gaming performance. While it is not a perfect replacement for actual game benchmarks, it has its uses.
RESULTS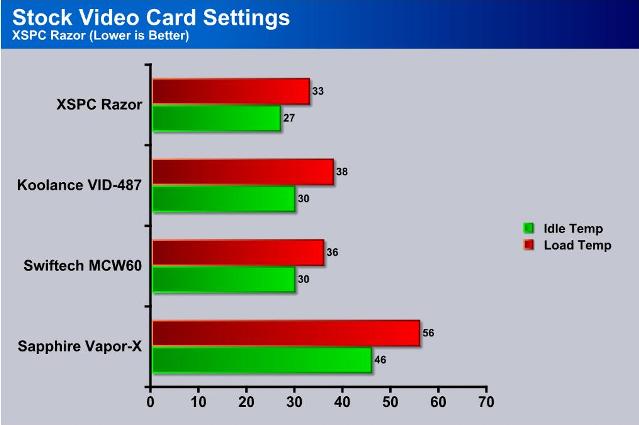 Stock settings for any quality GPU really aren't much of a challenge. There are some folks out there that water cool just about everything so they can get a near silent system, so that's where we'll start.
All the different cooling solutions tested provided good cooling performance at accessible noise levels (Sapphire Vapor-X), but the XSPC proved to be the best overall performer by a 3 degree margin, which is pretty impressive in my book.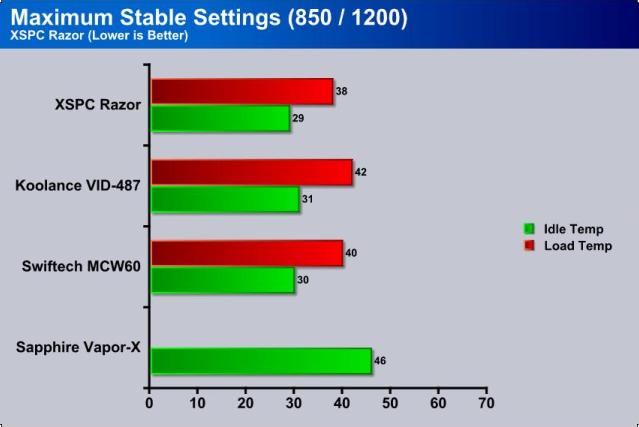 Next, we started overclocking the card to see just how high we could get it with the different cooling solutions. All three water cooling blocks were able to reach the same overclock or 850/1200 and complete all the benchmarks, but the Sapphire Vapor-X air cooler was only able to reach a max overclock of 830/1200 without showing artifacts or locking the system up completely.
The three water blocks, on the other hand, were able to handle the extra heat load in stride, but as in the stock round of testing, the XSPC Razor easily came out the winner by 2 degrees, which with water cooling at these heat loads is impressive in itself.
Conclusion
Overall, I've got nothing but praise for the XSPC Razor full coverage GPU water block. To date, this block has shown me the best all round performance of any water block that I've owned over the years. If XSPC keeps up their hard work coming out with other top quality performance water cooling products, they are going to make a huge splash in the enthusiast water cooling community here in the Americas as well in their home land.
My only gripe with the Razor, or any of the other products that XSPC offers, is the lack of included barbs with their water blocks. At a minimum, I would think that they would include some basic barbs to get folks on their way a bit faster, but maybe I'm just spoiled by some of the US companies supplying everything that's needed.
Enough of my ranting about barbs. After all, this is all about cooling performance of the Razor and that's nothing short of excellent. Combine great performance along with excellent manufacturing quality and you have a complete winning package with the XSPC Razor 4870 Full Coverage Water Block.
We are trying out a new addition to our scoring system to provide additional feedback beyond a flat score. Please note that the final score isn't an aggregate average of the new rating system.
Performance 9.5
Value 9
Quality 9
Warranty 9
Features 8.5
Innovation 8.5
Pros:
+  Great performance.
+  Outstanding build quality (water block)
+  Great performance for your money. (buying barbs adds to price)
+  Looks good

Cons:
– Only fits reference ATi HD4870's, adding to water cooling price during upgrades
– No barbs included with block (raises purchase price).
– High startup costs (water cooling always is)

The XSPC Razor is a first class product that comes highly recommended and it won't disappoint even the most extreme water cooling enthusiast.
Final Score of 9 out of 10 (Extremely Good) and the Golden Bear Award.