Today we will be looking at the customize USB drives from PromoLocker, an US based manufacture of USB drives. We worked with PromoLocker to create Bjorn3D's own custom USB drive. Check out their service and the flash drive's performance in our review.
INTRODUCTION
USB flash drives have become a necessity in our daily life as a primary means of portable data storage. Many of us probably have a few of flash drives in different shapes and sizes laying around on our desktops. You just cannot have enough of these drives.
If you have ever been to any computer trade shows, you will see that many corporations will give out customized USB drives as prizes or as promotional material. It used to be that only the big corporations could afford to have their customized USB drives because the cost of the drives was high. Nowadays, with the drives selling as cheap as $10 for 8GB, it suddenly is possible even for average Joe like you and me to customize our own USB drives with our own logo and data.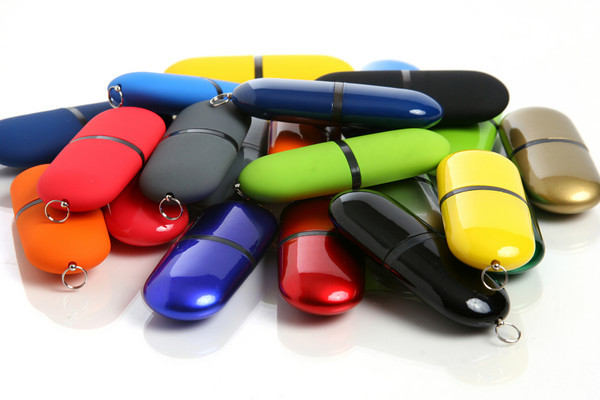 Bjorn3D was recently contacted by PromoLocker, a US company specializing in customized USB flash drive logos. You might wonder, why do you need a customized USB drive? I can see many uses for customized USB drives. For example, it is very nice to give them out as party gifts that can contain pictures or movies for events such as graduation, weddings, anniversaries, and parties. It can contain memorable images which attendees can take with them. For small business owners, it can be a good marketing tool where, not only that you can put your company's logo and web address on the outside, you can also use the drive for promotional use by including sample pictures, catalogs, or power point presentations. The possibilities are endless.
PROMOLOCKER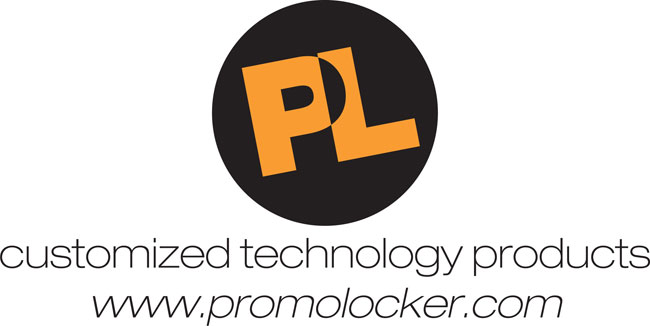 In 2001, we started building USB drives with a primary focus of offering a unique "made to order" USB flash drive. In 2003, we took that same philosophy and expanded our product offering to other technology products such as digital pictures frames, solar chargers, etc. Today, we are considered a top industry supplier in the promotional industry.  Several companies tout Custom Logo USB drives – but they are just "decorators." They buy USB drives and simply imprint a logo, hope it sticks, and on to the next customer. As a true manufacturer and committed business partner, PromoLocker does not begin production until we receive your order…from the ground up!

CUSTOMIZING OUR USB DRIVE
Although we do plan to put the flash drives through our regular tests, this review will actually focus our experience with PromoLocker and their service. Let's take a look as to the steps needed to create your own customized USB flash drives.
The process of customizing a USB flash drives starts with choosing the USB drive and deciding what logo or picture you wish to put on the drive. Promolocker was actually kind enough to work Bjorn3D to get our logo the right size and look so it would fit onto the drives we selected. They also have informed us that they will work with their clients to create custom logos or prints if needed, in case you do not have one ready. This is a standard service they offer to their customers, as every order is being handled by one of their customization experts who will work with the customer to get the logo just the way you want.
We emailed them our logo that is found on the upper left corner of our site. But that logo was way too big, so they have worked with us to create a more manageable logo to put on the drives. After a couple of email exchanges, they provided a sample of picture of logo for us to review. Once the logo was set, they sent us a mock up of the drive with the logo printed, so that we could get a sense of what the final product would look like. Once we saw seen the mock up and approved it, the drive would then go into production.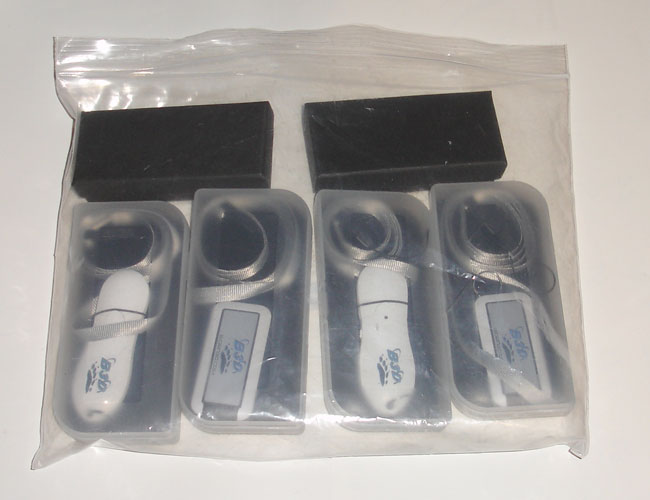 Finally, after a week, we received the products via FEDEX. The sample was shipped with each unit packaged in an individual plastic box. There are enough packaging materials around the samples to prevent them from being damaged during shipping. As you can see, Promolocker also includes a lanyard for each USB drive and for those drives that requires a USB cable, they have also include the cable as well.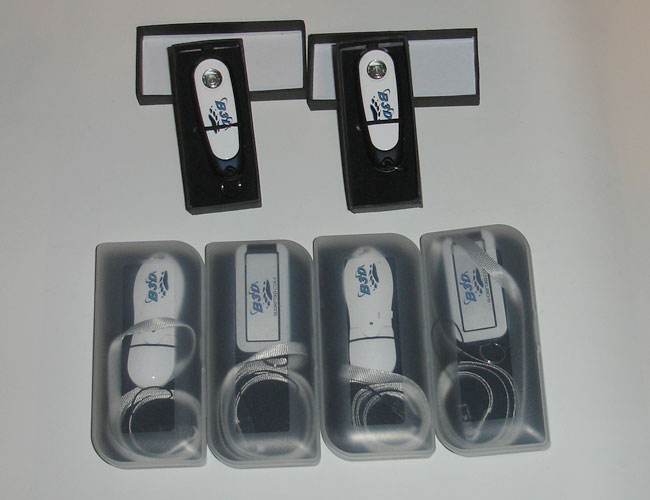 We should mention that PromoLocker provides their services with:
Never a setup fee.
Every order starts with a complimentary virtual sample, so you know what you are buying before making any commitments.
"Full color process", silk screen, pad printing, and laser engraving.
Having the option of choosing from many standard colors or (if applicable) you can even PMS color match to your exact company logo.
Many units can be custom finished with a metallic, glossy, rubberized, or opalescent surface.
Imprint single color to full color depending on your logo needs.
Two sided imprints are STANDARD. 
Customize the packaging (i.e., deboss, screen imprint)
In addition to providing a customized print on the USB drives, the company can also preload data onto the drives (that saves you a big hassle if you plan to give out hundreds of drives for your anniversary or special occasion with tons of pictures and videos). The drives can also be password protected, have auto run capabilities, partitions, etc. The drives can even encrypt the data via software.
Since the pricing of the flash drive are always changing, the price for the customized USB flash drives sometimes varies as well. We have selected three drives for the test. The Illuminator, Bowling Pin, and Flip Drive. Here is the price for our drives at the time of the review: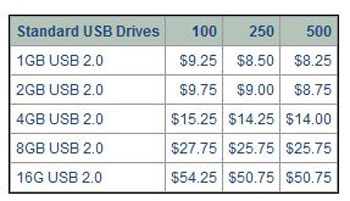 The Bowling Pin and Flip Drive

The Illuminator
Additional customization – like adding a custom PMS color, using a three color logo, or adding a second logo are all normally .25 add-ons. The price listed on the table above is for each USB stick.
In addition to what you will find at PromoLocker's site, we also got a few more samples of what the are capable of:
PromoLocker can customize different shapes and forms of USB as well as print the logo and icon on different surfaces.
In addition to USB Drives, PromoLocker is also able to customize USB mice, USB hubs, pens, USB points, among other computer related hardware.
BUILD AND MATERIAL QUALITY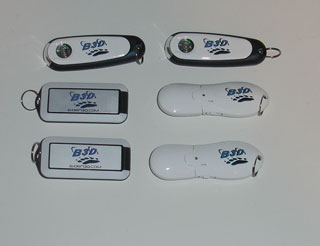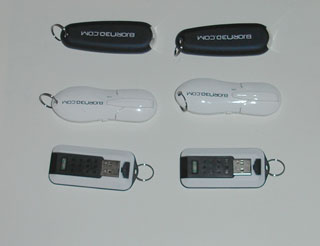 We chose three different types of surfaces to test out PromoLocker's printing service and to see the quality of the prints on different surfaces. The 2GB Flip Drive, which features a plastic casing, allows the USB drive to flip in and out of the drive. The front of the casing has a metal surface where the logo will be printed. The 32GB Bowling Pin is made with plastic and the 2GB Illuminator exterior is made with rubber.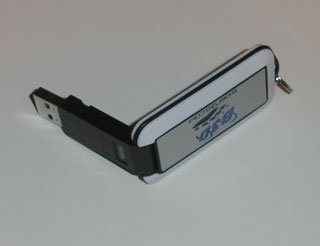 Out of three samples we received, two of them (the Flip Drive and the Bowling Pin) have a red LED activity indicator. The W100 illuminator unfortunately lacks it. The bowling pin drive also has a write protect lock so you can protect the drive from being overwritten by accident.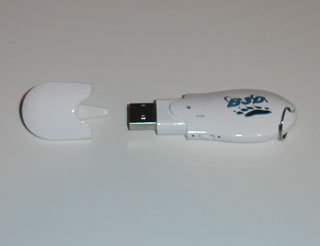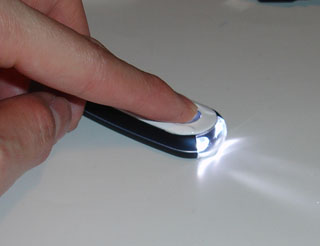 The Illuminator is a unique drive, as it can function as a flash light. Unfortunately, it requires a mini USB cable to transfer data. Personally, I would prefer to have the USB port built directly onto the drive. The Flip Drive is nice as the USB connector can be hidden inside the casing. There is a button, where once it is pressed, the drive will flip 180 degrees. The drive is very thin and portable and it's nice to see the USB connector is being protected.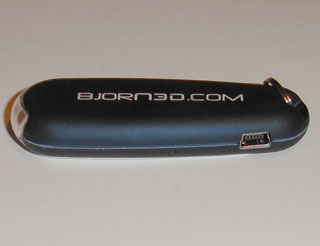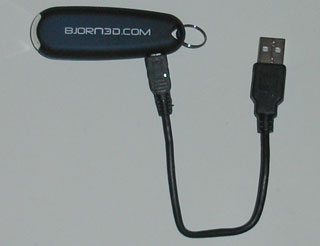 All of the drives come with a handy ring so you can attach them to your keychain. The construction of the drives does not feel cheap and the drives feel as though they are made with good quality materials.
PRINT QUALITY
Here you can see Bjorn3D logo being printed these drives. If you have ever seen customized USB drives, you will find that some of the logos are actually are not being printed onto the drives, but rather it's a sticker that is taped onto the drives. These stickers often will fall off very quickly (kind of beats the purpose of being a promotional material). PromoLocker does not go the cheap way. Rather, they print the logo directly onto the drives. Not only that, they spray a coating onto the prints to protect the logos so they won't wear off. For those drives printed on metal surface, they have added a hardener to the ink and bake them for 24 hours to ensure a strong solid imprint.
Although we cannot verify whether the imprints will wear off or not for a long term usage, what we can say is that we tried to rub the imprints back and forth and even used an eraser to attempt to wear off the imprints. I even tried to use my finger to scratch the imprints, but the imprints stayed shinny without any sign of wearing off or discoloration. The coating that was applied to the drives seems to do the job fairly well and, not only that, it gave the logo a glossy feel, which looks quite nice.
If you look at the pictures above, you actually cannot tell how good the logos are as the pictures are a bit washed out. The actual unit's logo is shinier and much more vibrant (most likely due to the coating). The color also looks fuller and darker.
When I saw the mock up, I liked what I saw from the pictures. However, I was really surprised by how good it looked when I opened up the samples.
TRANSFER RATE
As usual, we put the drives to the regular HD Tach test to measure its transfer rate.
| | | | | |
| --- | --- | --- | --- | --- |
| Feature/Specification | Burst Speed | Average Read  | Random Access | CPU Usage |
| OCZ Throttle eSATA  | 2672.8 MB/s  | 282.2 MB/s  | 0.2 ms  | 10%  |
| OCZ Throttle USB  |  37.6 MB/s | 32.6 MB/s | 0.4 ms  | 10%  |
| | 18.4 MB/S | 18.0 MB/s | 0.5 ms | 2% |
| Illuminator | 18.2 MB/S | 17.8 MB/s | 0.5 ms | 4% |
| Bowling Pin | 31.4 MB/s | 29.5 MB/s |  0.5 ms | 2% |
| SuperTalent Pico  | 27.3 MB/s | 26.3 MB/s | 1.6 ms | 4% |
| | 21.1 MB/s  |  20.3 MB/s |  1.1 ms | 3% |
| SanDisk Cruzer Micro (512 MB)  |  14.5 MB/s | 13.1 MB/s  |  1.1 ms |  3% |
Keep in mind that the performance of the drives will depend on the memory that was used. Since PromoLocker does not disclose which memory they use on their drives, it is not guaranteed that each stick of memory will have the similar performance.
Though the Flip Drive and the Illuminator's performance is not the best we have seen with USB flash drives, they are nonetheless not a slow drives either. The Bowling Pin's performance on the other hand is one of the best we have seen. It yields one of the best transfer rates we have seen with the USB flash drives and only the OCZ Throttle is able to out-perform it.
CONCLUSION
When we were first contacted by PromoLocker about customized USB Drives for Bjorn3D, we didn't know what to expect. We thought that "Okay, a customized USB stick. It is merely as simple as submitting our logo for them to put onto the drives. Then after a few weeks we will receive our review sample." We did not expect the type of personalized service we get from the PromoLocker. The personalized service we get allows us to save a lot headache of creating and modification of logos so it would look great on the drive. The fact that we get a preview of the finalized product before it goes into production helps us to avoid the possibilities of getting a poorly made product or unsatisfactory design. In a consumer's point of view, this type of service would save money as you will not ended up paying for something that does not looks good or what you had originally expected.
Not to mention that the very quick communication we had with the PromoLocker and the quick turn around time. In addition, the finalized product we have received looked even better than what we had expected. The color on the logo is vivid and it is strong enough to withhold the harsh treatment of daily usage so it won't wear off. Furthermore, the transfer rate, although not the leader of the drives we have tested, is still fairly comparable with other drives available on the market.
Overall, we have very happy with the service we have received from PromoLocker and the products we have received. We highly recommend its service to our readers who are looking to customize their own USB drives for promotional use or to pass out with memorable digital contents.
Just so you do not just take our words for it, PromoLocker is kind enough to also provide some extra USB drives with Bjorn3D logo to give out to our readers. Check out our contest for further information as to how you can also check out their printing quality.
We are trying out a new addition to our scoring system to provide additional feedback beyond a flat score. Please note that the final score isn't an aggregate average of the new rating system.
Performance 9
Value 9
Quality 10
Warranty NA
Features 9
Innovation NA
Pros:
+ Great personalized service
+ Good performance for the customized drive
+ Great built quality
+ Includes all of the needed accessories
+ Good package
+ Great selection of choices of drives and service options
+ Fast turn around time
Cons:
–  None that we can think of
 
Final Score: 9.5 out of 10 and the Bjorn3d.com coveted Bjorn3D's Seal of Approval. We highly recommend the PromoLocker's service to anyone who is looking to customized their USB drives.