While third party heat sinks keep getting more and more expensive, many of our wallets become smaller and smaller. Coolink hopes to save us money while giving us great performance.
INTRODUCTION
With the economic crisis hitting many of us, it is very hard to find a valid reason for a total system upgrade. What many of us don't think about first is maybe you can pull a little bit more performance out of your old machine. You can do this very easily by overclocking your components, and many times a few hundred MHz more on your CPU can make a huge difference. You may have heard many terrible stories about overclocking gone wrong, but I'm here to tell you that if you are smart about it, you put your components at no risk. Of course, overclocking will cause more heat to be generated, and if you're really worried about it, why not buy an aftermarket cooler?
This, once again, goes back to your thinning wallet. Coolink understands your pain, and that is why they have rolled out the Silentator. At only $50 USD, this is one of the cheaper CPU coolers. Generally, with cheapness comes a lack of quality. Will the Silentator, with its cheaper price, be able to outperform the stock AMD heat sink? Moreover, will the Silentator be able to handle the extra heat for those who dare to increase CPU voltage? With a few tests we should be able to determine if this cooler stacks up to others in its price range.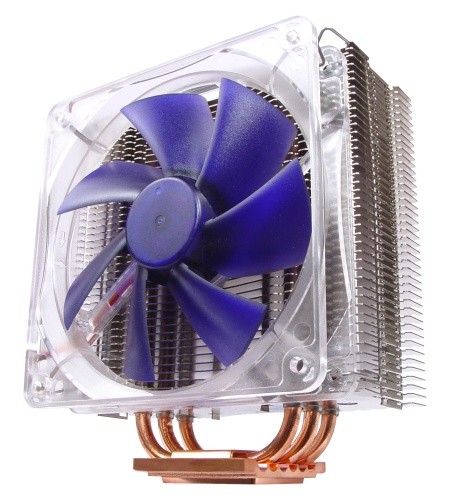 About Coolink
Coolink is a brand of the Kolink International Corporation and stands for an effective conjunction of no-frills performance, excellent quality and attractive pricing. Coolink – the direct link to affordable high-end cooling!

About Kolink
Kolink International Corporation is a cooling specialist established in 1996 and well known among industry insiders. Throughout the years, Kolink designed and manufactured many top-performing heat-sinks under various brand names that succeeded in international markets. An experienced R&D team and ultra-modern production plants in Taiwan ensure continuous progress, efficient manufacturing conditions and strict quality standards.
Kolink's retail brand Coolink stands for an effective conjunction of no-frills performance, excellent quality and attractive pricing. While Coolink held a strong presence in the Asian market ever since the late 90ies, it was not until 2005 that the brand was introduced to the European market on a large scale. After the launch of Coolink-Europe.com in late 2005, Coolink quickly became a well recognized brand for high-quality cooling components in Europe too.
FEATURES
3 high-performance Dual-Heat Pipes
37 Aluminum-Fins with a surface area of more than 3500cm²
Soldered joints for optimal heat-transfer
Original SWiF-1202 quality fan with high precision double ball bearing
Adjustable between 14 and 24dB(A)
Tool-free fan-mount including anti-vibration strips
Original SecuFirm™ mounting system*
Can be turned by 90° for optimal positioning and compatibility
Available for LGA 775, AM2 and K8 (754, 939, 940)
36 months warranty
 
SPECIFICATIONS
Coolink Silentator Specifications

Socket compatibility
LGA Socket 775
AM2
K8 ( Sockets: 754, 939, 940)
Height (without fan)
153mm
Width (without fan)
126mm
Depth (without fan)
60mm
Height (with fan)
153mm
Width (with fan)
126mm
Depth (with fan)
65mm
Weight (with fan)
640g
Material
Copper (base and heat-pipes)
Aluminum (cooling fins)
Soldered joints
Scope of Delivery

Heatsink


SWiF-1202 fan
Mounting hardware
Fan controller
Thermal paste
Fan size(s)
120x120x25mm
120x120x38mm
Surface area
3500cm²
Warranty
3 years
MSRP
€39,90 or ~ $54.99 USD
Coolink SWiF 1202 – 120mm Fan Specifications

Size
120x120x25
Rotation Speed (RPM +/-10%)
900-1600
Airflow
54-90 m³/h
32-53 cfm
Acoustical Noise (dB/A)
14-24
Input Power (W)
1.56
Input Current (A)
0.13
Voltage Range (V)
6-13
Construction
High precision double ball bearing
Protective cable sleeving
Transparent-blue SWiF fan fins
Silent performance
Accessories
Manual (rheostat) fan speed controller


PCI

mounting bracket for fan speed controller
3 to 4 pin

power

adapter

Warranty
3 years
PICTURES & IMPRESSIONS
Outside of box
The Silentator's box is very similar to the Noctua BH-U12P. This is most likely a coincidence, as this style of box is the best I've seen for coolers. The front window is a fair margin larger than on the U12P, which gives you a larger view of the product inside the box. I feel that this is helpful, as the consumer gets the full picture before they bring the product home. The back of the box has some basic facts about the cooler, including the dimensions. These could prove to be a big help, as those with a small case will want to measure first.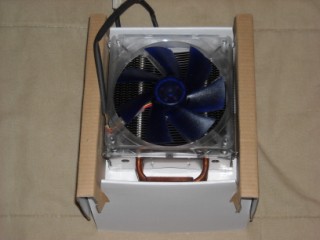 Inside box
Similar to many other CPU cooler packaging I've seen, the cooler is encased in cardboard. This is not such a bad thing considering that CPU coolers are made completely out of metal. They included a plastic peace on the bottom of the cooler to ensure that there will be no scratches before you receive your new cooler. This is always a nice addition, as a heat sink without one can look pretty ugly after the rough ride to your house.
Accessories
At first glance this cooler looks a bit lacking. I am very surprised they even fit all of the accessories in such a small space. The basics are back plates and mounting hardware. These include the option to run AM2, 754, 939, or 775. Coolink has even included a screw driver, which for someone like me is a god send, as I never like to dig for tools. Then, I see the surprise, a fan controller! This is a very unexpected surprise, and a very welcome one, as I could always use another fan controller.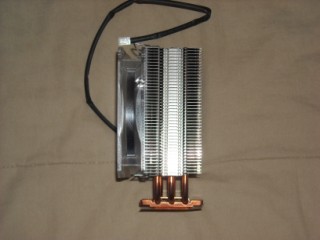 Side of cooler
As you can see, the cooler's heat pipes are made out of copper. This will help with dissipating heat from the CPU and transferring it to the heat sink fins. The spacing of these fins is very important. Too close, and the fan will have trouble pushing air through the fins. Too close, and the potential cooling of the cooler is severely damaged. Coolink did a great job of spacing the fins. They are neither too far away or too close.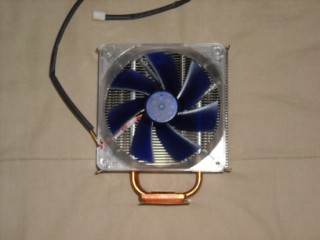 Front of cooler
As with many heat sinks now a days this one uses 120mm fans. This is one of the better looking fans that I have seen included with a heat sink. With the included fan controller you have the option of cranking up the speed for gaming or keeping it quiet for a movie. A nice feature of this heat sink is the ability to use two fans. Coolink was even kind enough to throw in the brackets to mount it.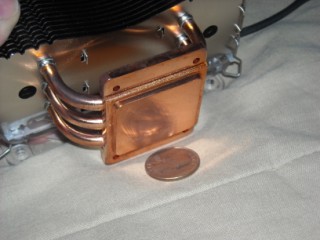 Bottom of cooler
The bottom of the cooler is a very important part of the cooler. The better the polish the better the cooling. This cooler has a so-so polish. I have seen much worse, but I have also seen much better. Whether this is enough to affect temperatures significantly is debatable. If you really feel this strongly about it, I suggest grabbing some 1600 or finer grit sandpaper and polishing it. For most users this will be enough to get the job done.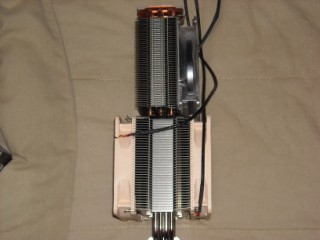 Comparison
The first thing I noticed when looking at this cooler was its resemblance to the Noctua NH-U12P. If you look close you will immediately see that the Silentator is a bit skinnier than the Noctua. This is not enough to make a huge difference, but a difference nonetheless. The other major difference is the fact that Noctua has included two fans, but since the Noctua costs more this should be a given. A nice pro to the Silentator is that it uses copper heatpipes which look like they have far more copper than the Noctuas.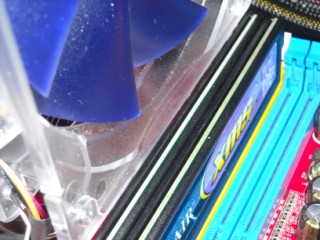 RAM slot
One thing to measure is your RAM. If you happen to use higher modules like Corsair Dominator, then you may have a problem. But if you only use two dimms then you will be fine depending on your board layout. A plus to this is the Silentator will pull more air through your RAM sinks, thus lowering their temperature and improving their overclock. This will probably make the CPU a bit hotter, but not very much so.
TESTING
To test the idle temperature of each cooler, I let the computer sit while running the minimal amount of tasks. I did this for 30 minutes to make sure that the CPU was as hot as it could possibly get while doing almost nothing. To test the load temperature, I used five back to back tests of Intel Burn In. I use Intel Burn In because it usually averages at least 5°C hotter than its counterpart Prime95. The average Intel Burn In lasts about 3 minutes, which may not seem like a lot, but after two of these runs the CPU becomes as hot as it will become in any further amount of tests.
The Silentator gets off to a great start right out of the gate. It fairs much better than the stock AMD cooler and both coolers are in the green zone as far as temperatures.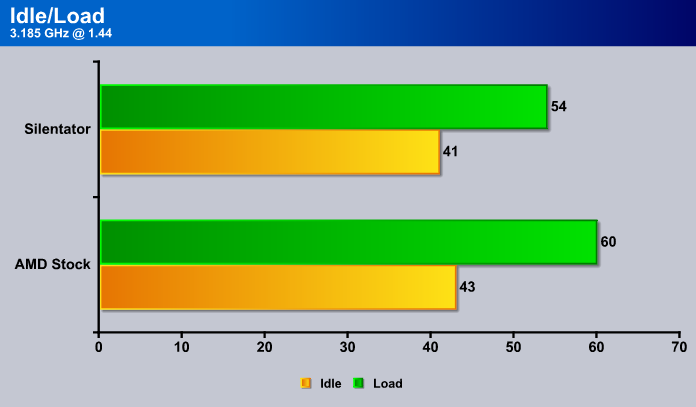 With a speed increase, the heat starts to climb up there. While the Silentator becomes a fair amount higher, it is still in the safe zone for 24/7 usage. The stock cooler on the other hand is getting quite hot, so hot that I would not feel safe running it 24/7.
Upon increasing the speed and voltage a bit more the Silentator struggles to stay in the safe zone. While 57°C is not extremely hot, for the speed boost you receive, I feel that it is excessive.
CONCLUSION
Many people just want a cooler that doesn't cost a lot, but delivers great performance. The Silentator should be included in this list. While it may not have the best performance out of other coolers, it doesn't carry the price these other coolers do. If you have the money you could very well spend it on a better cooler that offers more performance, but if that is keeping you from buying a new graphics card then it may be a very tough decision. I would say go for the better graphics card, as this cooler allows for plenty of overclocking, so you most likely will not bottleneck the better card.
Then comes the issue of a newer buyer being afraid to overclock. No one said that if you buy this cooler you must overclock. I recommend it, since it can be very easy to do just a small overclock to gain a bit of performance. There is no harm in putting this heat sink on. In fact, it will probably increase the life of the product a bit. Overall, the Coolink Silenator is a great addition to any system that could use a little boost in lowering CPU temperatures, whether you're an overclocker or not.
Pros:
+  Great performance
+  Fan speed controller
+  Price
+  Compatibility

Cons:
–  Bag of chips not included
With a final score of 9 out of 10 the Coolink Silentator receives the Bjorn3D Golden Bear Award.