We're lucky enough to have a 6 GB kit of Patriot Viper Tri Channel 1600 MHz DDR3 to take a look at today. Patriot is a force to be reckoned with in the Desktop ram industry.
INTRODUCTION
One of the most amazing things about the Core i7 platform is that it took DDR3 and brought it to maturity. On previous platforms the gain from moving to DDR3 from DDR2 brought negligible results. When Core i7 and Triple Channel memory hit the market and memory bandwidth jumped from 8-10 GB/s to above 30 GB/s, in some cases, DDR3 made people stand up and take notice. While Core i7 is the most powerful platform we've ever seen, the processor didn't triple its performance, but it did triple RAM performance. RAM performance is the single largest gain on the Core i7 platform, so we've been paying a lot of attention to RAM kits.
We're lucky enough to have a 6 GB kit of Patriot Viper Tri Channel memory that runs at 1600 MHz and timings of 8-8-8-24 to take a look at today. Let's take these beauties for a spin and see if they can satisfy our discriminating taste for high end RAM.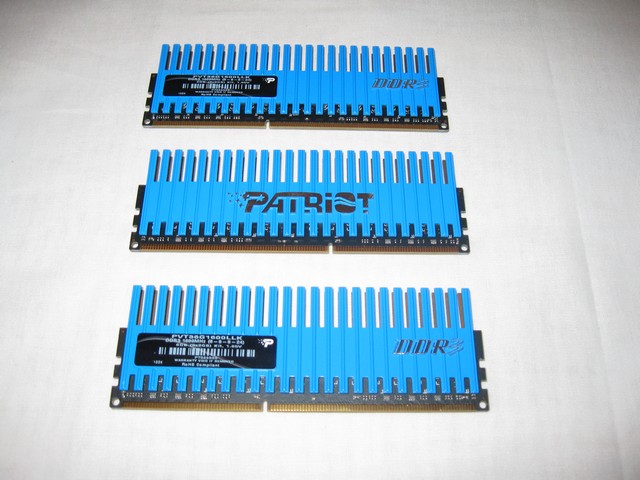 About Patriot
Company Profile
Established in 1985, Patriot Memory builds a full range of memory module and flash memory products, offering a perfect blend of quality and value. Patriot products include Extreme Performance (EP), Signature Lines (SL) and Flash Memory solutions (FM)
Product Design
We understand the value of designing and responding quickly and intelligently to the rapid changes inherent in the memory module industry. This commitment to R&D enables us to deliver the best quality memory modules powered by the latest innovative technology.
QA/QC Testing
Patriot Memory ensures that every module meets or exceeds industry standards. The manufacturing process begins with high-quality components and ends with rigorous functional testing to ensure each module's reliability and compatibility.
Patriot Memory modules are approved by leading motherboard and system manufacturers such Intel, Tyan, Supermicro and Iwill.
SPECIFICATIONS
Extreme Performance PC3-12800 (1600MHz)
Patriot Viper Heat Shields with integrated ACC (Aluminum Copper Composite) technology
100% Tested and Verified
BTT Tested to ensure maximum performance
Lifetime Warranty
RoHS Compliant
Low Latency (8-8-8-24)
XMP Ready for Core i7 Processors
Tested and compatible with Intel X58 Express Chipsets
Pictures & Impressions
Click Image For a Larger One
Patriot took an unconventional/conventional approach to packaging. Unconventionally, they put it in a box first. Most memory companies simply put it in a clamshell hang card. Conventionally, inside the box, we find the clamshell hang cards with the memory inside those. We don't have a problem with that because we always thought that just a plastic clamshell was a little lacking in protection for an expensive set of RAM. That's actually kind of strange because we've never gotten a set of damaged RAM, but still, expensive computer components in a plastic clamshell worry us a little because they depend on the good graces of someone in the Packing/Shipping department doing the job correctly. If you've received as many packages as we have, you'd know that that isn't always the case. While the outer cardboard isn't horribly protective, it is better than a hang card at the mercy of the shipping department and the delivery service.
Click Image For a Larger One
We've tested the Patriot Viper 6GB 1600 kit extensively, so we know that the heatspreader is extremely efficient, but we can't help ourselves when it come to thinking about the possibilities for the heatspreader. It could be used to scratch one's back before hitting the local swimming pool. It'd give you set of scratches that would give you an interesting (although fabricated) story about a night of wild passion. In a pinch you could use it for a quick comb out on the hairpiece that passes for your real hair (in bad lighting), or you could use it as a rake in your desktop Zen sand and rock garden. Personally, though we think we'll just let it do it's job effectively and quietly inside the test rig, we do favor the Zen rock garden idea.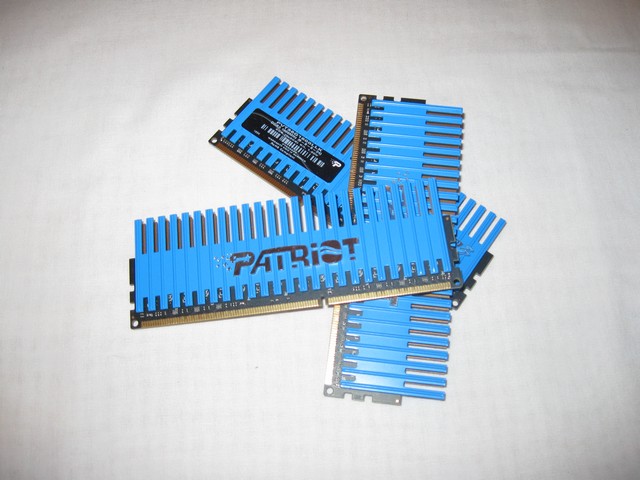 We thought we'd throw in one full sized shot of the Patriot Viper kit for those of you too engrossed in the possibilities for the heatspreaders to click and enlarge the images. You should take note though that Patriot went with a Black PCB on the kit for those of you that favor matching PCB throughout the system. It's hard to find kits with a black PCB, so it's a feature worth mentioning.
TESTING & METHODOLOGY
To test the Patriot Viper Tri Channel 6Gb kit 1600 MHz RAM we did a fresh load of Vista Ultimate 64 Bit edition on the test rig. We ran our usual Suite of memory testing software, each test was run three times and the average of the tests reported here. We also ran the memory for about 10 days in every day use, gaming, surfing the web and writing reviews to get a feel for the kit. Many reviewers don't feel it a needed step to live with the RAM kit and give it some burn in time prior to testing, but it's a good idea to let the kit run and get some burn in time as well as get a feel for the kit prior to testing.
Lets get a look at the CPU-Z story on this kit and see how CPU-Z reads it. We've had problems with recent versions of CPU-Z so hopefully this version will be a little more accurate.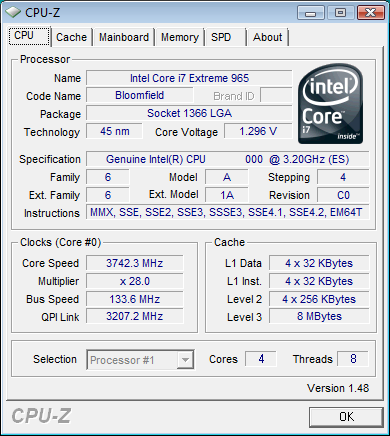 Were using our Core I7 965 Extreme CPU for testing the Patriot Vipers. We kept all the same settings as we've used for testing all our Tri Channel kits. The only changes we make are related to memory settings and voltages.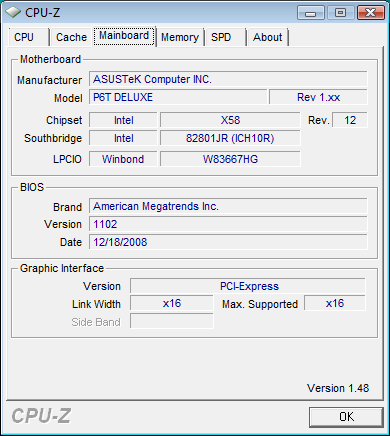 We're using the Asus P6T Deluxe, the same motherboard we've used in all our Tri-Channel testing so far.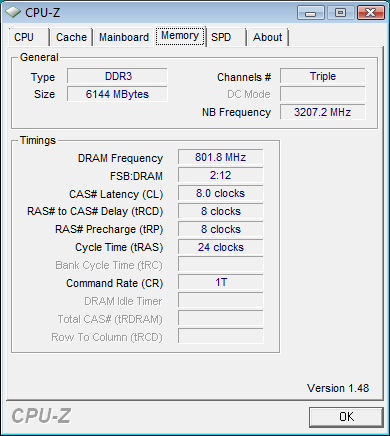 On the P6T Deluxe reaching 1600 was as easy as plugging the memory in and changing BIOS to use the XMP profile on the Patriot Viper Kit.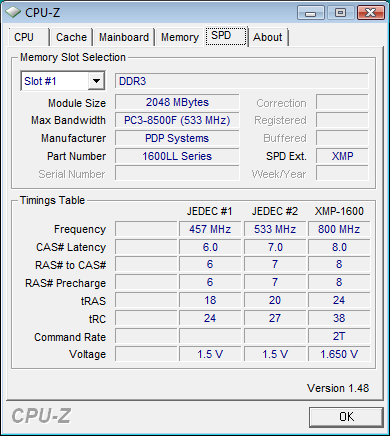 Looking at the SPD on the kit we see it's rated to run at 1600 MHz at 8-8-8-24 and 2T with 1.65v.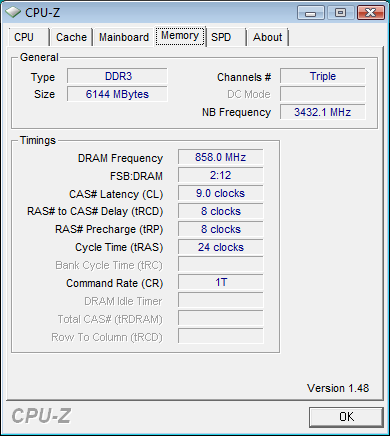 We were able to run the kit at 8-8-8-24 (despite the error in CPU-Z reporting the kit is at 9-8-8-24) and 1T with no problems and moving the kit from 2T to 1T we maintained total stability at 1720. Is that as high as the kit will overclock? No, there's more to get from the kit if you want to make some suicide runs. You should be aware that they call them suicide runs for a reason. We consider 1720 to be a good stable, sustainable overclock for the kit, so we left it there. If you choose to OC, neither Bjorn3D nor Patriot are responsible for anything that may happen, and if you choose to do so you'll likely void your warranty.
Test Rig
If you'd like to check out the specifications of the other memory kits used in the charts for this review you can follow the links in the Test Rig specifications. It gets too cumbersome to list each kit's specifications and rated timings in the charts so we opted for pointing you to the review on the kits themselves.
TEST SUITE
Synthetic Benchmarks & Games
SANDRA XII Professional
Everest Ultimate Edition v.5.0
SuperPI Mod 1.5XS
WinRar v.3.71 Compression Benchmark
SiSoft Sandra 2009 SP1
"SiSoftware Sandra (the System ANalyser, Diagnostic and Reporting Assistant) is an information & diagnostic utility. It should provide most of the information (including undocumented) you need to know about your hardware, software and other devices whether hardware or software. It works along the lines of other Windows utilities, however it tries to go beyond them and show you more of what's really going on. Giving the user the ability to draw comparisons at both a high and low-level. You can get information about the CPU, chipset, video adapter, ports, printers, sound card, memory, network, Windows internals, AGP, PCI, PCI-X, PCIe (PCI Express), database, USB, USB2, 1394/Firewire, etc."
We've tested so many Tri-Channel kits to date that our chart is getting a little long, so we highlighted the Viper kit and a Tracer kit that have identical speeds and timings so you can more easlily compare the Vipers to another 1600 MHz kit.
In Sisoft Sandra 2009 SP1 the Viper Kit turned in a pretty respectable 27.57 GB/s at the stock speed. When we kicked them up to 1720 overclocked they turned in an amazing 29.43 GB/s. While there are faster kits out there you can really only compare a 1600 MHz kit against 1600 MHz kits and the Patriot Viper Tri Channel 6 GB kit did as well as any kit we've tested and all three 6 GB kits we've tested came is so close together in numbers that they could be brothers.
Crysis v. 1.2

Crysis is the most highly anticipated game to hit the market in the last several years. Crysis is based on the CryENGINE™ 2 developed by Crytek. The CryENGINE™ 2 offers real time editing, bump mapping, dynamic lights, network system, integrated physics system, shaders, shadows, and a dynamic music system, just to name a few of the state-of-the-art features that are incorporated into Crysis. As one might expect with this number of features, the game is extremely demanding of system resources, especially the GPU. We expect Crysis to be a primary gaming benchmark for many years to come.
We've found that as long as you're not bottlenecking the GPU, the Crysis test turns in about the same numbers on all the Tri Channel kits. We believe that this is because the Core i7 platform doesn't bottleneck the GPU's like the 775 platform did. The Viper Kit managed to come in second in this test and only by one FPS in the minimum FPS category.
SuperPi
SuperPi is the "Gold Standard" for many when it comes to judging system performance. We ran 1 and 2 MB calculations, again running each test three times and reporting the average of the results.
In the SuperPI 1 MB test the Patriot Viper turned in a pretty respectable 11.012 at stock speed and 11.009 at the 1720 OC speed. Can you break 10 seconds in SuperPI with this kit? If you're as skilled as we are and spend an entire day doing a good FSB OC and manage to hit about 4.2 on the CPU, and keep it stable, yes, you can get a sub 10 second score. Keeping the rig stable cranked up like that long enough to get a beauty shot of your accomplishment, well about the time we went to clip the shot the rig destabilized and rebooted. Maybe you'll have better clipping luck than we did.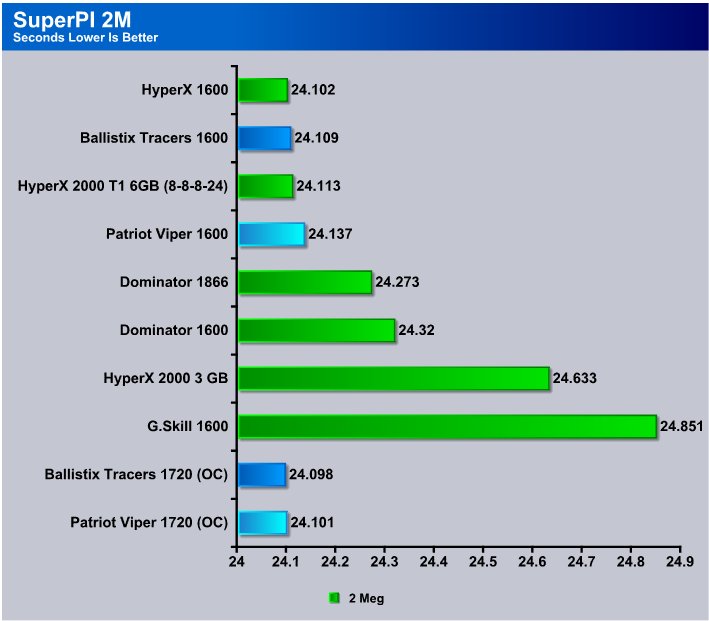 Turning to the SuperPI 2 MB test the Patriot Viper kit turned in a 24.137 second score and that's nothing to complain about. When you hit differences of hundredths of a second in SuperPI that can be no more that minuscule differences in the test run. All of the 1600 MHz kits we tested fell in this range. When we overclocked the Patriot Viper kit, we knocked a few hundredths of a second off our time (36/100ths). Like we mentioned given a good FSB OC, which SuperPI loves, and a good CPU OC you can lower the score considerably. Burn some chips in the attempt, well our name's Bennett and we're not in it. Overclocking to the max is a dangerous thing and if you choose to do so, do so at your own risk.
WinRar v. 3.71
This module in WinRar generates random data, which contains specially introduced redundancy, increasing the load to both the processor and memory. Data is the passed through RAR compression and decompression algorithms, and the output of the decompression algorithm is compared to the source data. If any differences are found, WinRAR then reports "Errors found – Yes" in the command window. WinRAR displays a size of processed data and compression speed, current and resulting, in kilobytes per second.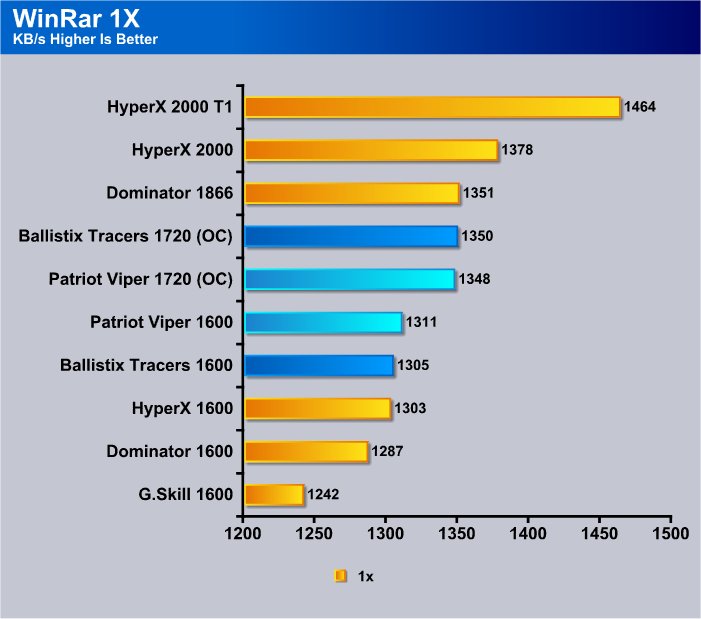 In the WinRar single threaded test the Patriot Viper kit turned in a blazing 1311 KB/s score and it's the top score we've gotten for a 1600 MHz kit that is running at stock speed. When we overclocked the kit to 1720 the score jumped to 1350 KB/s, which, as you can see, is almost as good as the Dominator kit that runs at 1866 with looser timings of 9-9-9-24.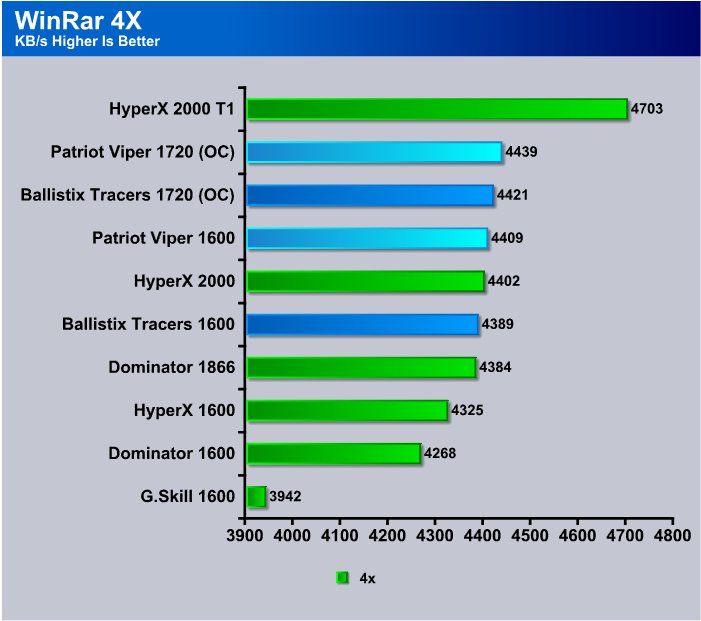 The Multithreaded test in WinRar sees the Patriot Viper kit turns in a score of 4409 KB/s stock speed and squeezes out a little more overclocked and churns out 4439 KB/s. WinRar likes a nice fast kit with tighter timings.
EVEREST ULTIMATE 5.0
"EVEREST Ultimate Edition is an industry leading system diagnostics and benchmarking solution for enthusiasts PC users, based on the award-winning EVEREST Technology. During system optimizations and tweaking it provides essential system and overclock information, advanced hardware monitoring and diagnostics capabilities to check the effects of the applied settings. CPU, FPU and memory benchmarks are available to measure the actual system performance and compare it to previous states or other systems. Furthermore, complete software, operating system and security information makes EVEREST Ultimate Edition a comprehensive system diagnostics tool that offers a total of 100 pages of information about your PC."
The way we have the results formatted in Everest is in GB's.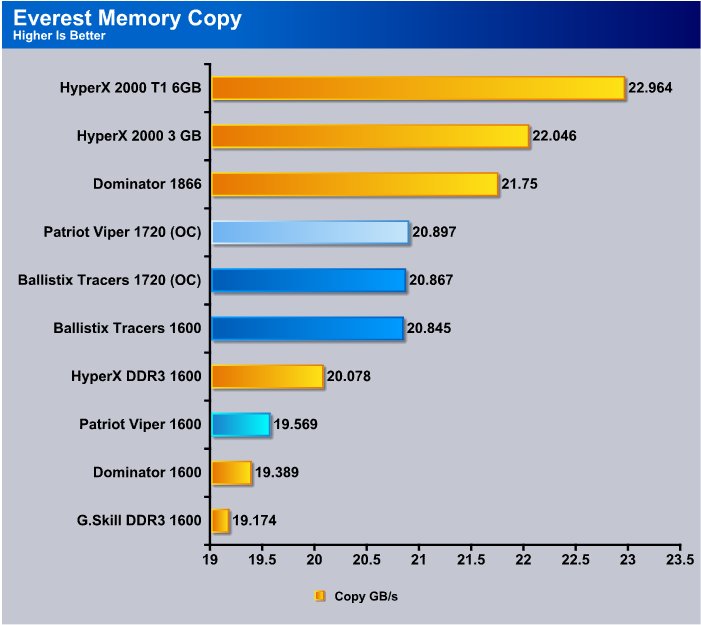 Everest is a little bit of a strange creature when it comes to memory testing. All of the other tests saw the Patriot Viper Kit right in line with the other 1600 MHz kits, yet in the Copy test in Everest we see its speed drop more than 1 GB/s behind the comparison kit we highlighted. We'd have to place the blame with Everest and not the kit. If we'd have seen the same drop across the suite of tests, then we could point and say it's the kit, but that's not the case. Despite retesting though, the kit's reported speed didn't increase. Notice though, that when we overclocked the kit, it jumped right up into the category it should be in. Perhaps one of those pesky Vista background applications popped into the testing arena and affected the score a little. It's hard to say since this is the first experience we've had with the new 5.0 version of Everest.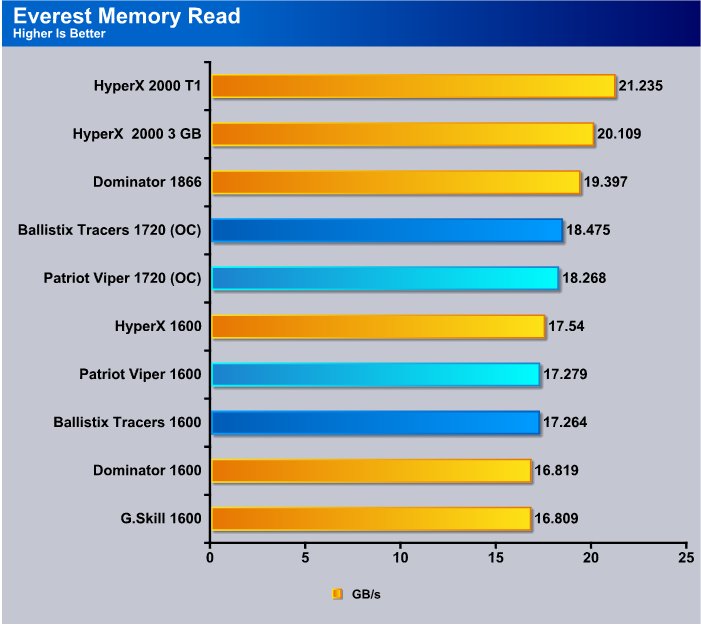 Moving to the Everest Memory Read test we see the Patriot Viper 1600 MHz kit right back in the pack of 1600 kits where it should be, which further leads us to believe that in the previous test Vista or Everest fell short and not the Viper kit itself. Any 1600 MHz kit that scores up in the 17 GB/s range in this test is good with us and a pretty typical score for a kit rated to run at that speed. When we hit the sweet spot in the 1720 MHz overclock, that score jumped to an amazing 18.268 GB/s, further affirming our assertion that Core i7 has managed to bring DDR3 to maturity.
Scores among the 1600 MHz kits were so close in the Everest write test with most of the 1600 MHz kits that no clear differences were noted. The Dominator 1600 kit came in at 600 MB/s faster than the other 1600 MHz kits, but we're happy with the performance of all the 1600 MHz kits we tested. To find out why we're happy with the performance of the kits you might want to Google the price differences, or you can take our word for it, price performance wise their all competitive.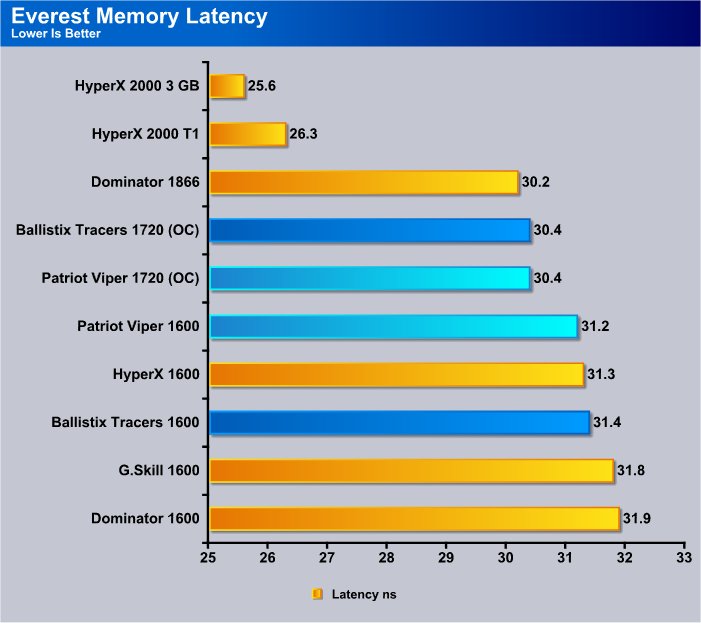 The Patriot Viper kit's latency is right in line with the other 1600 MHz kits and we have no reason to complain here.
CONCLUSION
We've waded through a lot of Tri Channel Memory kits at Bjorn3D and it never ceases to amaze us the increase in bandwidth from the 775 platform to the 1366 platform. We've seen kits churn out 30 GB/s and above in Sisoft Sandra. The question you, and we, have to ask ourselves is where is the sweet spot for memory. We've seen the uber expensive 2 GHz kits churn out unbelievable speeds, but they come with an unbelievable price tag. The 1866 MHz kits provide great bandwidth but come at a higher cost than the 1600 MHz kits. We believe that most of the market in Tri Channel DDR3 is going to fall in the 1333 to 1600 MHz range because it's more affordable and provides a good balance between speed and price. With a little creative overclocking and some common sense you can extend that value even farther. The 1720 MHz overclock we achieved was insanely easy and didn't involve any voltage increase on the Patriot Viper kit. Usually, no voltage increase overclocks are pretty safe. We don't, under any conditions, advise exceeding the 1.65v limit on RAM voltage imposed by Intel as it may damage or kill your CPU. The 1720 overclock we achieved is pretty amazing considering that limitation. There's a little more to get from the kit if you know what you're doing, and we wouldn't recommend more for 24/7 operation, but dipping your speed in the benchmarking arena for a few minutes probably isn't going to hurt anything.
The Patriot Viper Tri Channel 1600 MHz kit provided great bandwidth and it's the sweet spot for price. The sweet spot got even sweeter with the OC we squeezed out of it. The lifetime warranty isn't going to hurt your feelings any and it's a pretty good looking kit despite our Zen garden digression. As compared to 1066 and 1333 MHz kits we've seen, you get a noticeable boost in performance and we can easily recommend staying in the 1600 MHz range, and the Patriot Viper 6GB 1600 MHz kit is a good choice in that range.
We are trying out a new addition to our scoring system to provide additional feedback beyond a flat score. Please note that the final score isn't an aggregate average of the new rating system.
Performance 9
Value 9
Quality 10
Warranty 10
Features 10 (XMP On The Kit Is Excellent)
Innovation 9
Pros:
+  Great Performance
+  Looks Nice
+  Reasonable Priced Kit
+  Heat Spreader Has Multiple Uses
+  Very Stable
+  Plug And Play
+  System Was Snappier
Cons:
–  Might Not Fit Under Some CPU Coolers
The Patriot Viper Tri Channel 6GB 1600 MHz kit (PVT36G1600LLK) performed as well as any of the 1600 MHz kits we've seen and has some pretty nice overclocking headroom.
Final Score: 9.0 out of 10 and the Bjorn3D Golden Bear Award.