Looking for a way to extend your laptop display? Or maybe you only have one video card and you want to use four displays. HIS has the solution.
INTRODUCTION
Many people, myself included, have often wished for an easier way to connect multiple displays. Perhaps you don't have the money for multiple video cards. Or maybe your laptop doesn't have a video-out. Or maybe you just want to connect six monitors. That's a lot of maybe's, I know, but Hightech Information Systems (HIS for short) has developed a solution to solve all of those problems. 
Meet the HIS Multi-View. This particular model has a DVI-out and is small enough to take anywhere. Being portable is a huge advantage in today's market with all the hustle and bustle of life. If you have a need to connect multiple monitors to your laptop, there is no better solution. It needs no external power supply and requires only a USB cable to connect up to your PC. Simply install the software, plug it into the DVI port or cable on your display (or VGA through use of the included adapter), and plug the other end into the computer via the USB port. It really is that easy.
ABOUT HIS
HIS – Hightech Information System Limited is an internationally acclaimed graphics cards company. Time and time again, HIS were compared and tested by hundreds of worldly renowned critics. The results are phenomena, HIS have proven to offer far superior, cooler, quieter, and faster graphic cards than any other leading rivals. Up to the fourth quarter of 2008, HIS has won over 700 awards with ATI graphic solution from major media worldwide. HIS is being recognized by providing performance leading and award-wining products.
HIS was established in 1987 with the mission to produce the highest quality PC products in the industry. Besides strong devotion to excellent products and services, HIS has been conducting business with the aim to "Glorifying God". Honesty and integrity are the two key principals of how HIS are conducted. Ethical business practice has been an everyday commitment to our clients, vendors, and investors.
Headquartered in Hong Kong, and with sales offices and distribution networks in Europe, Middle East, North and South America, Asia Pacific Regions; our worldwide customers benefits from efficient and localized services. ISO Certified, HIS's manufacturing facility in China is managed by a team of professionals with expertise in quality control and production planning. Working with world-class clients, HIS has been consistently meeting high quality standards and fulfilled volume order in short lead-time.
HIS is proud to be ATI's Authorized 1st Tier AIB Partner, Certified Partner and Launching Partner. Long term and favorable relationship with ATI, enable HIS to work closely with ATI to promote the HIS ATI Graphics Board; and to strive for best value on the marketing and sales of HIS ATI Product Line.
In Sept 2003, HIS incorporated the state-of-the art Supreme Cooling Technology in the award winning HIS 9800Pro IceQ, which caught the attention of worldwide media. Since then, HIS IceQ, IceQ 2, IceQ 3, IceQ 4 & the latest IceQ 4+ series has been the limelight in the market for its outstanding performance and features over the other rivals.
Today, HIS continues its avid commitment to quality product and service. HIS is certain to be Your Choice of Graphics Board Supplier.

FEATURES AND SPECIFICATIONS
HIS looks to have packed this little unit with plenty of features. Let's take a look.
Supports PC and Mac
Windows Vista (x86) compatible
Add a monitor, LCD, or projector thru USB 2.0 port
Add up to six multi-view adapters simultaneously
Plug and play without reboot
Smooth DVD playback
Let's take a quick look at the specifications as well.
Supports 1600 x 1200 resolution. (Will support 1680 x 1050 as well)
VGA or DVI-I
USB Mini-B type female connector
128MB SDRAM
Bus-powered
OS Support: Windows 200 SP4, XP SP2, Vista 32-bit, Mac OS X Tiger 10.4.11 or Mac OS X Leopard 10.5.4
Supported modes – Extended Desktop, Mirrored Desktop, Primary Display
Operating temperature 10-40oC
2 year warranty
FIRST IMPRESSIONS
On initial inspection this thing seems very well put together. Like most everything nowadays, it is plastic. It doesn't feel cheap, however. High impact plastic with a nice finish. There is a single green LED to let you know it's plugged in and, of course, the two connectors (USB and DVI).
The Multi-View comes with some pretty standard packaging. Basic idea of what it is on the front with more info on the sides.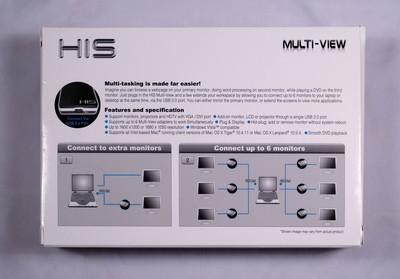 On the back is some more detailed information along with a list of features and specifications.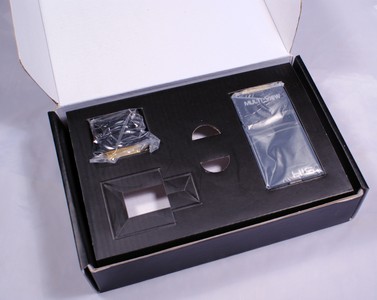 The Multi-View is well protected inside the box, locked into the cardboard carrier. Underneath you'll find the driver disk and the USB cable.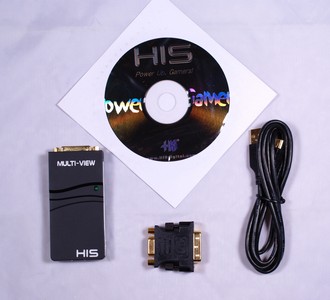 Here's a good look at the included bundle. All you will need to run the multi-view is included. The manual is on the driver disk. Saves paper!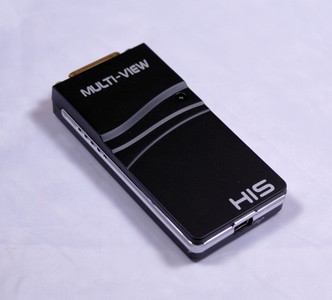 And finally, a closer look at the unit itself. If you look closely you can see the USB port at the bottom of the unit. Attractive little bugger, isn't it?
TEST SETUP
Unfortunately, this device will not work in 64-bit Vista. So, I was unable to use the typical test system. I installed the drivers onto my wife's computer, however, and it worked quite well. For testing, we will use the following setup:
HIS MULTI-VIEW TEST SETUP


Case

Danger Den Tower 26

Motherboard

EVGA 780i Tri-SLI

CPU

E8400 1.308v @ 3.9 GHz

Memory

2GB Corsair XMS2 5-5-5-15 @ 800MHz

GPU

XFX 9600 GSO 1.5GB

HDD

WD Caviar SE 160GB

PSU

OCZ ModXStream-Pro 600W

Cooling

Swiftech MCP-655

Dtek FuZion 775 CPU Block

Swiftech MCR-220

Software

Windows Media Player 11
PowerDVD 7 BD version

Display

Toshiba 32″ TV
Dell 17″ Analog LCD
Acer 22″ Digital LCD
The only software we will be using is Windows Media Player that has been updated with the latest patches, and PowerDVD 7. We will test DVD playback, overall display quality, ease of setup, the extended desktop view, and the mirrored desktop view.
TEST RESULTS
Because of the nature of the device, you won't find any charts or fancy graphics. This is a device with productivity in mind, not gaming. Due to the nature of USB links and their limited speed, the Multi-View is not optimized for gaming. It is designed for PowerPoint and low-bandwidth video. Without further ado:
OVERALL DISPLAY QUALITY
As one can assume from the title alone, this is a fairly subjective test. Everyone will have a slightly different opinion here and no one will agree 100% of the time. That being said, I thought the Multi-View did pretty well. In most cases, I could not see any difference in quality between displays. I did not detect any difference in quality between the Multi-View connection vs. the direct DVI connection. Colors were bright and accurately displayed. The only issue here was again the jagged video when playing high-bandwidth stuff.
EASE OF SETUP
One of the questions that goes along with every peripheral device is this: "How easy is it to implement?" In the case of the Multi-View the answer is "too easy". Granted, you do have to run an install disk (don't bother on 64-bit systems), but after that all you do is plug it in. For the Acer monitor, it detected it just fine along with all the compatible resolutions. I still have not figured out why it didn't detect any of the higher resolutions. When I connected the TV directly, bypassing the Multi-View, it did detect all of the possible resolutions.
After installation it gives you a taskbar icon with all your options. You can adjust resolution, color, rotation, extended desktop settings and mirrored settings from the taskbar. If you would rather do it from the Windows display settings it shows up as a monitor on a different adapter than your video card.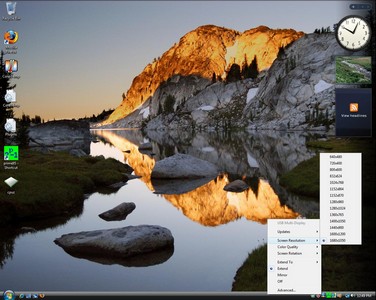 EXTENDED DESKTOP VIEW
This is the default setting and the most common. It offers you added desktop space across multiple monitors and can be setup in any order. Using the Windows display settings, you just drag and drop the monitor icons into the correct logical configuration to match the physical installation. Conversely, you can use the system tray utility to set them to top, bottom, right or left. This way, you can span you desktop across no less than six monitors (with six multi-views). Theoretically, you could span it across eight displays if you use a video card that has two video outputs. It was very easy to configure this mode and displayed very well. This mode also allows you to use different resolutions on each monitor.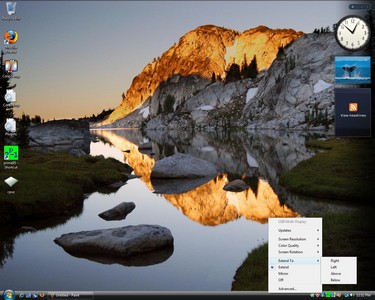 MIRRORED DESKTOP VIEW
While less common than the extended view, the mirrored view is generally typical of presentations and anytime you are hooked up to a projector. It is far easier to simply do your work on the local display while your audience views the same thing you do on the large display instead of trying to manage both. It was easy to switch to this mode from the taskbar icon. The only problem here is that whatever resolution you use on the primary display is the one you are stuck with on the attached display. This can cause issues with display on one or both screens. This becomes particularly evident on screens that vary greatly in size.
DVD PLAYBACK
For the DVD playback testing I simply popped in a movie and tested it three ways. Natively on the analog LCD, the TV, and the added 22″ monitor. On the primary display it plays without any issues. Keep in mind that the manual suggests using an 800 x 600 resolution or lower for DVD playback. With the TV hooked up (keep in mind that it is hooked up via Multi-View to a DVI-HDMI cable), it became evident very quickly that something was wrong. The TV was detected as only working at 640 x 480 and 720 x 480. When I hooked up the 22″ monitor it displayed all the possible resolutions just fine. Selecting the 1680 x 1050 it displayed perfectly and I was off to watching a movie! Or so I thought. Media Player kept giving me an error when I tried to play a movie on the secondary monitor. I consistently received an error message on both the TV (at its terrible resolution) and on the monitor (at any resolution) that said the copy protection was preventing it from playing. It did go through the FBI warning and the Touchstone Pictures intro every time and both looked jumpy and a little jagged. When I connected the display directly to the computer instead of using the Multi-View the copy protection problem went away.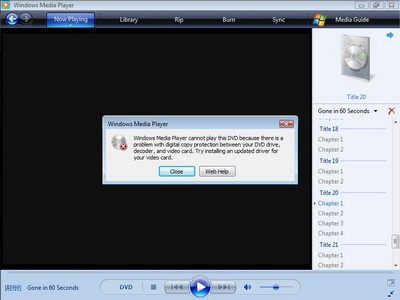 When I fired up the PowerDVD 7 however, the video started up just fine. I was able to get to any of the menu functions and any of the scenes without any issues, leading me to believe that Media Player just won't work with this device for DVD video. PowerDVD does include a software decoder that is different than Media Player's, so that may have something to do with it.
Once I got playback going it was fairly obvious that HIS recommends 800 x 600 resolution for DVD playback for a reason. At 1680 x 1050 it just wasn't fast enough to keep up with the video. While sound continued flawlessly it was hard for the video to keep up, leading to several blank screens, crazy colors and a lot of tearing. Dropping down to the 800 x 600 that was recommended to begin with things got a lot better. No more blank screens, no more crazy colors! It did maintain noticeable tearing, but not enough to make the video unwatchable.
CONCLUSION
After extensive testing with the HIS Multi-View I can sum it up with a few words. Production environment. This thing would be perfect in an office setting or a home office. I know someone that has 7 monitors setup, and his took a long time to make them work right. The Multi-View would make his situation much simpler. Multiple video cards is awesome, but it's very expensive. Software setup can be a pain as well.
That may be the best part of this little device. Software setup is non-existent. It takes away all the questions and troubleshooting. True set-it and forget-it. If they can resolve the issue with the copy-protected DVD's and Windows Media Player, it would gain a lot of ground in my book. I just don't see myself using that many monitors right now. If you are already using or planning to upgrade to multiple monitors, this might be the solution for you.
The drawbacks to it are, of course, the lack of protected DVD playback and the compatibility issue with certain TV's. The biggest problem that I found however is the lack of support for Vista 64. With the number of people that are moving to 64 bit OS's for various reasons, support for x64 systems is paramount.
All in all, I'd say this little box is pretty decent. It's not perfect for everybody, but in certain circumstances will do quite well. You can get it online for $79.99. Readers should also be aware that I did not find any documentation regarding a warranty either in the manual or the website. After contacting HIS I found out that it does come with a 2 year warranty however, so you're protected in the event you have problems with it.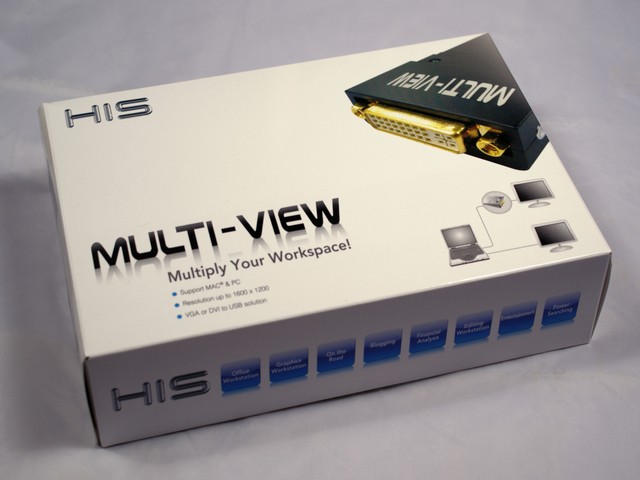 We are trying out a new addition to our scoring system to provide additional feedback beyond a flat score. Please note that the final score isn't an aggregate average of the new rating system.
Performance 7.5
Value 6.5
Quality 8
Warranty 8.5
Features 7.5
Innovation 8
Pros:
+  Small, portable
+  Easy setup
+  No external power required
+  Compatible with Mac or PC
+  Can use up to 6 displays at once (with multiple adapters)
Cons:
– Does not support Vista 64-bit
– Does not correctly detect compatible resolutions on some devices
– DVD playback is limited
The HIS Multi-View is a great device for a limited market. For its performance it has earned:
Final Score: 7.5 out of 10 and the Bjorn3D Seal of Approval.