Once again Crucial has amazed us with another kit of Ballistix Tracers, this lighted kit not only performs up to our standards but with it's color keyed LED's is almost hypnotic.
INTRODUCTION
We've been eagerly awaiting the release of Crucial Ballistix Tracers for the Core i7 platform. While there are lots of kits out there there's only one kit that takes the bling factor beyond the normal high tech heat spreader. That's right if you want the ultimate in bling clipped into your ram slots there's only one vendor that can bring you Tri Channel DDR3 for the Core i7 platform that feature color keyed LED's in Blue, Red and Green.
Crucial has had LED lighted ram for quite some time now, but this time they've gone above and beyond, previous Tracers used multi Colored LED's, the newest offering from Crucial features single colored lights so you can color coordinate with other lighting in your system. While we didn't have any problem with multi-colored lights in the previous generation of Ballistix Tracers we do appreciate the ability to have the color of choice to compliment the lighting you've chosen for that gaming shrine. Unfortunately the bling factor isn't the only concern when it comes to ram so we're afraid we'll have to put the Ballistix Tracers through our full suite of memory tests to see if the performance is as sweet as the bling, and let us tell you the bling is sweet.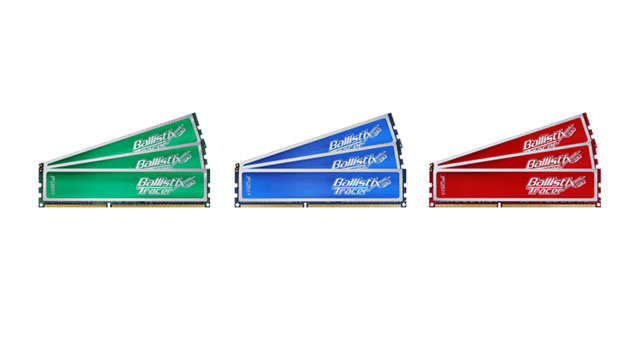 About Crucial
Crucial is a key brand in the Lexar Media family of products. As the Memory Experts™, we're the only DRAM supplier that's part of a major memory manufacturer.
A wholly owned subsidiary of Micron Technology, Inc., Lexar Media, Inc. boasts one of the most comprehensive offerings of memory product lines in the industry. We deliver high-quality, award-winning products in every memory category: USB flash drives, all popular form factors of memory cards and card readers, DRAM computer memory for PCs and Mac systems, and solid state drives (SSD). We back our products with outstanding customer support and industry-leading warranties, and we strive to expand our offerings to meet the ever-changing needs of our customers — customers just like you.
The Lexar brand has long been synonymous with reliable, high-performance products, which is reflected in the award-wining memory products and USB flash drives sold under the Lexar name.
Our Crucial brand reflects our status as the only consumer memory upgrade supplier that's part of a major DRAM manufacturer. We sell high-quality memory that has been qualified and approved by most major original equipment manufacturers (OEMs). The Crucial.com website features innovative online tools and an intuitive design that makes it easy to find compatible memory and recommended upgrades. And because we carry over 280,000 upgrades for more than 40,000 systems, we've got options for nearly every system out there.
Lexar Media has more than 10 years experience in the memory industry. Our strong retail brands, along with our direct online and OEM presence, make Lexar Media a global player in every major customer channel, including value-added resellers, system builders, and e-commerce. And we've built a name synonymous with quality, innovation, and customer service.
Lexar Media. If it's important to you, it's safe with us.
SPECIFICATIONS
Module Size: 2GB(2GBx3) 6 GB Kit
Package: Ballistix Tracer 240-pin DIMM (with LEDs)
Feature: DDR3 PC3-12800
Timings 8-8-8-24 1.65v
Unbuffered
NON-ECC
What Are Ballistix Tracers
What is Ballistix Tracer memory? Ballistix Tracer memory is specifically built for performance enthusiasts and case modders who want to push the performance envelope while adding flash appeal to their boxes. The Ballistix line of high-performance memory modules features advanced speed grades, low latencies, and integrated aluminum heat spreaders. Ballistix Tracer memory features a black PCB, black integrated heat spreaders, and one or two rows of eight "chasing" red and green LEDs atop the module, circulating in a random pattern based on memory utilization. A custom-designed circuit relays bus activity to the LEDs, allowing them to accurately reflect usage of each memory module. In addition, eight blue ground effects LEDs emit a constant glow near the pins.

What is a Ballistix Tracer DDR3 240-pin DIMM?

Ballistix Tracer 240-pin DIMMs are found in DDR3 memory. DDR3 — the next generation of memory — boasts an improved architecture allowing very fast data transmission.

A Ballistix Tracer dual inline memory module (DIMM) consists of a number of memory components attached to a black printed circuit board. Gold pins, found on the bottom of the DIMM, provide a connection between the module and a socket on a larger printed circuit board. The pins on the front and back of a DIMM are not connected to each other.

To use DDR3, your system motherboard must have 240-pin DIMM slots and a chipset that supports DDR3 — which is a different technology than that of than its predecessors, DDR2 and DDR. DDR3 incorporates different sockets; they are not interchangeable or backward-compatible. (Information about which memory technology your system uses is included in the Crucial Memory Advisor™ tool.)

The number of black components on a Ballistix Tracer 240-pin DIMM can vary, but it always has 120 pins on the front and 120 pins on the back, for a total of 240. Ballistix Tracer 240-pin DIMMs are approximately 5.25 inches long and 1.18 inches high, though the heights can vary. These 240-pin DDR3 DIMMs have only one notch within the row of pins, and each technology has the notch in a slightly different location on the module.
PICTURES & IMPRESSIONS
Click Image For a Larger One
Crucial has gone with their traditional one module per clamshell packaging on the Ballistix Tracers Tri Channel DDR3 6 GB 1600 MHz kit. We've found this to be a safe secure way to ship their ram and have never had a problem with a Crucial product shipped in this manner.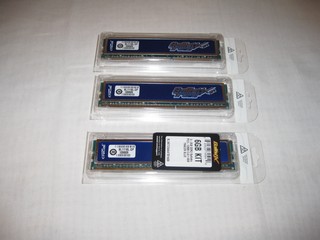 Click Image For a Larger One
The smart design of their packaging allows them to offer not only 6 GB kits, but also single modules. This packaging design allows Crucial to minimize packaging costs while maximizing distribution possibilities. This helps keep the cost down to the end user.
Click Image For a Larger One
We'd have to say we're liking the new colored modules pretty well, the blink factor is there when they aren't lit up and shoots off the scale when they're in the machine and lit up. Like we mentioned before the modules previous to this generation of Tracers you were limited to multi-colored LEDs on the ram modules. This generation you can still get multi-colored LED's of LED's that shine the same color as the heat spreader. This opens up color coordination possibilities with Tracers that weren't available previously. Crucial offers the traditional multi-colored modules in the Tri channel lineup so if you've come to know and love the traditional style of module you'll still be able to get those.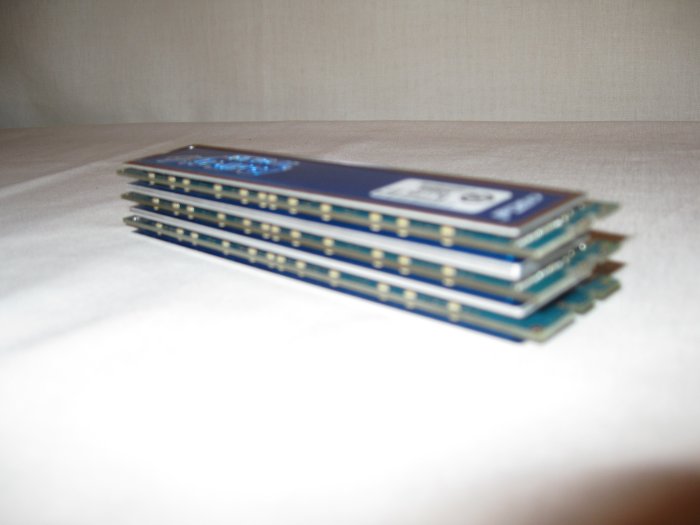 Just laying there the LED's aren't going to do much for you, we should mention though that the new series of Tracers have more LED's than the previous generation.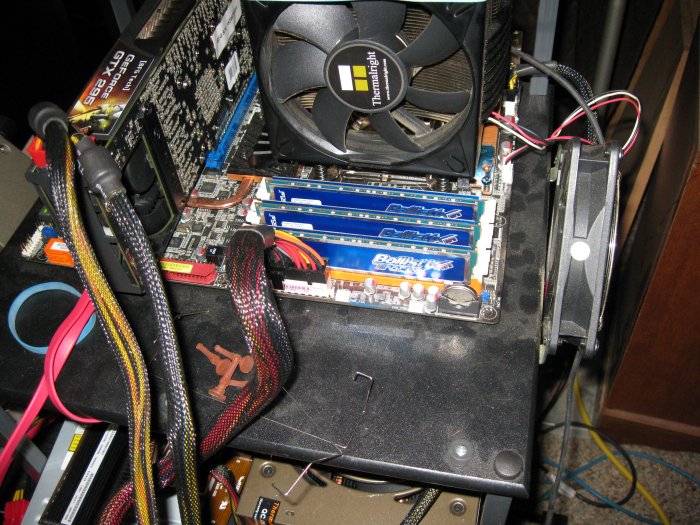 The Crucial Ballistix Tracers look good in the test rig despite the odds and ends strewn across the Top Deck Testing Station we use for testing.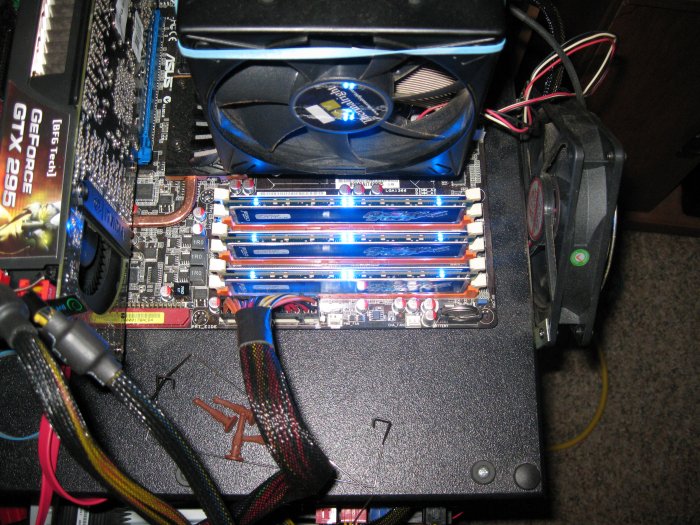 Lit up with the flash on the camera doesn't do much justice for the Tracers.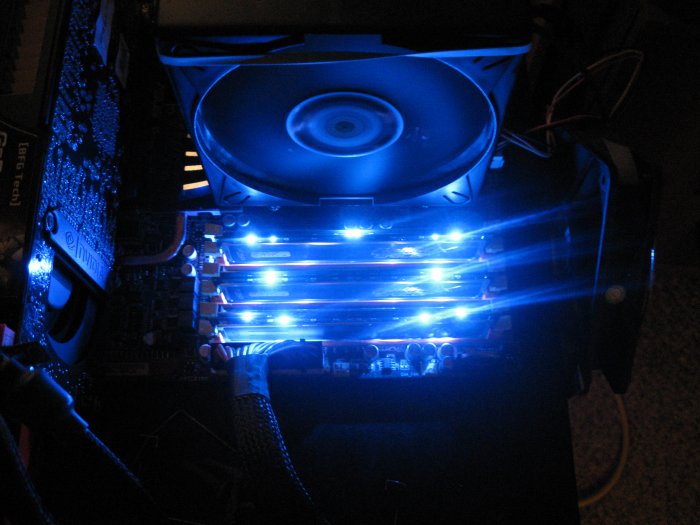 The magic with these modules happens when the machine is on and they just light up the chassis with their glow and bring that Bling factor into play.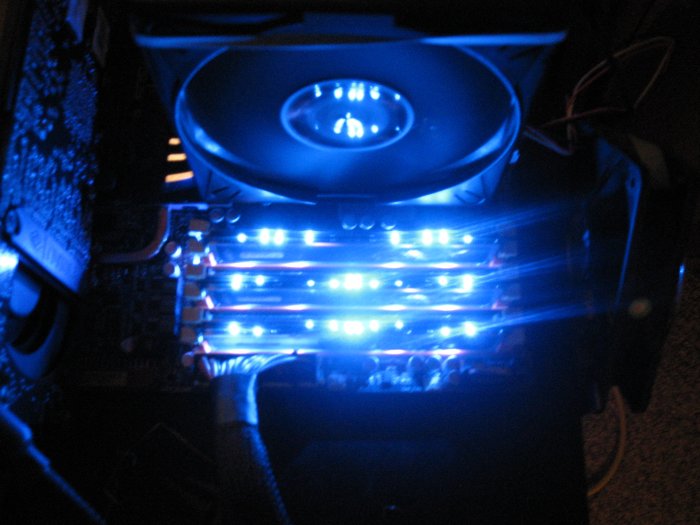 Since the LED's continually move and the pattern changes all the time they draw attention to themselves and the rig they're in. We've yet to have a Nerd casually stroll by the test rig without stopping to be memorized by and lust after our Ballistix Tracers.
TESTING & METHODOLOGY
To test the Crucial Ballistix Tracers Tri Channel 6Gb kit of 1600 MHz ram we did a fresh load of Vista Ultimate 64 Bit edition on the test rig. We ran our usual Suite of memory testing software, each test was ran 3 times and the average of the tests reported here. We also ran the memory for about 10 days in every day use, gaming, surfing the web and writing reviews to get a feel for the kit. Many reviewers don't feel it to be a needed step to live with the Ram kit and give it some burn in time prior to testing, but it's a good idea to let the kit run and get some burn in time as well as get a feel for the kit prior to testing.
Lets get a look at the CPU-Z story on this kit and see how CPU-Z reads it, we've had problems with recent versions of CPU-Z so hopefully this version will be a little more accurate.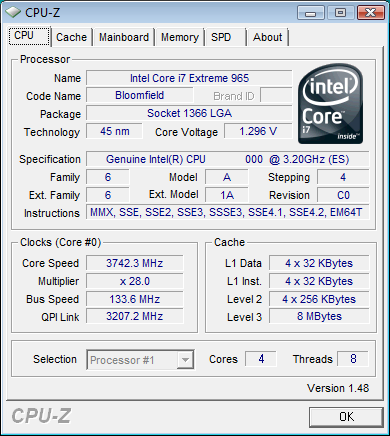 Were using our Core I7 965 Extreme CPU for testing the Crucial Ballistix Tracers, we kept all the same settings as we've used for testing all our Tri Channel kits. The only changes we make are related to memory settings and voltages.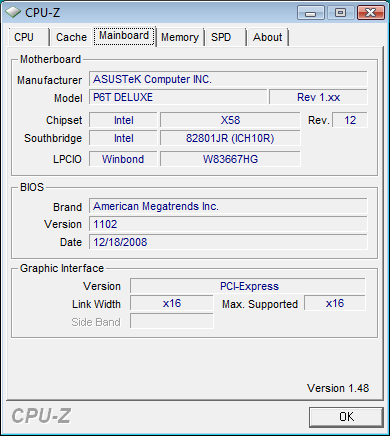 We're using the Asus P6T Deluxe the same motherboard we've used in all our Tri-Channel testing so far.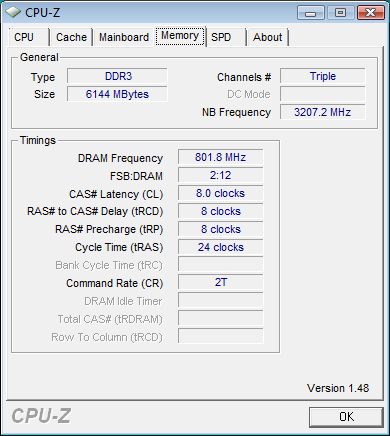 On the P6T Deluxe reaching 1600 was as easy as plugging the memory in and changing BIOS to use the XMP profile on the Ballistix Tracers.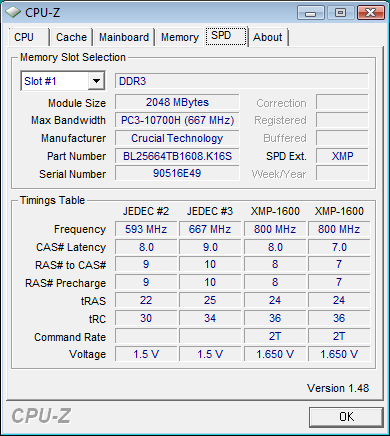 Looking at the SPD on the kit shows us that not only is there a 8-8-8-24 1600 MHz profile there's also a 7-7-7-24 profile which got our hopes up for an ultra low latency run at our testing suite.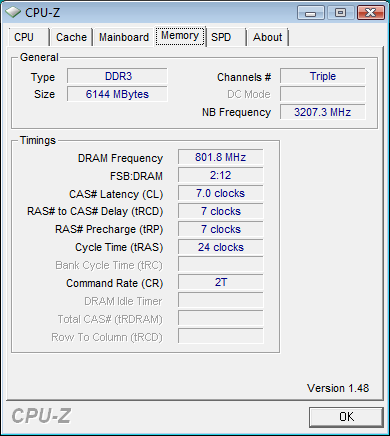 We were able to boot into Vista long enough to get a shot of the memory running at 7-7-7-24 but were unable to get the memory stable within the 1.65v limit imposed on the Core i7 platform. We spent about half a day playing with different combination's of voltages before we defaulted back to 8-8-8-24 but perhaps with a little more time and determination you might get the memory to run at 7-7-7-24 with more volts or patience. We did notice that on the Crucial Web Site that this kit advertises 7-7-7-24 but the rest of the kits which are identical advertise 8-8-8-24 so we suspect someone was asleep at the keyboard when they posted the advertised rating for the kit.
Test Rig
If you'd like to check out the specifications of the other memory kit's used in the charts for this review you can follow the links in the Test Rig specifications. It gets to cumbersome to list each kit's specifications and rated timings in the charts so we opted for pointing you to the review on the kits themselves.
TEST SUITE
Synthetic Benchmarks & Games
SANDRA XII Professional
Everest Ultimate Edition v.5.0
SuperPI Mod 1.5XS
WinRar v.3.71 Compression Benchmark
SiSoft Sandra 2009 SP1
"SiSoftware Sandra (the System ANalyser, Diagnostic and Reporting Assistant) is an information & diagnostic utility. It should provide most of the information (including undocumented) you need to know about your hardware, software and other devices whether hardware or software. It works along the lines of other Windows utilities, however it tries to go beyond them and show you more of what's really going on. Giving the user the ability to draw comparisons at both a high and low-level. You can get information about the CPU, chipset, video adapter, ports, printers, sound card, memory, network, Windows internals, AGP, PCI, PCI-X, PCIe (PCI Express), database, USB, USB2, 1394/Firewire, etc."
We've tested so many Tri-Channel kits to date that our chart is getting a little long, so we highlighted the Tracer kit and a Viper kit that have identical speeds and timings so you can more easlily compare the Tracers to another 1600 MHz kit.
In Sisoft Sandra 2009 SP1 the Ballistix Tracers turned in a pretty respectable 27.57 GB/s at the stock speed. When we kicked them up to 1720 overclocked they turned in an amazing 29.5 GB/s. While there are faster kits out there you can really only compare a 1600 MHz kit against 1600 MHz kits and the Crucial Ballistix Tracers Tri Channel 6 GB kit did as well as any kit we've tested and all three 6 GB kits of 1600 MHz Ram we've tested came is so close together in numbers that they could be brothers.
Crysis v. 1.2

Crysis is the most highly anticipated game to hit the market in the last several years. Crysis is based on the CryENGINE™ 2 developed by Crytek. The CryENGINE™ 2 offers real time editing, bump mapping, dynamic lights, network system, integrated physics system, shaders, shadows, and a dynamic music system, just to name a few of the state-of-the-art features that are incorporated into Crysis. As one might expect with this number of features, the game is extremely demanding of system resources, especially the GPU. We expect Crysis to be a primary gaming benchmark for many years to come.
We've found that as long as your not bottlenecking the GPU the Crysis test turns in about the same numbers on all the Tri Channel kits. We believe that this is because the Core i7 platform doesn't bottleneck the GPU's like the 775 platform did.
SuperPi
SuperPi is the "Gold Standard" for many when it comes to judging system performance. We ran 1 and 2 MB calculations, again running each test three times and reporting the average of the results.
In the SuperPi 1 Meg test the Ballistix turned in a 11.012 second score at the stock 1600 MHz speed and a 11.007 second time when over clocked to 1720 MHz. With a little tweaking or a good FSB OC applied the scores would get even sweeter.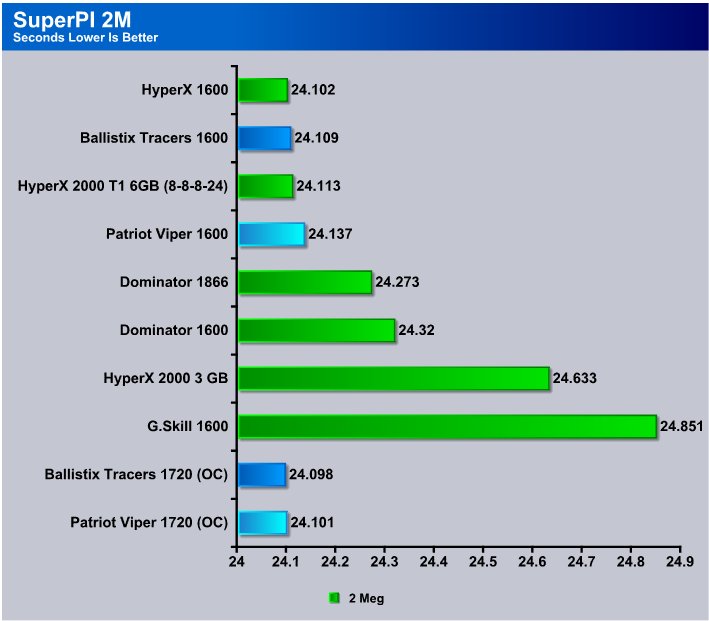 When we moved to the SuperPi 2 Meg test the Crucial Ballistix Tracers score got even better and turned in a very respectable 24.109 seconds beating out several faster kits. With the margins between runs being so small something like FSB speed, memory timings, and Memory Dividers can make all the difference in SuperPi.
WinRar v. 3.71
This module in WinRar generates random data, which contains specially introduced redundancy, increasing the load to both the processor and memory. Data is the passed through RAR compression and decompression algorithms, and the output of the decompression algorithm is compared to the source data. If any differences are found, WinRAR then reports "Errors found – Yes" in the command window. WinRAR displays a size of processed data and compression speed, current and resulting, in kilobytes per second.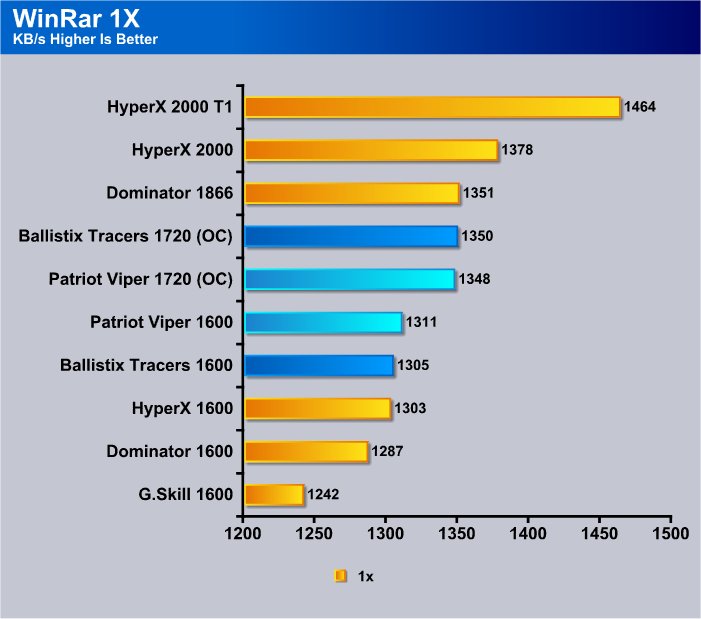 At stock speed the Tracer kit turned in a 1305 KB/s and the second fastest time for non-overclocked 1600 MHz kits we've ever seen. When we overclocked the kit it turned in the fastest 1600 MHz kit overclocked speed we've ever seen. Combine that with the additional bling you get from the kit and your looking at an unbeatable combination.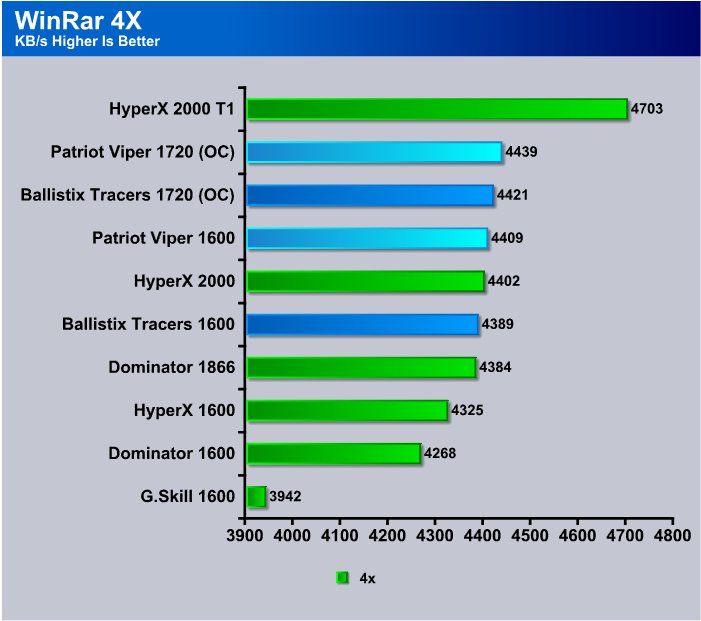 In the WinRar multi-threaded test we got an amazing 4389 KB/s score out of the Ballistix Tracers, the Patriot Viper comparison kit did a little better but at those speeds there's nothing to complain about.
EVEREST ULTIMATE 5.0
"EVEREST Ultimate Edition is an industry leading system diagnostics and benchmarking solution for enthusiasts PC users, based on the award-winning EVEREST Technology. During system optimizations and tweaking it provides essential system and overclock information, advanced hardware monitoring and diagnostics capabilities to check the effects of the applied settings. CPU, FPU and memory benchmarks are available to measure the actual system performance and compare it to previous states or other systems. Furthermore, complete software, operating system and security information makes EVEREST Ultimate Edition a comprehensive system diagnostics tool that offers a total of 100 pages of information about your PC."
The way we have the results formatted in Everest is in GB's.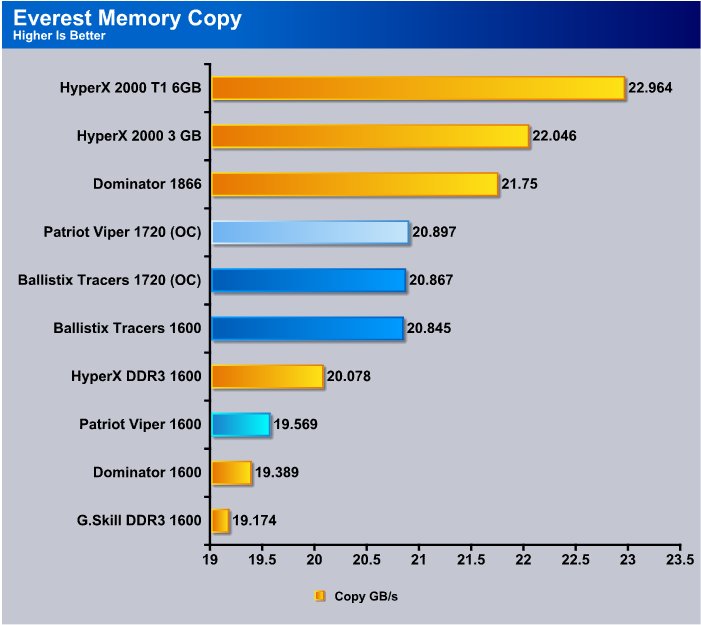 We just moved to Everest Ultimate's new version 5.0 and we're wondering if something changed in the memory testing suite. We got a good 20.845 GB/s score at the stock speed but the 1720 OC only got us .022 KB/s more speed. We're doing some checking on that result and if we find out anything new we'll update the review a little later. Still at almost 21 GB's there's nothing wrong with those speeds, recently we saw the world record in Everest was just over 22 GB/s so we're close to the edge of the envelope with the Ballistix and pushing the envelope with some of our higher speed kits.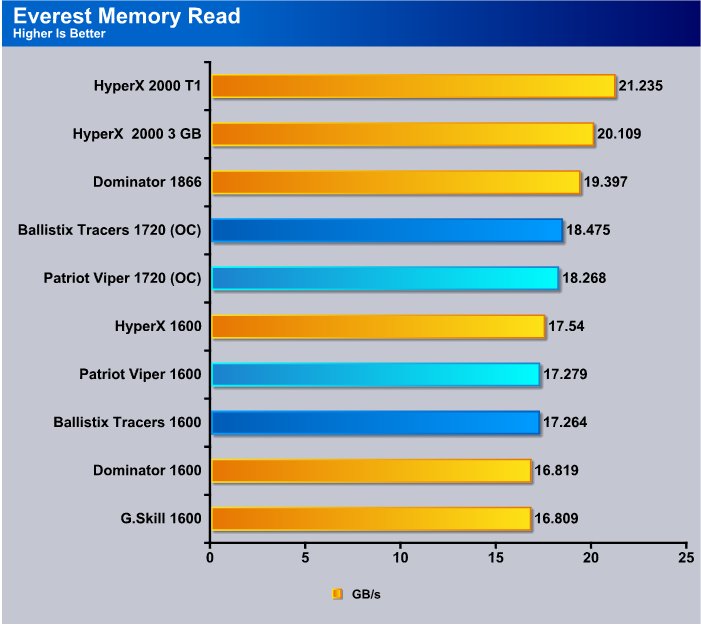 The Memory Read Test in Everest sees the Ballistix Tracers coming in at 17.264 GB/s with the Patriot Viper comparison kit just a hair ahead of it. You need to realize though that the differences in the speed of the two kits is so small they can be attributed to nothing more than minute variations in the test runs. Given that the kits have had burn in time if they maintain this level of performance we're more than happy with them.
Once again we're seeing that most of the 1600 MHz kits perform about the same. Applying the OC from 1600 to 1720 which was insanely easy to reach we see the Crucial Ballistix kit kick out another Gigabyte per second. We managed that increase without raising the default voltage of 1.65v but we did use another little trick we learned. We'll share that little tidbit with you a little later on.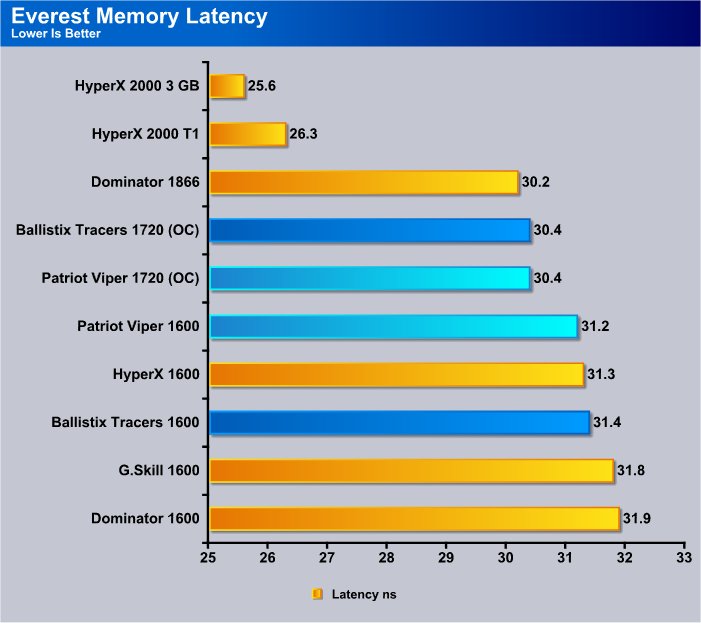 In the Everest Ultimate Latency test the faster the kit runs the lower the latency score. Lower is better in this test and the lower the score the more responsive (snappier) the ram will run. Coming in at 31.4 Nano Seconds at stock speed your not going to notice this kit lagging any. Kick it up to 1720 MHz lowers the latency to 30.4 ns and the kit gets even sweeter.
CONCLUSION
Lets look at the CPU-Z shot of our 120 MHz OC before we get to far into the conclusion.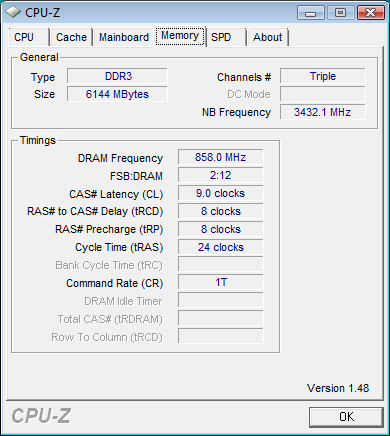 We checked BIOS and CPU-Z is reporting the Cas Latency wrong in this shot, BIOS says 8 and CPU-Z says 9, we assure you it's set at 8 in BIOS and it's just a minor error in CPU-Z. We were able to keep the ram at 1T command rate for the overclock and performance was noticeably better. Now for the little Core i7 ram OCing tip we promised you. When we got the Crucial kit we noticed that it's 1.65v like most high speed kits. Most of the kits SPD in bios reads something like 8-8-8-24 1.65v/1.60v the 1.65v is the Dram Voltage, the 1.60v is the QPI voltage. When we got the Crucial kit it read 1.65v/1.25v, hmmm since most of the kits we've seen read 1.65v/1.60v it got us to thinking could we use the lower 1.25v reading on the Crucial kit to get a little overclocking headroom. We kicked the FSB to 143 up from 133, dropped the multiplier from 28 to 26 (keeping the 3.7 GHz CPU speed we use for testing) and the ram speed kicked up to 1720. We merely upped the QPI voltage to 1.45 booted into Vista and hit 1720 stable on the first try. That should tell the more astute among you something. There's more to get from the Crucial Ballistix Tracers kit. You can reasonably expect 1720, and more if you take the time for a little trial and error. We like a nice stout overclock, but hesitate to go to the ragged edge because to many readers will construe that as a safe speed to run at 24/7 and end up cooking some equipment. That's not hypothetical, it's happened and the readers weren't to happy they cooked chips. Keep in mind we don't say that the speeds we achieve are safe or that you should run them 24/7, and should you try anything beyond factory default speed we're not responsible for any puffs of magic blue smoke that emanate from your rig.
We've ran some really amazing Tri Chanel kits in the last few months, it never ceases to amaze us the blazing speeds that ram can reach with the paltry 1.65v it's given to achieve that blazing speed. We've also seen that a lot of the 1600 MHz kits run at similar speeds. We've only seen one kit that provides the speed we need and the bling we want, that's the Crucial Ballistix Tracers Tri Channel 1600 MHz kit.
Ram normally just kind of sets there and does it's job trying not to look ugly, or tries to project a macho image. The Crucial Ballistix Tracers kit changes that playing field and the LED's add a highlight to an area of the chassis that is normally ignored. It adds so much to the ram area that time and again we've had people comment on it and ask where they can get a set like the Tracers. While we'd like to have the only set of Tri-Channel Tracers in existence your local E-tailer will gladly sell you a kit. They'll have to because your not getting ours. Any kit that can draw a woman's attention to the rig and draw them into a conversation about computers is good in our book. What gets us is that even though it draws the hotties attention it still looks good to us. Looking good to the hotties and appealing to us is usually mutually exclusive.
Performance on the Ballistix Tracers kit was more than acceptable, it is as good as any kit of 1600 MHz ram we've seen and the additional bling doesn't hurt our feelings any.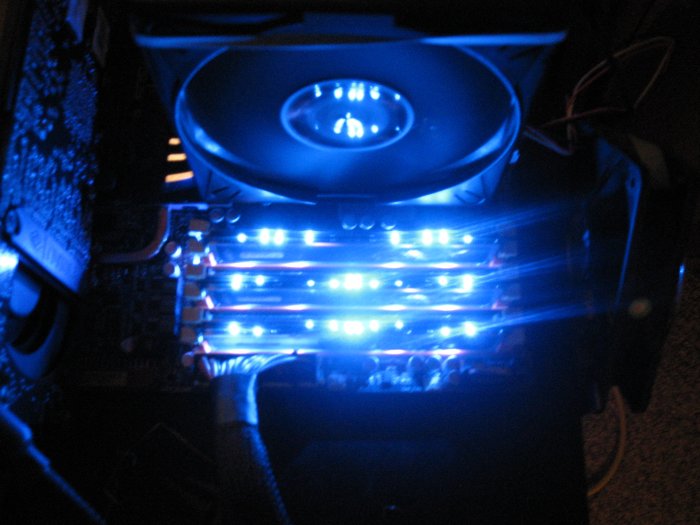 We are trying out a new addition to our scoring system to provide additional feedback beyond a flat score. Please note that the final score isn't an aggregate average of the new rating system.
Performance 10
Value 8
Quality 10
Warranty 10
Features 10 (XMP On The Kit Is Excellent)
Innovation 10
Pros:
+  Great Performance
+  Overclocks Well.
+  Ran Really Cool
+  Bling Factor Is Off the Scale
+  Very Stable
+  Plug And Play
+  System Was Snappier
Cons:
–  Little Pricey
The Crucial Ballistix Tracers DDR3 Tri Channel 1600 MHz kit was smoking fast and the bling managed to attract some computer savvy hotties. What more can you ask for from a kit of ram, Speed, Bling and hotties admiring your rig.
Final Score: 9 out of 10 and the Bjorn3D Golden Bear Award.